It's surprisingly easy to make this vegan beer cheese ball! Cashews are soaked in India Pale Ale instead of water, then drained and blended into a smooth and creamy vegan cheese. Coated with a combo of walnuts and tempeh bacon or 100% nuts, your call! When's the next party, and who's bringing the vegan cheese ball?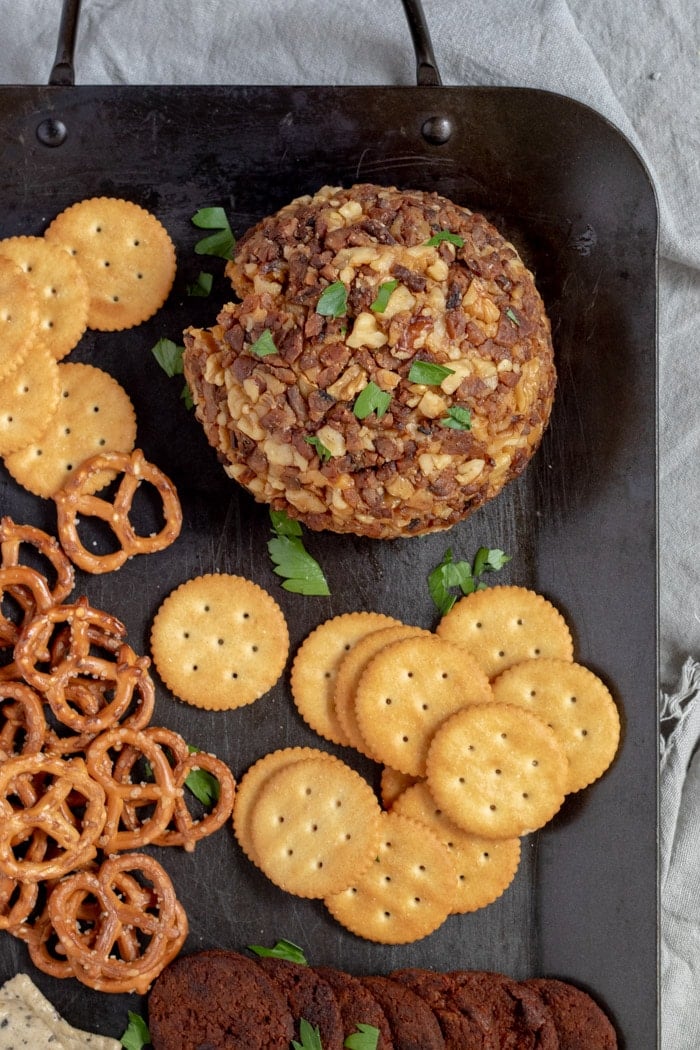 I've decided this easy, beer-soaked cashew cheese recipe is how I'm jumping into fall! Because fall doesn't just mean soups, squashes, pumpkin spice everything, chili, and the start of holiday baking. It also means parties! Think Halloween, football, and Thanksgiving. And as far as the beer element of this recipe goes, we live in Asheville, so I suppose it was inevitable. The funny thing is, I didn't realize exactly how Asheville this recipe is until I started writing.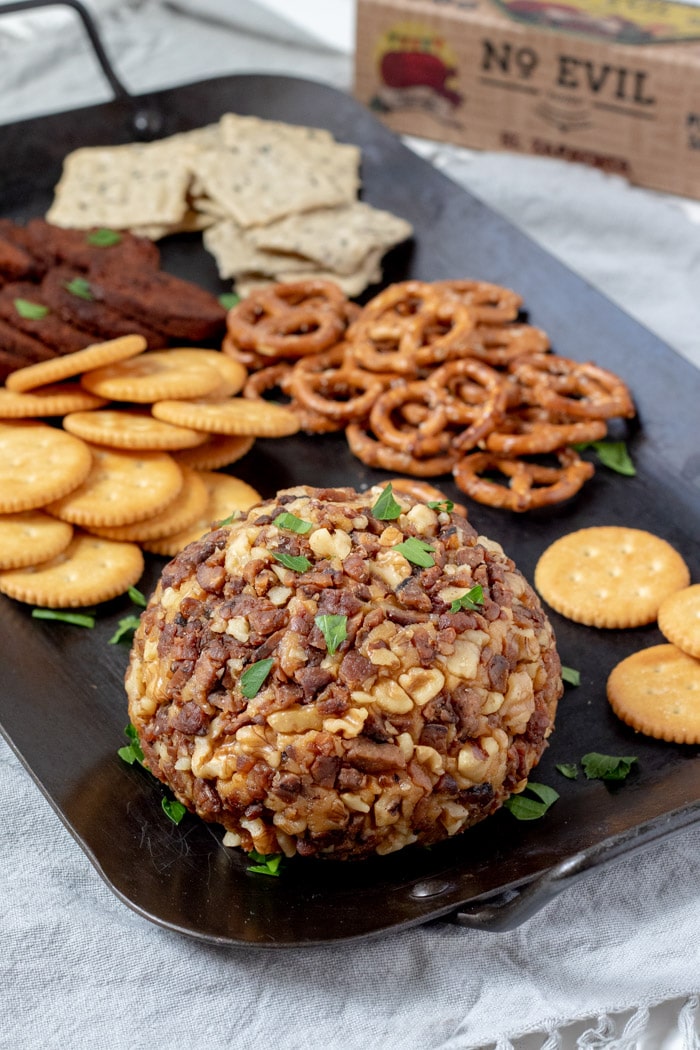 It just so happens that four of the ingredients I used in this recipe are from Asheville-based companies. For the beer, I used AVL IPA, brewed by my friends down the road at Highland Brewing Company (I used to work there, so they really are friends)!
For saltiness and umami, I used Celtic Sea Salt and Miso Masters mellow white miso. Both of these companies have been around for decades, but it wasn't until Mark and I moved to Asheville that I learned they're based here. Who knew?!
Finally, I served this cheese ball with slices of No Evil Foods Chorizo. Everyone in Asheville knows how amazing No Evil Foods' products are, and more and more people around the country have been able to hop on board as the company has grown! NEF just keeps knocking it out of the park with their delicious products, winning trade show awards, etc, and they're currently expanding into a new production facility. UPDATE! They're in the new facility and shipping to LOADS of stores around the country now. If you haven't tried their awesome plant meats yet, and you're in the US, get on it. For real.
(And nope, this isn't a sponsored post. I just really like all of these products.)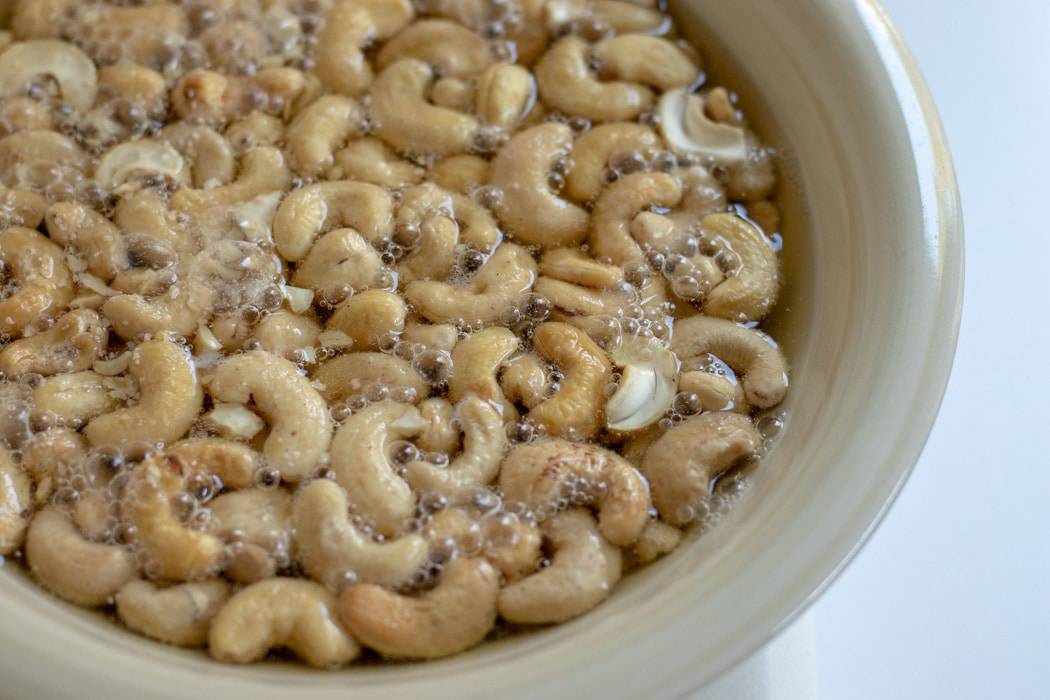 If you've ever made cashew cheese before you know it's really pretty easy. The main twist on this recipe is soaking the cashews in a fresh, hoppy IPA instead of water. And while I might normally add garlic and herbs to a cashew cheese, I wanted to keep the ingredients more simple in this one to let the beer shine through.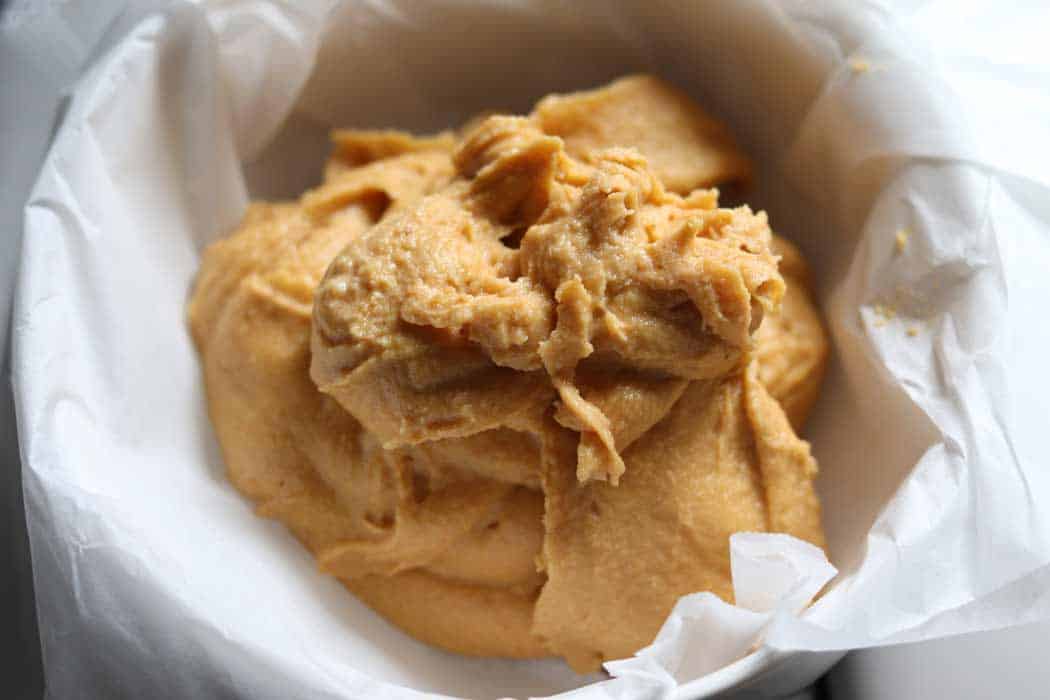 Make this cheese with any fresh, good quality craft beer you like. Now, a little chat about the coating....
How to Coat this Vegan Beer Cheese Ball
You can go with a traditional cheese ball coating like sliced almonds, or get meaty like I did, with a mix of walnuts and smoky maple tempeh. You've probably seen Lightlife's fakin' bacon in stores before, as it's pretty easy to find. I used it because I had some on hand. But Tofurky also makes an awesome maple tempeh! And if you're feeling like an overachiever, you can even make your own vegan bacon bits at home with plain tempeh, a few seasonings, maple syrup, and a hint of liquid smoke. Check out Kathy Patalsky's recipe for tempeh bacon over at Healthy Happy Life.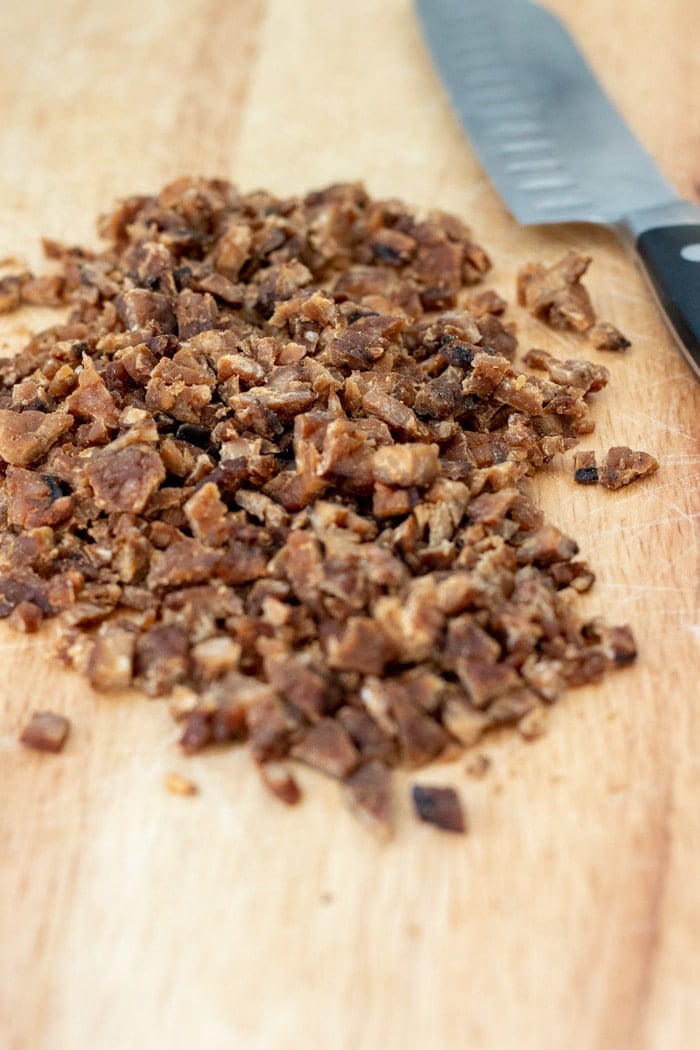 Just look at these rounds of perfectly seasoned chorizo. Grab a cracker, schmear it with IPA cheese, top it with chorizo, and hand it to your friend who thinks a vegan diet seems boring. We'll show them yet!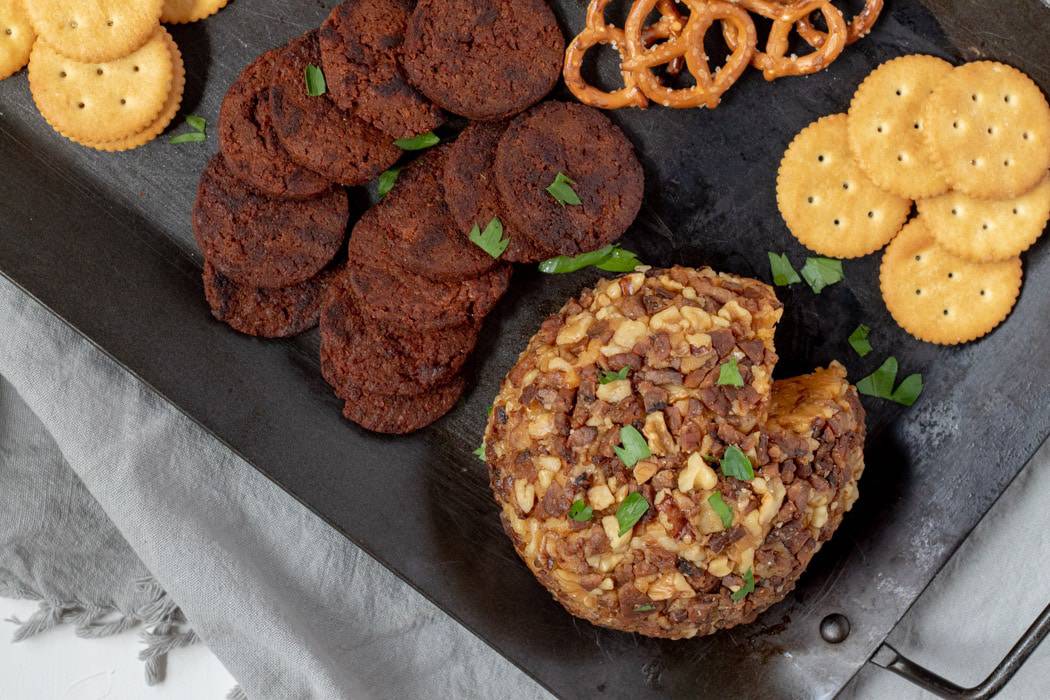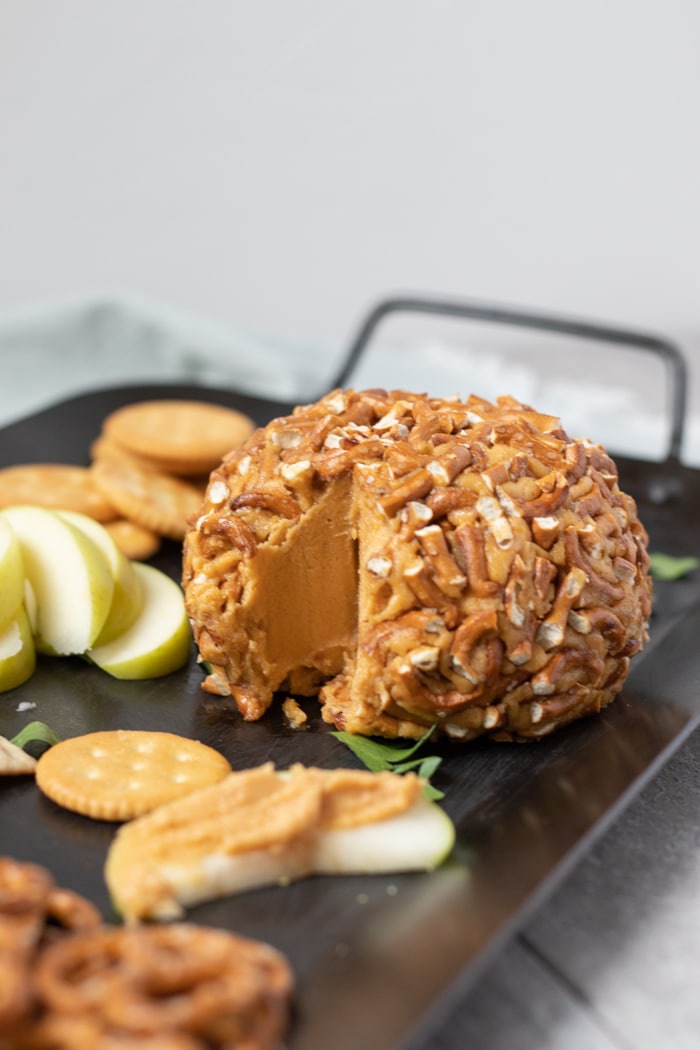 The first cheese ball I made had this perfect pretzel coating. However, as I mention in the recipe notes below, I don't recommend a pretzel coating unless you and several other people plan to devour the cheese ball immediately. Though beer and pretzels are a natural fit, sadly, the higher moisture content of this particular cheese causes the pretzels to lose their crunch. That's how I arrived at the walnut/tempeh bacon idea, though, so it all worked out in the end. And don't worry, Mark and I ate the pretzel-coated cheese ball anyway. It's too good to waste!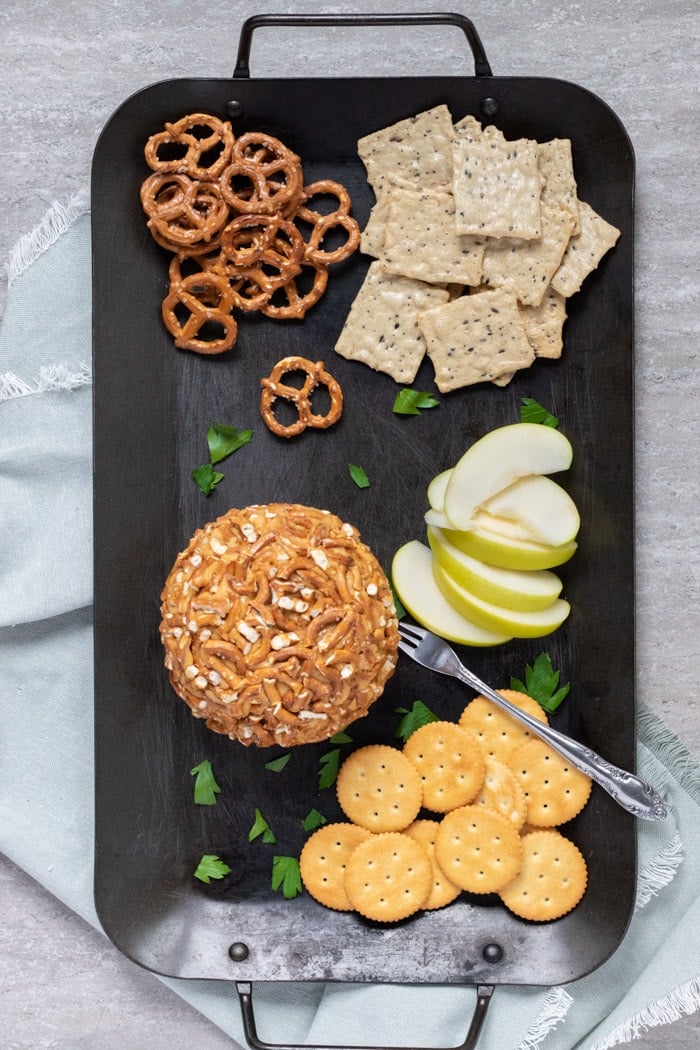 With just ten ingredients and very little hands on time, I think you'll love this IPA Vegan Beer Cheese Ball for your next shindig. And if you try it, I would LOVE to see your creation and how you serve it. So tag a pic with @myquietkitchen on instagram, or feel free to comment below and let us know how it turns out!
Party vegan style!
You might also like:
Crostini with Herbed Almond Ricotta
Thai-Inspired Vegan Larb
The Best Vegan Stovetop Mac and Cheese
Vegan Andouille Sausage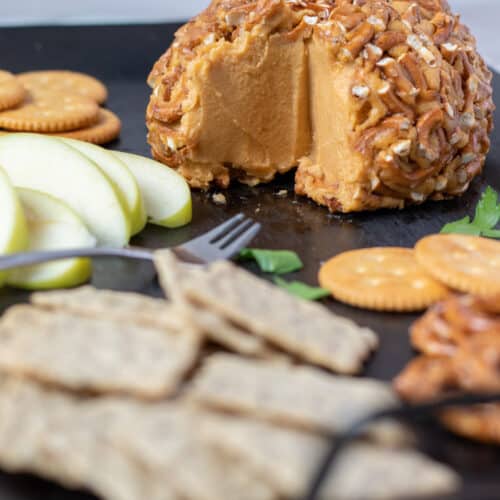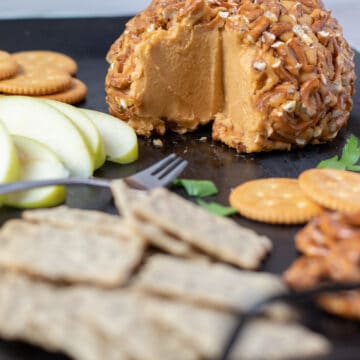 IPA Vegan Cheese Ball
Easy, beer-soaked cashew cheese with walnuts and tempeh bacon. Serve with your favorite crackers, veggies, and plant meats!
Equipment needed: food processor
See notes for storage and serving tips.
Ingredients
Cheese Ball:
2

cups

cashews, whole

12

ounces

India Pale Ale

2

Tbsp

nutritional yeast

1

Tbsp

apple cider vinegar

½

tsp

sea salt

½

tsp

smoked paprika

1

Tbsp

miso, mellow white

1

Tbsp

refined coconut oil
Serving suggestions:
1

package

No Evil Foods Zapatista (vegan chorizo), sliced and pan fried

crackers

pretzels

variety of apples and/or pears, sliced

firm raw veggies, such as carrots and celery
Instructions
Pulse cashews in food processor three or four times into a rough chop. Transfer cashews to a small bowl and cover with approximately 10 ounces of beer. Let soak 2 hours. Refrigerate remaining beer.

Drain cashews and add to food processor along with nutritional yeast, vinegar, salt, smoked paprika, miso, oil, and 1 Tbsp of the reserved beer. Process until smooth and creamy, stopping to scrape down sides as needed.

Line a small bowl with a piece of plastic wrap large enough to wrap around the cheese ball. Scoop cheese into the bowl and allow to cool, unwrapped, in the freezer for 10 minutes. Once cool, wrap completely and use your hands to further form it into a ball. Freeze for an additional 40-50 minutes.

While the cheese cools, if using tempeh bacon for the coating, preheat oven to 300 degrees. Cut the tempeh strips into thirds and place in a single layer on a parchment- or silpat-lined pan. Bake 30 minutes, flipping at the halfway point. Allow to cool before chopping into bits.

When ready to serve, add coating ingredients to a medium-sized bowl. Remove the cheese ball from the plastic wrap and roll in the coating until fully covered. Serve with your favorite crackers, chips, fruits, and veggies. Sore leftovers in an airtight container in the refrigerator for up to 3 days.
Notes
The cheese tastes great next day, which makes it a perfect make-ahead appetizer for a party or holiday meal. Store it in the refrigerator, without the coating, wrapped in plastic, for up to 2 days before coating and serving.
If you want to omit the tempeh bacon, plain chopped walnuts or sliced almonds would work well.
Due to the higher moisture content of this cheese, a pretzel coating works only if the cheese ball will be consumed immediately. Otherwise, the pretzels get soggy after 1 to 2 hours.
Nutrition
Calories:
208
kcal
Carbohydrates:
11
g
Protein:
8
g
Fat:
16
g
Saturated Fat:
3
g
Cholesterol:
0
mg
Sodium:
260
mg
Fiber:
2
g
Sugar:
2
g
Vitamin A:
0
IU
Vitamin C:
0.8
mg
Calcium:
20
mg
Iron:
2.2
mg