A veggie tray is great for parties and gatherings, but forget those boring, stale store-bought veggie trays! Make your own beautiful and healthy crudité platter in just 30 minutes - including delicious dips!
See my simple tips below for selecting, preparing, and arranging the vegetables, plus a variety of dip recipes that are so good no one will know they're healthy and allergy-friendly!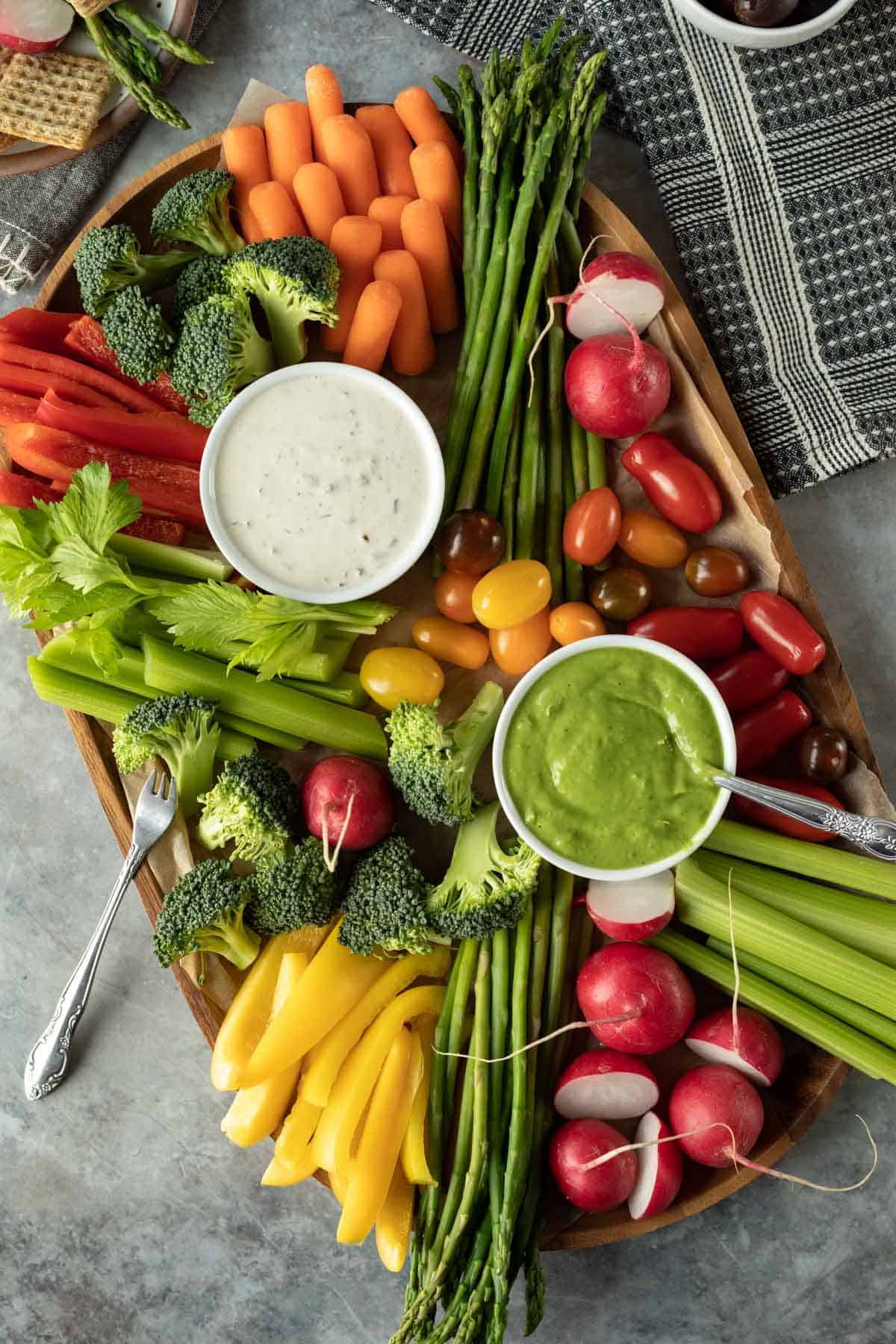 Building a vegetable platter isn't difficult - in fact, it's actually kind of fun! But if you haven't done it before, it can seem a little intimidating at first.
Creating a beautiful veggie tray that your guests will actually want to eat comes down to a few key things:
For most of us, when we think of a veggie tray our minds usually go straight to raw vegetables. But including blanched veggies (that are especially tough or fibrous when raw) is perfectly acceptable, too.
Jump to:
Is crudite the same as a veggie tray?
Essentially, yes. Crudité or crudités, pronounced kro͞o-də-tā, is a French term that refers to raw vegetables. A crudité platter is simply an assortment of raw vegetables, usually served with at least one dip.
Whether you call it a crudité platter or just a good ol' fashioned veggie tray is totally up to you!
Best Vegetables for a Veggie Tray
There are the obvious choices like carrots, celery, and peppers. But if you need to prepare a tray large enough for a crowd, you'll need a few more options.
Tip! Begin by perusing the entire produce section at the grocery store (or farmers market), paying special attention to what's in season and suits your budget. Then make your selections considering the number of people you plan to serve.
Raw veggie ideas:
Vegetables to blanch:
Blanching only sounds fancy. It's really nothing more than briefly cooking food in boiling water, followed by dunking it in ice water to stop the cooking process.
Blanching softens tough veggies making them easier to eat and digest and can enhance their color.
Tip! Lightly salt the water to add flavor and counteract bitterness.
Cook time will vary from 1 to 3 minutes depending on the type of vegetable and the size/thickness.
If you're not sure, start with a test batch of two or three pieces. In this situation less is more! You don't want "soft" veggies on a veggie tray.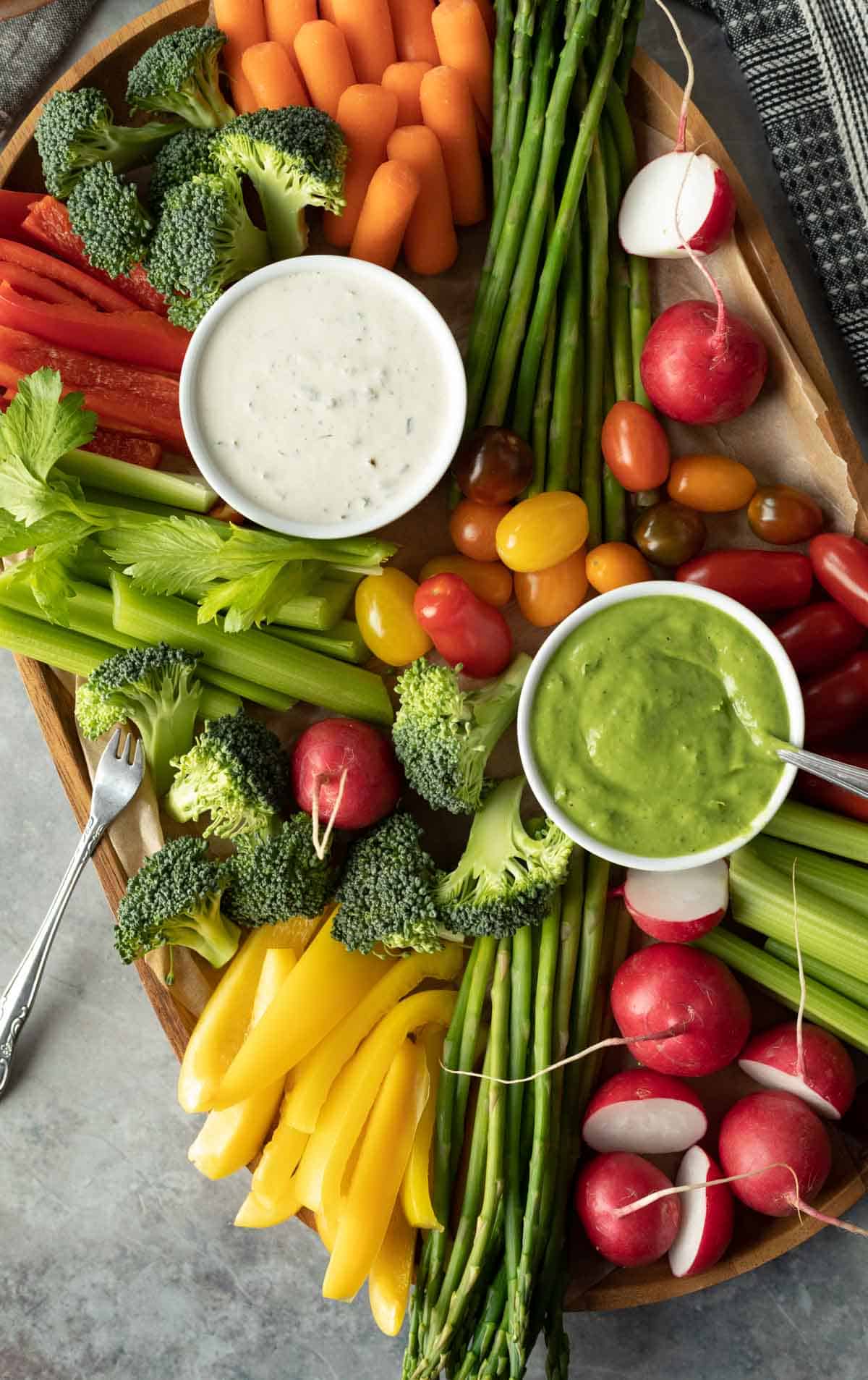 Tips for Preparing and Cutting Veggies
First things first! Wash all fresh produce very well. I like to place a clean tea towel or paper towels on a plate or cutting board. After washing the vegetables place them on the towel to dry.
Carrots tend to oxidize after peeling and slicing, so I like to toss them with fresh lemon juice. Before adding them to the platter, rinse under cold water and pat dry.
Cut larger vegetables like celery, peppers, broccoli, cauliflower, and jicama into manageable pieces that can be eaten in 2 or 3 bites.
How to Arrange the Vegetables
Select a platter or tray large enough to hold 2 or 3 dips plus the veggies. Also locate small bowls or ramekins to hold the dips, and arrange them on the tray as placeholders.
Balance the Colors
If you have two orange vegetables, like carrots and orange pepper for example, try not to place them right next to each other. Use green, yellow, or red veggies on either side.
Instead of lumping all of a single veggie in one spot, divide it among two or three different areas.
Use Shape to Create Visual Interest
As you arrange the vegetables, notice shapes and the visual lines they create. For example, in the photo above notice how the asparagus and celery create long lines that draw the eye toward the center of the platter.
Paying attention to the unique shapes of the vegetables helps create a sense of balance and makes your veggie tray that much more enticing!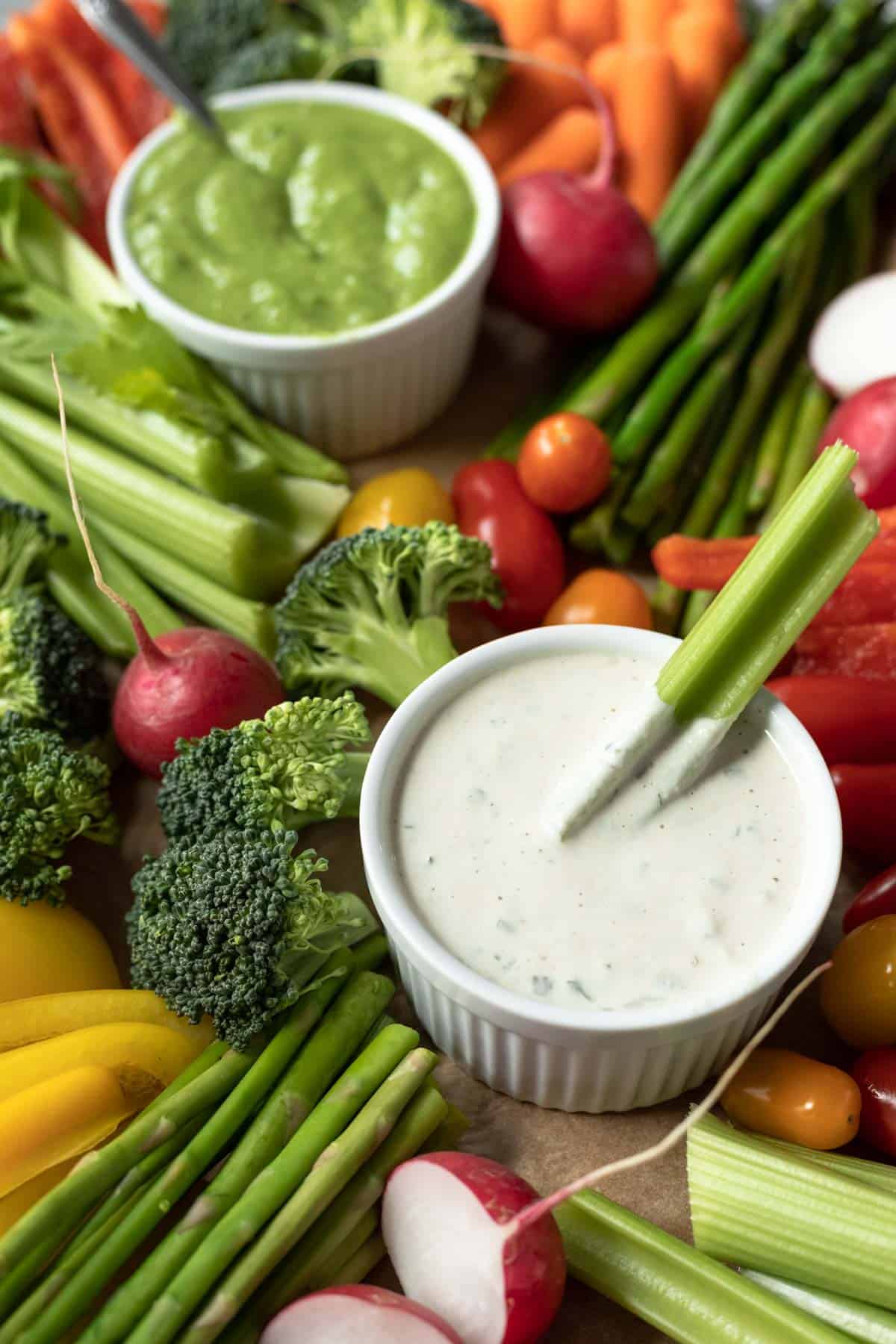 Additions: Beyond the Veggies
pickled items - there are plenty of unique, high-quality pickled vegetables on grocery store shelves that can add flavor and interest to a veggie tray. Try artichoke hearts, spicy green beans, or chow chow relish.
olives - choose different types of jarred olives or a selection from the olive bar at your local gourmet market. Garlic-stuffed olives are always fun.
crackers or pita - a bit of crunch from a cracker or a soft bite of pita bread is a nice way to balance all the raw foods.
cheeses - in the interest of keeping the veggie tray dairy-free and suitable for all guests, why not incorporate a vegan cheese? Try this easy almond-based feta or our super popular vegan pimento cheese dip (fantastic with celery)!
A few of our favorite store-bought vegan cheeses for a veggie platter are:
Dips for a Veggie Tray
Pictured are nut-free vegan ranch dip (seriously the best dairy-free ranch ever; I make a batch every week!) and avocado green goddess dressing.
More delicious dips for a veggie tray:
Equipment Needed
To prepare the vegetables you'll need a large knife, cutting board, and possibly a paring knife or vegetable peeler.
And of course, you'll also need a platter or tray large enough to hold the veggies plus ramekins or small bowls for the dip(s).
Serving utensils like small tongs make it easy for guests to serve themselves.
How long does a veggie tray stay fresh?
A fresh vegetable tray is fine at room temperature for a couple of hours. And by serving dairy-free dips there's less concern about spoilage.
If you'd like to assemble the veggie tray earlier in the day, cover it with plastic and keep refrigerated until party time.
Some cut vegetables tend to dry out over time, so it's best to prepare them no more than 24 hours in advance.
Top Tips
Here's a quick review of things to keep in mind as you build your veggie tray:
More Healthy Party Recipes
📖 Recipe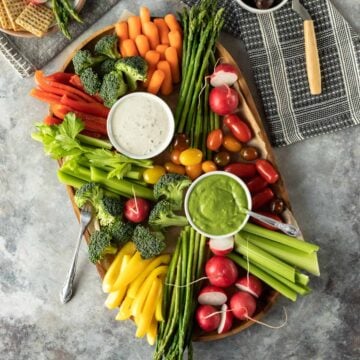 A Veggie Tray Your Guests Will Love
A classic vegetable tray is great for parties and game day, but forget those boring, stale store-bought veggie trays! Make your own beautiful and healthy crudité platter in just 30 minutes - including amazing and healthy dips!
*Aim for 1 to 1 ½ cups of veggies per person.
Ingredients
Raw vegetable options:
carrots, baby or regular

-

see Note 1

celery

-

cut into sticks; see Note 2

red, orange, and/or yellow bell pepper

-

cut into strips

radishes

-

stem ends trimmed

jicama

-

peeled and cut into sticks

cherry or grape tomatoes

sugar snap peas

English cucumber, sliced

-

this thin-skinned variety doesn't need to be peeled; regular cucumber should be peeled

broccoli and cauliflower

-

cut into small florets; briefly blanch if desired
Vegetables that benefit from quick blanching in salted water:
asparagus

-

trim woody ends

broccolini

green beans or haricot vert

-

trimmed

zucchini and summer squash

-

cut into boats or large cubes
Suggested dip recipes:
Instructions
Review the post above for helpful tips and more ingredient ideas. Wash all veggies very well and dry before cutting.

For blanched vegetables, bring a pot of lightly salted water to a boil. Also fill a large bowl or container with ice water. Carefully drop the cut/trimmed veggies into the pot and cook for 1 to 2 minutes or until barely tender. Immediately transfer to the ice bath to stop cooking. After a minute or two, move the cool veggies to a paper towel-lined plate to dry.

On a large platter or tray, place a small bowl for the dip. If using 2 or 3 dips, position the bowls on opposite sides/ends of the platter to create balance. Arrange the vegetables on the platter, separating veggies of similar color. Place different colors and shapes next to each other. Fill in gaps with small veggies like radishes and tomatoes. If you haven't already, carefully fill the dip bowls.

Serve immediately or cover and refrigerate, preferably no more than 4 to 6 hours in advance so the veggies stay fresh. If you have leftover veggies, wrap in a damp paper towel and store in a covered container in the refrigerator to extend freshness.
Notes
Note 1: Carrots tend to oxidize after peeling and slicing, so I like to pile them up and squeeze a bit of fresh lemon juice on top. Give them a toss, then finish up with prep. Before adding the carrot sticks to the platter, rinse under cold water and pat dry.
Here's a tip to make baby carrots more appealing. Place in a large bowl, add a splash of apple cider vinegar, and cover with water. Let soak for a few minutes, then rinse and drain. This reduces the unappetizing watery mess from the packaging.
Note 2: To easily remove the stringy exterior of celery, snap in half then peel it away.
Estimated Nutrition (per serving)
Nutrition information is an estimate and will vary depending on the exact amounts and specific products and ingredients used. We calculate this information using the online calculator cronometer.com.
Tried the recipe?
I love hearing from you! Share your feedback below.