Learn how to build a vegan cheese board that's sure to wow your guests! From casual to fancy, a vegan cheese plate is versatile, impressive, and easily crafted to suit any occasion. Get ideas for the best vegan cheeses and the other elements to include on a cheese board. Plus learn how to add seasonal, festive touches and pull it all together in no time.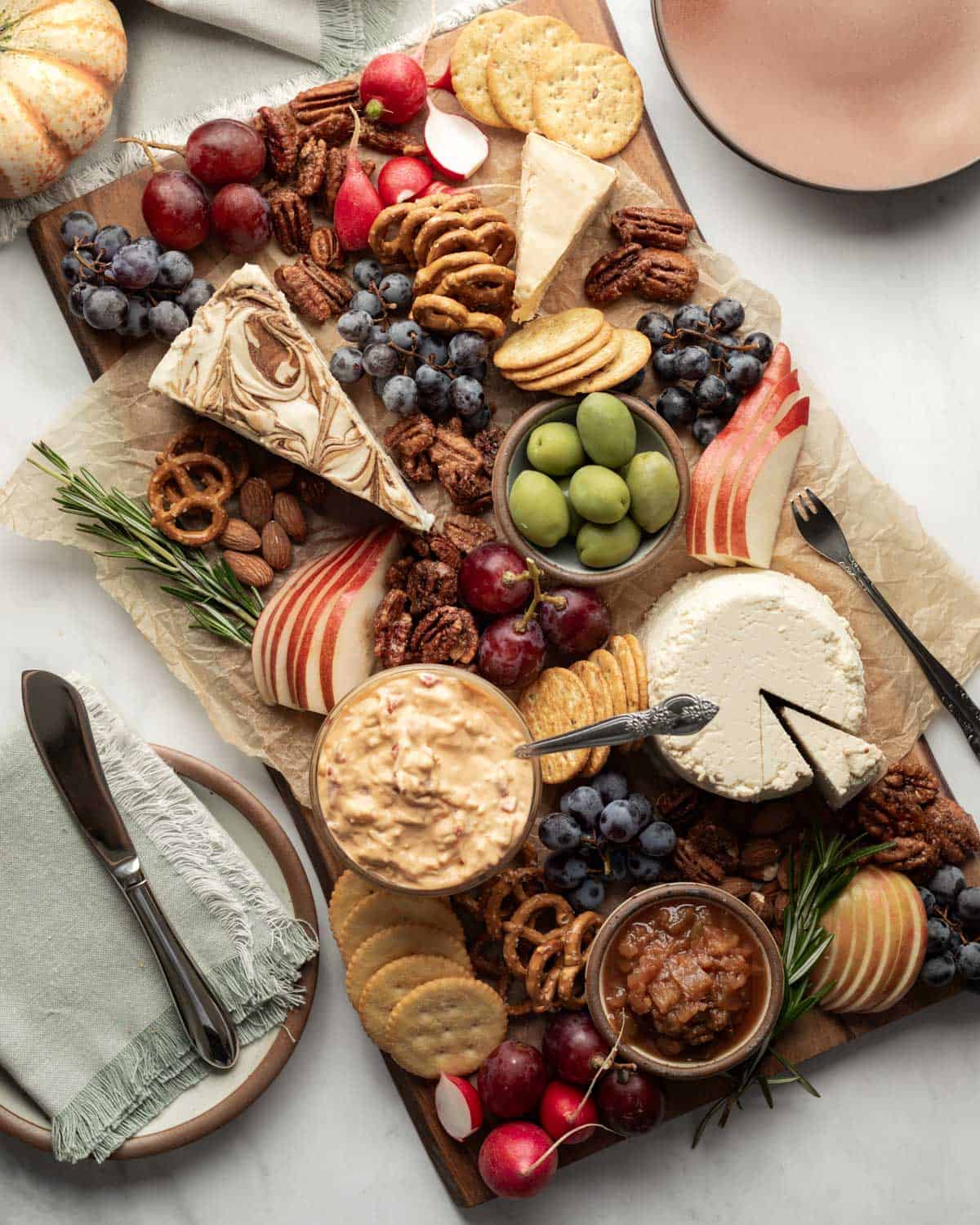 Want to build an epic vegan cheese board but not sure where to start? Trust me, I get it! Unlike with a veggie tray, since cheese is the star here, it might seem like an impossible thing to make vegan.
Not to mention, vegan cheese hasn't always had the best reputation! But the good news is that we've come a LONG way in recent years. With commercial cheeses and vegan cheese recipes (both quick and cultured), there are more and more delicious options every day.
Once you've found a few cheeses you enjoy, assembling a cheese board is not only EASY, it's actually fun!
Jump to:
Why You'll Love It
A vegan cheese or charcuterie board is perfect for your next get-together because it's: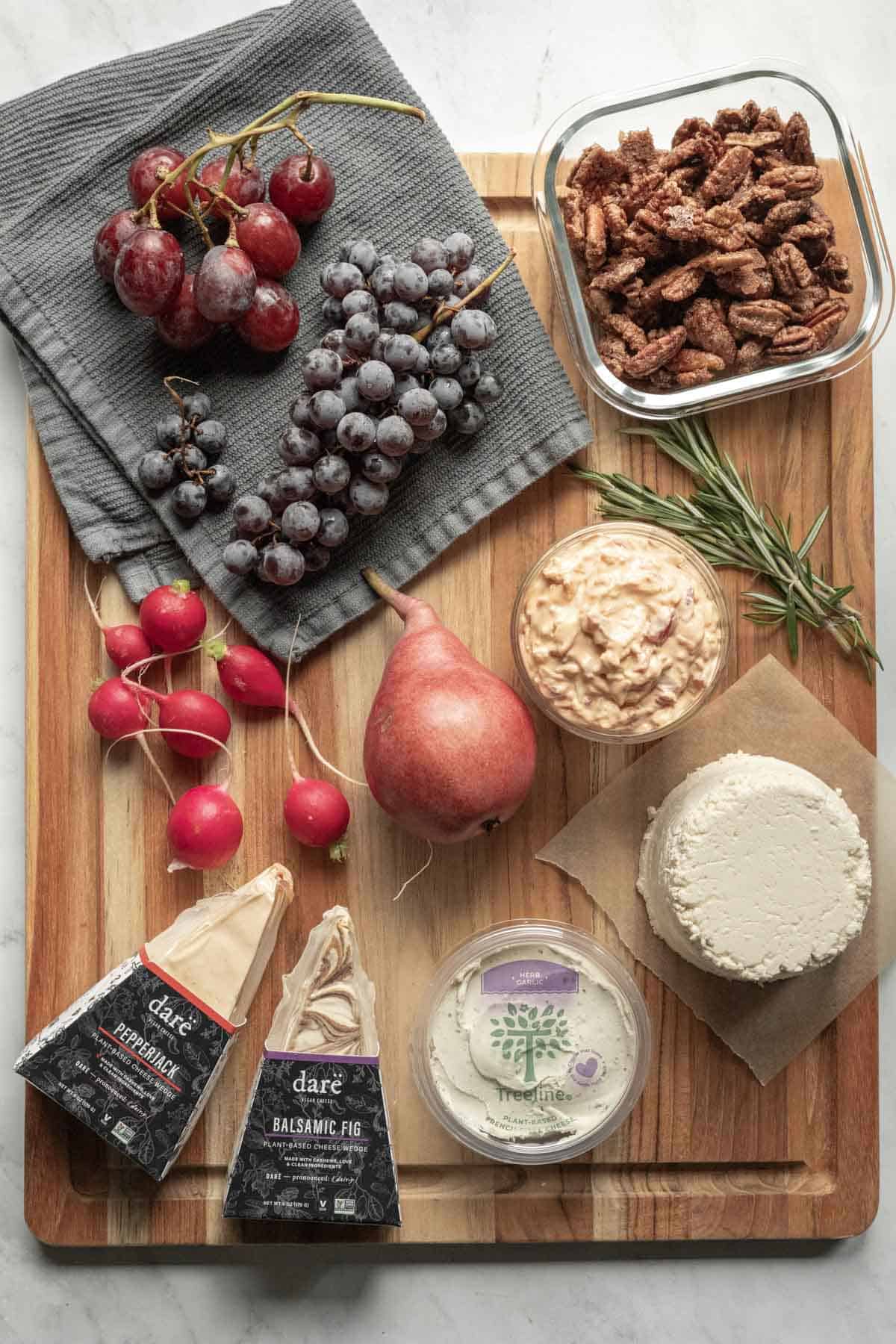 What to Include on a Vegan Cheese Board
Cheese - First, select anywhere from 2 to 5 vegan cheeses, depending on the number of guests. See the next section for recommended brands and recipes.
Fruits - Fresh fruit like apples, pears, and grapes pair well with cheese and are always a good choice. Think about what's in season and select fruits of different colors. For example, strawberries and blackberries are nice summer choices. Dried apricots are a classic, year-round choice.
Crackers and breads - Sturdy crackers and pretzels make it easy to scoop up dips, spreads, and cheese. Toasted bread or pita triangles are also nice. Sliced baguette is a classic. This is also an opportunity to provide gluten-free options and add seasonal flavors.
Condiments - Consider fruit compote or jam, olive tapenade, fancy mustards, or chow chow relish.
Nuts - Raw, roasted, and seasoned nuts are always a hit. Try these glazed walnuts or candied pecans.
Veggies - Vegetables aren't a requirement for a cheese board, but including one or two options is a great way to add color, variety, and lighten things up. Crisp carrots and celery sticks are nice for scooping up soft cheeses and spreads, but really, there are no hard-and-fast rules on the veggies you can use. See the "Seasonal Ideas" section below for more options.
Optional Extras
Vegan meats - Leaning more toward a vegan charcuterie board, plant-based meats can make your cheese board even more substantial and impressive! I have several easy recipes that can be prepared in advance:
Pickled items - There are plenty of unique, high-quality pickled vegetables on grocery store shelves that can add flavor and contrast to creamy cheeses. Try artichoke hearts, cornichons, spicy green beans, or make your own quick pickled vegetables.
Olives - Choose different types of jarred olives or a selection from the olive bar at your local gourmet market. Mild Castelvetrano and Frescatrano olives are personal favorites.
Vegan Cheeses
To Purchase
First, check locally for small, start-up vegan cheese brands. You never know what you might find! Also, with a little bit of online searching, you can discover companies that ship directly to your door.
Homemade Options
From cookbooks to vegan blogs, there are endless possibilities if you're willing to prepare a recipe. I'm a fan of "quick cheeses," mainly because I don't currently have the space or time for aging cheeses.
Here are some vegan cheese recipes to consider:
How to Build a Vegan Cheese Board
Select a wood cutting board, serving board, platter, or plate large enough to hold your desired number of cheeses plus the other ingredients you plan to include.
For reference, the rectangular board in the photos is 9 ½ inches wide by 17 inches tall.
Tip! If desired, use a layer of brown parchment paper to add visual interest and protect your board from oils and moisture.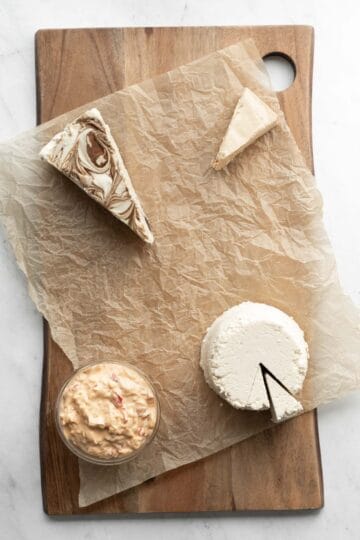 First, arrange the cheeses. Pictured above are 2 store-bought and 2 homemade.
Clockwise from upper left: Fig Balsamic and Pepper Jack cheese wedges by Dare Vegan Cheese (I cut the pepper jack into a smaller wedge because we didn't need so much), plus my vegan feta and vegan pimento cheese.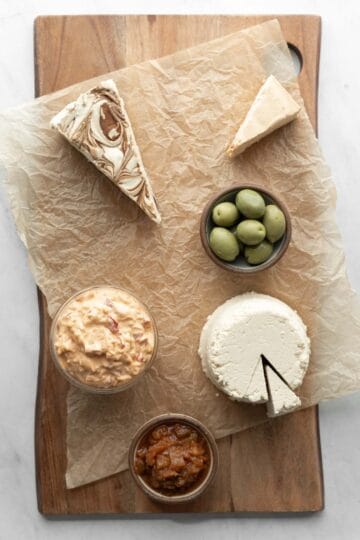 Next, place the small bowls that will hold condiments or other small foods like olives.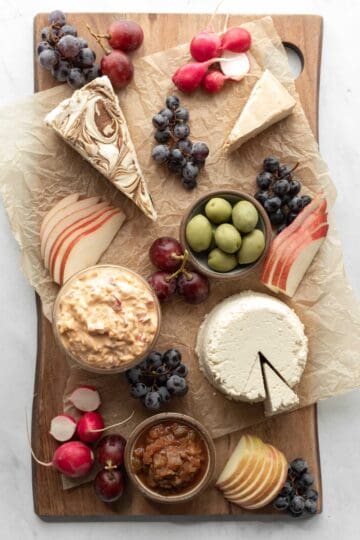 Third, arrange colorful fruits and veggies all around the board to create visual balance. Tip! Use scissors to snip grapes into small clusters that are easily picked up by the stems.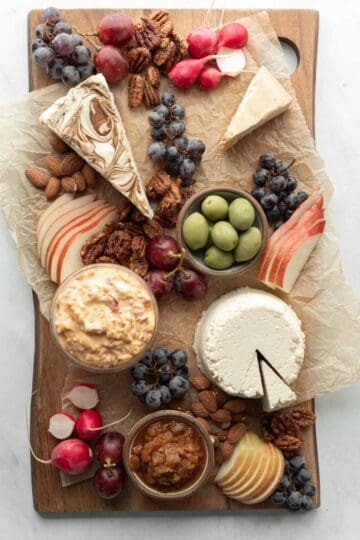 Arrange small mounds of nuts and other "extras" around the board.
And finally, fill in the gaps with crackers, pretzels, and/or breads (pictured below).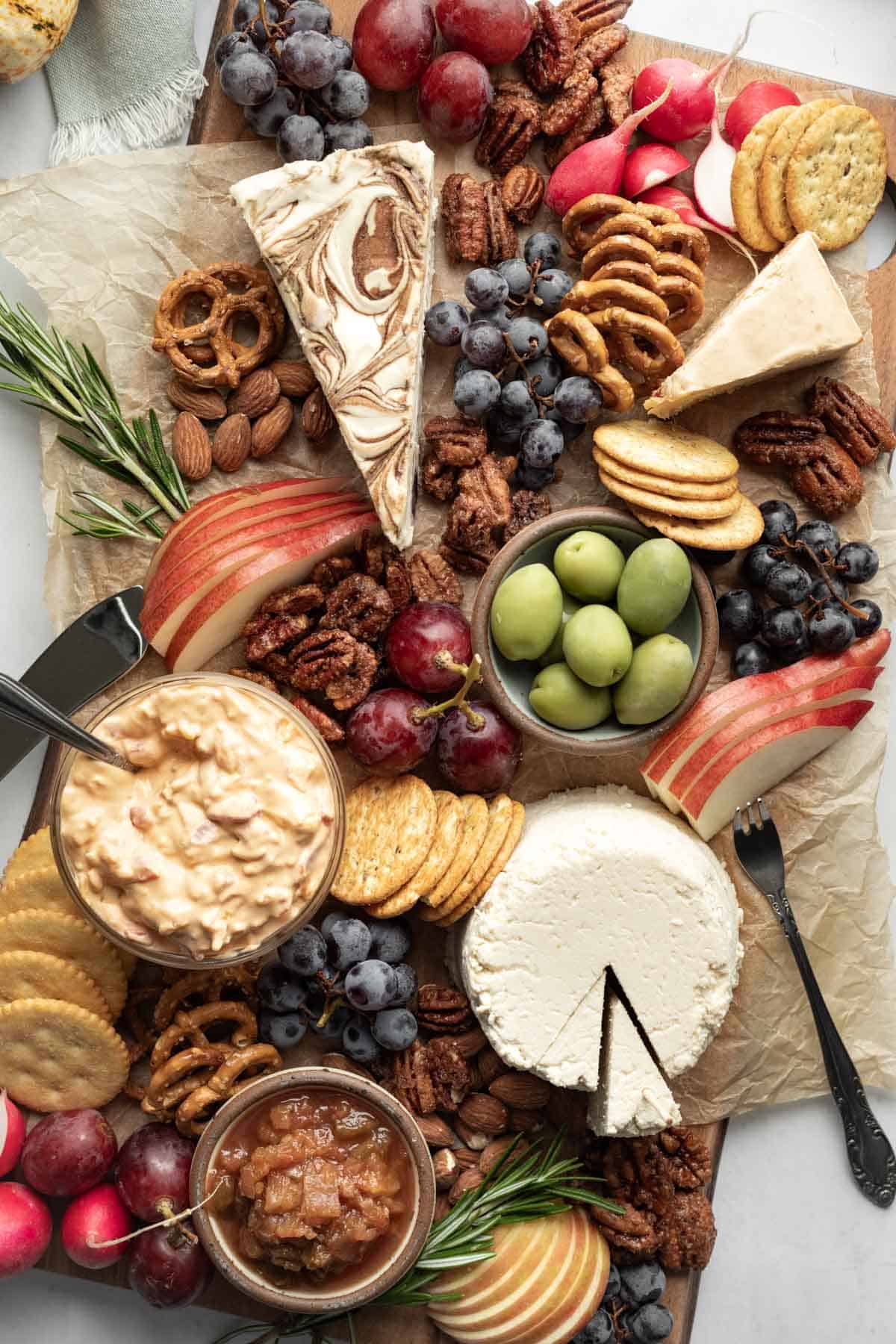 Themed & Seasonal Cheese Board Ideas
Let the season and type of event help you choose the fruits, vegetables, and condiments to include on your vegan cheese board.
Fall - An autumn or Thanksgiving cheese board might include sliced apple and pear, apple butter, cranberry-apple compote, cranberry salsa, or homemade cranberry sauce instead of the more typical fruit jams.
Candied pecans, bites of roasted sweet potato or delicata squash, and sprigs of rosemary enhance the seasonal vibes.
Winter - For a winter vegan cheese board, many of those fall flavors and ingredients still work. Or lean even more into winter produce and flavors like orange, persimmon, pomegranate, beets, brussels sprouts, roasted broccolini, kale chips, and warming spices.
Spring - Radishes and blanched asparagus add pops of color and are a nice contrast to the rich cheeses.
Summer - Go with cherry or grape tomatoes, sliced cucumber, and blanched or pickled green beans.
Casual - Keep it simple with one or two cheeses, crackers, and sliced apple.
Luxurious - Choose high-end ingredients (think gourmet olives and crackers), and include as much variety as possible.
Southern-inspired - I've lived most of my life in the South, so it's easy for me to imagine a cheese board that nods at southern favorites like pimento cheese (vegan, of course; as pictured and linked in the recipe), pickled okra, fried green tomatoes, chow chow relish, and fresh peaches.
Selecting a Serving Board and Utensils
You'll need a wooden board or other type of serving tray large enough to hold the cheeses and accompaniments, but you also don't want it to be too large. A cheese board should feel luxurious and abundant! You don't want a lot of empty space.
The cheese board pictured above measures 9.5 x 17 inches and holds enough for 6 to 8 guests.
Finally, serving utensils make it easy for guests to serve themselves. You'll likely need small spoons for dips and condiments, cheese knives, and small tongs or forks. Toothpicks also come in handy for piercing fruit and cubes of cheese.
Top Tips
Here's a quick review of key things to keep in mind as you build your vegan cheese tray:
More Vegan Party Food
And don't miss this collection of 37 crowd-pleasing vegan appetizers and party foods!
I hope this was helpful and that you have a blast creating your next vegan cheese board. Do you have some vegan charcuterie, snack, and cheese board tips of your own? Share them with us in the comments below!
📖 Recipe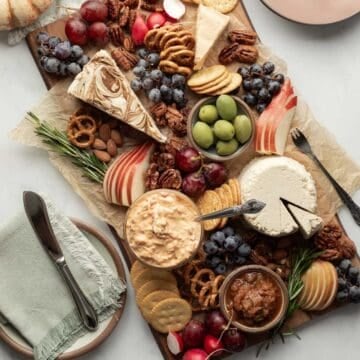 Vegan Cheese Board Recipe & Tips
A beautiful vegan cheese board is sure to wow your guests! Endlessly customizable, add seasonal and festive touches for a vegan cheese and snack board everyone will love.
Note: Use this list as a general guide. You can find more in depth ingredient notes above. Allow approx. 3 ounces of cheese per person, and don't be afraid to mix things up with your favorite snacks and cheeses!
Ingredients
Cheeses and Crackers:
vegan cheese wedges, wheels or blocks

-

store-bought or homemade; refer to "Cheese section" above for more info

French-style cheese spread

-

such as Treeline

vegan pimento cheese -

tap for the recipe

vegan feta or goat cheese -

tap for recipe
Other Ingredients:
freshly sliced apple, pear, or other seasonal fruit

-

toss with lemon juice to prevent browning

seedless grapes

-

Tip: use scissors to snip into small clusters

fruit compote or jam -

tap for apple-cranberry recipe

gourmet olives or tapenade

seasonal veggies, cut into bite-size pieces

-

such as radishes or broccoli

fancy mustard or relish

vegan meats such as pepperoni or deli slices -

store-bought or homemade; see Notes
Instructions
Select a wood board, platter, or serving plate that is just large enough to hold all of the ingredients. For reference, the rectangular board in the photos is 9.5 x 17 inches.

If desired, place a large piece of parchment paper to protect the board from oils and moisture. Arrange the cheeses.

Next, place the small bowls that will hold condiments and spreads.

Arrange the fruit(s) all around the board to create visual balance.

Begin filling in gaps with small mounds of nuts and other extras. Finally, complete the cheese board with crackers and breads.
Notes
For more in-depth tips and brand and recipe suggestions, be sure to review the sections above the recipe.
Top Tips
Allow approximately 3 ounces of cheese per person.
To offer more variety in cheeses, don't be afraid to cut large wedges and blocks in half, and store the extras in the fridge. Then you can pull out the favorites mid-party if needed.
Also have extras of the other ingredients so you can refill the board if necessary.
Estimated Nutrition (per serving)
Nutrition information is an estimate and will vary depending on the exact amounts and specific products and ingredients used. We calculate this information using the online calculator cronometer.com.
Tried the recipe?
I love hearing from you! Share your feedback below.