Meaty, savory, and versatile homemade seitan! This easy to follow recipe will show you how to make seitan at home that's as flavorful and delicious as store-bought but more affordable. This basic seitan recipe is seasoned enough to taste great on its own, but mild enough to use in a variety of dishes that call for seitan as an ingredient. You can slice it for sandwiches and wraps, crumble it for tacos and pizza, or cube it for everything from Massaman Curried Seitan to Seitan Bourguignon.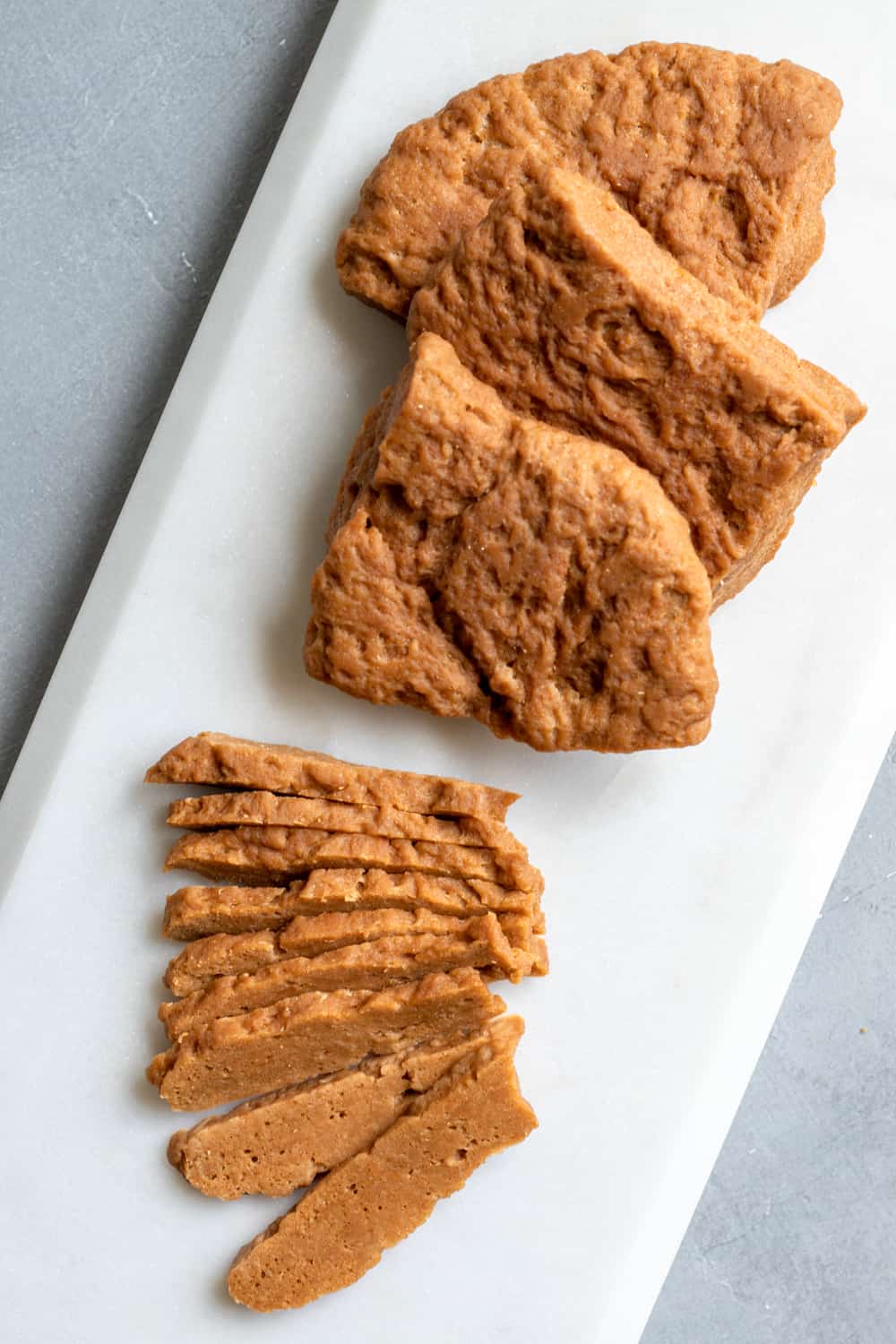 Homemade Seitan - Cost Comparison
If you haven't ventured into making your own seitan yet, you're in for a treat! Maybe you've been intimidated and under the impression that it's a tricky process? Well, I'm happy to report that making seitan from vital wheat gluten is surprisingly easy AND fun because it gives you total control over the flavor, saltiness, and shape. And then there's the cost...
While I love the pre-made seitan products available in stores, it can get expensive if you're feeding a family. Even though we're only a household of two, Mark and I are not dainty eaters! In fact, he's into some pretty heavy weight lifting these days, and all that muscle requires a lot of calories.
Plus, we just straight up LOVE seitan. So it becomes difficult to justify spending $6 for an 8 ounce package of seitan that may only provide 2 or 3 servings for us. So to give you an idea of how much money you can save by making your own, here's a basic comparison. I'll use Bob's Red Mill brand vital wheat gluten in this example since it's the package you're most likely to see in stores here in the US.
At our local Ingles (a NC-based grocery chain) I can buy a 22 ounce bag of vital wheat gluten for around $7.50. Depending on the quantity you purchase, you can find it online from sites like Amazon, Thrive Market, and Vitacost for anywhere from $5.50 to $8.
That 22 ounce bag will make FIVE batches of the recipe I'm sharing today, which equates to 5 pounds of cooked seitan! That's 10 times more seitan, y'all! Even once you factor in the costs of the other ingredients, you can see how much more affordable it is to make this yummy vegan staple yourself.
Be sure to keep an eye out for sales because you never know what sort of jackpot you'll come across. At a local discount grocery we've even seen vital wheat gluten on sale for $2.99 a bag. When you have an opportunity to stock up, just store the extra vital wheat gluten in the freezer for extended freshness.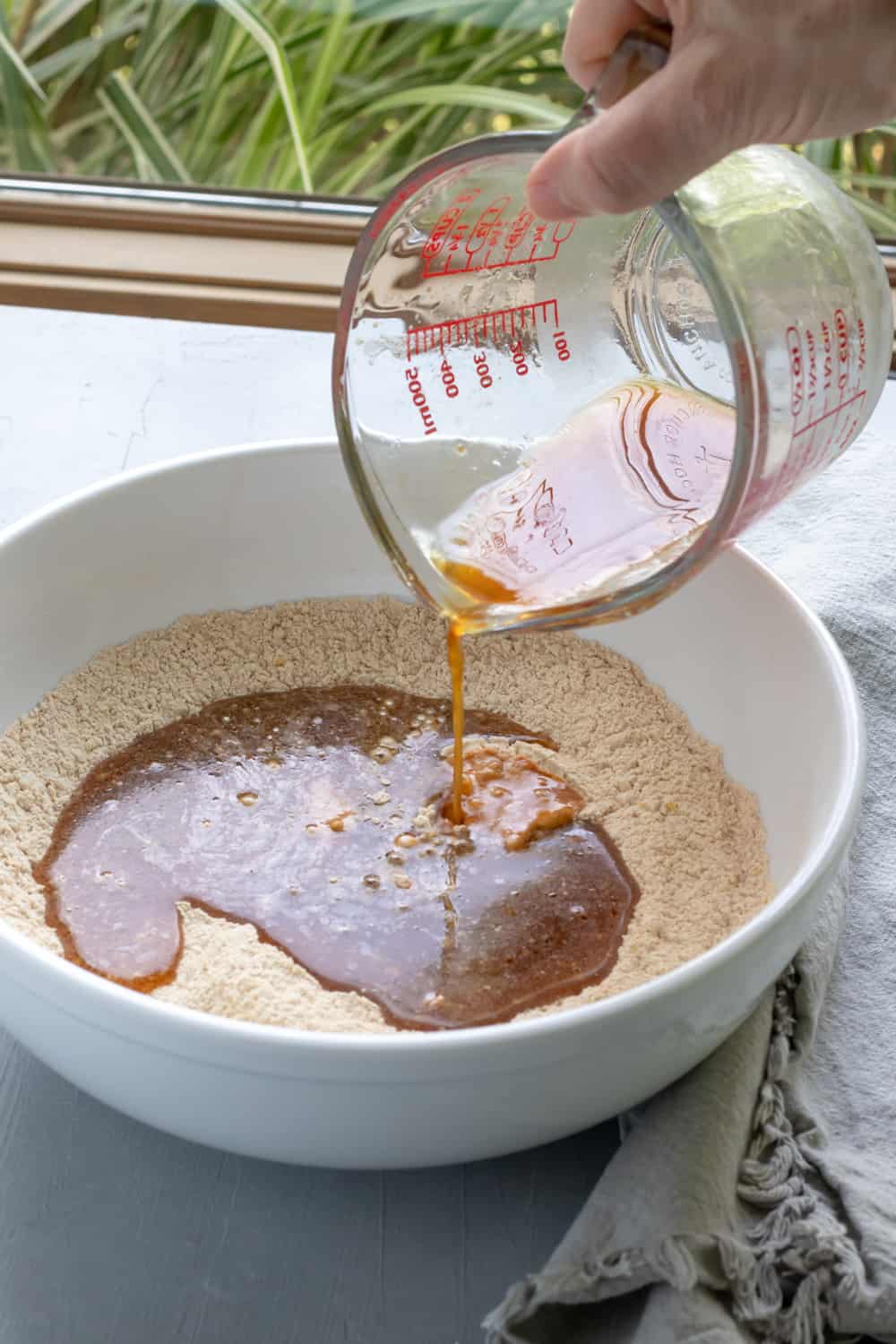 How to Make Seitan
You know how most baking recipes call for three basic steps? Mix dry ingredients in one bowl, mix wet ingredients in a separate bowl, and then combine. Making seitan follows the same basic process!
In the photo above, the following dry ingredients are in the large bowl:
vital wheat gluten
garbanzo bean flour (also known as besan in Indian cooking)
nutritional yeast
onion powder
garlic powder
smoked paprika
salt
And in the glass measuring cup are the wet ingredients:
vegetable broth
soy sauce (or shoyu or tamari)
balsamic vinegar
apple cider vinegar
pureed garlic
olive oil
Pour the wet ingredients into the dry, and stir with a large spoon until a soft dough forms. Transfer the dough to the counter top or other solid surface and knead it for a few minutes.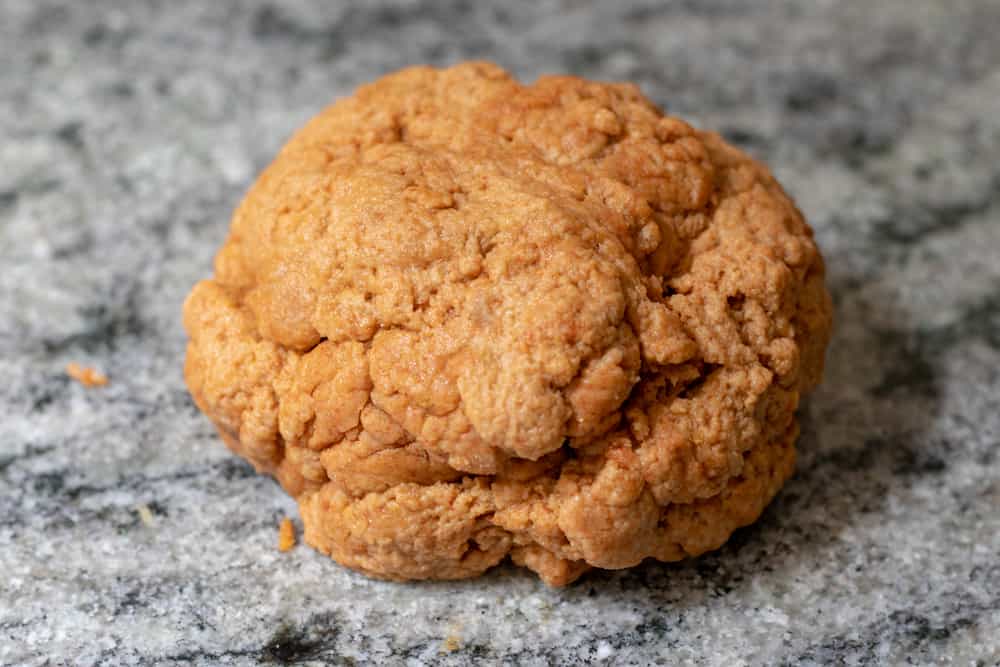 Is it just me, or does the dough look like a cross between brains and mushy cauliflower? Not super appetizing, I know! The reddish color is thanks to smoked paprika, which is completely optional, by the way. It lends a subtle smokiness, but isn't critical to the recipe. Without it your seitan will have a more standard "white meat" sort of hue.
After kneading the dough, let it rest for a few minutes. Then knead it for another 30 seconds or so before stretching it out into a rectangle. Alternatively, you can tear the dough into chunks (keep scrolling for a photo of seitan nuggets).
It will be firm and might not want to stretch out at this point, but just keep working on it. Once you have a ¾-inch-thick rectangle-ish shape, cut it into four pieces.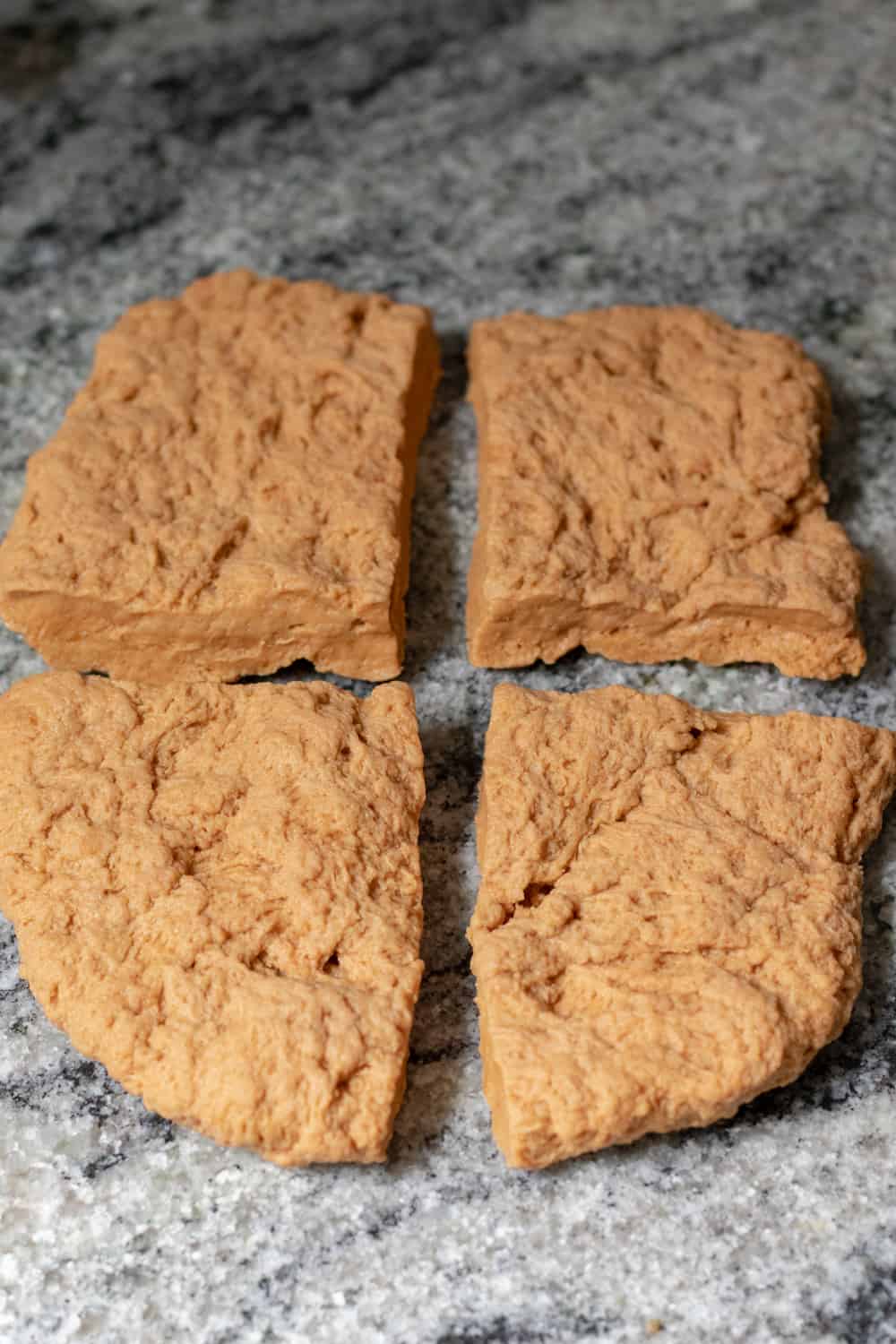 So now you have 4 seitan "steaks" that can either be steamed or simmered.
How to Cook Seitan - Simmering vs Steaming
Most basic seitan recipes call for simmering, and honestly, that's how I'd always made it until recently. But I've become a big fan of steaming seitan for a few reasons.
It's quicker. No matter which cooking method you choose, the amount of time will always be dependent on the size of your pieces of dough. But in general, steaming takes about 30 minutes, whereas simmering takes closer to an hour.
It uses less water. To steam the seitan steaks you'll only need a couple of inches of water in the bottom of a pot versus needing to fill at large pot at least half way for simmering. Plus, simmering uses additional soy sauce or salt because the water needs to be seasoned.
Steamed seitan stays more dense and doesn't absorb water. When simmered, the dough absorbs some of the cooking liquid, giving it a higher water content. This makes it harder to get a good sear on the outside of the seitan if you're using it afterward in something like a stir fry.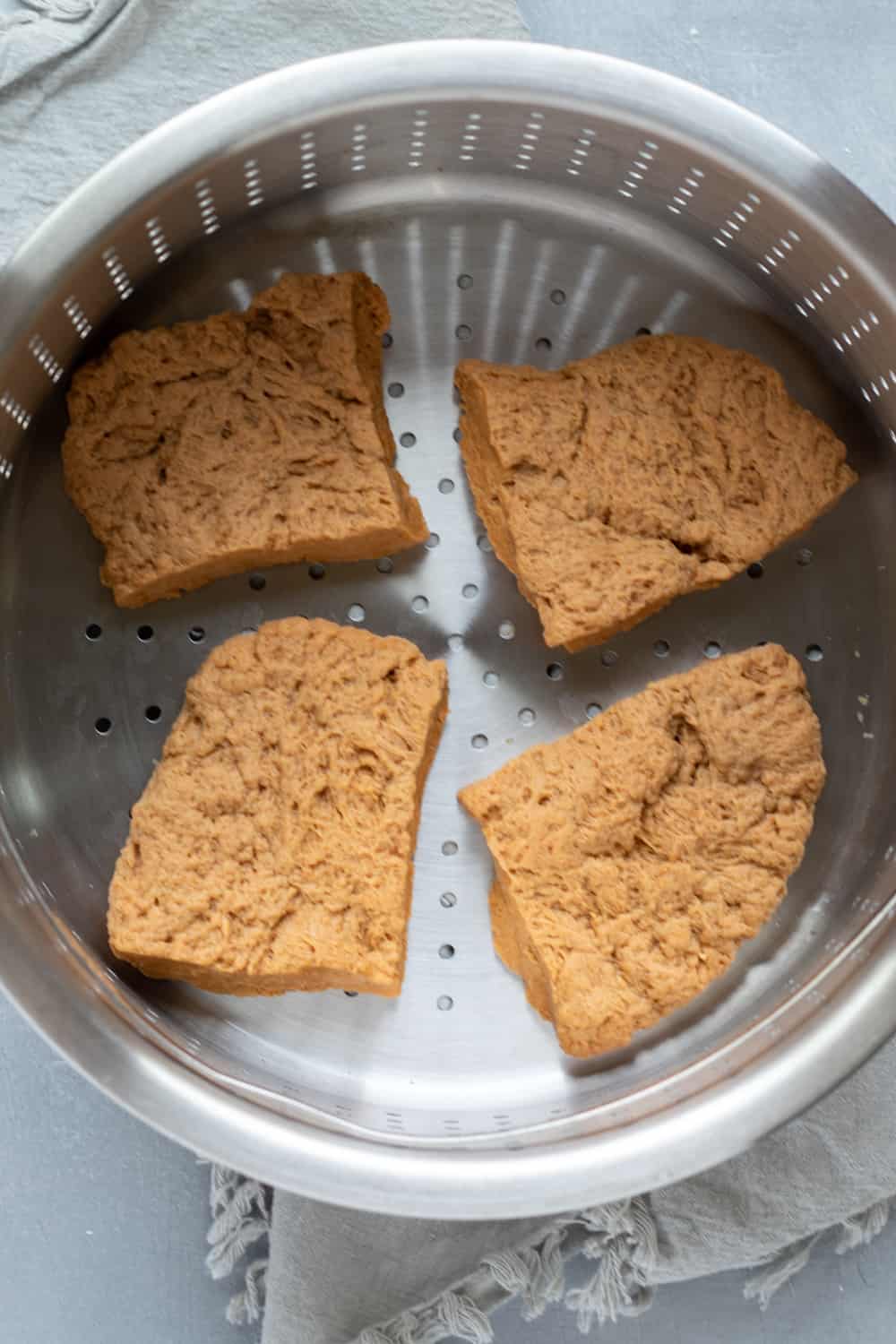 Above are four pieces of wheat gluten dough in a steamer basket, ready to be cooked, and below are some tasty seitan nuggets ready to be steamed!
The nuggets are a different color because I omitted the smoked paprika and onion powder in this batch and added one teaspoon of poultry seasoning. Delicious!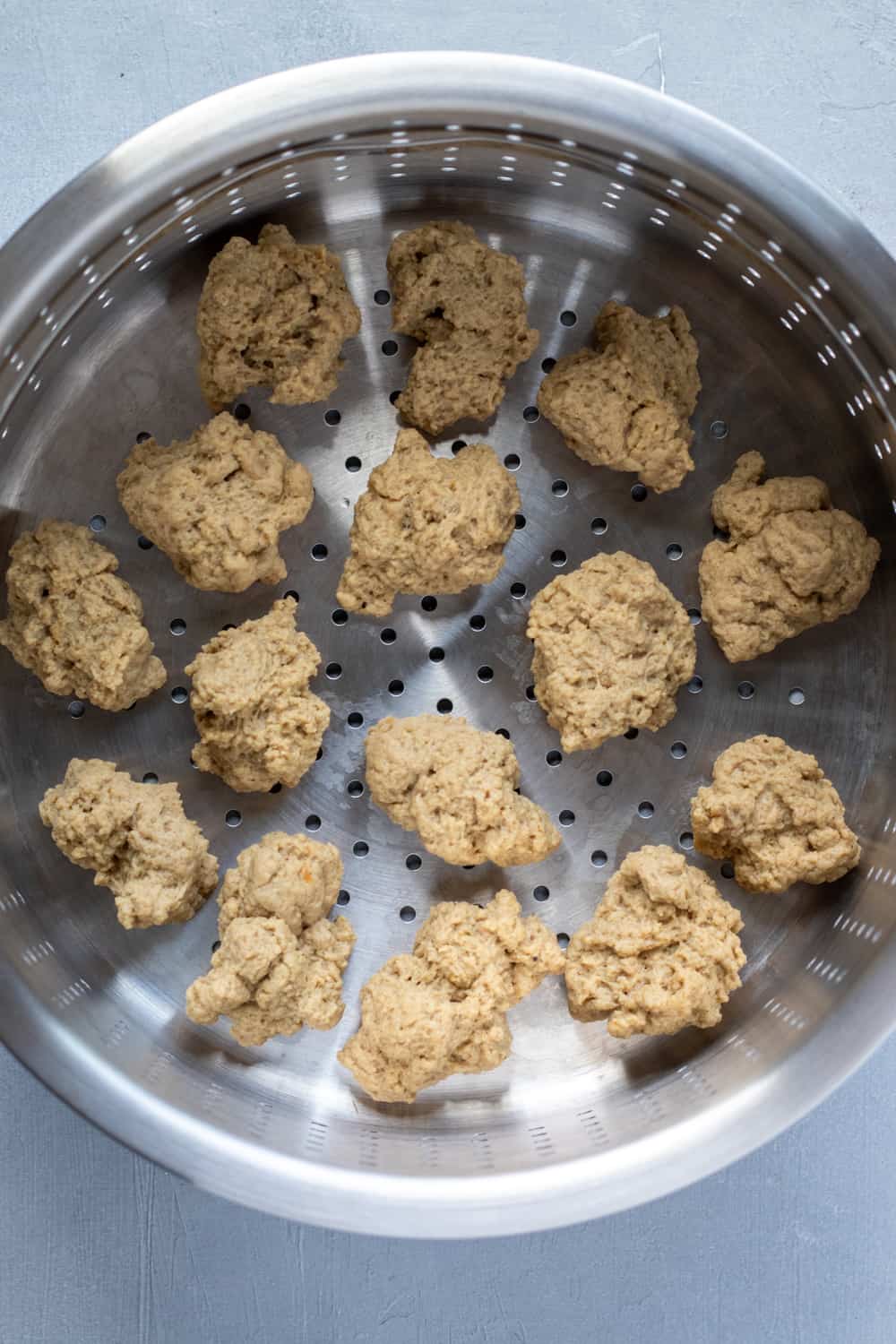 In the photo below you can see a previous batch that was simmered. One more issue with simmering that often gives people trouble is keeping the simmer low enough. If the seitan boils, it will get puffy and lose some of the desirable, dense, and meaty texture.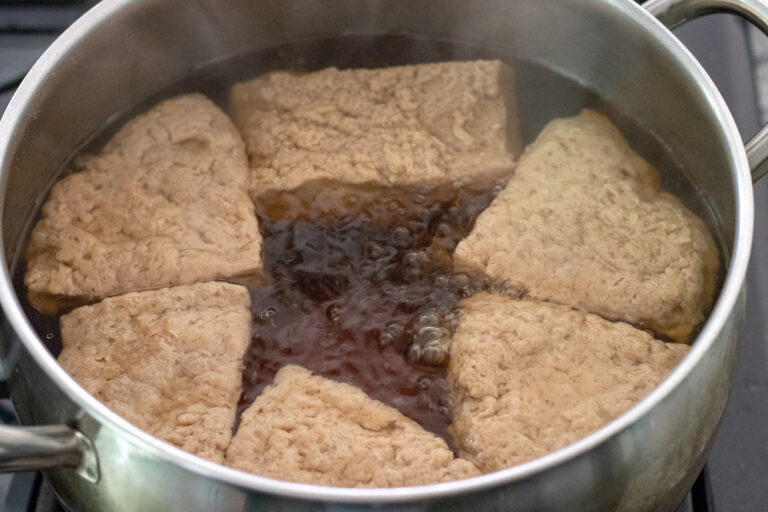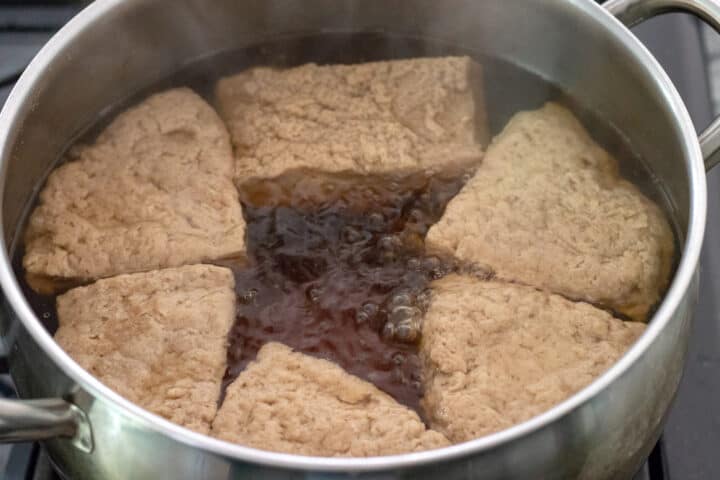 Seasoning Homemade Seitan - Keep the Final Dish in Mind
From onion powder and smoked paprika, to garlic and soy sauce, the seasonings included in this recipe are meant to strike a balance. I wanted to create a basic recipe that's flavorful enough to stand on its own but not SO strongly seasoned that it can't transition into something else, like an Asian stir fry or my Seitan Bourguignon.
I didn't necessarily try to replicate the flavor of Westsoy's seitan, but making a product similar to that is sort of what I had in mind.
Recently a friend emailed saying she was making seitan for the first time. Her goal was then to use it in Seitan Bourguignon. The basic seitan recipe she used was the one on the package of Bob's Red Mill vital wheat gluten.
Unfortunately, it was bland, bland, and bland. I could tell from her email how disappointed she was. She felt like her attempt at Bourguignon was ruined because the actual seitan dough itself didn't have enough salt or flavor. Valid point.
So I started thinking about the likelihood that many people's first experience with homemade seitan is probably with that same recipe, as well as how different that is from most store-bought seitan.
So I wanted to create a "basic" seitan recipe that's not quite so basic, if you know what I mean. None of the seasonings in this recipe would prevent you from being able to take it in different directions, like Asian, Italian, or Mexican dishes. And if you want to add spiciness or something like a poultry seasoning blend, go for it! The one major thing to consider is the amount of salt.
If you plan to eat the seitan as is, you'll want to include a bit more salt (as described in the recipe). But if you plan to use it in a dish that includes a salty sauce, reduce the amount of salt in the dough. Make sense?
Also, we all have very different palates and preferences for saltiness. For example, I consider myself someone who loves salt, but in talking with Mark as we taste different foods, I'm always amazed how much more sensitive to salt my palate is than his. So even though we eat a fairly similar diet, he likes much bolder flavors, whereas I tend to appreciate subtlety. So being familiar with your own palate and knowing how you plan to use the seitan can help guide you to success!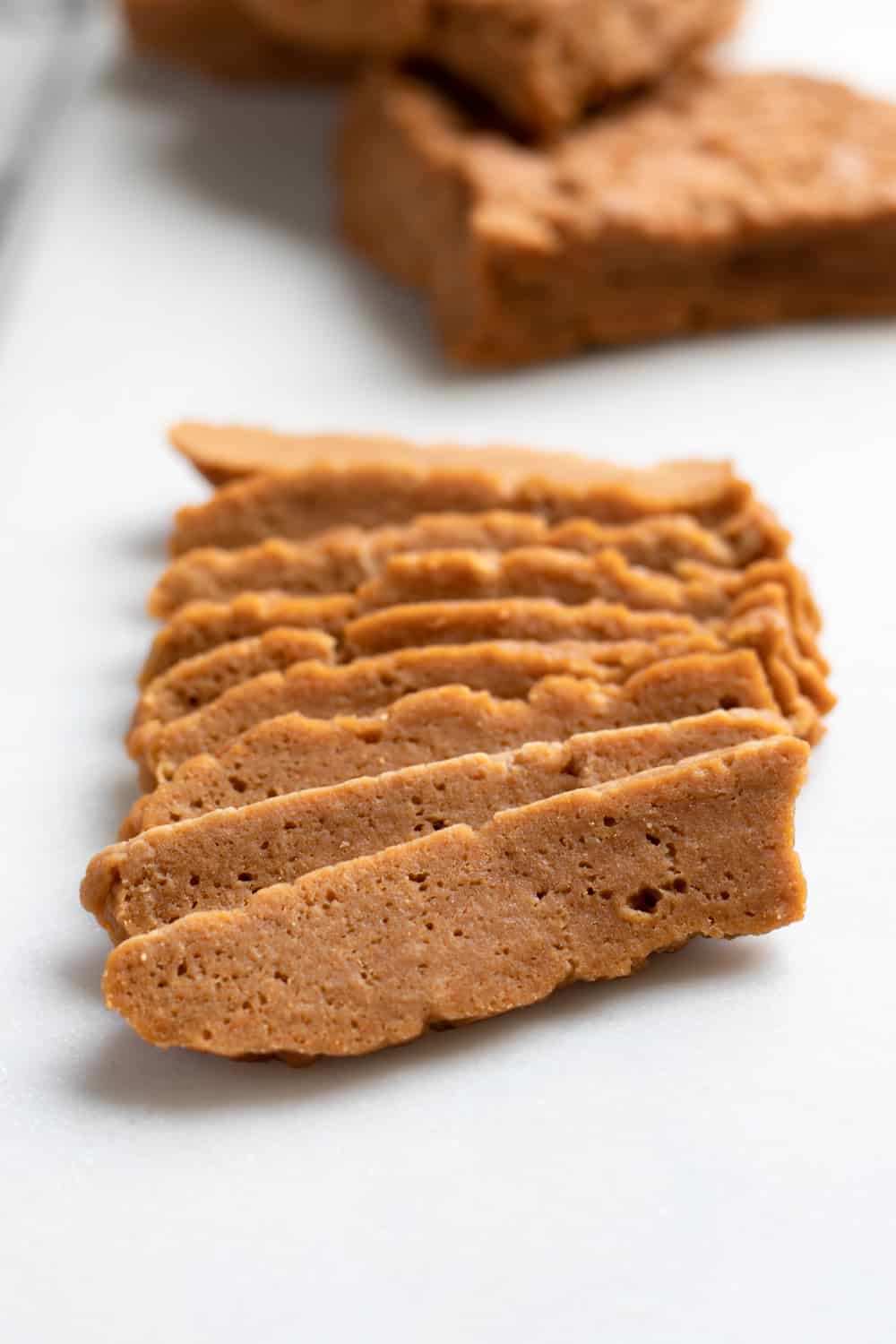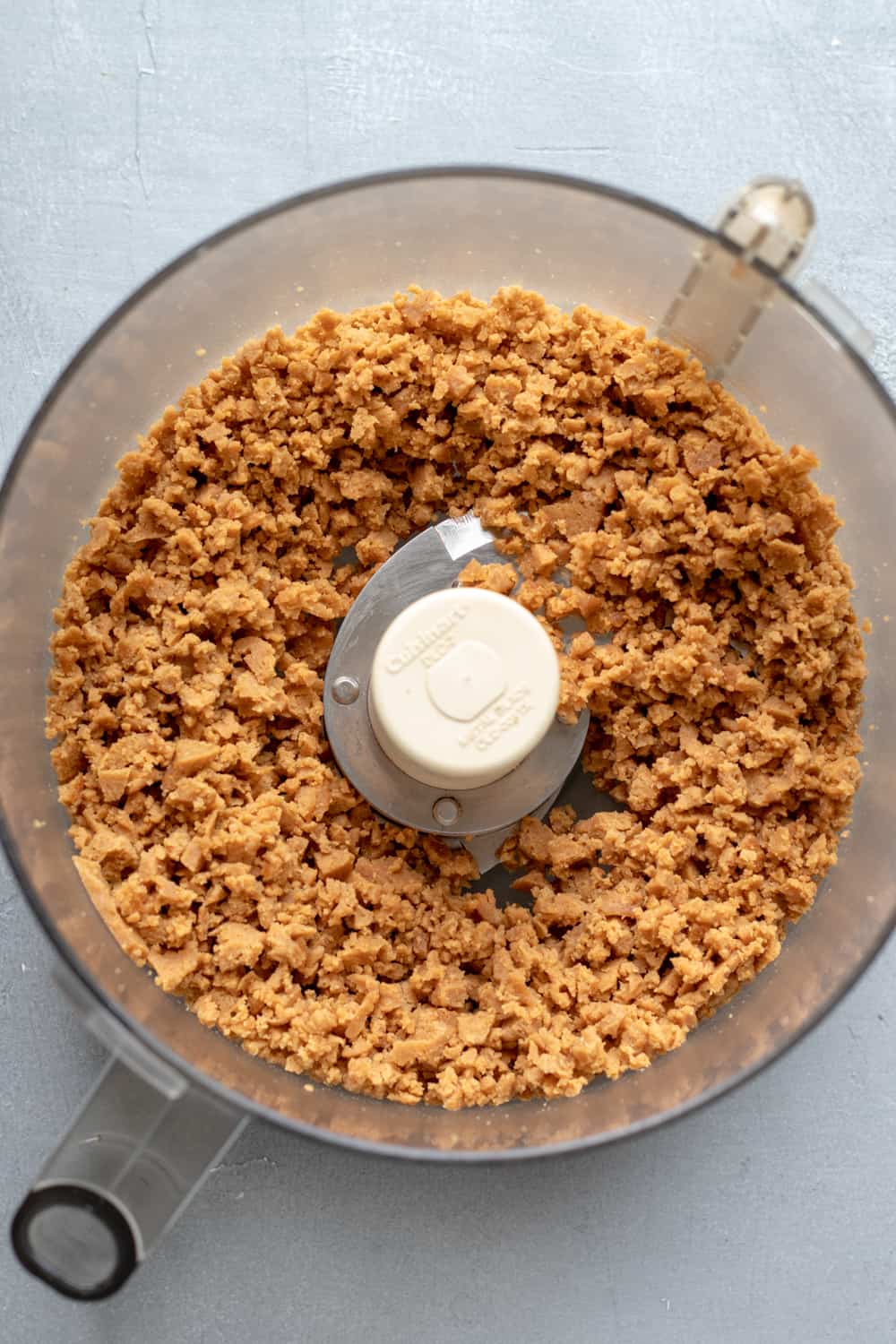 Putting seitan in the food processor and pulsing it into meaty crumbles is one of my favorite things!
Sprinkle it on pizza for extra protein, or try this: heat a skillet over medium heat, add a bit of oil and some diced onion, mushrooms, peppers, and the crumbled seitan. Sauté until the veggies are as done as you like, then pile it onto a bowl of rice or into a burrito. So easy, yet so delicious.
Stay tuned next week for a Vegan Thai Larb recipe using crumbled seitan.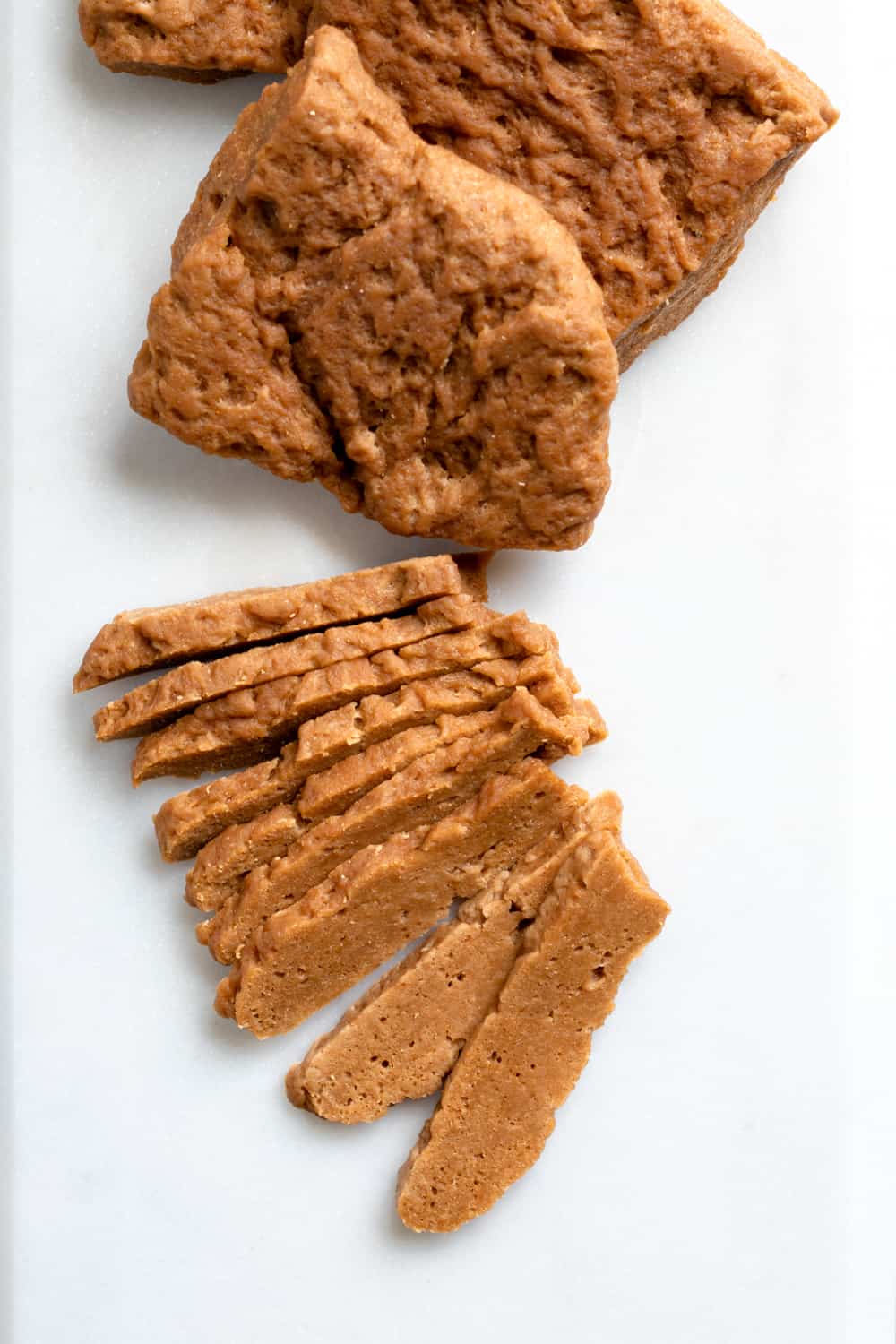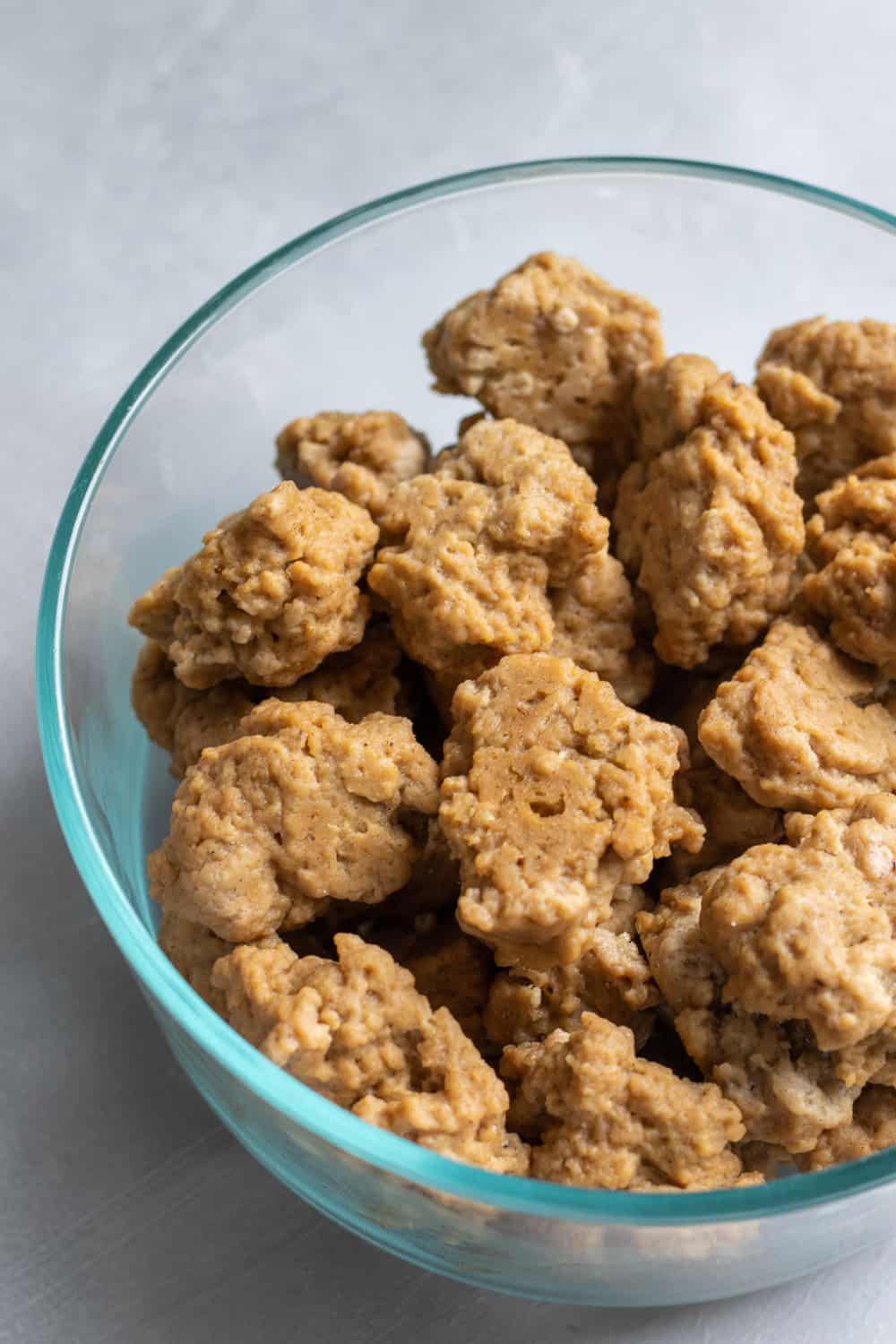 I hope you love this basic homemade seitan recipe as much as we do! As you can see, it's totally versatile in and is really fun to make.
Give me a shout if you try it because I always love hearing from you. And if you're feeling particularly proud of your delicious seitan dish, don't forget to snap a photo and share it on instagram. Tag @myquietkitchen to make sure I see it!
Ways to use this basic seitan:
Easy Massaman Curried Seitan
Seitan Bourguignon with Rosemary Cauliflower Mash
Thai-Inspired Larb (lettuce wraps)
More recipes using vital wheat gluten:
Maple Breakfast Sausage
Vegan Andouille Sausage
Teriyaki Seitan Jerky
Seitan Jerky - 2 More Flavors!
Tempeh & Black Bean Sausage Burgers
Seitan Roast (Instant Pot Option)
Vegan Turkey Roast (Instant Pot Option)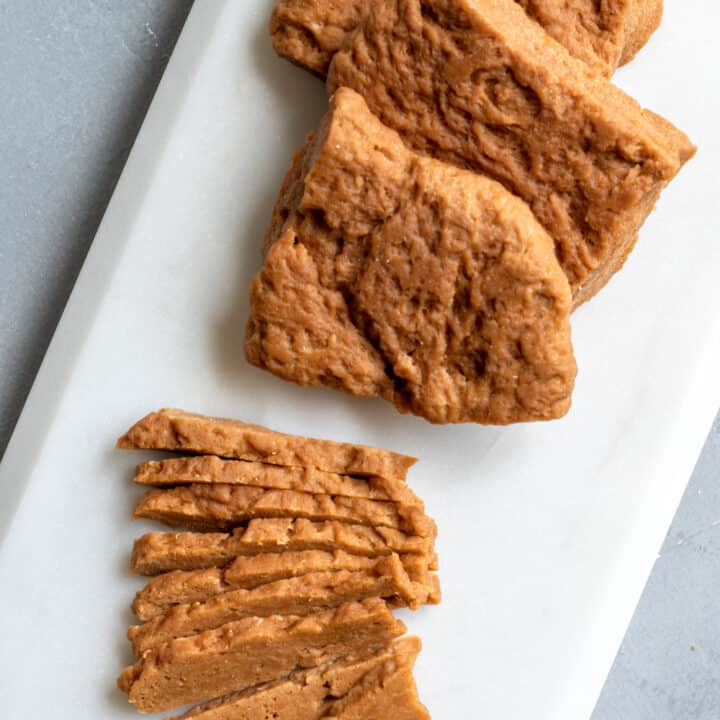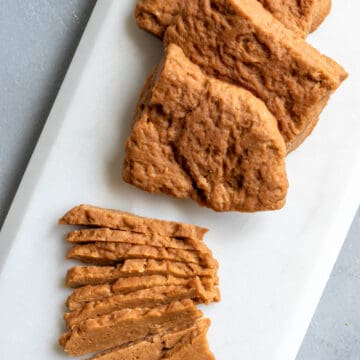 Homemade Seasoned Seitan
An easy to prepare homemade seitan recipe that's as flavorful as the store-bought variety...but more affordable! Perfect for any recipe that calls for basic, pre-made seitan. Can be sliced, crumbled or cubed for use in everything from sandwiches to stir fries.
Instructions included for two different cooking methods, steaming and simmering.
Yield: 1 pound (serves 4-5)
Ingredients
Dry ingredients:
1 ¼

cups

vital wheat gluten (150 g)

Weigh if possible. Otherwise, whisk the flour, then spoon into a measuring cup and level off the top.

3

Tbsp

chickpea flour (22 g)

1

Tbsp

nutritional yeast

1

tsp

onion powder

½

tsp

garlic powder

1

tsp

smoked paprika, optional

*Provides subtle smoky flavor and reddish color

¼ to ½

tsp

fine sea salt, optional, depending on final use/dish

*Use less salt if you plan to pair the setian with salty sauce in a final dish
Wet ingredients:
⅔

cup

vegetable broth

2

Tbsp

soy sauce

1

Tbsp

balsamic vinegar

2

tsp

apple cider vinegar

2

cloves

garlic, grated on a microplane zester

2

Tbsp

olive oil
Instructions
For steaming the seitan: add a few inches of water to a large pot and set up a steamer basket. Make sure the water doesn't touch the bottom of the basket. Bring the water to a simmer.

*See Notes for instructions on the simmering cooking method.

In a large bowl whisk together the vital wheat gluten, chickpea flour, nutritional yeast, onion powder, garlic powder, smoked paprika and salt.

In a separate bowl whisk together the broth, soy sauce, both vinegars, zested/pureed garlic, and olive oil.

Pour the wet ingredients into the dry and stir to combine. Transfer to a solid surface and knead for 2 to 3 minutes. The dough should start to feel tough and more resistant. Let the dough rest for 5 minutes, then knead a few more times. If making nugget-style chunks, tear off pieces of seitan from the dough ball. For larger steaks, use your hands to stretch the dough into an approximately ¾-inch-thick rectangle (refer to photos above). Cut into 4 equal-sized pieces and place in the steamer basket. Cover the pot, and set a timer for 15 minutes.

At the 15 minute mark, flip the seitan (be careful of the steam), and set the timer for 15 more minutes. Use tongs to remove one piece, and place it on a cutting board. The center should feel very firm when pressed with the tongs. You can also slice it through the center to check for doneness. If needed, steam for another 5 to 10 minutes.

*Steaks usually require about 5-10 minutes longer than smaller chunks.

Transfer to a plate to cool. Use in your favorite saute or stir fry, or refrigerate for later use. After chilling overnight, the seitan will be even meatier and more firm.
Notes
Instructions for simmering instead of steaming:
Fill a stock pot about half full with water, and add ¼ cup soy sauce. Bring to a boil, then reduce to a simmer. Carefully place the pieces of dough into the simmering water.
Place a lid on the pot slightly askew to allow steam to escape. Watch the pot for the first few minutes, to make sure it doesn't start to boil. Adjust heat if necessary to maintain a low simmer. Cook steaks for 50 minutes to 1 hour (smaller chunks/nuggets may be done after about 45 minutes). Squeeze with tongs; the seitan should be very firm when done. You can also cut through the center of a piece to check for doneness.
When the seitan is firm and fully cooked through, turn off the heat. Allow seitan to sit in the pot for about 10 minutes, then transfer to a plate to cool.

Storage:
Store cooked seitan in an airtight container in the refrigerator for up to 5 days. Seitan can also be frozen for up to one month.
Estimated Nutrition (per serving)
Calories:
185
kcal
Carbohydrates:
6
g
Protein:
25
g
Fat:
6
g
Cholesterol:
0
mg
Sodium:
598
mg
Fiber:
1
g
Vitamin A:
250
IU
Vitamin C:
0.8
mg
Calcium:
50
mg
Iron:
2
mg
Nutrition information is an estimate and will vary depending on the exact amounts and specific products and ingredients used. We calculate this information using the online calculator cronometer.com. For the most accurate nutrition information we recommend calculating it yourself to reflect the specific ingredients used in your dish.
Tried the recipe?
Comment below to let us know!