These vegan taquitos are filled with the meatiest homemade vegan taco meat, refried beans, spinach, and vegan cheese, then baked until crisp. Whether you think of these as flautas or entree-size taquitos, they're impossibly delicious! Serve with guacamole or vegan sour cream, salsa, and lime, and watch them disappear. Oil-free option.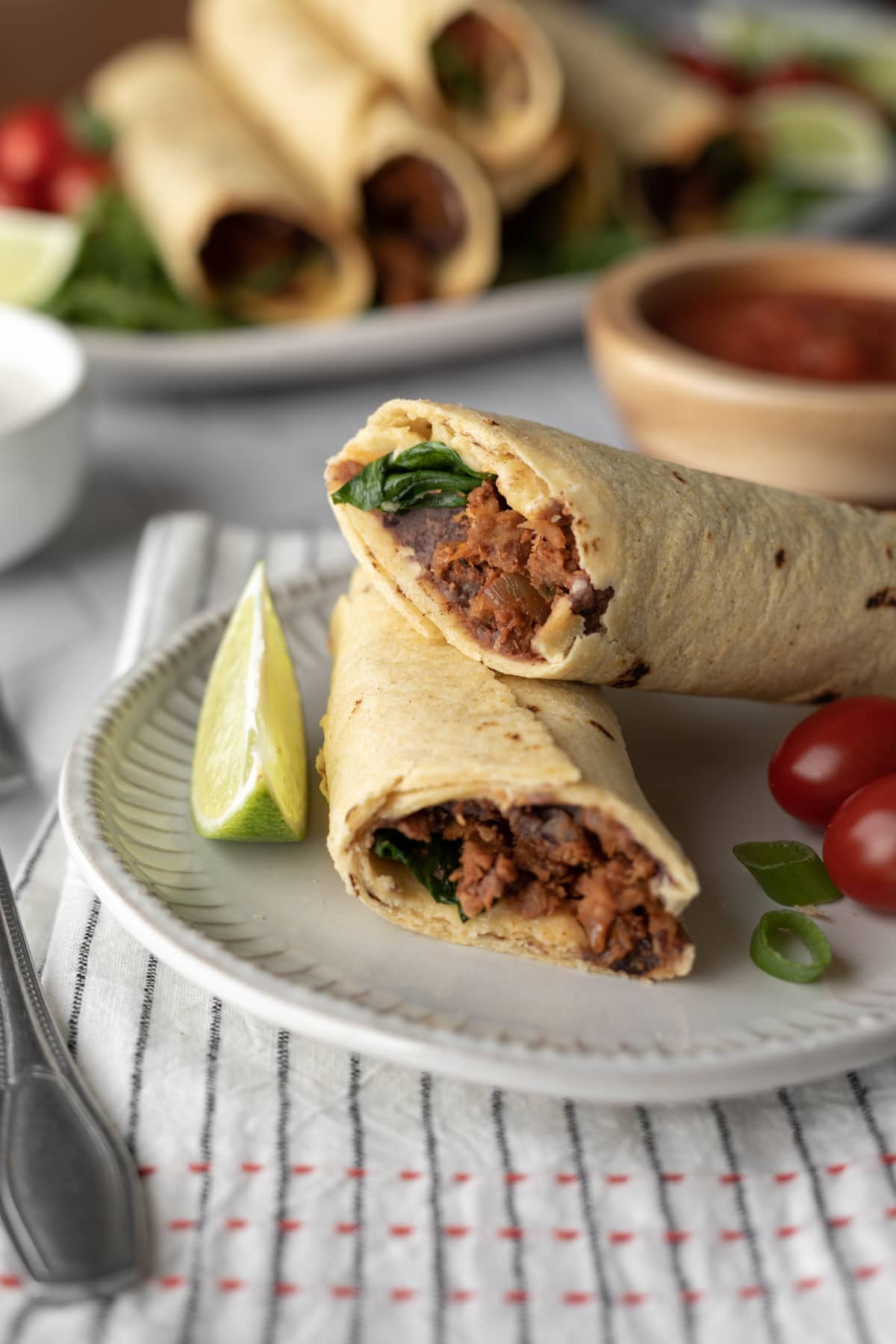 Jump to:
Why We Love This Recipe
As if I needed another reason to make our favorite Vegan Taco Meat, these healthier baked taquitos are seriously SO perfect with it! The combination of soy curls and walnuts is unbelievably meaty, and the spices are spot on. The fact that it's a meat substitute made with healthy whole-food ingredients is also a win!
Whether you use flour or corn tortillas to make these vegan taquitos, you'll love how flavorful and filling they are.
And though taquitos are usually fried, I've never been one to worry much about tradition. Heck, they are also usually filled with beef or chicken and dairy cheese, so while we're making them vegan we might as well ditch the fry oil, too.
Though I haven't tried cooking these in the air fryer yet, I'm sure air fryer taquitos will be amazing, too. Even crispier from the air fryer, no doubt!
Taquitos vs Flautas
Opinions vary on whether taquitos (Spanish for "little taco") are made with corn tortillas, and flautas (Spanish for "flute") with flour tortillas, or vice versa. It probably depends on where you are and who you ask.
Either way, taquitos are essentially a rolled taco, filled with meat and cheese, and fried. In other words, traditionally they're not exactly the epitome of health food. But our baked vegan version improves that pretty dramatically!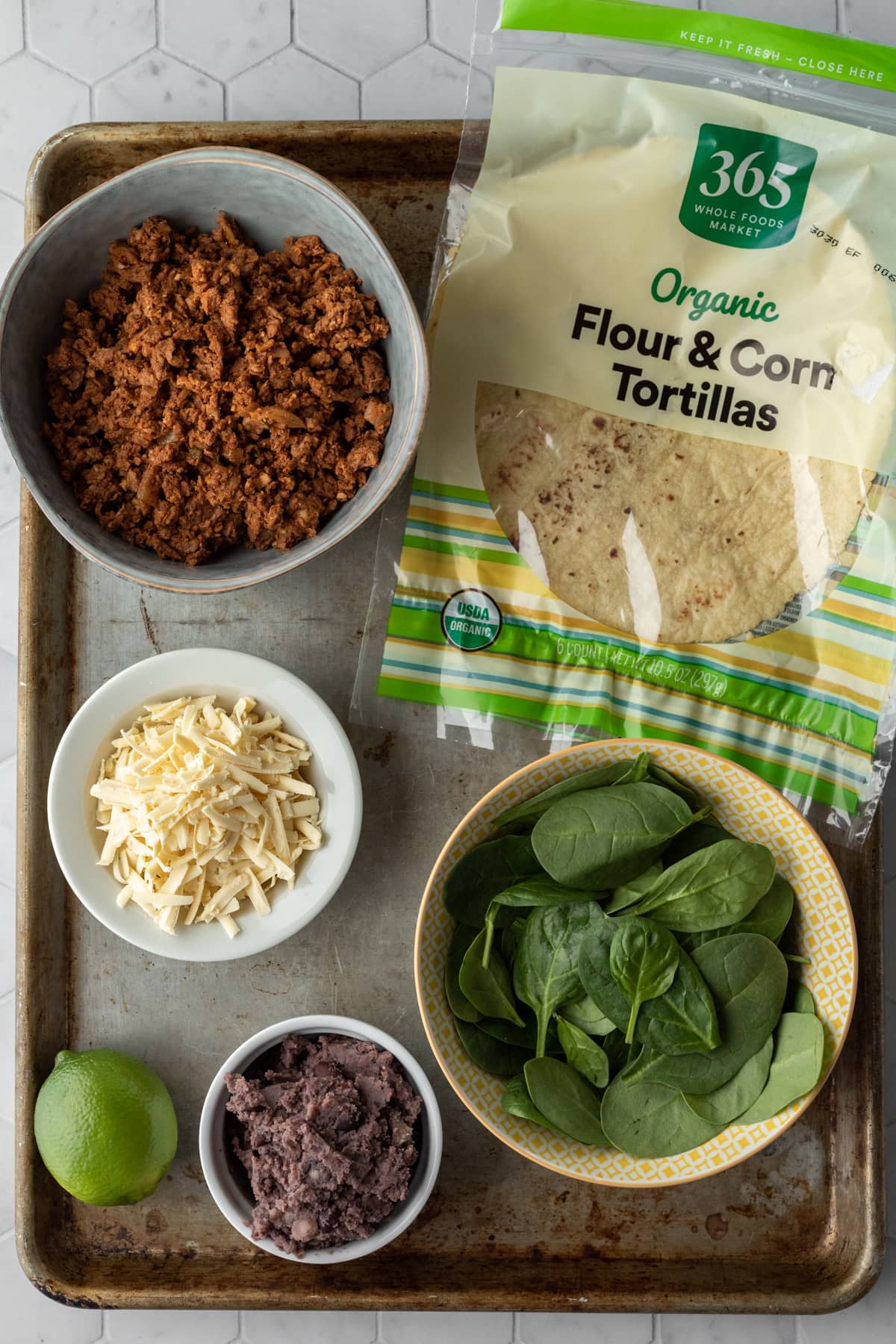 Ingredient Notes
I decided to go with larger, burrito-size tortillas for my taquitos because:
a) larger tortillas means you can fit more inside, and...
b) fewer taquitos to roll!
This recipe is all about more food and flavor with less work.
Here's what you'll need:
tortillas - either 100% corn tortillas or flour tortillas; I used tortillas that are a flour/corn combo, the best of both worlds. More on this in the Subs section below.
vegan taco meat - I highly recommend this soy curl based taco meat. Honestly, it's one of my favorite recipes on the blog. It's super easy to prepare in advance, then just pull it from the fridge when you're ready to make taquitos. You could also use store-bought vegan meat crumbles, chopped up seitan, or even this tofu chorizo. Keep in mind store-bought crumbles or seitan will need to be seasoned. Sauté it in a pan with some onion and taco seasoning, and you're all set.
refried beans - I used the Whole Foods 365 brand refried black beans for the taquitos in the photos, but regular pinto refried beans are perfect, too. Or skip the beans altogether.
vegan cheese - the cheese you see in the photos below was grated from a block of Violife's Epic Mature Cheddar. If you have access to that particular one, it's fantastic, like lightyears better than most vegan cheeses. Feel free to use any other store-bought shreds you enjoy. For oil-free ideas see below.
spinach - I included spinach just for fun and to add something green, but it's 100% optional.
toppings - the only other things you'll need for enjoying these epic vegan taquitos are your favorite toppings and dips! You can't go wrong with guacamole, salsa, fresh cilantro, lime wedges, and chopped lettuce. Vegan sour cream or this creamy lime dressing are also perfect.
How To Make Vegan Taquitos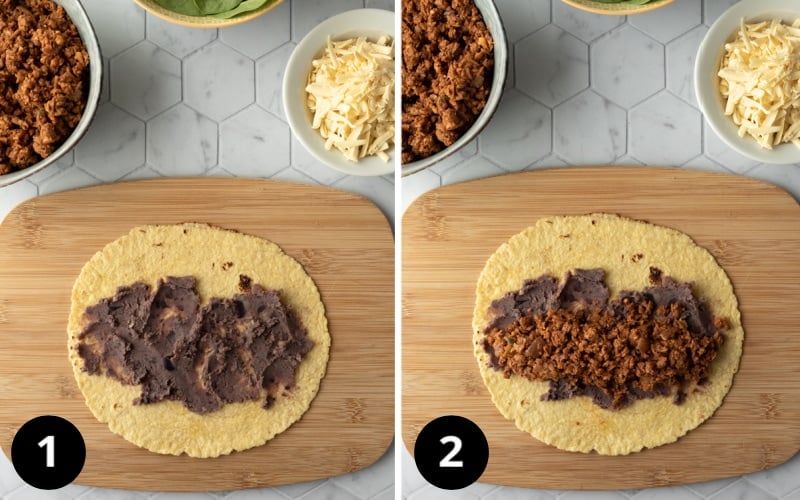 If using refried beans, spread a thin layer across the middle of the tortilla.
Add a few tablespoons of taco meat, and lightly pack it down.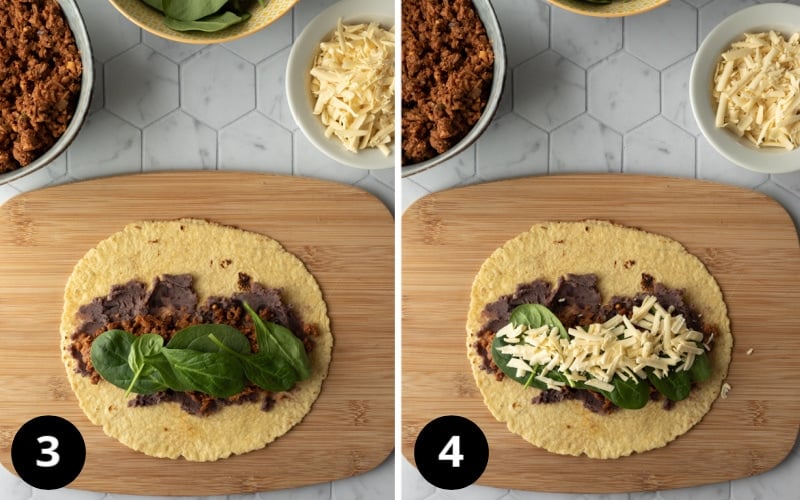 Arrange a thin layer of spinach, if using.
Sprinkle with cheese.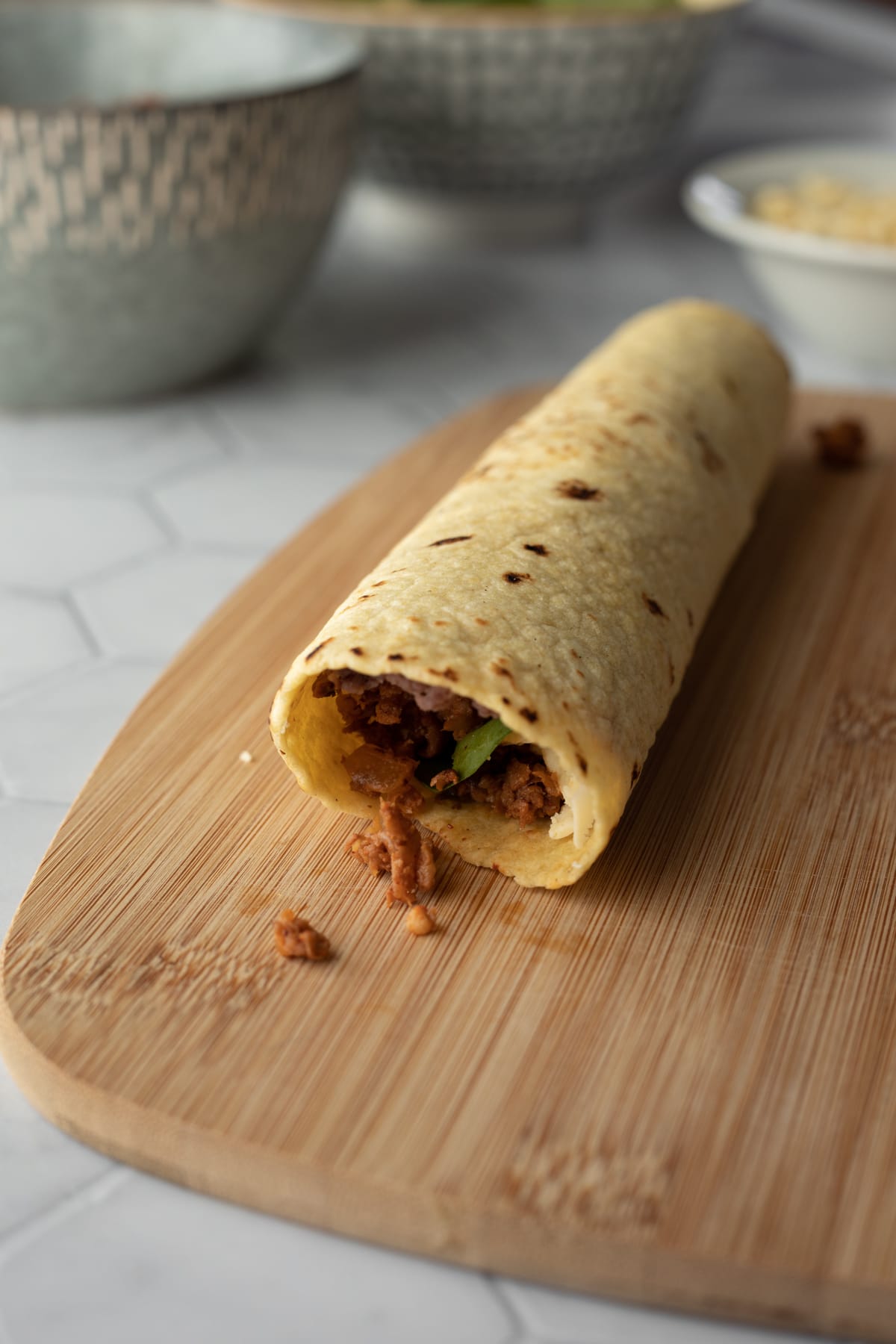 Then roll the tortilla as tightly as you can, careful not to lose too much delicious filling on the ends.
Arrange the vegan taquitos seam side-down on a parchment-lined baking sheet. If you happen to have an oven-safe baking rack, place the rack on a baking sheet and the taquitos on top.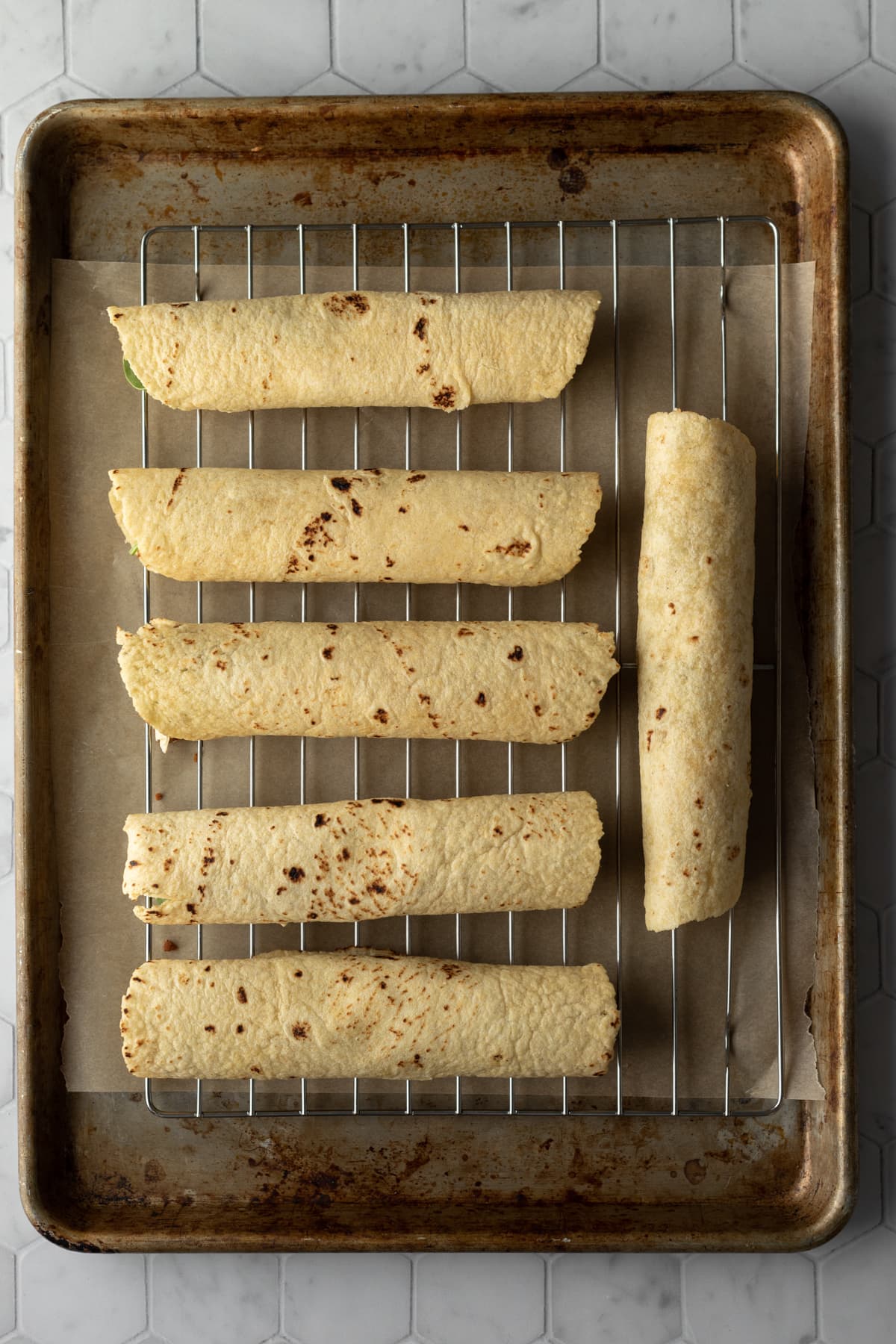 Bake in a preheated 400 degree oven for 13 to 15 minutes or until crisp. Serve hot from the oven with your favorite dips and toppings!
Substitutions
tortillas - I chose a flour-corn combination instead of pure corn because I love the toasted flavor and crispiness flour takes on in the oven, even without brushing any oil on the outside. But if you'd rather use 100% whole-grain corn tortillas or basic flour tortillas, that works, too. Be sure to check out the tips in the recipe for working with corn tortillas - you'll need to soften them first so they are pliable, and bake time will be reduced.
meat - so many options here; if you don't feel like making my fave taco meat, simply add some taco seasoning to your favorite vegan beef (like Beyond or Impossible) and saute it until hot and cooked through. Or use this lentil taco meat for a healthy, whole-food option.
oil-free cheese - try this crumbled vegan queso fresco, vegan feta, basic meltable mozz, or a drizzle of this oil-free queso OR this no-cook cheese sauce. So many options!
Can I prepare taquitos in advance?
If you're looking to save time, I recommend making the taco meat in advance and cooking the taquitos just before serving. They're best when fresh and crisp right out of the oven.
And since prep is so quick and easy, there's really no need to make them ahead of time.
Storing and Reheating
If you end up with leftovers you can store the taquitos in the refrigerator for up to a few days. Reheat the taquitos in the oven, toaster oven, or air fryer until hot and crisp.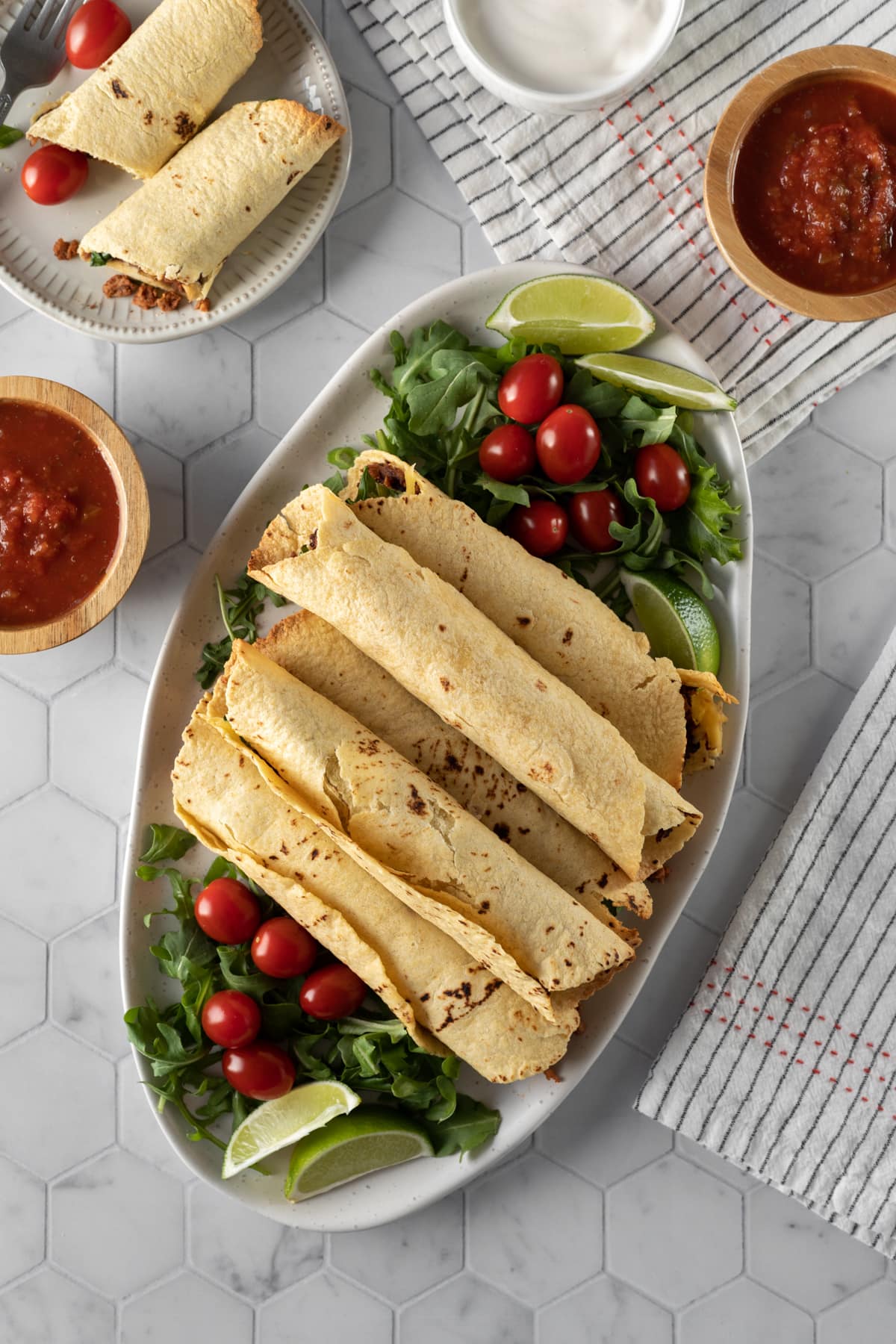 You might also like:
I hope you love these vegan taquitos as much as we do. If you try the recipe be sure to leave a rating and comment below to let us know!
📖 Recipe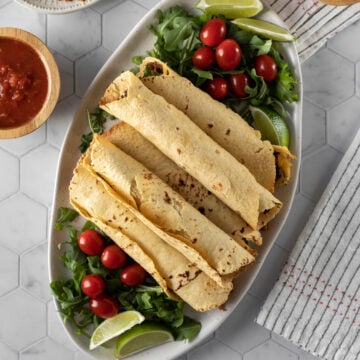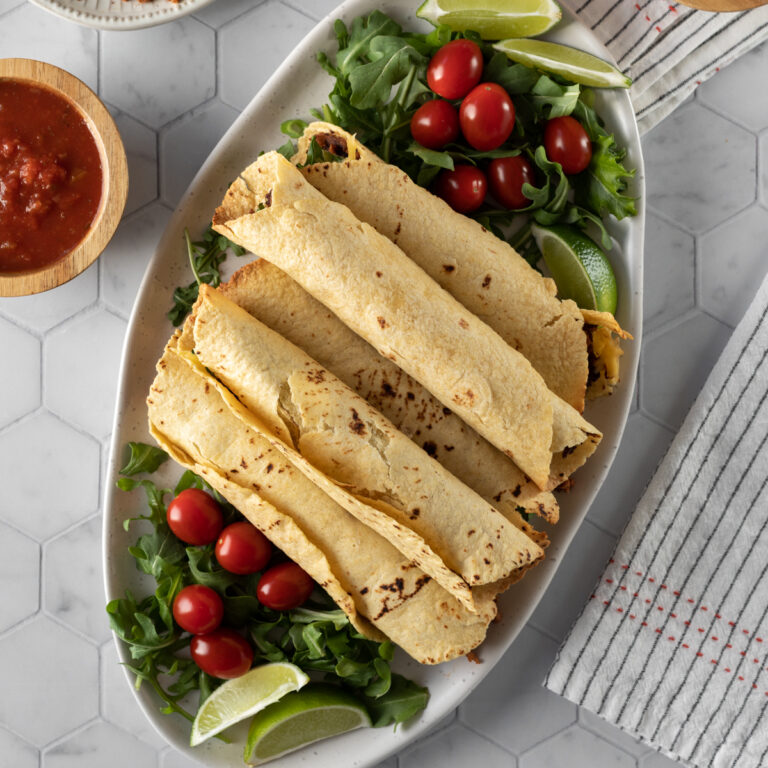 Easy Baked Vegan Taquitos
These baked vegan taquitos are not exactly traditional, but they are SO delicious and easy to prepare. Filled with vegan taco meat and cheese, then baked until crispy! Endlessly customizable, too. Serve with your favorite toppings like salsa, guacamole, green onion, and cilantro.
Makes 6 large taquitos (or flautas); serves 3 to 4 people depending on appetites.
Ingredients
For serving:
salsa

guacamole or vegan sour cream

cilantro

lime wedges
Instructions
Preheat oven to 400 degrees F (205 C), and line a baking pan with parchment. If you have an oven-proof metal rack, place that on top.

If the taco meat was made in advance and is cold from the refrigerator, warm it briefly in the microwave or in a small pot on the stove. It doesn't need to be piping hot, just warm.

Lay a tortilla out flat, and spread about 2 tablespoons of refried beans horizontally across the middle. Spoon about ⅓ to ½ cup taco meat on top of the beans, and gently pack it down. Lay a few pieces of spinach on top of the meat, then sprinkle with cheese.

Roll up tightly, and place seam side-down on the baking rack (or directly on the parchment if not using a rack). Repeat with remaining tortillas.

Bake for 13 to 15 minutes or until hot and crisp. Serve immediately with your favorite toppings. See Notes for storage and re-heating.
Notes
Vegan Meat Options
I highly recommend trying the soy curl taco meat if you can. The flavor and texture are just SO perfect for these taquitos - any leftovers you have can easily be added to salads, grain bowls, and nachos.
But in a pinch feel free to sub store-bought vegan beefy crumbles, crumbled tofu chorizo, or even ground seitan. You'll need to sauté it with diced onion and taco seasoning before using in this recipe.
Corn Tortillas
If using small corn tortillas you'll need to warm them first to make them pliable. To do this, stack them on a plate, and cover with a damp tea towel or paper towel. Microwave for 30 seconds or until soft. Keep covered with the warm towel while assembling taquitos.
As long as the corn tortillas are soft enough you shouldn't have trouble with them unfolding on the baking sheet, but toothpicks can help hold them in place if needed.
These cook faster than flour tortillas, so keep an eye on them after 6 or 7 minutes in the oven.
Cheese Options
If you prefer an oil-free homemade cheese option, I recommend one of these:
Storing and Reheating
Vegan taquitos taste best eaten fresh and hot. Leftovers can be refrigerated for up to a few days. Reheat in the oven or a toaster oven until hot and crisp.
Estimated Nutrition (per serving)
Calories:
520
kcal
Carbohydrates:
60
g
Protein:
21
g
Fat:
21
g
Cholesterol:
0
mg
Fiber:
10
g
Sugar:
6
g
Nutrition information is an estimate and will vary depending on the exact amounts and specific products and ingredients used. We calculate this information using the online calculator cronometer.com.
Tried the recipe?
I love hearing from you! Share your feedback below.