Make delicious vegan quesadillas at home in no time! They're cheesy, crisp, comforting, and made with simple ingredients. All you need are tortillas, meltable mozzarella cheese, and a few veggies. Easily customize your vegan quesadilla with a variety of veggies, herbs, and more. Enjoyed by kids and adults alike!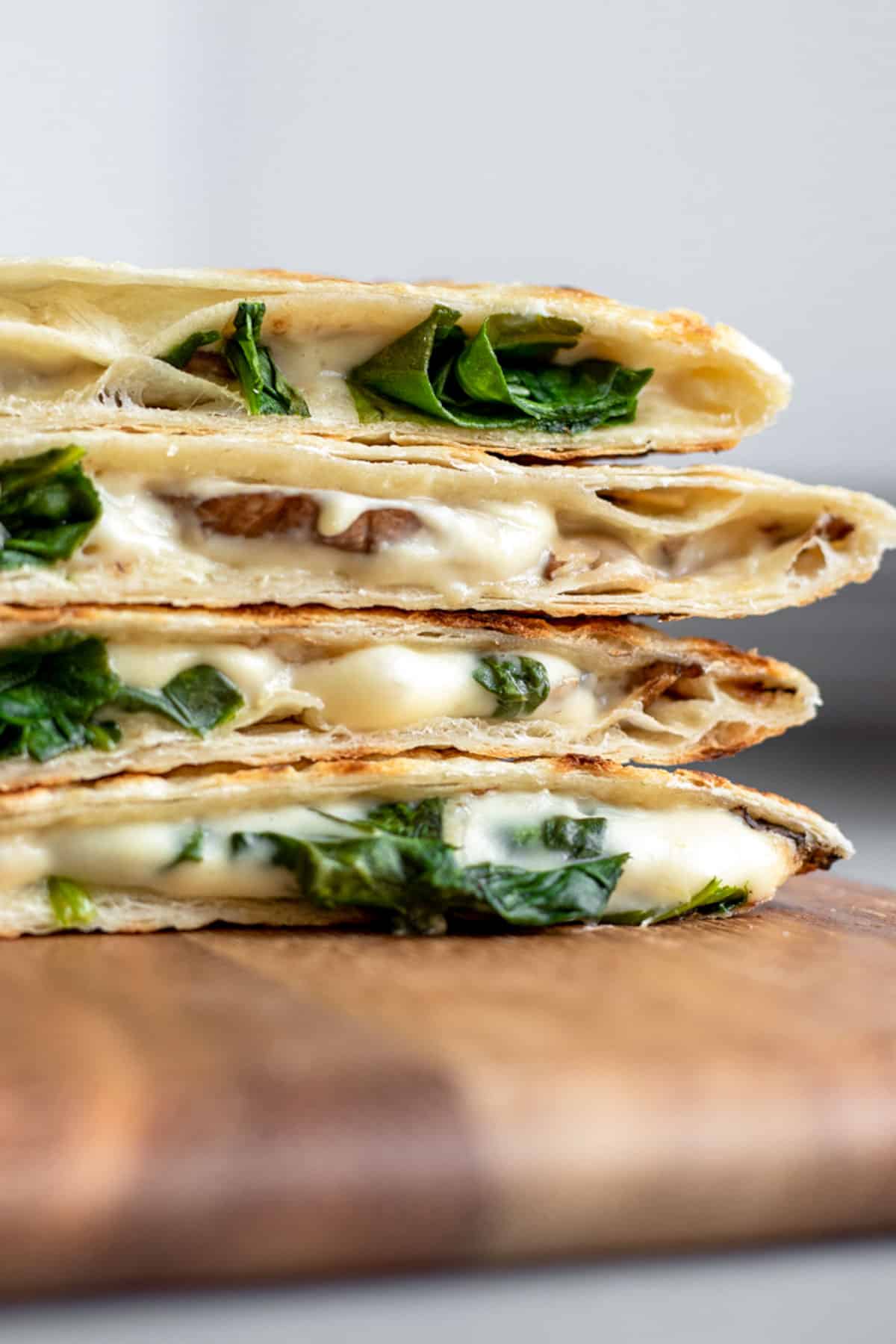 This recipe was originally published in October 2019 and has been updated with new photos and content.
Why We Love this Recipe
These vegan quesadillas use a simple and light, meltable homemade vegan cheese that I adapted from the mozzarella recipe in my favorite Stuffed Crust Pizza. The fat in this cheese comes from just ⅓ cup raw cashews. You can make it richer and include oil in the cheese if you like, but it's totally optional.
Not only does this homemade cashew cheese taste better than store-bought, it only takes a few minutes to make. Oh, and there's a nut-free option, too! Imagine, an oil-free, allergy-friendly, low-calorie vegan cheese.... who would've thought?!
Lemon, salt, and nutritional yeast bring the cheesy vibes. And water + tapioca flour make it creamy and meltable. Honestly, if you haven't made a vegan cheese similar to this before, I think you'll be amazed how good it is.
Vegan quesadillas are super versatile, too! See the Ingredient Notes below for ideas.
Jump to: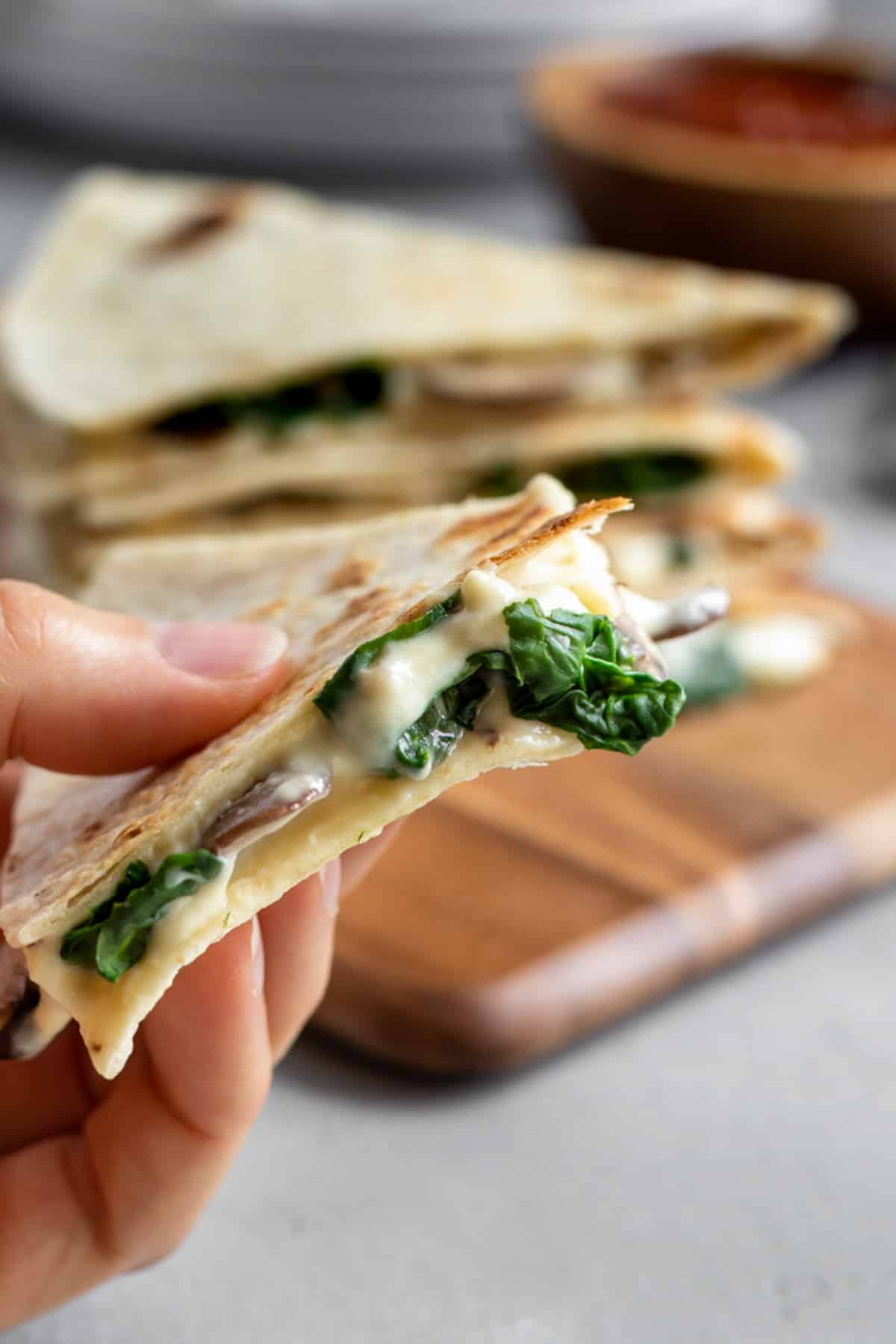 Ingredient Notes
Meltable Vegan Cheese - because this cashew cheese is so easy to make and healthier than store-bought vegan cheeses, I choose it nearly every time over store-bought. But you can definitely use store-bought vegan cheese for these, too.
NOTE: for quesadillas there's no need to include the optional agar mentioned.
Tortillas - for the most classic flavor I prefer a plain white flour tortilla, but gluten-free or whole-wheat tortillas are also great.
Veggies/Additions - a pop of color from spinach is always fun and an easy way to add nutrition. I also included garlic and mushrooms because we're huge fans! But keep in mind that any ingredient you might add to a burrito, taco, nachos, or salad can also be added to vegan quesadillas!
Other possible additions:
any variety of onion
bell peppers
olives
pickled veggies like jalapeno and red onion
riced broccoli or cauliflower
cubed and cooked sweet potato or butternut squash
fresh herbs
refried beans
hummus
pre-cooked tofu, finely chopped or ground
vegan ground beef crumbles or seitan chorizo
crumbled homemade seitan or sliced vegan pepperoni!
See what I mean? Quesadillas don't have to be just another form of grilled cheese sandwich.
The only thing to consider when selecting your fillings is whether they need to be pre-cooked. A simple sauté only takes a few minutes, so this mushroom, spinach and garlic mixture really hits the spot!
How to Make a Vegan Quesadilla
First, prepare the cheese, which takes about 15 minutes. You'll need a blender and small saucepan. Next...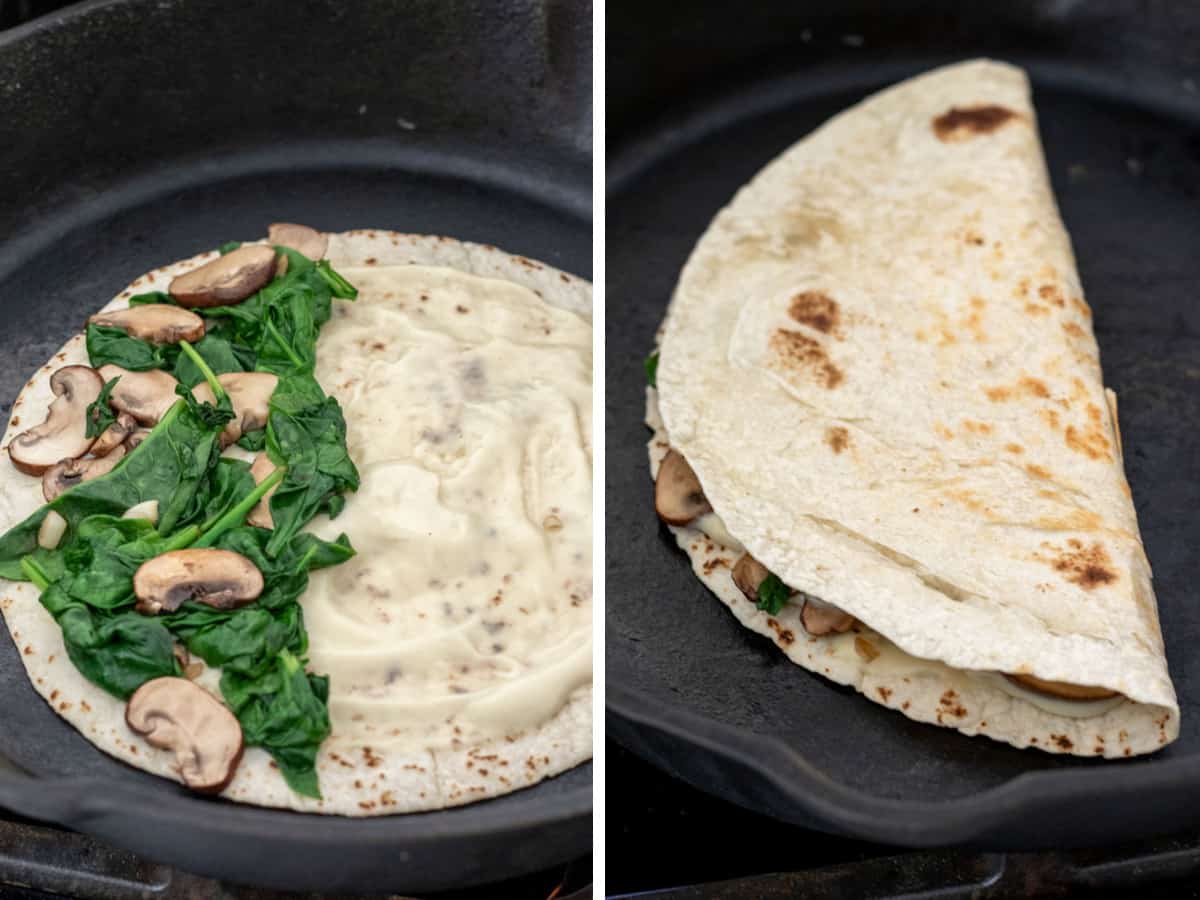 If you're including veggies in your quesadillas, you'll want to sauté them briefly. I chose cremini mushrooms, garlic, and spinach because I was in the mood for something super savory and full of umami.
Once your veggies are sauteed and any other ingredients are prepped, preheat a large skillet over medium-low heat.
Spread the hot cashew cheese on one side of a tortilla, spreading it almost all the way to the edges (see photo above). Place the tortilla in the pan, cheese-side up, and arrange sautéed veggies on one half.
Fold the other side of the tortilla over to cover the veggies. Continue to cook until the underside is nicely toasted. Flip and cook the other side until equally done.
Let the quesadilla cool for a few minutes, then slice into triangles. Garnish as desired and dig in!
Quesadillas are best eaten right out of the skillet when the tortillas are crisp and fragrant. There's really nothing better. I mean, just take a look at that cheese and the flaky tortillas!
Related: love cheese and mushrooms? Check out these Easy Vegan Stuffed Mushrooms.
Tips for Using Gluten-Free or Whole-Wheat Tortillas
Since gluten-free and whole-grain tortillas tend to be less flexible than traditional white flour tortillas, it's best to stack two tortillas instead of doing the fold over method. Like this:
Arrange the filling ingredients over the entire surface of the first tortilla.
Spread cheese on a second tortilla and place it on top, cheese-side down.
Lightly press down so the cheese holds the veggies in. When the underside is done, carefully flip the whole thing over to cook the second side. Then slice into triangles.
Variation: Oil-Free Quesadilla
Oh! And one more thing.... as you probably know, quesadillas are usually fried in oil, but honestly, you don't need it.
The tortillas get nice and toasty in a dry pan. I like to use a cast iron skillet, but a standard non-stick pan also works.
Using a tablespoon of oil to sauté the veggies and garlic does enhance the flavor (of the garlic especially). But I've also made this entire recipe without any oil at all, and they're still beyond delicious!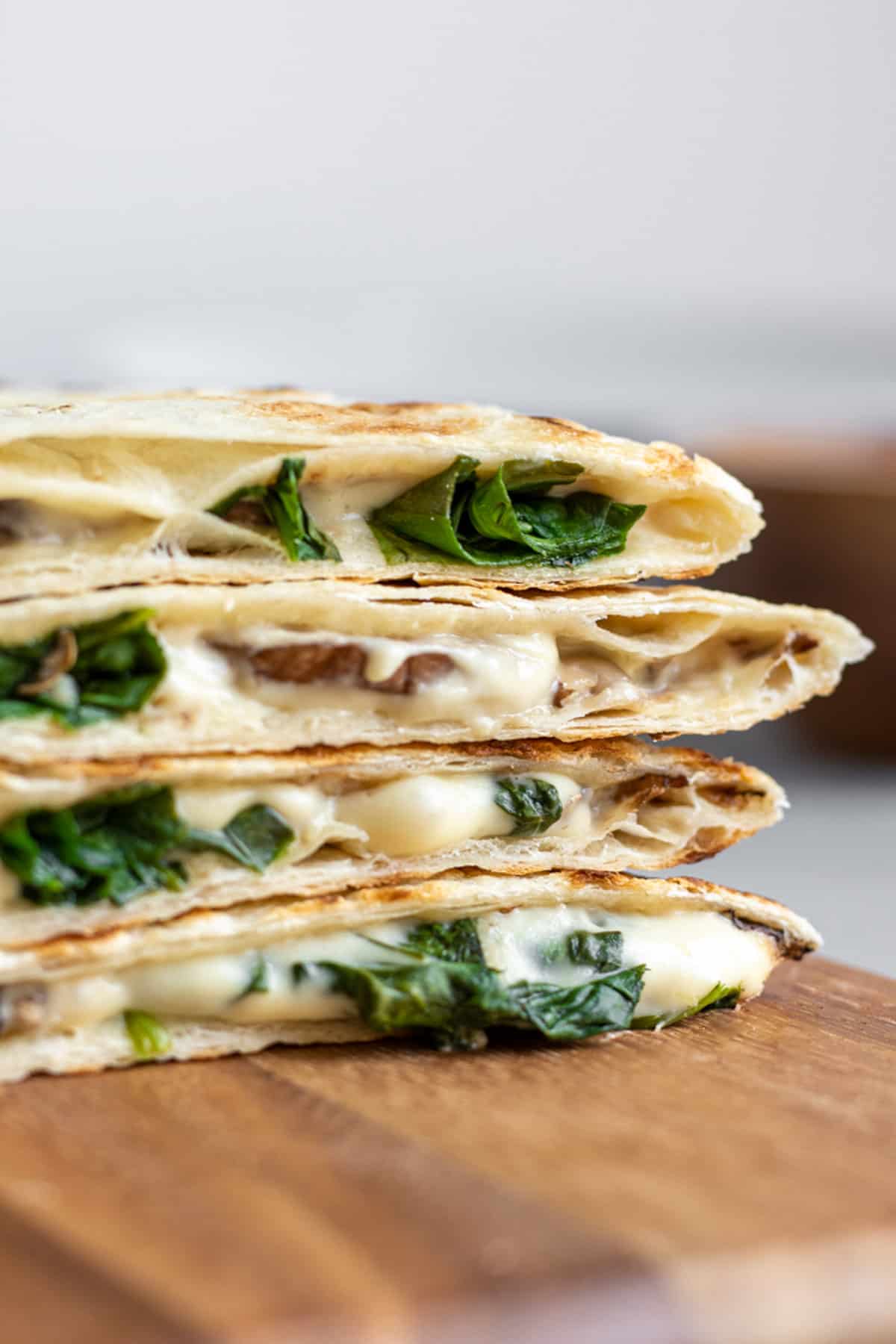 Equipment
Blender - a high-speed blender comes in handy for blending nuts and seeds. I've been using the same Vitamix blender for about 9 years now, and it has definitely been worth the initial investment. If you're working with a standard blender, don't worry! Soaking the cashews overnight or in hot water for an hour or two will soften them for blending.
Skillet or griddle - as mentioned above, I use a large cast iron skillet to cook quesadillas, but any other heavy-bottomed, non-stick pan works, too. A non-stick griddle is also great.
Storage
Here's the catch with quesadillas... they're not exactly make-ahead friendly. I mean, you can store leftovers in the fridge (IF you have any leftover that is), but just like pizza, grilled cheese, or biscuits, these vegan quesadillas are best enjoyed hot from the pan.
Reheat leftovers by microwaving for a few seconds to remove the chill, then place the quesadillas in a preheated pan. This will crisp up the tortillas and fully reheat the cheese.
Top Tip for Melting Vegan Cheese
Scoot the quesadilla to one side of the pan, and add a small splash of water to the other side. Quickly cover the pan, and allow the steam to assist with melting the cheese. Then remove the lid so that the tortillas can get crispy.
This trick is especially helpful when melting store-bought vegan cheese.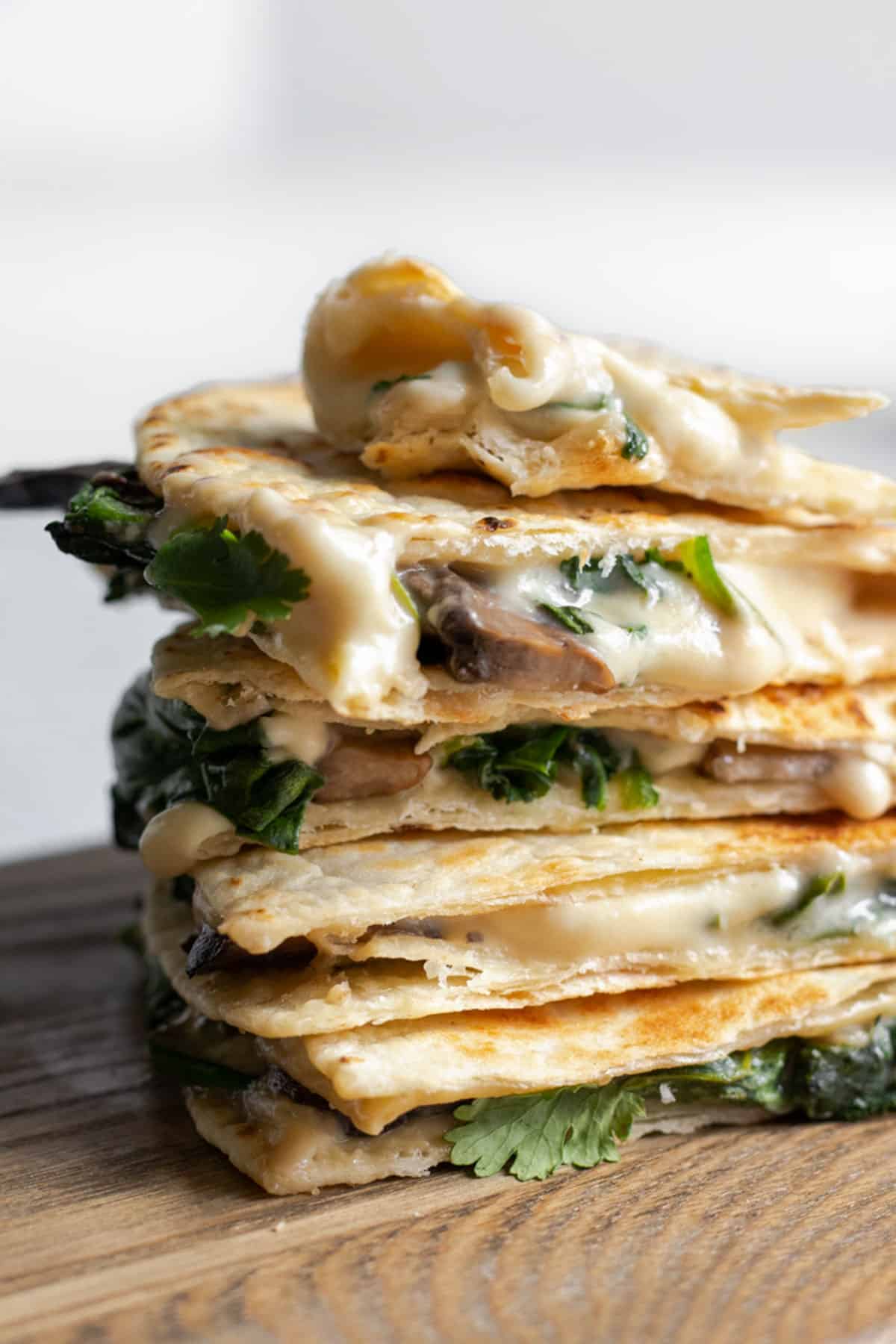 If you've never made quesadillas before, think of this as a basic guide, and have fun with different fillings, herbs and spices!
These healthy vegan quesadillas come together quickly and without much fuss, making them perfect for a cozy night in when you're in the mood for some comfort food. They're also an impressive vegan appetizer when entertaining friends!
I hope you enjoy the recipe as much as we do. If you try it I would love to hear from you! Be sure to comment below and tell us all about your scrumptious vegan quesadillas.
Happy cooking!
More vegan comfort food:
📖 Recipe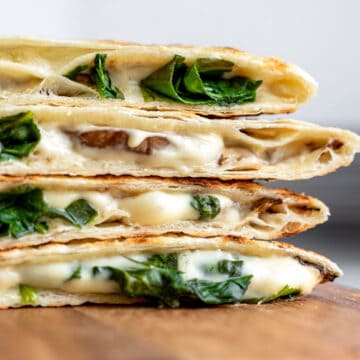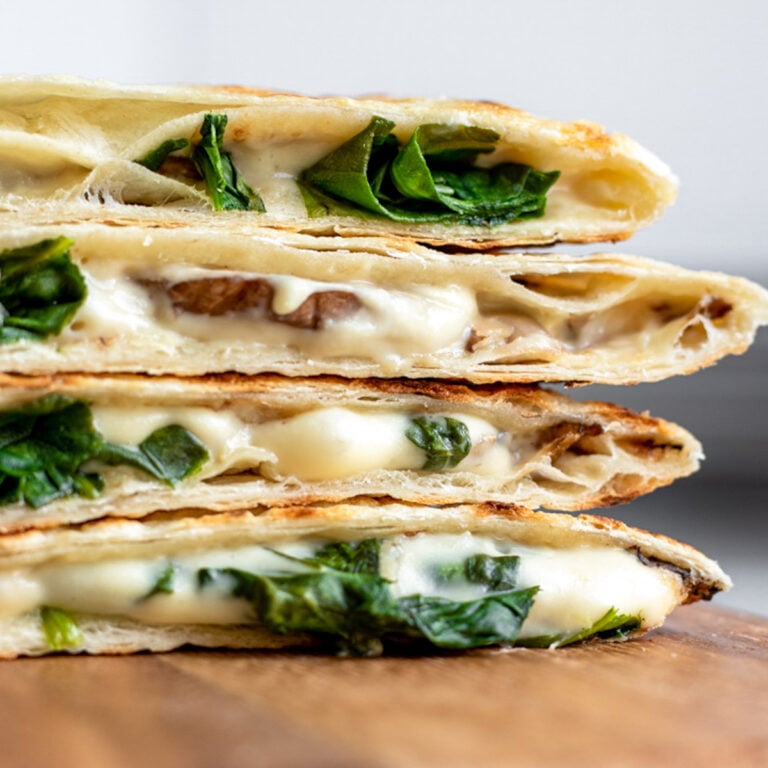 Easy Vegan Quesadilla Recipe
Healthy, easy, and amazingly delicious vegan quesadillas made with a simple 6-ingredient cashew cheese! Use your favorite fillings or follow the recipe exactly for mushroom-spinach quesadillas.Yield: makes 12 triangles; serves 4 as an appetizer or 2 as a main dish
Ingredients
1

batch

Homemade Meltable Mozzarella (tap for recipe) -

*Don't include the optional agar

1

tablespoon

olive oil, optional

10

ounces

cremini mushrooms, thinly sliced

3

cloves

garlic, minced

4

ounces

raw spinach (about 5 huge handfuls)

generous pinch of salt

4

large flour tortillas, "burrito size"

-

Use gluten-free or whole-grain, if desired. See NOTES for tips.
Instructions
First, tap this link to make the cheese (takes about 15 minutes; no need to include the optional agar). Then set aside.

To saute the vegetables, preheat a large saute pan over medium heat. Add the oil, if using, and cook the mushrooms until the moisture has released and evaporated, 6 to 7 minutes. Add the minced garlic, and cook for 1 minute. Add spinach and cook until wilted, about 1 minute. Season with a pinch of salt and set aside.

Heat a large clean skillet over medium heat. Spread cashew cheese over one entire side of a tortilla, almost to the edges. Place the tortilla in the hot skillet cheese-side up. Arrange about ¼ of the sauteed veggies on one half of the tortilla. Fold the other half over to cover the vegetables. Cook until the underside is nicely toasted, then flip and toast the second side. Transfer to a plate, and repeat with the other 3 tortillas.

Cut each one into 3 triangles and serve immediately.
Notes
If using whole-grain or gluten-free tortillas:
Since these are less flexible than traditional flour tortillas, instead of doing the fold over method, spread a layer of cheese and the filling ingredients over the entire surface of one tortilla. Then spread cheese on another tortilla and place it on top of the veggies, cheese-side down. Press it down so that the cheese holds the veggies in, and carefully flip to cook the second side. Then cut into six triangles.
Serving and Storage:
Quesadillas are best eaten immediately while the tortillas are crisp.
Leftovers can be stored in the refrigerator for up to 3 days. Reheat for about 15 to 20 seconds in a microwave, then transfer to a hot skillet to re-crisp and heat the outside of the tortillas.
The cheese can be made in advance and refrigerated for up to 3 days.
Estimated Nutrition (per serving)
Calories:
262
kcal
Carbohydrates:
33
g
Protein:
10
g
Fat:
10
g
Saturated Fat:
2
g
Cholesterol:
0
mg
Sodium:
670
mg
Fiber:
4
g
Sugar:
3
g
Vitamin A:
2660
IU
Vitamin C:
12
mg
Calcium:
117
mg
Iron:
3.4
mg
Nutrition information is an estimate and will vary depending on the exact amounts and specific products and ingredients used. We calculate this information using the online calculator cronometer.com.
Tried the recipe?
I love hearing from you! Share your feedback below!