The best vegan mashed potatoes aren't made with the usual ingredients you expect, like vegan butter and plant milk. Nope! There's another ingredient that creates vegan mashed potatoes that taste even more like classic mashed potatoes made with dairy. Plain non-dairy yogurt is the key! I'm also sharing 6 important tips to help you make perfect mashed potatoes every time.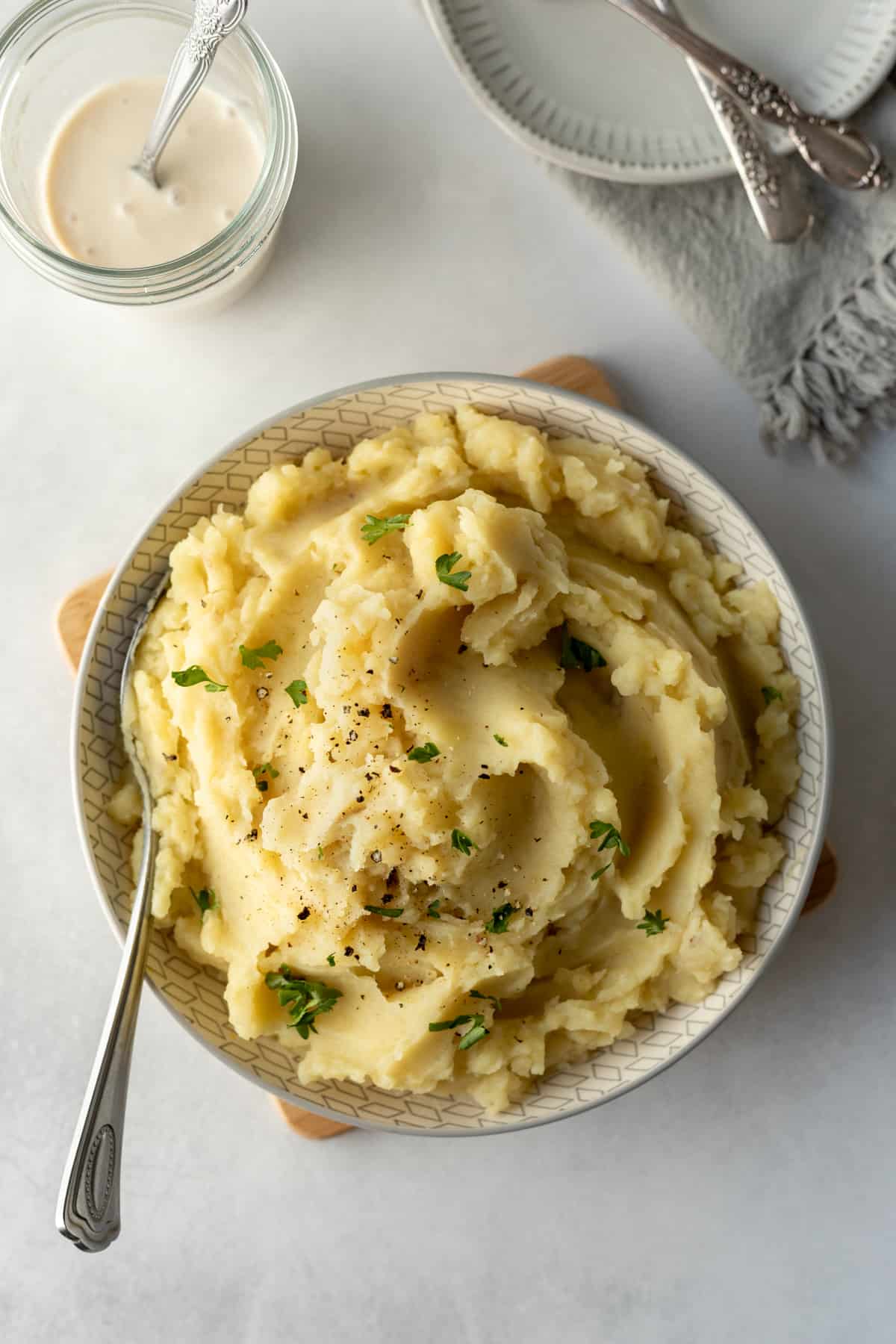 Better Vegan Mashed Potatoes
Friends, you won't believe healthy mashed potatoes can taste this good. With only 3 ingredients (plus salt and pepper) you'll have the most amazing, creamy, savory, fluffy, and rich-tasting vegan mashed potatoes.
Everyone will swear there's dairy in there somewhere!
This recipe was a happy accident. Around Thanksgiving I was making mashed potatoes when I spotted my Mason jar of Instant Pot cashew yogurt in the fridge.
So instead of reaching for vegan butter and soy or almond milk, I dolloped a few spoonfuls of yogurt onto the potatoes while mashing. The result? The best damn mashed potatoes I've ever eaten!
They tasted like SO much more than the sum of their parts, as if they were loaded with rich sour cream and/or cheese. Yet they're oil-free and low-fat!
Jump to:
After my happy accident I did some googling and realized yogurt mashed potatoes is actually a thing - news to me! I'm so glad I experimented.
I suppose this method may not be for everyone (it helps if you're actually a fan of tangy sour cream and yogurt). But even if you're skeptical, the flavor and creaminess yogurt lends the mashed potatoes is SO worth a try.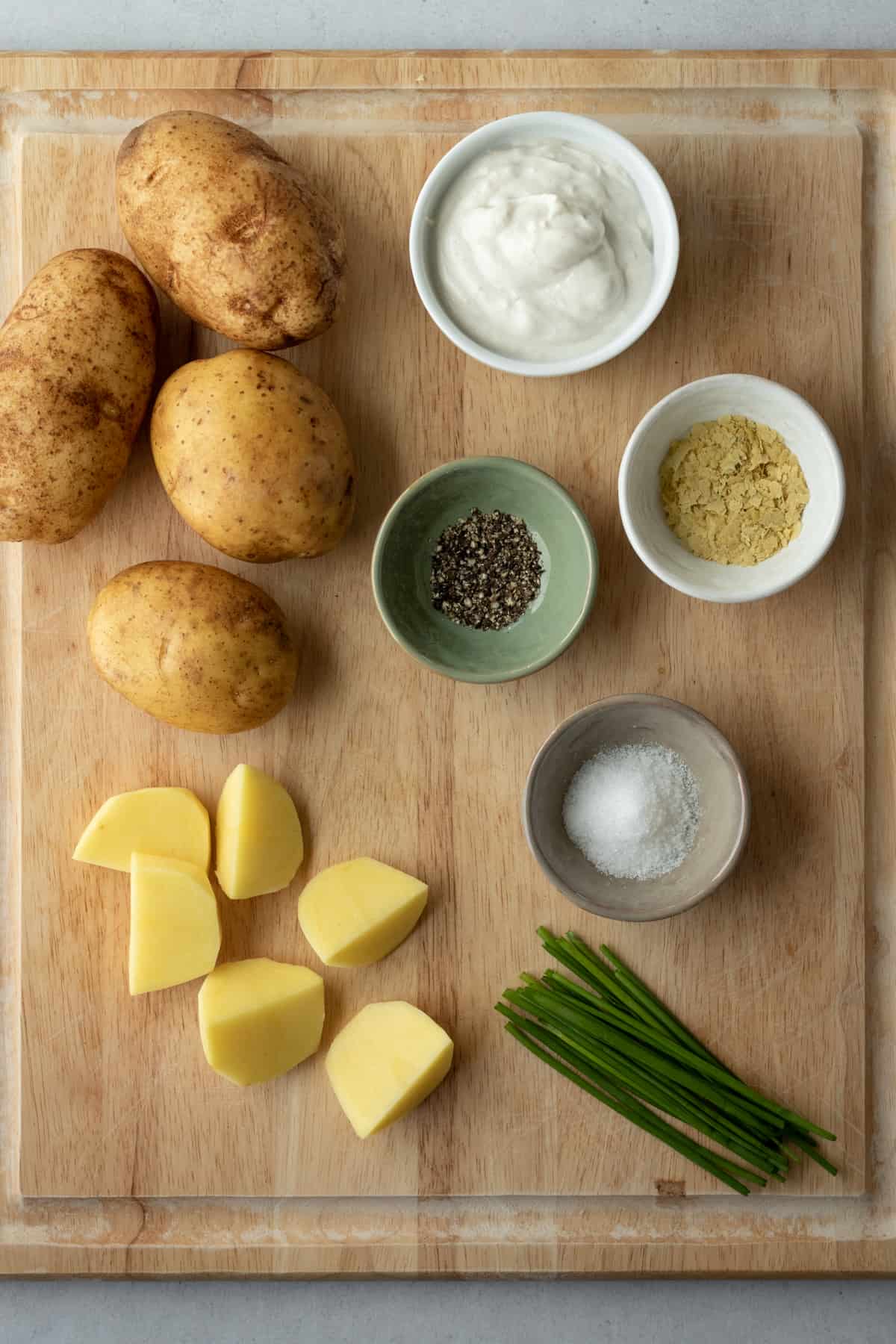 Ingredient Notes
For basic vegan mashed potatoes you only need 3 ingredients plus salt. Or have fun with additions like chives, vegan cheese, roasted garlic, and other toppings!
potatoes - I like to use a combination of Yukon gold potatoes and russets. More on this below.
plain vegan yogurt (store-bought or homemade) - I've tested the recipe with both cashew yogurt and soy yogurt. I prefer homemade vegan yogurt simply because it's creamier, without the gums and other thickeners found in commercial yogurts. I have 3 yogurt recipes you can try:

tofu yogurt

If you're not comfortable making your own yogurt yet, go with a plain, unsweetened store-bought yogurt like Forager's cashew yogurt or Kite Hill Greek-style yogurt.
Tip: Check the ingredients to MAKE SURE it's 100% unflavored and unsweetened. If using a brand other than the two mentioned above it's a good idea to taste the yogurt first and make sure there's zero sweetness.

garlic powder - or 2 cloves of garlic.
salt and pepper
Optional additions and toppings: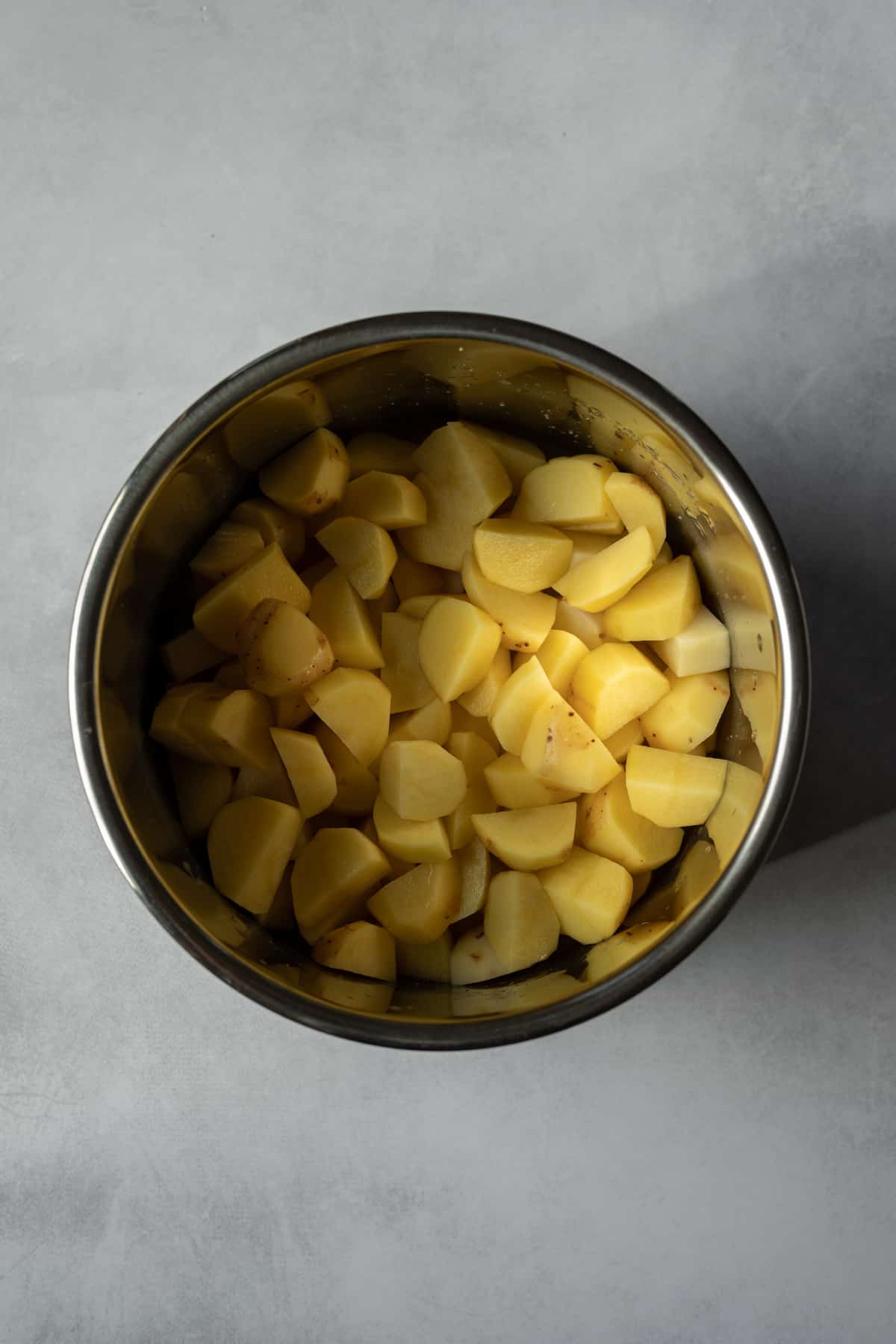 What types of potatoes are best for mashing?
My top two favorites are russets and gold potatoes.
Yukon golds have a nice buttery flavor and creamy texture, while russet potatoes have that nostalgic, purely potato flavor that I find irresistible! They're also wonderfully fluffy.
You can make excellent mashed potatoes with either one, but I usually prefer a blend, half Yukon gold and half russet potatoes.
Should I peel the potatoes?
Be sure to wash the potatoes well, and always peel russets. For smooth mashed potatoes you'll also want to peel gold potatoes. Or if you prefer a bit of texture in your mashed potatoes leave some of the skins on the gold potatoes.
How To Cook Potatoes for Mashing
There are several ways you can easily cook potatoes for mashing, including:
boiling
in an Instant Pot
or steaming
Boiling is easy and doesn't require special equipment. For the best flavor it's important to generously salt the cooking water. This is the method I've included in the recipe below.
As you can see in the photos, I often cook the potatoes in the Instant Pot. It's very easy, produces consistently soft and creamy potatoes, and uses less water.
Tip! Use broth instead of water if using the Instant Pot method. The seasoning seeps into the potatoes and really improves the overall flavor of the mashed potatoes.
My blogger friend Rosa at This Healthy Kitchen has a great post that will teach you the simple method for No-Drain Instant Pot Mashed Potatoes.
Steaming takes longer and doesn't produce consistent results. Also, with steaming you can't infuse salt into the potatoes. So for these reasons, steaming is our least favorite method.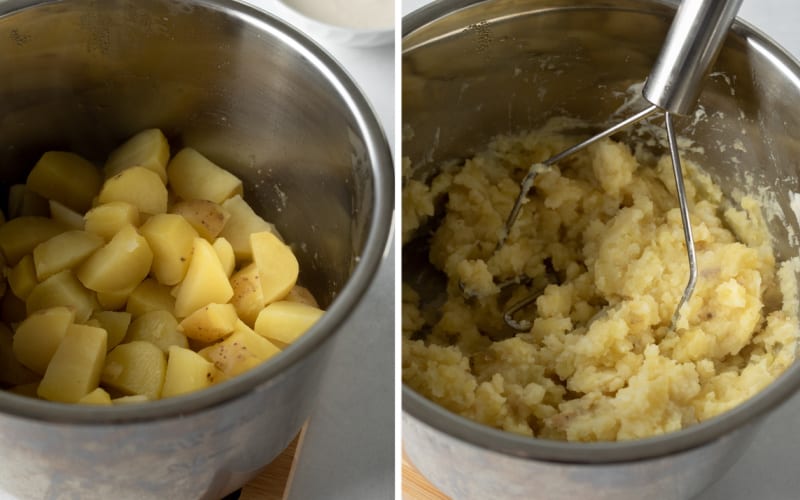 How to Store and Reheat
Store leftover mashed potatoes in the refrigerator for up to 4 days. Reheat briefly in the microwave or on the stovetop, and add a splash of unsweetened/unflavored milk or additional yogurt during reheating to return the mashed potatoes to their original creamy texture.
They also freeze well. Store in an air tight container in your freezer for up to 2 months. Thaw overnight in the refrigerator, then reheat as described above and enjoy.
Top Tips
For even cooking, cut the potatoes into similarly sized pieces.
Salt the cooking water. Or if cooking in an Instant Pot, use a salty vegetable broth. As mentioned above, infusing the potatoes with salt is crucial to the flavor of the finished dish.
Don't undercook the potatoes. Test the consistency of several pieces of potato by sliding a knife into the center. It should slide in very easily. The moral of the story is, don't consider them done until you're sure they're ALL done.
Immediately after draining the cooked potatoes return them to the pot. You want the potatoes to still be hot during mashing.
Use a basic potato masher. Overworking mashed potatoes can make them gummy and dense. No need for electric mixers!
Taste as you go when seasoning the potatoes. Add ingredients in small amounts; you can always add more salt and yogurt, but you can't take it away!
Healthy tip: sneak in a veggie by using a combination of cauliflower and potatoes.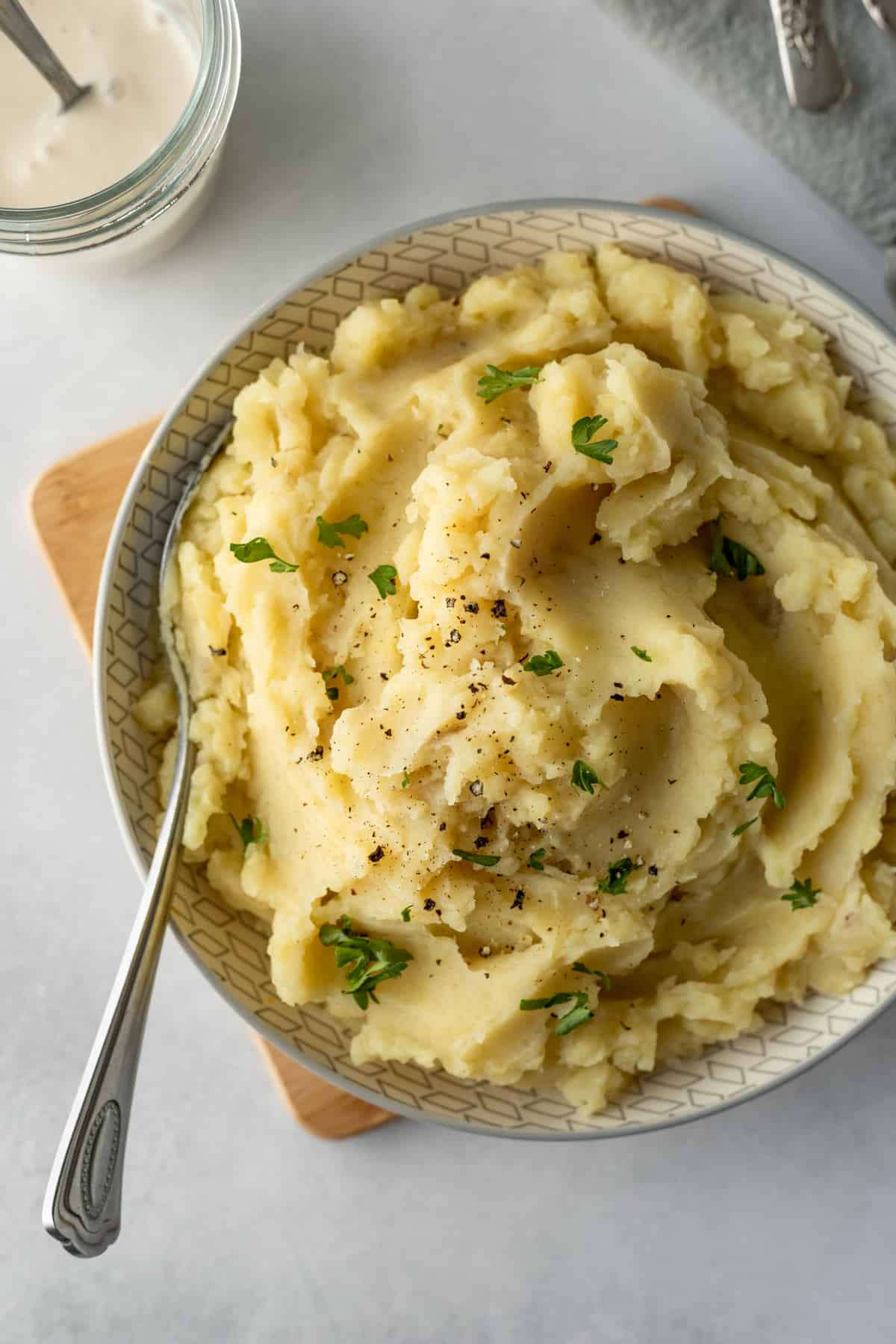 Serving Suggestions
Mashed potatoes are a must during the holiday season. If you're making them for Thanksgiving or Christmas, they pair perfectly with:
And don't forget these other classic sides:
The rest of the year, pair vegan mashed potatoes with vegan comfort food recipes like:
I hope you LOVE these vegan mashed potatoes as much as we do! If you try the recipe be sure to comment below and let us know!
Recommended Recipes
📖 Recipe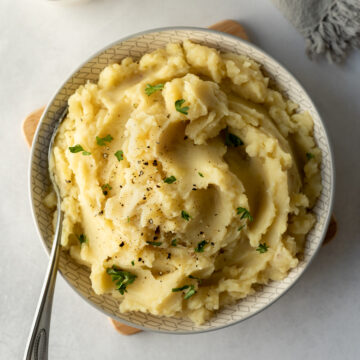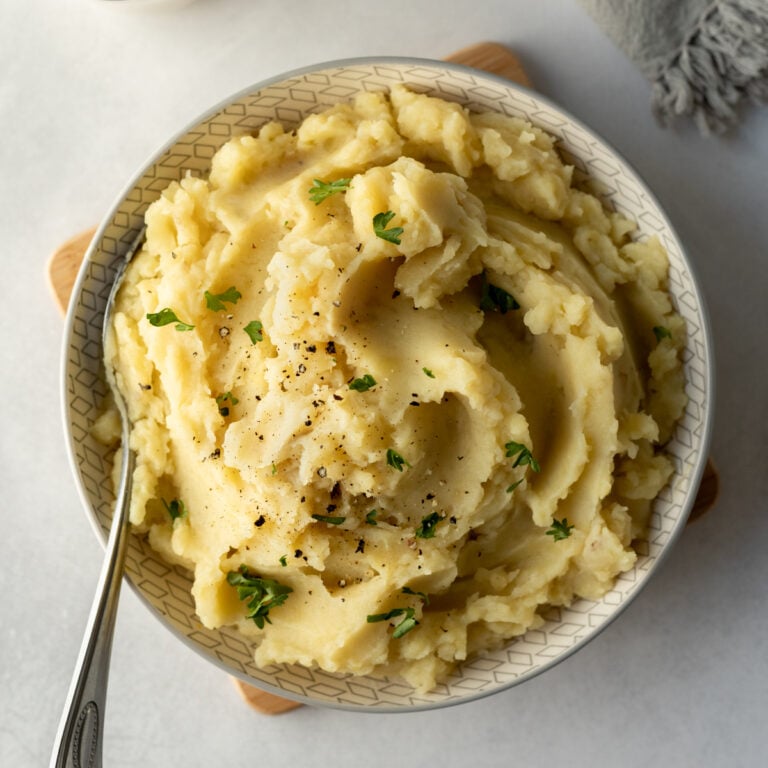 The Best Vegan Mashed Potatoes (No Butter!)
Incredibly creamy and delicious vegan mashed potatoes without milk or butter? You bet! Tangy, plain, dairy-free yogurt gives vegan mashed potatoes the flavor and extra creaminess of sour cream, but without dairy. They're so good you won't even miss the butter! Gluten-free and oil-free/WFPB.
Ingredients
3

pounds

potatoes, a combination of Yukon golds and russets

fine sea salt

⅓ to ⅔

cup

plain, unsweetened vegan yogurt, room temperature -

I highly recommend homemade cashew or soy yogurt, but store-bought works too.

up to ½

teaspoon

garlic powder

black pepper, to taste
Instructions
Wash and peel the potatoes, or partially peel the golds if you prefer some texture in mashed potatoes. Cut into similarly sized 1-inch thick pieces. Place potatoes in a large stock pot, and add enough water so the potatoes are covered by about 1 inch. Stir 2 teaspoons sea salt into the water.

*Alternatively, cook the potatoes in an Instant Pot as recommended in this no-drain mashed potatoes recipe by This Healthy Kitchen (link opens in a new tab).

Turn heat to high and bring to a boil. Reduce heat to medium and simmer for about 12 minutes or until a knife inserted in the center slides in easily. Test several pieces to make sure the potatoes are done. Drain potatoes in a colander, and immediately return them to the warm pot.

With a potato masher, give the potatoes a brief first mash, just until they're chunky. Add about ⅓ cup yogurt, ¾ teaspoon salt, and a scant ½ teaspoon garlic powder to the pot. Mash again to fully incorporate the ingredients.

Taste and season with black pepper and additional yogurt, salt, and garlic powder as desired. The amount of yogurt needed will depend on the consistency of the yogurt, how tangy it is, and your personal preference.

Serve warm with your favorite garnish such as chopped chives or gravy.
Notes
Selecting a yogurt - it's crucial to only use 100% unflavored and unsweetened yogurt. For store-bought, Forager and Kite Hill both make delicious plain dairy-free options. For homemade, try my cashew yogurt, tofu yogurt, or almond yogurt.
Storing and reheating - store leftover vegan mashed potatoes in the refrigerator for up to 4 days. Reheat briefly in the microwave or on the stovetop, and add a splash of unsweetened milk or extra yogurt when reheating to return the mashed potatoes to their original creamy texture. Stir gently.
Mashed potatoes also freeze well. Store in an air tight container in your freezer for up to 2 months. Thaw overnight in the fridge, then reheat as described above. Enjoy!
Estimated Nutrition (per serving)
Calories:
198
kcal
Carbohydrates:
42
g
Protein:
5
g
Fat:
1
g
Cholesterol:
0
mg
Sodium:
308
mg
Fiber:
3
g
Vitamin A:
0
IU
Vitamin C:
37
mg
Calcium:
32
mg
Iron:
1.8
mg
Nutrition information is an estimate and will vary depending on the exact amounts and specific products and ingredients used. We calculate this information using the online calculator cronometer.com.
Tried the recipe?
I love hearing from you! Share your feedback below.