Homemade cashew yogurt is deliciously tangy, creamy, light in calories, and made with just 2 ingredients. This vegan yogurt recipe has no gums or added sugar, and can also be made without an Instant Pot. A few key tips and ingredients will ensure yogurt success every time. Also includes instructions for making a thicker Greek-style vegan yogurt!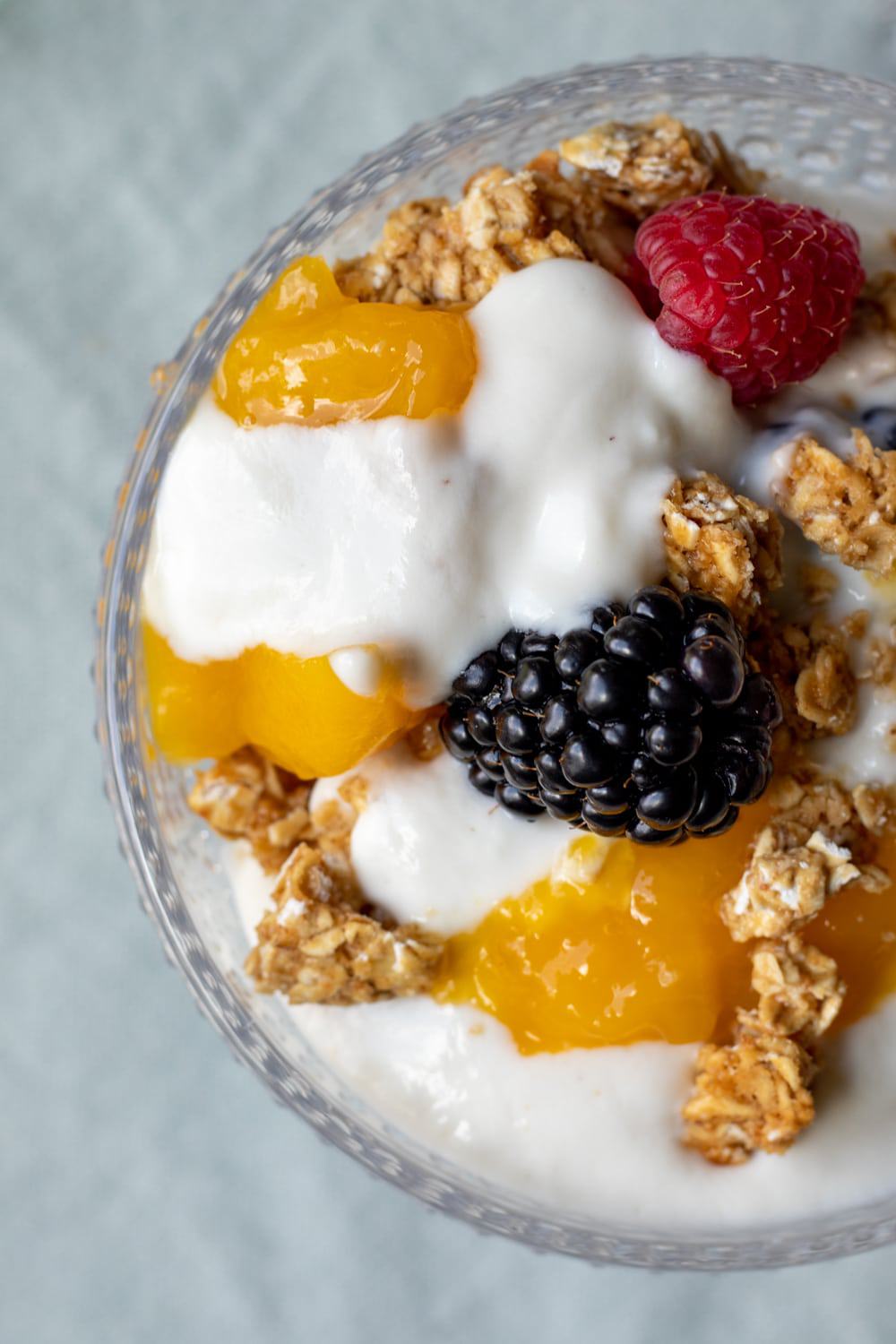 Why You'll Love It
This non-dairy cashew yogurt:
has only 135 calories per 8 ounce cup. Compare that to those tiny servings of store-bought yogurts. *Of course, the caloric value changes if you make the Greek-style yogurt option.
cuts down on single-use plastic containers.
can be more or less tangy, depending on your preference.
is 100% unsweetened, which means it's perfect for savory dishes, too (like creamy vegan mashed potatoes)!
is naturally creamy, not gelatinous like some store-bought yogurts with additives.
can be sweetened any way you like. From jam to fruit puree to maple syrup, add your favorite sweetener to individual servings for ultimate flexibility.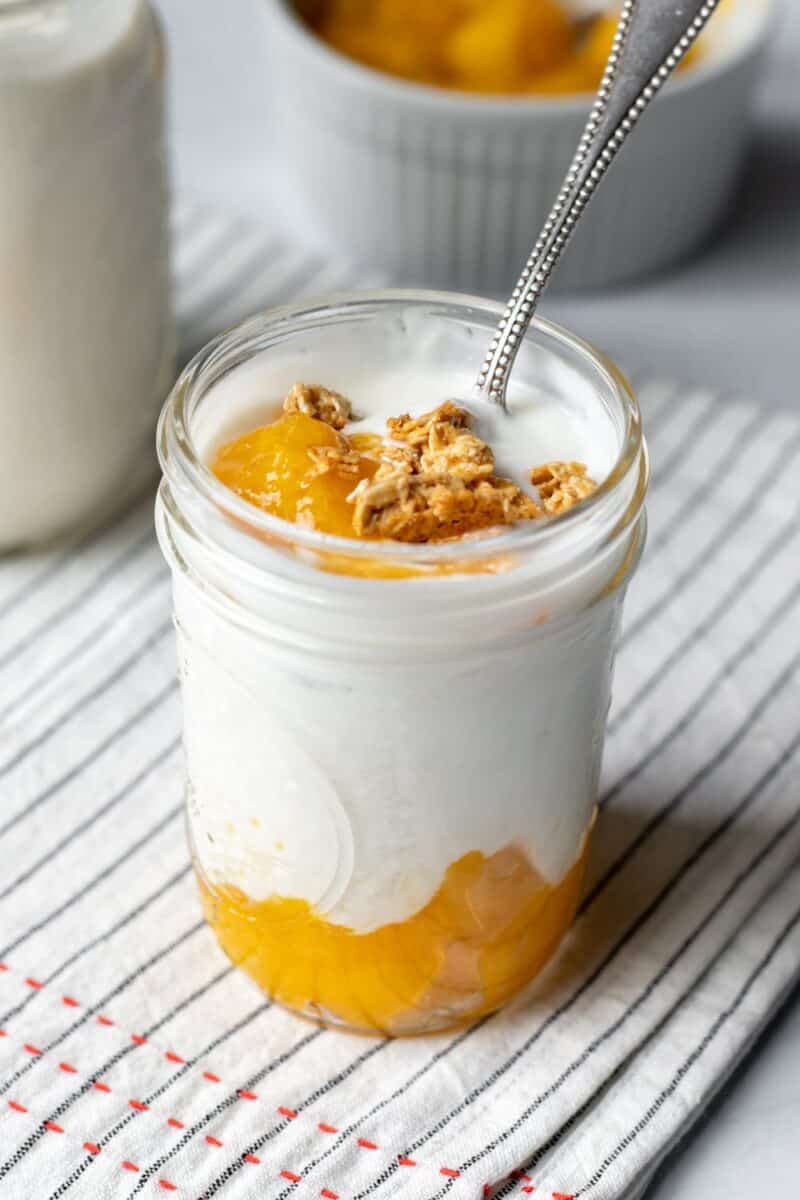 I consider myself pretty new to the Instant Pot. In fact, this is the very first Instant Pot recipe I'm sharing on the blog (woohoo)! I held off on buying one because we don't have much storage or counter space, but about 5 months ago, I finally gave in. And one of the very first things I wanted to try with my new Instant Pot was homemade vegan yogurt.
I started with soy yogurt, and that first batch blew my mind! The flavor was so pure and clean. I would even describe it as "crave-able," not to mention CHEAP!
If you're interested in making soy yogurt, Becky over at Glue & Glitter has a great tutorial.
UPDATE: I now have two more yogurt recipes for you to try - Almond Milk Yogurt and Tofu Yogurt!
Cost Comparison
After several batches of tasty soy yogurt, I started experimenting with cashew yogurt in an attempt to replicate Forager, my favorite brand. It's not that I don't want to support them, but I want to enjoy yogurt every day! So I really needed a more affordable option.
Most store-bought vegan yogurts are around $7 for a large, 24 ounce container (3 cups). But homemade vegan yogurt only costs about $2.50 per quart. That's 4 cups!
Why This Recipe Works
Last summer, before I bought an Instant Pot, I experimented with homemade cashew yogurt a few times. I left it on the kitchen counter overnight to culture. It was surprisingly successful, but something about the process didn't sit right with me.
I wanted it to feel safer and more predictable. And since household temperatures fluctuate depending on the season, it was never going to be foolproof.
So I did some research on making dairy yogurt in the Instant Pot and combined that with what I've learned about making soy yogurt, and voila! A creamy, dreamy, 2-ingredient cashew yogurt recipe.
Other than the fact that we're blending our own milk and briefly heating it on the stove, making cashew yogurt is every bit as easy as making soy yogurt from boxed milk.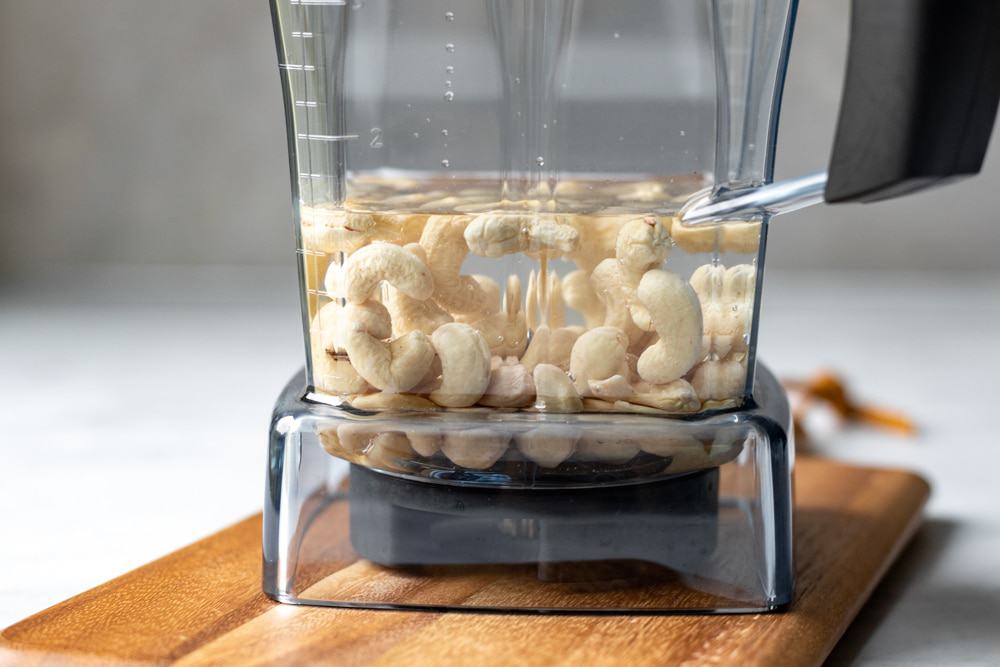 Blend the Cashew Milk
A high-speed blender like Vitamix makes the creamiest cashew yogurt, but a standard blender will also work.
If using a regular blender, it helps to soak the cashews first. Place cashews in a bowl, cover with water, and let sit at room temperature overnight. Alternatively, you can quick-soak the cashews in hot water for about 2 hours. Then, drain and rinse. If using a high-speed blender, there's no need to soak.
Begin by blending ¾ cup raw cashews with 1 cup of water until completely smooth (for vegan Greek yogurt, you'll use different amounts).
I run my Vitamix on high for about 2 minutes to make extra sure I end up with the smoothest consistency. If you under-blend the cashews you'll end up with a slightly grainy looking yogurt, which is fine and certainly doesn't hurt anything.
For ultra smooth yogurt, be sure to run the blender longer than you might expect. In fact, the mixture will start to warm up, and that's okay.
Next, add the remaining 2.5 cups of water to the blender, and blend for a few seconds to combine.
Option: Add a Thickener
This step is completely optional, and honestly, I don't usually do it. I don't mind my yogurt a bit on the thinner side, but if you prefer a slightly thicker yogurt, add 2 tablespoons of arrowroot or tapioca starch to the freshly blended cashew milk, and blend to combine.
*See updated section below to learn how to make vegan Greek yogurt. No tapioca starch needed!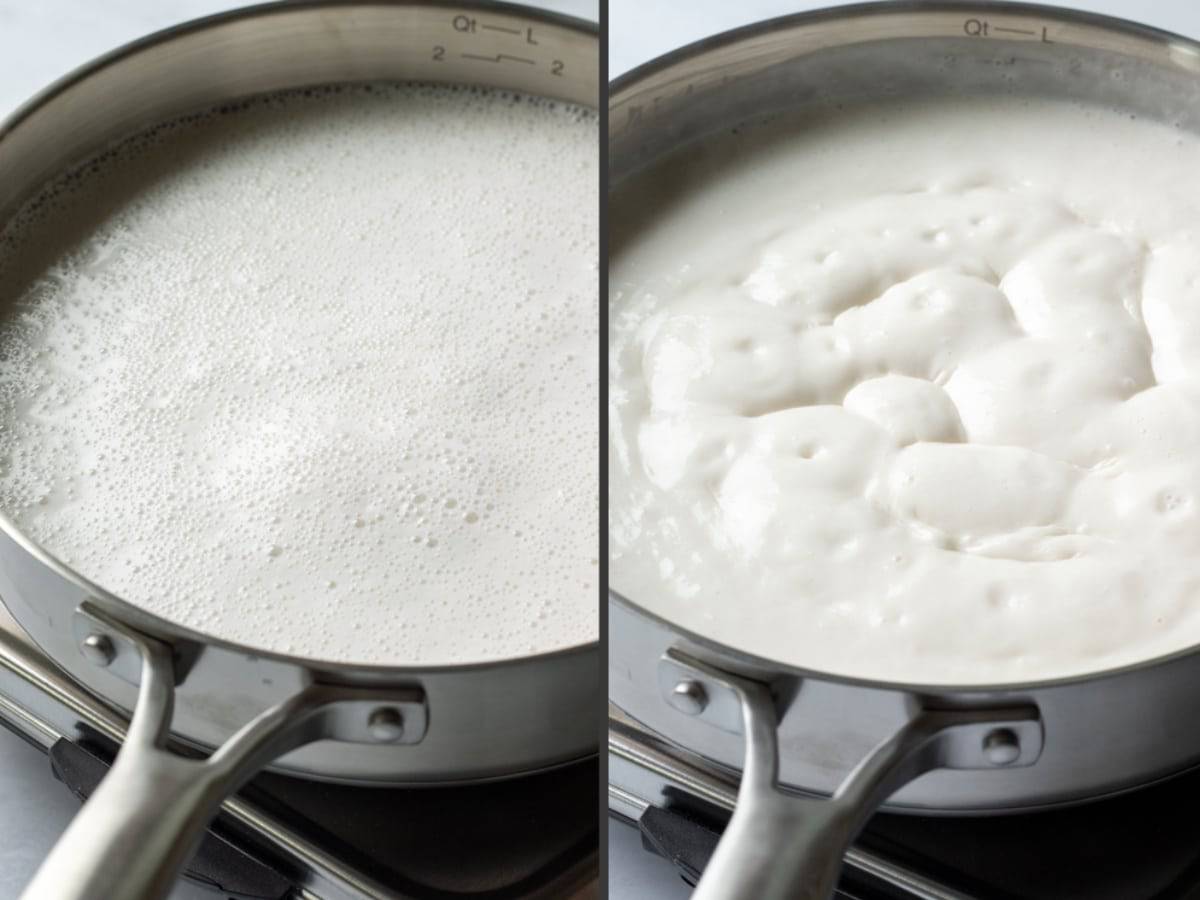 Heat the Cashew Milk
This step is quick and easy but very important. It helps the cashew yogurt in a few ways:
Simmering the cashew milk kills any unwanted bacteria that may have come from the blender or the nuts themselves.
The naturally occurring starch in cashews thickens when heated.
If you include the optional tapioca starch, it must be heated in order to thicken.
Pour the cashew milk into a non-reactive sauce pan, and bring to a simmer (stainless steel is fine). Whisk frequently as the milk is coming to temperature. Be sure to scrape the bottom and corners of the pan, where most of the thickening occurs.
After simmering the cashew milk for about 1 minute, immediately remove the pan from heat. Allow the mixture to cool until it reaches 100 to 110 degrees Fahrenheit. For me, this typically takes about 30 minutes.
Don't have a thermometer? No problem! Grab a clean spoon, and either taste the cashew milk or place a drop on the back of your wrist. If it feels warm, similar to body temperature, but not hot, it's time to add the probiotic.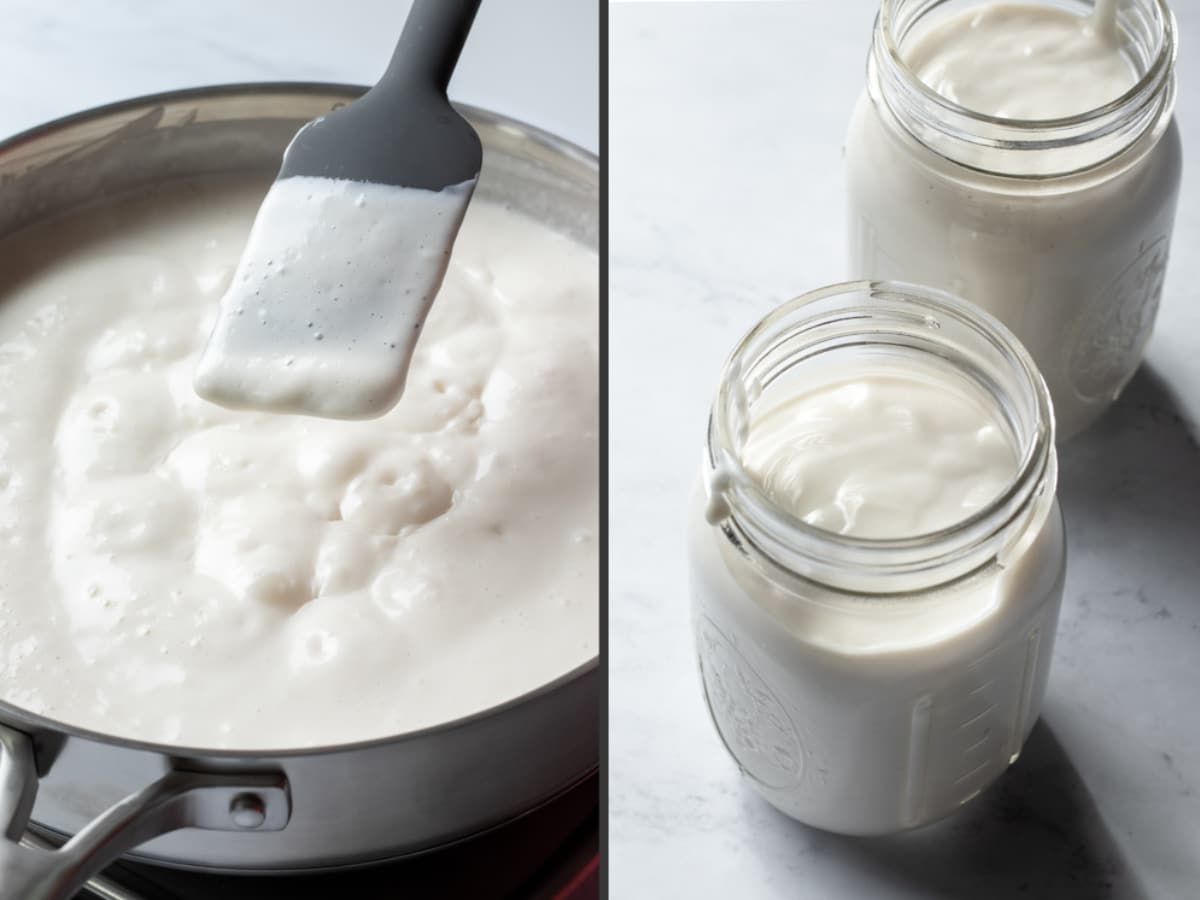 Add the Culture
Open one or two capsules of vegan-friendly probiotic (read more about selecting a probiotic in the Tips section below), and sprinkle the powder onto the cashew milk. The number of capsules needed depends on the strength of the probiotic. Aim for at least 30 to 40 billion live bacteria.
Whisk to incorporate the powder, then immediately pour the mixture into clean jars. This recipe makes just under 4 cups of yogurt, so I usually use 1 quart jar (32 oz) or 2 pint jars (16 oz).
This vegan yogurt starter from Cultures for Health is a great option but not as widely available as probiotic capsules. If you choose to use yogurt starter you'll want to experiment with saving yogurt from each batch to use as the starter for subsequent batches. Otherwise making yogurt will get pricey! The process of using yogurt as a starter works with soy, but I haven't tested it yet with cashew yogurt.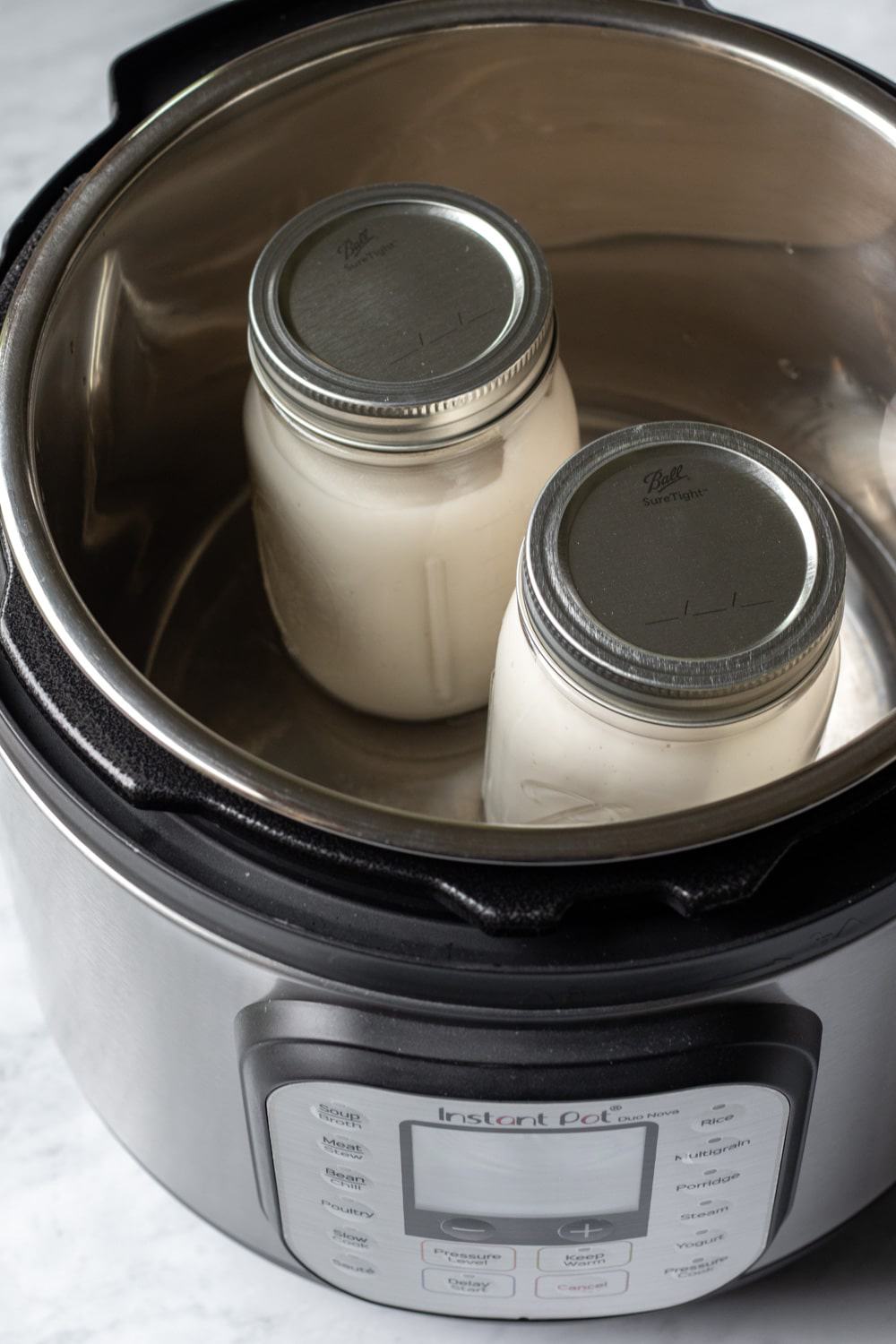 Set the Instant Pot
Place the jars inside the Instant Pot (no need to add water), put the lid on, and turn it to the locked/sealed position. Press the Yogurt button. My particular Instant Pot defaults to 10:00 hours on the yogurt function. Use the + and - buttons to adjust the time.
If you prefer a less tangy yogurt, start with 10 hours. For tangier yogurt you'll want to experiment with 12, 13, or even 14 hours of incubation. I typically do 13 hours.
See the Tips below for the best time of day to start this process!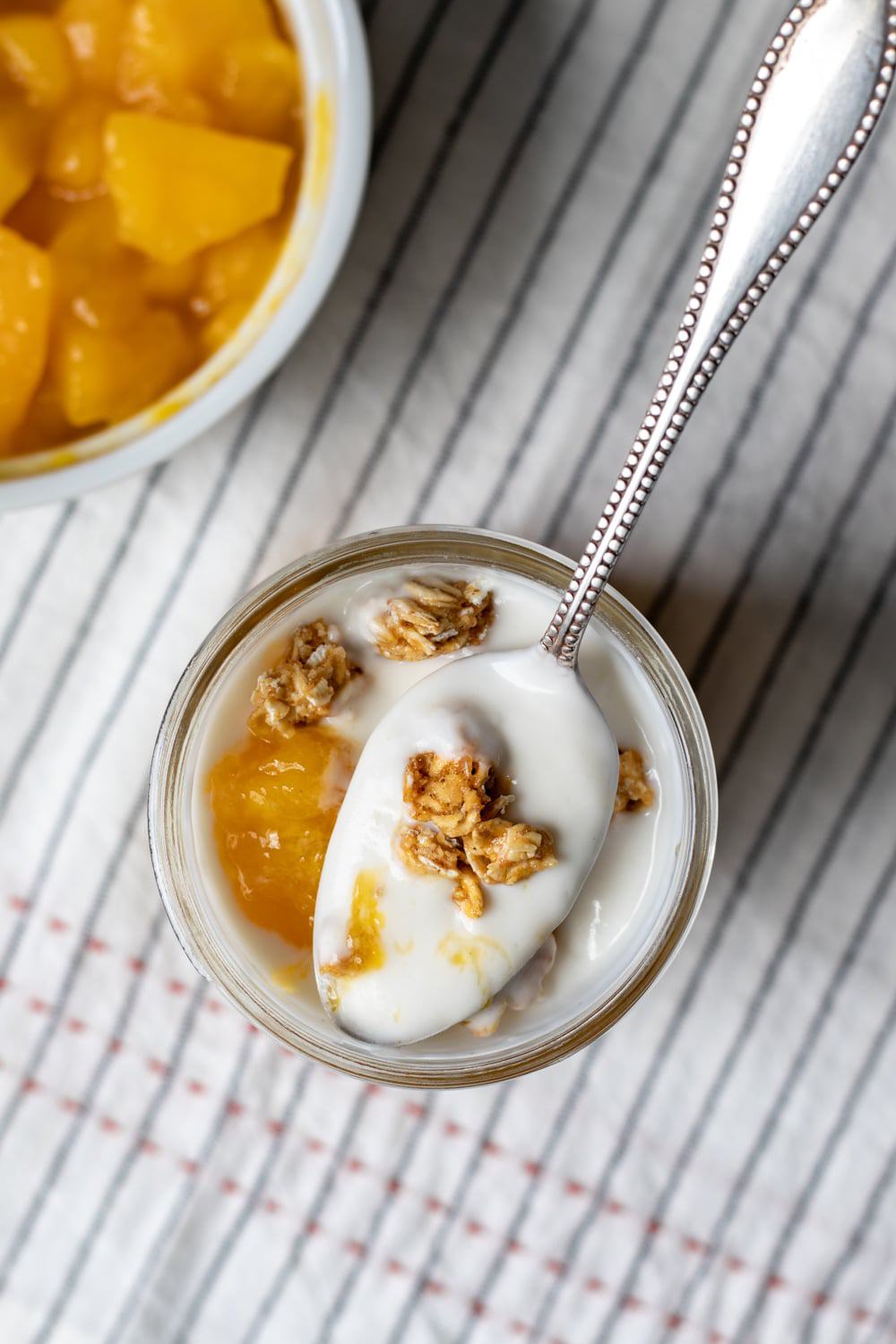 Tips for the Best Cashew Yogurt
Use new capsule(s) of probiotic each time.
Typically you can use a small amount of yogurt from an existing batch as the culture for the next batch. But I've read that with certain non-dairy yogurts this doesn't always work. So for cashew yogurt and for the sake of consistency, I choose to use fresh capsules of probiotic each time.
Choose the right probiotic.
I always keep a bottle of Jarro-dophilus in the fridge, so it's easy to just grab a new capsule (or two, depending on the strength). I've been using their products for almost 20 years, so I'm comfortable with the brand, and it's easy to find.
I recommend one of the high potency, multi-strain Jarro-dophilus products like the one linked above. It contains L. acidophilus and B. lactis, two strains important for making yogurt.
Use clean jars and utensils.
Either run them through the dishwasher before making a batch of yogurt, or simply fill them with boiling water, let stand for a few minutes, then pour out the water.
Cover the jars, and leave a bit of space between the lid and the yogurt.
I've successfully made yogurt in the Instant Pot leaving the jars uncovered, but if you've recently made spicy or very fragrant food in your Instant Pot, those odors can impact the flavor of your yogurt. Covering the jars keeps odors out.
Trust your nose and eyes.
I haven't experienced a batch of "bad" yogurt yet, but it can happen. Just remember, yogurt should smell tangy and appealing, not sour or "off." Dirty utensils or jars can introduce bad bacteria, which can grow during the culturing process. If in doubt, throw it out.
Don't skip the step of heating the cashew milk.
It is possible to skip this step and have everything turn out fine, but it might also lead to a ruined batch of yogurt. So don't be tempted to skip this step just for the sake of saving a few minutes. Heating activates the starch in the cashews and improves the texture.
Begin the process around or after dinner time.
You want to be available when the Instant Pot timer beeps, so you can transfer the jars of yogurt to the counter to cool and then to the refrigerator. If you plan to culture the yogurt for 13 hours, for example, and you add approximately 40 minutes to that for the time it takes to blend, heat, and cool the cashew milk, you can see why overnight works best.
If you only plan to culture the yogurt for 10 hours, starting the process early in the morning works fine. The downside is that your Instant Pot will be tied up all day and unavailable for other tasks.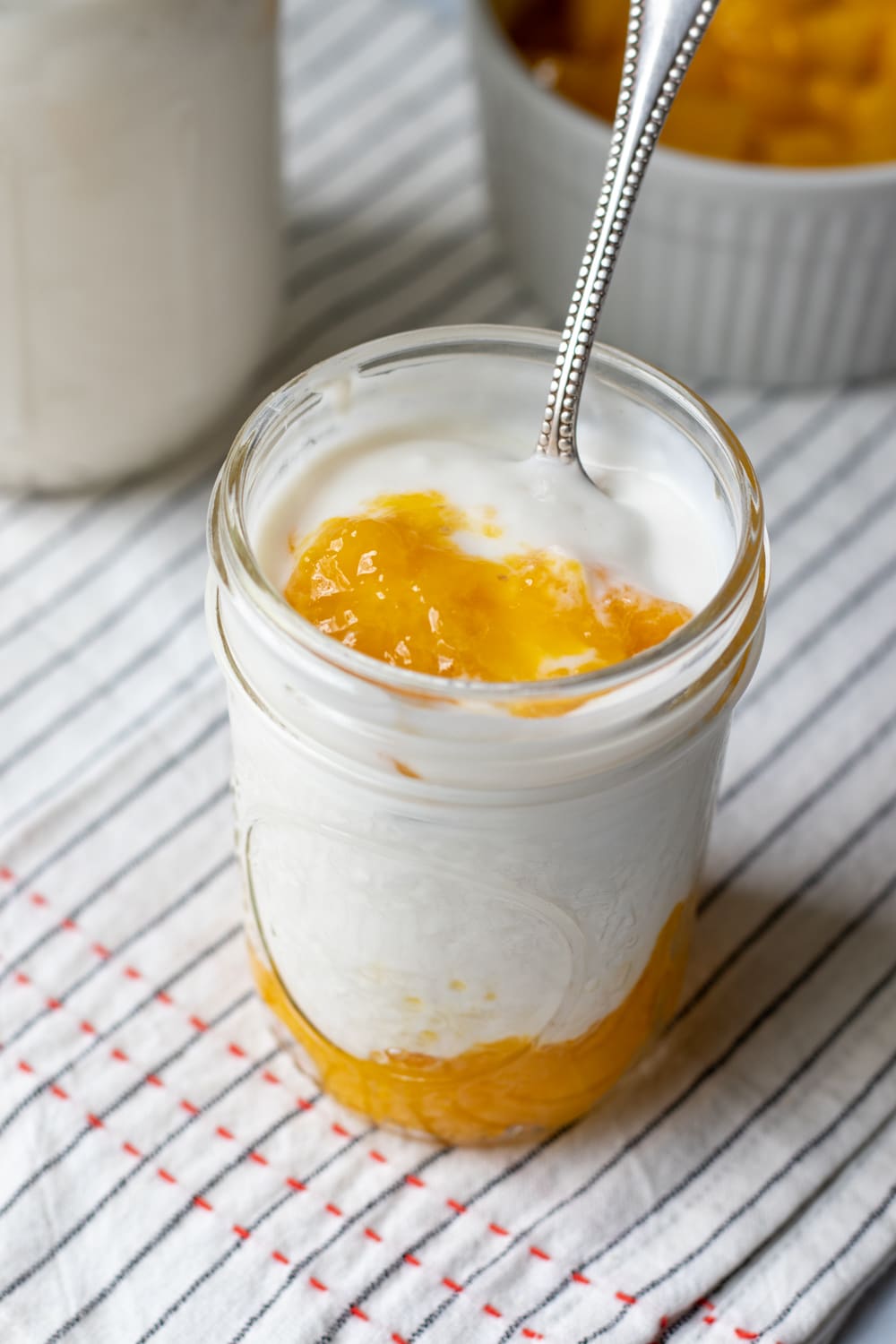 How to Make Vegan Greek Yogurt
The easiest way to make a super thick, Greek-style cashew yogurt is to simply decrease the amount of water, increase the cashews, or do a little of both.
Remember, cashews contain starch that naturally thickens when heated. So when the ratio of cashews to water increases, so does the thickness of the yogurt.
For a thicker Greek-style yogurt, use 1 ¼ cups cashews, and decrease the total amount of water to 3 cups. This ratio is flexible. After you try it once, feel free to adjust the amounts until you get the consistency exactly how you like it.
You might also like:
If you try this Homemade Cashew Yogurt I would love to hear from you. Be sure to leave a comment and a star rating below!
📖 Recipe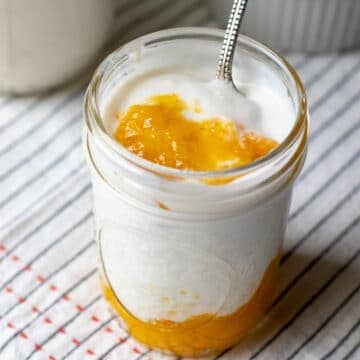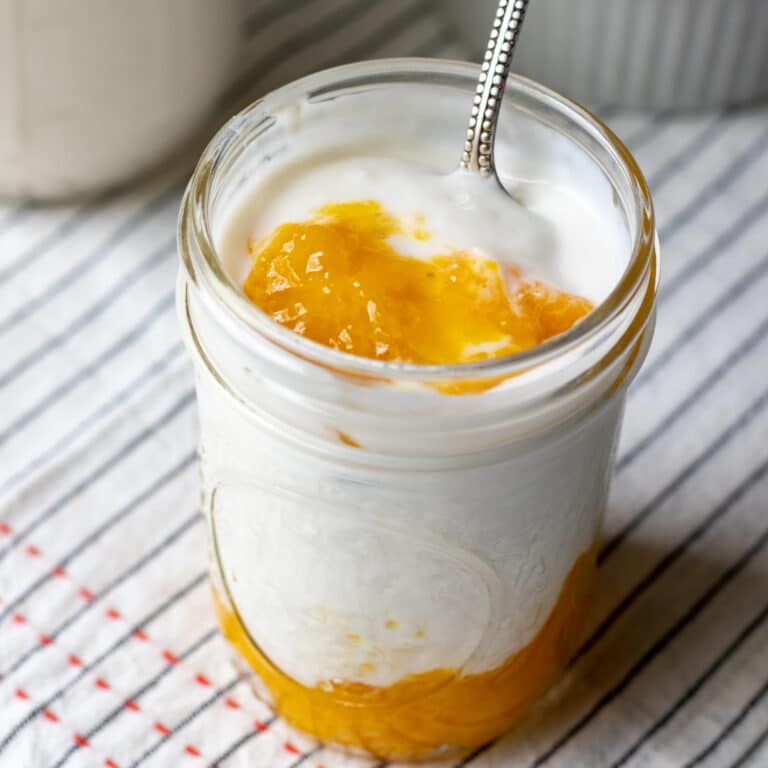 Instant Pot Cashew Yogurt
Two-ingredient vegan cashew yogurt is deliciously light, tangy, creamy, and so very easy to make. If you've been intimidated to try homemade yogurt, let me assure you there's nothing to fear! An Instant Pot with the yogurt function makes the process extra simple, but even without an Instant Pot you can still have affordable, vegan yogurt at home.
**Please read the post above for important tips on selecting a probiotic and culturing the yogurt.**
Instructions
If not using a high-speed blender, soak cashews overnight or soak in hot water for 2 hours. Drain and rinse.

In a blender combine cashews with 1 cup water. Blend for 30 seconds to 1 minute, then stop to scrape down the sides, if needed. Blend for at least 1 more minute or until completely smooth. Add remaining 2 ½ cups water (alter for Greek-style; see Notes), and blend to combine.

If using arrowroot or tapioca, add it to the blender, and blend for a few seconds to incorporate.

Pour the cashew milk into a non-reactive sauce pan (stainless steel is fine), and bring it just to a slow boil. Whisk frequently as the milk is coming to temperature. Be sure to scrape the bottom and corners of the pan where most of the thickening happens. Once it reaches a low boil, reduce the heat slightly and simmer until thickened and creamy, about 1 minute. Remove from heat.

NOTE: If not using a thickener, the mixture will still thicken slightly due to the natural starch in the cashews.

Allow the mixture to cool for about 30 minutes or until it reaches 100 to 110 degrees F. If you don't have a thermometer, use a clean spoon and taste the mixture, or drop a bit onto your wrist to test the temperature. If it seems barely warm (similar to body temperature) but not hot, it's safe to add the probiotic. If the mixture is too warm it will destroy the probiotics.

Open the probiotic capsule(s), and sprinkle the powdered contents onto the cashew milk. Discard the capsule(s). Whisk the probiotic powder into the milk. Pour into clean jar(s), but don't fill all the way to the rim. It's best to leave a bit of space so that the yogurt is not in contact with the lid. Cover with clean lid(s).

*If not using an Instant Pot use one of the alternate methods described in the Notes section below.* Otherwise, place the jars in the Instant Pot (no need to add water) and close the lid. You don't need to turn the vent know to sealing. Press the Yogurt button, and use the +/- buttons to adjust the time. For less tangy yogurt, try 10 hours (this is the default time for some IP models). For tangier yogurt choose 12 to 14 hours of incubation. Don't disturb the yogurt during this time.

When the timer beeps, remove jars from the Instant Pot. Let cool to room temperature, then refrigerate. The yogurt will thicken even more once chilled. Always use clean utensils when scooping out individual portions. Keep the yogurt refrigerated, and enjoy within 7 to 10 days.
Notes
Be sure to review the "Tips for Yogurt Success" within the post.
How to make yogurt without an Instant Pot:
The goal is to keep the cashew milk at a fairly constant 105 to 110 degrees F during the incubation period. A few alternative ways to accomplish this are:
Fill an insulated cooler with warm water (110 degrees) up to the necks of the jars.
Place the jars in a draft-free spot in the house. Wrap them with a towel, and wrap a heating pad around the towel. Set it on low, cycling it on and off if needed so that it doesn't get too warm.
Pre-heat a slow cooker, then turn it off. Line it with a towel, and set the jars on the towel. Cover with the lid and another towel for added insulation. Occasionally turn on the "warm" function if needed.
Find a warm, sunny spot in the house. Wrap the jars with a towel, and place in the sun.
Instructions for vegan Greek-style yogurt:
This ratio is very flexible, so feel free to experiment until you reach the desired thickness.
Increase the amount of cashews to 1 ¼ cups, and decrease the water to 3 cups total.
Estimated Nutrition (per serving)
Serving:
1
cup
Calories:
135
kcal
Carbohydrates:
7
g
Protein:
4.5
g
Fat:
11
g
Cholesterol:
0
mg
Fiber:
1
g
Sugar:
1
g
Calcium:
9
mg
Iron:
1.6
mg
Nutrition information is an estimate and will vary depending on the exact amounts and specific products and ingredients used. We calculate this information using the online calculator cronometer.com.
Tried the recipe?
I love hearing from you! Share your feedback below.