Vegan Yogurt Cake is a fluffy, light, and moist snack or dessert cake inspired by the classic French treat gâteau au yaourt. Easy to prepare with just a whisk and two bowls, this "anytime" cake recipe is perfect in its most basic form while also providing opportunity for endless flavor variations.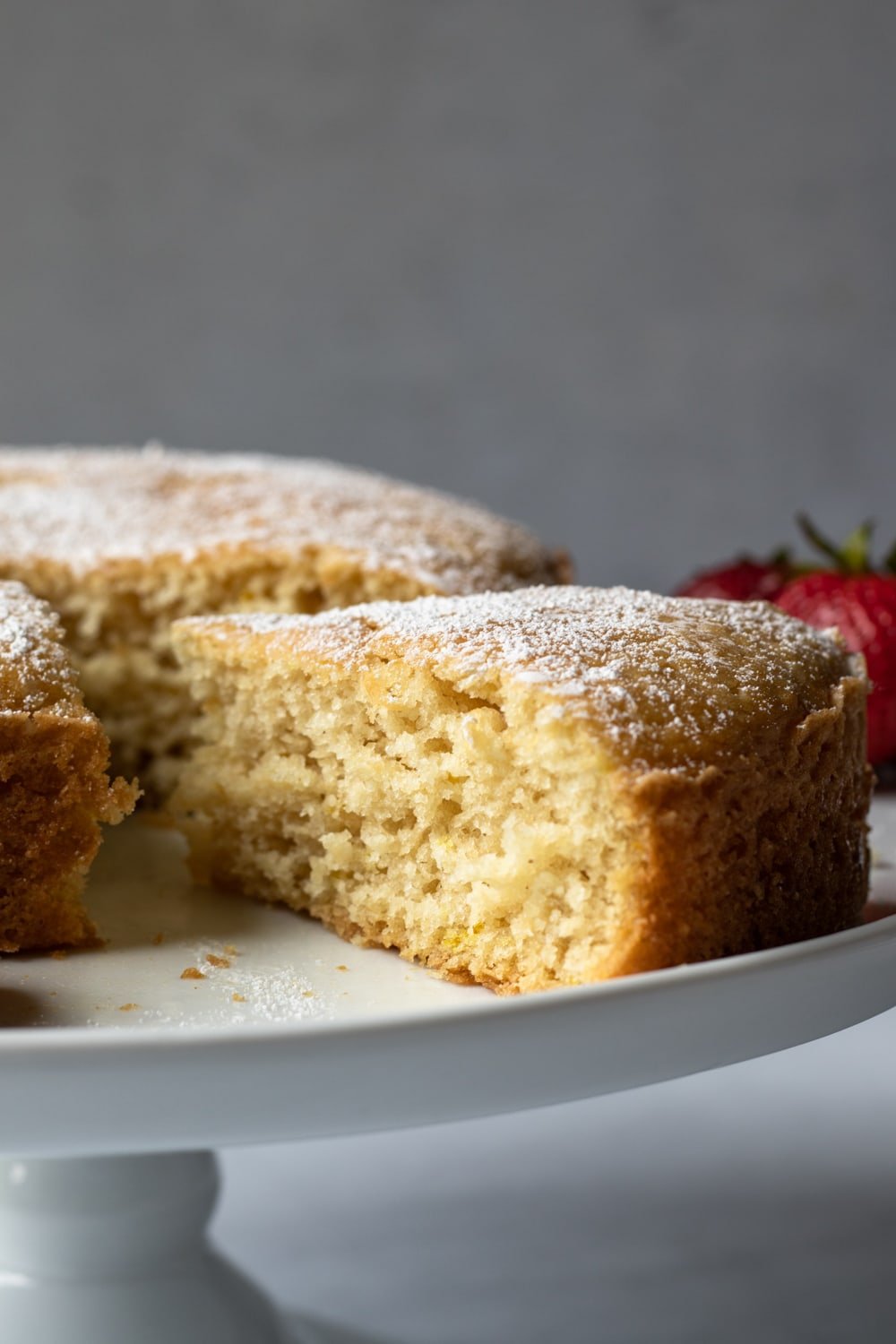 Simple, golden, fragrant cake that's so lovely it needs no frosting, no decoration, and no special occasion to be enjoyed. The whole concept does feel very French, doesn't it?
If you've visited this blog before you know that I often share healthier vegan recipes, many free from oil and refined sugar. But I also love veganizing classic desserts, usually with regular flour, sugar, and even oil. And that's what we have today.
Some may suggest that an egg- and dairy-free yogurt cake is blasphemous, but we're not worried about them, are we? Oh no. With each delicious bite we'll simply smile and wonder why anyone would feel the need to resist positive change.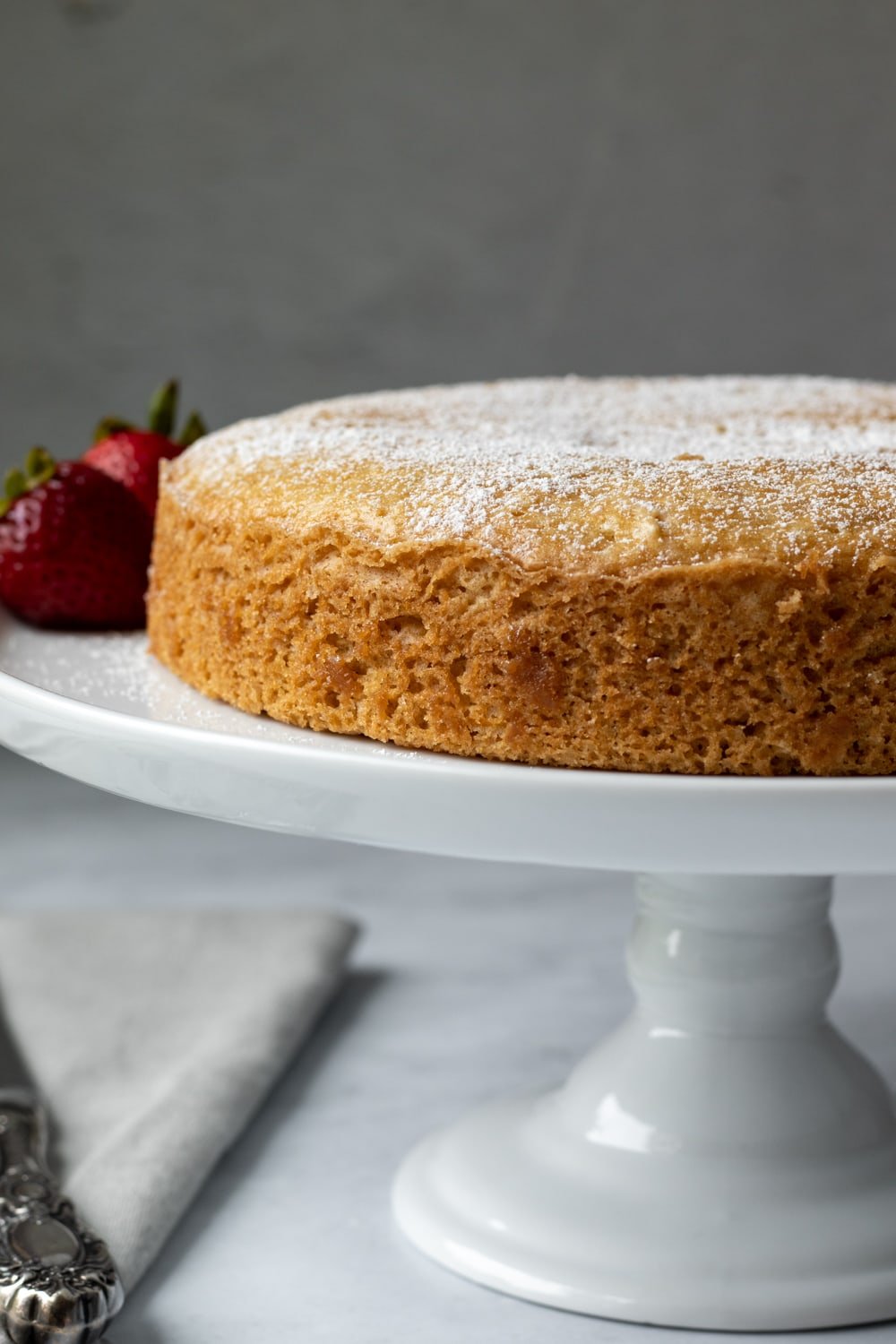 Preparation & Equipment
From start to finish, this cake takes a little less than an hour, not including cooling time. You'll need two bowls, a whisk, measuring cups and spoons, and an 8-inch round cake pan with 3-inch sides.
I use this Fat Daddio's cake pan, but an 8-inch springform pan will also work. A silicone spatula also comes in handy for scraping every last bit of batter from the bowl.
Choosing a Yogurt
One thing to consider in advance is the type of yogurt you'll use. I tested this recipe with my homemade cashew yogurt and strongly recommend it for the most consistent results. It's made with only 3 ingredients: raw cashews, water, and probiotic. And once you get used to making it, I have a feeling you'll want to keep it in regular rotation just like I do!
Making your own yogurt only takes a few minutes of prep in the evening, then the yogurt cultures overnight. Also, because this recipe uses ¾ cup yogurt, going the homemade route is more budget-friendly.
Slightly thicker yogurt is what gives us the moist, fluffiness we're looking for in our vegan yogurt cake. Too much liquid can make a cake dense and gummy, so you may need to strain off some of the liquid/water if using a different homemade or store-bought yogurt...
Here are a few yogurt tips:
If using my recipe for cashew yogurt, reduce the water in the recipe by ½ cup. That's exactly what I did to achieve the yogurt you see below. I also under-blended the cashews just a bit (not intentionally; I was rushing), in case you're wondering why this yogurt looks grainier than in the Cashew Yogurt post. 😀
Or if you're not into cashews, try this new almond milk yogurt recipe. It's thick, rich, creamy, and perfect for this cake.
If using store-bought vegan yogurt, compare the consistency to the photo below. If the yogurt is on the thinner side, use a mesh strainer lined with a double layer of cheese cloth to drain off some of the liquid. Let the strainer rest above a large bowl until the yogurt has thickened sufficiently. Just be sure to strain MORE yogurt than you need, so that you end up with at least ¾ cup after it has reduced.
If you plan to use a sweetened yogurt, reduce the amount of sugar called for in the recipe by about ¼ cup.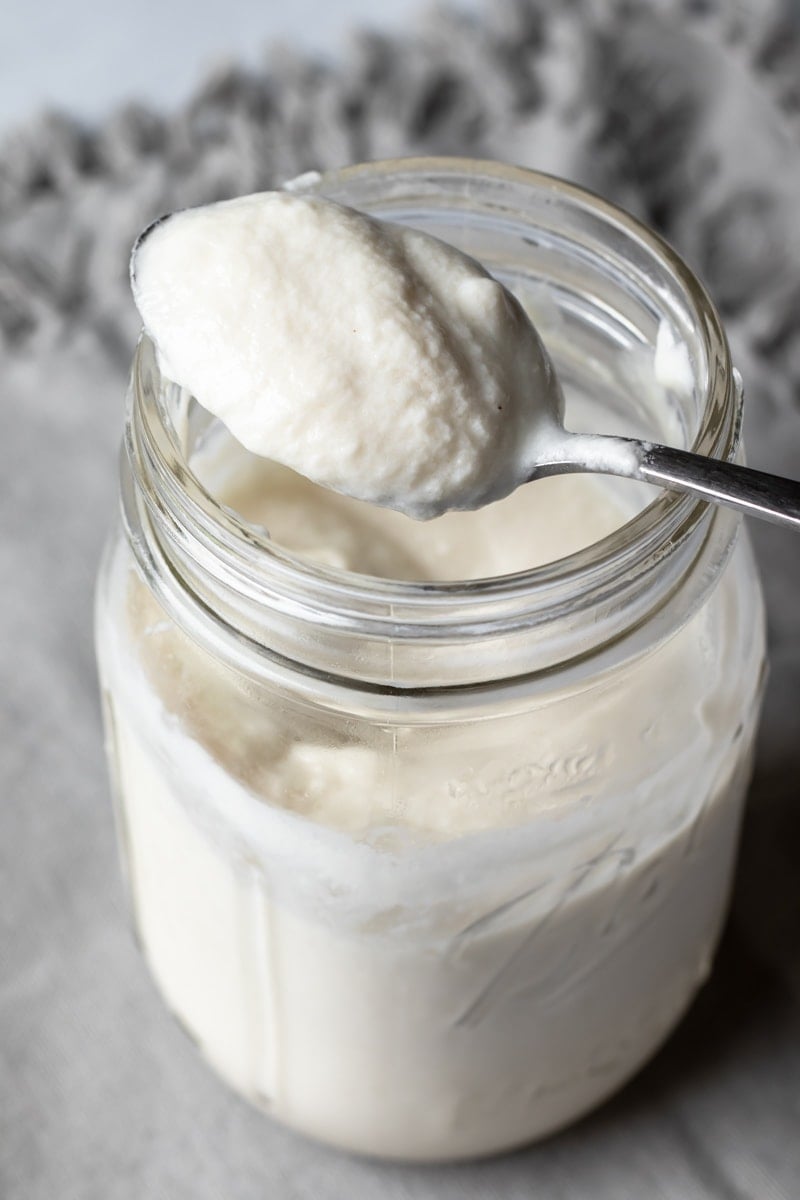 Once you have your yogurt situation figured out, you're golden! Preparing this vegan yogurt cake is pretty much as easy as cake gets. So even if you're not a baker, I promise you can do this! It breaks down into five easy steps:
preheat the oven and prepare the pan
mix dry ingredients
mix wet ingredients
combine the two (stir or whisk until just combined, careful not to overmix)
pour into the pan and bake
Voila! Ooh la la. Oui! Oui!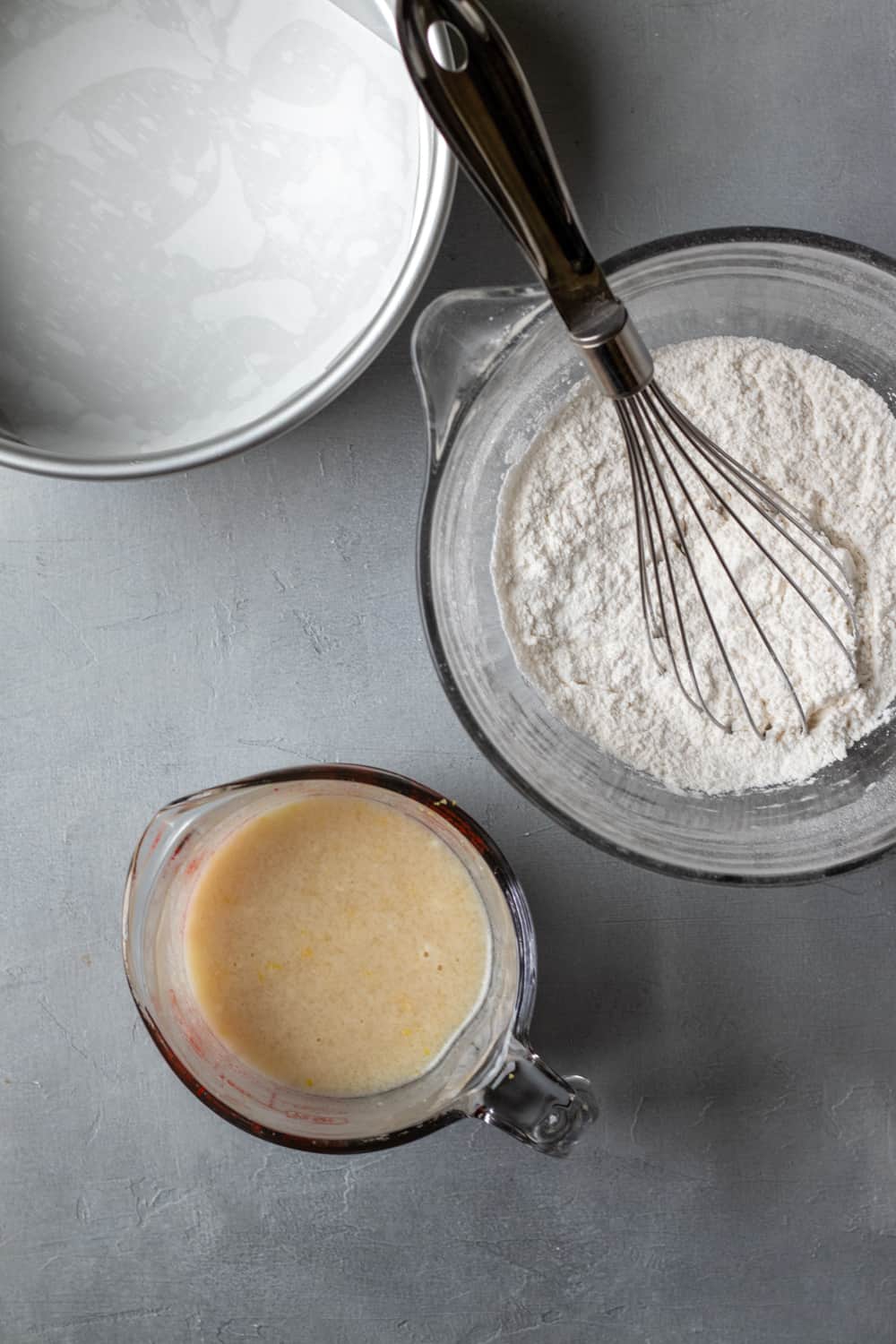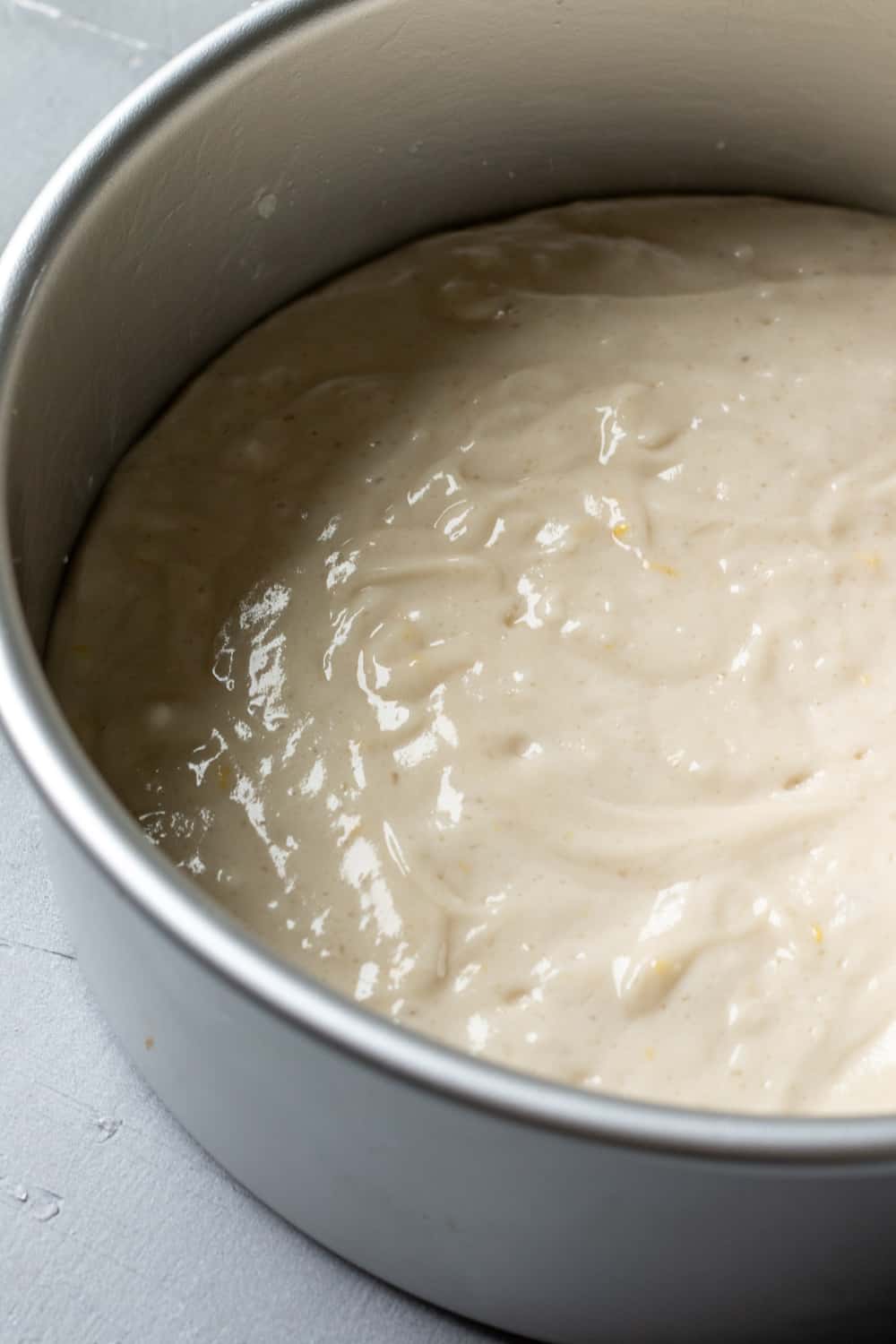 The batter will be fairly thick, as pictured above.
If you're a fan of lemon, you'll LOVE this cake with the optional lemon zest. And as you might guess, the contrasting textures of the golden crust on the outside and the delicate, soft crumb in the middle are completely irresistible!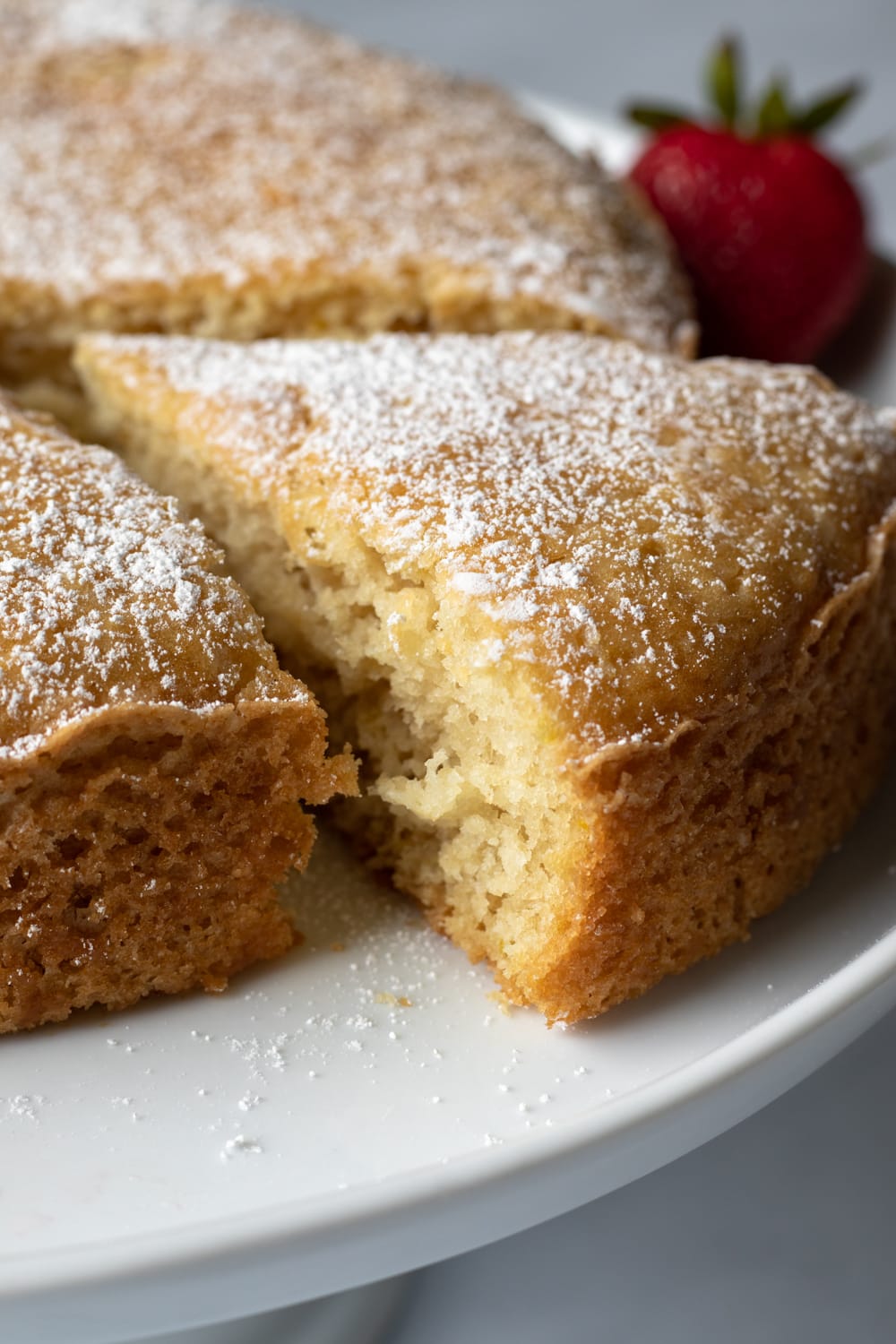 Serving Suggestions
Once the cake has cooled to room temperature, a simple dusting of powdered sugar is really all you need. Slice and serve as is, or if you're feeling fancy pair it with: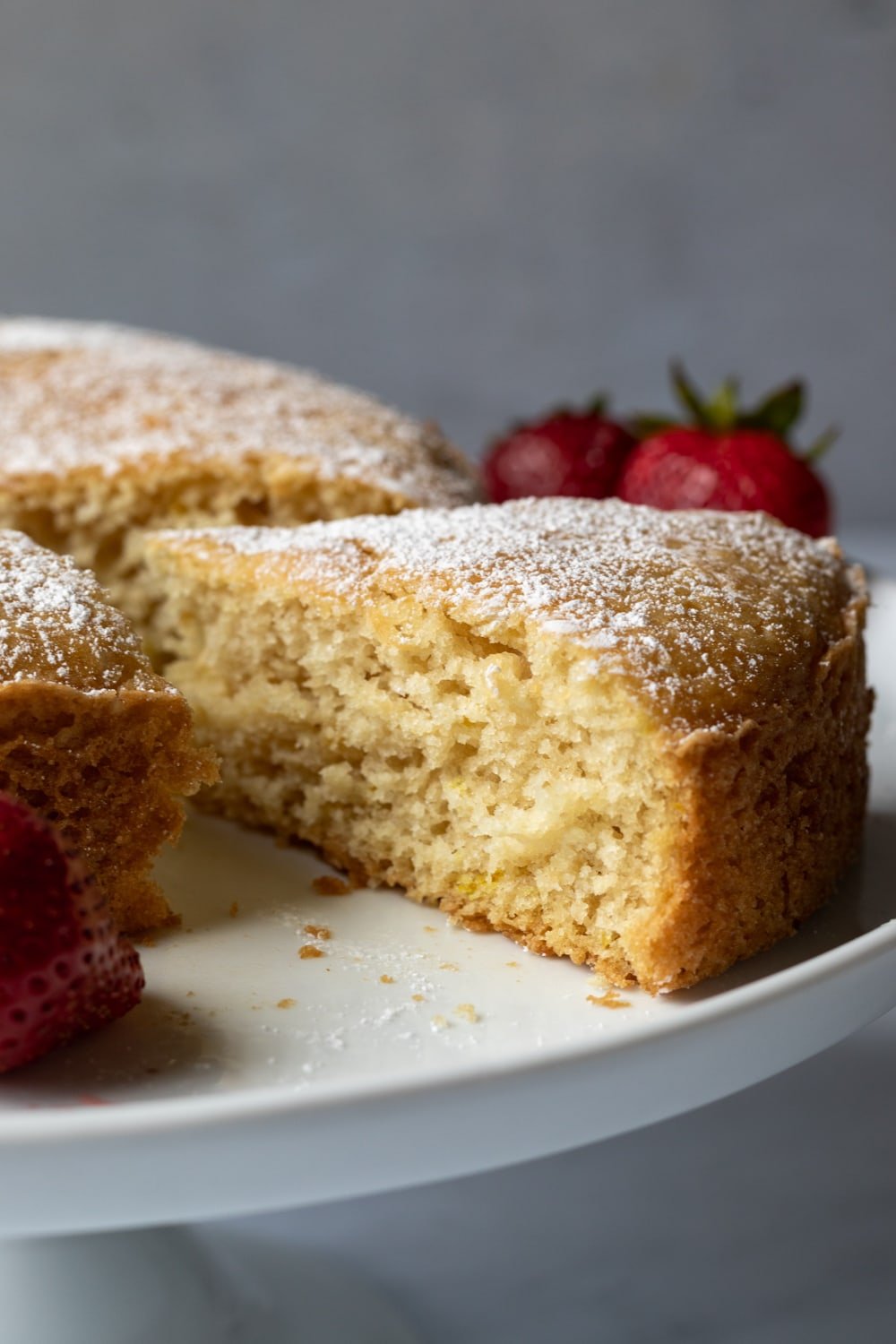 Recipe Variations
I'm currently working on another cake recipe very similar to this that includes chocolate chips and can tell you it's a delicious pairing! So if you're a chocolate lover feel free to stir about ⅓ cup chocolate chips into the batter, and omit the lemon zest.
Try orange or lime zest instead of lemon, or omit the zest altogether to highlight the vanilla flavor.
I adapted this recipe from Joy of Baking's non-vegan yogurt cake recipe (linked in the Notes of the recipe below). She uses ¼ cup almond flour in place of ¼ cup of the all-purpose flour. I haven't tried that option yet but imagine it will be delicious, adding a nice, nutty richness. I left it out because I wanted to streamline the recipe as much as possible instead of having you hunt down specialty ingredients.
I haven't tested a gluten-free flour blend in this recipe yet but imagine it will work just fine. If you try a gluten-free version, please leave a comment below to let us know how it turns out!
Stay tuned for more yogurt cake variations.
Happy Vegan Baking!
You might also like:
Ultimate Vegan Strawberry Cake
Classic Vegan Chocolate Cake
Vegan Apple Layer Cake
Oil-Free Chocolate Cake With Strawberries
Follow My Quiet Kitchen on Facebook, Instagram, and Pinterest, and subscribe via email to receive all of the latest recipes!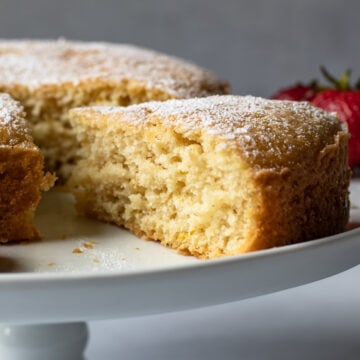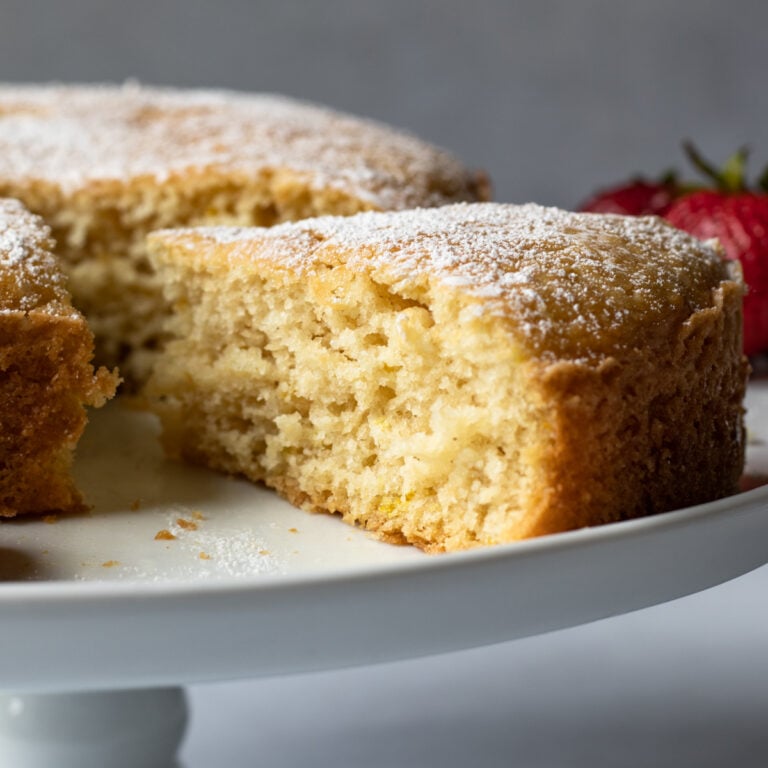 Vegan Yogurt Cake
A fluffy, light, and moist snack cake inspired by the classic French treat gâteau au yaourt. Yogurt Cake is easy to prepare with just a whisk and two bowls. Try it with spices and various citrus and fruits.
Yield: one 8-inch cake
Ingredients
1 ½

cups

all-purpose flour

-

See Notes for tips on measuring.

1 ½

teaspoons

baking powder

½

teaspoon

baking soda

¼

teaspoon

fine sea salt

¾

cup

thick cashew yogurt -

See Notes.

¼

cup

neutral tasting oil, such as grapeseed or canola

1

teaspoon

vanilla extract

1

cup

organic cane sugar

3

tablespoons

non-dairy milk such as soy or oat

zest from 1 lemon, optional

1 to 2

teaspoons

organic powdered sugar
Instructions
Preheat oven to 350 degrees F (176 C). Generously oil an 8x3 inch cake pan, and place a circle of parchment paper in the bottom.

Into a mixing bowl sift the flour, baking powder, and baking soda. Add the salt and whisk to combine.

In a medium-size bowl, whisk together the yogurt, oil, vanilla, sugar, milk, and lemon zest, if using.

Pour wet ingredients into dry, and gently whisk until just combined. Transfer mixture to the prepared pan, and bake for 40 to 45 minutes. When done the cake will be golden, set/firm in the middle, and a toothpick inserted into the center should come out clean.

Let the cake cool in the pan for about 20 minutes or until the top is barely warm. Carefully flip out onto your hand, then place parchment-side-down on a cooling rack. Once completely cool, peel away parchment paper, place on a serving platter, and sprinkle with powdered sugar.

Slice and serve immediately, or store in an airtight container at room temperature until ready to serve.
Notes
Adapted from Joy of Baking's Yogurt Cake recipe.
Measuring Flour
I highly recommend using a kitchen scale to weigh flour (use the Metric button in the recipe for weight measurement). But if you don't have a scale the "whisk and fluff" method works well. This ensures that you don't scoop up too much flour (after it has compressed in storage). To do it:
Whisk the flour to fluff it up.
Use a spoon to scoop it into the measuring cup, then level off the top with a knife or your finger.
Tips for proper yogurt consistency
As mentioned in the post, I recommend using my cashew yogurt recipe (instant pot not required!). Simply reduce the amount of water called for by ½ cup (4 fluid ounces). This will produce a thicker cashew yogurt perfect for this cake. Store-bought plain yogurt such as Forager cashew-gurt should also work. If you plan to use a sweetened yogurt, reduce the sugar slightly.
Storage
Store cake in an airtight container at room temperature for up to two days or refrigerated for up to 4. I have not personally tried freezing this cake yet, but suspect it should freeze well, similar to most cakes. For freezing, wrap very well in plastic wrap to protect from air, then place in a freezer bag.
Estimated Nutrition (per serving)
Calories:
258
kcal
Carbohydrates:
44
g
Protein:
3
g
Fat:
8
g
Cholesterol:
0
mg
Sodium:
67
mg
Nutrition information is an estimate and will vary depending on the exact amounts and specific products and ingredients used. We calculate this information using the online calculator cronometer.com. For the most accurate nutrition information we recommend calculating it yourself to reflect the specific ingredients used in your dish.
Did you try the recipe?
Comment below to let us know!