This Vegan Chocolate Cake with Raspberry Cream Cheese Frosting is the perfect marriage of rich and chocolatey with fresh and fruity. It makes a great birthday cake (in fact, I made it for my own birthday last month), and is sure to please any crowd on any occasion.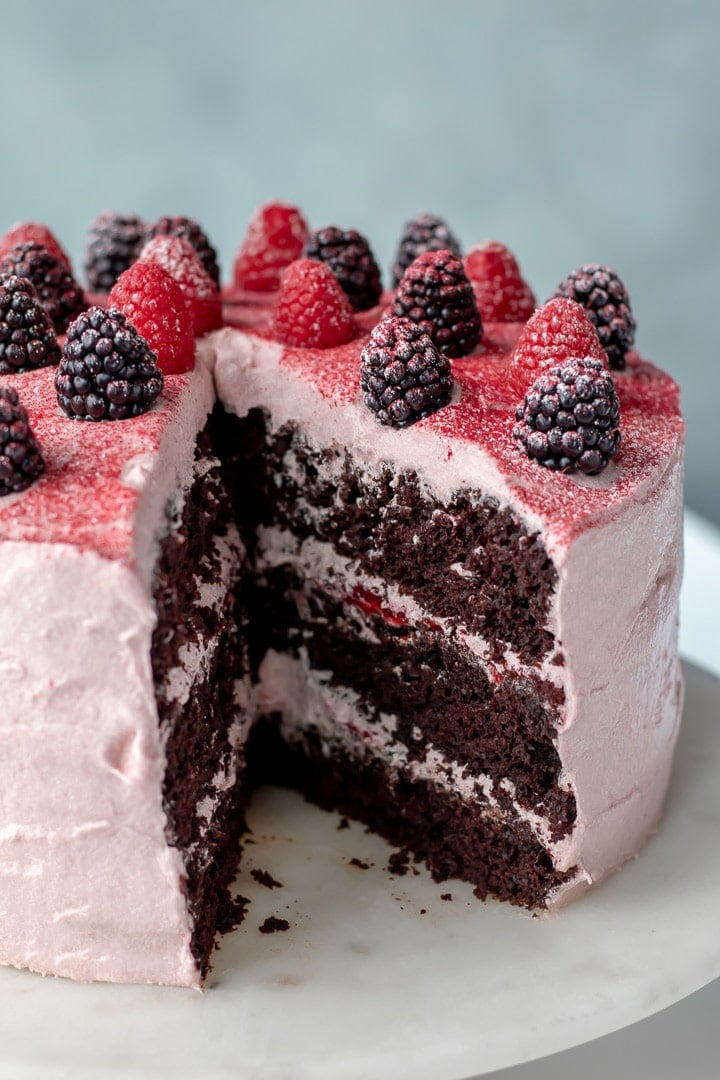 If you've visited my blog before you may already be familiar with my approach - healthy, nutrient-dense recipes most of the time, with decadent treats thrown in for fun and special occasions.
And birthdays definitely call for cake! I've always enjoyed baking - it's just so fun and rewarding. I love the combination of science and creativity.
Desserts are basically edible works of art, and I'll use any excuse to develop a new dessert recipe! So as my forty-something (ahem) birthday approached, I started pondering flavors.
I hadn't made a chocolate cake in a while and decided on that as the base. Though I'm usually not a fruity dessert person, a hint of raspberry in rich and tart vegan cream cheese frosting seemed like a perfect combo.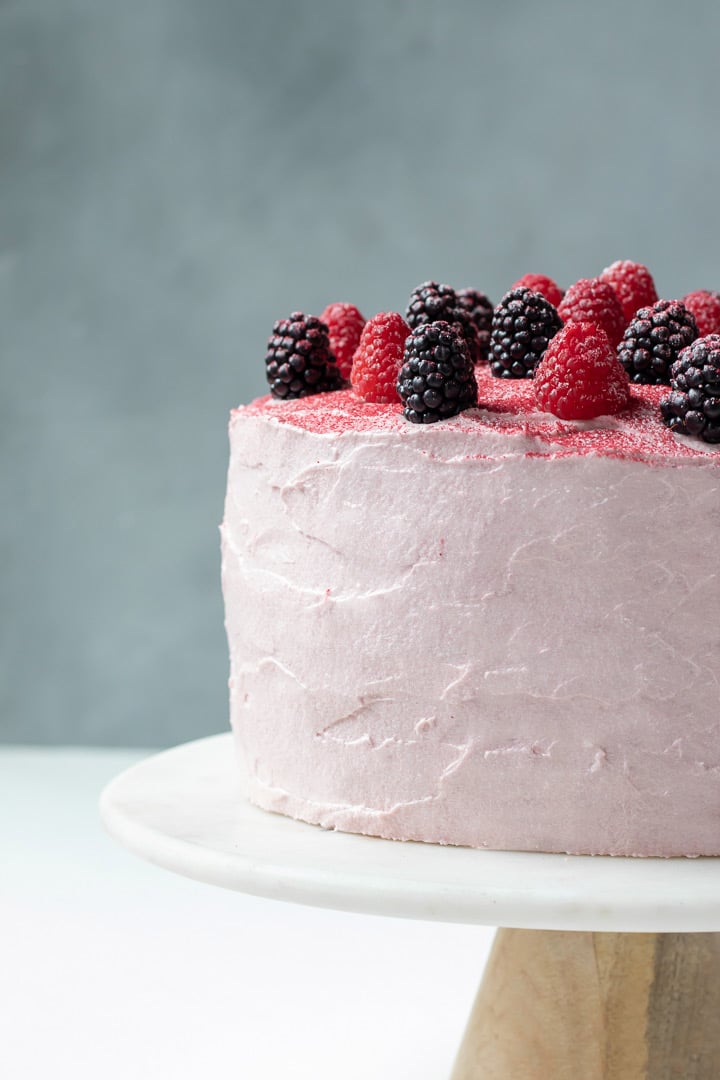 Why You'll Love This Vegan Chocolate Cake
It's easy. For those of you who say you have trouble baking cakes, hear me out. I believe in you and know you can do this! It's a matter of prepping your pans, mixing dry ingredients, mixing wet ingredients, whisking them together, and then pouring the batter into the pans. Doesn't that sound easy?
It's versatile. Not into the idea of raspberry cream cheese frosting? No problem! Pair this cake with any type of glaze, jam, or vegan frosting you like.
It's a classic. This is a rich, dark, and moist chocolate cake with plenty of oil, sugar, and cocoa. No flax eggs, spelt flour, or alternative sweeteners here (I love those, too, but that's not what this particular cake is about). Find your pickiest, dessert-loving, non-vegan friends and family, and feel confident serving them this chocolate cake. Like I said, it's a classic.
RELATED: Check out my Top 12 Vegan Baking Tips.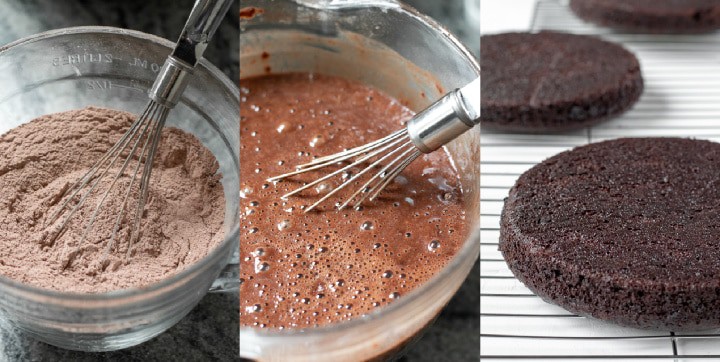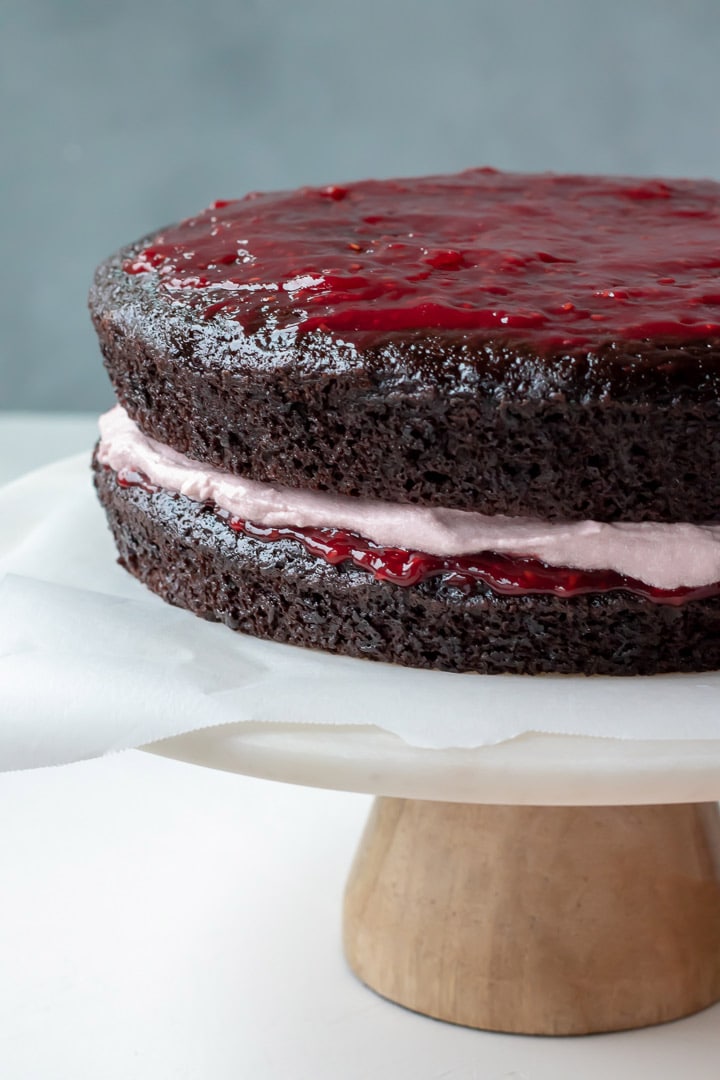 How to Make Vegan Raspberry Cream Cheese Frosting
Equipment needed:
Just like with any buttercream, you'll need a handheld electric mixer or stand mixer to make the frosting.
So far there's one other cake recipe on the blog, this Apple Layer Cake With Cinnamon Buttercream. (July '19 UPDATE: check out this new Vegan Strawberry Cake!)
The apple cake features a typical vegan buttercream where the main ingredients are vegan butter and powdered sugar.
But for today's raspberry cream cheese frosting we're adding store-bought vegan cream cheese to the mix. I know that probably makes this frosting less accessible to some people, and if that's the case for you, feel free to replace the cream cheese with extra Earth Balance for a simple raspberry buttercream.
There are a few brands of vegan cream cheese available in stores these days. The ones I see most often are Tofutti, Trader Joe's and Daiya. I used Trader Joe's cream cheese for my cake, but I think I would have preferred Tofutti. It's been years since I've had it, but I remember Tofutti having a slightly better flavor and texture.
Anyway, use your favorite brand or whichever one you can find, and I'm sure things will work out great! Just be sure to let both the butter AND the cream cheese warm up to room temperature before making the frosting.
The raspberry flavor and color come from freeze-dried raspberries. Trader Joe's and Target carry them, and you can also find them online.
Before adding the freeze-dried raspberries to the frosting, simply blend them in a blender or spice grinder, then pour the powder through a strainer to separate the MANY seeds. Trust me, you'll be amazed how many seeds there are! Discard the seeds, and your raspberry powder is ready to be sifted into the buttercream during mixing.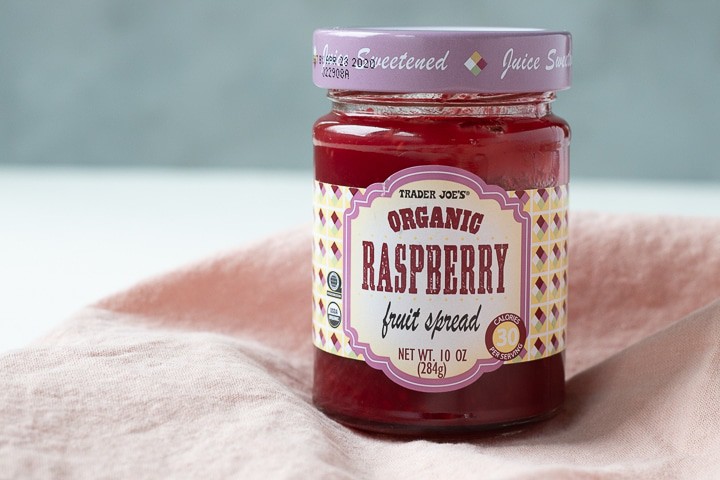 The other delicious raspberry element in this cake comes in the form of fruit spread....or jelly or jam or whatever you like. This was my first time trying the Trader Joe's fruit-sweetened raspberry spread pictured above, and I LOVED it.
Seriously, Mark and I were happy to have plenty of it left after I made the cake because it makes a delicious PB&J. The color is gorgeous, too, and there are just the right amount of seeds.
When you're assembling the cake, layers 1 and 2 first get a thin coating of raspberry jam, followed by frosting. I used about ¼ cup of jam on each layer, but I think a little bit more would be even better, especially if you're a fruit lover. Aim for ¼ to ⅓ cup of jam on each layer.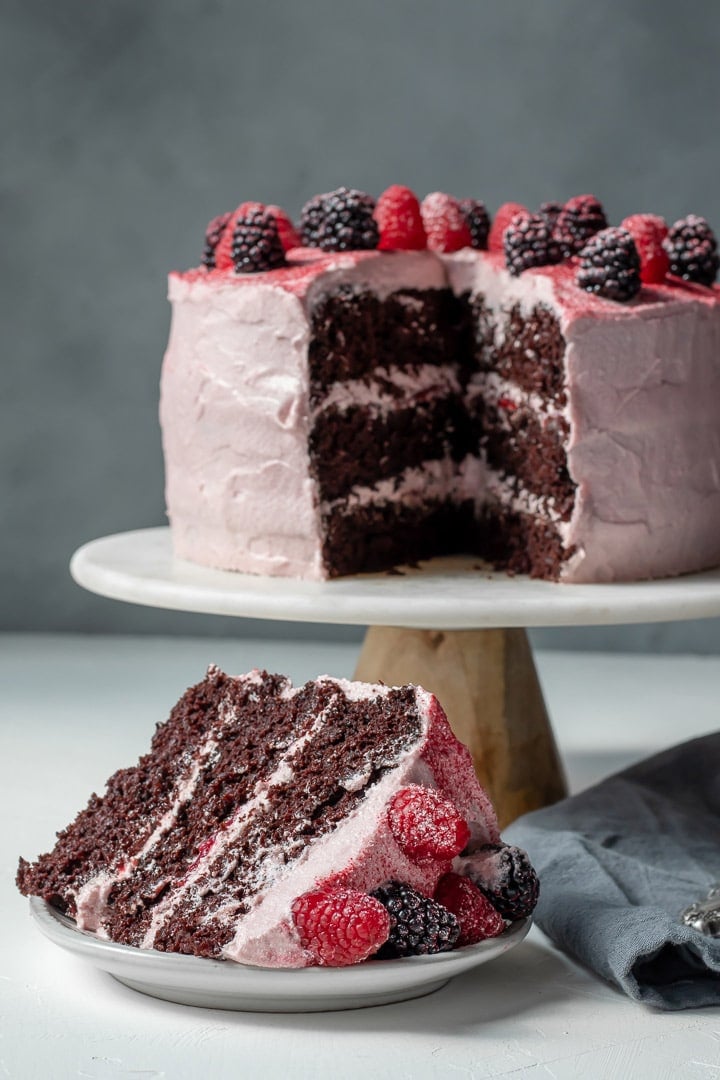 Ideas for Decoration
Fresh Berries: Sure, this is a raspberry frosting, but I find blackberries to be totally irresistible and drop-dead gorgeous! In addition to the fact that they pair well with raspberries, their dark, dramatic color ties in nicely with the chocolate cake, don't you think?
After placing berries around the top of the cake I sifted extra raspberry powder (you should have plenty leftover after making the frosting) and powdered sugar on top. Standing the berries on end creates a sort of "berry forest" which I think is pretty cute.
Chocolate: If you would rather play up the chocolate vibe, shavings or curls of dark chocolate would be epic. Then sift just a touch of extra cocoa powder on top. Chocolate perfection.
A few more options:
whipped coconut cream or other non-dairy topping
chopped nuts
edible flowers
a few raspberries with a sprig of mint
sprinkles and/or candles!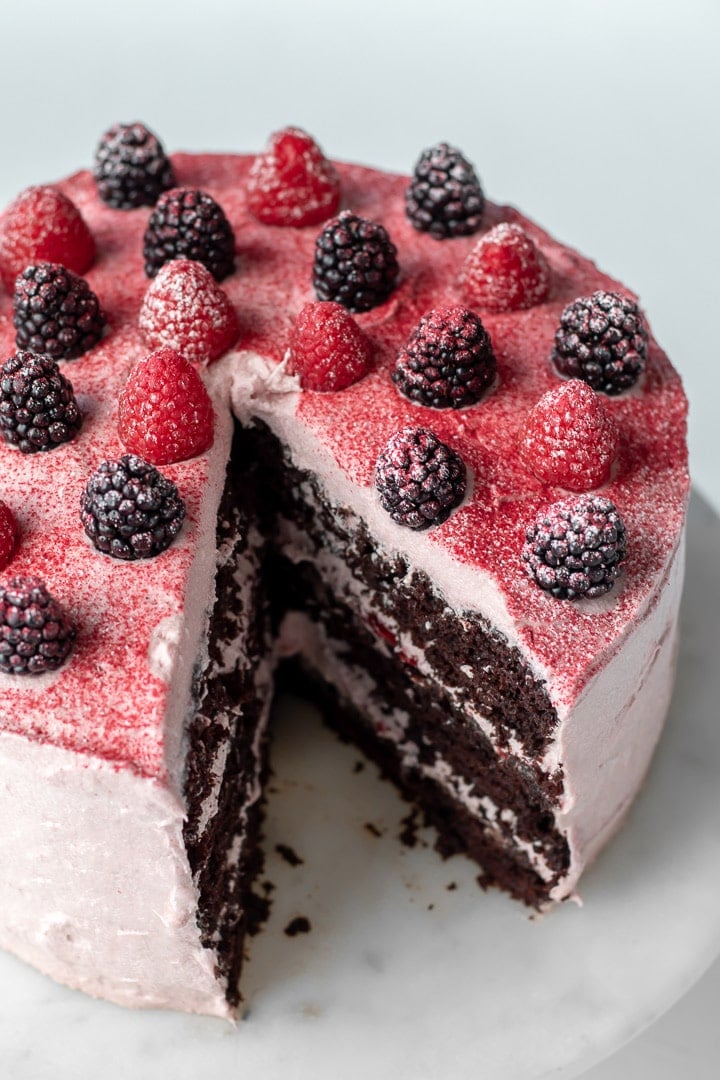 I truly hope you love this Vegan Chocolate Cake With Raspberry Cream Cheese Frosting. If you try it remember to snap a photo because a) cakes are beautiful, b) you'll want to show off your creation, and c) I definitely want to see it!
Tag your photo with @myquietkitchen on instagram and be sure to rate the recipe below. Happy baking!
📖 Recipe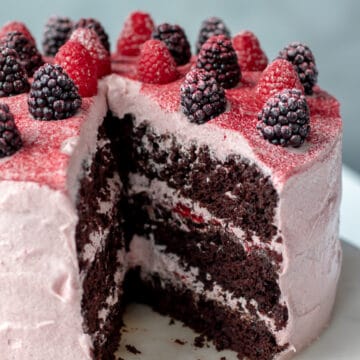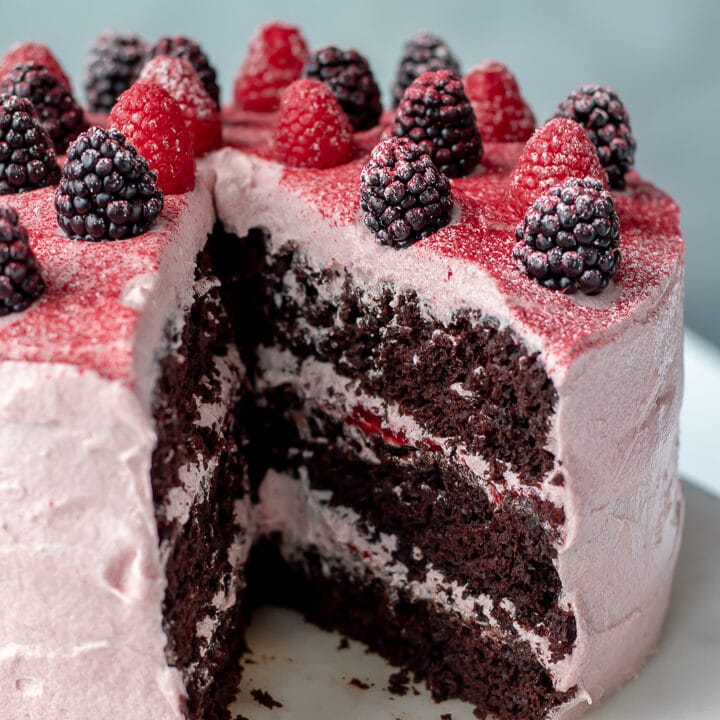 Vegan Chocolate Cake With Raspberry Cream Cheese Frosting
Rich vegan chocolate cake layered with raspberry jam and raspberry cream cheese frosting.
Yield: one 3-layer, 9-inch cake
Ingredients
For the cake:
3 ¾

cups

all-purpose flour (475 g)

3

cups

sugar

1

cup

cocoa powder

2

tsp

baking soda

2

tsp

baking powder

1 ½

tsp

salt

2

cups

water

1

cup

non-dairy milk (I used unsweetened soy)

1

Tbsp

vanilla extract

¾

cup

neutral oil such as canola

1

Tbsp

balsamic vinegar

2

Tbsp

brewed coffee
Frosting and jam:
16

ounces

vegan cream cheese, room temperature

1

cup

Earth Balance (2 sticks), room temperature

4

cups

powdered sugar, sifted

½ to ⅔

cup

raspberry jam
Instructions
Make the cakes:
Preheat oven to 350 degrees. Lightly oil three 9-inch cake pans and line the bottoms with a circle of parchment paper.

Into a large bowl sift the flour, cocoa, baking soda, baking powder, and salt. Add the sugar and whisk to combine. In a medium bowl whisk together the water, milk, vanilla, oil, vinegar, and coffee.


Pour the wet mixture into the dry and whisk just until mixed, with no visible dry flour remaining. Divide the batter evenly among the three pans, and bake 28 to 32 minutes or until the tops bounce back when lightly pressed.


Allow the cakes to cool in the pans for about 10 minutes then transfer to racks to cool completely. If preparing in advance, wrap each layer individually in plastic wrap, and store in the refrigerator.

Make the frosting:
With a blender or spice grinder, process the freeze-dried raspberries until powdered. Place a mesh strainer over a bowl, and pour the powdered raspberries through the strainer to separate the seeds. Discard the seeds, and set the raspberry powder aside.

Using a handheld or stand mixer, cream together the room temperature cream cheese and butter until light and fluffy, about 5 minutes. Add sifted powdered sugar 1 cup at a time, beating on low speed between additions and scraping down the sides of the bowl as needed. Taste for sweetness, adjusting as desired. Add raspberry powder 1 tablespoon at a time until the desired color and flavor are reached (I used 3 Tbsp powder for a light pink frosting; you should have some powder leftover). Beat on medium/high speed until fully incorporated and smooth. If the frosting seems too soft for decorating the cake, place the bowl in the refrigerator for 15 to 20 minutes. If making in advance, store the frosting in an airtight container in the refrigerator.

Assemble the cake:
Place one cake layer on a serving plate or cake stand. Spread about ¼ to ⅓ cup raspberry jam on top of the cake (refer to photos above). Using an offset spatula spread a thin layer of frosting on top of the jam. Repeat the process for the second layer.


Place the 3rd cake layer and frost the top and sides. Decorate with fresh berries. Sift raspberry powder and powdered sugar on top if desired.
Notes
Refrigerate the decorated cake until ready to serve. Store leftovers in an airtight container in the refrigerator for up to 4 days.
Due to the cream cheese in the frosting I don't recommend freezing this cake. However, unfrosted cake layers can be frozen for up to one month. Allow to thaw in the refrigerator overnight.
Estimated Nutrition (per serving)
Calories:
640
kcal
Carbohydrates:
92
g
Protein:
6
g
Fat:
30
g
Saturated Fat:
8
g
Cholesterol:
0
mg
Sodium:
420
mg
Fiber:
4
g
Sugar:
64
g
Vitamin A:
0
IU
Vitamin C:
2.5
mg
Calcium:
50
mg
Iron:
1.6
mg
Nutrition information is an estimate and will vary depending on the exact amounts and specific products and ingredients used. We calculate this information using the online calculator cronometer.com.
Tried the recipe?
I love hearing from you! Share your feedback below!