This Oil-Free Vegan Chocolate Cake with Strawberries is so rich, moist, and easy to make. With tender strawberries, sweet chocolate chips, and a fudgy, brownie-like flavor, no one will believe this is actually a healthy-ish, whole-grain cake!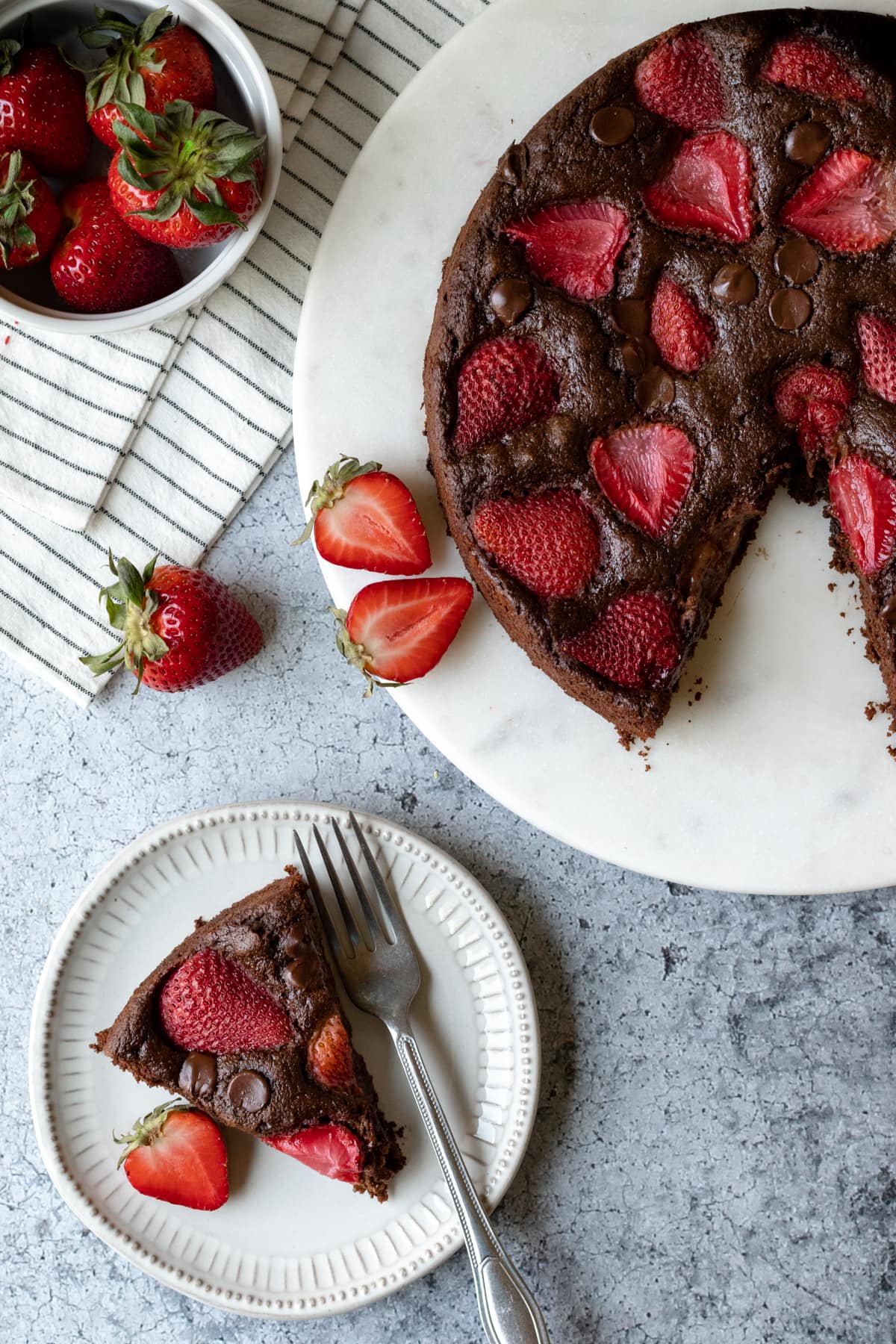 Inspired by a traditional (i.e. white flour, sugar, and dairy-filled) chocolate chip strawberry cake I spotted on Pinterest, this oat flour cake has won my heart in so many ways. Here are a few reasons why I LOVE it and think you will, too:
It's whole-grain! The base is 1 cup oat flour and ⅓ cup white whole wheat for added structure and binding.
If you need a gluten-free cake, a 1:1 GF blend can be substituted for the wheat flour.
Not only do the sweet strawberries baked into the top of the cake look gorgeous, their juice creates pockets of ultra moist, gooey brownie-like texture.
Other than the chocolate chips, which can be omitted, this cake is refined sugar-free!
Frozen strawberries can be used instead of fresh, making this cake 100% pantry-friendly.
Just 11 ingredients and 45 minutes stand between you and vegan chocolate bliss!
Since this is a 1-layer, unfrosted cake, it travels well and is great for potlucks and backyard cookouts!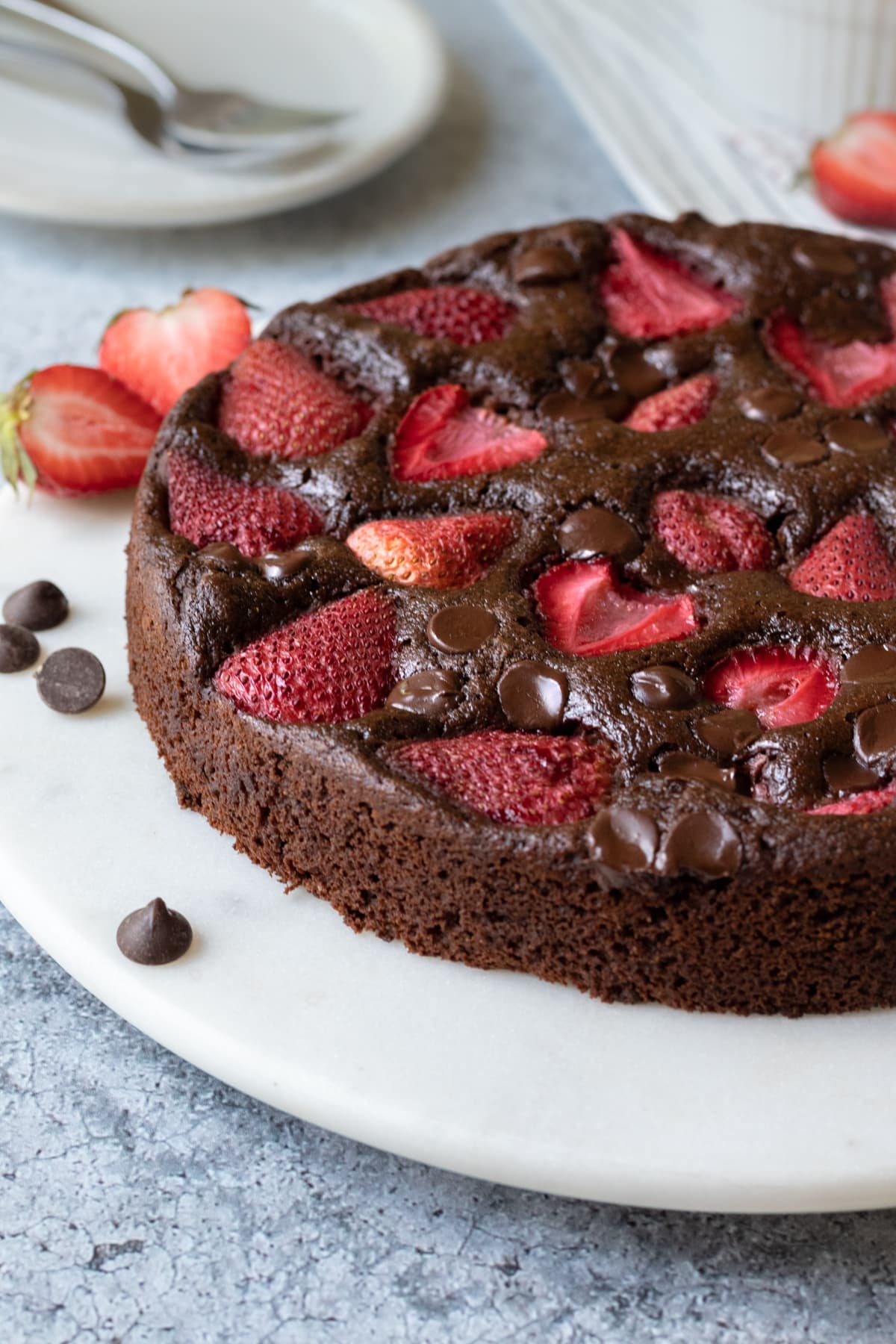 How to Make Oil-Free Chocolate Cake
Making this one-layer healthy vegan chocolate cake is as easy as you might expect. Like most cakes, it's a simple "mix dry, mix wet, and combine" sort of recipe.
This is an overview to give you an idea of the process. Be sure to scroll down to the recipe card for the full instructions.
Preheat the oven, and locate a non-stick, 9-inch springform pan. I use this NordicWare pan.
Wash, hull and halve the strawberries. If using frozen strawberries, place in a bowl to thaw for about an hour first, then drain away any excess moisture/juice.
Combine dry ingredients in a large mixing bowl. Be sure to sift the cocoa, baking powder, and baking soda so there are no clumps.
Combine wet ingredients in a smaller bowl.
Pour wet into dry and stir until just combined. Fold in most of the chocolate chips, reserving some for the top. Pour batter into the pan.
Arrange strawberry halves on top, placing chocolate chips in the spaces between the berries.
Bake for 30 to 34 minutes or until the center is firm when pressed and a toothpick inserted in the center comes out clean.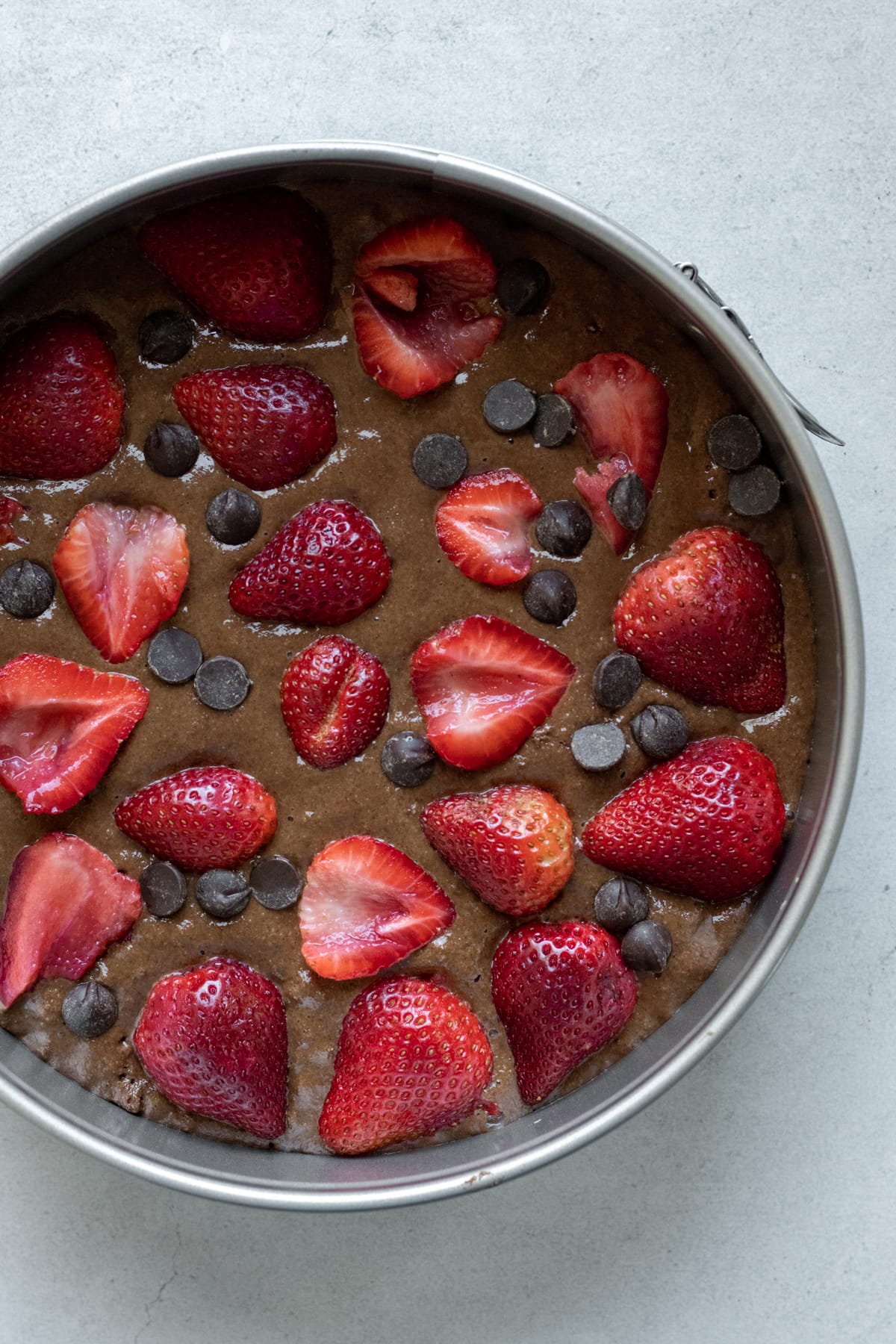 For even more chocolate flavor, feel free to stir the full ⅓ cup chocolate chips into the batter, and use extra ones for the top of the cake.
In the photo above you can see the fluffy thickness of the batter. Supporting the strawberries is no problem at all. And below is what the cake looks like fresh out of the oven.
I love the imperfect surface with its cracks and valleys and melted chocolate chips. It makes for a dramatic presentation with no frosting required!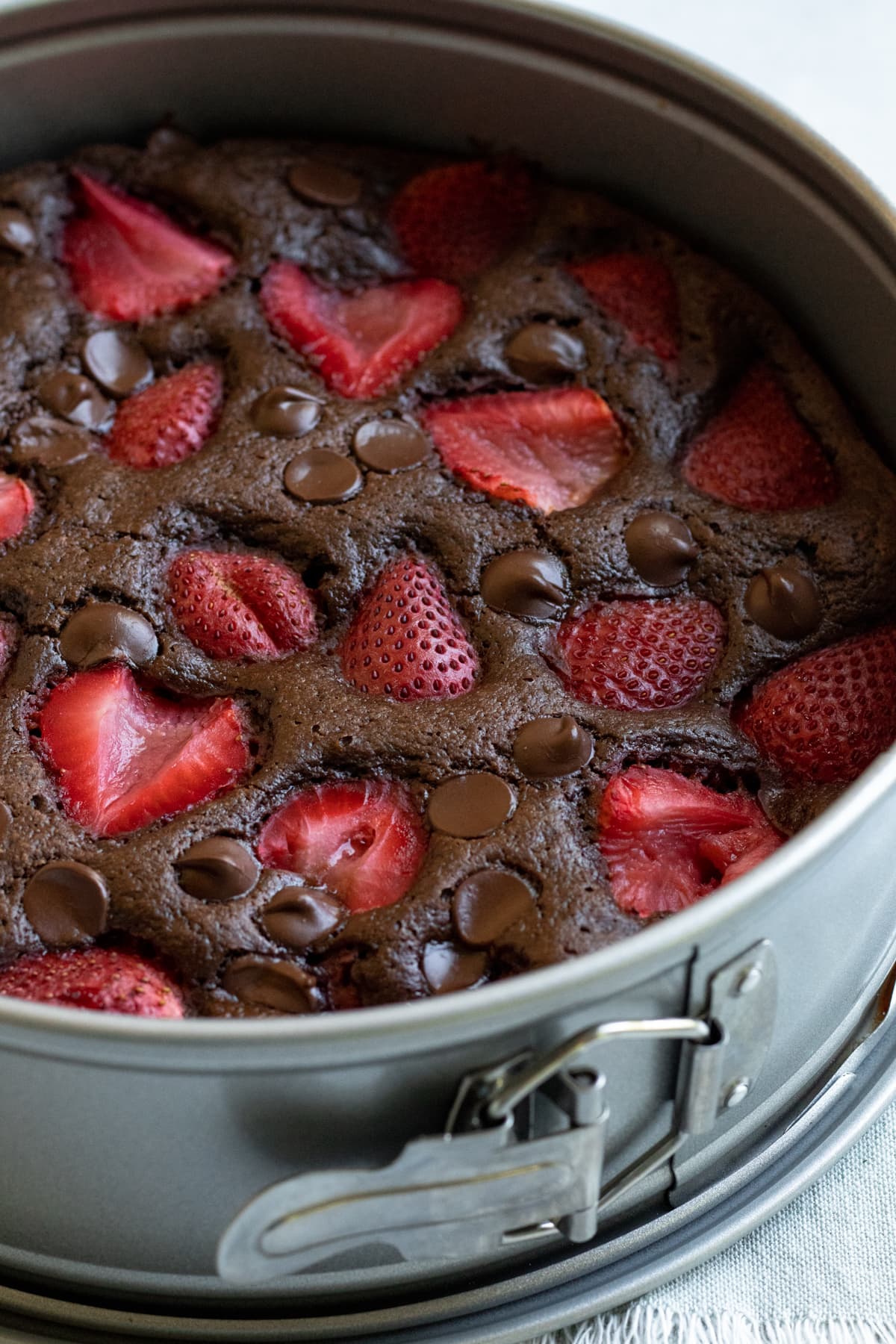 Remember those gooey, brownie-like pockets I mentioned above? Check out the photo below. Mmmmmm, see the area below the strawberry? Yessssss!
We have cake, soft strawberries, chocolate chips, AND a fudgy brownie texture, all mingling in one deceptively healthy, oil-free cake.
If you're really into texture, go ahead and add some chopped walnuts, and a drizzle of vegan chocolate sauce OR vegan chocolate ganache!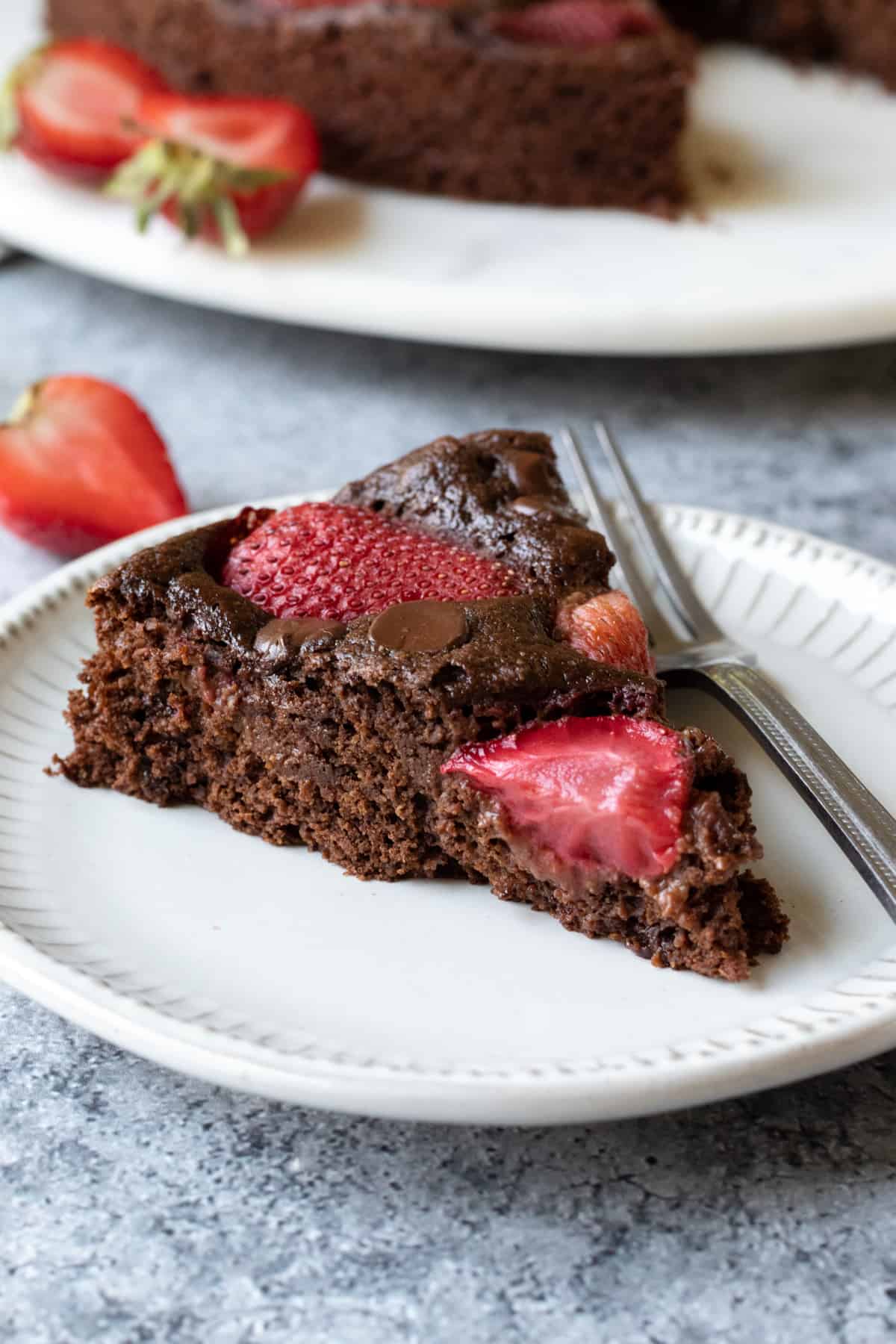 Tips for Baking Success
Weigh the Flour
For the most consistent results, I highly recommend using a kitchen scale to measure flour. Not only does it help you bake perfect cakes by getting the wet-to-dry ratio correct every time, it also makes measuring so easy.
For example: Simply turn on the scale, and wait for it to calibrate. Then place a mixing bowl on the scale, and press the "tare" button to reset the scale to zero. Pour 100 grams of oat flour into the bowl, and reset it to zero again. Now add 45 grams white whole wheat flour to the bowl.
See what I mean? So easy! Once you get used to baking with a scale you'll never go back. I've been using this inexpensive Escali kitchen scale for about two years and love it. It's light, accurate, and doesn't take up much space.
Work Quickly
Baking soda begins to create little carbon dioxide bubbles as SOON as it mixes with something acidic in the wet ingredients. So take full advantage of the lift it provides by working quickly once the dry and wet ingredients are combined.
Don't Open the Oven Door
Especially during the first 10 to 15 minutes, baked goods are fragile and leavening agents are hard at work giving us fluffy, tall vegan cakes and muffins. A rush of cool air can lead to a cake with a deflated center. So use the oven light and window to gaze at your lovely cake, but resist opening the door until after the 20 minute mark at least.
To Parchment or Not?
For cakes baked in traditional cake pans I always recommend using a circle of parchment in the bottom. But since this cake is baked in a non-stick springform and won't be flipped out of the pan, there's no need for oil or parchment with this recipe.
However, if you plan to transfer the cake from the removable bottom of the pan onto a decorative cake stand, having a circle of parchment underneath the cake can make it easier to transfer.
Cool Before Slicing
After cooling for 10 to 15 minutes, the cake will pull away from the sides of the pan. Remove the sides of the springform at this point, and allow the cake to cool completely before slicing or storing.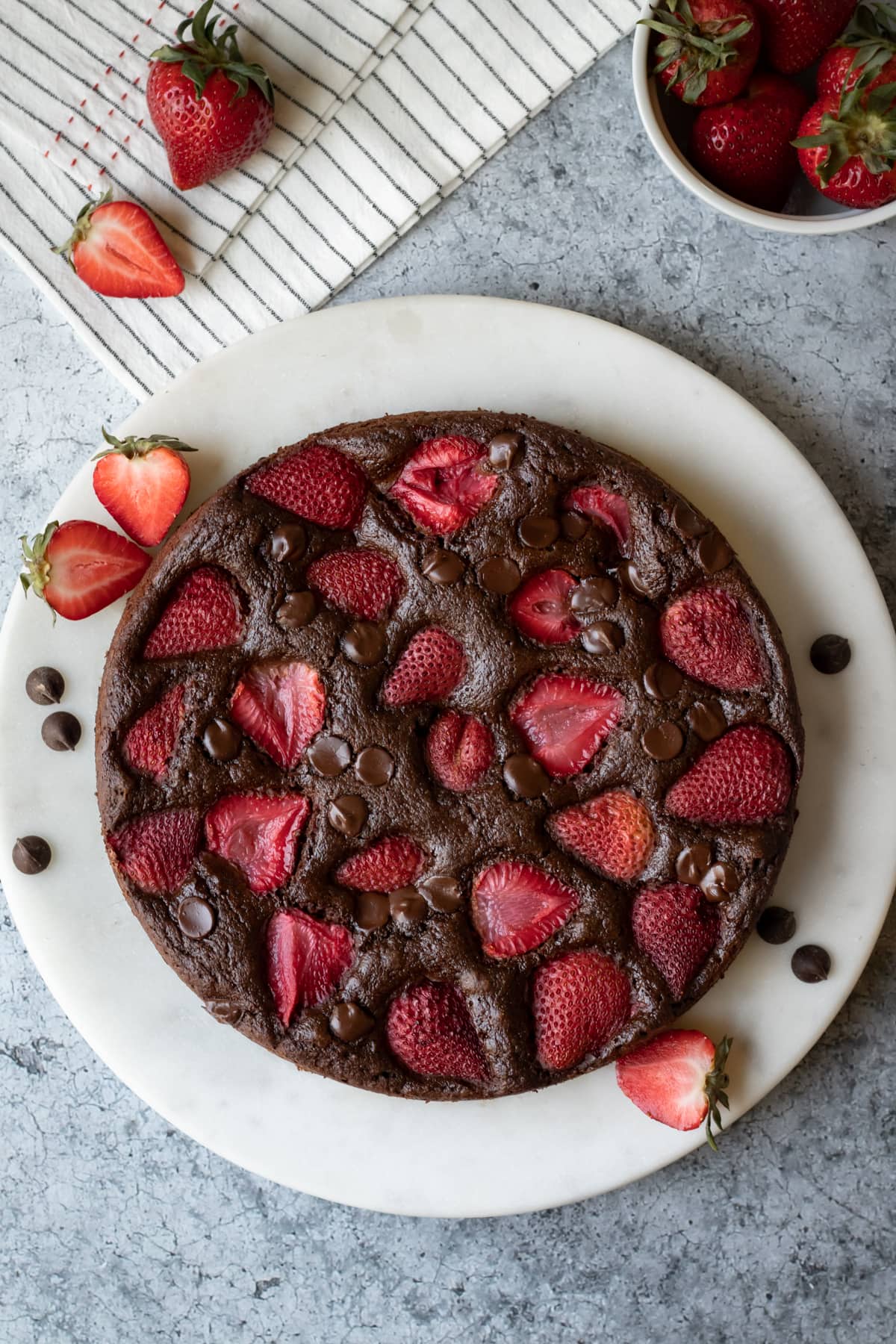 You might also like:
More Vegan Cake Recipes:

As always, I LOVE hearing from you! Drop a comment below to let us know how your oil-free, oat flour chocolate cake turns out!
📖 Recipe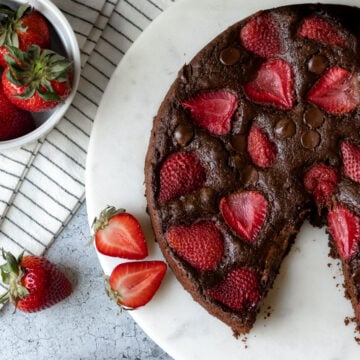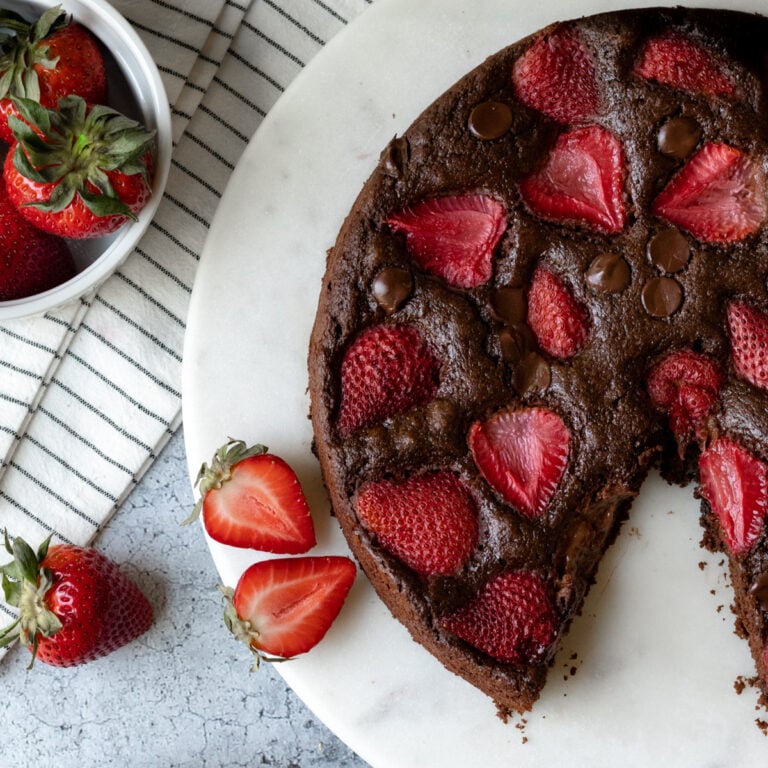 Oil-Free Vegan Chocolate Cake With Strawberries
Rich and chocolatey, this healthy vegan chocolate cake is topped with strawberries and made with oat flour. Easy to prepare, oil-free, and easily made gluten-free!
Ingredients
1

cup

fine oat flour

-

Ensure certified GF, if needed.

⅓

cup

white whole wheat flour

-

Can sub spelt, all-purpose, or a 1:1 gluten-free blend.

½

teaspoon

fine sea salt

⅓

cup

cocoa powder

1 ½

teaspoons

baking powder

½

teaspoon

baking soda

1

cup

plus 2 tablespoons light coconut milk

-

The type of coconut milk that comes in a can.

⅔

cup

coconut sugar

-

Sub light brown sugar, if desired.

1

tablespoon

balsamic vinegar

2

teaspoons

vanilla extract

⅓

cup

dairy-free chocolate chips, optional -

use sugar-free or grain-sweetened chocolate chips if desired.

10 to 12

med/large

strawberries, hulled and halved
Instructions
Preheat oven to 350 degrees F, and locate a 9-inch non-stick springform pan. Parchment paper isn't necessary to prevent sticking, but placing a circle of paper in the bottom of the pan does make it easier to move the cake to a serving platter, if needed.

Use a scale to weigh the flours if possible (see Notes). Add oat flour, wheat flour, and salt to a mixing bowl. Sift in the cocoa, baking powder, and baking soda to ensure their are no clumps. Whisk to combine.

In a medium bowl stir together the coconut milk, balsamic, coconut sugar, and vanilla.

Pour wet ingredients into dry, stirring just until combined. Fold in about ¼ cup of the chocolate chips, reserving some for the top of the cake. Pour batter into springform pan, and arrange strawberry halves on top. Arrange reserved chocolate chips in between strawberries.

Bake for 30 to 34 minutes or until a toothpick inserted in the center of the cake comes out clean. Allow cake to cool in the pan for about 15 minutes before removing sides of springform pan. Let cake cool completely before slicing.
Notes
I highly recommend using a kitchen scale for weighing flours. It leads to the best, most consistent results every time and is actually easier than using measuring cups. But if you're preparing to bake this cake and don't have a scale, whisk the flour to fluff it up before lightly scooping up with a measuring cup and leveling off the top.
Storage
Store cake in an airtight container in the refrigerator for up to 4 days. Can also be kept at room temperature for a day or two without issue.
Due to the moisture of the strawberries, this may not be the most suitable cake for freezing, though I haven't tested it yet (other than the strawberry issue, it should be fine). Since it's a light, single-layer cake, we've managed to devour each test batch in just a few days!
Estimated Nutrition (per serving)
Calories:
192
kcal
Carbohydrates:
36
g
Protein:
4
g
Fat:
5
g
Cholesterol:
0
mg
Sodium:
167
mg
Fiber:
4
g
Sugar:
18
g
Vitamin A:
3
IU
Vitamin C:
13
mg
Calcium:
26
mg
Iron:
2.5
mg
Nutrition information is an estimate and will vary depending on the exact amounts and specific products and ingredients used. We calculate this information using the online calculator cronometer.com.
Tried the recipe?
I love hearing from you! Share your feedback below.