The ultimate Vegan Strawberry Cake! This 3-layer cake is loaded with fresh berries and has a simple, freeze-dried strawberry frosting. If you're looking for the best vegan strawberry cake recipe, look no further!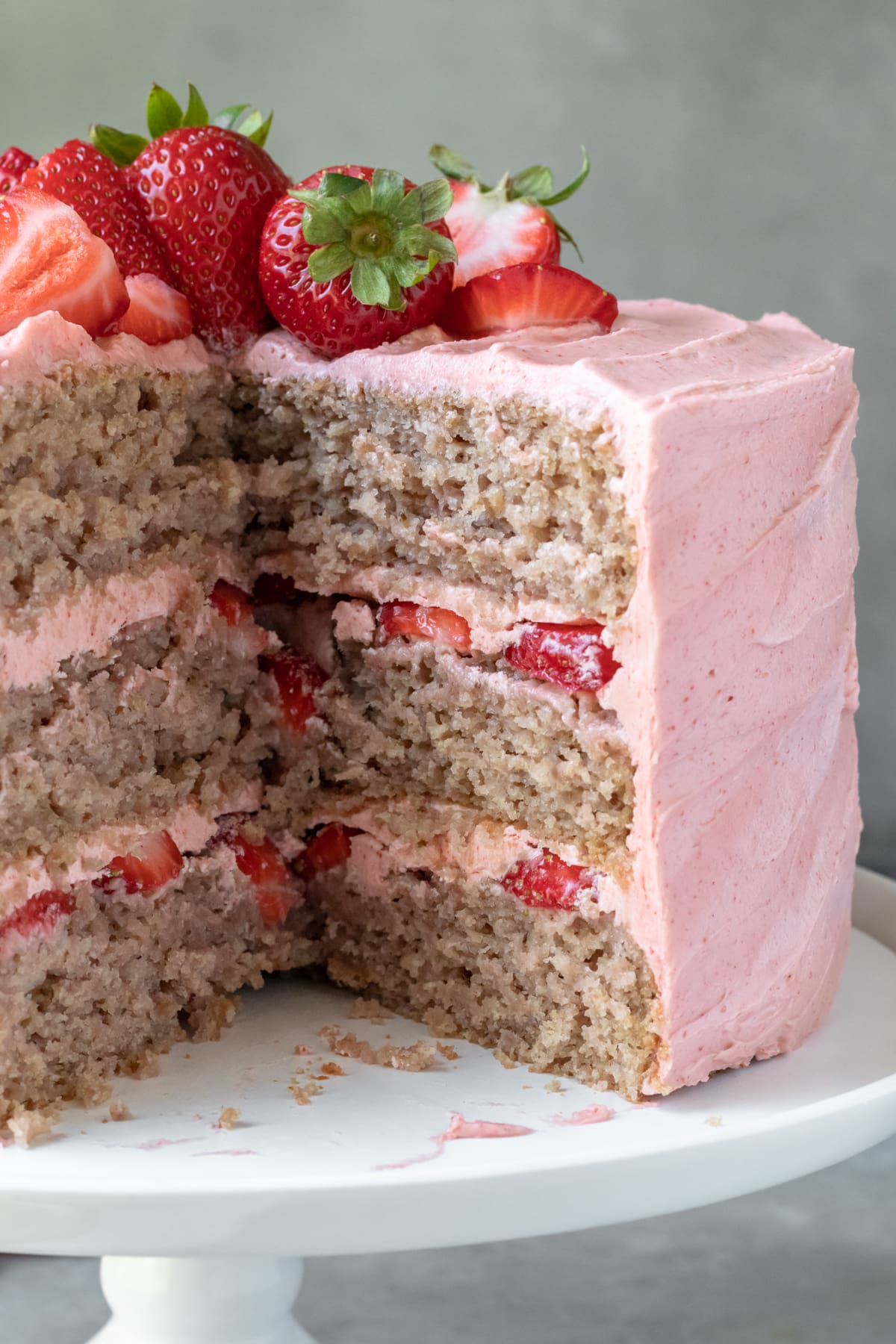 I'm so excited to finally share this vegan strawberry cake recipe! I first made a version of this cake about a year ago for a friend's birthday party. That was a few months before I launched My Quiet Kitchen, and this recipe has been in the back of my mind ever since.
I suppose I was waiting for 2019's strawberry season to roll around. Recently I made this cake for a baby shower, which led to me being hired to make it for a birthday party.
Then I made it once more for these photos (Mark took this one to work the next day to share with co-workers). To get to the point, this vegan strawberry cake has been tasted by more non-vegans than probably any other recipe I've ever made. I have total confidence that you can serve this cake to any strawberry cake-lover, and they will LOVE it. It's seriously the best!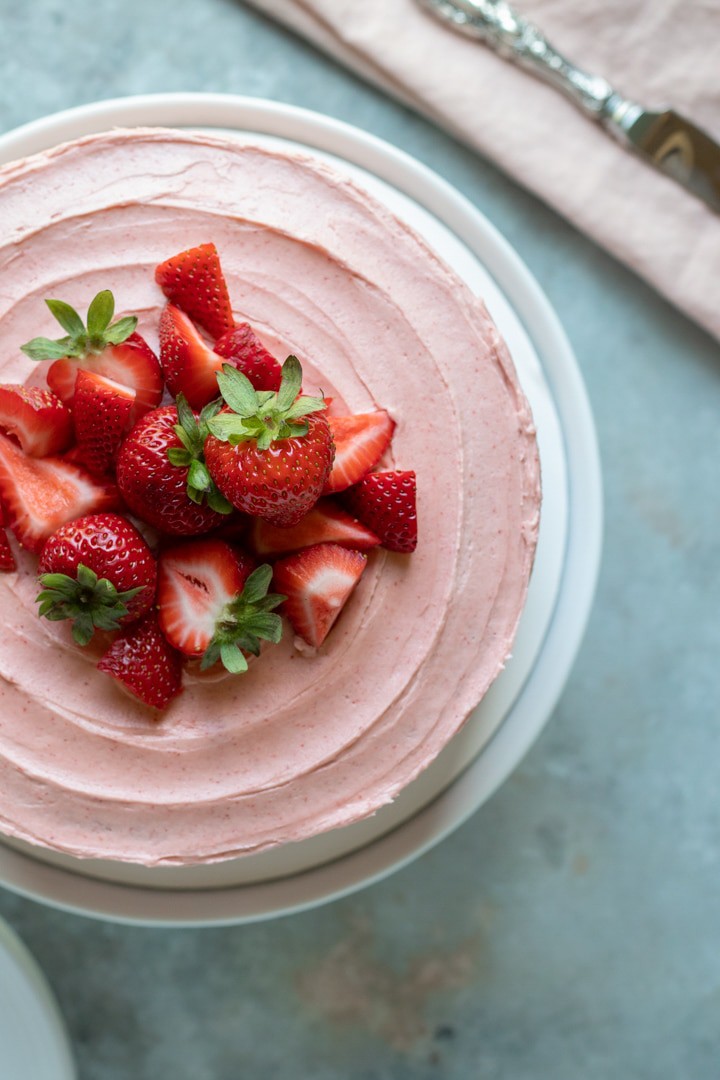 The Inspiration and a Secret Ingredient
About 20 years ago, my mother-in-law asked me to bake a cake for an upcoming family gathering celebrating multiple birthdays. She handed me a clipping from the local newspaper, and said something like, "Will you make this for us? It uses cake mix, so it should be easy."
I was in my twenties and hadn't done much baking up to that point. In fact, this would be my first ever cake! So I was pretty nervous about how things would turn out.
The recipe was for a strawberry cake by The Cake Mix Doctor. In addition to cake mix, it also called for strawberry jell-o for extra strawberry flavor.
But before I have you thinking the recipe I'm sharing today uses cake mix, let me clarify. This is most definitely a from-scratch cake. No cake mix here. But the secret ingredient in my vegan strawberry cake is inspired by her use of jell-o.
Simply Delish strawberry jell dessert takes the strawberry flavor of this cake over the top. And best of all, unlike jell-o, it's vegan and made without artificial red dyes!
But don't worry, if you can't get your hands on this Simply Delish vegan jello, simply omit it and increase the sugar by ¼ cup. The cake is still absolutely delicious without it but doesn't have quite as much strawberry oomph.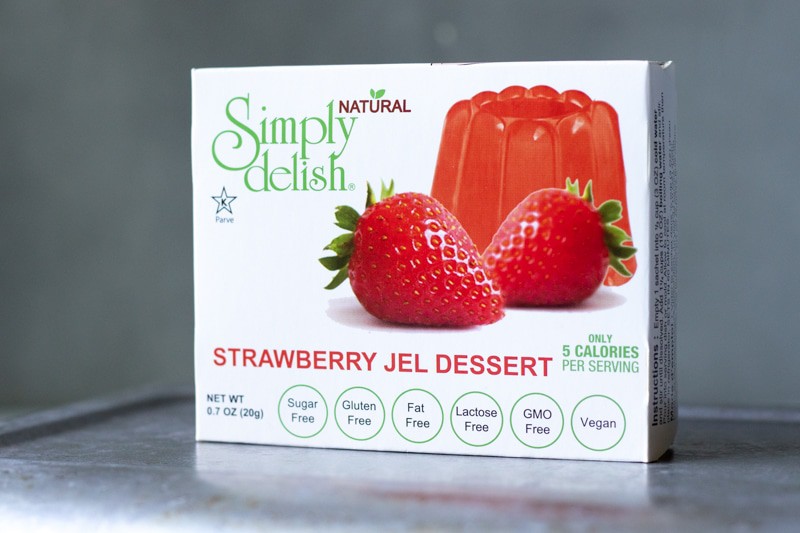 You can find Simply Delish products at most Whole Foods stores, but they don't always have all of the flavors. So ordering online is the safest bet! I've seen it on Amazon, Thrive Market, and Vitacost, to name a few.
Ingredients
A recent reviewer on Pinterest mentioned that not only did this cake taste amazing, but it was one of the easiest cakes she'd ever made!
These are the ingredients you'll need for the cake batter (scroll down for the full recipe):
all-purpose flour
organic cane sugar
1 pound of fresh strawberries (turned into 2 cups of puree)
canola oil
non-dairy milk
almond extract
baking powder
baking soda
salt
Below is a photo of the freshly pureed strawberries. You may use a food processor or blender to make the puree.
From one pound of berries you should get 2 cups of puree, and it's a good idea to measure it since it provides the majority of the liquid in the batter.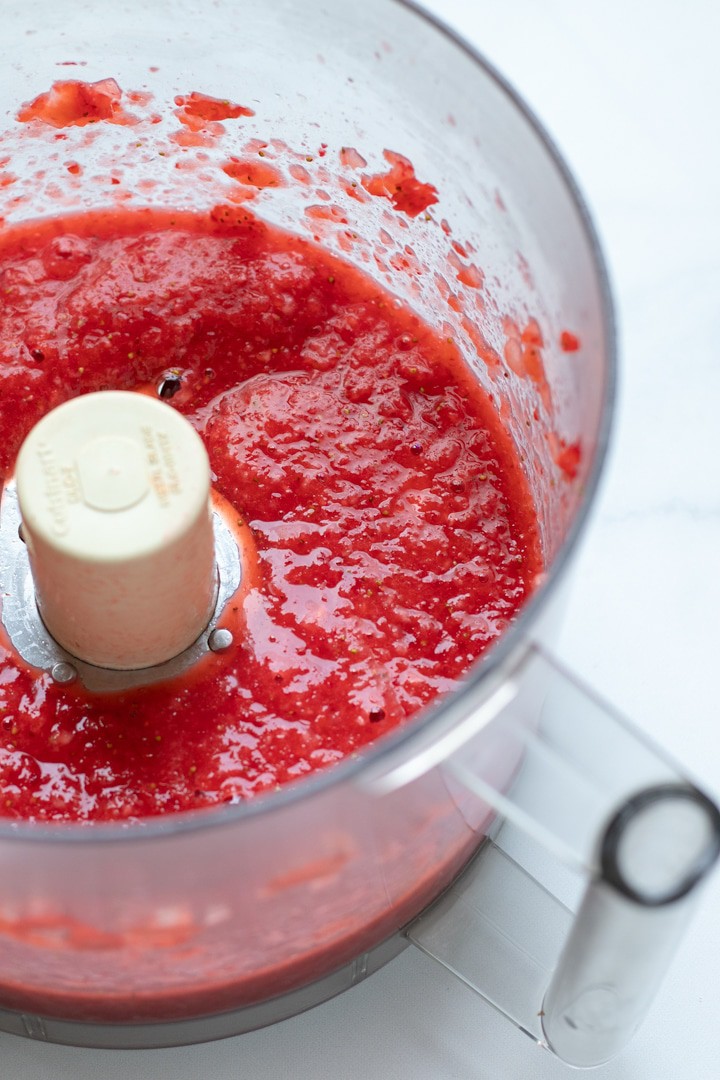 Ingredients in Vegan Strawberry Frosting
Earth Balance vegan butter
organic vegetable shortening
organic powdered sugar
1 ounce freeze-dried strawberries
almond extract
non-dairy milk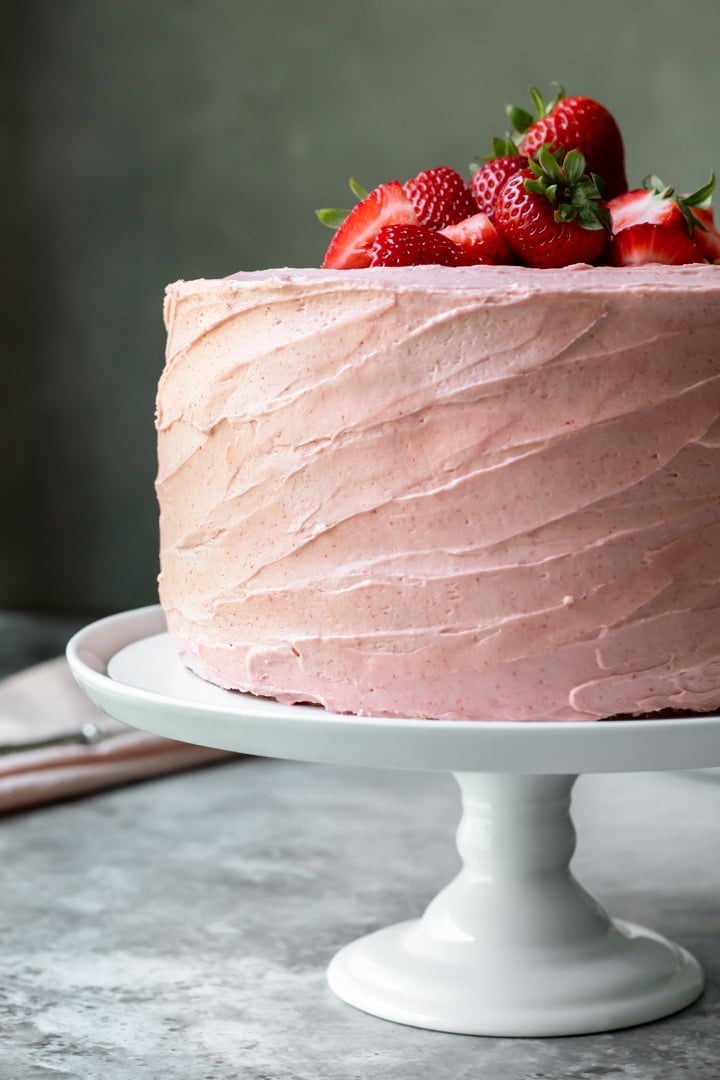 Tips for a Successful Cake
Always fully preheat the oven.
Use a kitchen scale to measure flour, or if you don't own a scale use the whisk/fluff and spoon method described below. The reason this is important is that as flour sits in storage it compresses. Believe me, it's AMAZING how much more flour you'll have in your measuring cup if you simply scoop it straight out of the bag or container, and this will throw off the wet-to-dry ratio. So....

Use a whisk to fluff up the flour.
After whisking, spoon flour into a measuring cup, and level off the top with your finger or the back of a knife.

Always sift the flour, baking powder and baking soda.
Oil your cake pans and place a circle of parchment paper in the bottom of each pan. I find that refined coconut oil works really well for greasing pans. Oils that are liquid at room temperature don't stick to the pan quite as well, but the saturated fat in coconut oil means it's thicker and stays in place. And by using refined versus virgin coconut oil, you won't have any coconut flavor transferred to the outside of the cake. Refined also has a higher smoke point.
I usually mix cake batter with a large spoon. Some people prefer to use whisks or even electric mixers, but those feel like overkill to me. Whisks and beaters are harder to clean, hang onto more batter (which means less batter in the bowl and into the pans), and they make it easy to overmix the batter, which can lead to a gummy cake.
Stir the wet ingredients into the dry ingredients just until there's no dry flour left. The batter will be very thick.
Since we're using baking soda for some of the leavening you want to work fairly quickly once the wet and dry ingredients are combined. Baking soda reacts with the natural acids in the strawberries to create carbon dioxide bubbles (remember the super exciting volcano science experiments from elementary school?). For that reason this isn't a batter you can walk away from. You want to stir everything together, immediately divide the batter among three 9-inch cake pans, and pop them into the preheated oven to take full advantage of the baking soda reaction.
To determine whether the cakes are done, lightly press near the center. If it bounces back even just a little bit, they're done. Press near the outside of the cake, and you'll get a lot of bounce back. You can also insert a toothpick in the center. If it comes out with streaks of batter on it, the cakes are not done. If the toothpick comes out clean or with a few crumbs, it's time to remove the cakes from the oven.
Allow the cakes to cool in the pans for about 10 minutes, then flip them out onto cooling racks.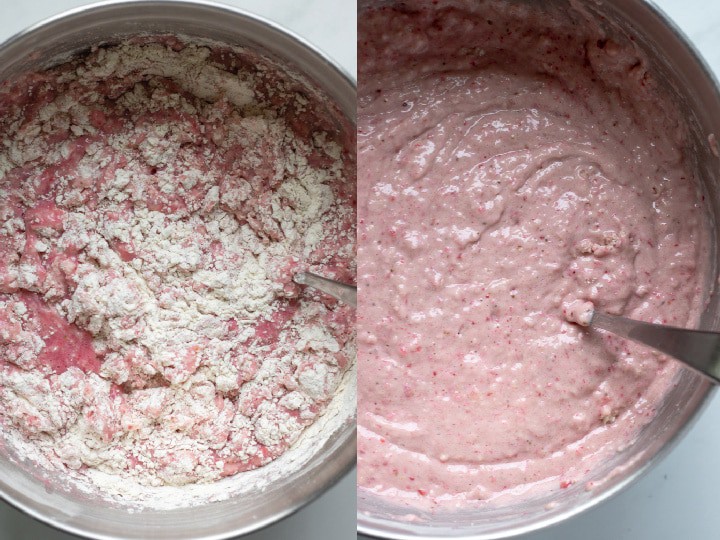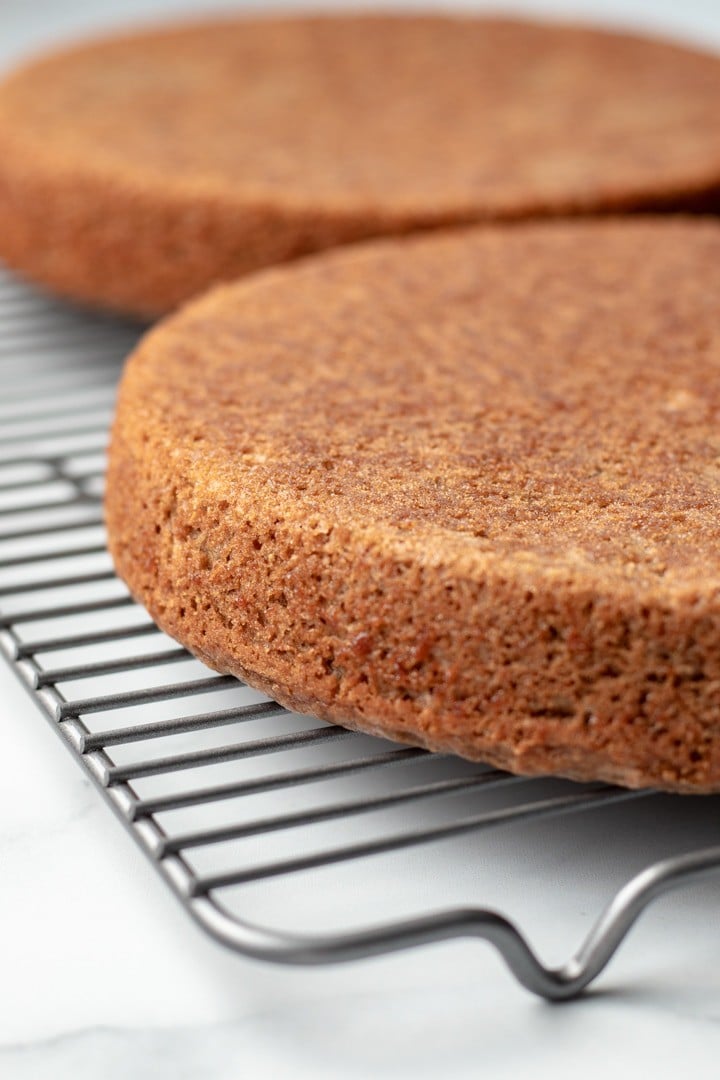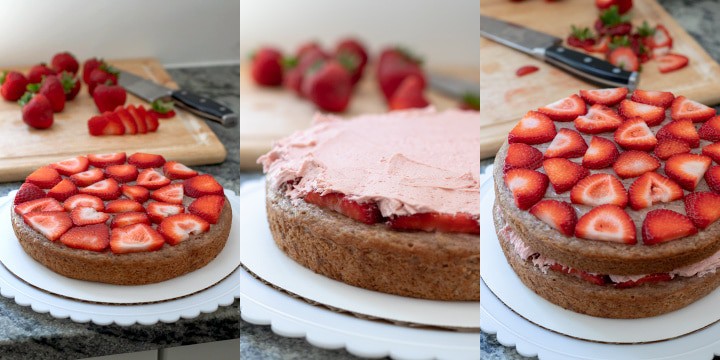 Tips for the Best Vegan Frosting
Allow plenty of time for the butter and shortening come to room temperature before beating with a handheld or stand mixer. Until recently I've always used a stand mixer for frosting, but now that I've gotten used to the control of a handheld, I actually prefer it over my KitchenAid stand mixer. I use this inexpensive Hamilton Beach handheld mixer.
Always sift the powdered sugar, and in the case of this strawberry frosting, also sift the strawberry powder.
Add non-dairy milk in very small amounts. If the frosting becomes too thin it will be very difficult to backtrack. Start with just a tablespoon of milk, only adding one or two more when the frosting is almost finished. You want just enough milk to make it fluffy, soft, and spreadable.
If the frosting seems too warm and soft when it's time to frost the cakes, just pop it into the fridge for 10 minutes.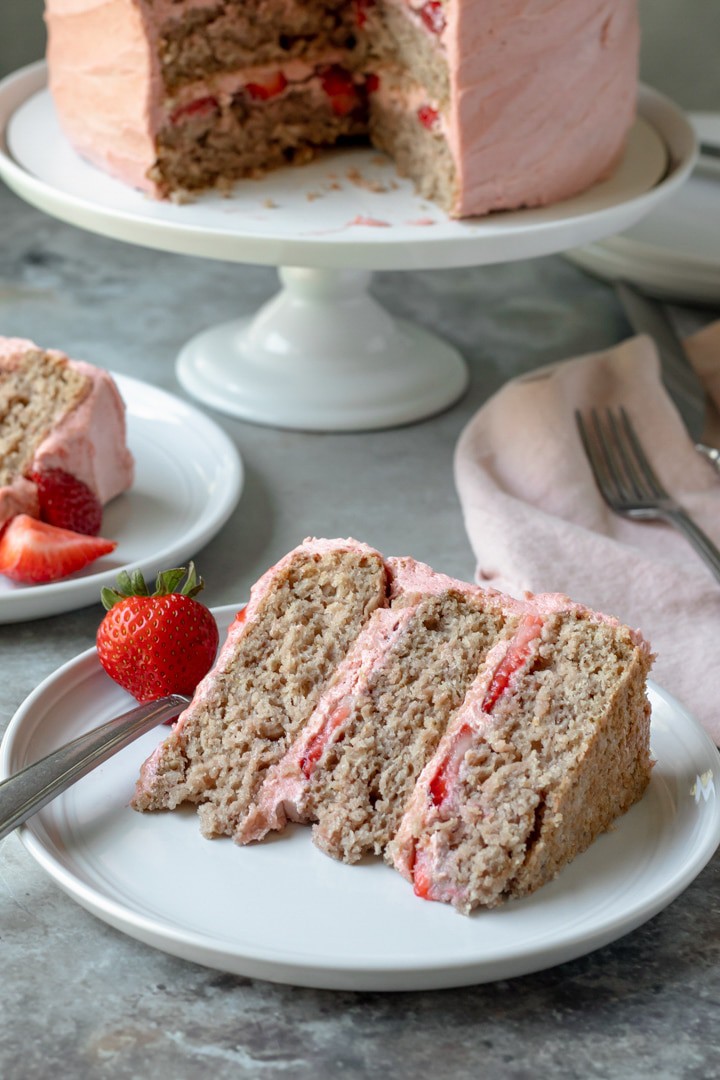 I hope you love this Vegan Strawberry Cake as much as we do! If you make it I would love to hear from you in the comments below.
And if you feel like showing off your gorgeous cake be sure to snap a pic and tag me with @myquietkitchen on instagram.
Happy baking!
More vegan cake recipes:
Chocolate Cake With Raspberry Cream Cheese Frosting
Apple Layer Cake
Oil-Free Chocolate Cake With Strawberries
Other strawberry recipes:
Vegan Strawberry Pretzel Salad
Strawberry Banana Oat Bars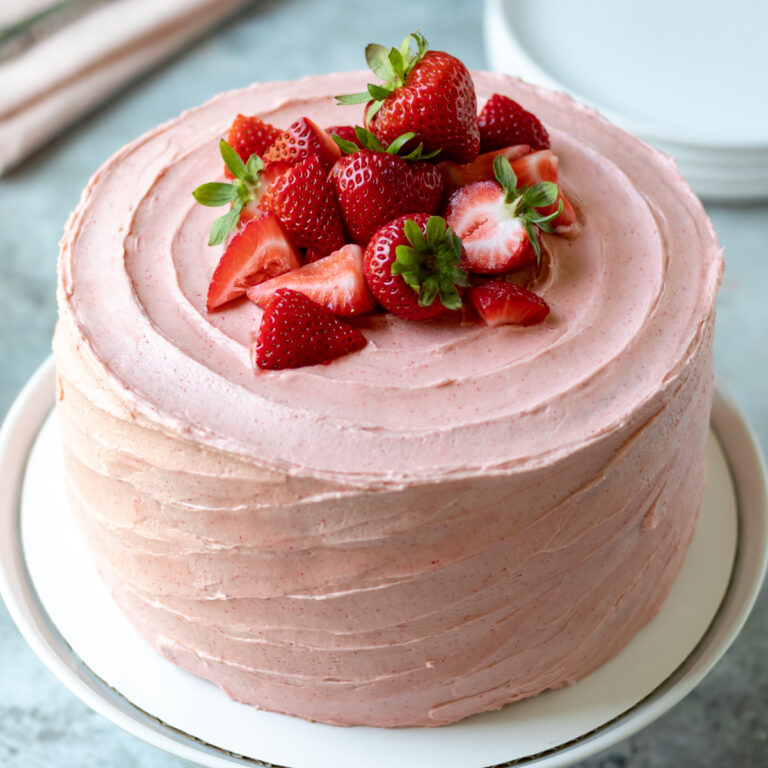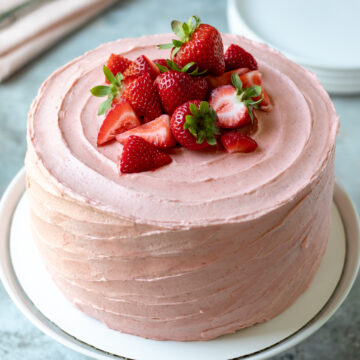 Vegan Strawberry Cake
The BEST vegan strawberry cake, with loads of flavor from both fresh and freeze-dried strawberries plus a secret ingredient! Inspired by The Cake Mix Doctor's recipe for Fresh Strawberry Cake.
Yield: one 3-layer 9-inch cake
Ingredients
For the cake:
4 ¾

cups

all-purpose flour (590 g)

See Notes for tips on measuring flour.

1

(.7 oz) packet

Simply Delish Strawberry Jel Dessert

**If you can't get this product where you live, omit it and increase sugar by ¼ cup.

1

tsp

fine sea salt

2

tsp

baking soda

2

tsp

baking powder

2

pounds

fresh strawberries, divided

Half for the batter and half for layering/decoration.

⅔

cup

canola oil

1 ¾

cups

organic cane sugar

1 ½

cups

non-dairy milk

I used unsweetened soy milk, but any sweetened variety is fine, too.

1 ½

tsp

almond extract
For the strawberry frosting:
1 ½

cups

Earth Balance vegan butter, room temperature

4 ½ to 5

cups

organic powdered sugar

1

tsp

almond extract, optional

2 to 3

Tbsp

non-dairy milk, for consistency

1

ounce

freeze-dried strawberries
Instructions
Make the freeze-dried strawberry powder (for the frosting):
Using a blender or spice grinder, pulverize the freeze-dried strawberries until mostly powdered. Place a mesh strainer over a bowl, and sift the powder to separate the seeds. Discard the seeds, and set the strawberry powder aside.
Make the cakes:
Preheat oven to 350 degrees F, and oil three 9-inch cake pans (refined coconut oil works well). Place a circle of parchment paper in the bottom of each pan, and set pans aside.

Sift the flour, baking soda, and baking powder into a large mixing bowl. Add the salt and Simply Delish vegan jello. Whisk to thoroughly combine the ingredients and distribute the jello powder. Set aside.

Wash and dry the strawberries; set 1 pound aside for decorating the cake. Trim the stem ends from the remaining berries, and place them in a blender or large food processor. Blend until pureed. Measure to make sure you have 2 cups of puree.

NOTE: If using a food processor smaller than 14 cup capacity, don't add all of the wet ingredients to the bowl or it might leak. Puree the strawberries first, then transfer the puree to a large bowl to be mixed with the remaining wet ingredients.

Add the oil, sugar, milk, and almond extract to the strawberry puree, and pulse several times to combine.

Pour the wet mixture into the dry ingredients and stir until just mixed with no visible dry flour remaining. Work quickly, but be careful not to overmix. The batter will be very thick. Divide batter evenly among the three pans, and bake 28 to 32 minutes or until the tops bounce back when lightly pressed.

Allow cakes to cool in the pans for 10 to 15 minutes, then transfer to racks to cool completely. *If preparing in advance, wrap each layer individually in plastic wrap, and store in the refrigerator until you're ready to frost the cakes.
Make the frosting:
Using a handheld or stand mixer, in a large bowl cream the butter and shortening until light and fluffy, 3 to 5 minutes. One cup at a time, sift in about 4 cups of powdered sugar, beating on low speed between additions. Scrape down the sides of the bowl as needed. Add 1 tablespoon milk and the extract, if using, and beat until smooth.

Add strawberry powder, and beat on low speed. Taste for sweetness, adding more powdered sugar if desired. If the frosting seems too stiff, add another tablespoon of milk. Beat on medium-high speed until fully incorporated and smooth. If the frosting seems too soft for decorating the cake, place bowl in the refrigerator for 10 minutes.
Decorate the cake:
Trim the stems of 10 to 12 strawberries, reserving at least a few berries for the top of the cake. Place trimmed berries cut-side down on the cutting board, and make vertical cuts through each berry to create slices of similar thickness (see photo).

Place one cake layer on a serving plate or cake stand. Arrange sliced strawberries on top (it should take about 5 or 6 berries to cover it, depending on the size of the berries). Using an offset spatula, carefully spread a thin layer of frosting on top of the strawberries.

Repeat the process for the second layer.

Place the 3rd cake layer on top, and frost the top and sides. Decorate with remaining fresh strawberries. Refrigerate until ready to serve.
Notes
Measuring Flour
Flour settles as it sits, so if you scoop a cup of flour straight from its bag or container, you will get MUCH more than is needed. I highly recommend using a kitchen scale to measure flour, but if you don't have one, follow these steps:
Use a whisk to fluff up the flour.
After whisking, spoon flour into a measuring cup, and level off the top with your finger or the back of a knife.
Storage
Store your decorated strawberry cake in an airtight container in the refrigerator until ready to serve.
The cake is best consumed the day it's frosted. Once cut, as with all cakes, it will begin to dry out.
Store leftovers in an airtight container in the refrigerator for up to 4 days.
Nutrition
Serving:
1
slice
Calories:
498
kcal
Tried the recipe?
Comment below to let us know how it was!