These irresistible vegan strawberry cupcakes will please ANY crowd! Perfectly moist, sweet, and loaded with strawberries. Lightly adapted from my Vegan Strawberry Cake recipe, these beautiful pink cupcakes are easy to make and perfect for birthdays and other celebrations.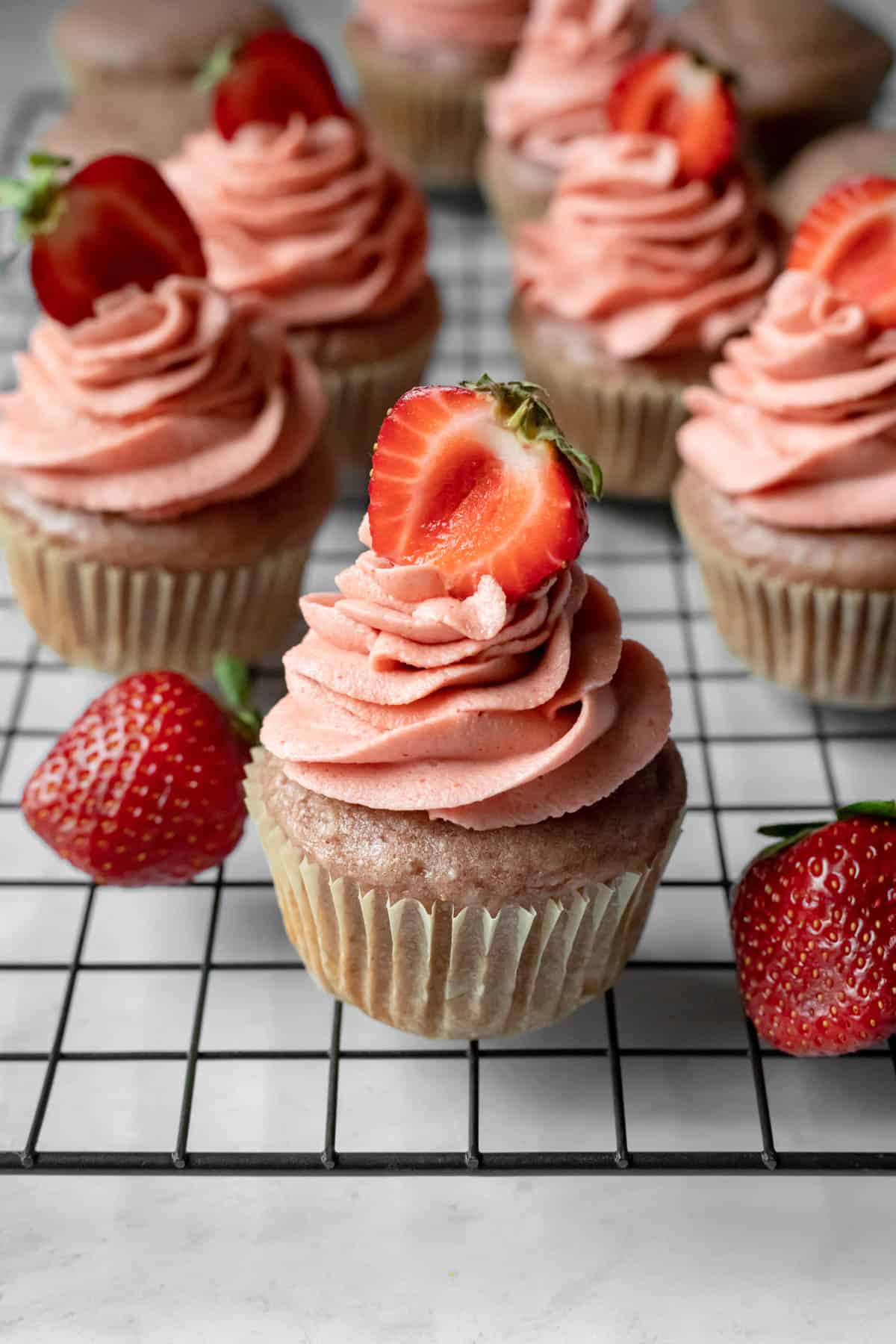 I share a lot of healthier, whole-food recipes on this blog, but at the end of the day, I'm a total sucker for cake. Decadent cake, healthy cake, doesn't matter to me. I love them all!
There's just no other dessert that feels quite as special and exciting as cake and cupcakes.
Ever since I shared this 3-layer Vegan Strawberry Cake back in 2019, it has consistently been one of top dessert recipes on the blog and brings in the most wonderful feedback.
So I decided to simplify the recipe slightly and create this new vegan strawberry cupcake recipe, along with separate instructions for the 4-ingredient strawberry frosting.
The primary difference between this cupcake recipe and the layer cake is that this one doesn't call for Simply Delish vegan jell-o. As much as I (and you) love the flavor it brings to the cake, I wanted this cupcake recipe to be more accessible, made with ingredients you can find at any well-stocked grocery store.
Now let's get to it! If you're new to baking cupcakes don't be scared. I promise it's easier than you think, and I'm here to help along the way!
Jump to:
Ingredient Notes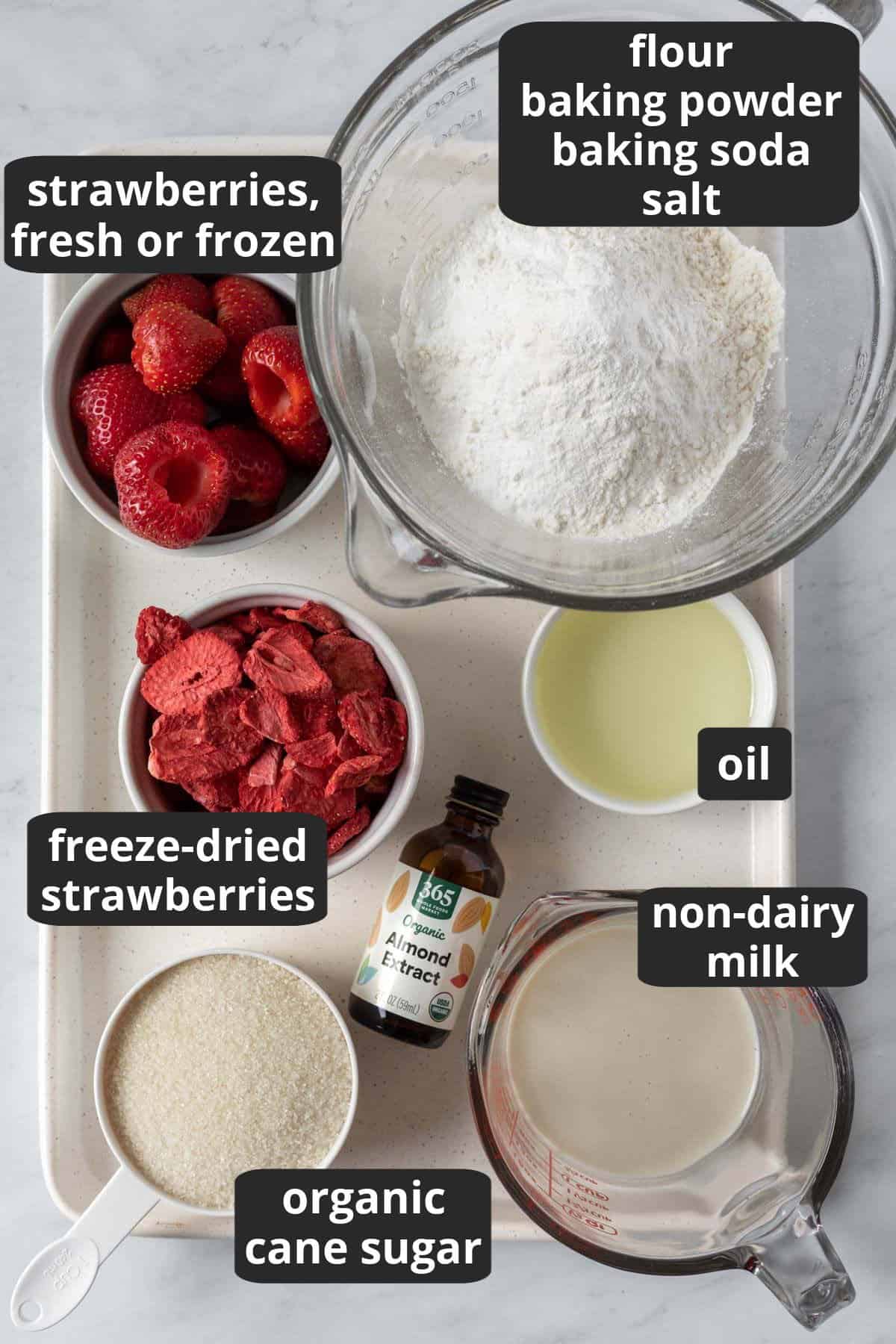 all-purpose flour
baking powder and baking soda - these are our leavening agents that create tall and fluffy cupcakes; make sure they're fresh and active.
non-dairy milk - I like unsweetened oat or soy milk for these cupcakes.
strawberries - when in season, go for fresh. Frozen also works for the batter, but make sure to thaw first, and drain away the excess liquid.
neutral-tasting oil - for cakes I usually use organic canola oil; grapeseed is another option. I don't like to use coconut oil or vegan butter for cake batter because the saturated fat content makes the cupcakes more firm when chilled.
organic cane sugar
freeze-dried strawberries - you'll need these for the frosting and to add extra strawberry flavor to the batter.
almond and/or vanilla extract - the unique sweetness and flavor of almond extract is amazing with strawberry.
and 1 batch of my Vegan Strawberry Frosting
See recipe card for quantities and full instructions.
How to Make Vegan Strawberry Cupcakes
Hint: Don't have paper cupcake liners? No problem! Lightly oil the cupcake pan, and you're all set. Refined coconut oil works well.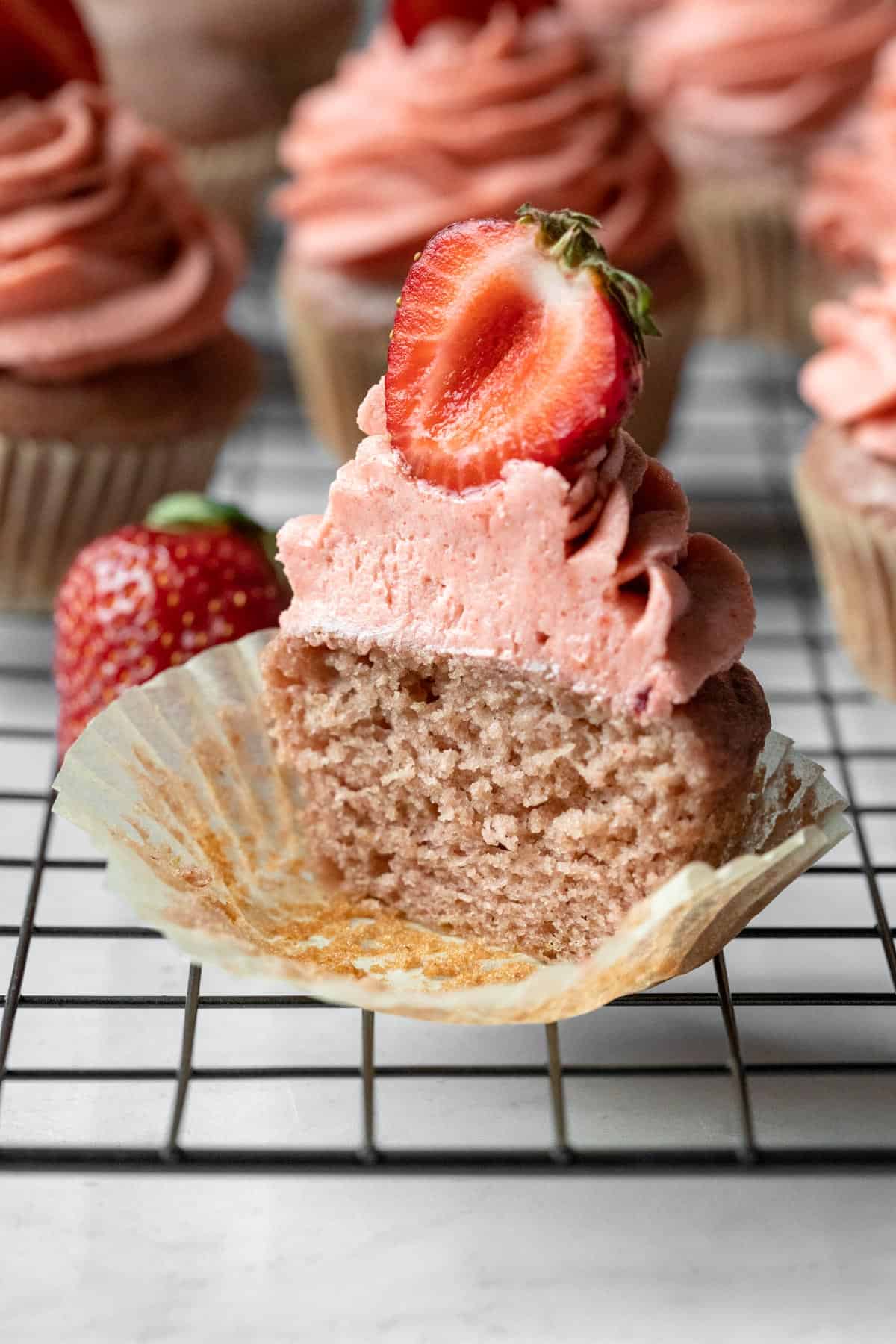 Equipment Needed
Equipment plays an important role in baking cupcakes. For this recipe you'll need a blender to make the strawberry powder and to blend the whole strawberries with the other wet ingredients for the batter.
You'll also need a sifter/strainer, large mixing bowl, standard cupcake pan, and paper liners (unless you don't want to use liners).
And I always recommend a kitchen scale for weighing flour. There are a lot of inexpensive ones out there, and it's the easiest way to get consistent results in your baked goods.
To pipe the frosting on top you'll need a tip and piping bag. If you're new to piping frosting, an inexpensive beginner kit like this one from Wilton ($6) is a great way to get started.
How to Store Cupcakes
The cupcakes are fine at room temperature for the day if you're carrying them somewhere (6 to 8 hours). After that keep cupcakes refrigerated for up to 5 days.
Frosted cupcakes freeze very well. Arrange them in an airtight container tall enough to not squish the frosting. Freeze for up to 1 month.
More Vegan Party Desserts
If you try these Vegan Strawberry Cupcakes comment below to let us know. Your feedback is so helpful!
📖 Recipe