Vegan Strawberry Pretzel Salad is a dairy-free and gelatin-free take on the iconic American dessert! Learn how to use real fruit to make a pretzel dessert without Jell-o! Underneath is a layer of sweet and fluffy vegan cream cheese, followed by a crunchy, buttery pretzel crust. It's absolutely irresistible and a MUST for holidays and special occasions!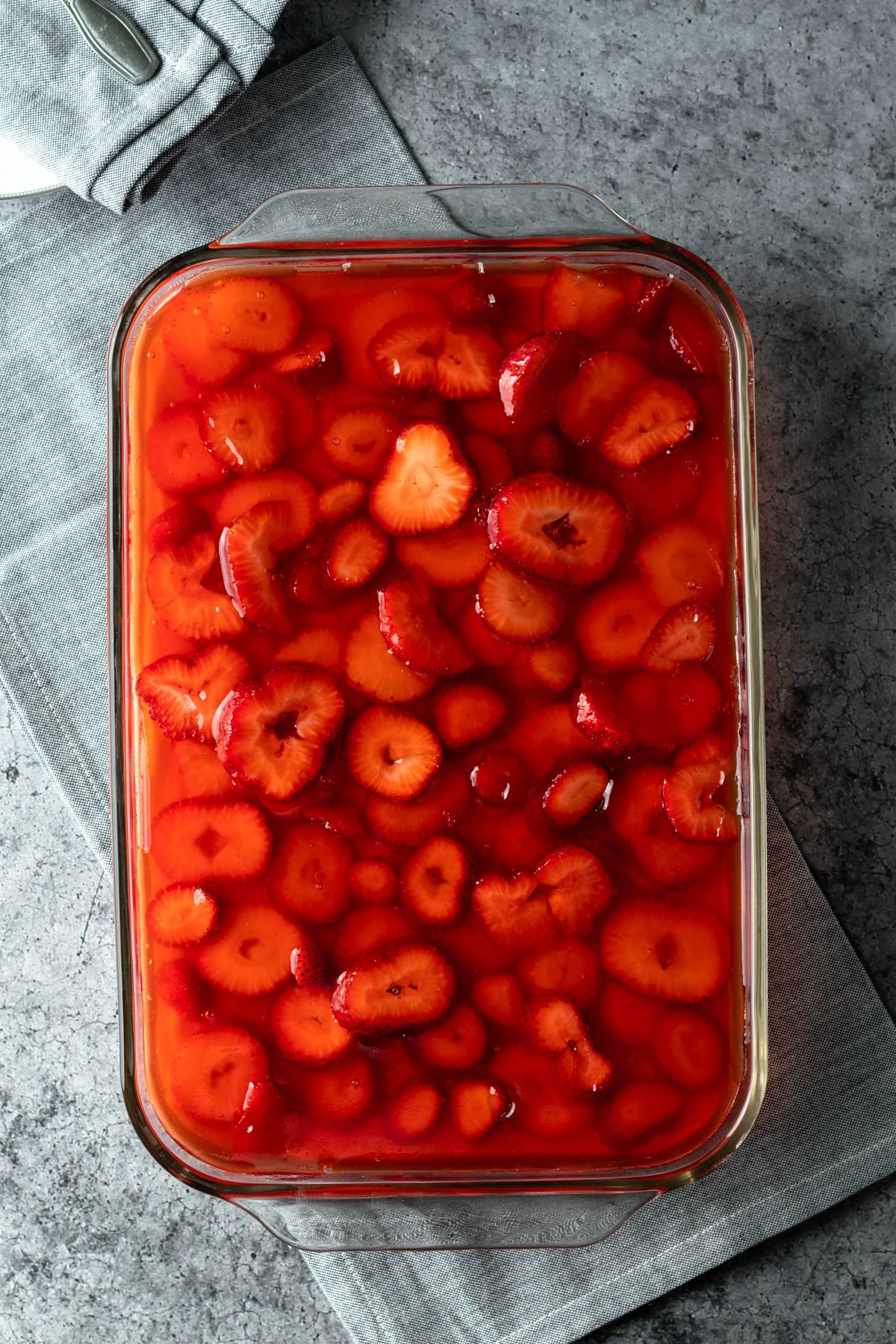 If you've tried strawberry pretzel salad before, you already know what a delicious yet unlikely combination it is. And if you've never heard of it? Well, you're in for a treat!
First, let's get this out of the way...
Don't be fooled by the word "salad" in the name. This is a seriously decadent dessert.
The flavors are similar to cheesecake topped with strawberries, but with a sweet and salty pretzel crust instead of a graham cracker crust.
Before I show you how to make Vegan Strawberry Pretzel Salad, can I tell you a secret? This was a tough one. This project has been about a year in the making.
After multiple trials last summer (2019), and pounds and POUNDS of strawberries, I got so frustrated I had to step away from it for a while.
Like six months of nope! I don't even want to THINK about pretzel salad.
But this year as strawberry season approached, I knew I needed to pick myself up and try, try again. And this time? Finally nailed it!
Jump to: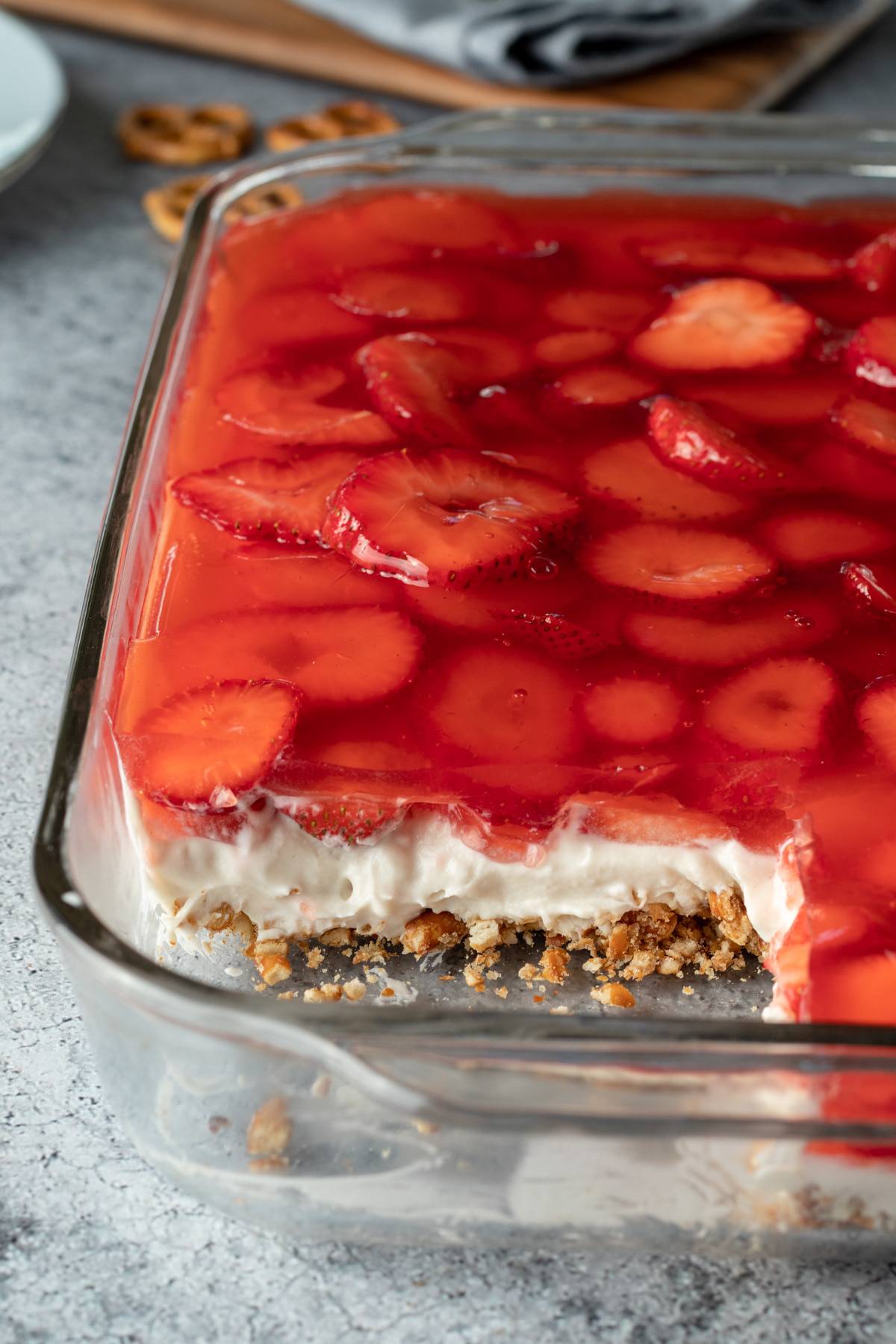 What is Strawberry Pretzel Salad?
If you're not familiar with strawberry pretzel salad, it's a very popular dish in the Southern United States (and I assume other areas, too).
A mainstay of potlucks and summer cookouts, it's also a traditional holiday dish for many families. According to various websites, pretzel salad was born in the 1960s in a cookbook called The Joys of Jell-O.
And yes, the combination seems strange at first. But once you taste pretzel salad, you quickly understand why it became such a hit.
Imagine this... sweet and tangy cream cheese + crunchy, sweet, and salty pretzels + fresh strawberries suspended in jell-o?
It's a total onslaught of complementary flavors and textures.
Anyway, after decades of everyone getting along just fine (in person), the internet introduced legions of new folks to this bizarre-sounding recipe.
And some people just couldn't get over the word "salad." But when we remember its origin, a time when housewives were cooking up all sorts of ridiculous, gelatinous dishes, it makes a bit more sense.
But even Jell-O decided to change with the times (Well, barely. I mean, they still make their products from animal parts, but I digress!). The company website now calls the original recipe "Strawberry Pretzel Squares."
Many people also now refer to it as "strawberry pretzel dessert."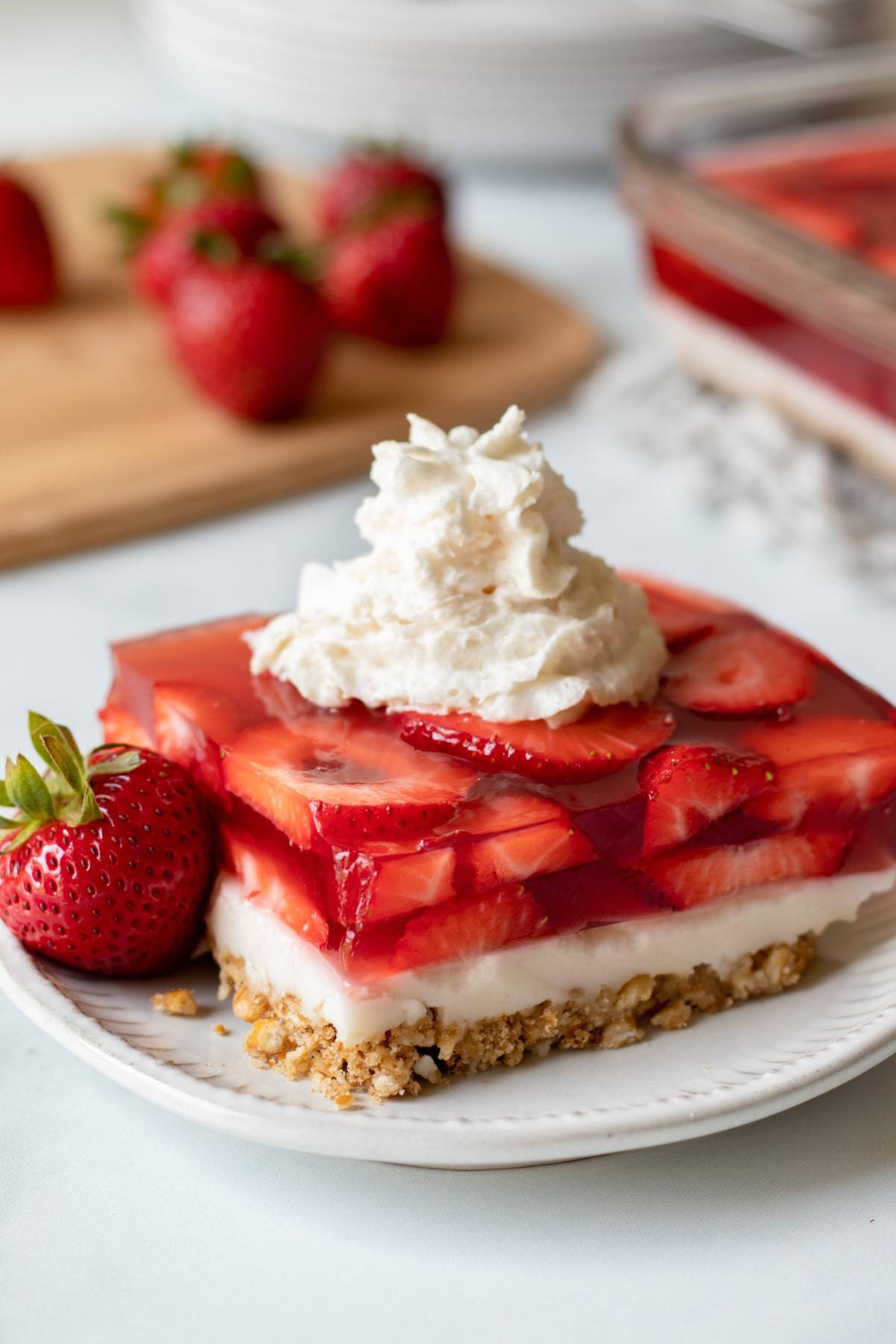 A Difficult Dish to Make Vegan
In February 2019 I was working on a recipe for an agar agar recipe competition. I scoured the internet and was shocked that I couldn't find a vegan version of strawberry pretzel salad. Though I would soon understand why.
I created a recipe for mini individual pretzel dessert for the cookbook contest. That recipe got picked up by Mother Earth Living magazine (see it here).
I used agar in the middle layer of the individual pretzel salads, and it worked well, especially since the purpose of the recipe was to highlight agar agar for the competition.
But I really wanted to create a version for the blog that would mimic the iconic red and white dessert in the big glass casserole dish. And it was very important to me that it have a creamy and fluffy middle layer, which meant I couldn't use agar because it makes it too "set."
What makes this tricky is the layering. Agar sets much more quickly than gelatin, which means that after bringing the strawberry mixture to a boil you need to pour it onto the cream cheese layer while it's still very warm.
When the middle layer contained agar, the layering worked fine because you're pouring the hot strawberry jel onto an already set agar cream. BUT with a middle layer made up of vegan cream cheese and coconut cream...
Hot liquid poured onto fat creates a hazy, not-very-attractive vegan jell-o on top. Totally unacceptable!
I wanted the strawberry layer to be as clear and gorgeous as possible. Hence, why I almost gave up.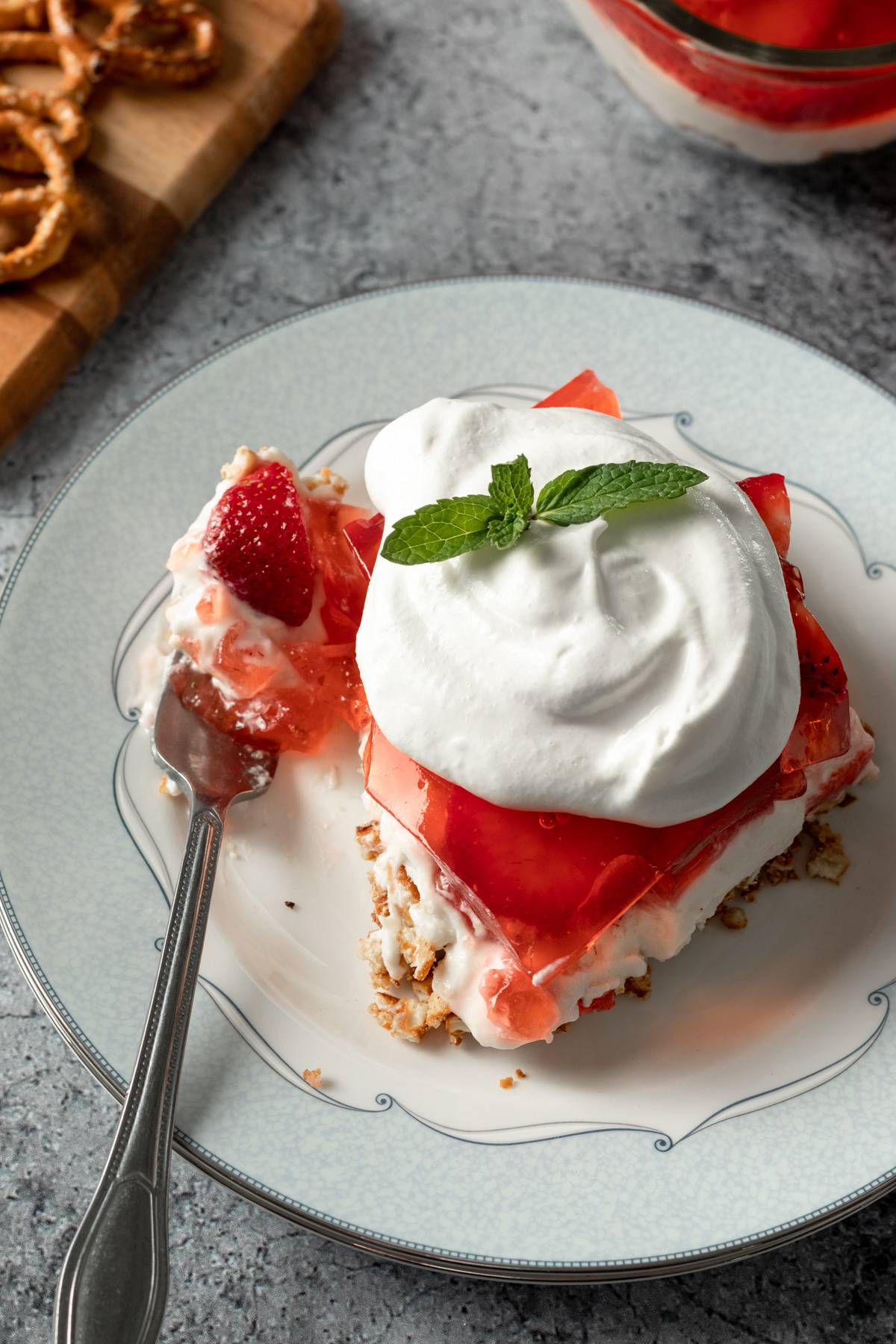 The Key Step
Anyway, over Thanksgiving dinner at my aunt and uncle's house in Nashville, I was telling the whole family about my difficulties in layering the hot agar on the cream cheese.
My cousin, who is a professional chef, asked if I had tried freezing the cream cheese layer.
Instantly I knew this was the fix and would finally mean a successful vegan strawberry pretzel salad I could share with you!!
For some reason it hadn't occurred to me to partially freeze the pretzel and cream cheese layers before pouring on the homemade agar jello.
Another thing I realized during the final two test batches is that you can actually allow the agar to cool more than I previously thought (just keep whisking).
So when you combine a somewhat cooler strawberry layer with a super cold cream cheese layer, problem solved!
How to Make Vegan Strawberry Pretzel Salad
My main goal is for you to have success the very first time you make this dish! So here are step-by-step photos to give you a good overview of the process.
When you're ready to make pretzel salad, be sure to scroll down to the full recipe card.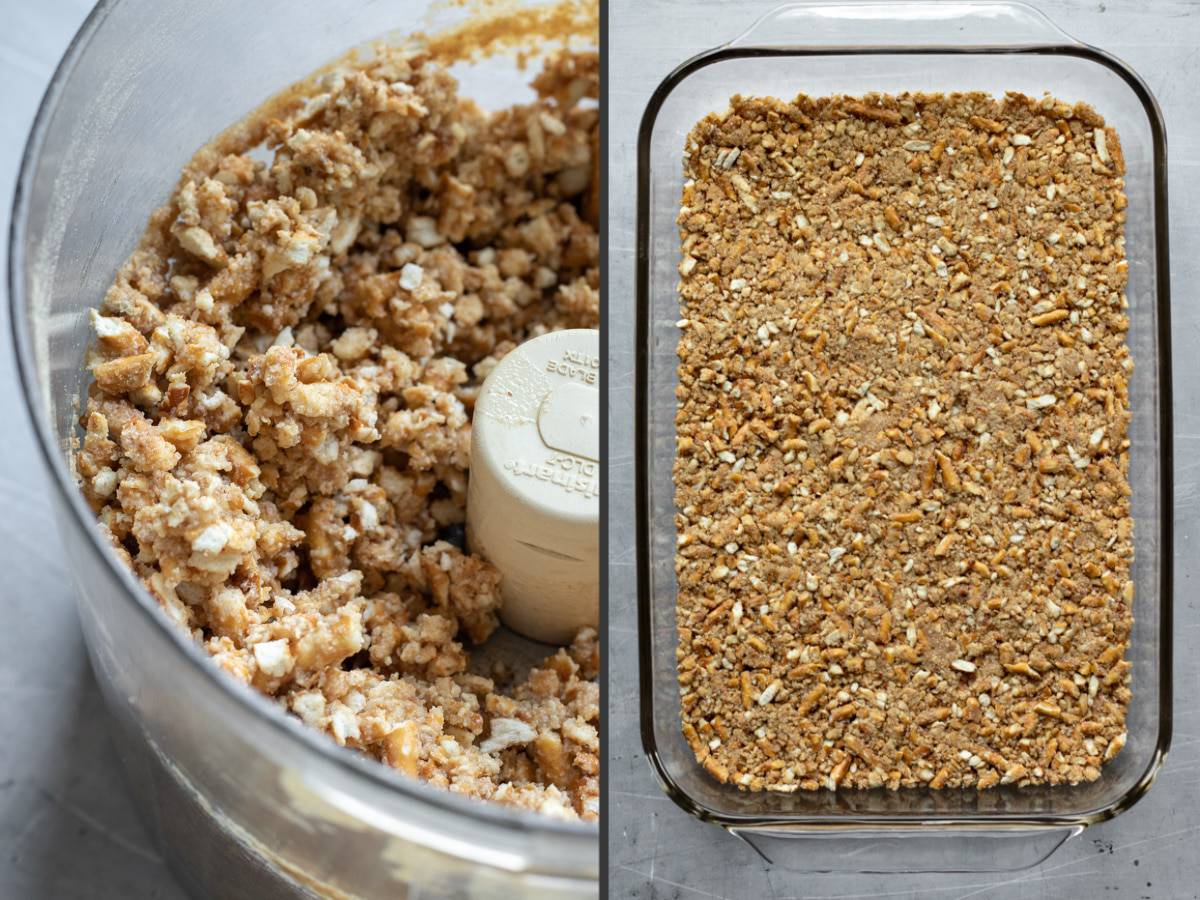 Preheat the oven to 400° F. Crush the pretzels in a food processor. You can also place them in a large gallon bag and crush with a rolling pin, but I find the food processor to be easier. Add sugar and melted vegan butter, and pulse to combine.
Press into a 13 x 9-inch casserole dish, and bake for 8 to 10 minutes. Set aside to cool.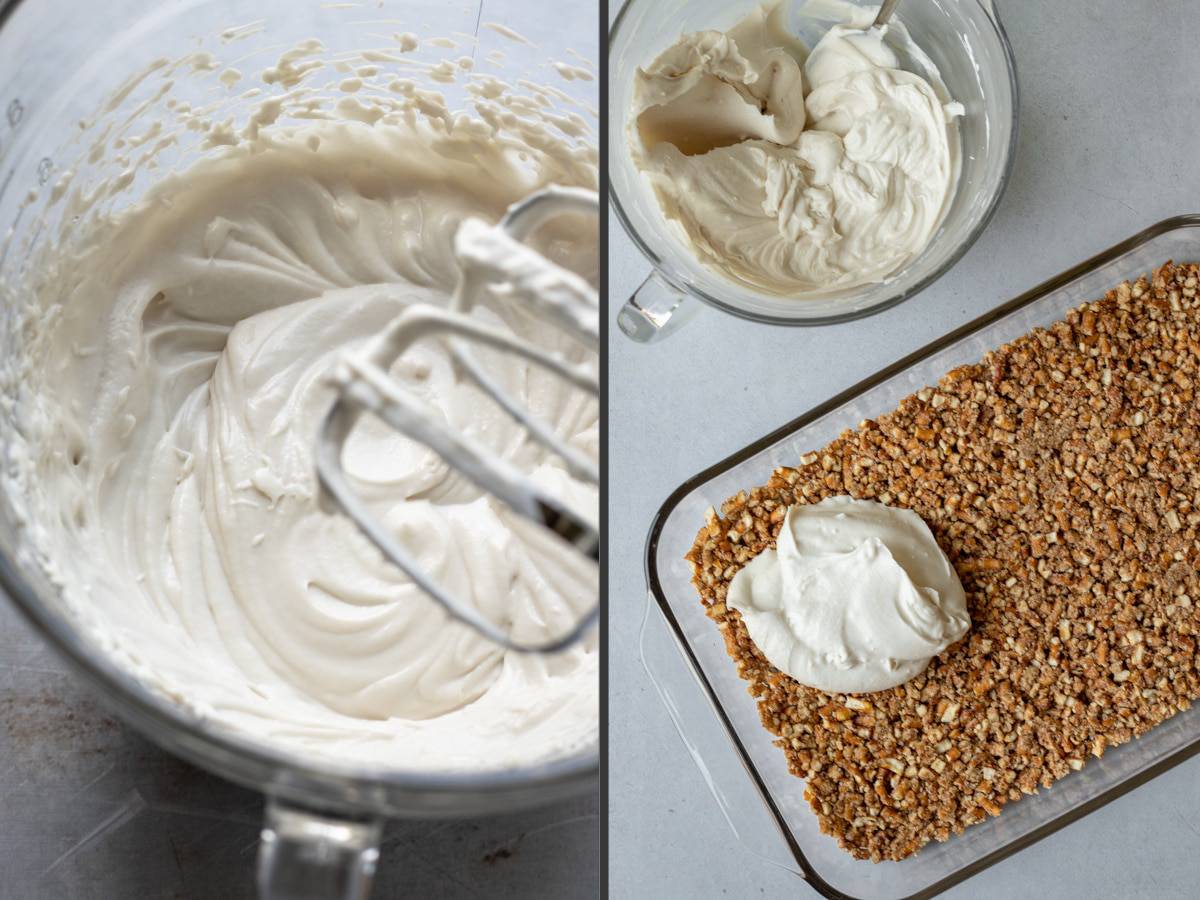 Cream together vegan cream cheese, coconut cream, and powdered sugar.
Spoon cream cheese mixture onto the pretzel crust, and MAKE SURE to spread it all the way to the edges. This prevents the jello layer from seeping down onto the pretzel crust and making it soggy.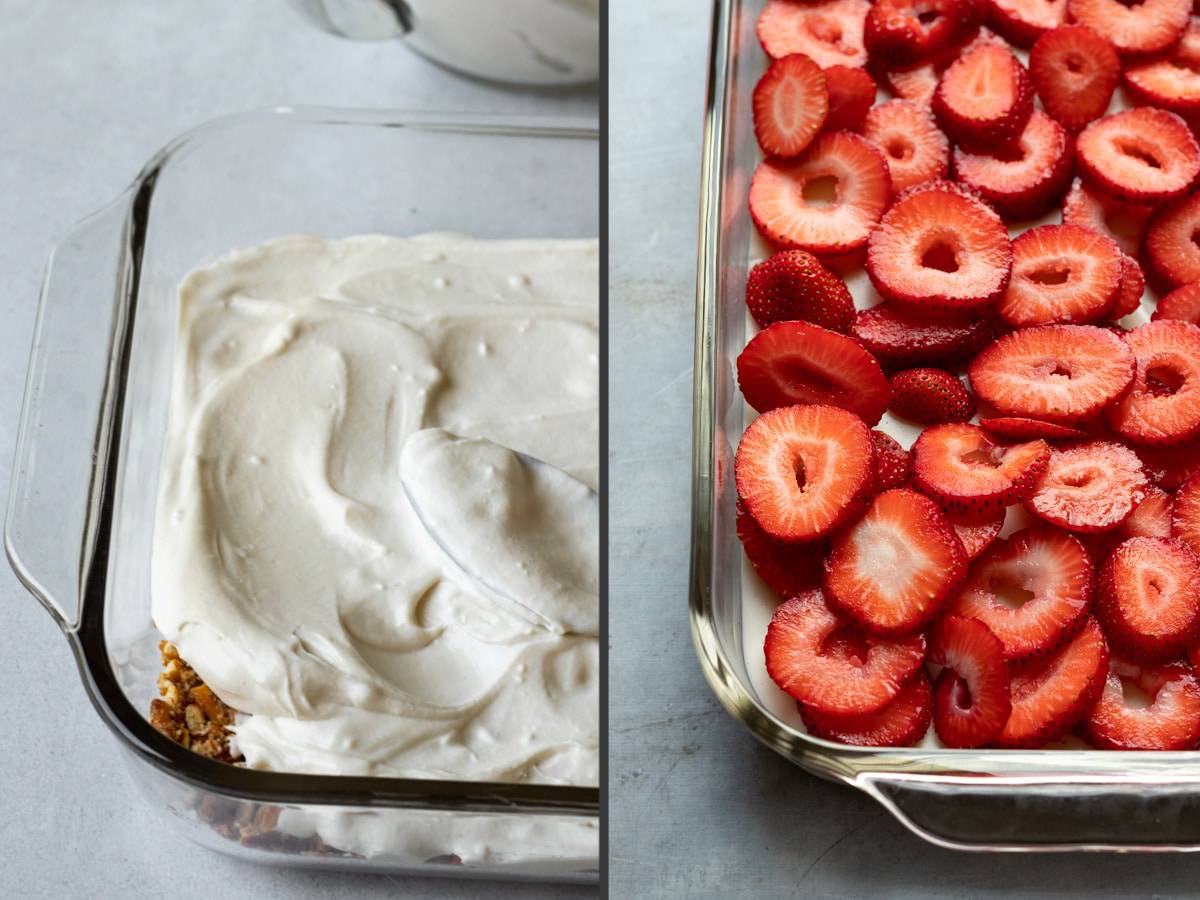 After covering every inch of pretzel crust with the sweet cream cheese, place the dish in the freezer for 1 ½ to 2 hours.
When the dish has been in the freezer for about 1 hour, start on the strawberry agar/jell-o (below).
A few minutes before you're ready to pour the warm agar layer onto the semi-frozen cream cheese, place freshly sliced strawberries evenly around the dish (above-right). Pop it back into the freezer. This allows the strawberries to get cold, too, providing an extra barrier between the hot agar and the cream cheese. You can also use frozen strawberries here, but for the suspended strawberries I usually use fresh because they're easier to slice and look nicer.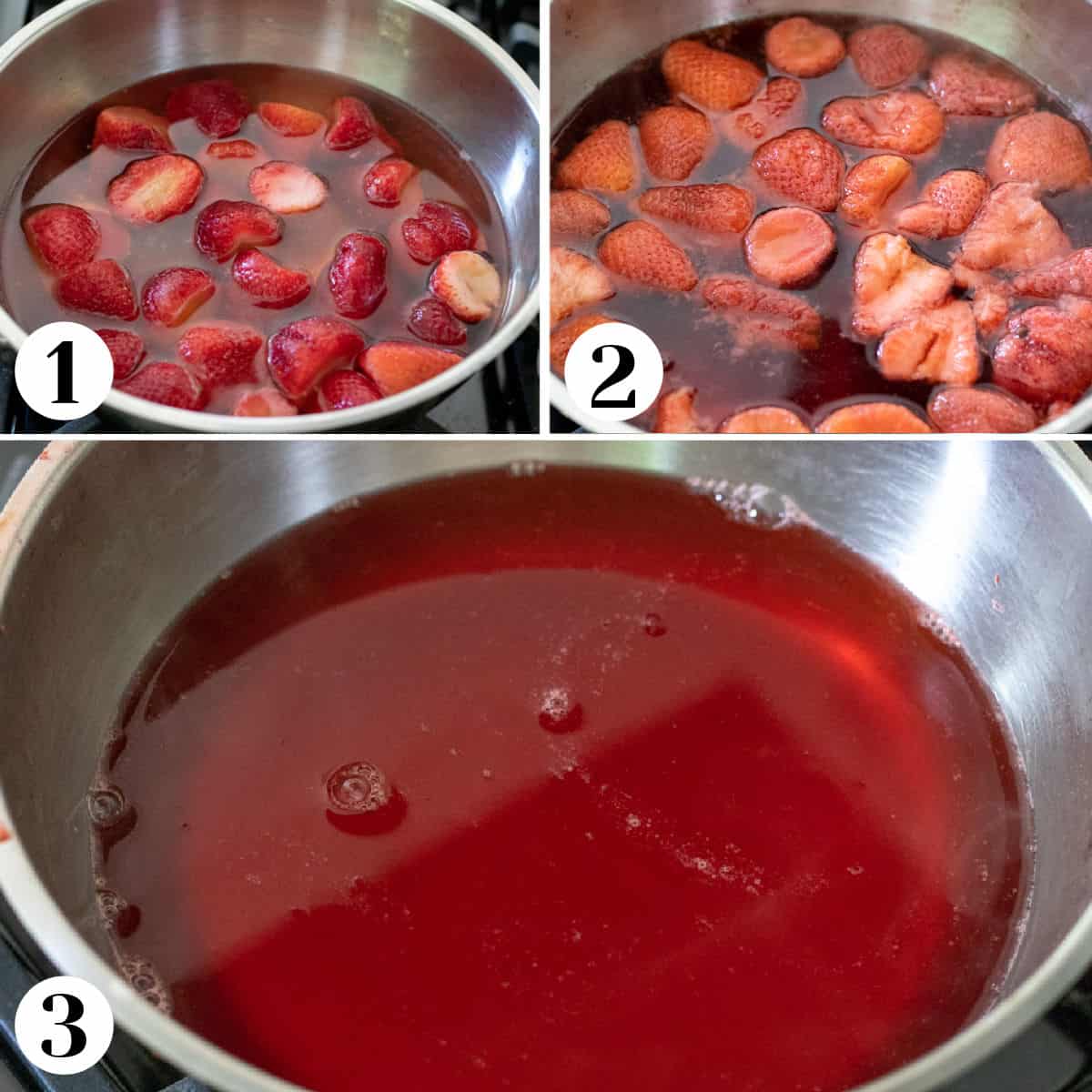 How to Make Vegan Jell-o
There are a few steps involved in making strawberry agar, but it's actually very easy!
First you make "strawberry juice" by simmering fresh or frozen strawberries in water.
In the 2nd photo above you can see that the color has transferred from the strawberries to the water, creating an all natural, beautiful red juice. No artificial colors here!
Strain the juice twice to remove any bits of strawberry.
At this point, the cream cheese layer should have been in the freezer for about an hour-and-a-half. If the cream cheese isn't firm/cold yet, just set the strawberry juice aside and wait.
Once the cream cheese is firm, you're ready for the final step in making agar. Dissolve the agar and sugar in water, then bring it to a boil. Agar only needs to simmer for about 1 minute to activate.
Remove from heat and whisk in the strained strawberry juice. Continue whisking occasionally while the liquid cools, about 15 minutes.
When the agar feels warm to the touch but has not yet started to set, pull the casserole dish from the freezer. Slowly pour agar onto the strawberries, moving around the dish as you pour so that the agar layer will be even.

It will begin to set almost instantly upon contact with the cold berries and cream cheese.
This stage requires a bit of patience. As you're whisking the agar while it cools, just keep an eye on it. If you see signs of it beginning to set (like really set), you'll need to pour it into the casserole dish ASAP.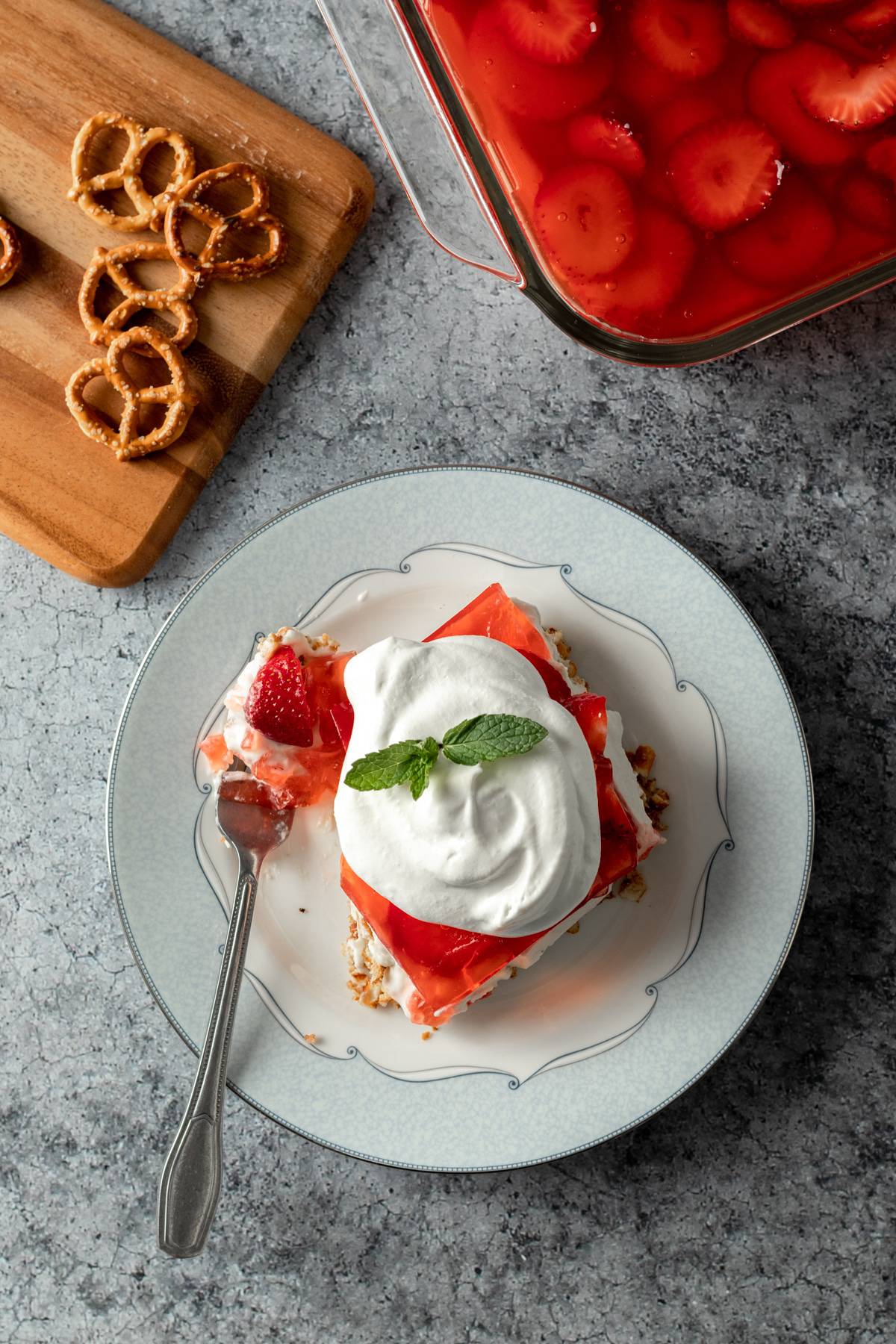 Top Tips
On day 2 the pretzel crust isn't quite as crunchy as day 1. So it's best to prepare pretzel salad in the morning for serving later the same day. If needed, prepare pretzel salad late the evening before, and refrigerate overnight.
Considering prep, freeze, and chill time, allow at least 5 hours total before serving.
Though I haven't tested it, you can probably substitute Simply Delish strawberry jel for the jell-o layer. You need 3.5 to 4 cups of vegan jell-o, or about 3 boxes of Simply Delish.
If you prefer a thicker pretzel crust, increase the crust ingredients by 50%.
Don't be tempted to reduce the amount of butter in the crust. It binds the crust together and keeps the pretzels crisp!
Pretzel Salad FAQs
Can you make strawberry pretzel salad the night before?
Yes, you can make it the day before and chill it overnight. But it's best to prep it late in the evening, for serving the next day, because the pretzel crust will absorb moisture over time and gradually lose its crunch.
How long does it keep?
Leftovers are fine in the refrigerator for up to 5 days, but as mentioned, the pretzel crust will soften. Pretzel salad is best served within 24 hours.
Is pretzel dessert gluten-free?
Choose your favorite gluten-free pretzels for the crust to make it gluten-free!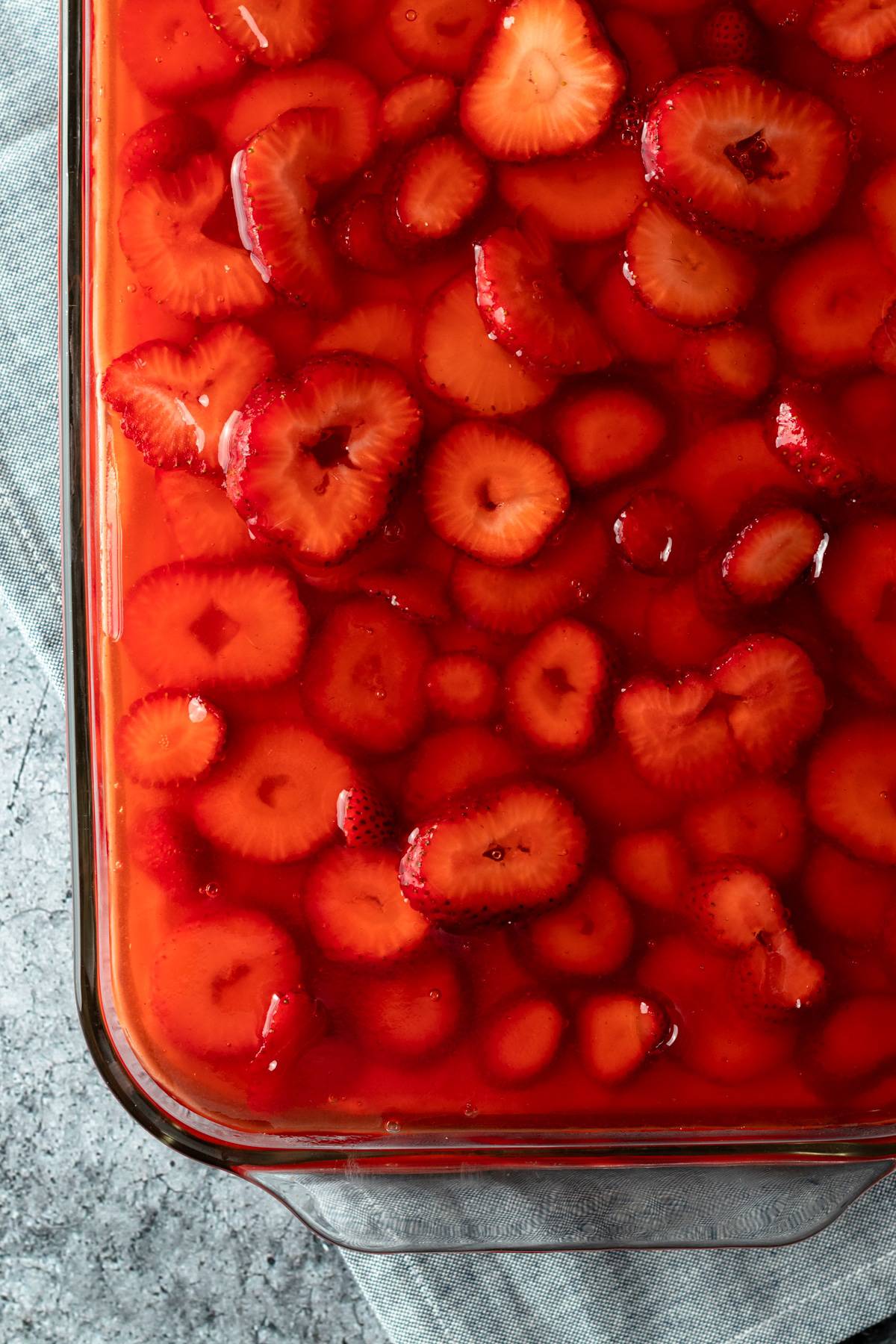 If you also grew up with Strawberry Pretzel Salad served on special occasions, I hope it warms your heart to have a vegan version to share with friends and family!
Cheers to modern, vegan versions of childhood favorites because anything they can eat we can eat vegan!
If you try the recipe I would love to hear from you. Comment below to let everyone know!
You Might Like
📖 Recipe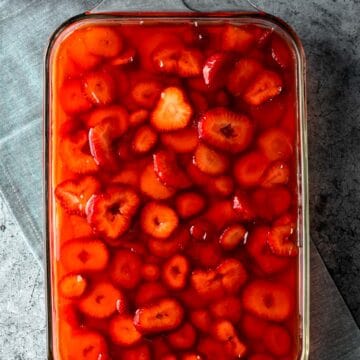 Vegan Strawberry Pretzel Salad
Strawberry Pretzel Dessert without jello or dairy? You bet! This vegan version uses agar agar and real strawberries to create a vegan "jell-o." Underneath is a layer of sweet and fluffy cream cheese, followed by a crunchy pretzel crust. Always a hit. No potluck or holiday meal is complete without pretzel salad!
Ingredients
For the crust:
8

ounces

salted pretzels, small twists or sticks

-

(about 2.5 cups)

¾

cup

vegan butter, melted

¼

cup

organic cane sugar
Cream cheese layer:
16

ounces

vegan cream cheese, room temperature -

I recommend Miyoko's.

1

cup

coconut cream

-

Coconut cream can be found in some stores; or chill a (14 oz) can of full-fat coconut milk overnight; use ONLY the thick cream portion. Reserve liquid for another use.

1 ¼

cups

organic powdered sugar, sifted
Strawberry vegan "jell-o" layer:
2

pounds

fresh strawberries OR 1 lb. fresh and 1 lb. frozen, divided, ends trimmed

3 ¼

cups

water, divided

scant 1

cup

organic cane sugar, divided

1

tablespoon

agar powder
Instructions
Preheat oven to 400 degrees F, and clear space in both the freezer and refrigerator for a 9x13 dish.

Pulse the pretzels in a food processor until crumbled. Add melted butter and sugar, and pulse again to combine. Press into a 9x13-inch casserole dish, and bake for 8 to 10 minutes, until golden. Set aside to cool.

Using a handheld or stand mixer, cream together the cream cheese and coconut cream until smooth. Add sifted sugar, and beat until fully incorporated. Spread the cream cheese mixture onto the cooled pretzel crust, making sure to spread it ALL the way to the edges, so the pretzel layer is completely sealed.

Place the dish in the freezer for 1.5 to 2 hours or until the cream cheese is firm to the touch.

After 1 hour, it's time to prepare the strawberry layer. In a medium saucepan, combine 1 pound frozen (or fresh) strawberries with 2 ¾ cups water and ¼ cup sugar. Bring to a simmer, and cook 8 to 10 minutes or until the strawberries have lost their color.

Pour the strawberry water through a fine mesh sieve, capturing the liquid in a clean bowl. Rinse the sieve and strain the strawberry water one more time so it's clear and free from particles. (Those strawberries can be eaten or discarded.) You should have about 2 ¾ cups (22 ounces) of strawberry juice. Set aside.

Slice the remaining pound of strawberries, and arrange them on top of the cold cream cheese layer. Return the dish to freezer.

Rinse the saucepan so it's clean. Combine ½ cup water and the agar powder in the pan. Whisk to dissolve the agar. Whisk in ⅔ cup sugar, and bring to a boil. Whisking frequently, simmer for 30 seconds to 1 minute, then remove from heat. Immediately whisk the strawberry juice into the agar mixture. This will cool it down slightly. Continue whisking occasionally, and let it cool until warm but not hot, about 15 minutes. (Keep an eye on it! If the agar begins to set, immediately pour it over the strawberries.)

When the agar feels lukewarm, remove the dish from freezer and carefully pour the strawberry "jell-o" over the strawberries. It will begin to set almost instantly upon contact with the cold berries and cream cheese. Keep in mind, where you pour the agar is where it will stay, so move around the dish as you pour so the gel layer is even.

Refrigerate until fully chilled, about 2 hours. Serve with vegan whipped cream.
Notes
Tips and Storage Notes:
On day 2 the pretzel crust won't be quite as crunchy. So it's best to make pretzel salad early on the same day you plan to serve it, or late the night before. Be sure to allow at least 5 hours total for prep and chilling.
If you prefer a thicker pretzel crust, increase the crust ingredients by 50%.
Don't reduce the amount of butter in the pretzel crust. It holds the crust together and keeps it crisp!
Keep refrigerated until ready to serve.
Estimated Nutrition (per serving)
Calories:
360
kcal
Carbohydrates:
42
g
Protein:
5
g
Fat:
19
g
Nutrition information is an estimate and will vary depending on the exact amounts and specific products and ingredients used. We calculate this information using the online calculator cronometer.com.
Tried the recipe?
I love hearing from you! Share your feedback below!