This beautiful Vegan Apple Cake is perfect for Thanksgiving and fall celebrations! It features fragrant, spice cake layered with bourbon-apple compote and a simple vegan cinnamon frosting. This tried and true vegan cake recipe is always a hit!
Don't need a layer cake? No problem! We've also included tips for making an easy, single-layer vegan apple cake without the fruit filling.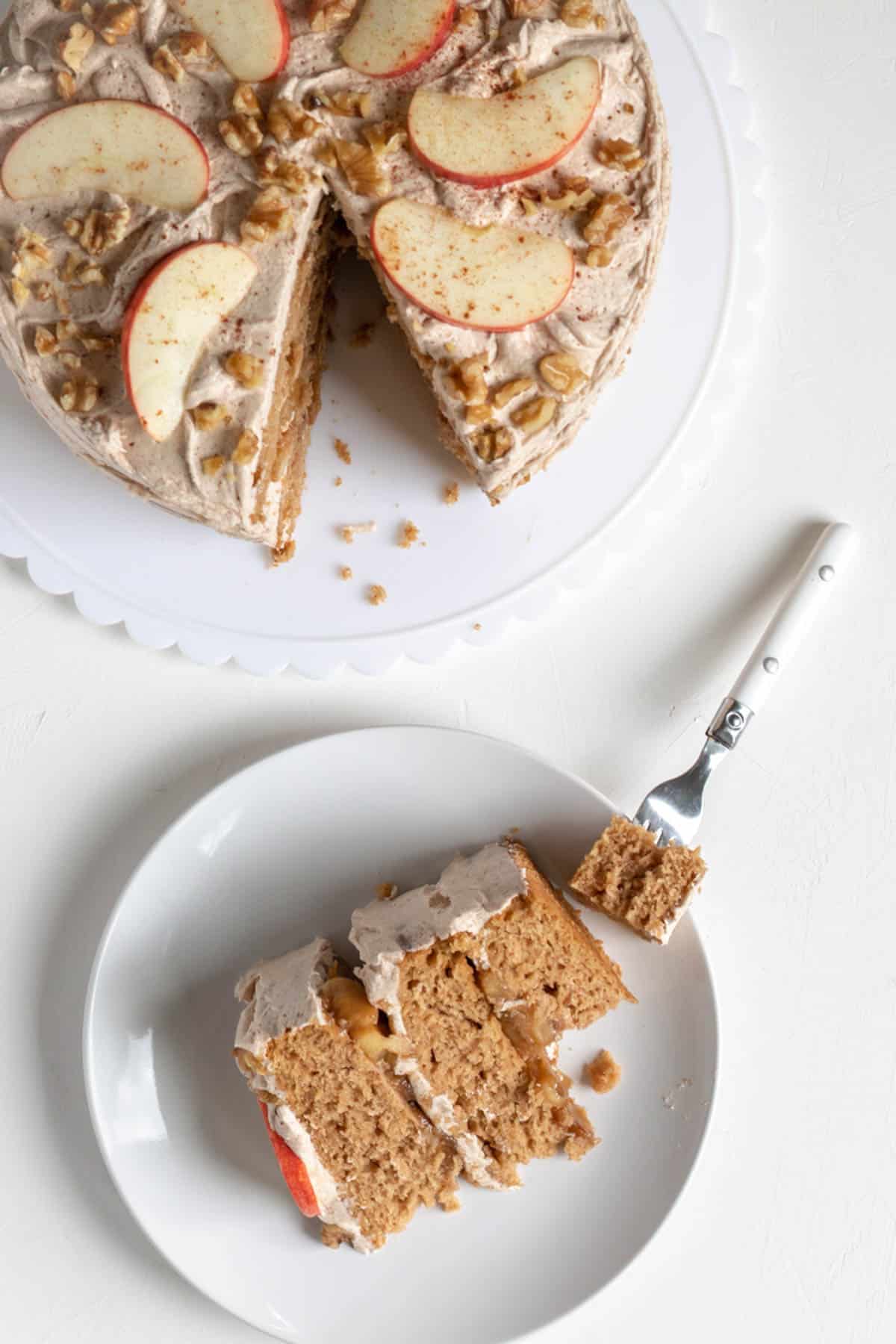 Hey Friends, guess what... it's CAKE time! Here's a little warning for all you healthy eaters out there. You might want to look away, because what we have here is quite possibly the most decadent recipe that will ever grace this site.
We're making a 3-layer vegan apple cake with cinnamon frosting, and let me tell you... it is amazing!
I share a lot of nutritious plant-based recipes on the blog, but I also just flat out love cake. And I LOVE showing people that being vegan doesn't mean giving up any of their favorite recipes, including amazing desserts!
Jump to: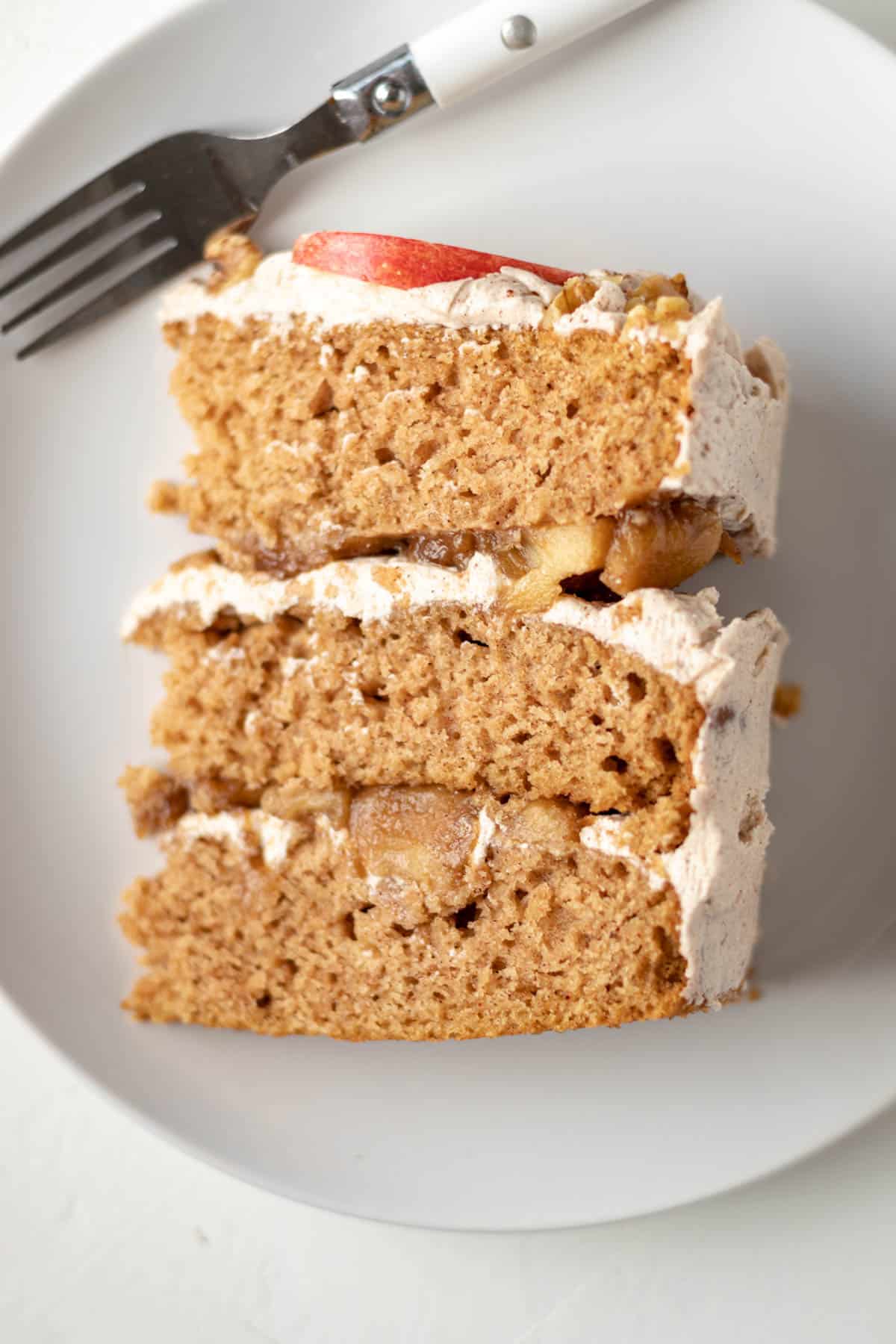 With the blog being new this fall (2018), when apple season hit so did the inspiration! However, after my first two tests of this recipe I got sidetracked with more reasonable things, healthier recipes, budget lunch ideas, Thanksgiving dishes, etc.
I shared a photo of this cake on instagram in celebration of World Vegan Day, and though I intended to post it before Thanksgiving, after a little more time passed (and apple season was passing me by) I realized I probably wouldn't get around to it. Not because I didn't like this cake, but because I just didn't know whether this seasonal, super decadent cake was something you'd be into.
Then, I got some really great feedback from my taste testers. When I made the 3-layer version, my husband took most of it to work the next day to share with co-workers.
Everyone enjoyed it so much they started commenting about it on instagram, sending me messages, and apparently even talking about it to their friends.
I continued to hear second-hand from Mark how much they liked it. But it wasn't until someone reached out and said, "Hey, I heard this cake is amazing. Do you have a recipe because I want to make it for Thanksgiving!" that I knew I needed to get off my lazy behind and type it up. So, here we go!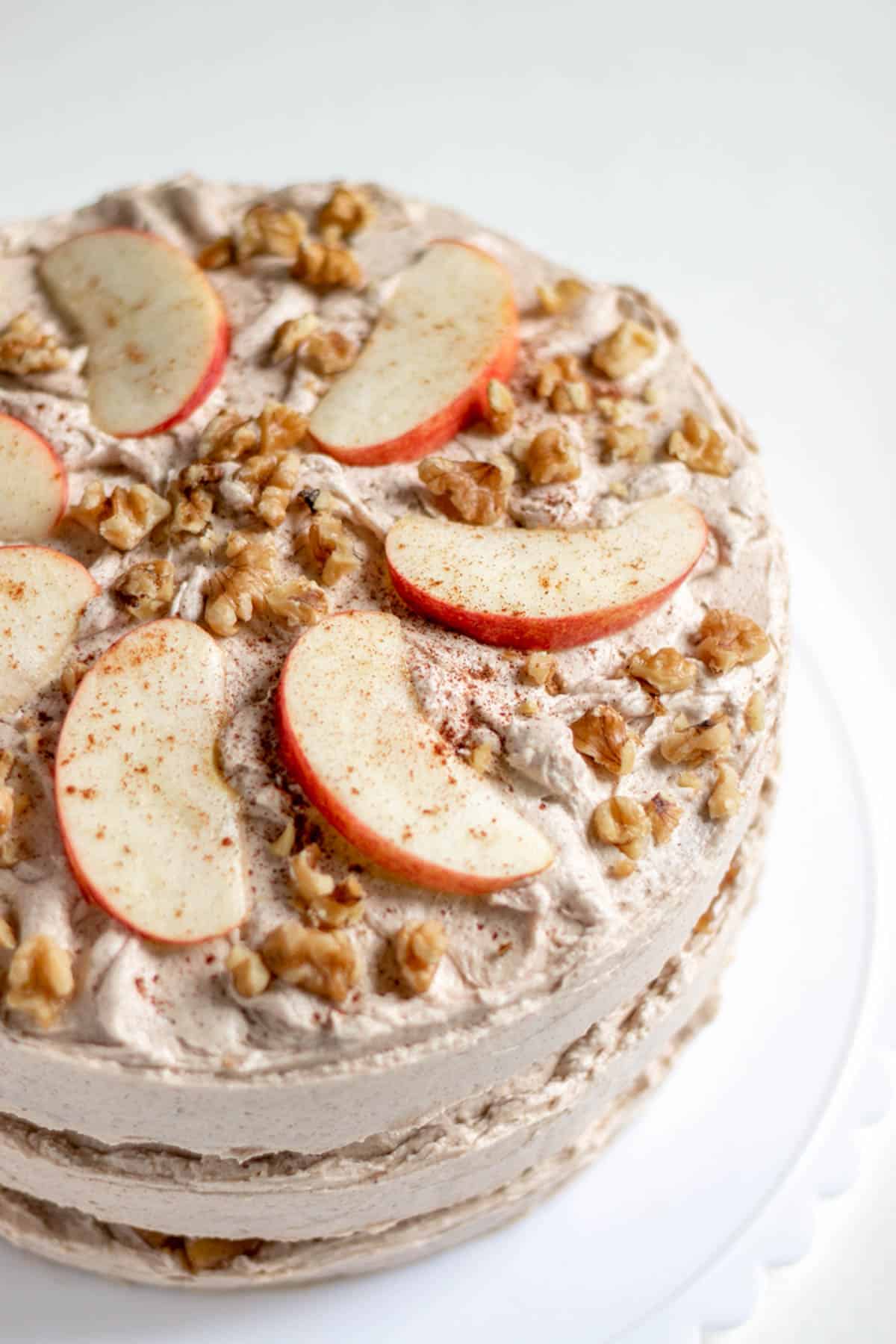 Ingredient Notes
Here's a quick look at the ingredients you'll need. See the recipe card below for amounts and full instructions.
For the cakes:
all-purpose flour
baking powder and soda - these work together with the vinegar and heat to help the cakes rise.
ground cinnamon and ginger
unsweetened non-dairy milk - such as soy, oat, or almond
apple cider vinegar - reacts with the baking soda for rise
applesauce
oil - a neutral tasting oil like canola or grapeseed
sugar - I used both regular organic cane sugar and light brown sugar
For the apple compote:
apples - choose a sweet variety such as gala or honeycrisp
brown sugar and maple syrup - these sweeten the apples while adding warm and festive flavor.
corn starch - a small amount helps thicken the mixture.
bourbon - or sub water if you're not a fan of bourbon.
And for the frosting:
vegan stick butter - I used Earth Balance
powdered sugar - look for organic powdered sugar to make sure it's vegan and not refined using bone char. There are several brands available; I usually buy this powdered sugar at Whole Foods.
cinnamon and vanilla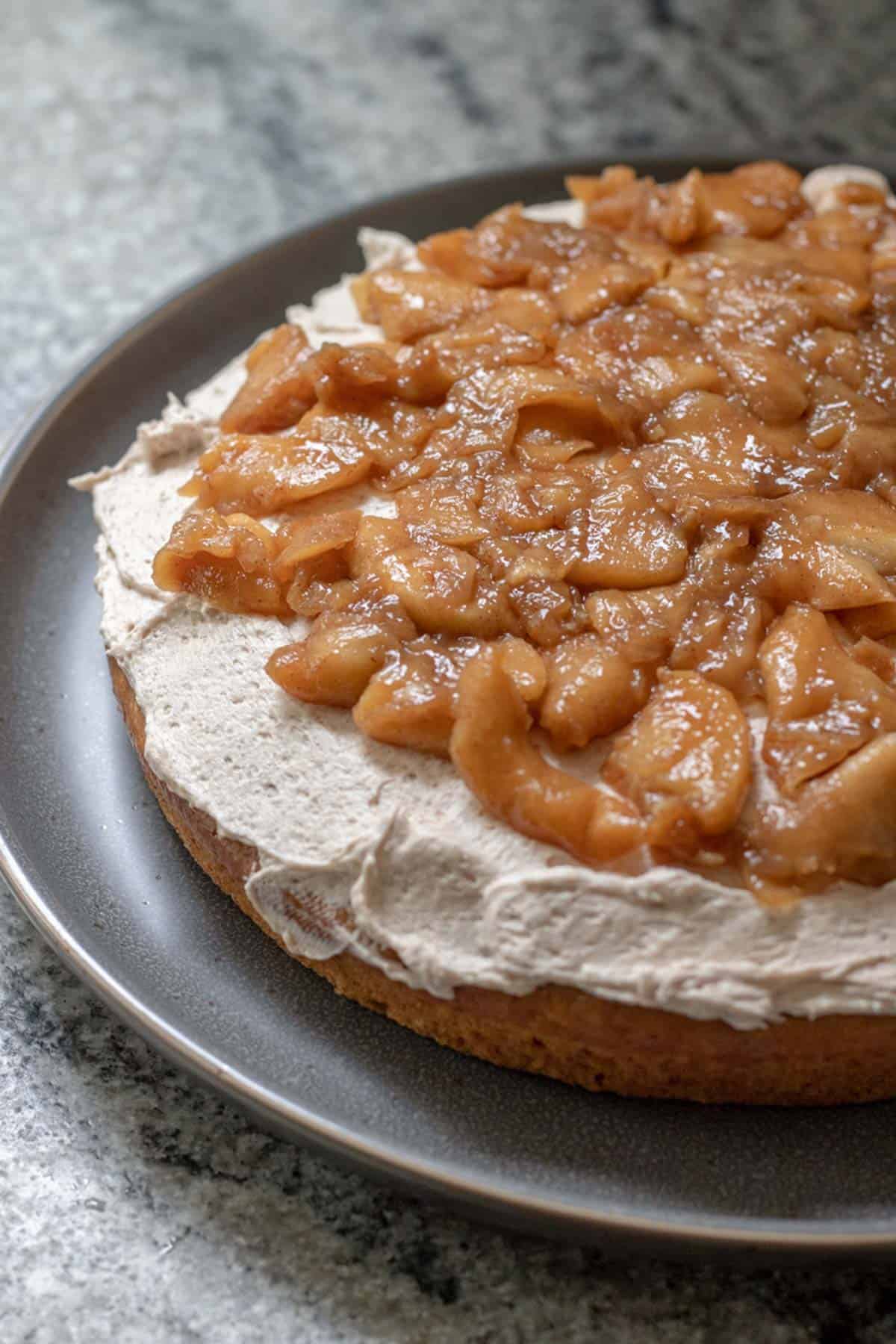 How to Make Vegan Apple Cake
The cake layers are easy to make and delicious all by themselves. Prep is as easy as sifting and whisking together the dry ingredients, mixing the wet ingredients, combining the two, and dividing among three prepared 9-inch cake pans.
If you're intimidated by cakes, please don't be! Just follow the instructions step-by-step. Also, check out my Top 12 Vegan Baking Tips before getting started.
The filling/compote comes together easily in a saucepan by simmering the apples with a bit of brown sugar and maple syrup and thickening it with a corn starch-bourbon slurry. Not into bourbon? Replace it with water.
The frosting is super easy, too. It's a typical vegan buttercream with a bit of cinnamon added. You'll need a handheld or stand mixer.
Not only does the cinnamon taste and smell lovely, but it gives the frosting a warm and slightly pinkish hue. If you can find Ceylon or above average-quality Cassia cinnamon, it's worth it here.
Once you've made the three components and allowed the cakes and apple compote to cool, you're ready to assemble and decorate the cake!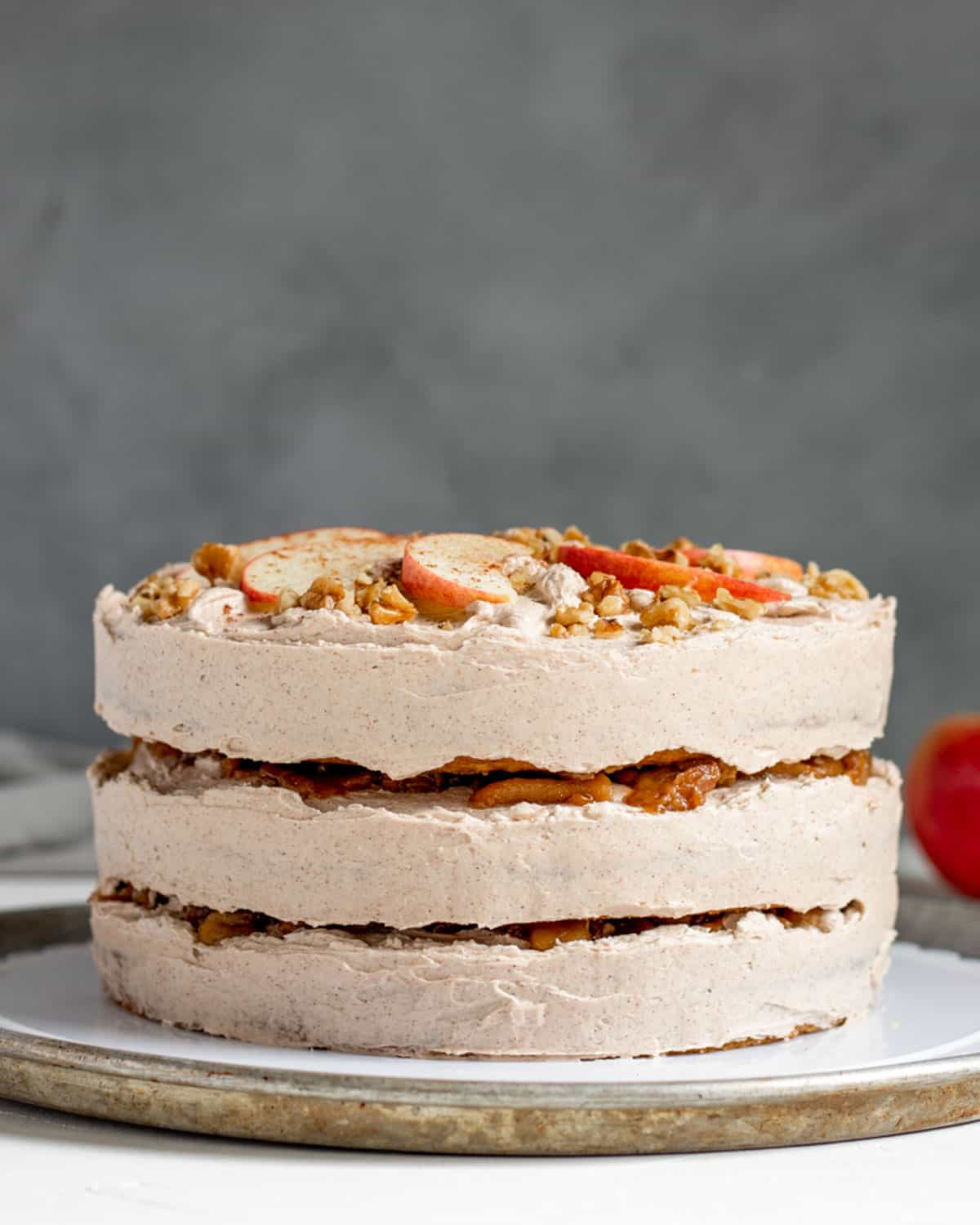 Variation - Single Layer Apple Cake
As I mentioned, the cake is sweet and delicious all by itself, so if you're baking for a smaller group or just don't want to mess with layers and frosting, simply divide the ingredients by 3 to make a single layer.
You can dress it up by thinly slicing an apple and placing the apple slices in the bottom of the cake pan in a decorative, circular pattern (see below). Then, pour the batter over the apple slices.
When you flip the cake out of the pan you'll have the effect of an upside-down apple cake, which looks lovely even without frosting! But if you're feeling fancy go ahead and dust it with powdered sugar and sprinkle of chopped walnuts.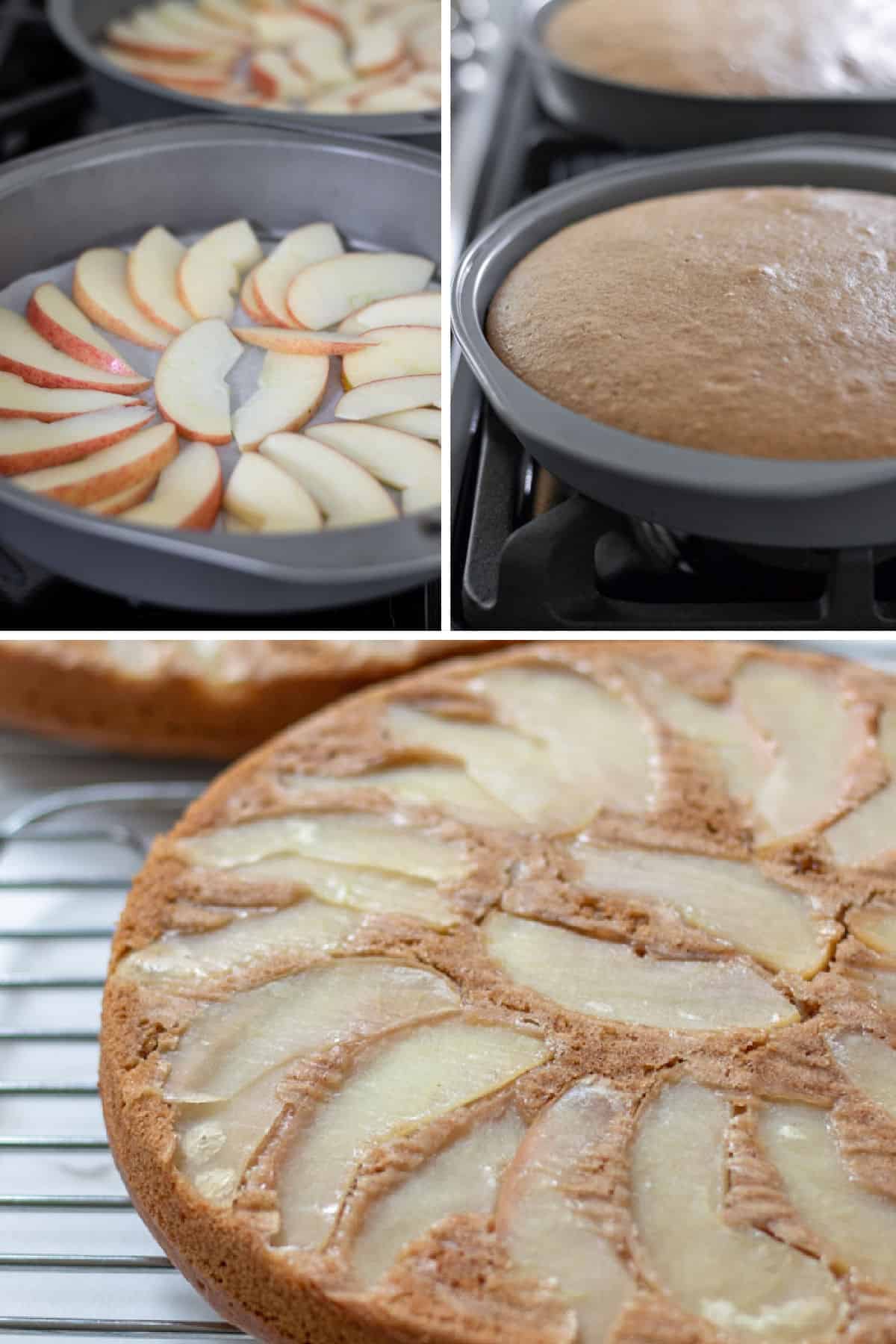 Recipe FAQs
Can I make the cake a day in advance?
The individual components may be prepared the day before, but it's best to assemble and decorate the cake the same day you plan to serve it.
Does this recipe work with gluten-free flour?
I haven't tested it yet with a gluten-free baking blend, but I do think it would work well. Let us know in the comments if you give it a try!
What type of apple is best for apple cake?
Any sweet variety of apple you can find at the grocery store is great, such as gala, fuji, or honeycrisp.
How long does it keep?
Store leftover cake in an airtight container in the refrigerator for up to 4 days. As with all cakes, once sliced the cake will begin to dry out. Leftovers can also be frozen.
Though this cake was inspired by fall, you can obviously enjoy it any time of year.
Make it for a birthday party, a holiday meal, your friend who loves apples, or just because you feel like making swirly designs with frosting (always fun).
And let's make a pact. Let's plan to bring this cake back in the spring and summer with different fruits and spices. You on board? Bourbon Peach? Strawberry Basil? Lemon Blueberry? Raspberry Mint? I'm game!
If you make this amazing vegan apple cake I would LOVE to see a photo. Tag @myquietkitchen on instagram and show us your cakes! And be sure to comment below to let us know!
You Might Like
📖 Recipe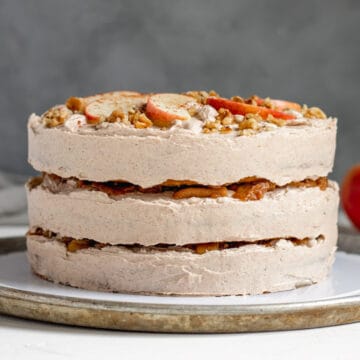 Vegan Apple Cake
Vegan Apple Layer Cake features fragrant, spice cakes layered with bourbon-apple compote and a simple vegan cinnamon frosting. This tried and true vegan cake recipe is always a hit!
Yield: one 9-inch three-layer cake
Ingredients
For the cakes:
4

cups

all-purpose flour

2 ½

tsp

baking powder

1 ½

tsp

baking soda

1

Tbsp

ground cinnamon

1 ½

tsp

ground ginger

¾

tsp

salt

¾

cup

applesauce

2 ¼

cups

unsweetened non-dairy milk

1 ½

Tbsp

apple cider vinegar

⅔

cup

neutral-tasting oil

1

cup

sugar

1 ¼

cups

brown sugar

1

Tbsp

vanilla
For the bourbon-apple filling:
5

large

apples, peeled, cored and thinly sliced

-

any sweet variety you like

⅓

cup

brown sugar

2

Tbsp

maple syrup

1

Tbsp

corn starch

½

cup

bourbon

-

or water
For the buttercream:
1 ½

cups

vegan butter (3 sticks), room temperature

4 to 4 ½

cups

powdered sugar, sifted

1

tsp

vanilla

1 ½

tsp

ground cinnamon
Decoration:
1

small

apple

fresh lemon juice

⅓

cup

walnuts or pecans

dash of

cinnamon
Instructions
Make the cakes:
Preheat oven to 350 degrees. Oil three 9-inch cake pans, and line the bottoms with a circle of parchment paper.

Sift the flour, baking powder, baking soda, cinnamon, and ginger into a large mixing bowl. Add the salt and whisk well to combine. In a smaller bowl whisk together the milk, applesauce, vinegar, oil, vanilla, sugar and brown sugar.

Pour the wet mixture into the dry and whisk briefly, just until mixed and there's no visible dry flour. Divide the batter evenly among the three pans, and bake for 26 to 30 minutes, or until the tops bounce back when lightly pressed. You can also use a toothpick inserted in the center to test for doneness.

Let cool in the pans for about 10 minutes then turn out onto cooling racks. Carefully peel away the parchment. Cool completely before frosting. If making in advance, once the cakes are cool, wrap individually in plastic wrap and refrigerate overnight.
Make the compote/filling:
In a medium-size saucepan over medium heat, cook the apples, brown sugar and maple syrup until the apples have softened and the mixture has thickened, about 10 to 15 minutes. In a mug or small bowl whisk the corn starch into the bourbon and add to the pan. Cook for another 3 to 5 minutes or until all the liquid has evaporated and the filling is jam-like.

Transfer the filling to a bowl to cool completely. If making in advance, store the filling in an airtight container in the refrigerator. The filling should be no warmer than room temperature when assembling the cake.
Make the frosting:
Using a handheld or stand mixer, cream the butter until light and fluffy, about 5 minutes. Add the sifted powdered sugar 1 cup at a time, beating on low speed between additions and scraping down the sides of the bowl as needed. Taste for sweetness, and add the final ½ cup of sugar if desired. Add the cinnamon and vanilla, and beat on medium/high speed until fully incorporated and smooth. If making in advance, store the frosting in an airtight container in the refrigerator.
Assemble the cake:
Place one cake layer on a serving plate or cake stand. Using an offset spatula spread a thin layer of frosting on the top and sides of the cake. Spoon about half of the bourbon-apple filling onto the frosting and spread in an even layer.

Place the 2nd cake layer. Repeat the process of spreading the frosting and apple filling. If your cakes are a bit domed and you want the filling to peek out through the side gaps (as pictured) frost the sides carefully to avoid getting frosting on the apple filling.

Place the 3rd cake layer and frost the top and sides.

Core and slice the apple, and coat each slice in lemon juice to prevent browning. Decorate the cake with apple slices, nuts, and a sprinkle of cinnamon. Serve and enjoy!
Notes
Store leftover cake in an airtight container in the refrigerator for up to 4 days. As with all cakes, once it is sliced the cake will begin to dry out.
The three components may be prepared the day before, but it's best to assemble the cake the day you plan to serve it. Let the frosting and compote warm at room temperature for a few minutes so they're easier to spread.
Estimated Nutrition (per serving)
Nutrition information is an estimate and will vary depending on the exact amounts and specific products and ingredients used. We calculate this information using the online calculator cronometer.com.
Tried the recipe?
I love hearing from you! Share your feedback below.