Vegan Mushroom-Sage Orzotto is a risotto-style dish made with pearled barley, onion, mushrooms, and fresh sage. Creamy, savory, and comforting, orzotto makes a beautiful side dish for the holidays but is easy enough for everyday.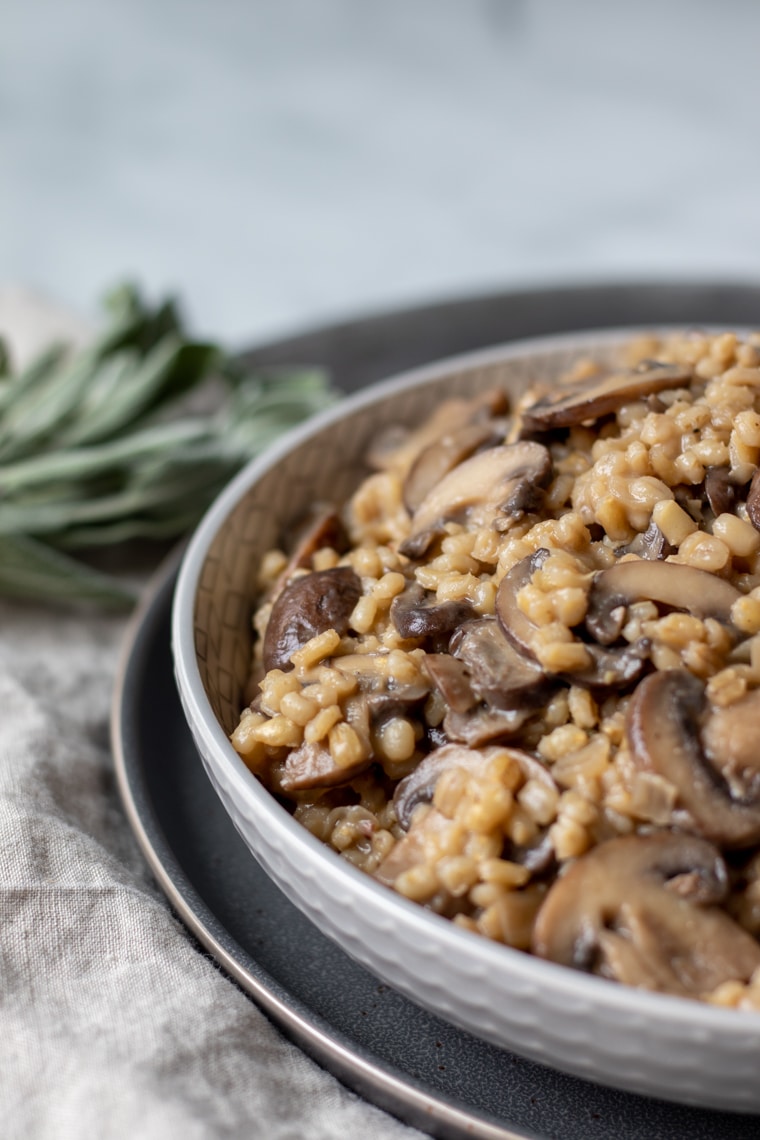 Raise your hand if you've heard of orzotto.
"Or huh?"
Exactly. If orzotto is new to you, you're not alone! In short, it's an Italian dish similar to risotto but made with pearl barley. Creamy, savory and full of possibilities.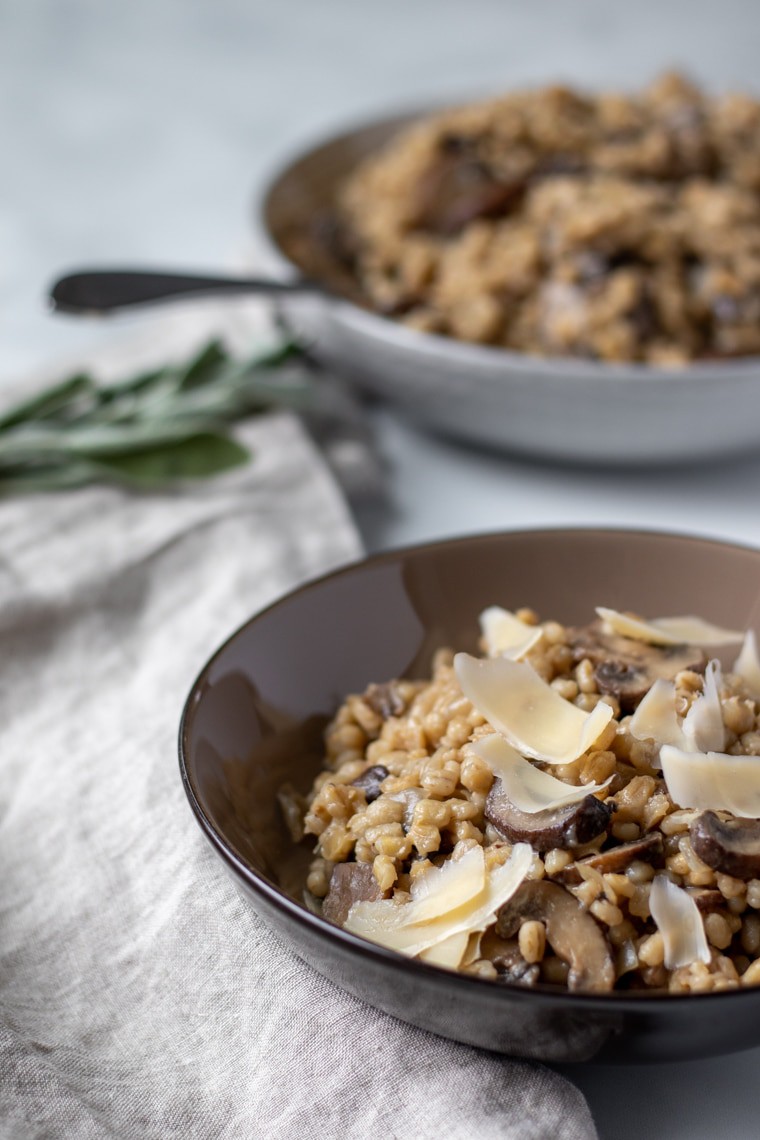 Here's how this recipe came about:
After purchasing pearl barley from the bulk bins a couple of weeks ago ("pearl" or "pearled" just means the barley has been polished to remove the bran layers; it is less nutritious than hulled barley but is softer and takes less time to cook), I was pondering ideas for a pilaf or salad. But while reading about different ways to cook barley I came across this intriguing new dish. Hmmm, orzotto. The internal dialogue went something like this:
"Another grain that can be made into a creamy, savory and comforting dish similar to risotto?? Uh, yes, please!"
Not a hard decision. With plenty of cremini mushrooms and fresh sage on hand, it didn't take long to decide on the flavors I wanted to incorporate into my first batch of orzotto.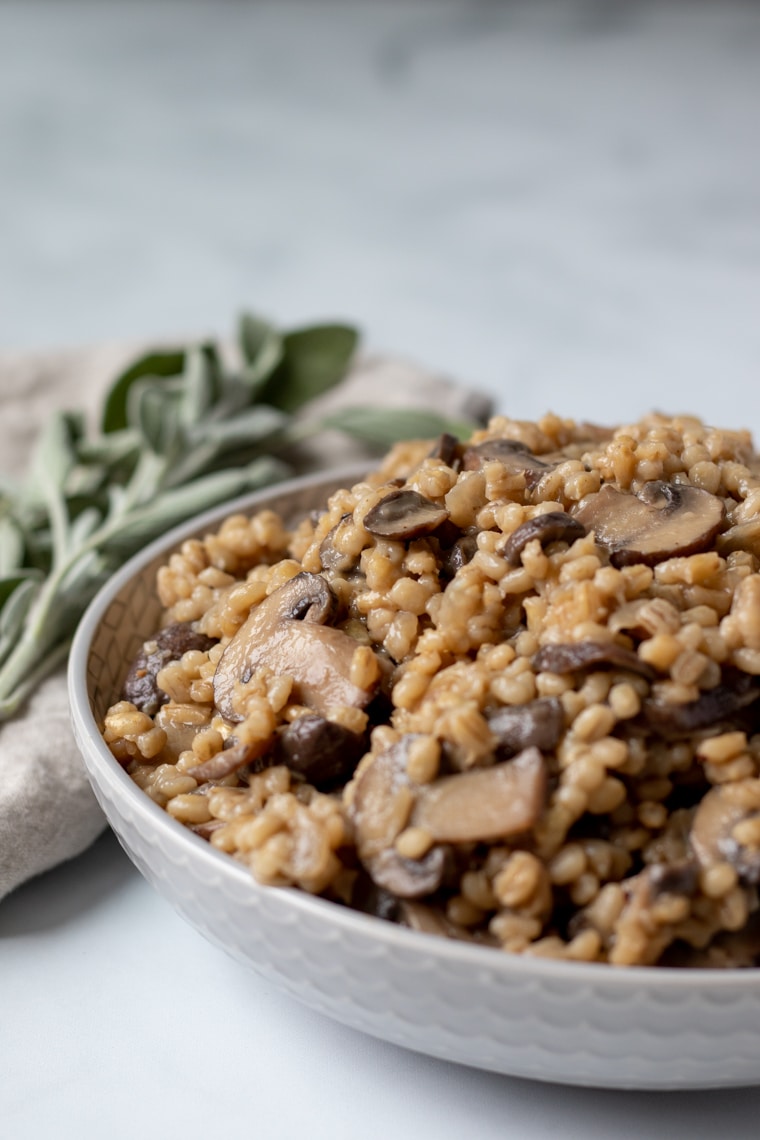 Mark and I ate almost the entire four-serving batch for dinner that night, and I knew I had to make it again and share it with you. I tested a double batch, because I think this would make a FANTASTIC side dish for the holidays. If you're not particularly into sage or can't find fresh sage when the mood for orzotto strikes, don't let that stop you! The umami-rich mushrooms, sweet onions, and fragrant garlic + butter pretty much have delicious on lockdown. The sage does make it extra special, though, and boy oh boy does the house smell amazing while this cooks!
Shopping for Fresh Sage:
Start looking for fresh sage two or three weeks ahead of Thanksgiving (sorry, I know that's right NOW), before it sells out! Sage stays fresh in the refrigerator for up to a month.
If you can't find fresh, dried sage works, too. If you're looking for a substitute, rosemary would be delicious, as would lemon zest and/or basil (but wait until you turn off the heat to add basil or lemon, as they're more delicate than rosemary and sage).

Other ways to customize your orzotto
If you want even more vegetables, try adding spinach or chopped lacinato kale during the last five to ten minutes of cooking. (Note to self: definitely do that next time!) Heck, let's just go ahead and toss in some cooked garbanzo, kidney, or cannellini beans and call it dinner.
I highly recommend kicking up the comfort-food factor with a bit of Violife Parmesan on top of each serving (or stirred in). It's a perfect pairing.
I hope you enjoy this Mushroom-Sage Orzotto as much as we do! It's special enough to add to a holiday meal yet simple enough for everyday.
More vegan holiday recipes:
Lightened Up Cauliflower Gratin
Vegan Cornbread Dressing (GF Option)
The Best Southern-Style Vegan Cornbread (GF Option)
Vegan Gluten-Free Pumpkin Pie (WFPB/Oil-Free)
Vegan Cranberry Cream Pie (GF)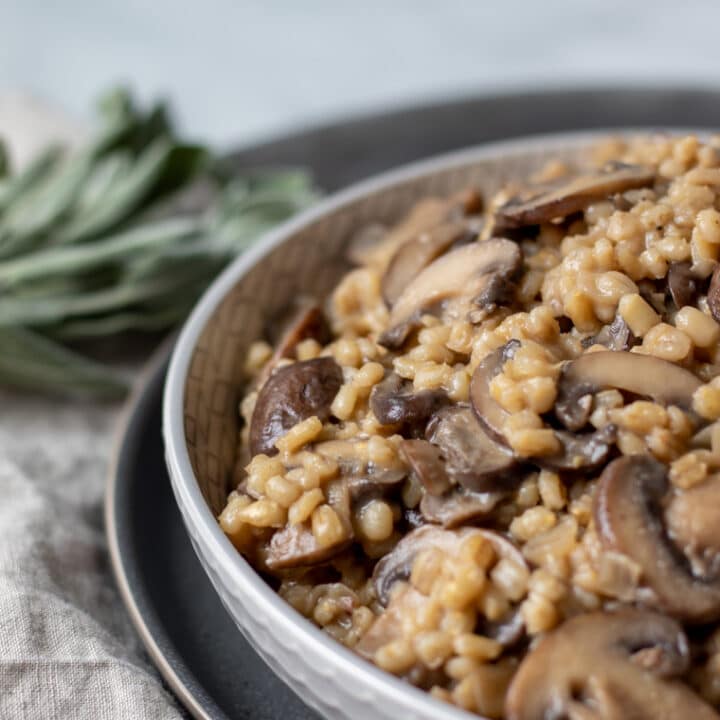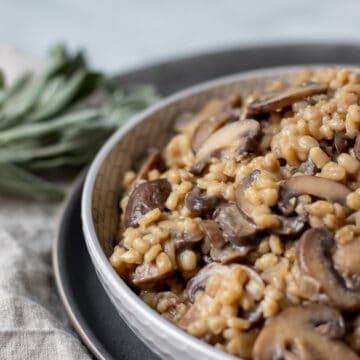 Mushroom-Sage Orzotto
This recipe serves 6 to 8 as a side dish but can easily be scaled up or down. With aromas and flavors of mushroom, onion, garlic, sage, and butter, this simple recipe for orzotto is the best kind of vegan comfort food!
Ingredients
2

large

onions, chopped

1 1/4

pounds

cremini (baby bella) or other mushrooms, sliced (discard excessively woody stems)

5 to 6

cloves

garlic, minced

pinch of

salt

1

Tbsp

olive oil

2

cups

pearled barley, rinsed and drained

6

cups

salty vegetable broth or 6 cups water and 1 2/3 Tbsp Better Than Bouillon (any vegan variety)

1

Tbsp

finely chopped fresh sage leaves or 1 teaspoon dried

(Alternative: for milder sage flavor, use 7 or 8 whole leaves and remove them before serving)

3

Tbsp

creamy plant milk such as unsweetened soy

4

Tbsp

vegan butter (I prefer the flavor of Miyoko's for this dish)

pepper
Instructions
Heat a large (5.5 qt.) sauté pan or stock pot over medium heat. Add the oil and onion to the pan. Stirring occasionally, cook until the onions are translucent, about 8 to 10 minutes. Add the mushrooms to the pan and cook until their moisture is released, 5 to 7 minutes. Add a pinch of salt and the garlic and cook for another 1 to 2 minutes.

Add the rinsed and drained barley to the pan. Stir and cook for about 1 minute. Add the broth and sage and bring to a boil. Stir, cover, and reduce heat to low. Cook until most of the broth has been absorbed, about 30 minutes.

Remove the lid and stir several times to release more of the barley's starch. Continue to cook until some of the remaining liquid has evaporated (skip this step if you don't see much liquid left in the pan). During this time the mixture will start to look creamier. Stir in the milk. When the mixture has thickened slightly and there is no longer a significant amount of broth remaining, turn off the heat and stir in the butter and black pepper.

Serve with vegan cheese, if desired.
Nutrition
Calories:
266
kcal
Carbohydrates:
47
g
Protein:
8
g
Fat:
6
g
Saturated Fat:
4
g
Cholesterol:
0
mg
Sodium:
520
mg
Fiber:
10
g
Sugar:
5
g
Vitamin A:
400
IU
Vitamin C:
7.4
mg
Calcium:
30
mg
Iron:
2.7
mg