This homemade oat milk creamer is smooth, lightly sweet, and versatile. Use it to create all of your favorite flavors! Inspired by processes used in the oat milk industry and adapted from our oat milk recipe, this just might become your favorite non-dairy creamer!
Best of all, you're in control of the ingredients, and it's so much more affordable than store-bought vegan coffee creamer! Oil-free and nut-free options.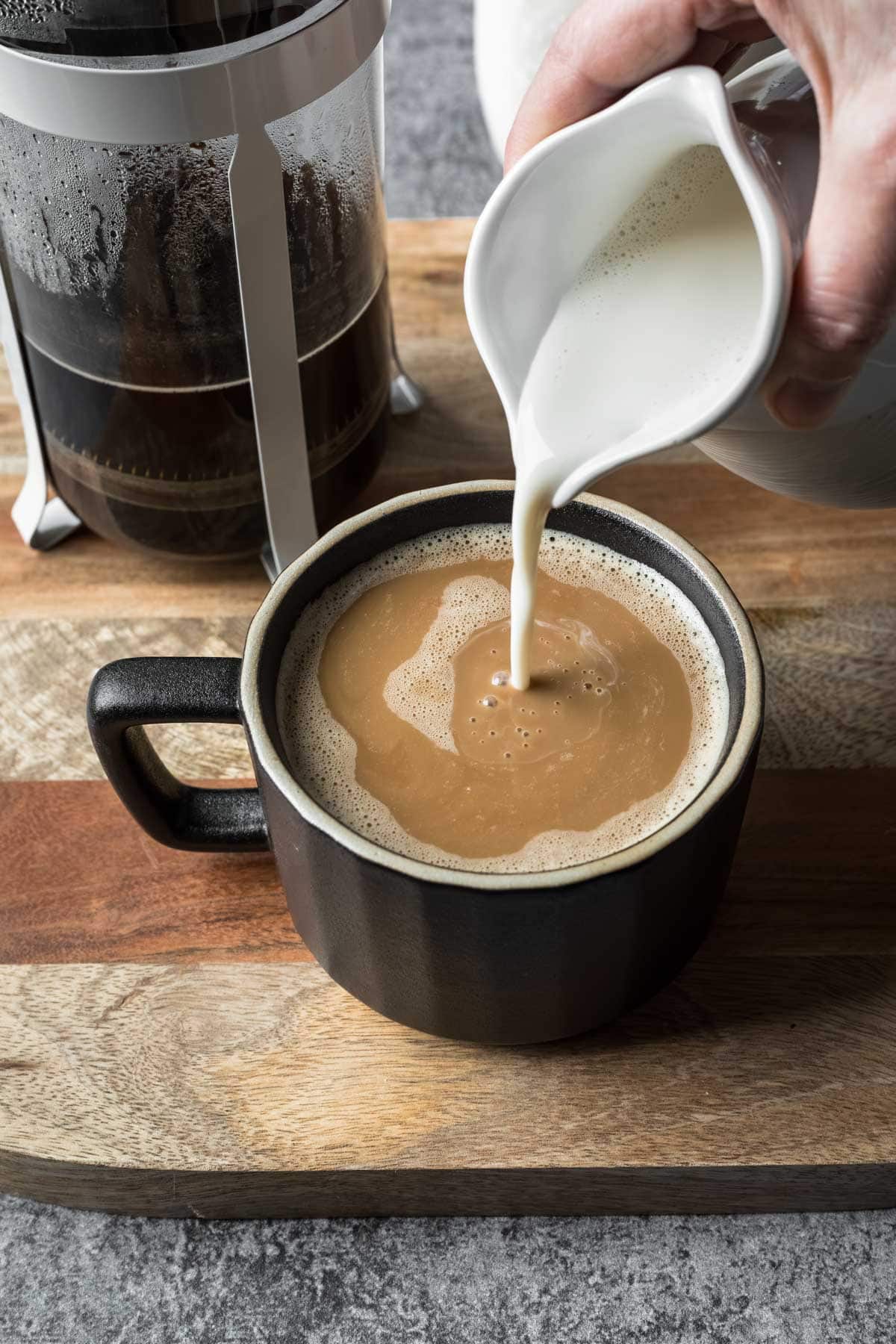 Jump to:
Recently, when I was testing this oat milk recipe, I couldn't resist experimenting with oat creamer, too. When it comes to dairy-free coffee creamers, oat milk and oat-based creamers are hard to beat!
I've never been a big fan of sweetened coffee creamer, but something about the subtle sweetness of commercial oat beverages is just the perfect amount to complement a rich, roast-y cup of coffee. It's great in tea, too, of course!
This recipe is very similar to the oat milk recipe, with just a few tweaks to make it thicker, creamier, more vanilla-ish, and perfect for coffee.
The Key to Non-slimy Oat Creamer
In the oat milk post, I talked a bit more about the process of using enzymes, specifically amylase, to convert the oat starches into sugars.
In case you've ever wondered how Oatly, Califia Farms, and others make oat milk that isn't slimy and that tastes sweet (even without sugar in the ingredients), that's the trick!
So I won't rehash all of that here. If you're curious and want to learn more, head on over to the oat milk post.
Basically, amylase is an enzyme produced by our salivary glands and pancreas. It breaks down complex carbohydrates into simpler sugars, which our bodies then use for energy.
You can also purchase amylase in powder or liquid form. Though it exists in animals, amylase is usually manufactured from plant or microbial sources (so yes, it's vegan).
Oat milk manufacturers use a multi-step process (source), adding enzymes at two different stages, liquefaction and saccharification.
This is why store-bought oat milk tastes sweet, even when there's no sugar in the ingredient list.
Temperature and time are important factors in the process. Also, I learned there are different types of amylase, and they don't all work exactly the same way.
So for the best tasting oat milk creamer, it helps to use both alpha amylase and glucoamylase to fully break down the starches into sugars.
If the process isn't complete, you may end up with oat creamer (or oat milk) that still tastes a little too oat-y, isn't quite sweet enough, and may even have a bit of slimy texture remaining.
Though this sounds complicated, it's actually pretty easy! All you need is a digestive enzyme supplement that contains amylase and glucoamylase. There are quite a few brands available. I've linked to two below that you can order on Amazon.
Ingredients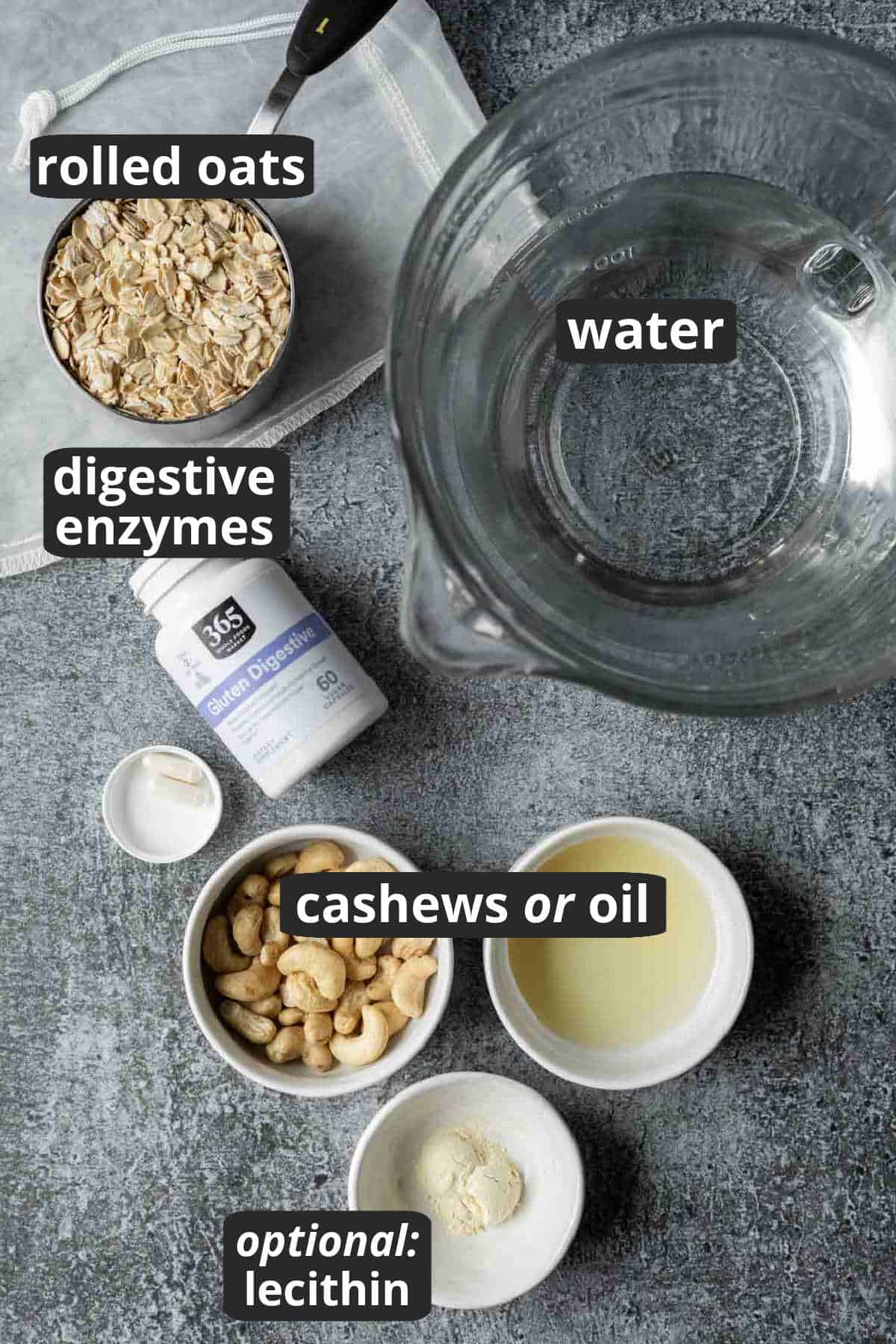 rolled oats - according to this article, some oat beverage manufacturers use oat flour, but for simplicity we're using regular, old fashioned rolled oats. Use certified gluten-free oats if needed.
digestive enzymes - as mentioned above, to break down the starch and avoid creamer that would get slimy in hot coffee, we're going to soak the oats with enzymes.
The most cost effective way to accomplish this is to use a digestive enzyme supplement that has both amylase and glucoamylase, like the two linked below. If you're shopping other brands, just make sure the product is vegan, has a similar amount of these two enzymes, and comes in capsules.
vanilla extract - for a flavor more similar to store-bought milks, I like to clear vanilla instead of pure vanilla extract.
fat - to make this oat creamer more like store-bought options (and half-and-half) we need to add some fat.

For a nut-free option, go with a flavorless oil like avocado, grapeseed, or canola.
For oil-free, raw cashews are a good option.

optional sunflower lecithin - if you go the oil route, adding a teaspoon of lecithin helps with emulsification and keeps the oil and water from separating during storage.
See the recipe card below for quantities and full instructions.
How to Make Oat Milk Creamer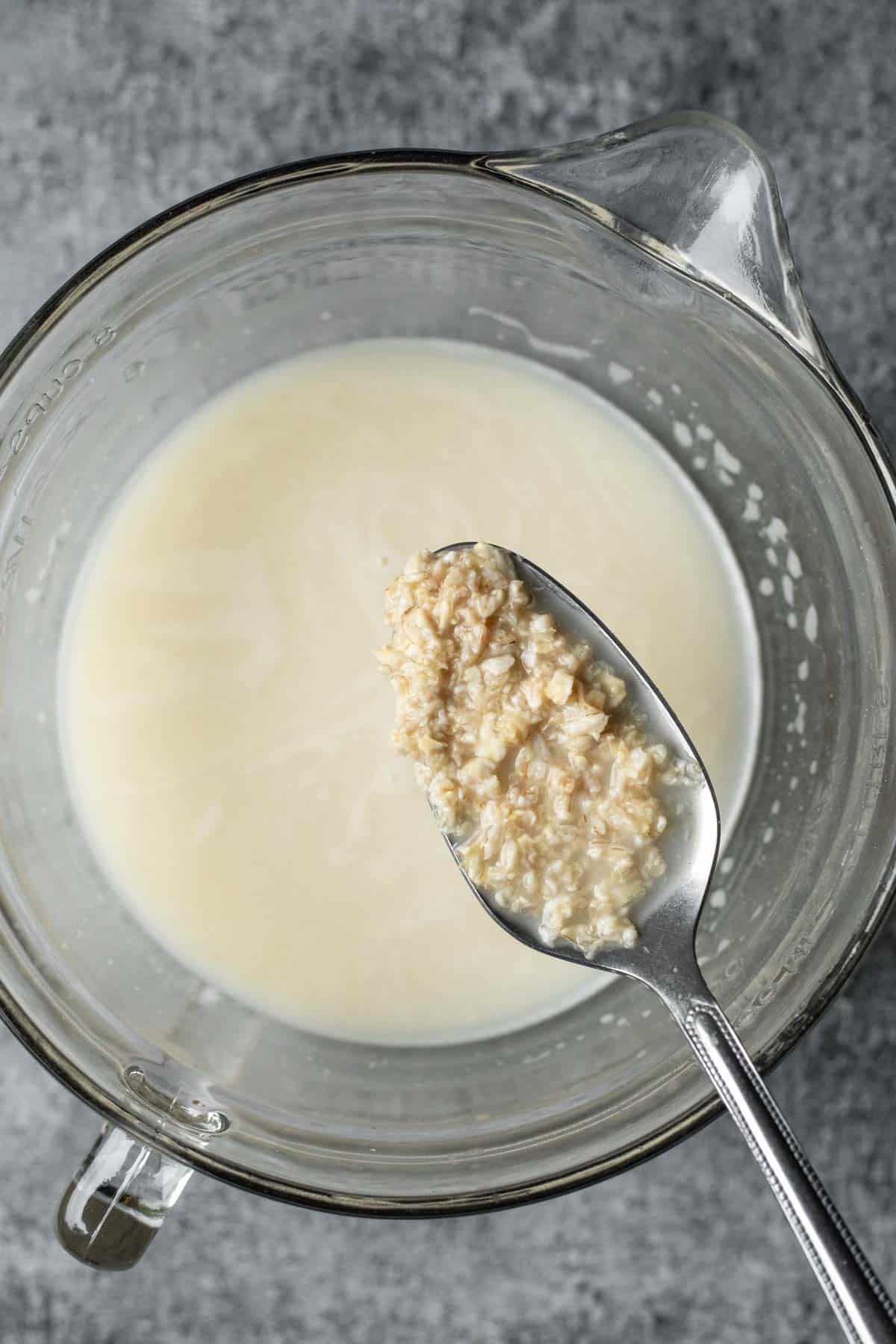 Soak the oats and enzymes in hot water.
Heat the water to about 150 degrees F. This helps the enzymes do their job! A thermometer is helpful here, but not necessary. Add the enzyme powder, and stir very well. Set aside for 30 minutes. During this time the water will develop a sweet flavor as the enzymes break down the starch.
Blend and strain.
Blend the mixture for 30 seconds (or a little longer if not using a high-speed blender). Strain the milk twice, into a large pot or saucepan.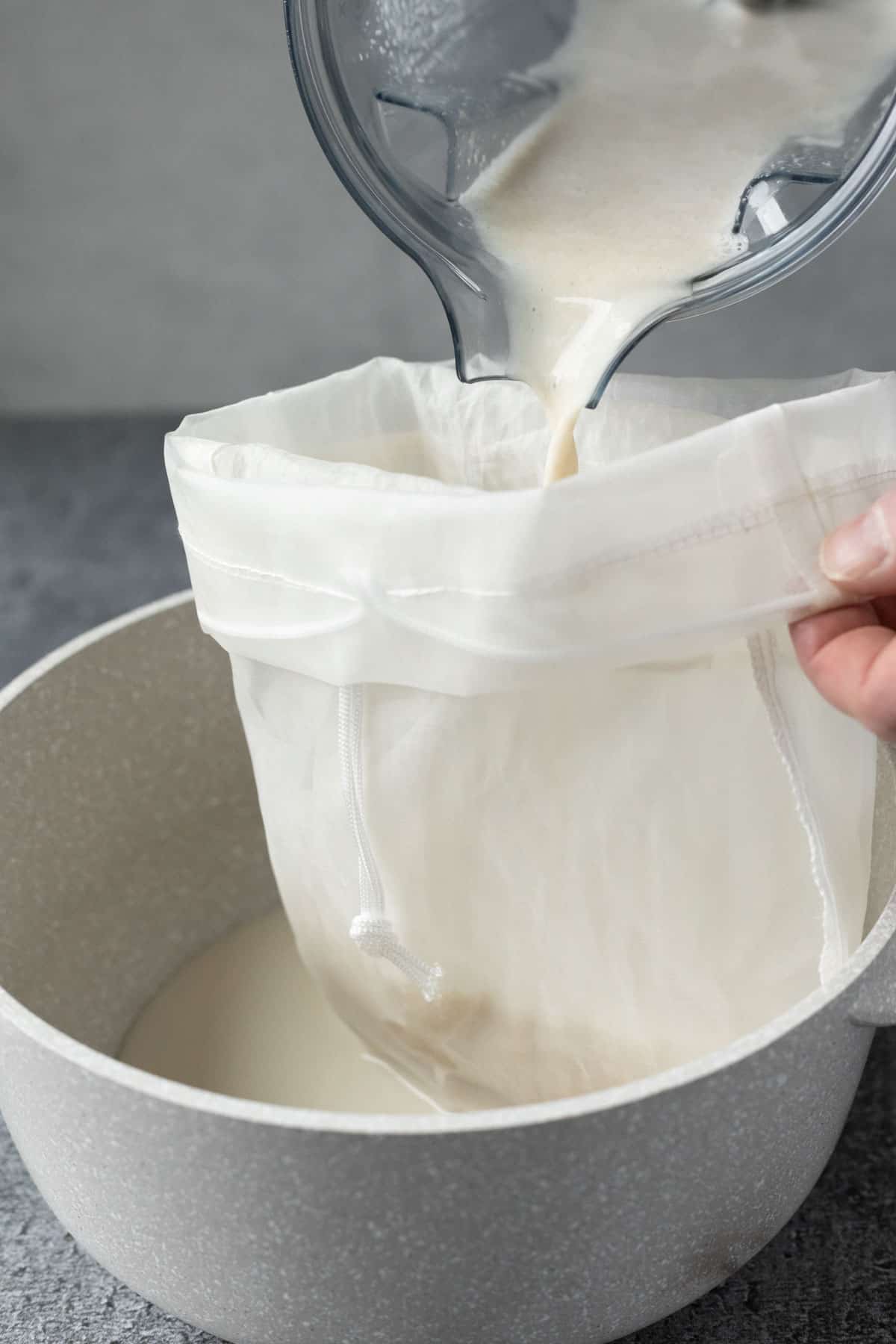 Tip! Most oat milk recipes tell you not to squeeze the bag because they're trying to avoid making the milk/creamer slimy. But since the enzymes have already taken care of any sliminess, it's fine to gently squeeze it to remove the oat cream.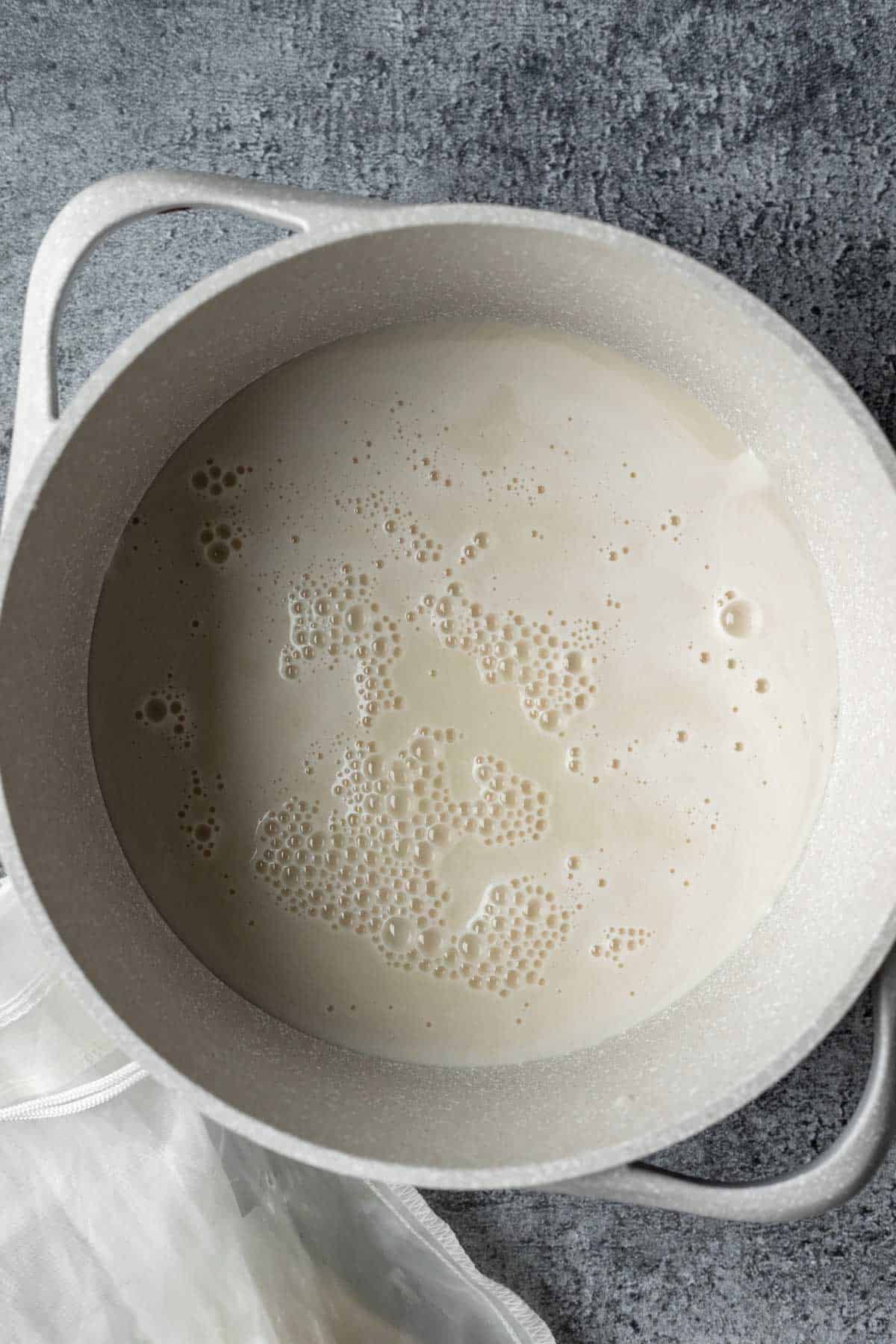 Homegenize.
Over medium heat and whisking occasionally, bring the oat creamer just to a simmer, about 190 degrees F. Remove from heat, and stir in the salt and vanilla.
Cool and add a fat. Let the oat cream cool for about 20 minutes so it's safe to put back in the blender. Now it's time to add the oil or cashews:
oil - while blending the oat creamer on high, remove the cap from the pour spout, and slowly drizzle in the oil. Stop and add the sunflower lecithin, and blend again to incorporate.
cashews - if you don't own a high-speed blender, getting the cashews completely smooth and creamy may be challenging.
Helpful Equipment
Equipment is obviously pretty important for this recipe. The great news is that once you have these items, you'll be able to make endless batches, reduce waste, and save SO much money!
large bowl - to soak the oats with the enzymes
blender - I use a Vitamix, but a standard blender should also work since the oats are very soft. It is a large volume, though, so you may want to blend it in two batches.
nut milk bag(s) - any type of strong nut milk bag should be fine. I like to strain the milk twice by placing one bag inside another.
thermometer - this is helpful for measuring the temperature of the water for the initial soak and while simmering the creamer during the final step.
large saucepan - During recipe testing, I found that heating the creamer in this final step improves the mouthfeel and helps prevent separation during storage. It's possible it also helps deactivate the enzymes so they won't continue to break down the oats, though I'm not positive. I do suspect this step helps the creamer last longer in the fridge.
Vegan Coffee Creamer Flavors
Do you have a favorite flavor of coffee creamer? Pretty much any flavor you can imagine, you can create at home!
Add spices, extracts, and sweeteners, or simply use vegan-friendly syrups. For homemade, check out Mel's vegan coffee syrup recipes over at A Virtual Vegan.
Tip! After preparing the basic creamer, I like to divide it among two or three small jars. I usually leave one plain and create one or two flavored creamers.
Here are a few flavors we've tested. Cinnamon roll is my favorite!
Per 1 cup of oat milk creamer, add:
cinnamon roll - ½ tsp ground cinnamon + 2 to 4 tsp sweetener
mocha mint - 2 tsp cocoa powder + ⅛ tsp peppermint extract + sweetener
toasted almond - scant ½ tsp almond extract + a few extra drops vanilla extract + sweetener
pumpkin spice - 1 tsp pumpkin spice + 1 Tbsp maple syrup or sweetener of choice
For a lightly sweet cup of coffee, using 2 teaspoons of sugar per 8 ounces of creamer is a good place to start.
If you prefer a very sweet creamer, you might like as much as 2 Tablespoons of sugar/sweetener per 8 ounces of creamer.
One cool thing about making your own flavored oat creamer is that you can choose the type of sweetener and decide how much to use.
If you're anything like me, the sweetened non-dairy creamers at the store are way too sweet. So it's really nice to be able to balance the flavors to suit your palate.
Storage
Homemade oat milk creamer keeps for 5 to 6 days. Store in a clean, lidded jar and keep refrigerated.
Is it cheaper to make your own coffee creamer?
Yes! By my quick calculation, homemade oat milk creamer costs about ¼ as much as the specialty vegan coffee creamers at the store.
Taking into account the cost of organic oats (approximately $0.70), one capsule of the digestive enzymes ($0.17), water, vanilla, and oil, it costs a little over $1 to make this recipe. At 2.25 cups per batch, that's $0.11 per 4 Tbsp.
By comparison, Califia Farms Unsweetened Oat Creamer is usually around $5.80 for 25 fluid ounces. That comes out to $0.47 per 4 Tbsp.
You Might Like
I hope you love this oat milk creamer as much as we do! If you try the recipe and experiment with flavors, be sure to comment below and let us know!
📖 Recipe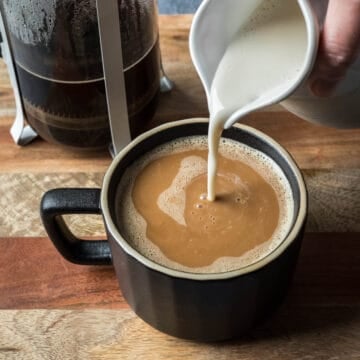 Oat Milk Creamer (Like Store-bought!)
Want to lear how to make the best dairy-free oat milk creamer? After a lot of research and testing, we figured out an easy and affordable way to make vegan coffee creamer with oats. It has that perfectly subtle, sweet cream flavor that tastes so great in coffee... and there's no sliminess. See the Notes for oat creamer flavors.
Yield: makes 2 ¼ cups, or 18 fluid ounces
Instructions
Soak, blend & strain
Heat the water to approximately 150 degrees F (66 C). I like to microwave it in a large bowl. At this temp it will feel very hot but won't immediately scald you.

Add the oats to the water, and open one digestive enzyme capsule. Dump the powder into the bowl, and discard the capsule. Stir very well to distribute the enzymes. Set aside for about 40 minutes (I like to stir occasionally during this time). After 30 to 40 minutes the water should taste slightly sweet. If it doesn't, either the enzymes aren't working or the water wasn't the correct temperature. If you think the water was too cool, microwave the bowl for 20 to 30 seconds to raise the temperature, and check again in 10 minutes.

Pour the oat-water mixture into a full-size blender. Starting on low, quickly increase to high speed, and blend for 30 seconds. If not using a Vitamix or other high-speed blender, you may need to blend in two batches due to the large volume.

Use a nut milk bag to strain the oat milk into a large heavy-bottom saucepan. I like to place one nut milk bag inside another, for a double layer. Or you can strain it twice using the same bag (rinse in between uses). Since the starch has been broken down into sugars, it's fine to gently squeeze the bag to remove the creamer. This won't make it slimy.

Save the oat pulp for baking (recipes coming soon), or add it to smoothies.
Heat (homogenize)
Over medium heat and whisking frequently, slowly bring the oat creamer to a simmer. Aim for 195 degrees F. If you don't own a thermometer, look for these visual clues: tiny bubbles around the edges and slight movement in the center, like it's just about to reach a full simmer. Whisking, maintain this low simmer for another 20 seconds or so, then remove from heat. Whisk in the salt and vanilla.
Add nuts or oil
Let cool for about 20 minutes or until barely warm (so it's safe to put in the blender). Rinse out the blender jar, and return the creamer to the blender. For the cashew option, add them to the blender, and blend on high until completely smooth. Don't worry about over-blending! It's better to blend too much than too little in this case.

For the oil option, while blending on high, remove the cap from the pour spout and slowly drizzle in the oil. Add the sunflower lecithin and blend for a few more seconds.

Pour into a clean jar and place in the refrigerator uncovered. Once cool, cover the jar. Keep refrigerated and use within 5 to 6 days.
Notes
Enzymes - this is covered more fully in the post above. Look for a digestive enzyme blend similar to this 365 product or this one by NOW Supplements. Based on my experience, you'll get the best results if it contains both amylase and glucoamylase.
Flavored Oat Creamer Ideas - per 1 cup of oat milk creamer add:
For a lightly sweet cup of coffee, using 2 teaspoons of sugar per 8 ounces of creamer is a good place to start.
If you prefer a very sweet creamer, you might like as much as 2 Tablespoons of sugar/sweetener per 8 ounces of creamer.
Estimated Nutrition (per serving)
Serving:
4
Tbsp
Calories:
84
kcal
Carbohydrates:
9
g
Protein:
3
g
Fat:
4
g
Sodium:
50
mg
Nutrition information is an estimate and will vary depending on the exact amounts and specific products and ingredients used. We calculate this information using the online calculator cronometer.com.
Tried the recipe?
I love hearing from you! Share your feedback below.