Vegan lemon ice cream made with oats and bursting with fresh lemon flavor! This homemade oat ice cream is lower in fat and calories than most ice creams, yet still impossibly creamy thanks to a couple of tricks. Gluten-free and no coconut milk! Can be soy-free, too.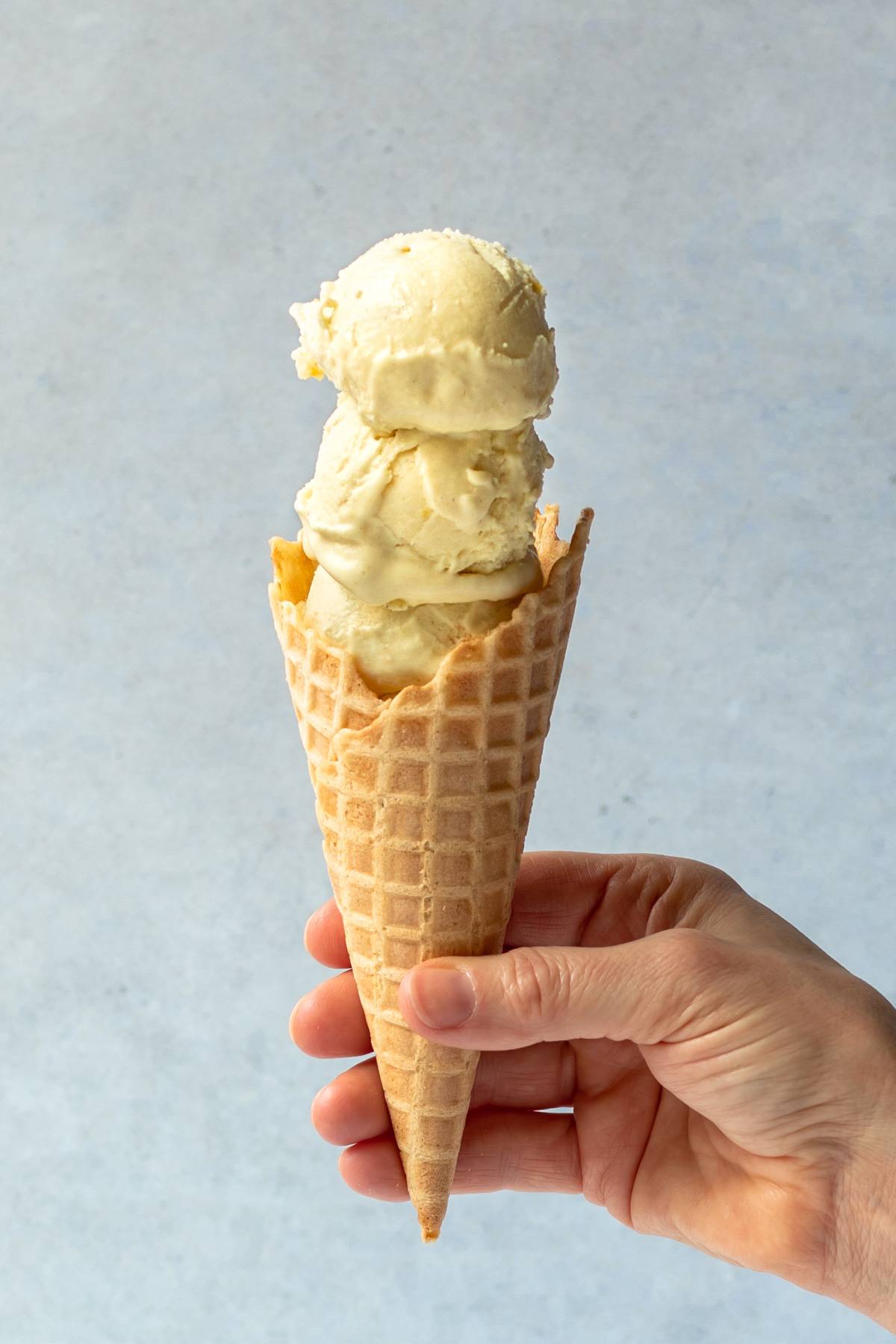 If you haven't tried homemade oat ice cream yet, you're in for a real treat! I've been experimenting with flavors since last fall, and each time I make a new batch I fall more in love.
First was this Pumpkin Oat Ice Cream, followed by this Vanilla-Maple flavor (super popular)! Then in November, with fresh cranberries so readily available, I whipped up this tart and tangy Cranberry Oat Gelato.
And this new Lemon Oat Ice Cream? Well, in our house we've decided this just might be our favorite flavor yet.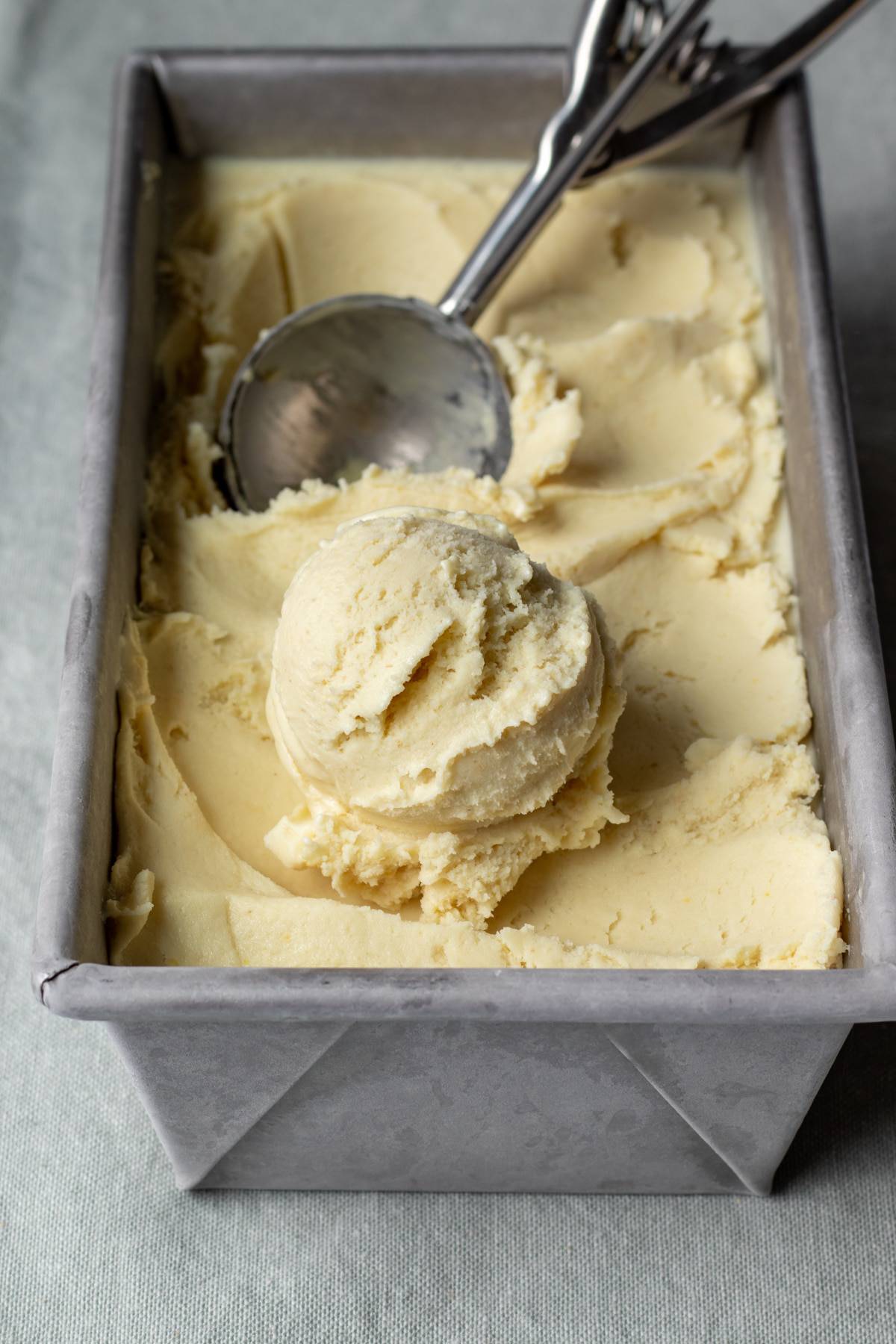 Homemade ice cream does require some special equipment, but overall the process is really simple. Let me walk you through it....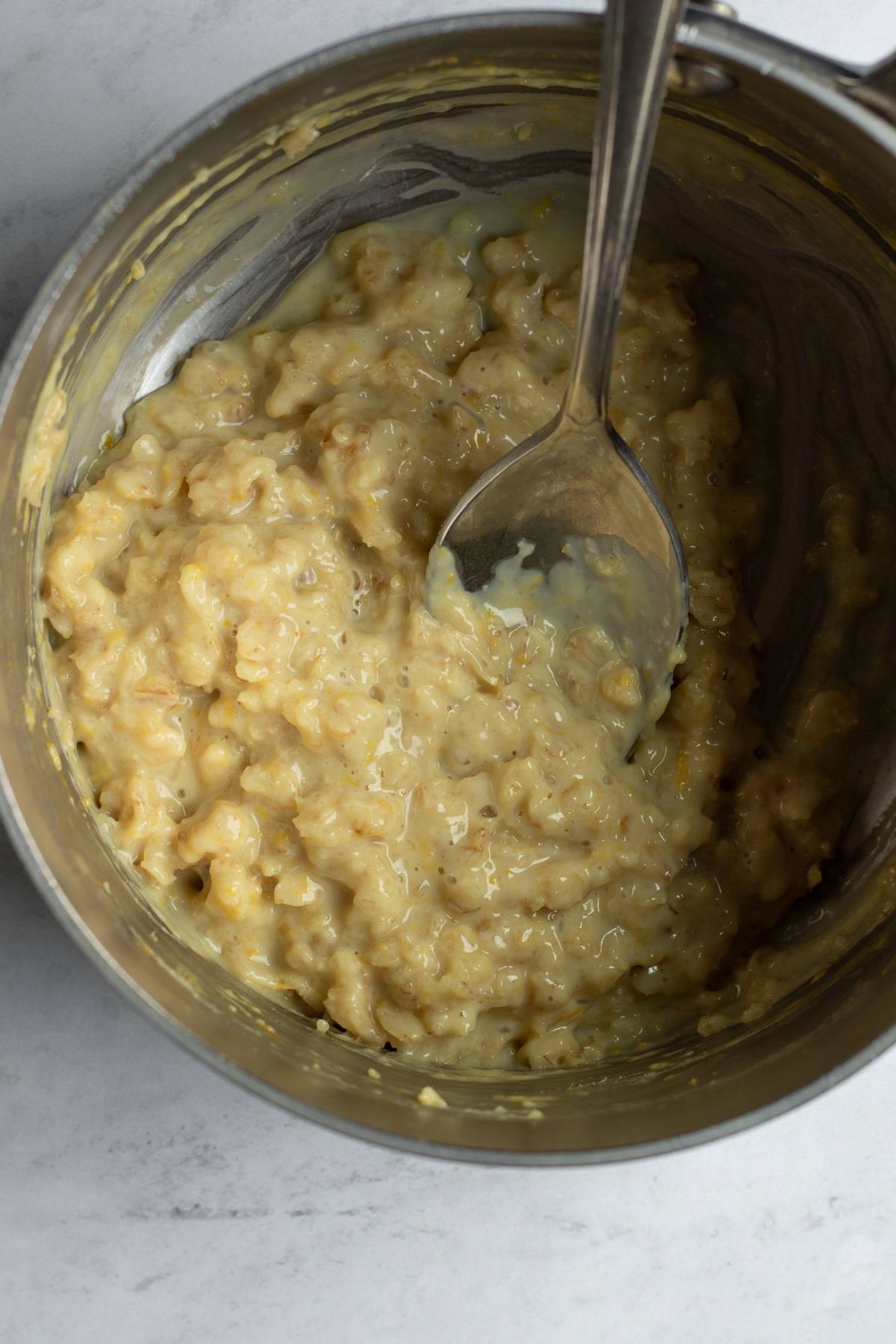 This is how the oats should look after simmering on the stove with one cup of milk and teaspoon of lemon zest.[/caption]
How to Make Vegan Lemon Ice Cream
Be sure your ice cream maker's canister has been in the freezer for at least a day.
Make oatmeal in a small sauce pan (including 1 teaspoon of fresh lemon zest), pictured above. Transfer to a bowl to cool.
Blend non-dairy milk and cashews until smooth. Add the remaining ingredients, including the oatmeal, and blend. *If you don't have a high speed blender, substitute raw cashew butter for the whole cashews.
Refrigerate the mixture until it's fully chilled (anywhere from 2 hours to overnight).
Churn the ice cream.
For a scoopable consistency, transfer the ice cream to a freezer-safe container and freeze for 3 to 4 hours.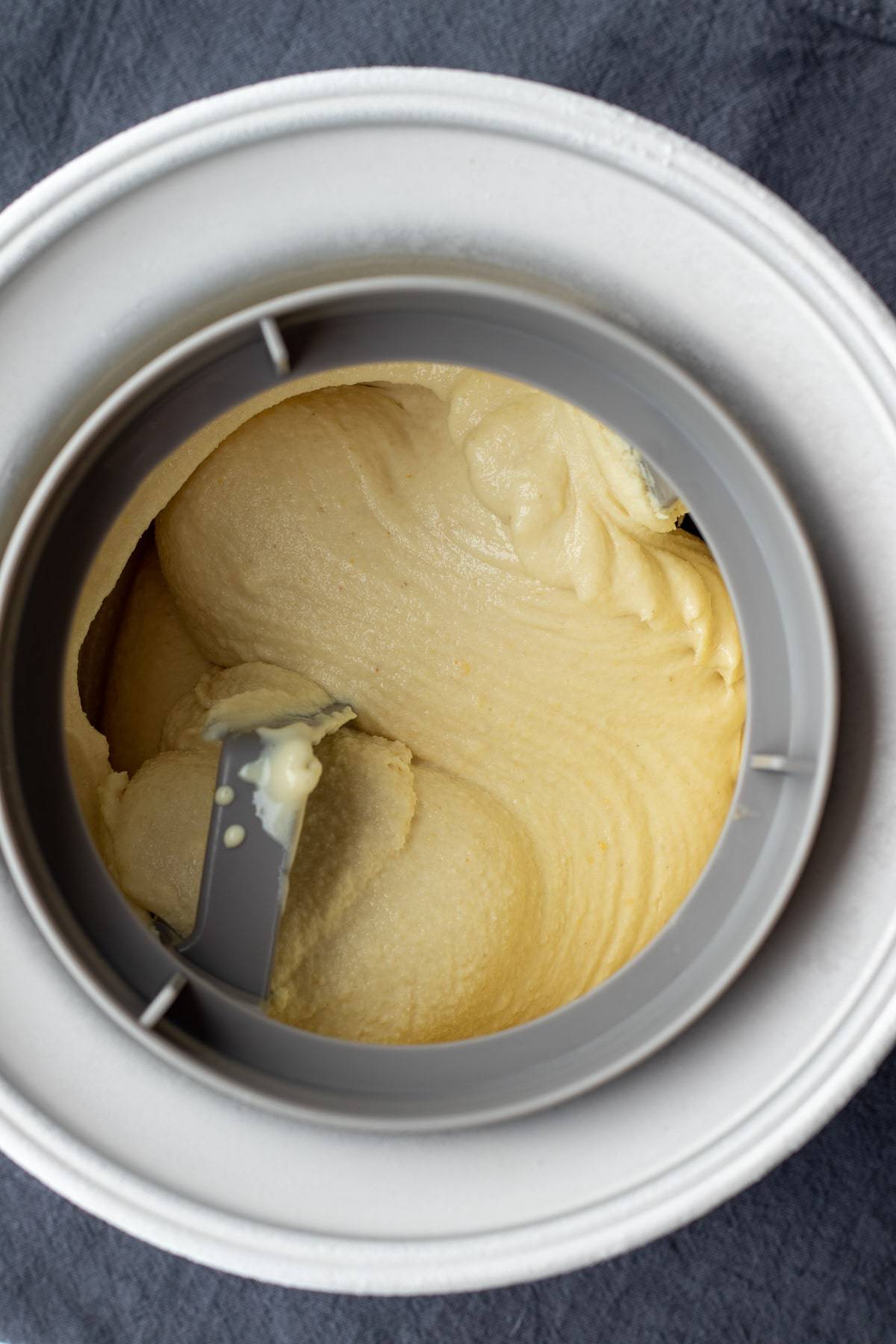 After churning the ice cream it will have an almost stretchy consistency, but don't be alarmed! That's just the oats working their magic.
If you've made oat milk before, you're probably aware that over-processing the oats can cause what's often described as sliminess. Well, after freezing the ice cream, that "slime" becomes super melty creaminess, and you're gonna love it.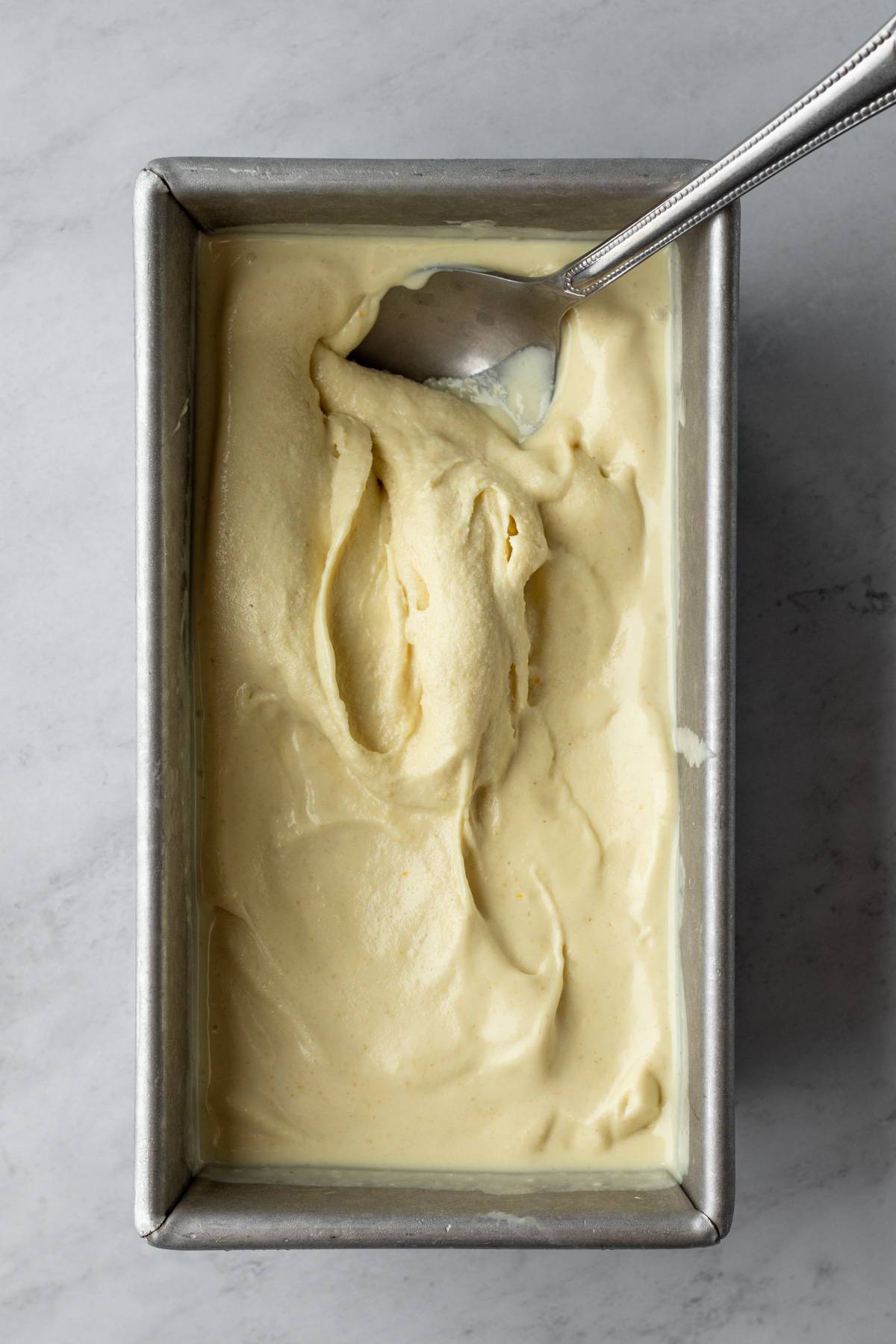 Using Alcohol to Keep Ice Cream Creamy
Since alcohol doesn't freeze, using a small amount of neutral-flavored spirit like gin or vodka is a well-known trick for keeping homemade ice creams softer straight out of the freezer. I resisted adding alcohol to the previous ice cream recipes simply because I wanted them to be appropriate for children or adults who don't consume alcohol.
But because this flavor includes 4 ounces of fresh lemon juice AND is lower in fat like the others (fat also keeps ice creams softer), including an ounce of alcohol in this one was pretty much a necessity. It helps to counteract the juice, and makes the consistency of the ice cream SO much better.
Also, those other ice cream recipes include vanilla extract, which contains alcohol, whereas this lemon flavor doesn't use extract.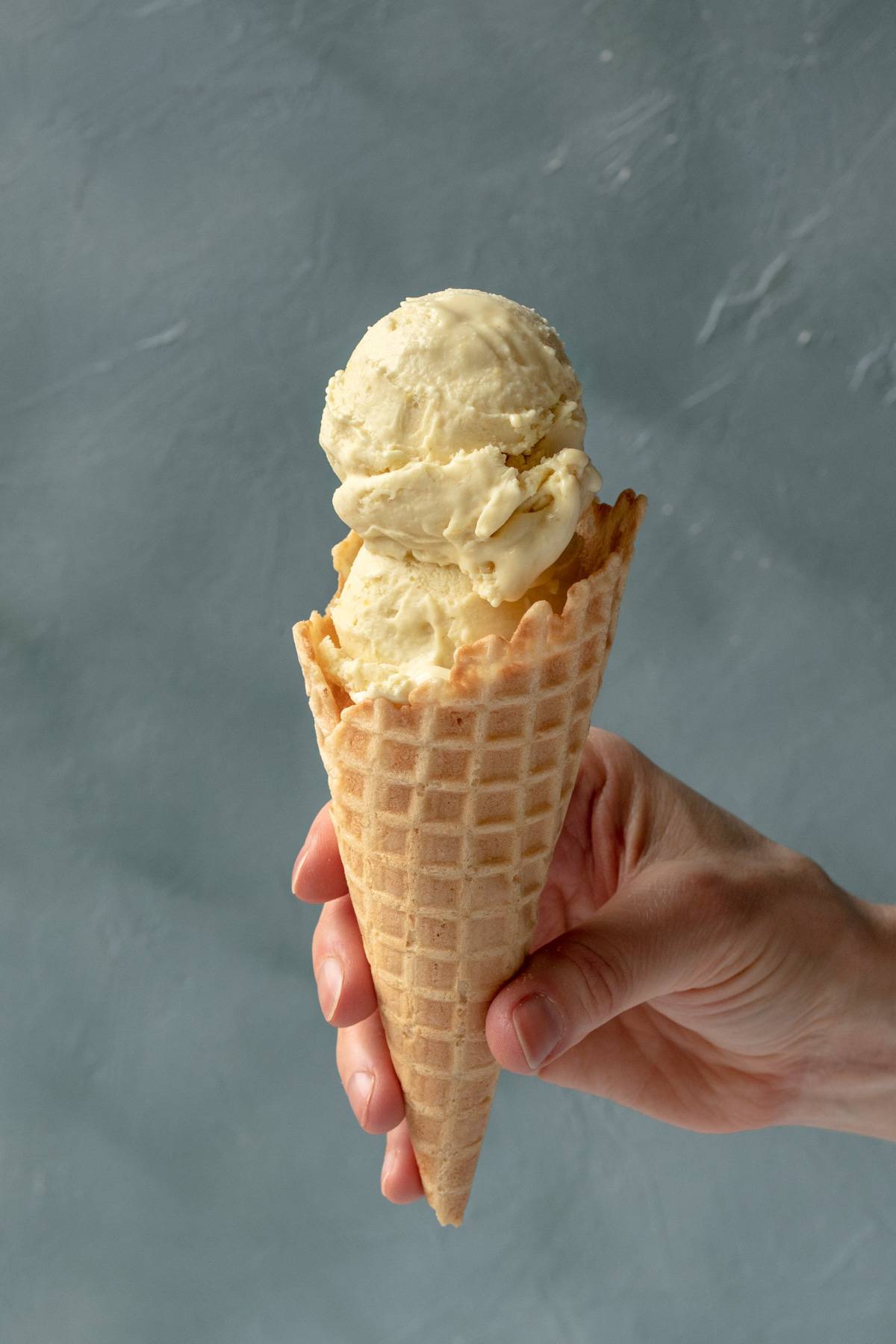 Recommended Milks for Homemade Vegan Ice Cream
My top two choices for this lemon ice cream are soy milk and oat milk since they tend to be creamier. These are the only two I've tested in this particular recipe, but feel free to use your favorite based on availability and/or dietary restrictions.
I don't recommend rice milk because it's thinner in consistency and lower in fat.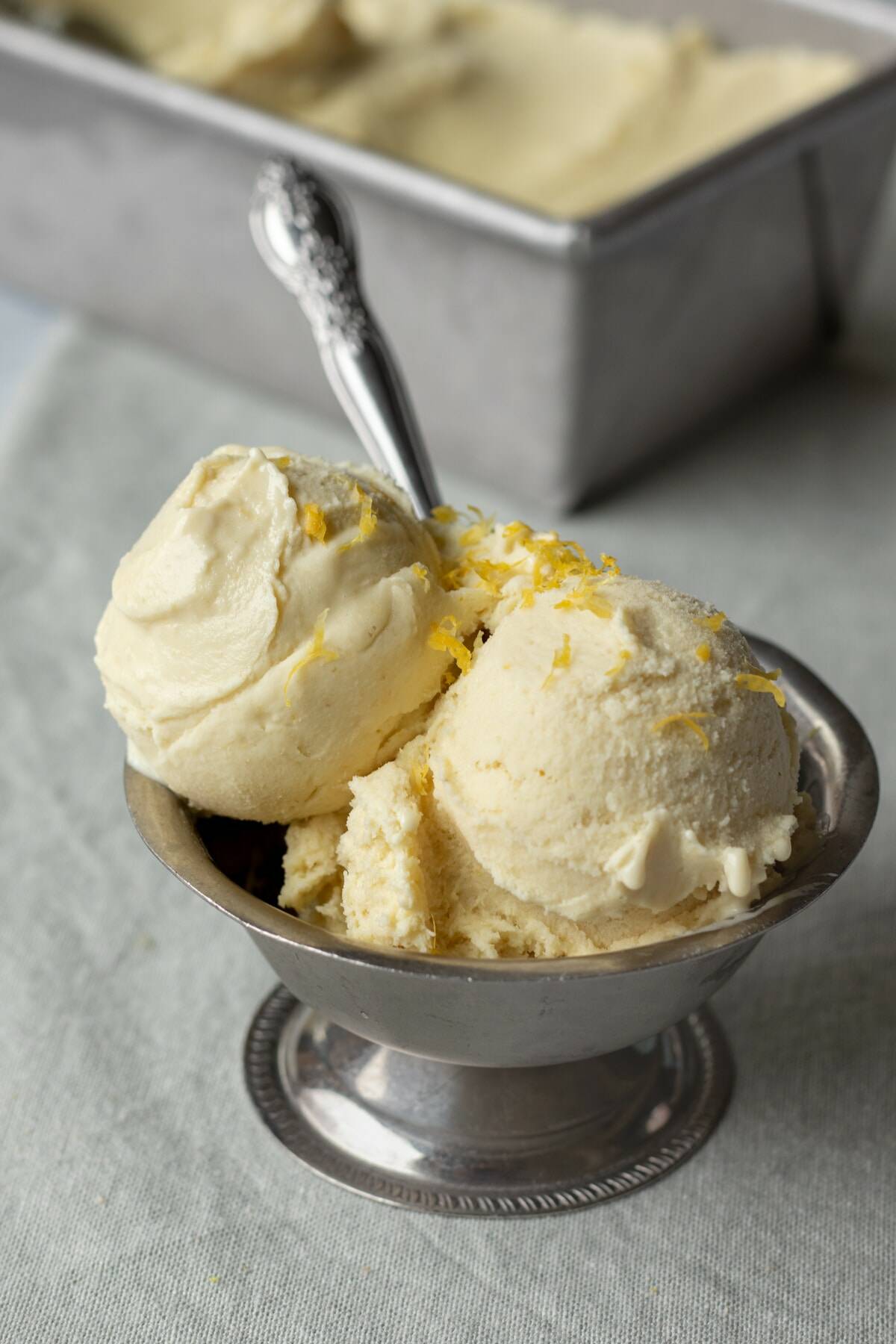 No-Churn Method
Personally, I don't think this ice cream recipe is a good one to use with the no-churn method. Since it's both low-fat AND contains lemon juice, an ice cream maker really helps produce the smoothest results. But if you don't mind some ice crystals and a slightly grainy appearance, then definitely go for it!
You can read more about the basic no-churn method in this Vanilla-Maple Oat Ice Cream post. Since that flavor doesn't contain juice, it's a better one to use if you're experimenting with no-churn.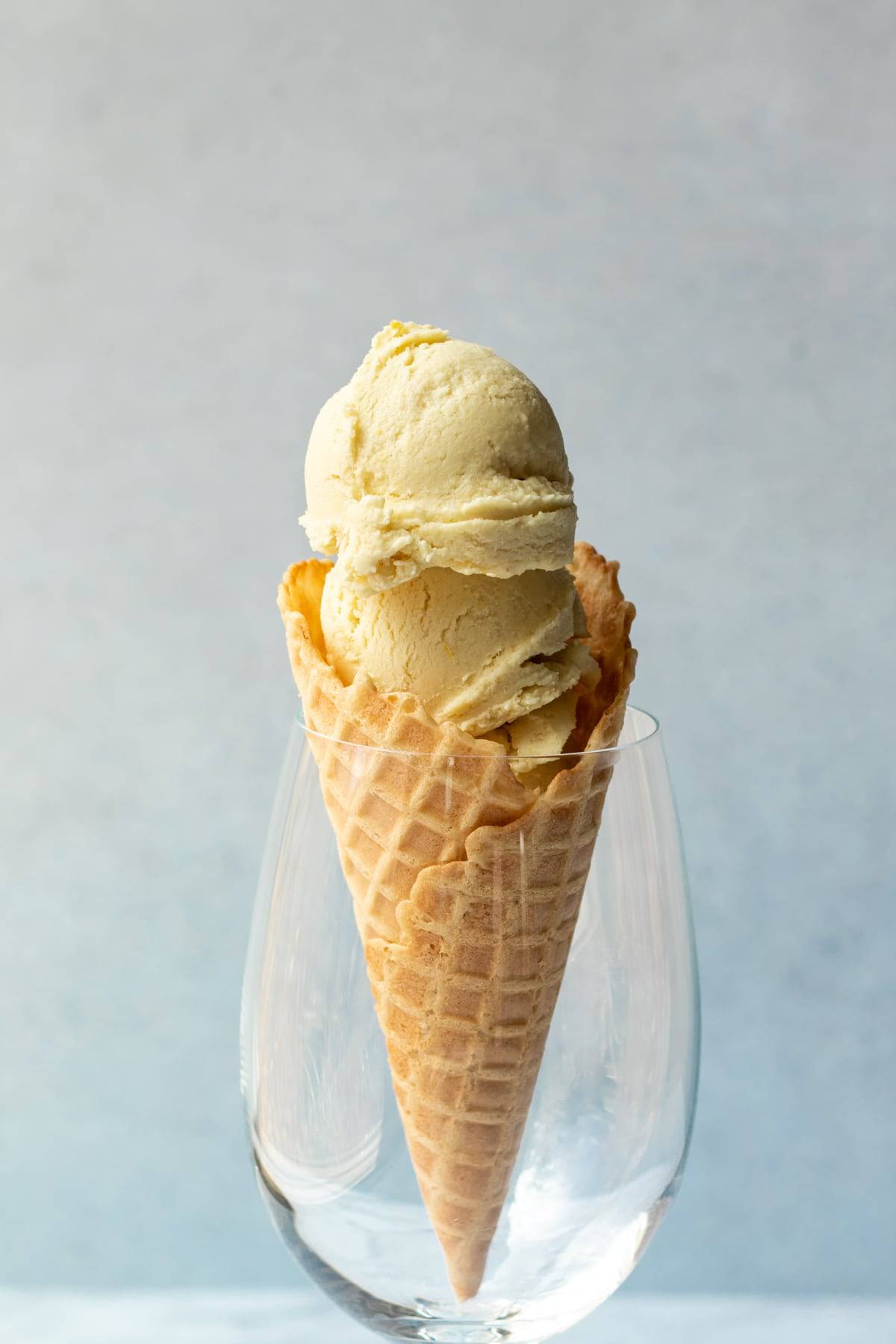 I hope you enjoy this Vegan Lemon Oat Ice Cream! Be sure to drop a comment and a star rating below if you give it a try. If you're on instagram tag a photo of your epic vegan ice cream with @myquietkitchen. I always love to see what you're making!
You might also like:
Vanilla-Maple Oat Ice Cream
Pistachio Oat Ice Cream (cashew-free)
Butter Pecan Oat Ice Cream
Cranberry Oat Gelato
Pumpkin Oat Ice Cream
Double Coconut & Ginger Ice Cream
Coconut Milk Popsicles - 2 Flavors
Oil-Free Gluten-Free Lemon Bars!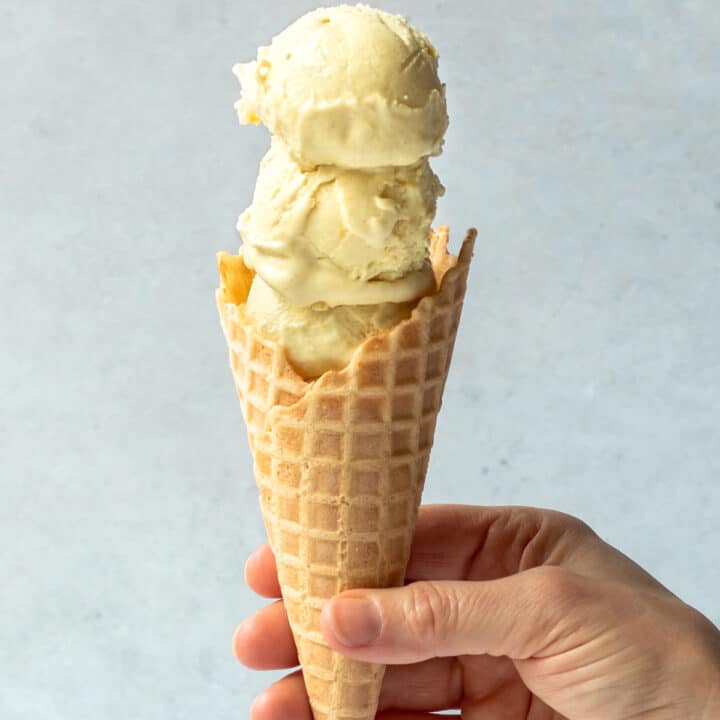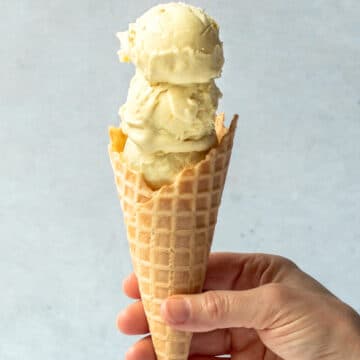 Vegan Lemon Oat Ice Cream
Perfect homemade lemon vegan ice cream, made extra creamy with cooked oats plus a splash of alcohol. Gluten-free, no coconut milk, and can be soy-free, too.
Inspired by and adapted from Miyoko Schinner's recipe for Low-Fat Vanilla Oat Gelato in The Homemade Vegan Pantry.
Yield: about 3.5 cups
Ingredients
3

cups

unsweetened non-dairy milk, such as oat or soy, divided

¼

cup

rolled oats

-

GF certified, if needed.

2 to 3

large

organic lemons (you'll need 2 tsp zest and ½ cup juice)

-

I only needed two lemons; it's good to have an extra on hand in case they're not very juicy.

1

cup

raw cashews

-

If you don't have a high speed blender, sub ½ cup raw cashew butter.

½

cup

organic cane sugar

-

See Notes for substitutions.

1

ounce

good quality gin or vodka

-

See Notes.

5 to 7

drops

plant-based yellow food coloring, optional -

I found this one at Whole Foods.
Instructions
Prep/Planning:
Be sure to put the canister of your ice cream maker in the freezer at least one day before you plan to churn the ice cream.

Also note that the ice cream mixture needs time to chill before churning (at least 2 hours), and the churned ice cream needs about 3 hours in the freezer for a firmer, scoopable consistency.
Make the ice cream:
Zest two lemons, which should provide about 2 teaspoons of zest.

In a small sauce pan, combine the oats, 1 teaspoon of zest, and 1 cup of the milk, and bring to a simmer. Stirring regularly, cook until the oats are soft, about 8 minutes. Immediately transfer to a bowl to cool.

Juice the lemons until you have ½ cup of juice (4 oz). In a blender combine the remaining 2 cups of milk and the cashews. Blend on high until smooth. Add the other teaspoon of lemon zest, lemon juice, oatmeal, sugar, and alcohol, and blend again. Add a few drops of yellow coloring, if desired. Refrigerate the ice cream mixture until cold.

Churn the mixture according the instructions for your ice cream maker. The ice cream will be similar to soft serve consistency. For a firmer, scoopable ice cream, transfer it to a freezer-safe container, and freeze for 3 to 4 hours.

Even with the addition of alcohol, once the ice cream has frozen overnight, it will be very firm straight from the freezer. Let it soften at room temperature for about 15 minutes for easier scooping.
Notes
Sweetener options:
For the most pure lemon flavor, I recommend cane sugar in this recipe. Other sweeteners like maple syrup and coconut sugar will work, too, but the color and flavor of the ice cream will be affected. Taste and adjust sweetness after blending the ice cream mixture.
Alcohol:
Because this ice cream includes 4 ounces of fresh lemon juice and is low in fat (for ice cream), a small amount of alcohol helps maintain a creamy texture and prevents the ice cream from freezing so solidly.
But more isn't always better! If you add more than 2 ounces the ice cream may not freeze properly.
Curious about no churn?
The consistency of this ice cream is best with an ice cream maker. If you don't have one and don't mind a slightly less smooth appearance, check out my recommendations for the no-churn method in this post.
Storage:
Store ice cream in an airtight container in the freezer.
Once ice cream is fully frozen (overnight), it will be too hard to scoop. Let it sit at room temperature for 10 to 15 minutes before serving.
Nutrition facts calculated using plain soy milk.
Estimated Nutrition (per serving)
Calories:
198
kcal
Carbohydrates:
24
g
Protein:
7
g
Fat:
9
g
Cholesterol:
0
mg
Sodium:
39
mg
Fiber:
2
g
Sugar:
16
g
Vitamin A:
215
IU
Vitamin C:
8
mg
Calcium:
140
mg
Iron:
1.8
mg
Nutrition information is an estimate and will vary depending on the exact amounts and specific products and ingredients used. We calculate this information using the online calculator cronometer.com.
Did you try the recipe?
I LOVE hearing from you! Comment below to let us know.