Affordable, easy to prepare, and healthy, this oil-free granola is vegan, gluten-free, refined sugar-free, and a blank slate for all of your favorite flavors! Just mix the ingredients, spread on a baking sheet, and bake for about 30 minutes. Easy!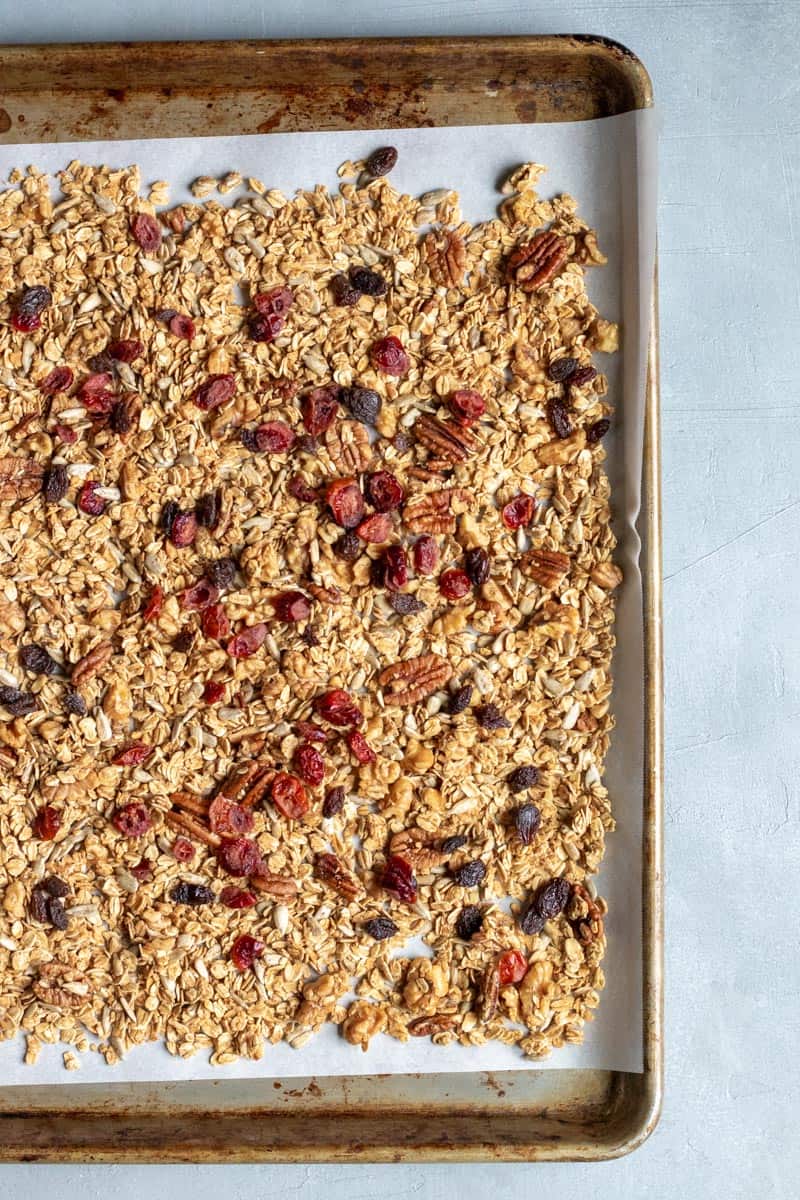 If there's a generalization I feel I can safely make about vegans, it's this..... we like to question things. And I don't know about you, but I think that's a really, REALLY positive trait! Questioning the status quo is profound, and can lead us to break from long-held traditions that don't fit us anymore, especially traditions that cause harm. But the urge to ask questions can also apply to simple, small things, like asking why a dish typically considered healthy is so often packed with ingredients like refined oils and sugars. I mean, really?
For granola, I guess I'd assumed the oil was needed in order to achieve that crunchy texture we all love. But what if one day you just decided to omit the oil... and it worked?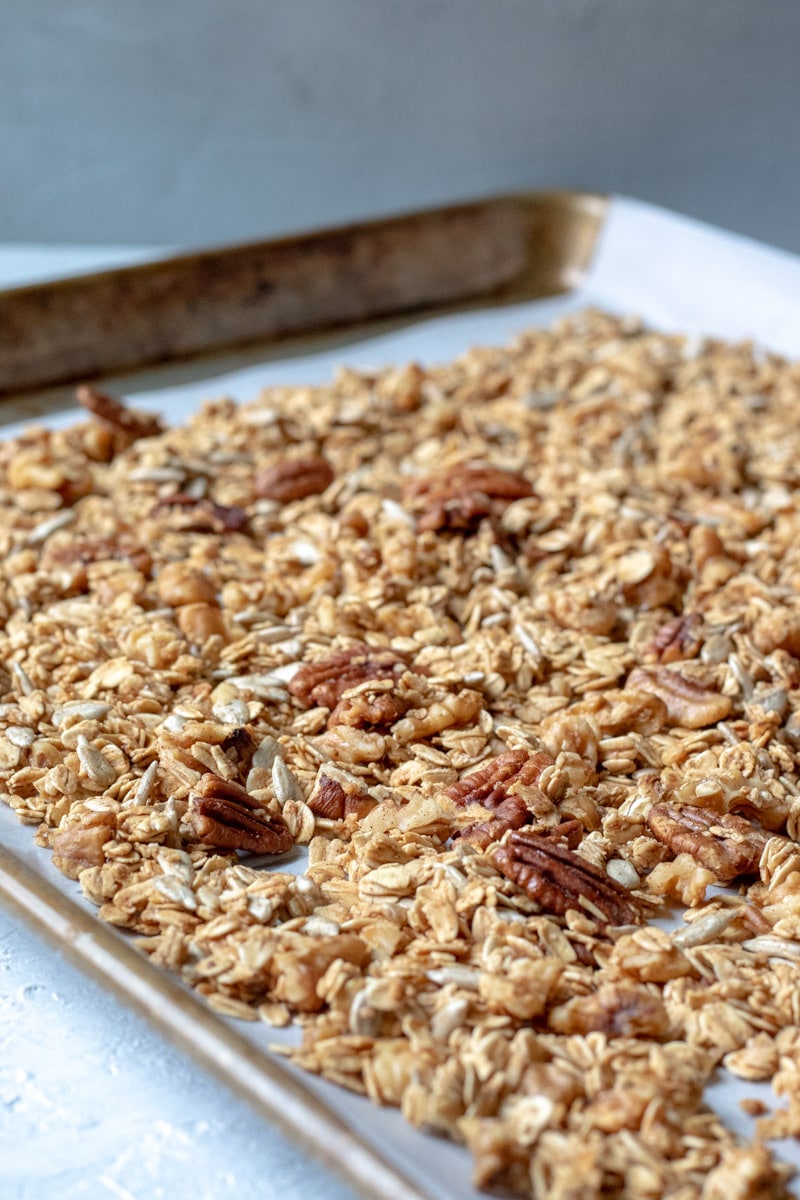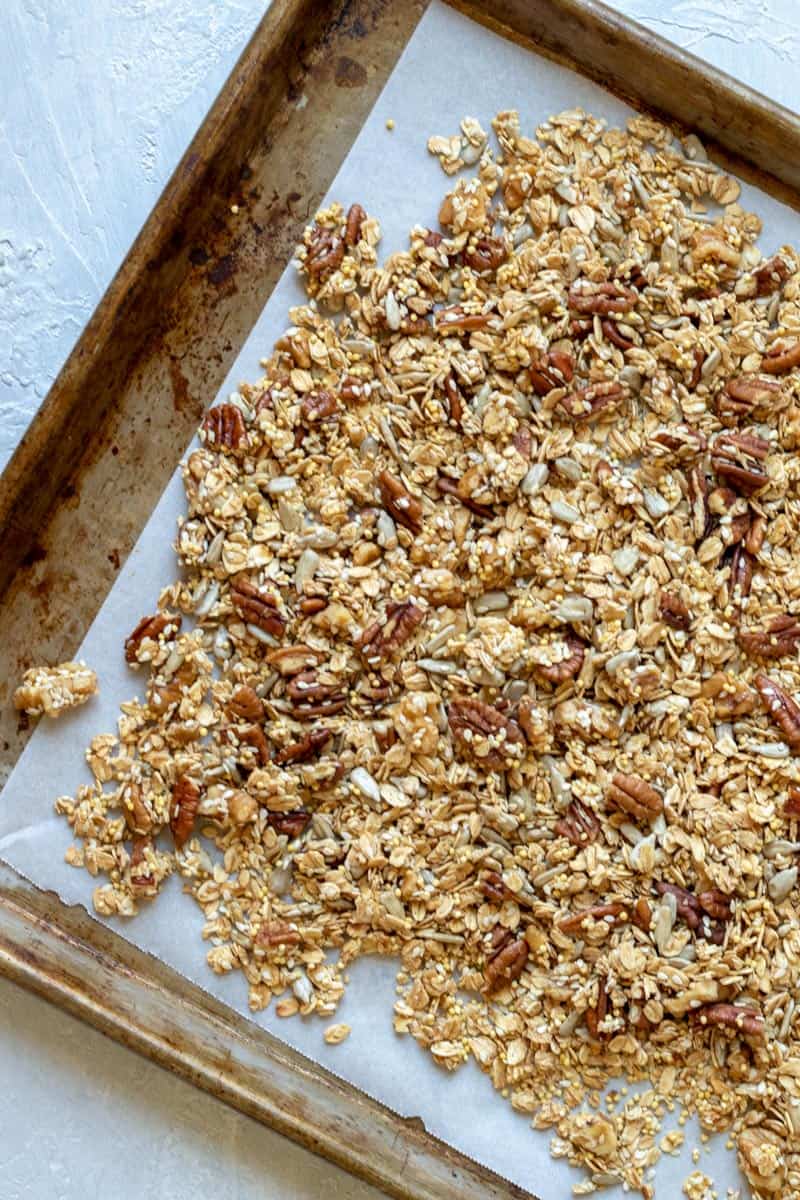 So, what's the problem with oil anyway?
If you've noticed an "oil-free" trend in recipes online but aren't really sure what it's all about, here's a brief summary, along with a few links in case you want to read more:
Oils are very much a "processed" food. They are extracted from an otherwise healthy, whole-food and stripped of the naturally occurring fiber, protein, water, carbohydrates, and other nutrients. So, you're left with a concentrated, high-calorie substance that contains no nutrients. A better choice is to eat the olive, nut, seed, or avocado in its whole, natural state.
Many oils have a low smoke point and create free radicals when heated during cooking.
Research shows that when we consume oil, it can damage the innermost lining of our arteries. This is the basis (and exacerbation) of vascular disease. (Animal foods also cause endothelial damage, as well as other issues.)
From a weight control stand point, oil is the most condensed form of calories we can consume. With so many of us struggling to maintain a healthy weight these days, it's helpful to remember that oil packs 120 calories in one teeny, tiny tablespoon, with no nutritional benefit.
Now, having said all that, I admit that I don't avoid oil 100% of the time. Most of the time? Yes. And it's very easy. But if I'm dining out or in the mood for store-bought chips or a vegan convenience food that contains some oil, I enjoy those, too. If you're interested, you can read more about my food philosophy on the About page.
Some argue that a small amount of oil can help us enjoy our food more, contribute richness and a more pleasurable mouthfeel, and even help us feel more satiated from a smaller amount of food. I can see those points, too. However, it really does seem that any person with cardiovascular and related diseases should take a hard look at the evidence and consider an oil-free, whole-food vegan diet. This way of eating gives the body the best opportunity for healing.
To learn more about a whole-food, oil-free diet, check out Forks Over Knives (website, documentary, and books) and the works of Dr. Caldwell Esselstyn. In reading their books and articles, you'll come across other important names, such as Dr. Michael Greger, Dr. Neal Barnard, Dr. John McDougall, Dr. T. Colin Campbell, and more. Just keep following the bread crumbs and stay hungry for information!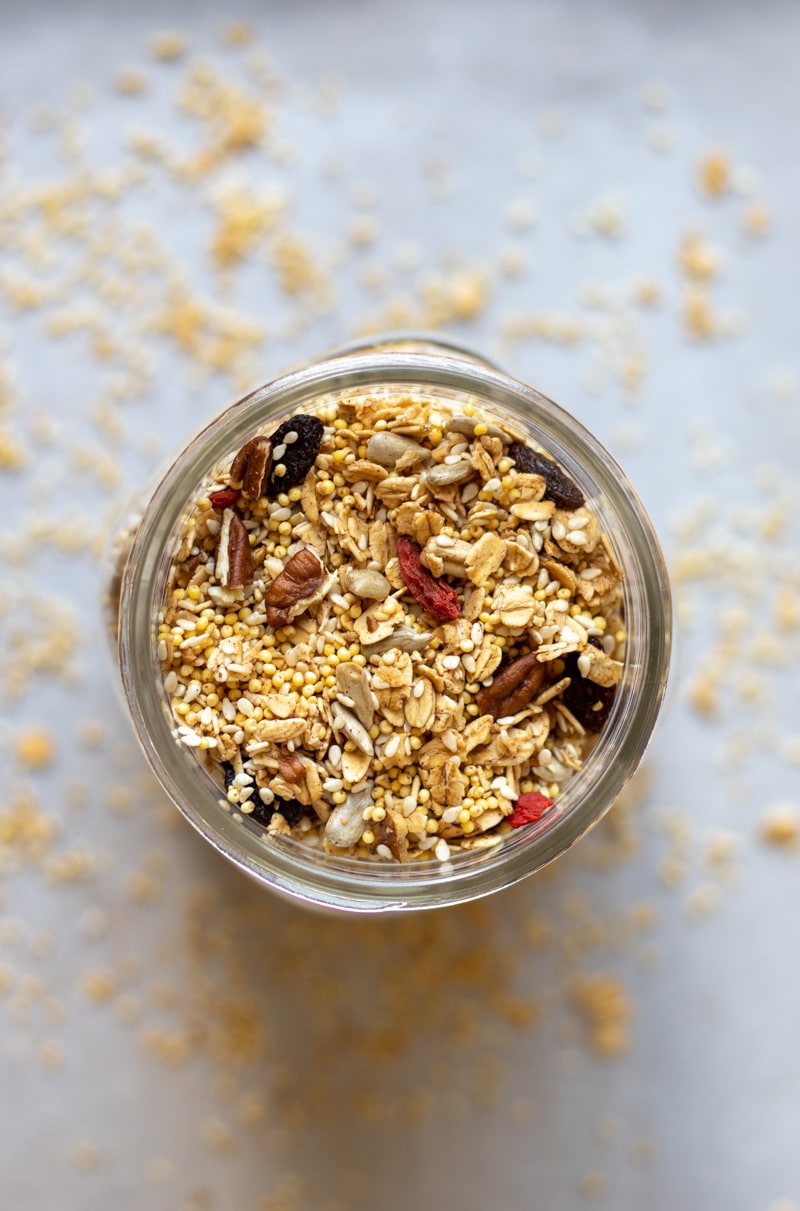 Back to granola. Another ingredient you'll find in most store-bought granolas is honey. Since most vegans choose to avoid honey, it's just one more reason to go the homemade route. Add to that, that making granola is one of the least fussy processes you can imagine, and I can't think of a single reason to buy packaged granola ever again!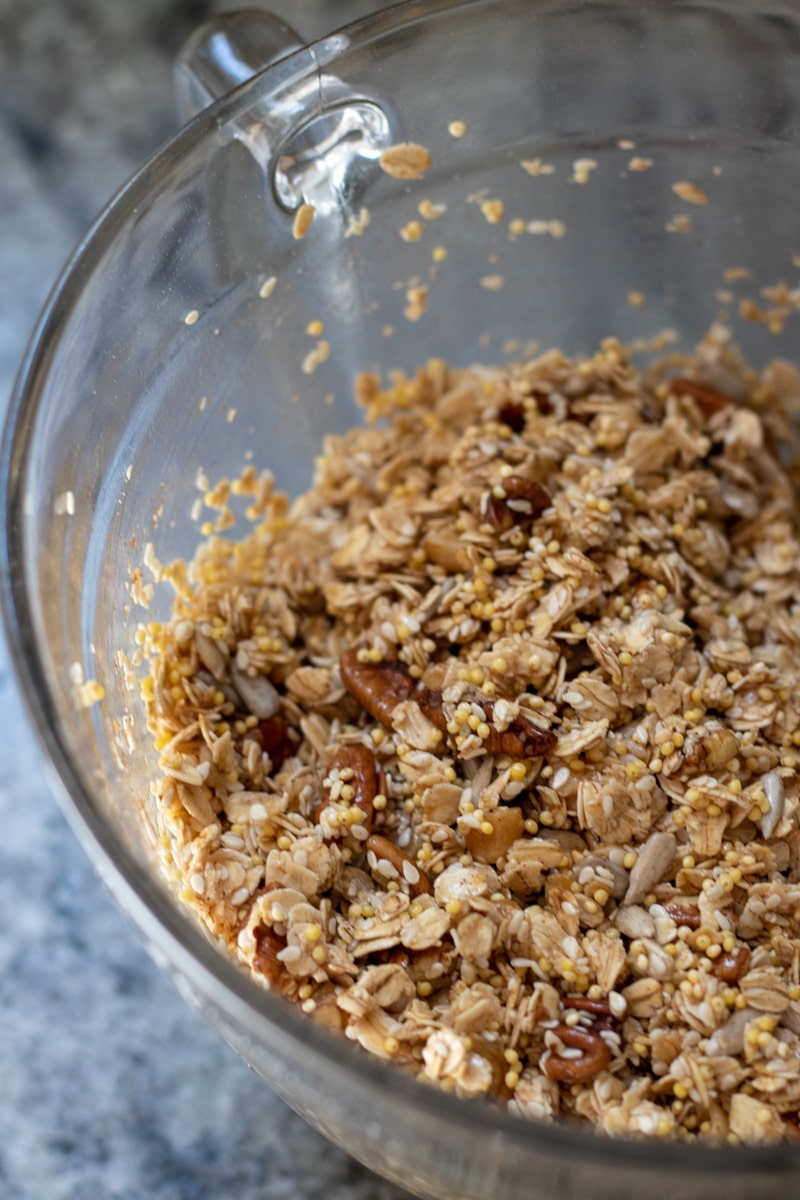 You may have noticed these photos are of two different batches. The first two photos are of granola made mostly of rolled oats, with some nuts, seeds, and dried fruit thrown in the mix. In the other photos, look closely and you'll see tiny, golden orbs. It's millet! Oh, how I love millet. Though it's usually cooked in water and can create a pilaf texture or even a soft, porridge-like dish, it doesn't have to be cooked that way. Rinsed and baked, millet retains a wonderful crunch, adding lovely texture to granola. If you're not into the idea of using millet, just stick with oats, or experiment with a mix of oats and puffed cereal grains.
In the millet version, I also added sesame seeds, which I love. If you're not a fan of the strong flavor of sesame, choose other seeds like pumpkin, sunflower, hemp, or flax. The bottom line with granola is, there are (almost) no rules! As long as you stick to the somewhat forgiving ratio of wet to dry, it will turn out great.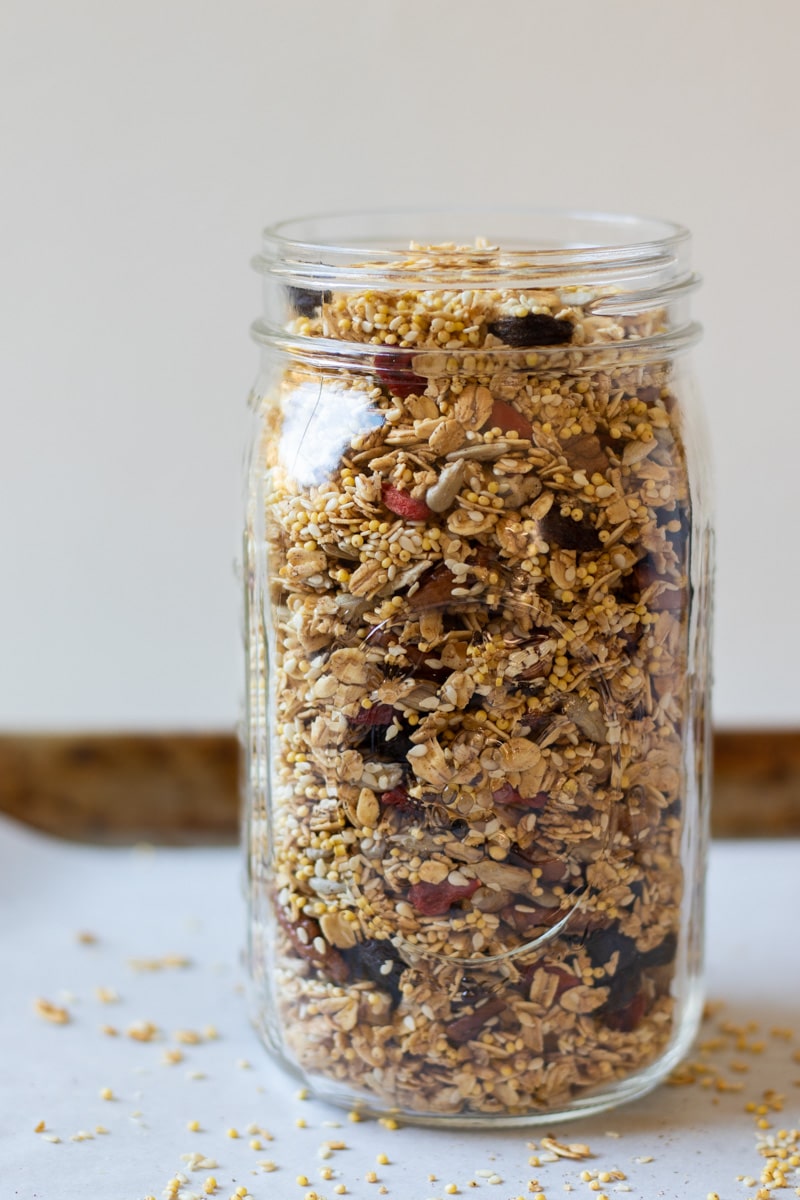 Don't forget to play with the spices, too! In the mood for pumpkin spice? Go for it. Want to add vanilla, almond, or other extracts? Definitely do it.
When you whip up a delicious and aromatic batch of granola I hope you'll share the details with us here in the comments, or tag @myquietkitchen on instagram. Let's see your creativity!
You might also like: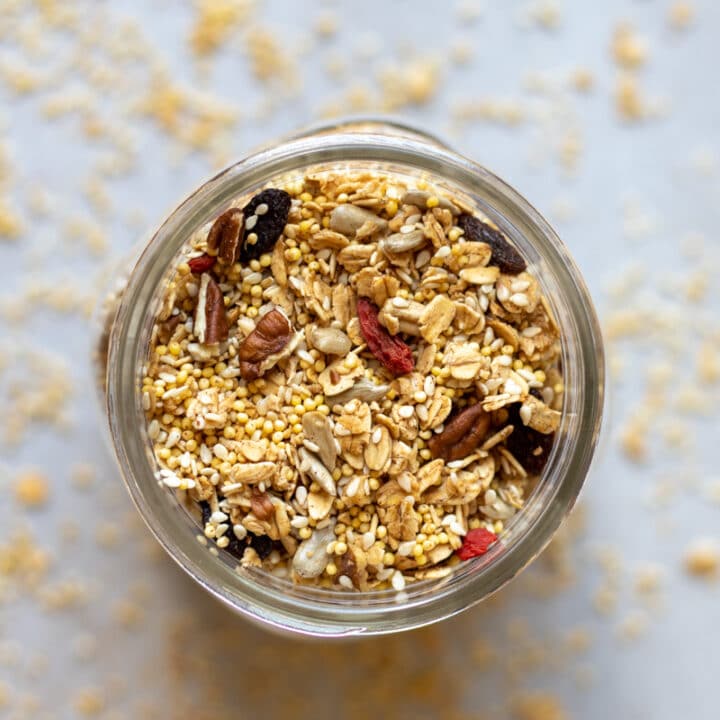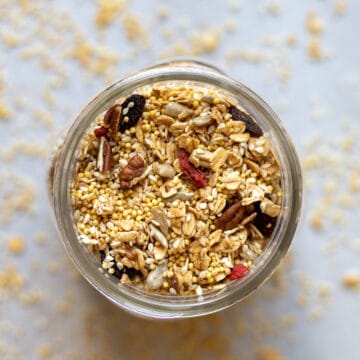 Crunchy Oil-Free Granola
Healthy, crunchy, homemade granola that everyone will love. No need to buy the oil-laden, sugar-sweetened, overpriced stuff in the stores ever again!
Ingredients
2 1/2

cups

rolled oats (for the millet version, use 2 1/4 cups oats and 1/4 cup rinsed and drained millet)

1/4 to 1/3

cup

any combination of raw seeds, such as sunflower, pumpkin, sesame

1

cup

any combination of raw nuts, such as walnuts, pecans, cashews, almonds

1/2

cup

maple syrup (plus an add'l 2 Tbsp for sweeter, slightly stickier granola)

1/2

tsp

sea salt

3/4

tsp

ground cinnamon

1/4

tsp

ground ginger

1/2

cup

mixture of dried fruit, such as raisins, goji berries, cranberries, cherries, chopped dates, optional
Instructions
Preheat oven to 300 degrees. Line a large baking sheet with parchment or a silicone mat.

Combine the oats, millet, nuts and seeds in a large bowl. Whisk together the maple syrup, salt, and spices in a small bowl. Pour the maple syrup mixture over the dry ingredients and stir until everything is thoroughly coated.

Spread the granola onto the prepared pan and bake 30-35 minutes, stirring at the 15-minute mark. For crunchy granola, you want everything to appear fairly dry. If you check the granola around the 25- to 30-minute mark and parts are still moist, stir and bake for several more minutes.

Let the granola cool completely on the pan, then add dried fruit. Store in an airtight container at room temperature. For extended storage, granola can also be kept in the refrigerator or freezer.
Notes
Store in an air tight container in the refrigerator for up to two weeks.
Nutrition
Calories:
255
kcal
Carbohydrates:
39
g
Protein:
6
g
Fat:
9
g
Saturated Fat:
1
g
Sodium:
167
mg
Fiber:
4
g
Sugar:
17
g
Vitamin A:
1400
IU
Vitamin C:
6.6
mg
Calcium:
50
mg
Iron:
2
mg