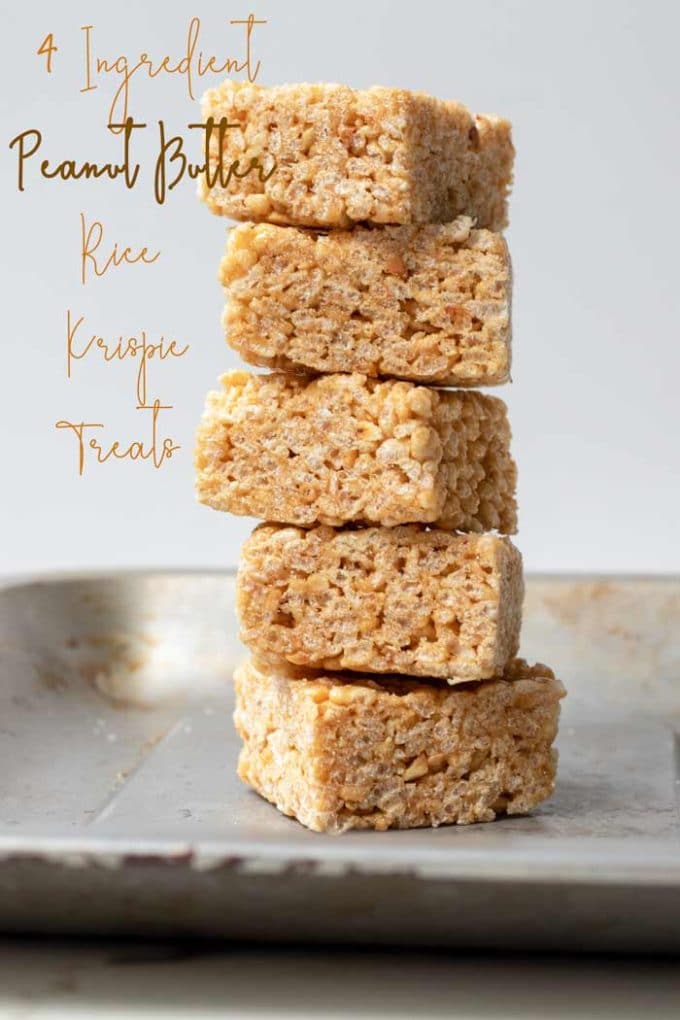 Quick, easy, delicious AND healthy? There is SO much to love about these vegan peanut butter rice krispie treats.
Years ago I came across Dreena Burton's recipe for Nicer Krispie Squares, a healthy, vegan version of the classic treat. But instead of the macadamia nut or coconut butter called for in her brilliant original recipe, I subbed peanut butter, and folks, the rest is history. I can't even venture a guess at the number of times I've made these treats (my friends can attest). I just can't get enough of this perfect treat!
Short on time? Invited to a potluck or cookout and need something that everyone will like? Need a dish that will travel well and endure all weather situations and temperatures? This is it.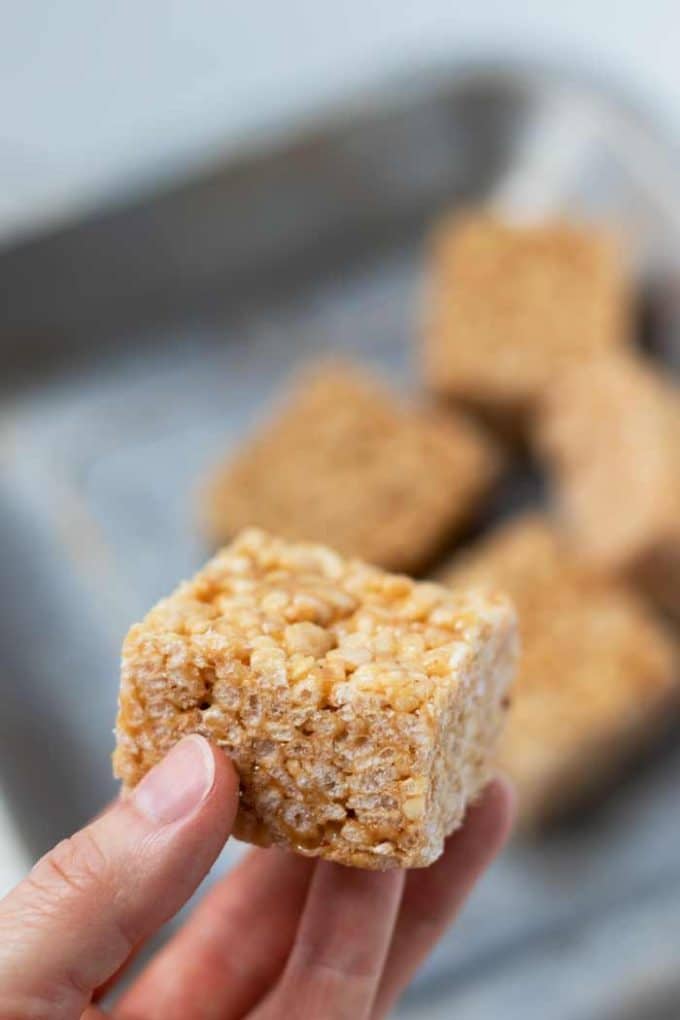 Sure, you can use vegan marshmallows, like Dandies, to make this childhood favorite treat vegan-friendly, but when I can make a recipe using less (or without) refined sugar, I'm always going in that direction. I love that Dandies vegan marshmallows exist, and they're awesome for times when only an actual marshmallow will do (hey, hot chocolate!), but there's something special about the non-cloying sweetness of brown rice syrup that makes these peanut butter rice krispie treats so perfect, in my opinion.
And yes, brown rice syrup is key for this recipe. It does double-duty as both the binder and the sweetener. If you've never used it before, you're in for a sticky treat. You can find it at most health food stores or order it online. If you try to sub maple syrup, you will still end up with a delicious treat, but the consistency will be much softer. I've experimented in the past with a Maple Coconut Rice Krispie Treat just to see how maple syrup would hold up, and they were surprisingly good. I may eventually post the recipe, but I highly encourage you to seek out some brown rice syrup and give these a try.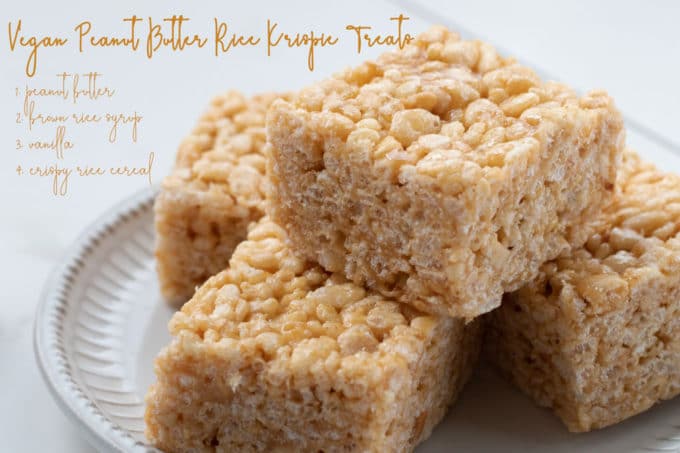 I'm calling these "4 Ingredient" because you really don't need the optional sugar. I actually prefer them without it, but I also recognize that some people like their sweets extra sweet. I've also made these with almond butter, and they were good, but really didn't compare to the peanut version. If you want to avoid peanuts, cashew butter would be another option.
A few notes:
You might come across other versions online, including the original recipe, calling for agar powder, but you don't need it. The brown rice syrup gets the job done perfectly.
Also, I've doubled the recipe so that you get enough treats to take to a party! Dreena's original version made enough for an 8x8 pan. If you live alone or just want to make that smaller size batch, cut the amounts listed below in half.
You can also drizzle these with melted chocolate (or stir in mini chocolate chips), which I did once. And sure, they looked pretty, but the flavor of the chocolate overpowered the simplicity of the peanut butter, rice, and syrup. It wasn't an improvement in my opinion. Plus, if you're taking these to any sort of outdoor summer party, dealing with melty-chocolate-hands is no fun for anyone. 🙂
I hope you try these Vegan Peanut Butter Rice Krispie Treats and love them as much as we do. Happy snacking!
You might also like:
Popped Sorghum Balls
Salted Chocolate Almond Popped Sorghum Balls
CBD-Infused Vegan Rice Krispie Treats
Spelt Cookies with Peanuts and Chocolate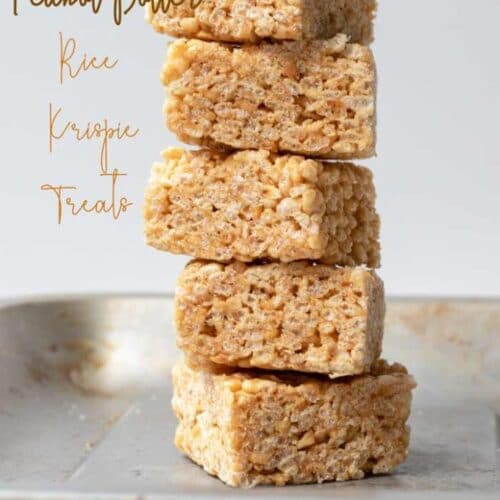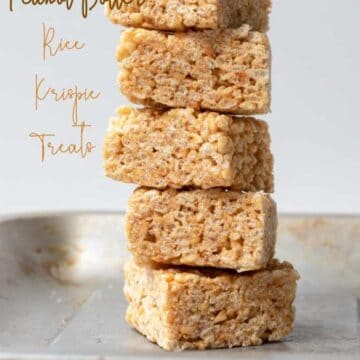 Vegan 4-Ingredient Peanut Butter Rice Krispie Treats
Adapted from one of my all-time favorite dessert recipes, Dreena Burton's Healthy Rice Krispie Treats, these irresistible vegan treats will instantly become a family favorite! They travel well, are a great option when you need something quick for a party or potluck, and are always a hit with vegans and non-vegans, alike.
Ingredients
1

cup

natural peanut butter, salted

1

cup

brown rice syrup

1

tsp

vanilla extract

¼

cup

sugar, optional

8

cups

crispy rice cereal

My favorite is the 365 (Whole Foods) brand brown rice crisps cereal
Instructions
Line a 9x13 rectangular pan or two 8x8 baking pans with parchment paper. Allow paper to overhang edges for easy removal.

In a large stock pot warm the peanut butter, brown rice syrup, sugar (if using), and vanilla over medium-low heat. Stir well. It doesn't need to bubble or cook for any length of time, just long enough to get everything warm and mixed.

Remove from heat and stir in the cereal using a large, sturdy spoon. Continue mixing until all the cereal is incorporated.

Pour the mixture into the lined pan(s) and press down evenly. Using the back of a spatula and a piece of parchment paper (to prevent sticking) works well.

Refrigerate just until cool and cut into squares.
Notes
To make these in an 8x8 pan simply cut ingredient amounts in half. But if you're making these for a party or for a household of more than 1 or 2 people, you'll want to make the big batch!
Nutrition
Serving:
1
treat
Calories:
118
kcal
Carbohydrates:
19
g
Protein:
3
g
Fat:
4
g
Saturated Fat:
0
g
Polyunsaturated Fat:
0
g
Monounsaturated Fat:
0
g
Trans Fat:
0
g
Cholesterol:
0
mg
Sodium:
63
mg
Potassium:
0
mg
Fiber:
1
g
Sugar:
8
g
Vitamin A:
0
IU
Vitamin C:
0
mg
Calcium:
0
mg
Iron:
0
mg
Tried the recipe?
Comment below to let us know how it was!