These Almond-Coconut Vegan Protein Bars are nutty, satisfying, lightly sweetened, and also include mini chocolate chips. Inspired by my favorite GoMacro bar, this homemade version can also be formed into bite-sized balls. They're gluten-free, vegan, sweetened with brown rice syrup, and made from just 7 wholesome ingredients!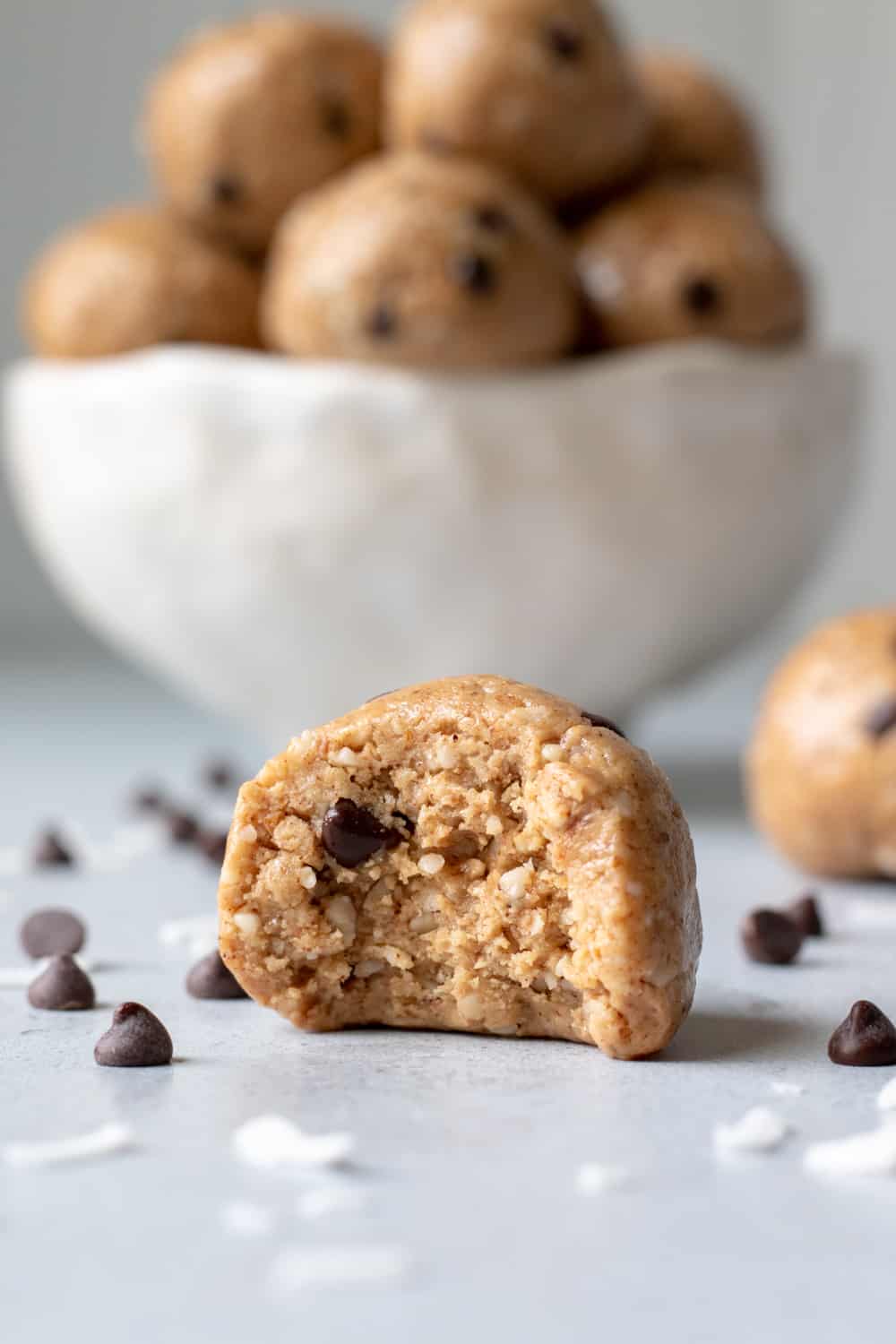 I've been enjoying GoMacro bars for years. I love the natural vibe of their flavors and appreciate that they keep their ingredients simple, being inspired by the foundations of a Macrobiotic diet.
I mentioned on my About page that my mom followed a Macrobiotic diet for several years when I was a kid. If you don't know what a Macrobiotic diet entails and are interested, I definitely recommend looking it up. It incorporates healthy principles that can be adopted by anyone.
In short, the macrobiotic diet is a mostly plant-based diet (though some describe it as pescatarian, the version my mom did was entirely plant-based). It's often used as a way to help the body heal from serious health conditions.
Let's keep it real, though. The healing aspects of the diet are primarily due to the consumption of whole grains, beans, vegetables, seaweed, and fermented foods, not nuts and chocolate! But I digress...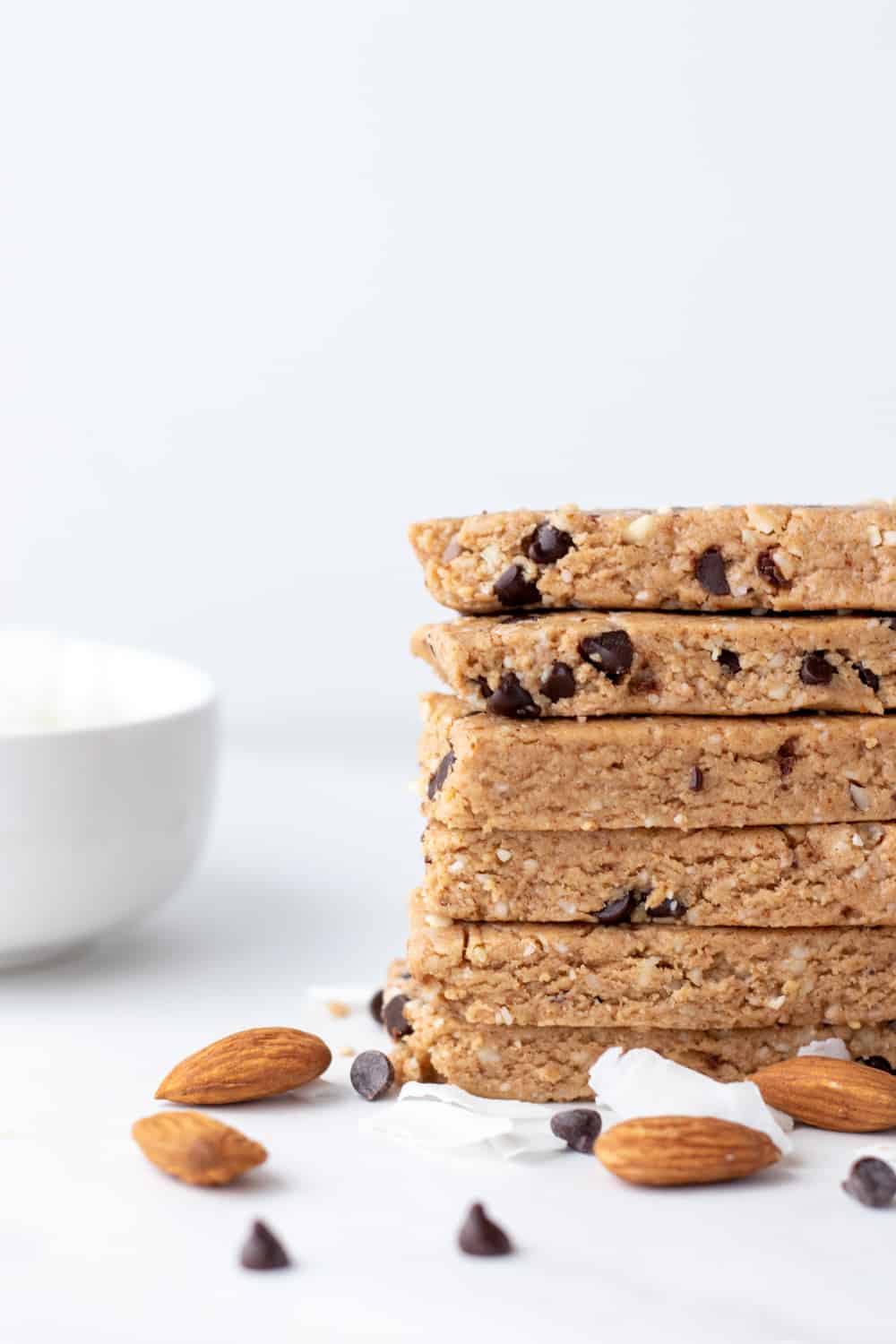 Now, about these vegan protein bars. The recipe I'm sharing today is based on GoMacro's Everlasting Joy bar (coconut + almond butter + chocolate chips), and I have to say, I think I pretty much nailed the flavor! Here's a quick look at the ingredients.
What You'll Need
See the recipe card below for amounts and full instructions.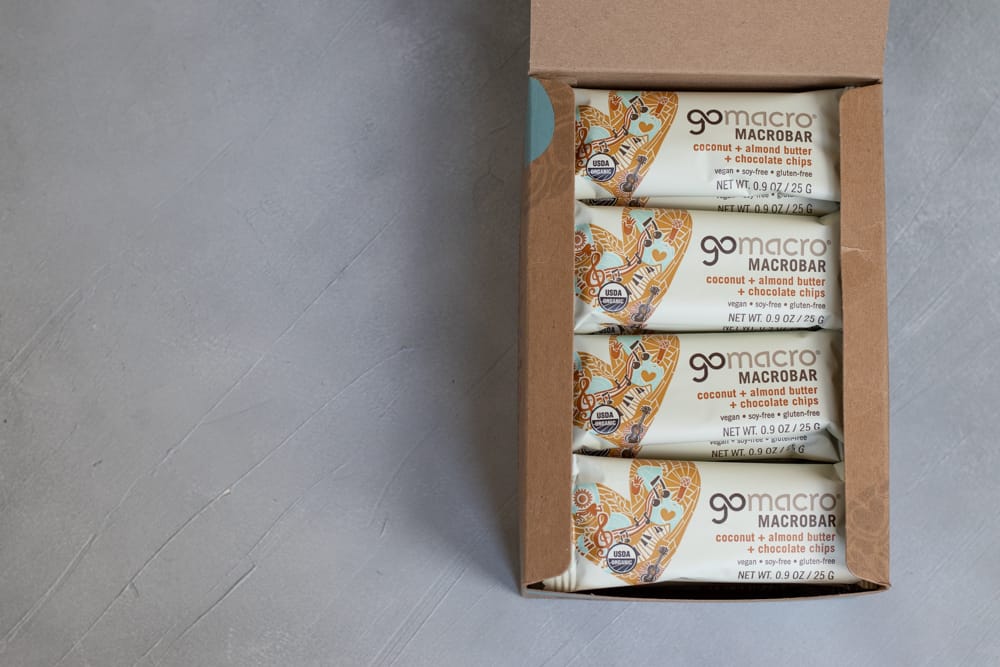 Luckily, I photographed this box of Everlasting Joy bars last year when we found them on sale at our local discount grocery (these were the mini bars).
The fact that I took this photo last summer is a clue to exactly how long this recipe has been in the works. I'm not sure why it took me so long to get around to finalizing it, but here we are. Woohoo!
Typically the full-size GoMacro bars sell for around $2.50 to $3 each, which adds up quickly.
But this DIY version is much more affordable. Sure, these are high quality ingredients and definitely aren't cheap. But once you buy them, you'll be able to make multiple batches of these delicious snack bars. And the bars keep really well in the freezer as long as they're well wrapped.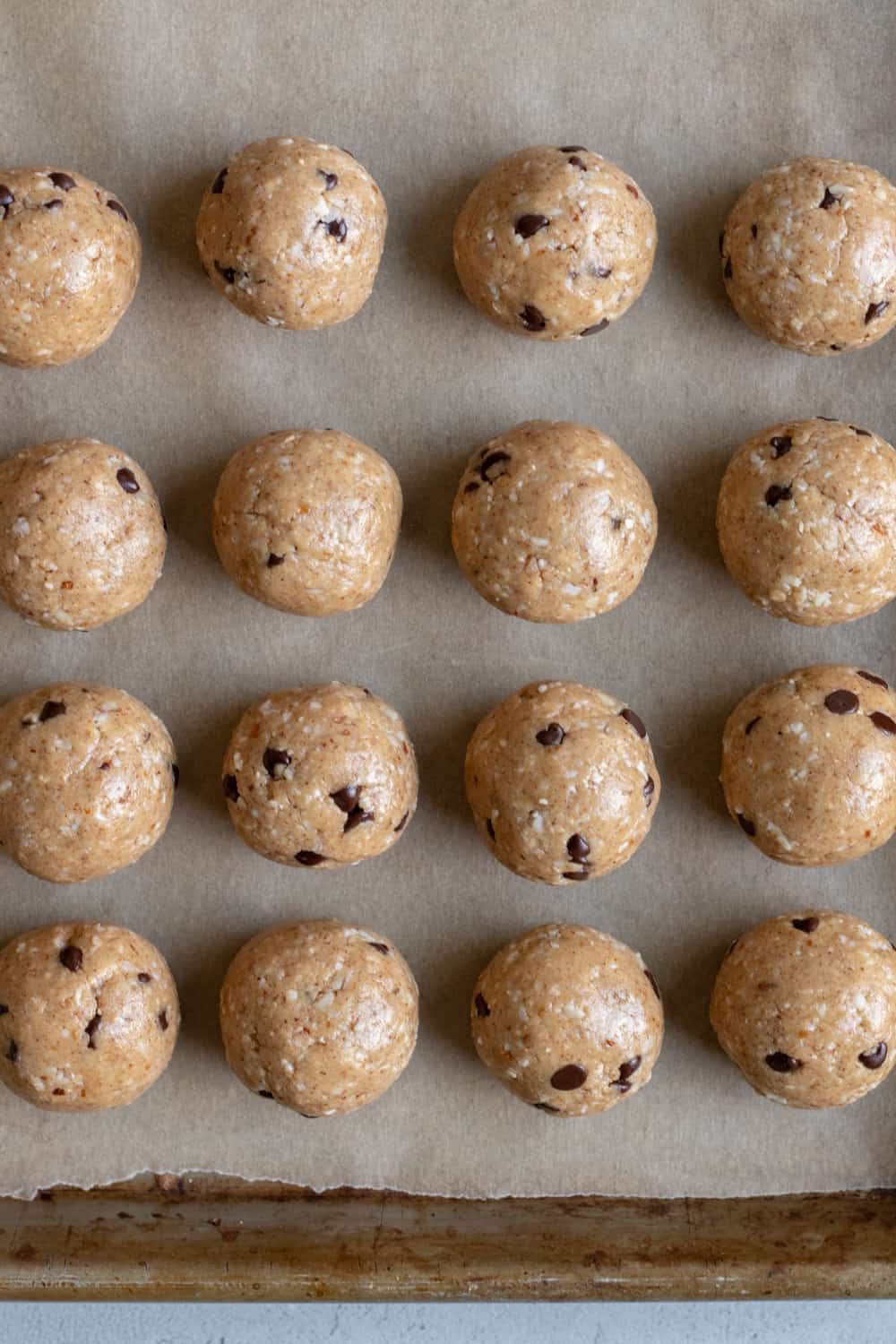 How to Make Vegan Protein Bars
Equipment: you'll need a food processor for this recipe.
Pulse the almonds in a food processor until roughly chopped.
Add the coconut, almond butter, brown rice syrup, protein powder, and puffed rice. Process until everything is uniformly crumbled (see photos below).
Add the mini chocolate chips and pulse a few times to incorporate.
Then, either press the mixture into a parchment-lined 8x8 pan (to be cut into bars), or use your hands to roll the mixture into balls (about 2 Tbsp of mixture per ball).
For bars, refrigerate the pan for about 20 minutes to help them set before cutting.
That's it!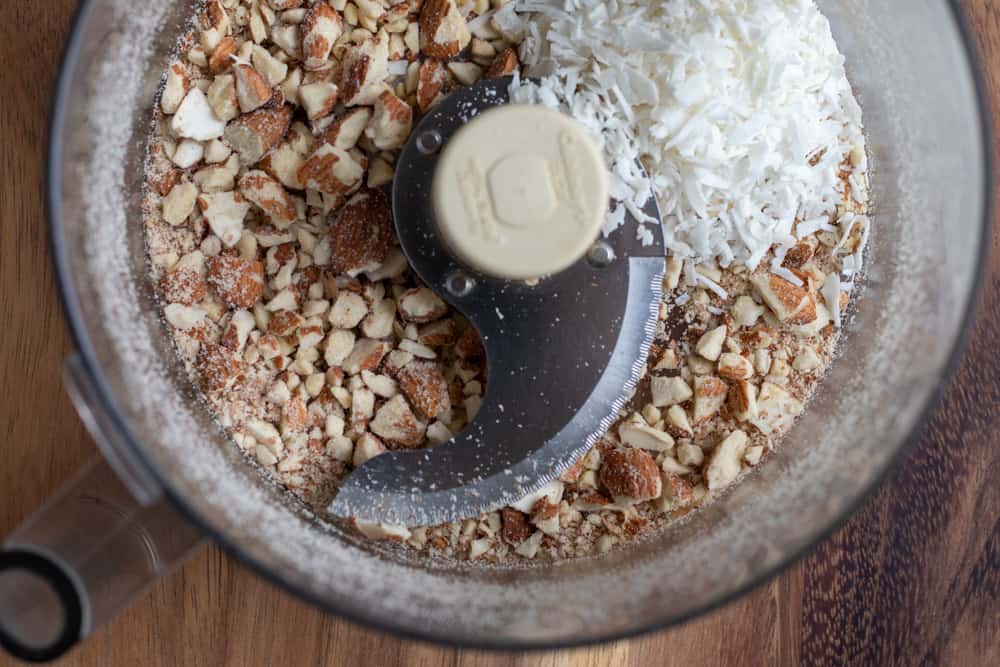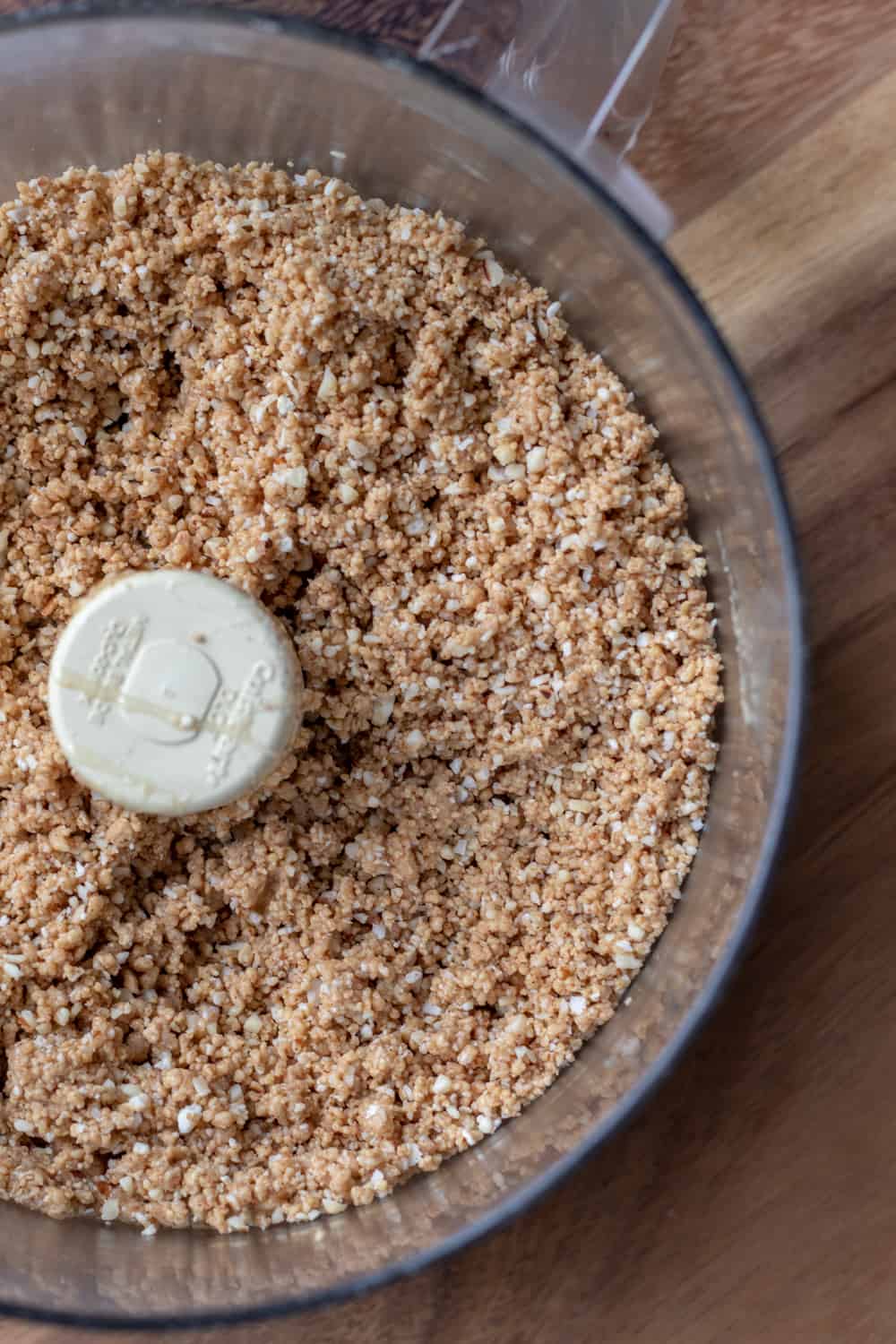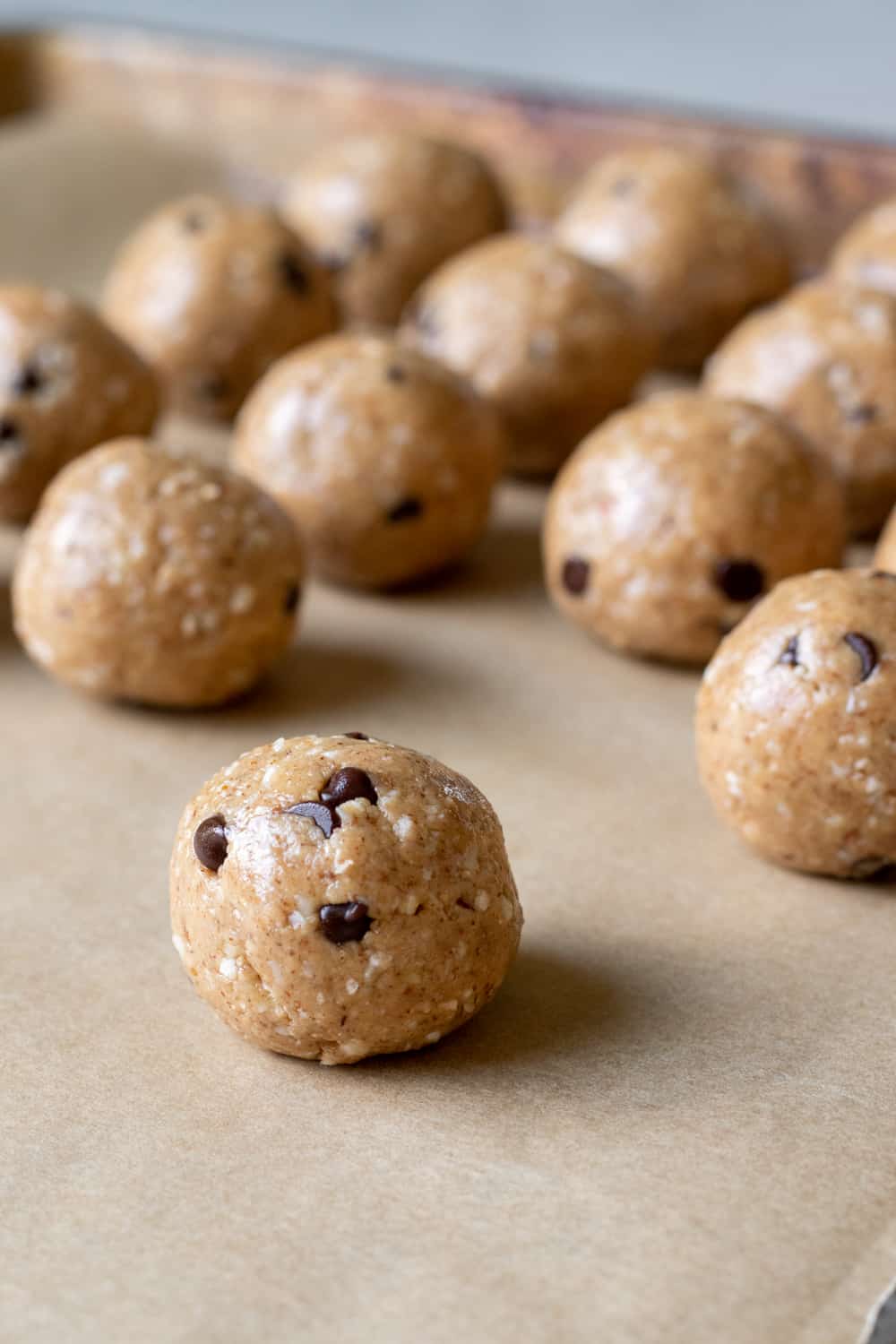 I hope you enjoy these Almond-Coconut Protein Bars! I would love to hear from you if you try the recipe.
Leave a comment below to let us all know how they turned out. And if you're on instagram, I would love to see a photo of your vegan snack bars! Just tag me with @myquietkitchen.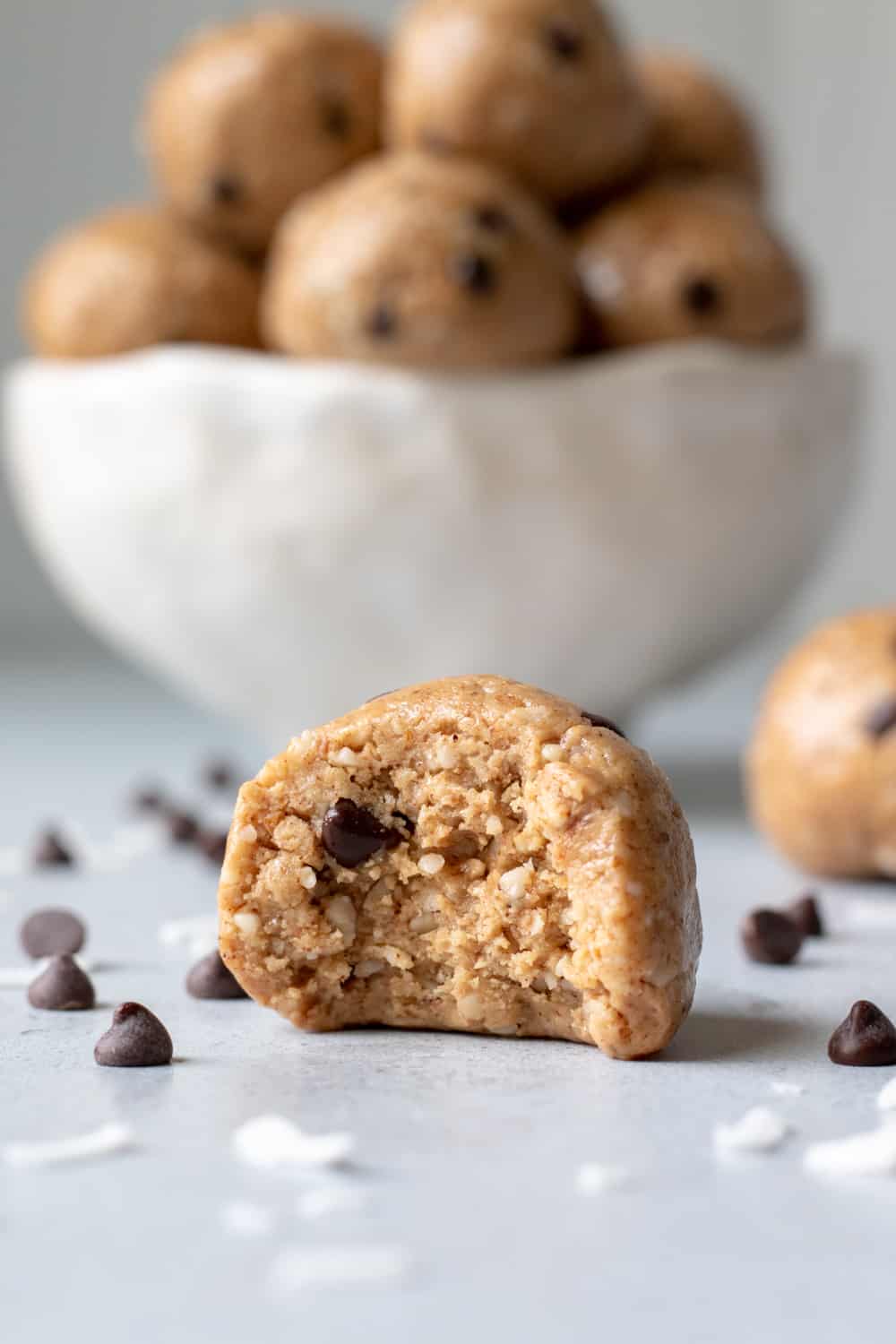 Happy snacking!
You might also enjoy:

NOTE: Most of these ingredients can be found in well-stocked grocery stores, health food stores and specialty markets. For some reason, a few of these items seem to be MORE expensive online, which usually isn't the case. So be sure to check your local stores and compare prices! I included some Amazon links in the recipe card anyway, for clarification and to help you know which brands to look for.
📖 Recipe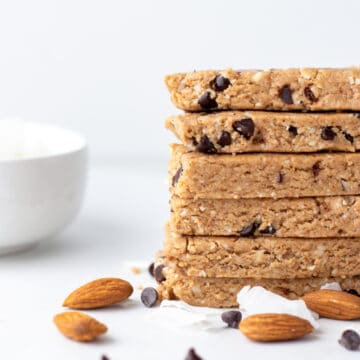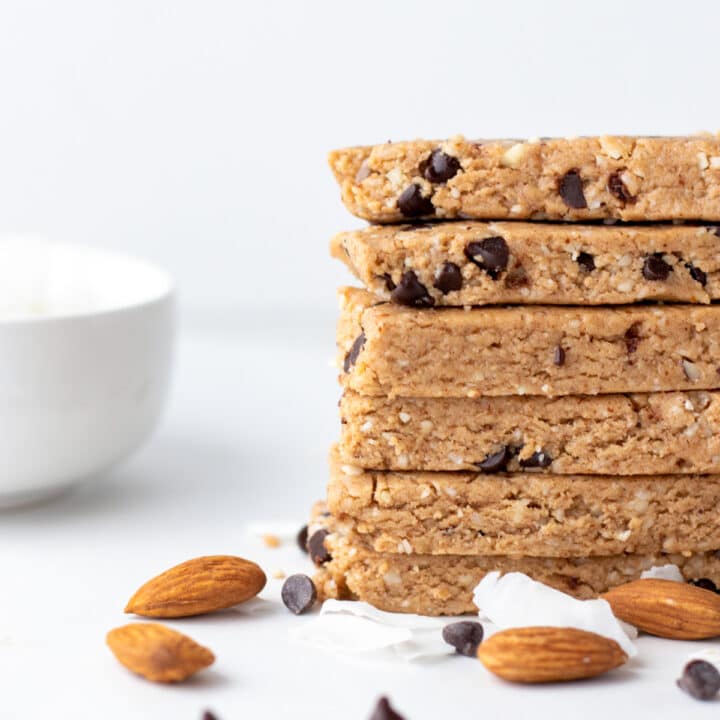 Vegan Protein Bar Recipe (Go-Macro Copycat)
Wholesome, 7-ingredient, vegan protein bars with almonds, coconut and chocolate chips. Inspired by GoMacro's Everlasting Joy bar. Gluten-free and sweetened with brown rice syrup.
Instructions
Place almonds in a food processor, and pulse until roughly chopped. Add the coconut, puffed rice, almond butter, brown rice syrup, and protein powder. Process until the mixture is finely crumbled and uniform.

Squeeze a bit of mixture between your fingers to make sure it will stick together. If it seems too crumbly add another spoonful or two of brown rice syrup and pulse again. Add the chocolate chips, and pulse several times to incorporate.

To make bars: line an 8x8 baking pan with parchment for easier removal. Press the mixture evenly into the pan. Use the back of a spatula to firmly pack it down. To make balls: using a tablespoon, scoop 2 Tbsp of the mixture into your hand. Squeeze a few times to squish it into a ball. Roll the ball between your palms to smooth the surface. This makes 18 to 20 balls.

If making bars, refrigerate the pan for about 20 minutes. Use parchment edges to lift the mixture out of the pan, and cut into 12 equal-sized pieces. Enjoy right away, or store in an airtight container in the refrigerator until ready to serve. See notes below for extended storage.
Notes
Store protein bars/balls in an airtight container in the refrigerator for up to 1 week. They can also be frozen for up to 2 months; thaw before serving.
Nutrition info based on 12 servings (bars). For balls, you'll get 18 to 20 individual pieces so all nutrient amounts/numbers will be lower.
Estimated Nutrition (per serving)
Calories:
200
kcal
Carbohydrates:
20
g
Protein:
9
g
Fat:
11
g
Saturated Fat:
2
g
Trans Fat:
0
g
Cholesterol:
0
mg
Sodium:
75
mg
Fiber:
3
g
Sugar:
10
g
Nutrition information is an estimate and will vary depending on the exact amounts and specific products and ingredients used. We calculate this information using the online calculator cronometer.com.
Tried the recipe?
I love hearing from you! Share your feedback below!