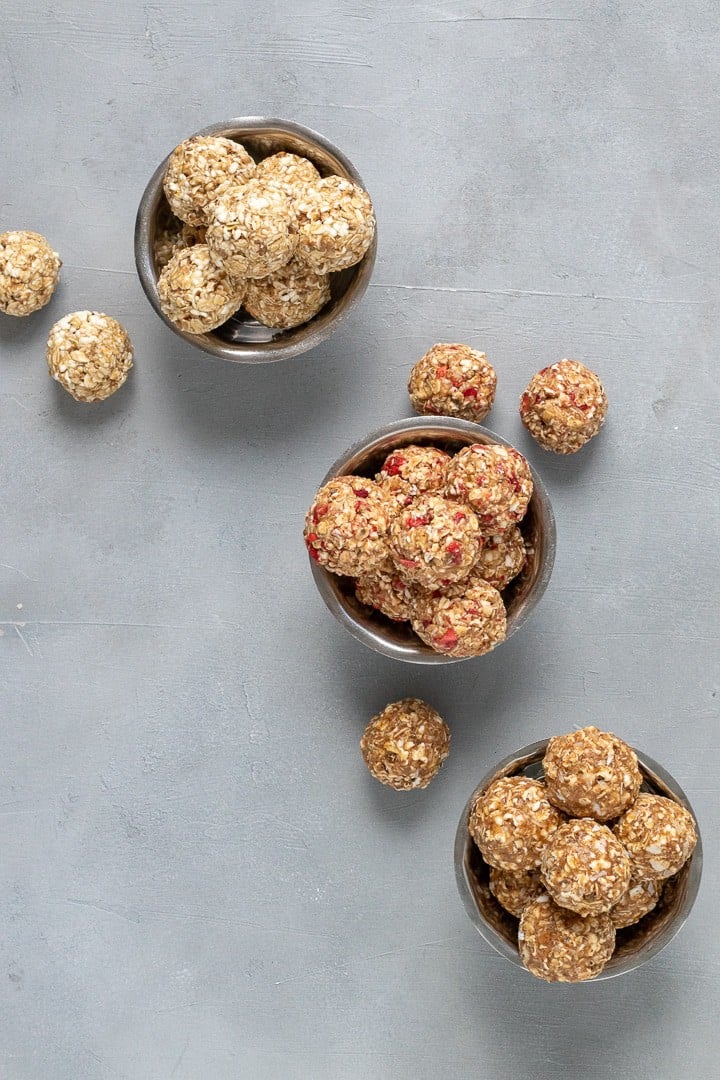 Popped sorghum snack bites are a healthy and delicious treat made in just 15 minutes from 6 wholesome ingredients! Irresistible salty and sweet.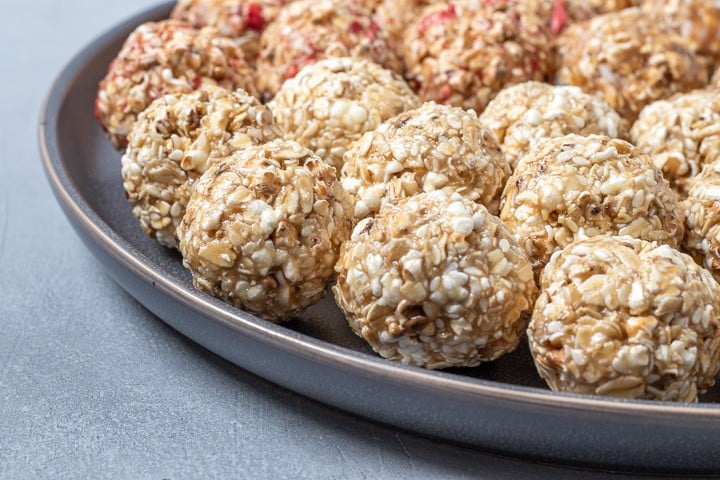 Every now and then I like to peruse the aisles at the grocery store looking for ideas, usually for different grains or beans to try if I've been in a bit of a rut. While doing this a couple of weeks ago I spotted a bag of Bob's Red Mill sorghum and thought that might be a nice change.
The fun surprise came when I saw a recipe on the bag for popped sorghum. Popped?! Maybe you already knew this was a thing, but it was new to me! Of course, I started experimenting right away.
I shared a photo on instagram and facebook of some popped sorghum we ate with a sprinkling of rosemary and sea salt. And while it was good, I don't think I would choose it over popcorn if I'm looking for a snack to eat by hand. Popped sorghum is pretty tiny and difficult to handle. BUT.....
About a week later, while walking the grocery aisles again (I swear I occasionally do other things), I started wondering what I could make with popped sorghum. Then it hit me, I'd heard of popcorn balls, so why not popped sorghum balls?
At home I got to work. A little brown rice syrup and nut butter, some oats to round it out, maple syrup for a little more sweetness, and in under 15 minutes I had a dozen of these delicious, mildly popcorn-esque treats! And since the sorghum pieces are so much smaller than popcorn they work really well for being compacted into a ball with other ingredients.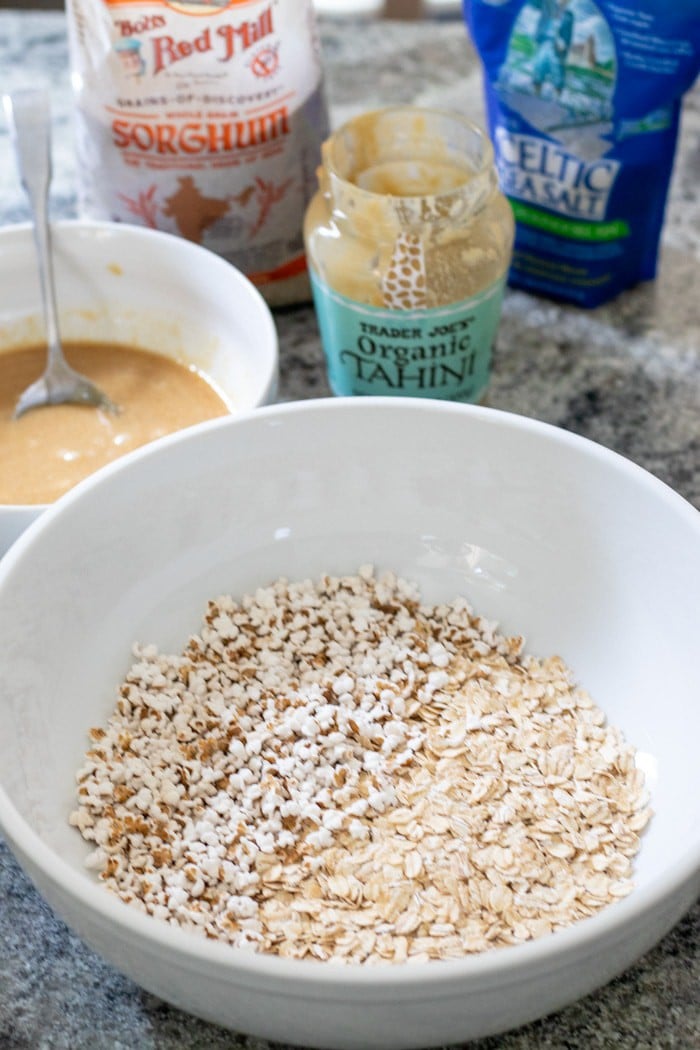 The basic formula is easy. You can substitute any nut or seed butter you like, add different sweeteners, spices, dried fruit, etc.
My favorite version so far has been the very first one I made, which was Sesame Maple. It reminds me of the Joyva Halvah bars I used to eat as a kid. Those were one of the many snacks I discovered while hanging out at the health food store where my mom worked. (Btw, I just looked up Halvah online, and yikes. Not even remotely healthy. The ingredient list probably prevents it from being on the shelves at any of today's health food stores. But hey, we had different standards back in the late 70s/early 80s, I suppose.)
Anyway, I also made a Vanilla Almond Coconut version (YUM!) and a Peanut Butter Strawberry one. I used crushed, freeze-dried strawberries, which are fun and colorful and worth trying if you've never had them. Next time I might pair peanut butter with raw cacao powder and mini chocolate chips.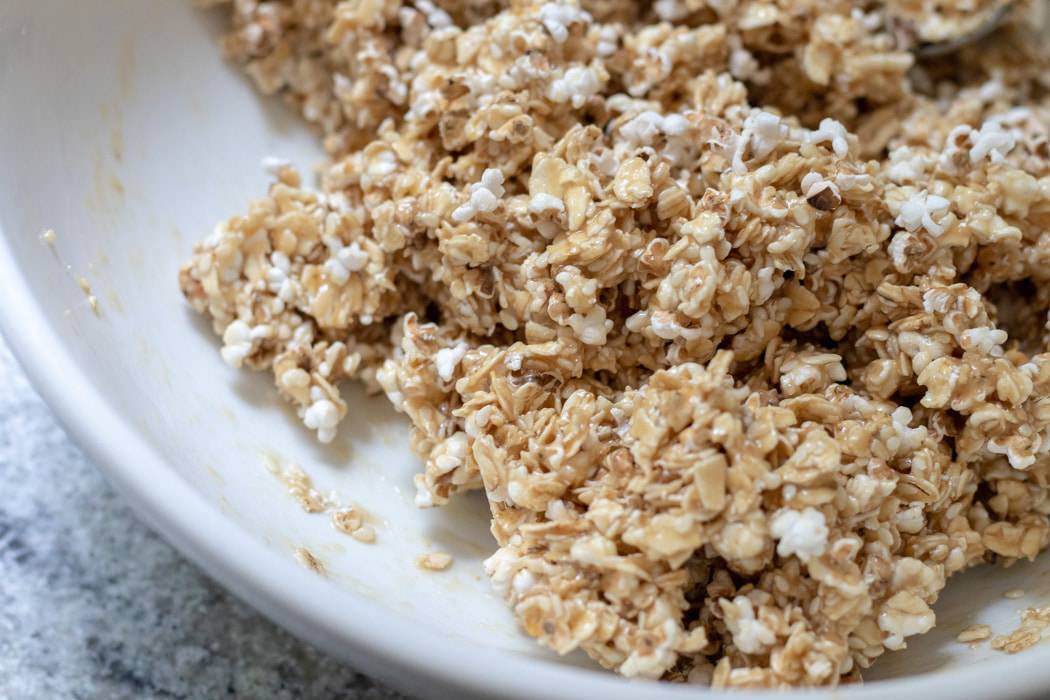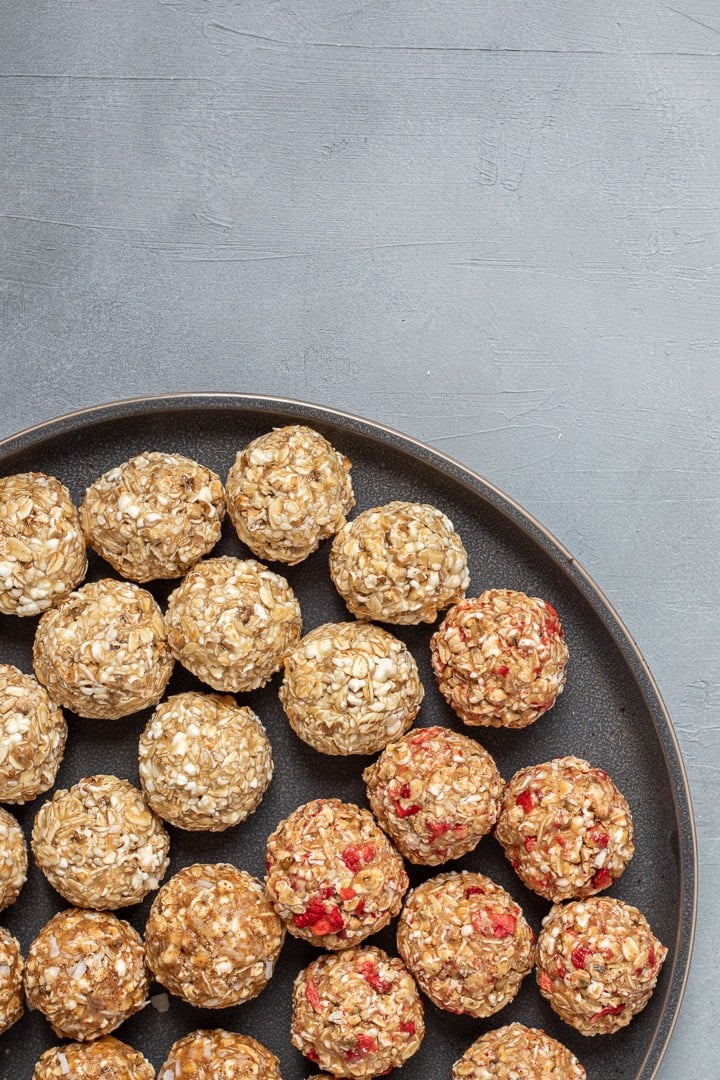 The recipe below is specifically for the Sesame Maple version, but get in there and experiment! If you do, I would LOVE to hear about any delicious combinations you come up with. Leave a comment below or tag a photo of your creation on instagram @myquietkitchen! And if you want to learn more about sorghum, keep reading after the recipe.
If you like these treats you might also like this version with chocolate! Salted Chocolate-Almond Popped Sorghum Balls
📖 Recipe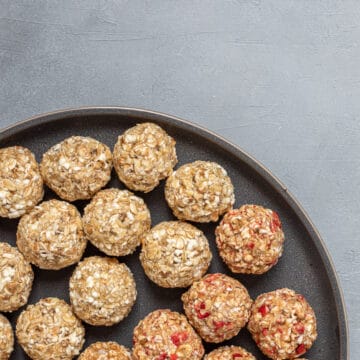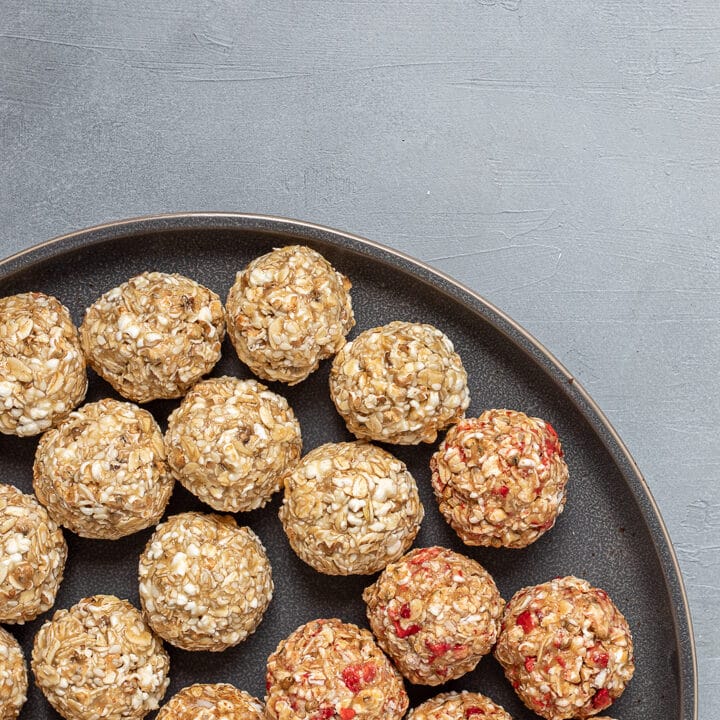 Popped Sorghum Snack Balls
Just 6 ingredients and 15 mintues to prepare, these popped sorghum balls are a fun and nutritious snack with endless flavor combinations!
Ingredients
¼

cup

sorghum

-

(should yield approx. 1 cup popped)

1

cup

rolled oats

¼

cup

tahini

¼

cup

brown rice syrup

2

tablespoon

maple syrup

½

teaspoon

salt (omit if using salted nut/seed butter)

3 to 4

tablespoons

sesame seeds
Instructions
Begin by popping the sorghum (if using Bob's Red Mill brand, instructions for popping are on the side of the bag).

Stovetop method:

Heat a small stainless steel pot with tight fitting lid over medium heat. Once hot, add ¼ cup sorghum and cover. Shake the pot occasionally to prevent burning. Once the popping has slowed to 6-8 seconds between pops, remove from heat and uncover. Be careful of the steam! Move the popped sorghum to a bowl to cool.

Microwave method:

Place ¼ cup sorghum in a paper bag. Tightly fold the bag closed and place folded side down in microwave. Cook for 2-3 minutes, depending on the oven. As mentioned above, stop when there are 6-8 seconds between pops.

In a large bowl combine the 1 cup popped sorghum and 1 cup oats.

In a small bowl combine the tahini, brown rice syrup, maple syrup and salt. Warm slightly in the microwave (just 15 seconds or so). Alternatively, warm these 3 ingredients in a small pot on the stove.

Pour the tahini mixture onto the oats and sorghum, stirring to combine. Add the sesame seeds and continue to stir until everything is well incorporated.

Barely wet your palms (to prevent sticking). Scoop about 1 ½ tablespoons of the mixture into one hand and squeeze tightly. Then roll the mixture between your palms to form a smooth ball. Continue rolling the balls, re-wetting hands as necessary.
Notes
Similar to popcorn, sorghum burns easily. Don't be frustrated if you have some burnt pieces! I've found that even if a few start to burn, the rest of the batch is fine and won't carry burnt flavor into the recipe.
You may have some unpopped sorghum left in the pot or bag. Use a slotted spoon, allowing the unpopped grains to fall through, to separate it from the popped pieces.
Store the treats in an airtight container in the refrigerator for up to 5 days.
Estimated Nutrition (per serving)
Serving:
1
ball
Calories:
120
kcal
Carbohydrates:
17
g
Protein:
3
g
Fat:
5
g
Saturated Fat:
1
g
Cholesterol:
0
mg
Sodium:
105
mg
Fiber:
2
g
Sugar:
6
g
Calcium:
30
mg
Iron:
1.1
mg
Nutrition information is an estimate and will vary depending on the exact amounts and specific products and ingredients used. We calculate this information using the online calculator cronometer.com.
Tried the recipe?
I love hearing from you! Share your feedback below.
A few highlights about sorghum:
Sorghum is a gluten-free cereal grain safe for people with celiac. Unlike most other grains, sorghum doesn't have an inedible hull. This means it's usually eaten with all of its outer layers intact, retaining most of its nutrients. It is drought tolerant, grown from heirloom hybrid seeds, and was collected 8000 years ago in Southern Egypt before spreading throughout Africa and parts of Asia. Some varieties are grown in the United States, and it is known for being one of the most efficient crops in the conversion of solar energy and use of water. (Info from the Whole Grains Council.)