These Chocolate & Almond Popped Sorghum Balls are a delicious, two-bite treat made from eight healthy ingredients. They travel well and are perfect for snacking and sharing.
A spinoff of this recipe for Popped Sorghum Balls, the addition of mini chocolate chips and a dark chocolate coating makes these feel extra special. Gluten-free and vegan.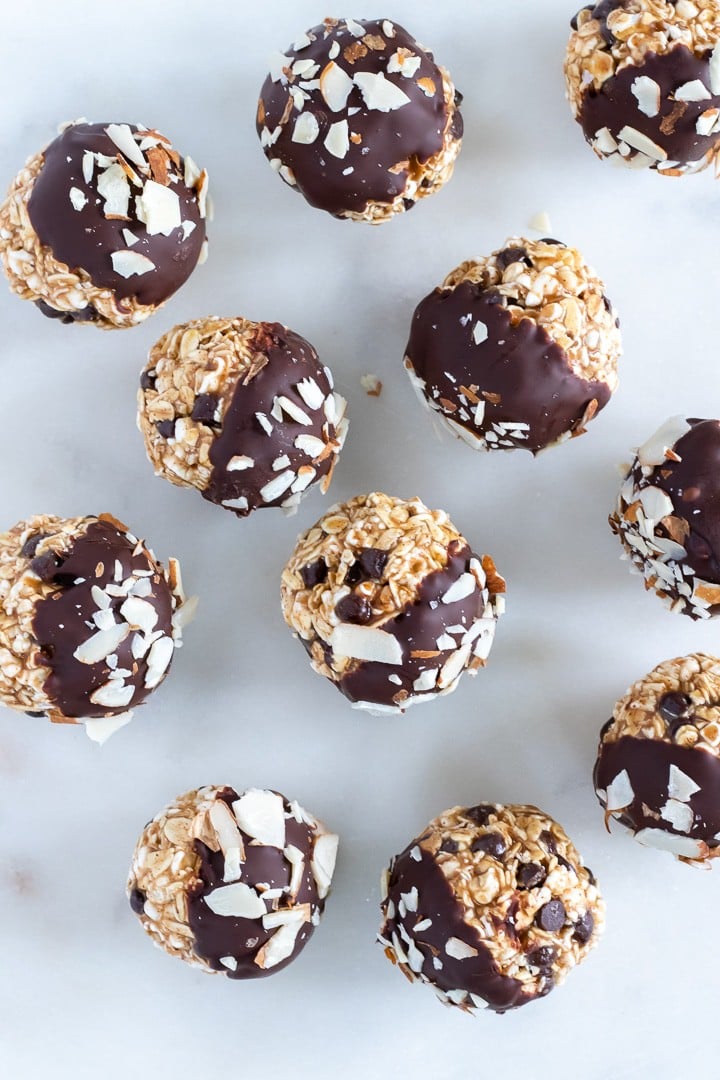 Popped Sorghum
Have you popped sorghum before? Until last year I had not, but as soon as I realized it was a thing, I couldn't wait to use it in a recipe!
That's when I posted this recipe for Sesame-Maple Popped Sorghum Balls, with two other flavor combos mentioned in the post (Vanilla Almond Coconut and Peanut Butter Strawberry).
It's so much fun to play with different additions, nut and seed butters, spices, and extracts. But first, we need to pop the sorghum!
Just like popcorn, you can do this in a small pot on the stove OR in a paper bag in the microwave. I've found the microwave to be the easiest and least likely to burn.
In my experience sorghum burns more quickly than corn kernels, so it pays to be cautious. You might end up with some unpopped bits that will have to be separated from the popped sorghum, but this isn't very difficult to do. And your patience will be rewarded with these tasty treats!
One other thing to keep in mind: because sorghum can burn quickly, it's best to pop it in very small batches. The recipe calls for ¼ cup sorghum, which will give you at least the full cup of popped sorghum needed for the recipe. I wouldn't try to pop more than that at one time.
When shopping for sorghum, Bob's Red Mill is probably the easiest brand to find in the U.S. You can also order on Amazon. Full instructions for popping the sorghum are right on the bag.... and included in the recipe below, of course.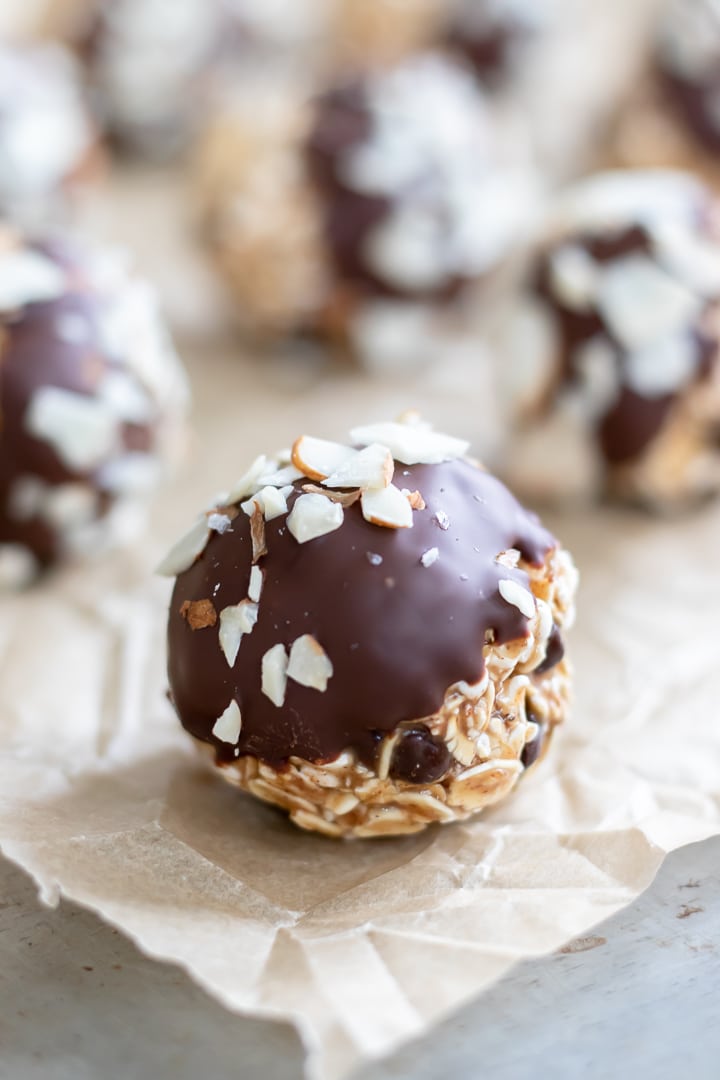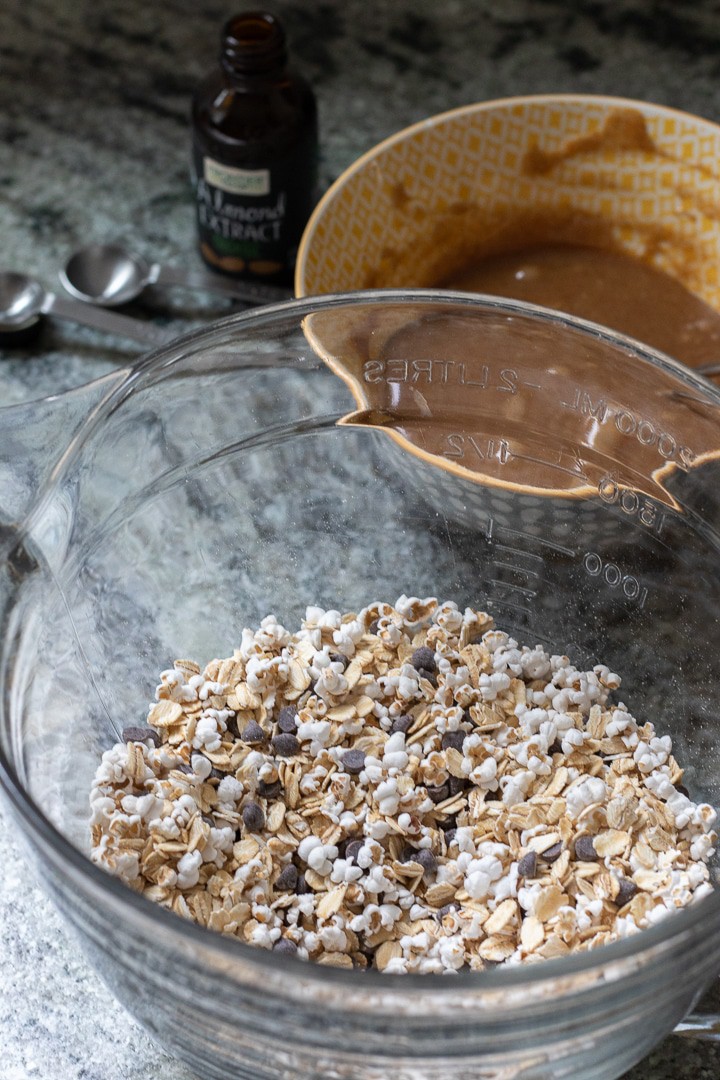 How to Make Popped Sorghum Balls
For the tasty Chocolate-Almond combo we're making today, mini vegan chocolate chips are mixed in with the oats and popped sorghum.
Then, a deliciously rich mixture of almond butter, brown rice syrup, maple syrup and almond extract is warmed slightly and poured on top. After a thorough stirring, you're ready to form the mixture into balls.
If you've never worked with brown rice syrup before, beware... it's sticky! The trick to handling this mixture is to slightly wet your palms. Try not to use SO much water that it could make the popped sorghum soggy, but just enough to make your hands damp.
This will allow you to squish the mixture together to compact it, then roll it between your palms to smooth it into a ball.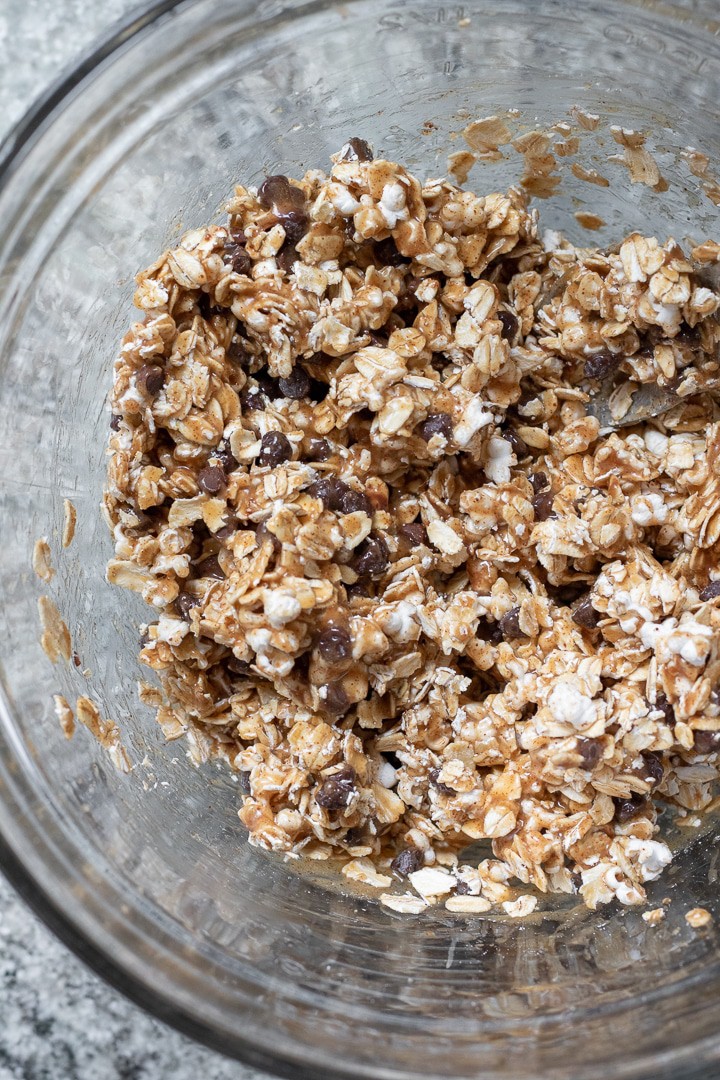 Chocolate Coating
Next, you're ready to melt the dark chocolate for dipping. I chose to dip my Popped Sorghum Balls halfway into the chocolate and then sprinkle them with chopped, sliced almonds and sea salt, but you can decorate your treats however you like.
A zigzag drizzle would be fun. You can also double the amount of chocolate and give them a FULL dip, using a fork to lower them into the chocolate and place them on parchment paper to dry.
If you're topping them with almonds and salt just remember to do that immediately, before the chocolate sets.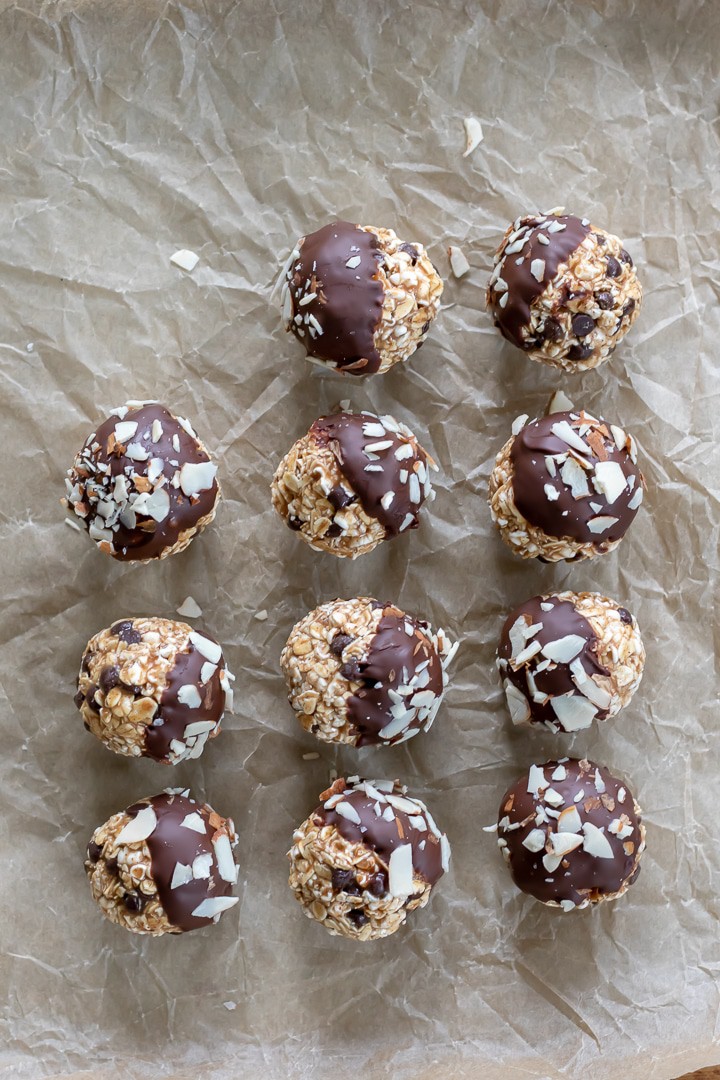 The recipe calls for a tiny bit of almond extract which gives these an extra sweet, marzipan vibe, but if you dislike or don't have almond extract feel free to use vanilla.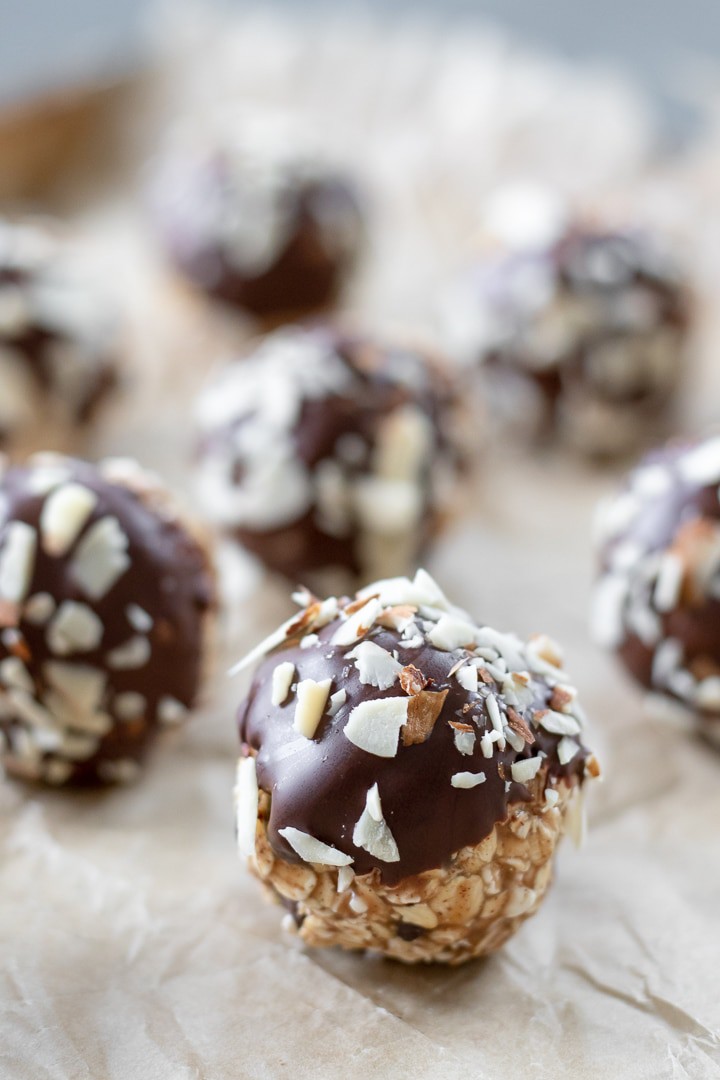 I hope you enjoy these fun and tasty Chocolate-Almond Popped Sorghum Balls. If you find a different flavor combination you love or have a decorating tip for us, don't forget to snap a pic and share it on instagram. Just tag @myquietkitchen to make sure I see it!
If you try the recipe comment below to let us know!
You might also like:
📖 Recipe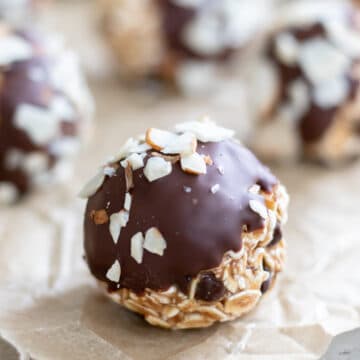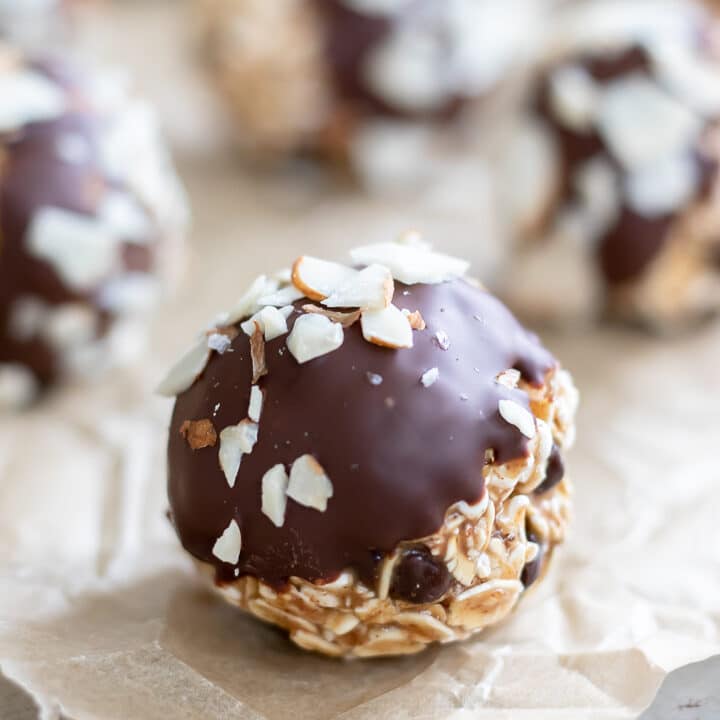 Salted Chocolate-Almond Popped Sorghum Balls
Popped Sorghum Balls travel well and are a casual and fun dessert perfect for parties! Made with popped sorghum, oats, almond butter, chocolate, and natural sweeteners. Gluten-free and vegan.
Ingredients
1

cup

rolled oats

-

GF certified if needed.

¼

cup

almond butter

¼

cup

brown rice syrup

2

Tbsp

maple syrup

½

tsp

almond extract (or sub vanilla)

½

tsp

fine sea salt

2

ounces

dark chocolate, for melting/dipping

3

Tbsp

sliced almonds, rough chopped

pinch of

flaked sea salt, optional
Instructions
Line a small baking sheet with parchment paper and set aside. Pop the sorghum (if using Bob's Red Mill, instructions are on the side of the bag).

Stovetop method:

Heat a small stainless steel pot with tight fitting lid over medium heat. Once hot, add ¼ cup sorghum and cover. Shake the pot frequently to prevent burning. Once the popping has slowed to 6-8 seconds between pops, remove from heat and uncover. Be careful of the steam! Move the popped sorghum to a bowl to cool.

Microwave method:

Place ¼ cup sorghum in a paper bag. Tightly fold the bag closed and place folded side down in microwave. Cook for 2-3 minutes, depending on the oven (mine takes 2 minutes). As mentioned above, stop when there are 6-8 seconds between pops.

In a large bowl combine the popped sorghum, oats, and mini chocolate chips.

In a small bowl combine the almond butter, brown rice syrup, maple syrup, extract, and salt. Warm slightly in the microwave (about 15-20 seconds). Alternatively, warm these 3 ingredients in a small pot on the stove.


Pour the wet mixture onto the dry ingredients, stirring until fully incorporated.


Barely wet your palms (to prevent sticking). Scoop about 1 ½ Tbsp of the mixture into one hand and squeeze tightly. Then roll the mixture between your palms to form a smooth ball. Continue rolling the balls, re-wetting hands as necessary. Place on the parchment-lined pan.


Using a microwave or double boiler method, melt the 2 ounces of dark chocolate. It helps to use a very small dish, like a ramekin, so that the chocolate is deep enough to dip the balls into, coating about halfway up the sides. After dipping a ball in chocolate, carefully place it on the parchment-lined pan and sprinkle with the chopped almonds and flaked sea salt.
Notes
Store Popped Sorghum Balls in an airtight container at room temperature for up to 3 days. If you prefer to store them in the refrigerator, allow them to warm up and soften for a few minutes before serving. Brown rice syrup becomes very firm in the refrigerator.
Estimated Nutrition (per serving)
Serving:
1
ball
Calories:
160
kcal
Carbohydrates:
22
g
Protein:
3
g
Fat:
7
g
Saturated Fat:
2
g
Cholesterol:
0
mg
Sodium:
100
mg
Fiber:
3
g
Sugar:
9
g
Vitamin A:
0
IU
Vitamin C:
0
mg
Calcium:
40
mg
Iron:
1.4
mg
Nutrition information is an estimate and will vary depending on the exact amounts and specific products and ingredients used. We calculate this information using the online calculator cronometer.com.
Tried the recipe?
I love hearing from you! Share your feedback below.