This Sweet Potato and Kale Pot Pie is vegan comfort food at its most wholesome! A simple almond flour crust covers tender and colorful veggies. The filling is made even more satisfying with the addition of soy curls and mushrooms. Whole-food, plant-based (WFPB), oil-free, gluten-free.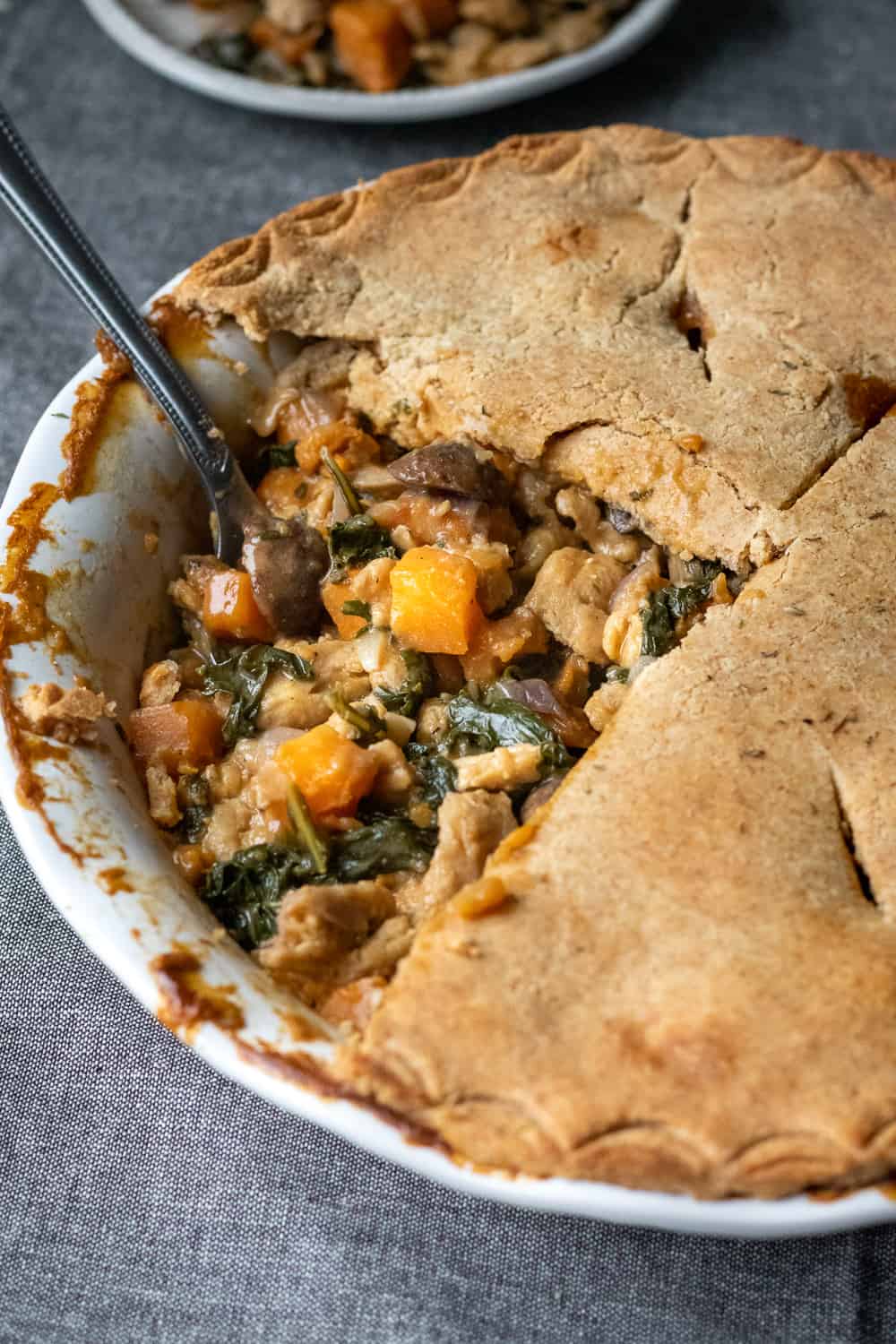 Best Healthy Pie Crust for Pot Pie
When you find yourself in the mood for a dish that feeds your comfy, cozy, fall and winter vibes, this pot pie will do it! And if you're feeling a bit intimidated by the idea of pot pie with, you know, oh-so-scary pie crust, let me put your mind at ease. This is no ordinary, fussy pie crust!
If you've seen my recent posts, Healthy Vegan Pie Crust and Vegan Gluten-Free Pumpkin Pie, you're probably already clued in to exactly how awesome and easy this pie crust is (because I keep raving about it). But if you haven't been introduced yet, here's a quick summary:
The pie crust is oil-free and vegan, and can be gluten-free, too. For today's savory pot pie recipe, the crust requires only 3 ingredients (because we don't need the sweetener).
almond flour
tapioca flour
and either white rice flour (for the gluten-free folks out there) or a whole grain flour like spelt (for the WFPB folks).
If by chance you fall into both of those categories, you can use GF oat flour or brown rice flour instead of white rice flour, though those aren't my top recommendations.
The dough will be a bit more crumbly than the other versions, which makes it more difficult to roll out and shape. But using oat flour can work, and it is delicious!
The catch is that the dough holds together best with either the sticky starch of the white rice flour or the gluten from a wheat flour (whole wheat and spelt both work well).
If you have a favorite gluten-free, whole-food pie crust recipe already, feel free to link to it in the comments below. Until I can do more testing, my best advice is to use one of the two options included in the pie crust recipe as written.
In the pie crust post you'll see it includes simple, step-by-step photos to guide you through the process. I promise it's easy, even if you've never made any type of pie crust before!
WFPB Pot Pie Filling
I just love sweet potatoes, don't you? I also love kale. And mushrooms. And onion. And garlic. And thyme and sage!
So I figured why not combine these lovely flavors and colors into a vegan pot pie? Thyme is used in most traditional pot pies, but the similarity between those recipes and this one ends there.
Instead of the usual suspects like peas, carrots, meat, butter, and a flour-thickened sauce, we're not only changing up the veggies, but lightening-up the recipe.
We're not using any added fat (like oil or butter), and we're using healthy, 1-ingredient Butler soy curls as our meat substitute. If preferred, tofu, tempeh, beans, or seitan would also be delicious in this pot pie.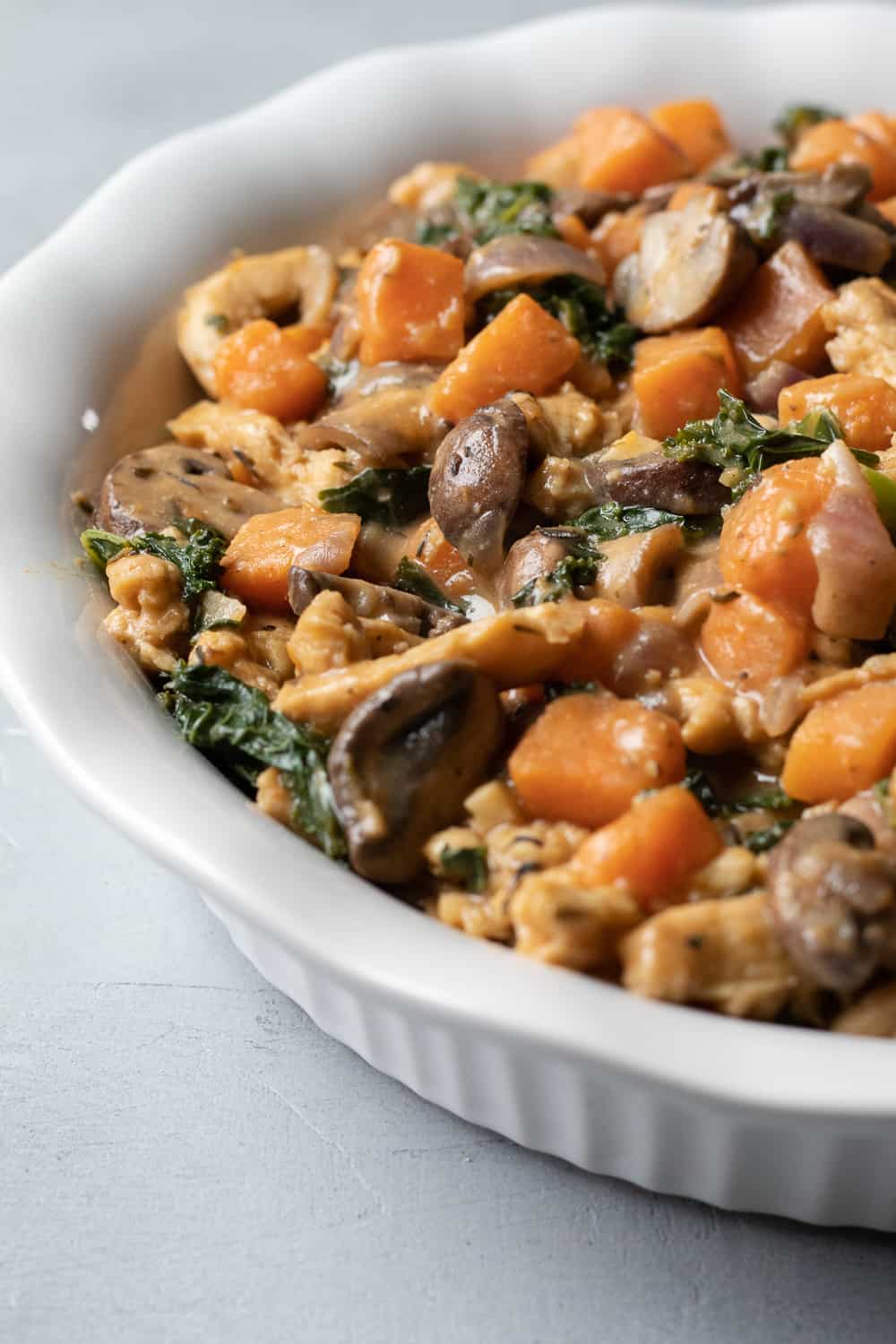 I have to admit, I only started cooking with soy curls in the past year. Even though I've been into vegan food and cooking for about eight years now, I hadn't heard of soy curls until a few years ago. And when I did, due to their unfortunate name (sorry guys, but you've gotta admit "soy curls" isn't the most appetizing product name), I assumed they were a highly processed, isolated soy protein type of thing.
So I didn't bother digging deeper. Thankfully I was wrong! Head over to www.butlerfoods.com to learn more about how soy curls are made.
UPDATE: I've been cooking with soy curls for a few years now and am a serious fan! Check out this new post with 18 amazing vegan soy curl recipes + FAQs.
Texture-wise, soy curls are similar to seitan, but they're made from whole soy beans. So for people who can't eat gluten, they're an excellent substitute for recipes that call for seitan.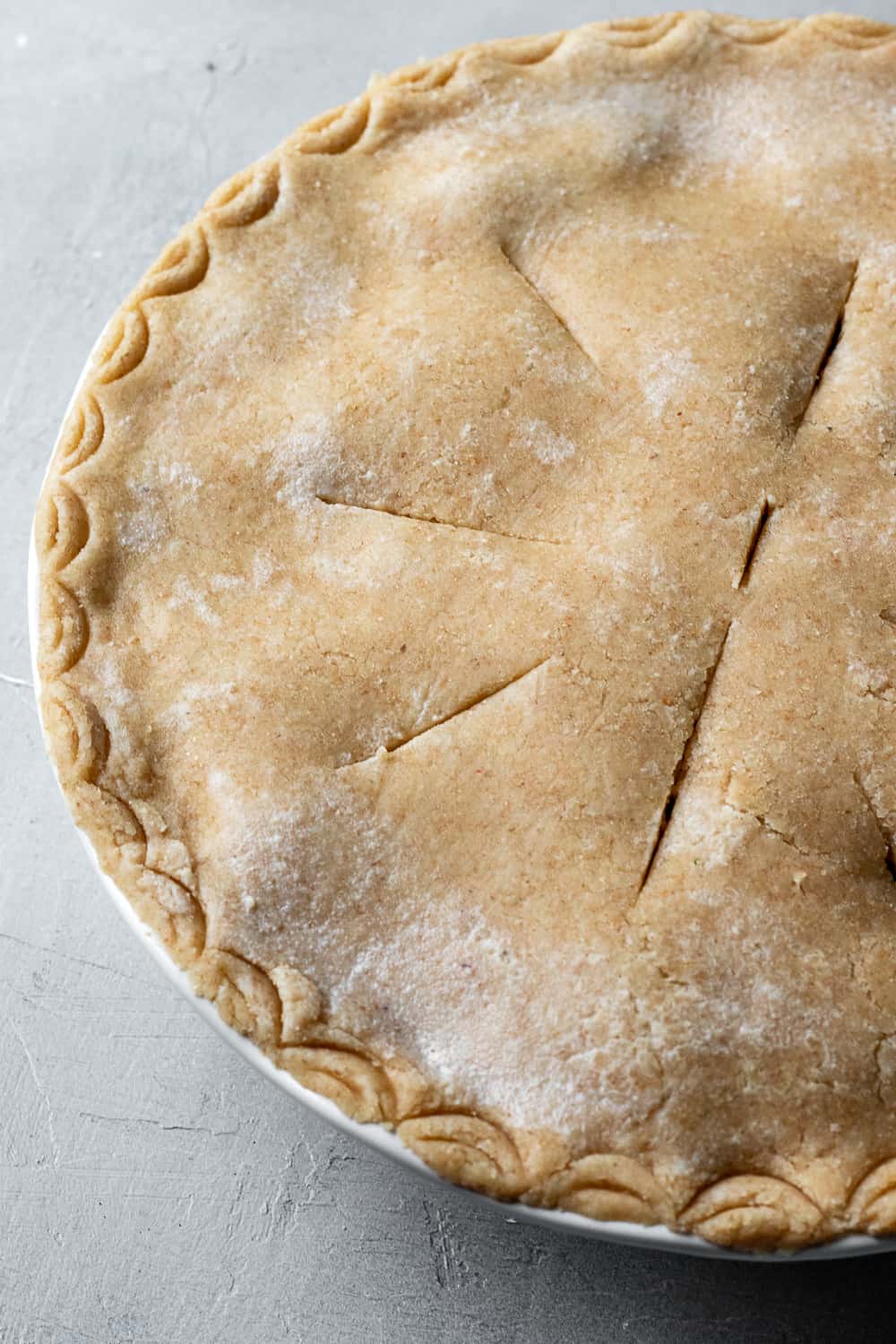 You can always turn this into a double crust pot pie if you like. What I like about top-crust-only pot pies is that there's more room for filling inside! And when it comes to sweet potatoes and kale, I'm all about MORE!
Preparation Tips
To streamline the prep, I like to chop the vegetables in the order they go into the pan, and cook at the same time. For example, chop the onion and sweet potatoes first, while the pan is preheating. While they cook, slice the mushrooms. After adding the mushrooms, chop the kale and mince the garlic, and so on.
Maybe this is how you cook, too. Some people prefer to do all the washing and chopping first, before they begin, and I think that's great! I'm just a bit too impatient and like to hurry dinner along.
By allowing "prep time" and "cook time" to overlap, we can save a LOT of time. Of course, another option is to prep all of the veggies first, then, while they cook in their various stages, you can multitask by making the pie dough. That's some pretty serious multitasking, though.
I think if I was stirring onion and sweet potatoes AND trying to measure ingredients for something as important as dough, the likelihood of a mistake would increase exponentially.
This recipe makes enough filling and crust for a 1.5 quart dish. I used a 9.5-inch deep dish pie plate. If you want to make a slightly smaller pot pie and/or you only have a standard 9-inch pie plate, you can decrease the filling ingredients by ¼ to ⅓ (but keep the pie crust as is).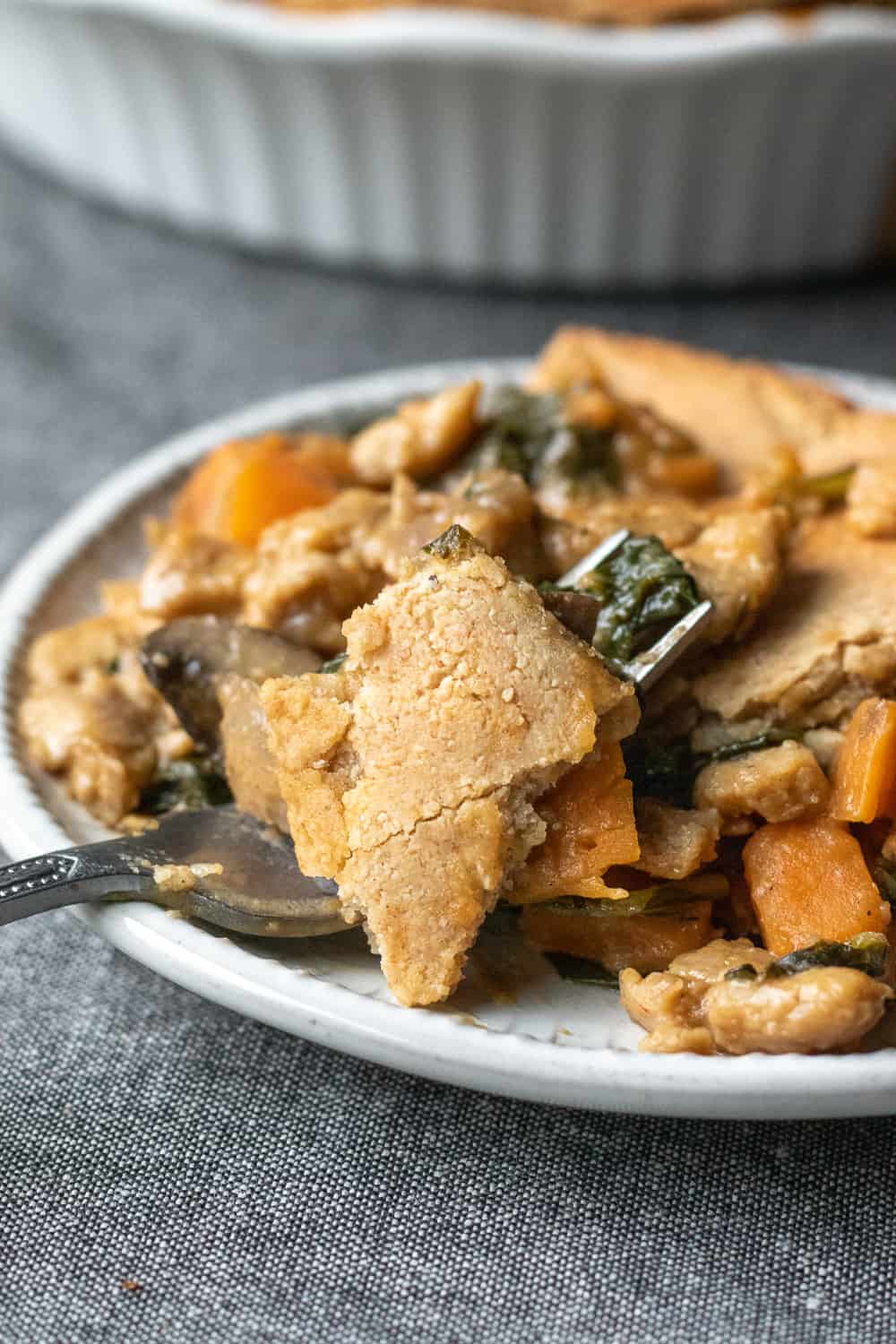 I just LOVE the way almond flour creates a crispy, rich, buttery crust. I'll take one of these over a standard pie crust made from all-purpose flour and saturated fat any day.
I hope you enjoy this wholesome, oil-free vegan pot pie as much as we do. If you make it I would love to hear from you! Drop a line in the comments below to let everyone know how it turned out. And if you get creative with filling ingredients, herbs and spices, please share that, too!
Happy Cooking!
You might like:
Sweet Potato and Kale Pot Pie (Vegan, WFPB/Oil-Free, GF)
Wholesome and comforting vegan pot pie made with sweet potato, kale, onion, mushrooms, and soy curls. Oil-free and suitable for whole-food plant-based diets. *Use the rice flour option in the Healthy Vegan Pie Crust recipe to make it gluten-free.
Equipment needed: rolling pin, large saute pan, 9.5-inch (1.5 Qt.) deep dish pie plate or similarly sized baking dish
Ingredients
1

unbaked

Healthy Vegan Pie Crust -

Or sub your favorite pie crust

5

ounces

Butler soy curls (about ⅔ package)

2

cups

oil-free vegetable broth

1

large

onion, chopped

2

medium

sweet potatoes, peeled and cut into ⅝ inch cubes

8

ounces

mushrooms such as cremini (baby bella) or white button, sliced

1

large

bunch kale, thick stems removed, chopped

4

cloves

garlic, minced

1

tsp

sea salt

black pepper, to taste

1 ½

tsp

dried thyme or 2 tsp chopped fresh thyme

½

tsp

ground sage

¾

tsp

smoked paprika

dash of

cayenne, optional

½

cup

unflavored, unsweetened non-dairy milk

2

Tbsp

arrowroot or corn starch
Instructions
Make the pie dough, but don't roll it out yet. Once you have a ball of dough, wrap/cover to preserve moisture. Set aside.

To rehydrate the soy curls, place them in a large shallow dish, and cover with 2 cups of broth. Set aside for 10 to 15 minutes while you begin the sauté.

Locate a large saute pan with a lid. Prehat the pan over medium heat. Cook the onion and sweet potatoes for about 5 minutes, stirring occasionally. Cover the pan, reduce heat to medium-low, and cook for about 5 minutes more or until the sweet potatoes are barely fork tender. *The vegetables shouldn't stick in a properly preheated pan; if they do, add a splash of water or broth.

Add the mushrooms, and cook 7 to 10 minutes, or until their moisture is released and evaporated. Next, add the kale, garlic and salt. Cover the pan and cook 3 to 4 minutes.

Add the pepper, thyme, sage, smoked paprika, and cayenne, if using. Stir to distribute. Use a slotted spoon to transfer the soy curls to the pan. Don't discard the broth.

Dissolve the arrowroot/corn starch in the broth; add this slurry and the soy milk to the pan. Bring to a simmer. Stirring, cook for 1 to 2 minutes or until the sauce begins to thicken. Taste and adjust seasonings as desired.

Preheat oven to 425 degrees F (218 C).

Spoon filling into pie plate. Roll out the pie crust on a piece of parchment paper (refer to pie crust recipe as needed). Flip pie crust onto pie plate. Trim and pinch/seal the edges as well as possible. Cut several slits in the top of the crust for ventilation.

Place a large baking sheet or piece of foil on the bottom rack of the oven (to catch drips in case the pie bubbles over). Bake pot pie for 30 to 35 minutes or until the crust is crispy and golden. NOTE: if using the white rice flour version of the pie crust, it will look fairly pale even when done.

Let stand 10 minutes before serving.
Notes
Pot pie is best eaten the day it's made.
Store leftovers in an airtight container in the refrigerator for up to 3 days.
Estimated Nutrition (per serving)
Calories:
467
kcal
Carbohydrates:
56
g
Protein:
22
g
Fat:
18
g
Saturated Fat:
1
g
Cholesterol:
0
mg
Sodium:
655
mg
Fiber:
11
g
Sugar:
10
g
Vitamin A:
429
IU
Vitamin C:
80
mg
Calcium:
20
mg
Iron:
30
mg
Nutrition information is an estimate and will vary depending on the exact amounts and specific products and ingredients used. We calculate this information using the online calculator cronometer.com.
Tried the recipe?
I love hearing from you! Share your feedback below!