Instant Pot millet with vegetables is a 1-pot full meal! Colorful, nutritious, and easy to pull together any day of the week. Comforting and slightly creamy, millet pairs with healthy veggies, soy curls (optional), and Tex-Mex spices. Versatile and great for meal prep! Gluten-free, nut-free, and oil-free.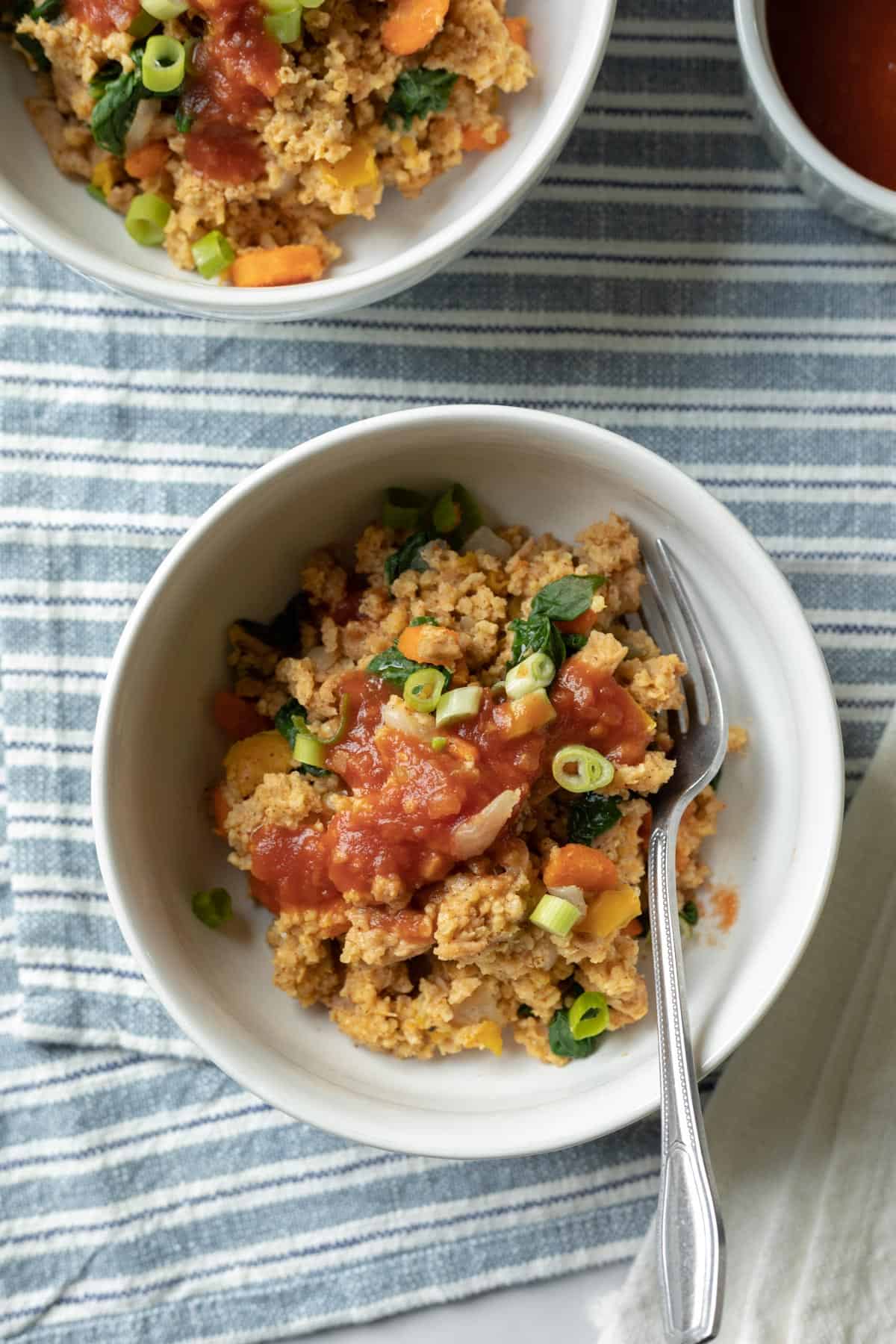 Why We Love This Recipe
With nutritious millet and vegetables, you'll love that this basic recipe is very versatile. No need to include every vegetable listed. Feel free to incorporate what you have on hand.
If including the soy curls, as long as they are rehydrated before adding them to the Instant Pot, and you keep the overall wet-to-dry ratio the same, there's a lot of room to play here!
Try it with different spice profiles, like Indian, Chinese, or Thai. Or keep it plain and add your favorite sauces to individual servings.
You'll also love the creamy and comforting consistency. Cooked millet can sometimes be dry, but in this dish we're using more water so the end result is actually a little creamy, almost like kitchari or a thick polenta.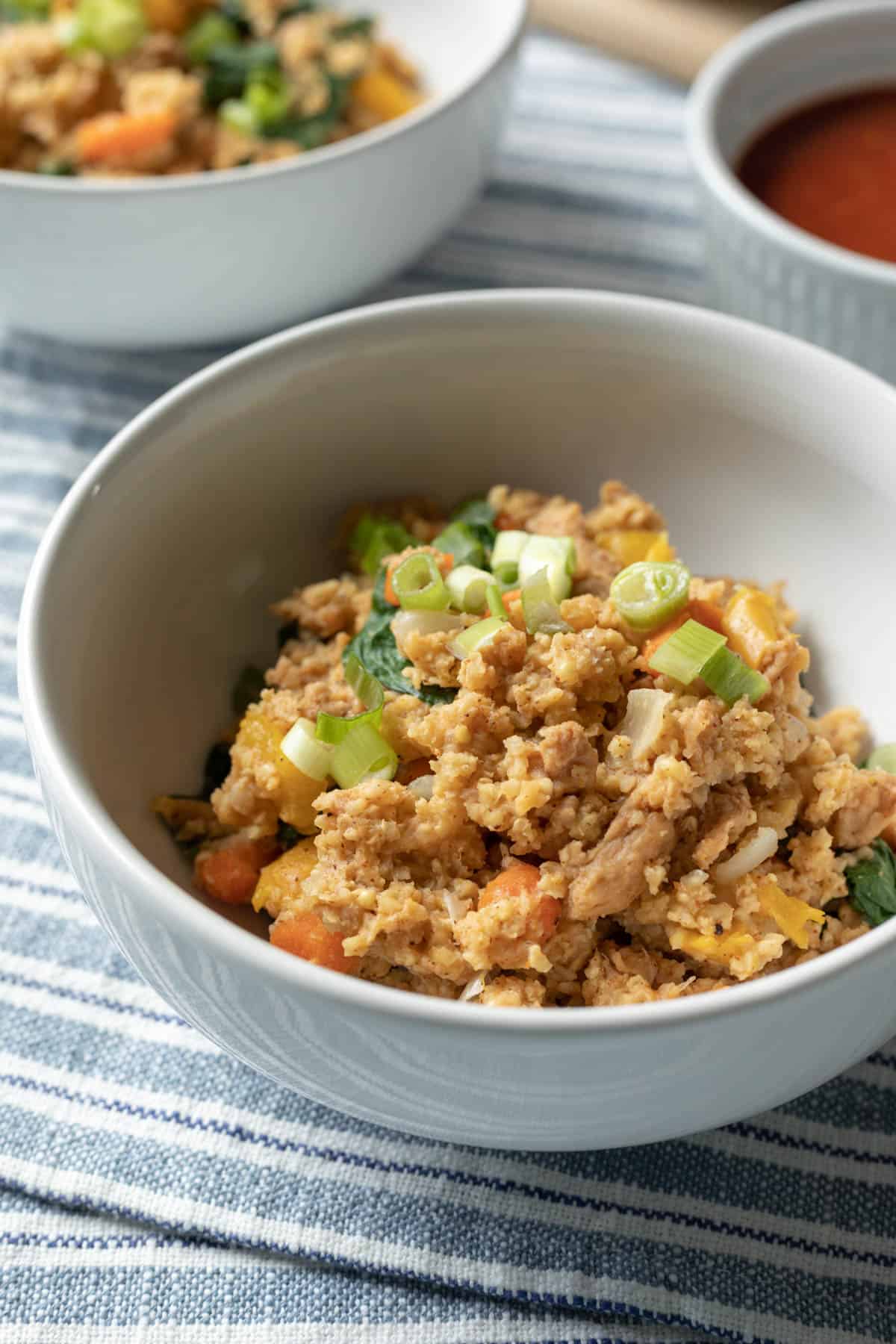 Is millet a grain?
Technically, millet is not a grain. It's often referred to as a pseudo-grain, similar to quinoa, amaranth, and rice. In other words, millet isn't a grain, but it has similar characteristics and is usually treated as one.
Millet is naturally gluten-free and has a mild and versatile flavor. I think it tastes slightly nutty and similar to cornmeal.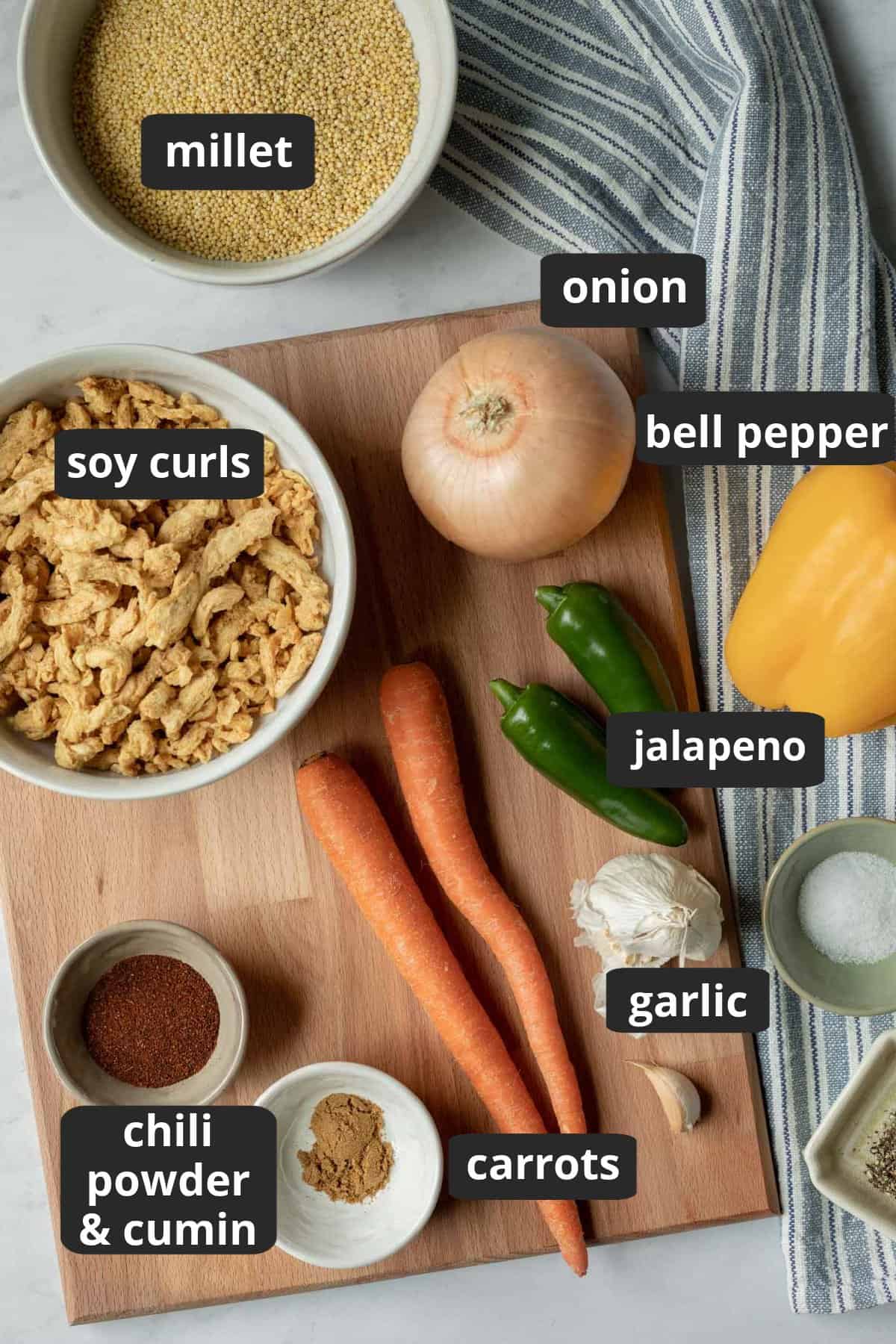 Ingredient Notes
Millet
Hulled millet is usually available in well-stocked grocery stores and can also be found online.
It's also great in this millet breakfast bake.
Vegetables
Part of the joy of this recipe is using up whatever veggies you have on hand. Feel free to omit the carrots, pepper, and/or jalapeño. Substitute garlic powder for the fresh garlic if needed.
The baby spinach is also optional. Alternatively, serve the millet with lettuce, arugula, or coleslaw.
Soy Curls
Ordering soy curls online is best since they're nearly impossible to find in stores (if you're lucky you might come across soy curls in a small, local health food store).
Buy soy curls on Amazon or order directly from the Butler Foods website.
If you're new to cooking with soy curls, be sure to read this post: 19 Vegan Soy Curl Recipes + FAQs!
More ways to use soy curls:
Can I omit the soy curls?
Sure! You can also make this recipe without the soy curls. Since you won't need water for soaking/rehydrating, the total amount of water needed is 2 ½ cups.
You may also want to slightly decrease the chili powder, cumin, and salt to account for the missing soy curls, but that's totally up to you.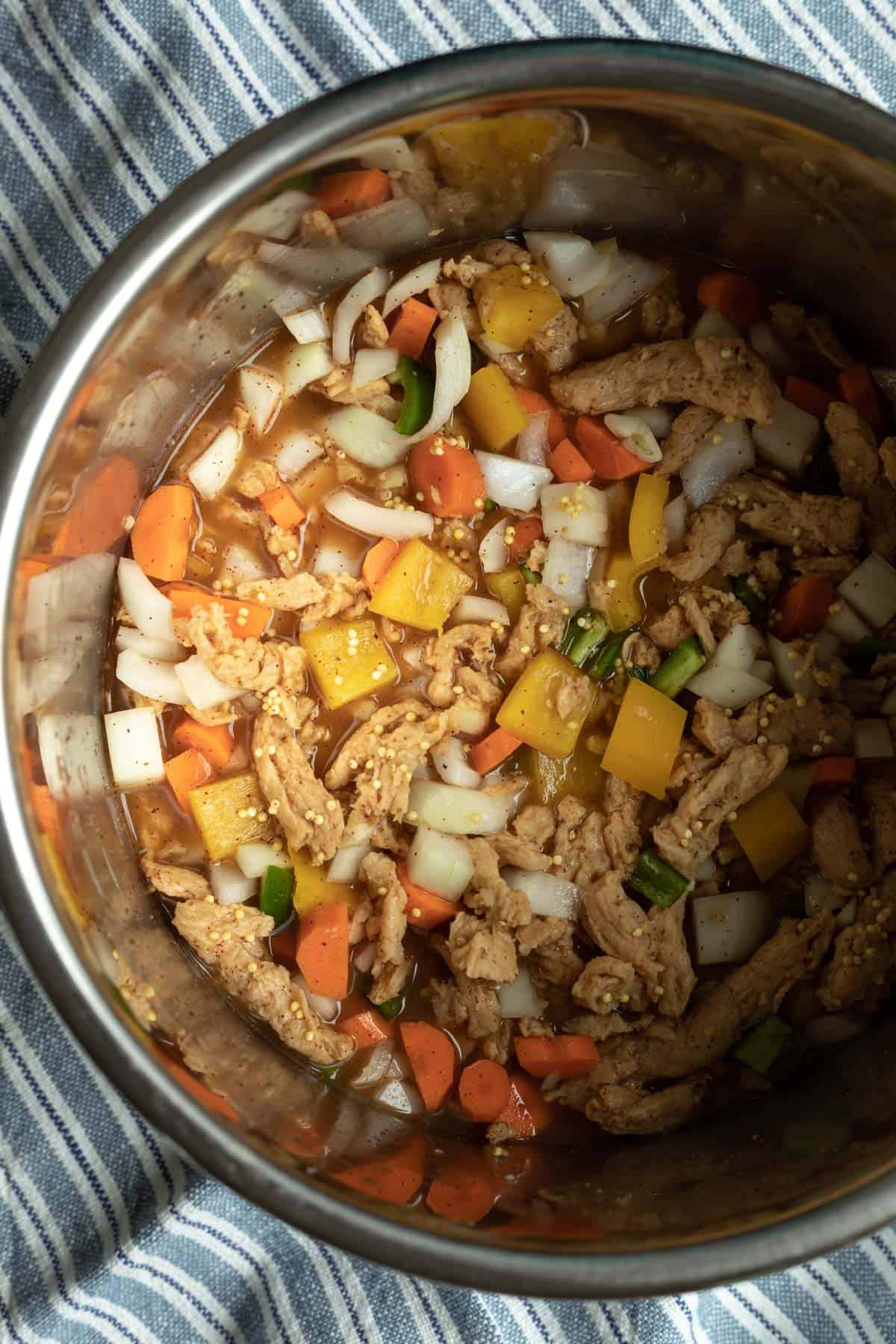 How To Prepare This Recipe
I always flinch a little at the use of the word "dump" to describe anything relating to food 😂 but "dump-and-start" and "dump-and-go" really are good descriptors for this kind of Instant Pot recipe.
The only work involved in making this millet recipe is chopping the onion, garlic, peppers, and carrots. There is no sautéing or babysitting a pot involved.
Rehydrate the soy curls in water mixed with my homemade chicken flavored broth powder, or use any salty broth you have on hand.
While the soy curls soak, chop the veggies.
Then, simply add all ingredients (except spinach, which is added after cooking) to the Instant Pot, and stir very well. Lock on the lid, and cook at high pressure for 11 minutes.
So easy. Also, thanks to the onion, peppers, and spices, your house will smell amazing!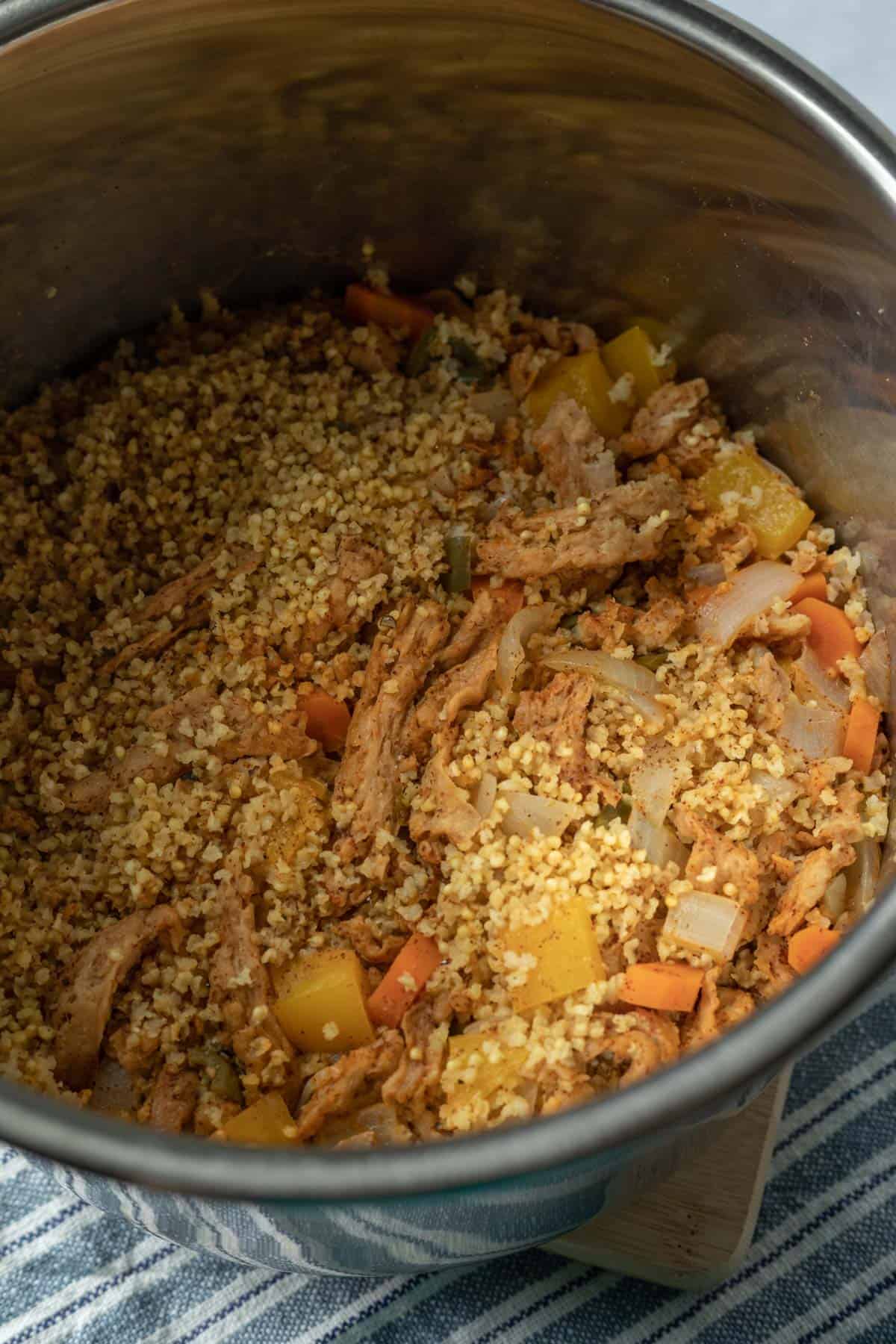 After removing the lid, stir in fresh spinach and allow the heat to wilt it down. Let the millet cool for a few minutes, then serve with salsa, cilantro, avocado, or any other toppings you enjoy.
Tips and Storage
I touched on a few possible substitutions in the Ingredient Notes above, so be sure to check that out if you have questions.
Stir the ingredients very well before locking on the Instant Pot lid. This ensures that the millet is fully incorporated and not clumped on the bottom, which could result in a burn warning (I haven't had that happen, but just in case).
Store leftover millet in a lidded storage container in the refrigerator for up to 5 days. It also freezes well.
Reheat leftovers on the stovetop or briefly in the microwave.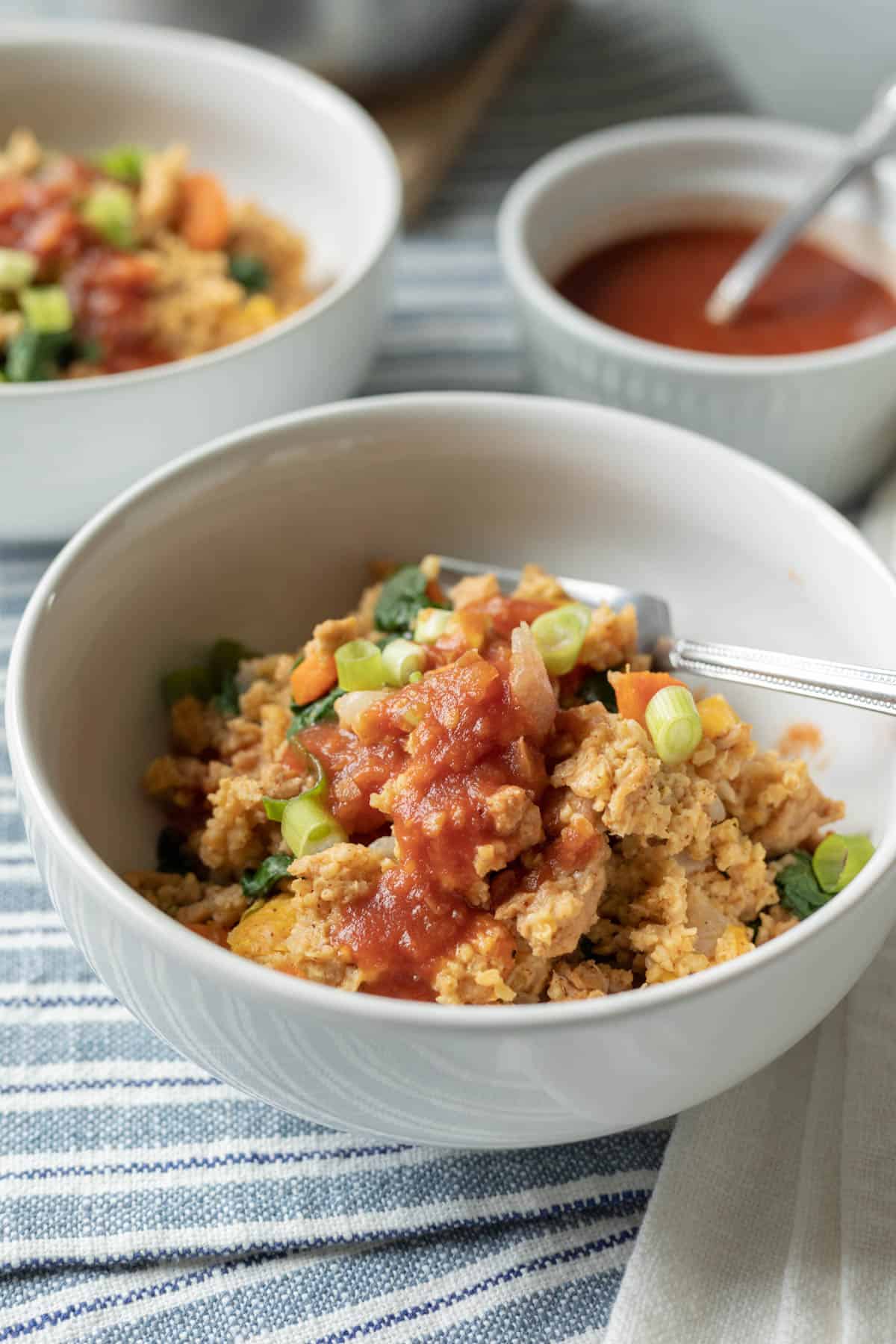 I hope you enjoy this easy, healthy, Instant Pot millet recipe! If you give the recipe a try comment below to let us know.
You might like:
📖 Recipe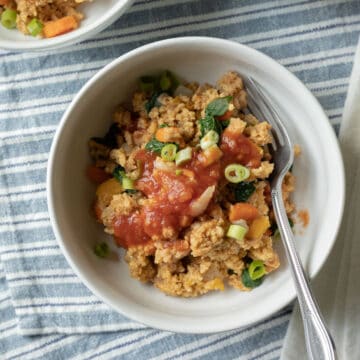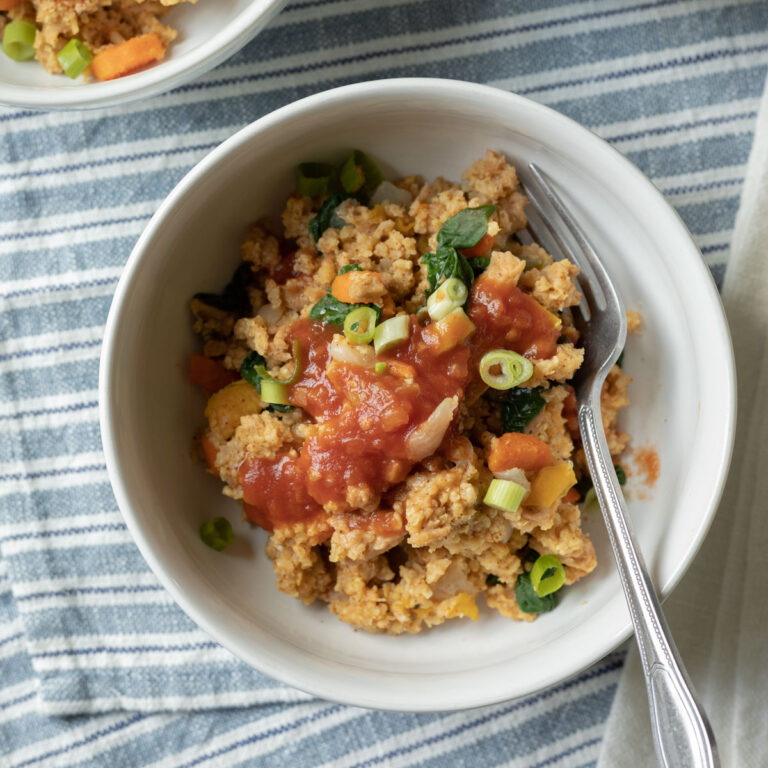 Instant Pot Millet With Vegetables
This Instant Pot millet recipe is a full meal in a bowl. Colorful, nutritious, and easy to pull together any day of the week. Creamy millet is paired with healthy veggies, soy curls, and Tex-Mex spices. Great for weekly meal prep!
Vegan and free from gluten, nuts, and oil.
Ingredients
1 ½

cups

hulled millet

4

ounces

dry soy curls (about 3 cups) -

*See Notes.

4

cups

water, divided

1

tablespoon

homemade chicken flavored seasoning, optional -

If omitting, use broth to rehydrate soy curls instead of water.

1

onion, chopped

2

medium

carrots, peeled and diced

1

large

yellow, orange, or red bell pepper, chopped

5

cloves

garlic, minced

2

large

jalapenos, seeded and diced, optional

1

tablespoon

chili powder

2

teaspoons

ground cumin

1 ¼

teaspoons

fine sea salt

black pepper

3

ounces

fresh baby spinach, optional
For serving:
salsa

fresh cilantro

sliced avocado or prepared guacamole

chopped green onion
Instructions
First, rehydrate the soy curls. Place in a bowl with the tablespoon of chicken flavored powder and 1 ½ cups of the water. Set aside to soak. If you don't have chicken flavored seasoning on hand, soak the soy curls in vegetable broth instead.

Rinse the millet under cold running water, drain, and add to the Instant Pot. Next, drain away any liquid left in the bottom of the bowl of soy curls (no need to squeeze them - just get rid of the excess). Add the soy curls to the Instant Pot along with the chopped veggies, all spices and seasonings, and the remaining 2 ½ cups of water. In other words, everything EXCEPT the spinach and garnishes should now be in the IP. Stir very well.

Lock on the Instant Pot lid and make sure it is set to sealing. Cook the millet at high pressure for 11 minutes. The IP will take about 10 minutes to come to pressure, then the timer will begin.

When the timer beeps at the end of the 11 minutes, carefully quick release the pressure. (This will take at least several minutes because of the amount of pressure.) Once the pin drops, remove the lid, and add the spinach to the pot, if using. Stir to incorporate. The heat will wilt the spinach.

Allow the millet to cool for a few minutes, then serve with your favorite toppings like salsa, cilantro, and avocado.
Notes
*If you'd like to make this recipe without the soy curls, the amount of water added to the Instant Pot stays the same, 2.5 cups.
Storage
Store leftover millet in the refrigerator for up to 6 days. Reheat on the stovetop or in a microwave.
This recipe also freezes well.
Estimated Nutrition (per serving)
Calories:
285
kcal
Carbohydrates:
46
g
Protein:
13
g
Fat:
5
g
Cholesterol:
0
mg
Sodium:
524
mg
Fiber:
8
g
Vitamin A:
5602
IU
Vitamin C:
41
mg
Calcium:
48
mg
Iron:
4
mg
Nutrition information is an estimate and will vary depending on the exact amounts and specific products and ingredients used. We calculate this information using the online calculator cronometer.com.
Tried the recipe?
I love hearing from you! Share your feedback below.