Vegan air fryer stuffed peppers are quick, delicious, and so versatile! Use our homemade vegan ground beef recipe or your favorite plant-based meat. With cooked rice, marinara, vegan cheese, and a few seasonings, this comforting and healthy plant-based dinner is on the table in no time!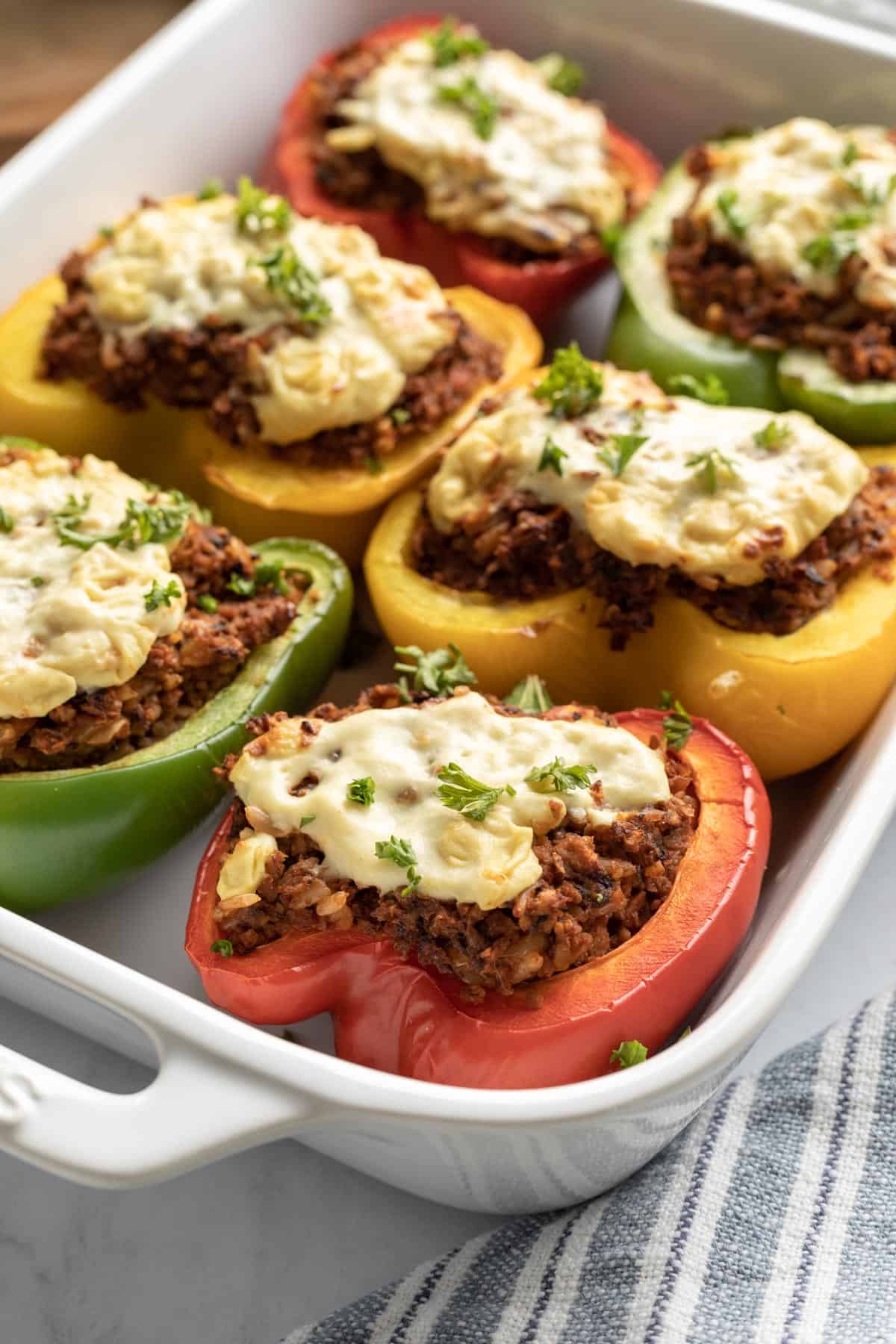 Nutritious vegan comfort food that's totally customizable AND ready in less than 30 minutes? Yes, please!
There's so much to love about air fryer stuffed peppers, not the least of which is that cooking them in the oven takes SO much longer. It's almost ridiculous what a difference the air fryer makes here.
Jump to:
These vegan stuffed peppers were inspired by a post I saw recently in a Facebook group. Someone shared a drool-worthy photo of a simple stuffed pepper she cooked in the air fryer. It looked so good and sounded so easy, I was inspired to create my own version to share with you!
Earlier this week I shared a plant-based ground beef recipe made with mushrooms and soy curls. It's the perfect filling for these beefy stuffed peppers, but any vegan meat you love will work here, too.
Try spicy Italian seitan sausages, tofu chorizo, or vegan andouille sausage for some Cajun flair!
Ingredient Notes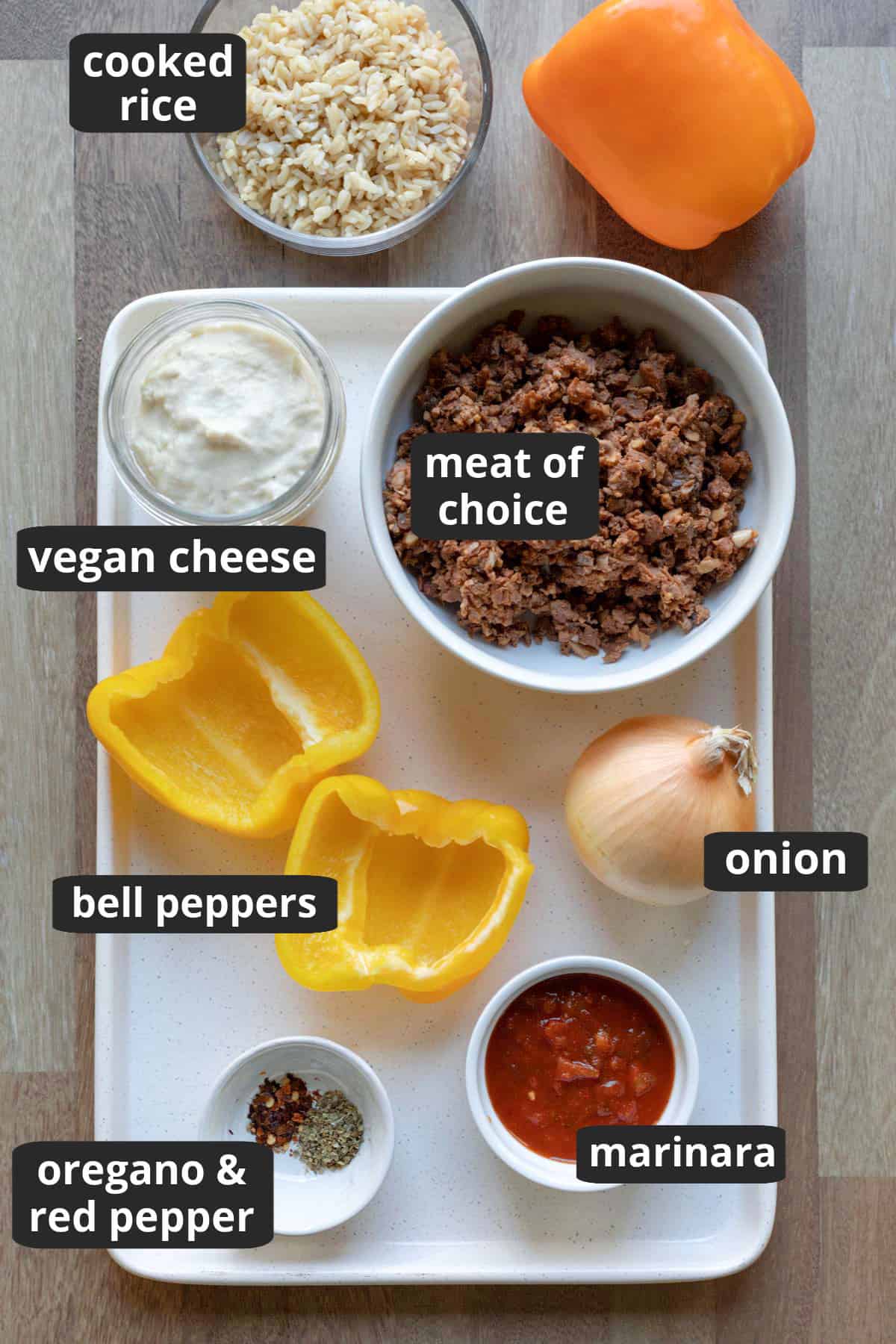 Meat - I used this healthy vegan ground "beef" recipe, but almost any homemade or store-bought vegan meat can be used in stuffed peppers. Get creative!
Rice - you'll need a little over 1 cup of cooked rice, or more if preferred. Any variety is fine. I used brown rice.
Marinara - homemade or store-bought; if you strictly avoid oil be sure to check labels.
Cheese - I used this melty vegan mozzarella. It takes about 15 minutes to prepare a batch.
Bell Peppers - use any color you like/have, though a variety is fun!
Seasonings - this will depend on the meat you use. I added oregano, black pepper, and a pinch of red pepper flakes to the ground "beef." If using a spicy chorizo or Italian sausage, for example, you may not need additional seasonings.
See recipe card below for quantities.
Instructions
You can find the full instructions and printable recipe below. Here's the basic flow, just to show you how easy it is to make stuffed peppers in the air fryer...
What to Serve With Vegan Stuffed Peppers
A simple and fresh side salad is perfect, and if you're keeping things oil-free, this aquafaba-based oil-free Italian vinaigrette is a must try. It's so bright and zesty and perfect with these beefy stuffed peppers.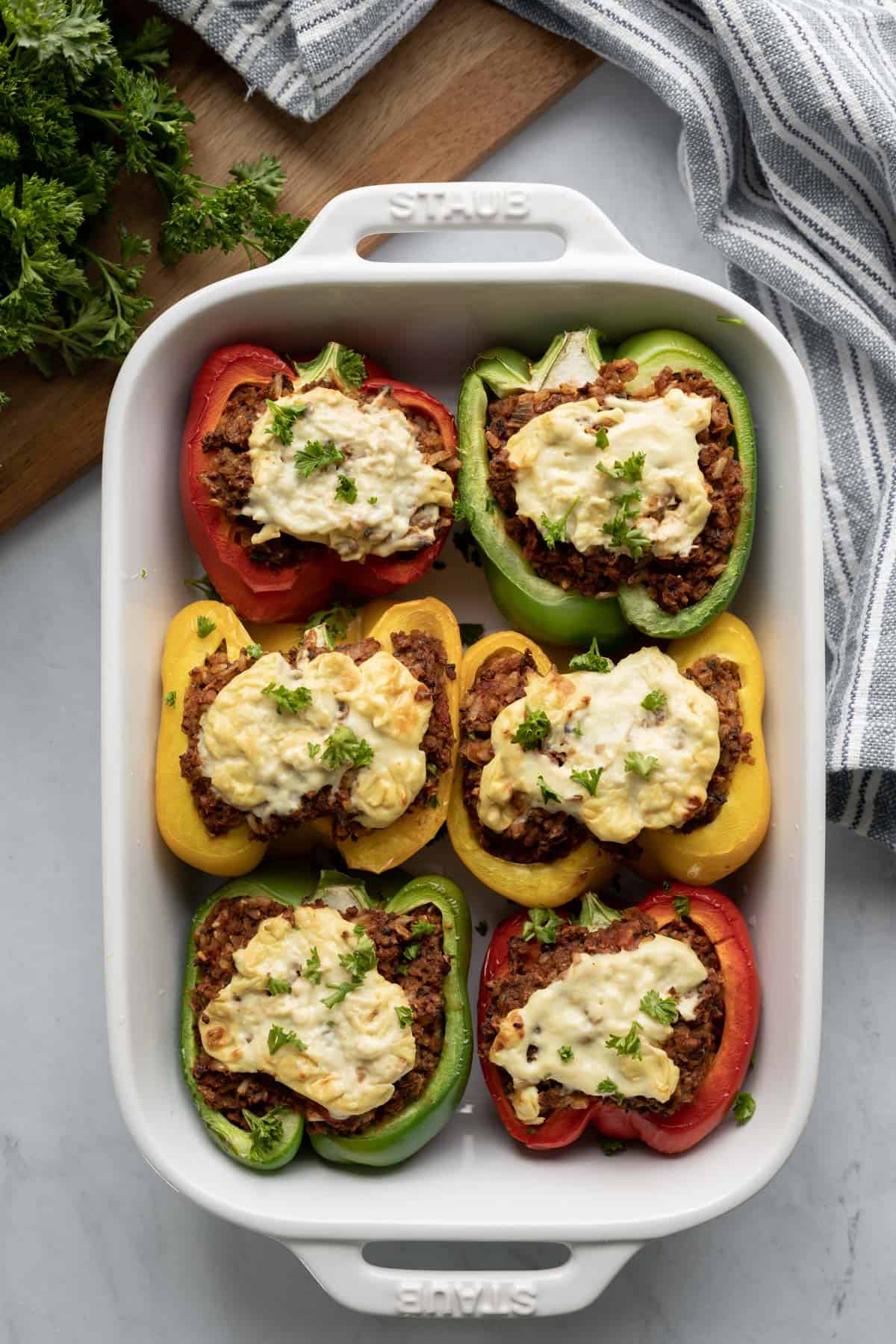 Substitutions
Meat - if you don't need the dish to be oil-free, store-bought vegan meats are an easy substitute; season accordingly.
Cheese - my homemade cashew mozzarella only takes about 15 minutes to prepare and really is delicious in this recipe. You could also use a nut- or seed-based parm (add after air frying) or store-bought shredded cheese.
Rice - don't have rice? Quinoa (GF), farro, and barley are all delicious options. Or just increase the amount of vegan meat for a low-carb vegan dinner.
Variations
Not in the mood for beefy Italian stuffed peppers? Here are a few other ideas.
Mexican - season the soy curl beef with cumin and chili powder, and use salsa instead of marinara. Or better yet, use this vegan taco meat, which is actually the recipe that inspired the ground beef recipe! Garnish with cilantro and use this oil-free queso instead of mozzarella.
Extra Cheesy - stir your cheese of choice into the meaty filling, as well as adding it on top.
Kid friendly - make mini stuffed peppers! They're easy to pick up with small hands instead of needing a knife and fork for large bell peppers.
Equipment
You'll need a large sauté pan and an air fryer for this recipe. And if you want to use the oil-free "beef" and and cheese recipes, you'll also need a food processor and a blender.
Storage
Leftover stuffed peppers will keep for up to 4 days. Store in an airtight container in the refrigerator.
To reheat stuffed peppers, the microwave works best. The air fryer will dry out the exterior of the peppers and filling before heating them all the way through. Steaming is another option.
I haven't tried freezing these stuffed peppers yet but suspect they will hold up well.
More vegan air fryer recipes:
I hope you enjoy these healthy air fryer stuffed peppers! If you try the recipe I would love to hear from you. Be sure to rate the recipe and comment below to let everyone know how they turned out!
📖 Recipe