Our Vegan Sweet Potato Pie has a silky, spiced filling that's surprisingly light yet so flavorful! This recipe is perfect if you're accommodating special diets this holiday season - made without refined-sugar, eggs, dairy, oil, soy, or coconut!
Pair it with our popular vegan gluten-free pie crust for a sweet potato pie the whole family will love! Bonus: the GF pie crust holds up much better overnight than traditional pastry.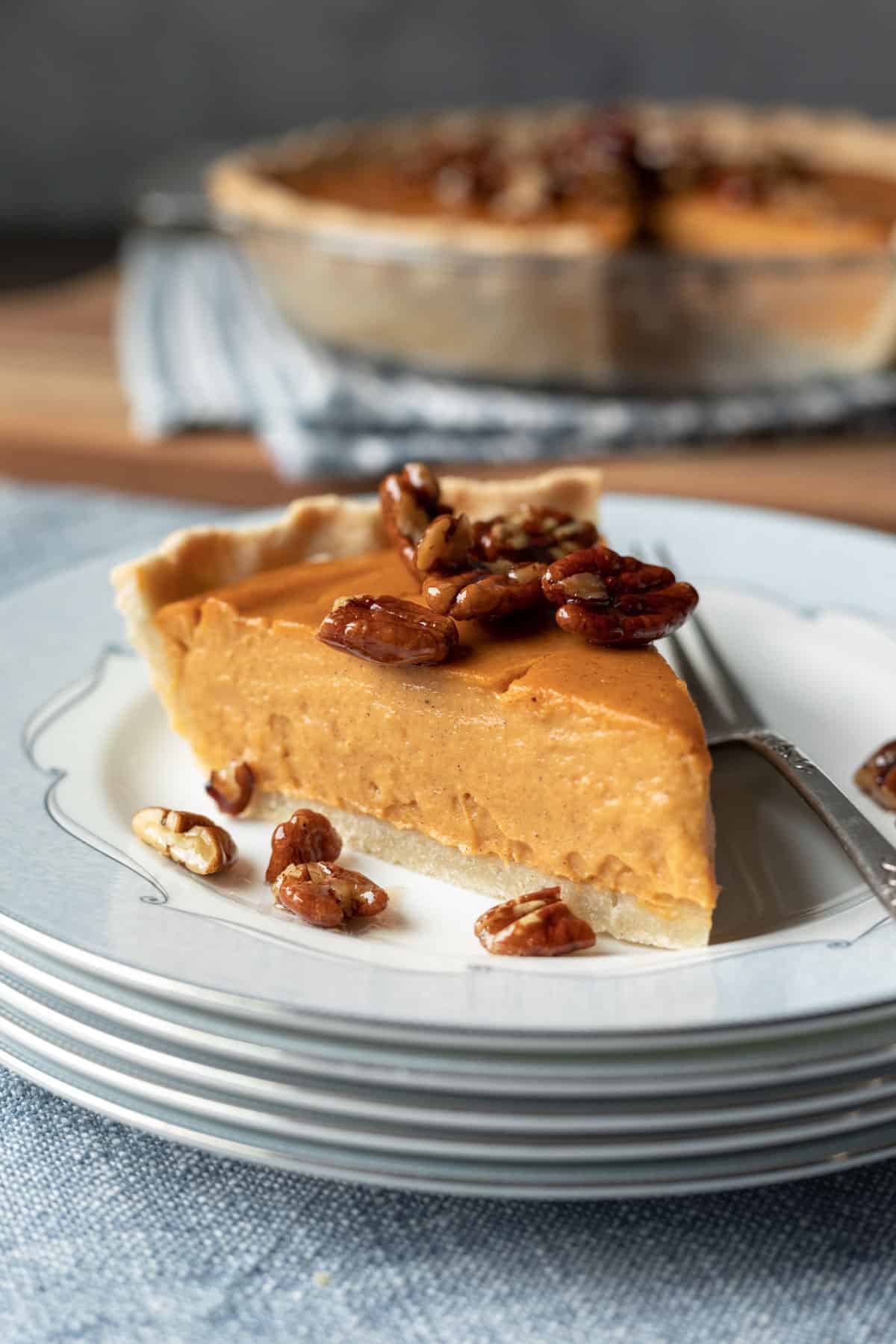 Are you on team sweet potato pie or team pumpkin pie? Or both?! While I love a deliciously dense and creamy slice of pumpkin pie, it's difficult to argue with the fact that sweet potatoes are just all-around more delicious than pumpkin.
You'll never see me turn away sweet potatoes in any form! Plain, mashed, in a casserole, roasted and on a salad, and certainly in pie. It's all good to me.
This vegan sweet potato pie is far from traditional, but if you're vegan, lactose intolerant, allergic to coconut or soy, or follow an oil-free diet for health reasons, this recipe is for you!
And just because this is a lighter, healthier, and allergy-friendly pie, doesn't mean you'll miss out on flavor or satisfaction. It truly is delicious. And it's so easy to make, too!
Jump to: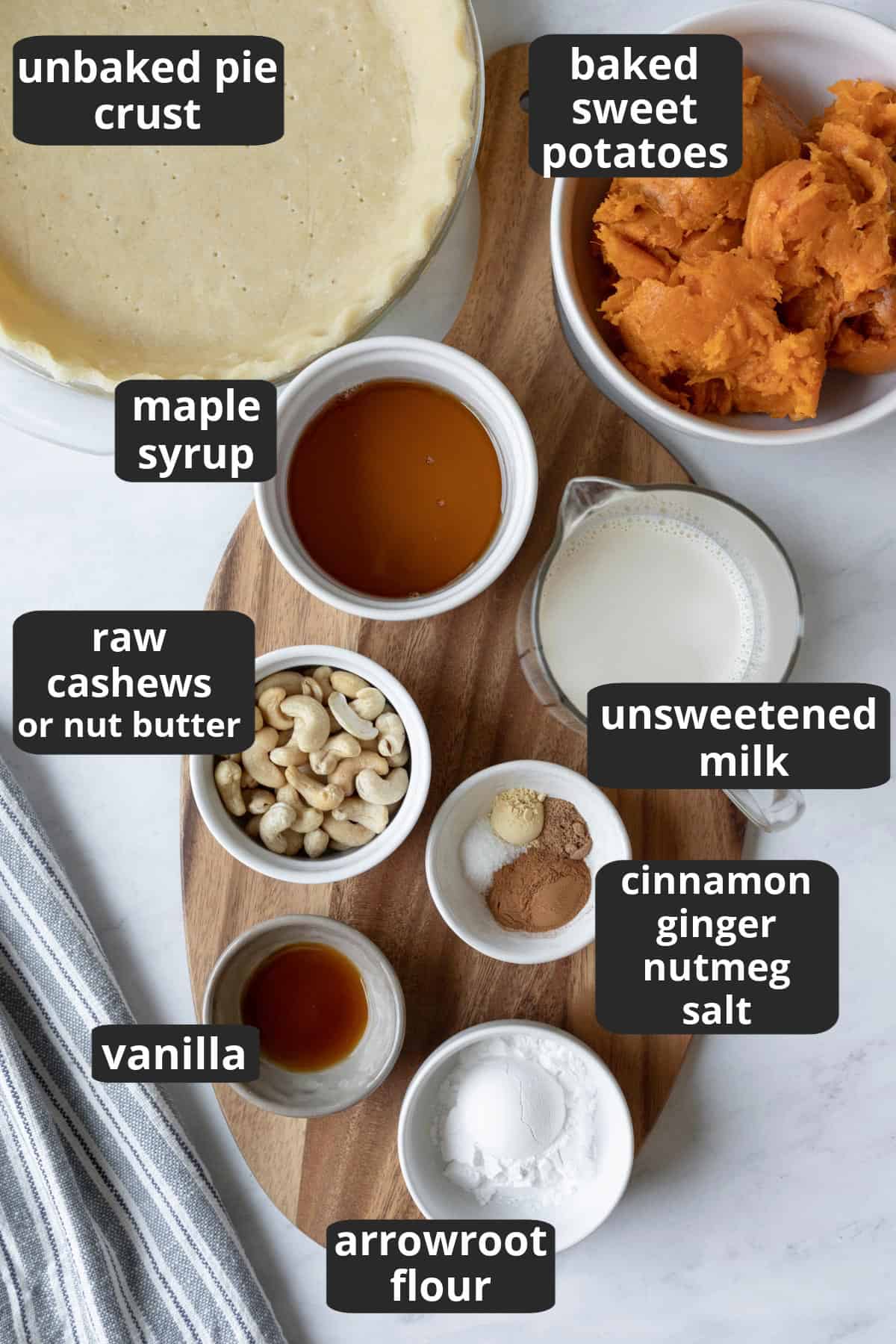 Ingredient Notes
pie crust - I highly recommend this oil-free vegan pie crust. It's so delicious and easy to work with, but any other vegan pie crust you enjoy is fine, too.

Update: I now have a nut-free pie crust adapted from the one made with almond flour. It is also gluten-free and oil-free. It's made with sunflower seeds and tastes amazing with the sweet potato filling!

sweet potatoes - I find organic sweet potatoes have much more flavor than conventional. So for any recipe where sweet potatoes are the star, it's always good to buy organic.
If you're in the mood for a shortcut, feel free to use canned sweet potato puree. You'll need 2 ½ cups.
milk - use any unsweetened non-dairy milk you like, such as oat, soy, or almond milk.
raw cashews - these give our pie a bit of richness since we're not using butter, coconut, etc. See the Substitutions section below for nut-free options.
maple syrup - pure maple syrup sweetens the pie and lends lovely flavor. I don't recommend replacing it.
arrowroot starch - feel free to use corn starch instead.
See recipe card below for quantities and complete instructions.
How to Make Vegan Sweet Potato Pie
Making any pie from scratch requires a few steps, but the whole process for this vegan sweet potato pie really is easy. Here's how to do it...
First, roast the sweet potatoes in a 400 degree oven until soft. Set aside to cool. This step can be done days in advance if needed.
Next, prepare this easy vegan pie crust, and trust me, it really is easy. If you've struggled with traditional pie crusts in the past, definitely give this one a try. It will become your new go to! Pre-bake the crust for just 7 minutes then set aside.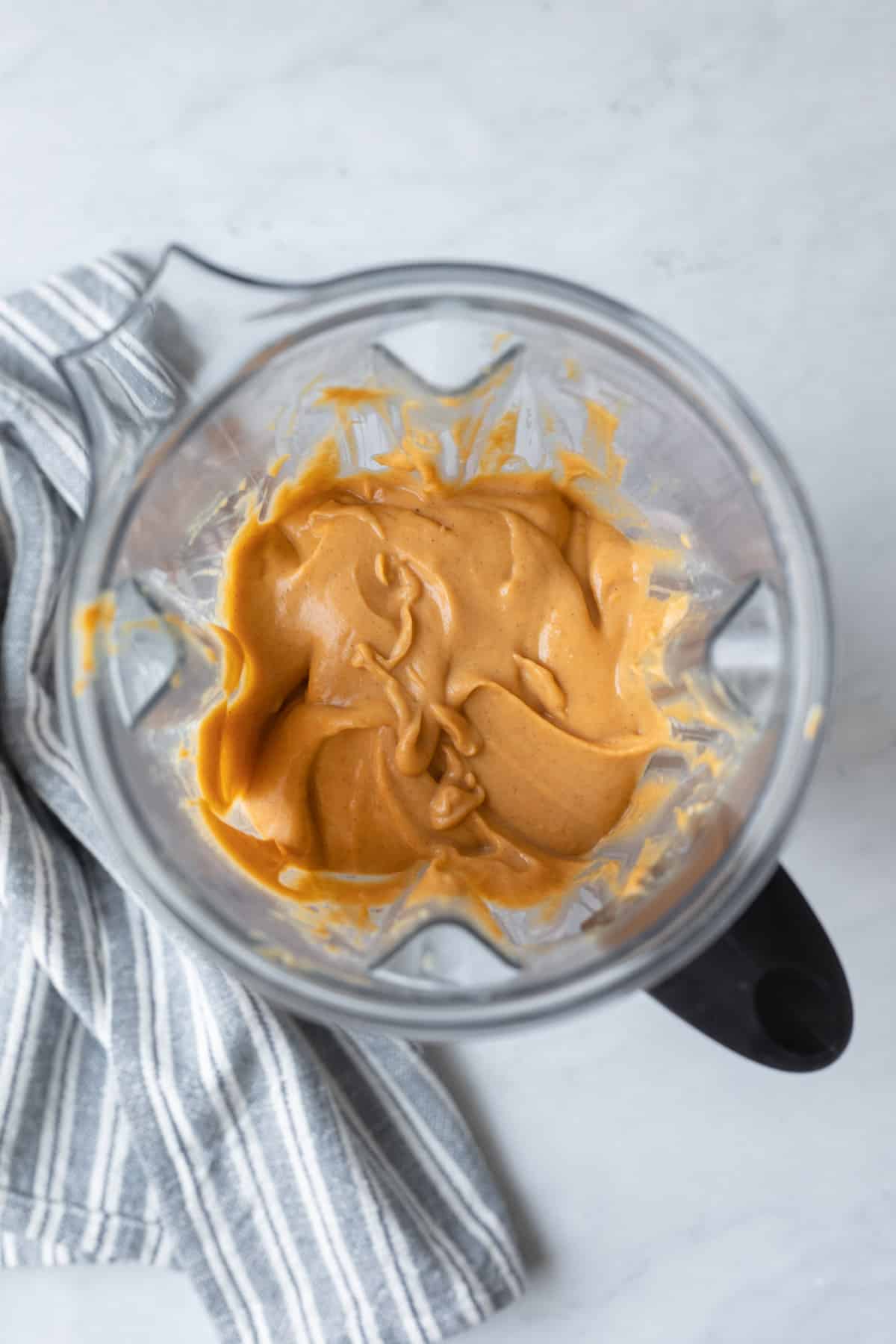 Now, it's time to make the filling. If using cashews, combine them with the milk and blend until smooth. Then add the remaining filling ingredients and blend again.
If using nut or seed butter instead of cashews, you can combine all of the filling ingredients in the blender at once. Blend until silky smooth.
Tips and Serving Suggestions
Since this sweet potato pie is fairly tall (deep dish) it's nearly impossible to fully bake it without a few cracks gracing the top. But I say, don't sweat it! They don't interfere with the flavor, and that's what really counts!
You'll find a lot of tips online for preventing cracks in sweet potato pie, but those pies are made with butter, milk, and eggs. Honestly, those rules just don't apply to our lighter vegan pie.
If your pie has a few cracks on top and you don't like the way it looks, you can always cover it with non-dairy whipped topping, whipped coconut cream, vegan marshmallows (see Variations below), or quick-candied pecans!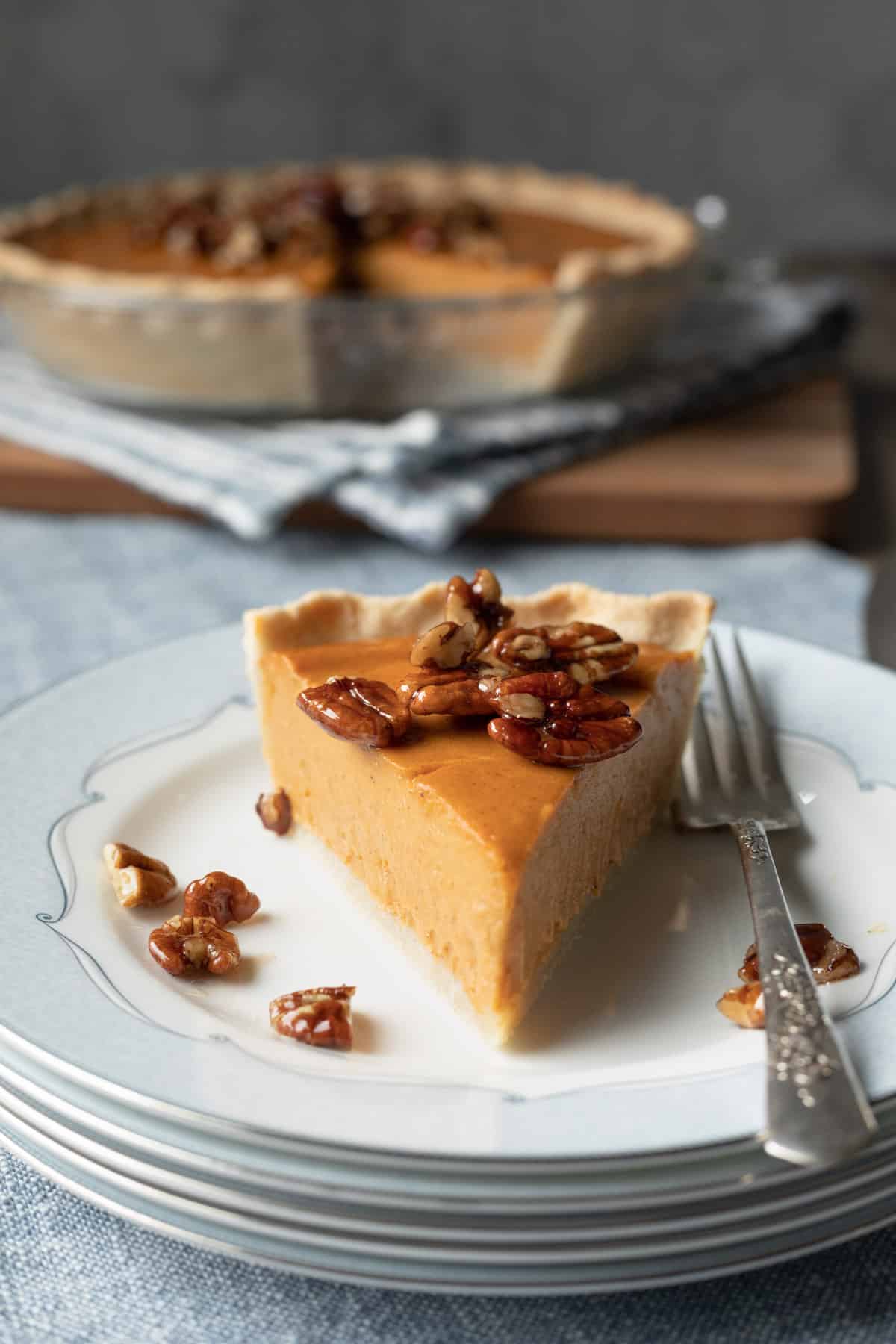 Substitutions
nut-free - make the sweet potato filling nut-free with these swaps: use raw sunflower seeds, tahini, or coconut cream instead of cashews, and opt for a nut-free milk. For a nut-free pie crust option, try this whole-wheat crust.
Variations
orange - add the zest of one orange to the pie filling.
chai spice - instead of the spices listed, use 1 ½ teaspoons chai spice blend. Depending on its spiciness, you may want a little more or less.
coconut - use full-fat canned coconut milk for the milk, and sprinkle the top of the baked pie with freshly toasted coconut flakes.
marshmallow - if you're not avoiding refined sugar, add Dandie's vegan marshmallows on top.
How to do it:
When the pie is done baking, arrange small marshmallows on top. Turn on your oven's broiler. With the pie about 6 inches away from the heat, broil until the marshmallows are golden, about 30 seconds to 1 minute. Keep a close eye on it so they don't burn!
Equipment Needed
How to Store Leftover Pie
Cover and refrigerate any leftovers for up to 3 days. Technically, it's safe to eat for up to about 5 days, but as with any pie, the crust will gradually soften the longer it sits.
Sweet potato pie freezes well. Be sure to wrap tightly to protect from air. Thaw overnight in the refrigerator before serving.
I hope you love this healthy Vegan Sweet Potato Pie as much as we do. If you try it be sure to rate the recipe and leave a comment below to let us know!
More Vegan Holiday Desserts
If you're new to vegan baking, be sure to check out these Top 12 Tips!
📖 Recipe