Gorgeous and colorful cranberries deserve more than one spot at the holiday table, and this Vegan Cranberry Cream Pie is ready for center stage! Sweet, tart, creamy, and smooth, the flavor is reminiscent of cheesecake but with a lighter mouthfeel. This cranberry cream pie can also be frozen for a few hours before serving for a more dense, ice cream-like consistency. Pair it with my Easy Vegan Pie Crust to make this holiday dessert gluten-free.
You could say I fell in love with cranberries last year. It was my first holiday season creating recipes for the blog, and after a couple of batches of Vegan Cranberry Sauce and this Cranberry and Citrus Tart, I was hooked! First of all, their color is stunning. They're also rock stars at thickening thanks to their natural pectin content and are both nutritious and delicious.
What Does this Vegan Cranberry Cream Pie Taste Like?
If you're a fan of tart and tangy foods like yogurt, cheesecake, and citrus, this cranberry cream pie has your name all over it! Even though it isn't made with cream cheese, the addition of cranberry sauce to the rich filling made from cashews and non-dairy milk instantly gives this pie the classic tang of cheesecake.
But consistency-wise, this filling isn't as firm as cheesecake. You can probably tell from the photos that it's much lighter and creamier in consistency. But here's a really cool thing....
You can pop this pie in the freezer for a few hours (or even longer), and you'll end up with a firmer, ice cream-like, super dense and creamy frozen pie. Because this is a fairly decadent dessert with plenty of fat from cashews, it won't freeze solid as a rock. So in essence, this pie is sort of like two-desserts-in-one! Depending on what you're in the mood for, you can serve it light, soft, and cool... or dense, firm, and cold. It's truly delicious either way.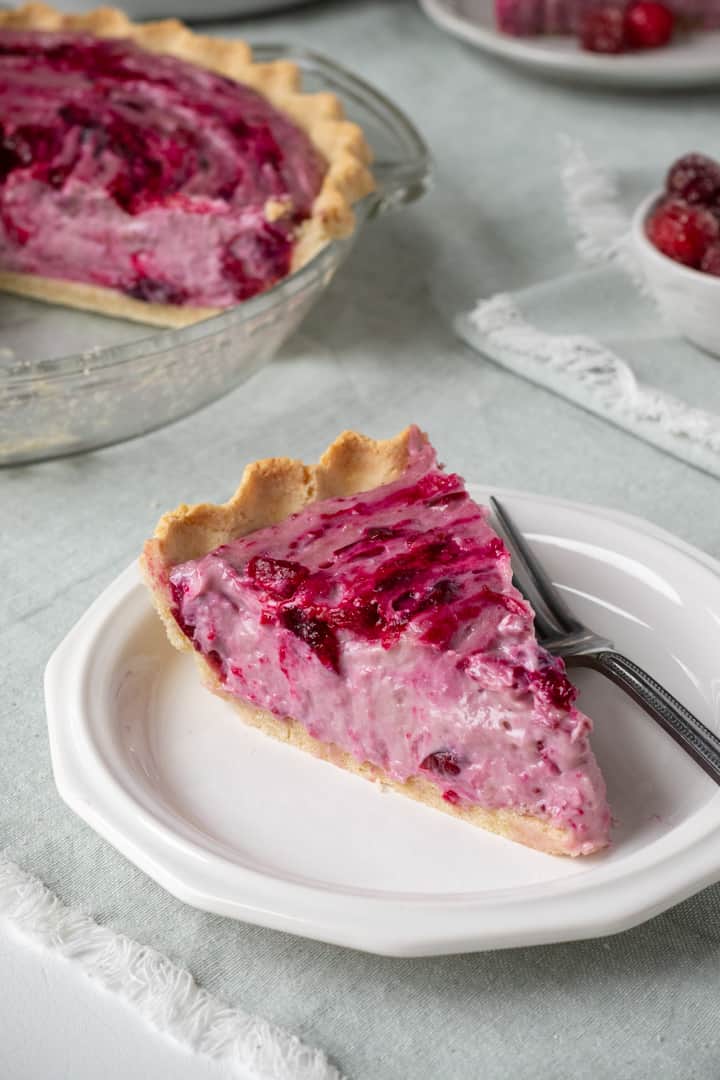 How to Make Gluten-Free Cranberry Cream Pie
First, a note about gluten-free: to keep this pie gluten-free, I highly recommend using my favorite Healthy Vegan Pie Crust. You really can't go wrong with this recipe. Made from almond flour, the texture and flavor are lovely, but there's no butter, oil, or shortening involved. There's also no pre-chilling ingredients and equipment. It really is the most delicious, easiest pie crust I've ever had.
There are 3 components to this pie:
homemade or store-bought cranberry sauce (just make sure it's vegan and NOT the jellied kind; you want whole-berry cranberry sauce)
creamy filling made from cashews, non-dairy milk, sugar, vanilla, and either corn starch or arrowroot
Since this is a no-bake pie filling that is cooked briefly on the stove, you'll want to fully bake your pie crust first. Another thing you can do in advance is make a batch of cranberry sauce. If you've never made cranberry sauce from scratch, let me assure you, it's incredibly simple. It's SO easy, in fact, you'll find yourself making it multiple times throughout the holiday season just because you can!
Use fresh OR frozen cranberries, and you can follow my recipe using a combination of maple syrup and cane sugar to sweeten the cranberry sauce or use just one or the other. It's totally up to you. For my final test batch of this pie I decided to sweeten the cranberry sauce with organic cane sugar only, just so that the cranberry cream flavor would be more pure without the hint of maple.
Once you've baked the crust and made the cranberry sauce, chill both in the refrigerator. The next step is to blend the filling ingredients until smooth, then heat it in a large sauce pan until thickened. Be sure to whisk frequently (you'll get a bit of an arm workout here).
Next, there's an optional step of whisking 1 cup of So Delicious Coco Whip into the pudding/filling. This whipped topping is easier to find than ever (check their website to locate a store), and it lives up to the brand name because it is SOOOO delicious. The whipped topping gives the pie a bit more volume and adds an extra bit of sweet cream flavor. But if you prefer, you can omit the Coco Whip.
Finally, we add the cranberry sauce to the filling! Start by whisking in about half of the cranberry sauce (photo above), and give it a taste.
For more color and tartness add about half of the remaining cranberry sauce.
NOTE: I like to reserve ¼ of the cranberry sauce for decorating the top of the pie with a swirl pattern (see photo below), but this is totally optional.
Once you've poured the filling into the crust and created an eye-catching swirl on top, just pop this baby into the fridge for 3 to 4 hours (uncovered). Once it's completely chilled, you can cover it with plastic wrap.
Depending on when you plan to serve your cranberry pie, leave it in the refrigerator, OR transfer it to the freezer for a while to achieve the firmer texture I mentioned above. Once removed from the freezer it will soften fairly quickly. So don't set it out on the dessert table hours in advance. Keep this beautiful pie chilled in the fridge or freezer, okay?
I hope you and your loved ones enjoy this Vegan Cranberry Cream Pie! If you try the recipe I would love to hear from you. Feel free to leave a comment below, or tag me in a photo on facebook or instagram with @myquietkitchen!
More vegan holiday dessert recipes:
Strawberry Pretzel Salad (Cheesecake Bars)
Cranberry and Citrus Tart with Hazelnut Crust
Low-Fat Cranberry Oat Gelato
Frech Toast Trifle
Chocolate-Chia Tart
Salted Chocolate Pecan Pie
Cranberry Cream Pie (Vegan & Gluten-Free)
A new cranberry treat perfect for your holiday table, this creamy vegan pie is made with cashews and non-dairy milk, with perfectly sweet and tart cranberry sauce swirled into the filling. Use your favorite pie crust recipe or my gluten-free Healthy Vegan Pie Crust.
Ingredients
1

baked

pie crust, cooled after baking

1

batch

Easy Vegan Cranberry Sauce, chilled - Or 1 ½ cups of your favorite whole-berry cranberry sauce (not the jellied variety)

1 ½

cups

unsweetened non-dairy milk

-

I used plain soy milk.

2

cups

raw cashews

-

If not using a high speed blender, soak cashews in hot water for 1 hour before blending.

1 ¼

cups

sugar

¼

cup

plus 1 Tbsp corn starch or arrowroot

1

Tbsp

vanilla extract

⅛

tsp

fine sea salt

1

cup

So Delicious Coco Whip, optional

- This adds an extra bit of sweet cream flavor but can be omitted if you can't find it. Visit the So Delicious website to locate a store.
Optional Topping:
the remaining So Delicious Coco Whip
Instructions
In a blender combine the milk, cashews, sugar, starch, vanilla, and salt, and blend until completely smooth. Stop to scrape down the sides and stir as needed.

Pour the mixture into a heavy bottomed sauce pan. Bring to a low simmer while whisking almost constantly (this will prevent globs in the pudding). Reduce heat to low, continue to whisk and scrape the bottoms and sides, and cook until thickened, about 5 to 7 minutes. Remove from heat.

Whisk in 1 cup So Delicious Coco Whip, if using.

Next whisk in about ¾ cup cranberry sauce. Taste and add more cranberry sauce until the mixture is the desired color and tartness.

Optional: reserve about ⅓ cup cranberry sauce for creating a swirl pattern on top of the pie. To do this, place small dollops around the pie, then carefully drag a knife or chop stick through the cranberry sauce, moving around the pie in concentric circles (see photo in post).

Refrigerate pie for 3 to 4 hours or until fully chilled. Once chilled, cover with plastic wrap and keep refrigerated until ready to serve. Alternatively, for a firmer, frozen pie, transfer to the freezer for several hours.
Notes
The holidays are busy enough; make life easier by making the cranberry sauce a day or two in advance. You can also make the pie crust the day before, and keep it covered at room temperature.
The cashew cream filling can also be made in advance, but don't heat it on the stove until you're ready to pour it into the baked crust.
Be sure to allow enough time for the pie to completely chill before slicing and serving.
Leftovers can be refrigerated for up to 4 days or frozen for several weeks. The high fat content of cashews prevents this pie from freezing solid, so it's delicious right out of the freezer.
Estimated Nutrition (per serving)
Serving:
1
slice
Calories:
458
kcal
Carbohydrates:
66
g
Protein:
10
g
Fat:
19
g
Saturated Fat:
3
g
Cholesterol:
0
mg
Sodium:
94
mg
Fiber:
5
g
Sugar:
40
g
Vitamin A:
40
IU
Vitamin C:
9
mg
Calcium:
72
mg
Iron:
3
mg
Nutrition information is an estimate and will vary depending on the exact amounts and specific products and ingredients used. We calculate this information using the online calculator cronometer.com.
Did you try the recipe?
I LOVE hearing from you! Comment below to let us know.