If you're looking for a delicious pecan pie without eggs, dairy, oil, gluten, or corn syrup, you've found it! We're using whole-food ingredients to create a light, custard-y filling you'll love. Paired with this popular gluten-free pie crust (a reader favorite), this healthy vegan pecan pie is ready for your holiday table! Vegan and free from oil, gluten, soy, coconut, and refined sugar.
Y'all know I'm a sucker for baking with oats. Heck, not even just baking, as evidenced by my Oat Ice Cream obsession.
Whether I'm using oat flour in breads, cookies, and muffins, or adding oats to pie filling like in this healthy pumpkin pie, the neutral flavor and textural versatility of oats continues to save the day. And I love that oats are inexpensive and readily available.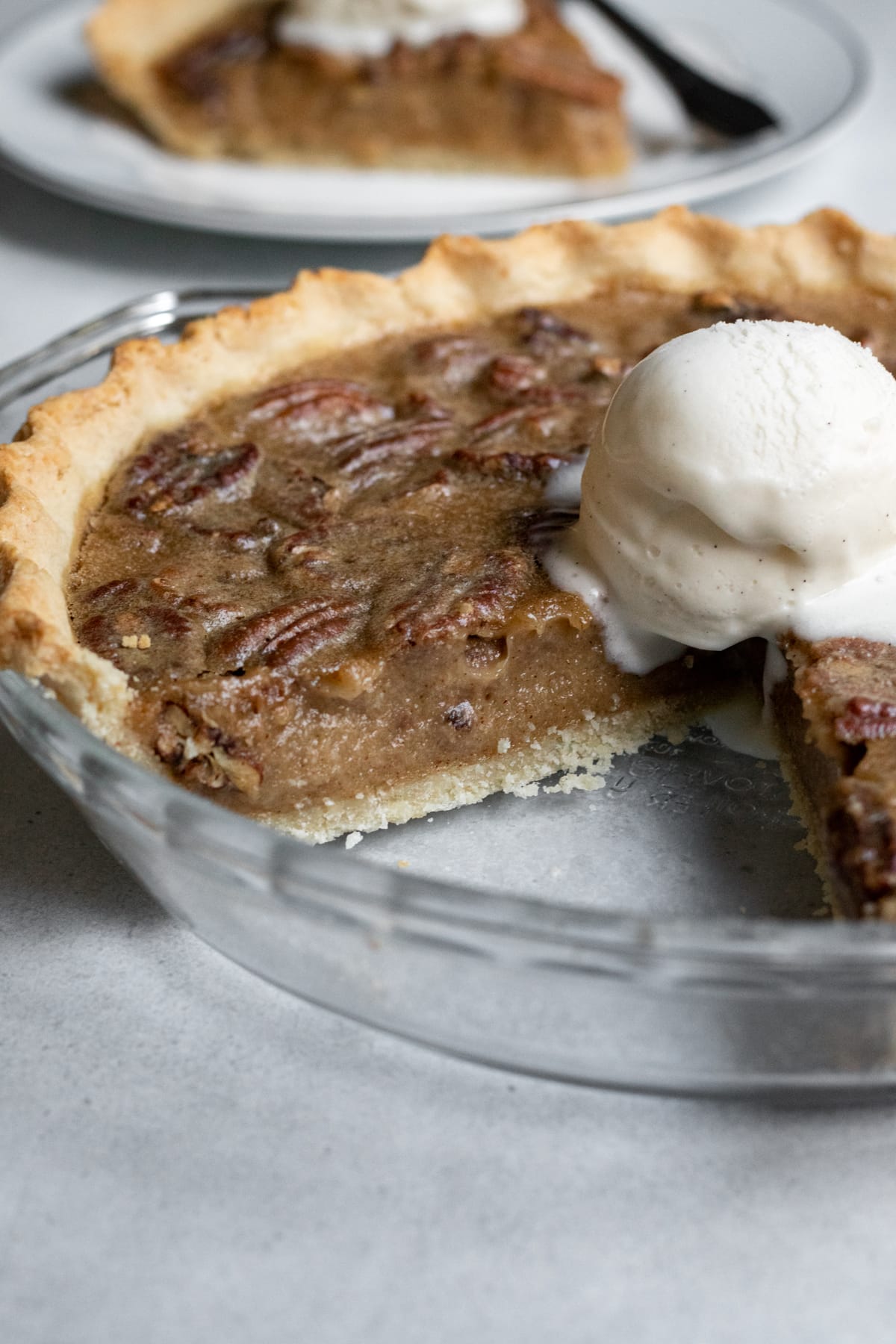 I may have been born and raised in the South, but I'm still surprised this is my third pecan pie recipe on the site. That's one for each holiday season that My Quiet Kitchen has existed! But this is the first one made entirely from whole-food ingredients, which means no vegan butter or refined sugar.
And as much as I love the Salted Chocolate Pecan Pie I shared last year, It's possible I like this recipe even more. The maple syrup flavor is just so good, perfect with pecans, and not too sweet. This is a pie that won't leave you with a sugar crash or feeling like you ate a brick. Gotta LOVE that!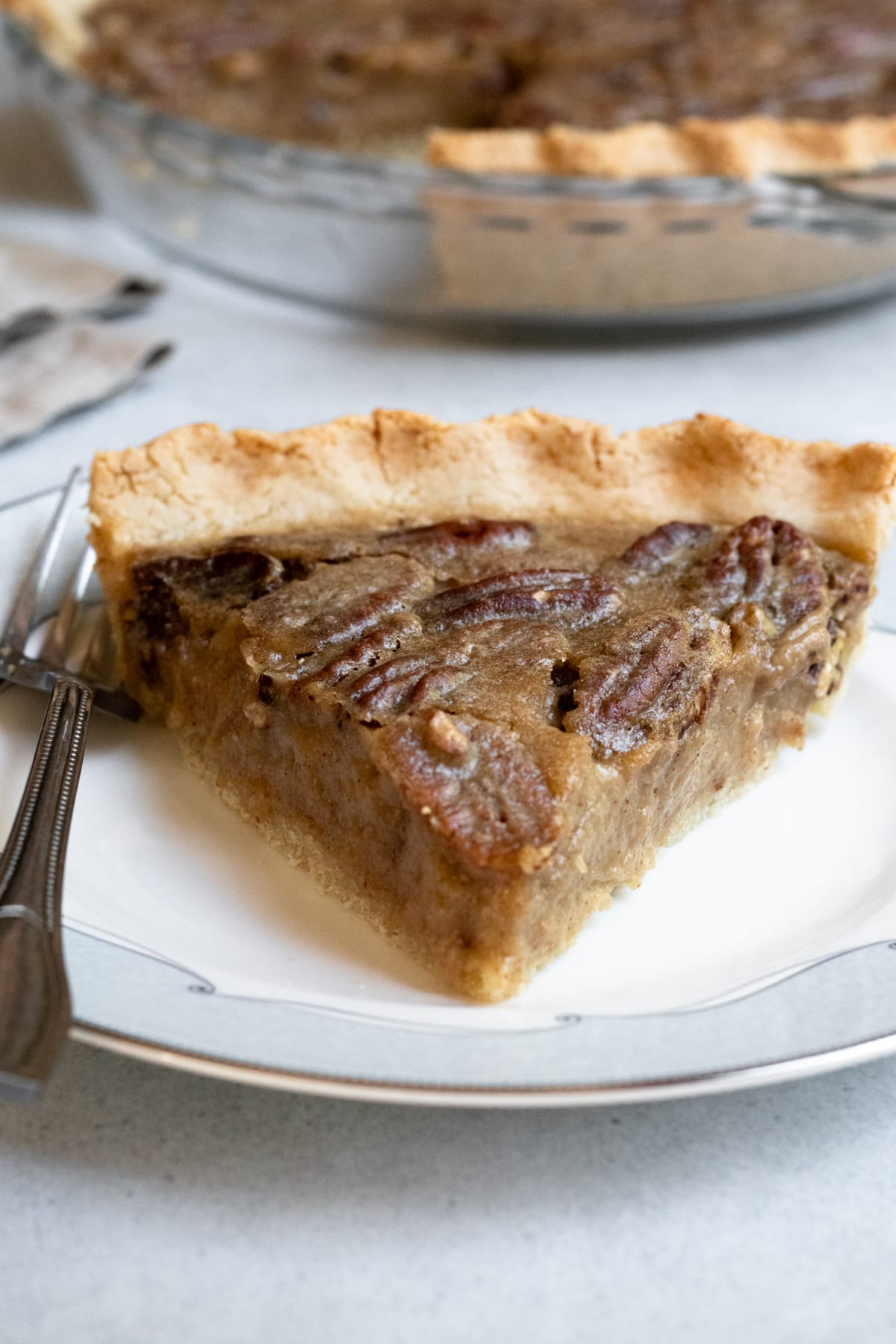 How To Make Healthy Vegan Pecan Pie
This is a summary meant to give you a quick glance of the process. Be sure to scroll down to the recipe card for the full instructions.
From start to finish, not including cooling time, making this pie takes about 1 hour.
Toast the pecans in a 325 degree oven. Toasting enhances the pecan flavor and crisps them up a bit, so definitely don't skip this step. Set aside.
Increase the oven temp to 350, and pre-bake the crust for 10 minutes. Set aside.
Make oatmeal by combining ½ cup rolled oats and 1 cup of water in a small saucepan. Cook for about 10 minutes or until thick (pictured below left).
Now, you're ready to blend the filling. Put the oatmeal, milk, maple syrup, vanilla, almond butter, salt, and starch in a blender. Also add the orange zest or cinnamon, if using. A high speed blender is great here but not necessary. Blend until smooth.
Add the toasted pecans to the pie shell, and pour the filling over the top.
Bake at 350 degrees F for about 40 minutes, then set aside to cool.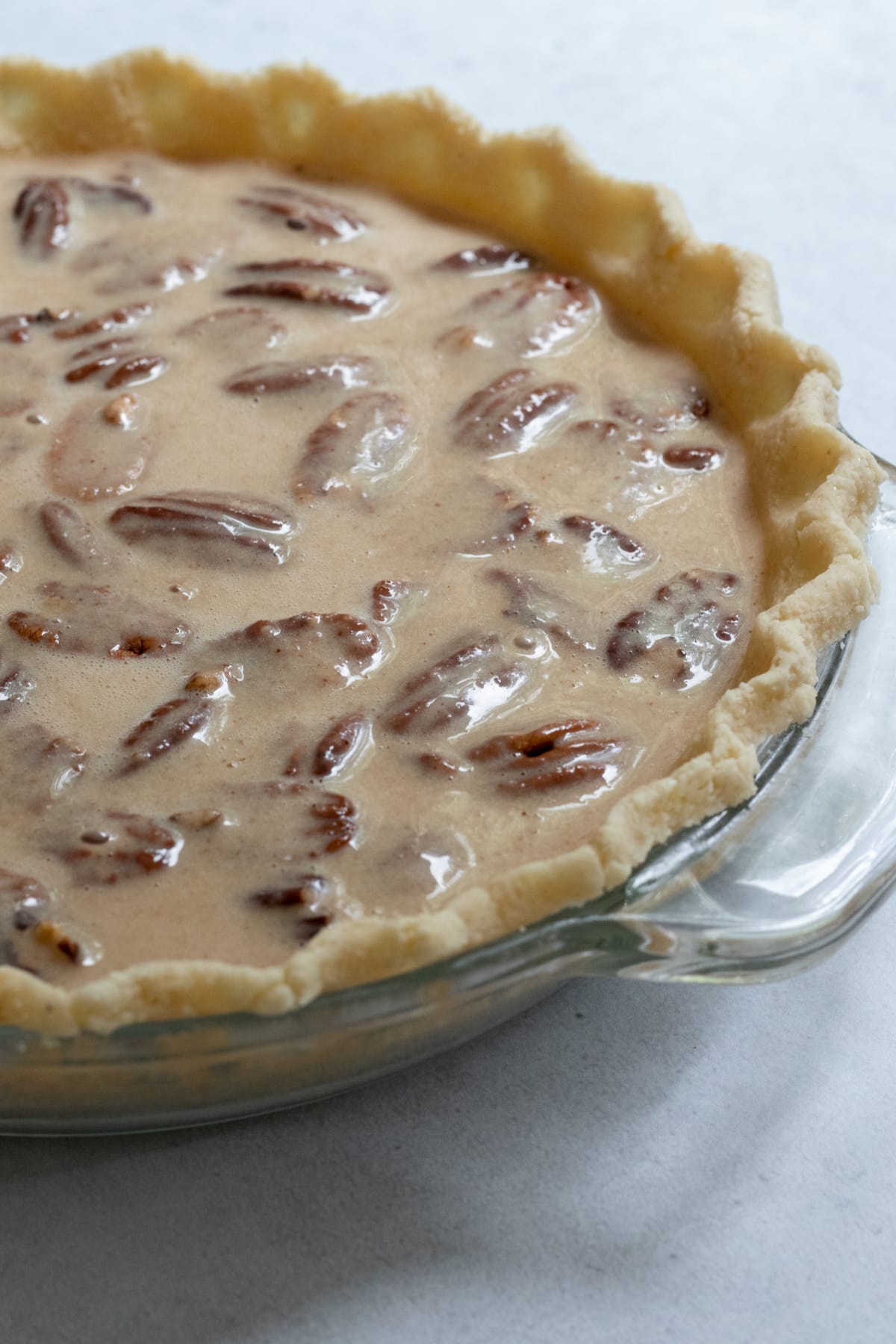 Maple Oat Filling - Options
During recipe testing I experimented with the amount of starch to see whether we preferred the filling more set, like the first photos on this page, or softer, like the photo below. And honestly, it's a toss up. They both taste great and are set enough that the pie slices cleanly and doesn't fall apart on the plate.
The two-and-a-half tablespoons of starch indicated in the recipe splits the difference. So just know that you can reduce the starch to 2 tablespoons if you prefer a fluffier texture, or you can increase it to 3 tablespoons for a firmer set. If in doubt, two-and-a-half tablespoons is just right.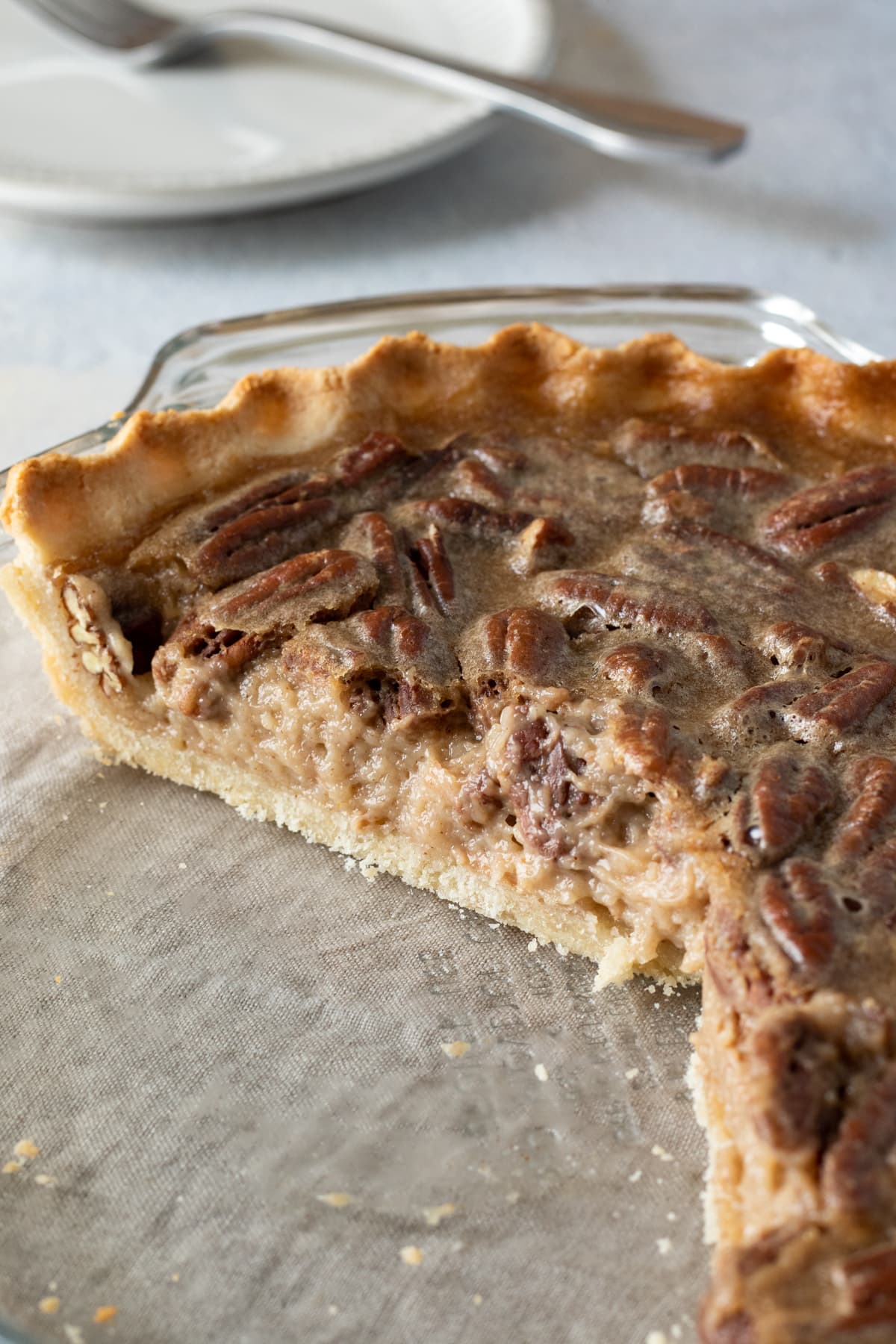 Tips and Substitutions
Pie Crust
Since not all ovens are the same, I recommend keeping an eye on the pie during the last 10 minutes just in case the filling is getting too bubbly or the crust too brown. If you substitute a traditional flour-based crust you might need to cover the edges of the pie with foil or a pie shield to prevent over-browning. If you use my Almond Flour Pie Crust recipe you won't need to worry about the crust getting too brown. It bakes up perfectly in this amount of time.
Starch
Oatmeal handles most of the thickening in our pie filling, and a small amount of arrowroot or corn starch acts as insurance. I haven't tested any other thickeners, such as tapioca, and can't say what kind of results they would provide.
Amount of Pecans
While this pie is healthier and much lighter than traditional pecan pies filled with butter and eggs, it's definitely not low in fat. It is pecan pie after all! However, for all the whole-food plant-based eaters out there, you can reduce the overall amount of fat by using 1 cup of pecans (that's half the amount found in traditional pecan pies). I found that I really enjoyed it with 1 to 1 ¼ cups pecans because that allows the custardy maple-oat filling to really shine.
Flavors
There's an option to include a bit of orange zest or cinnamon in the pie filling, and that's totally up to you! They're both fairly subtle. The orange contributes mild sweetness while cinnamon adds a touch of warming spice. Or skip them both for straight up maple pecan vibes!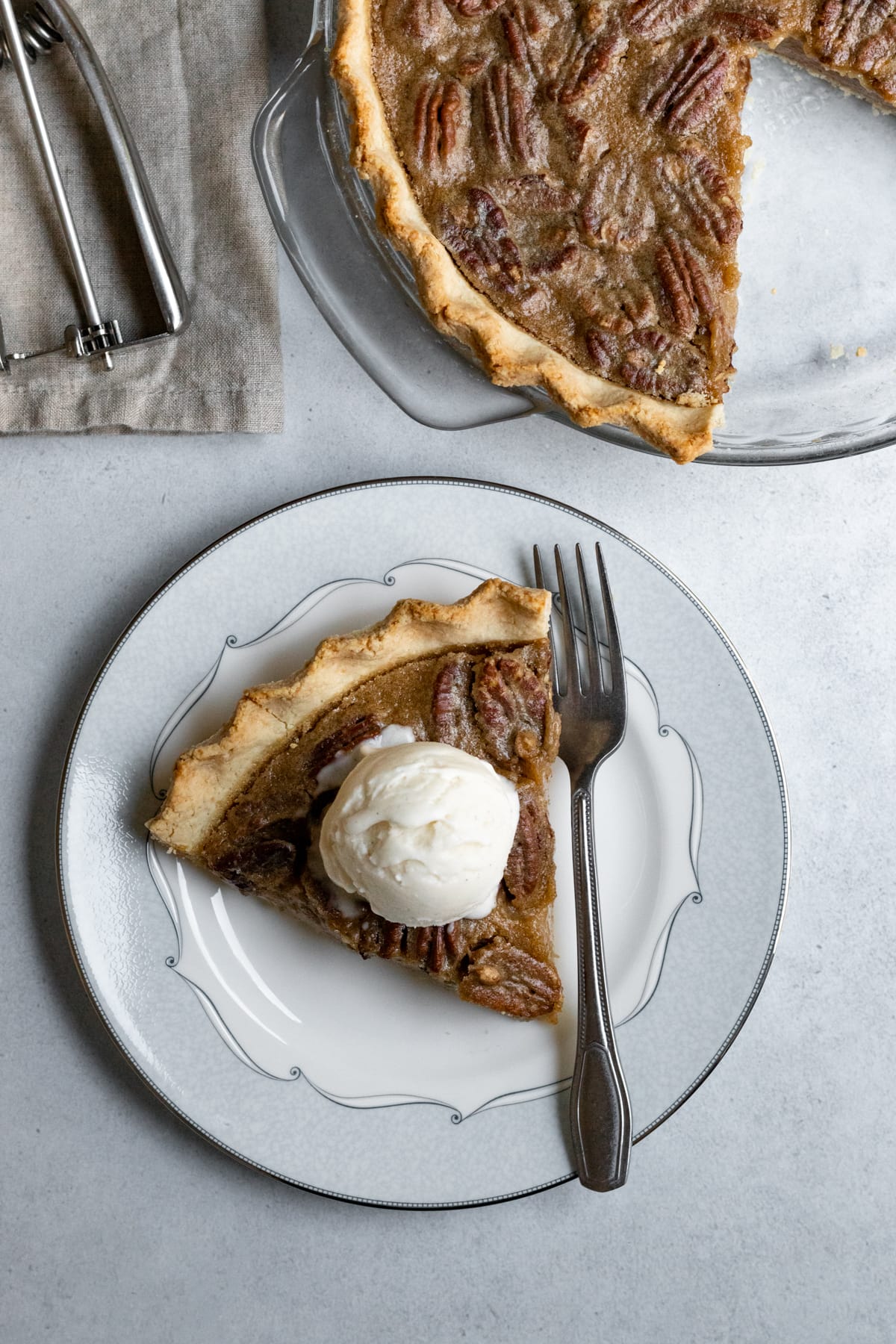 Serving Ideas
This pie especially great with a scoop of Vanilla-Maple Oat Milk Ice Cream on top. The contrast of cold and creamy ice cream with chunky pecans and crisp pie crust is hard to beat!
Or try it with homemade whipped coconut cream or store-bought whipped topping like the one from So Delicious (not oil-free, of course, but it lives up to the brand name).
Check out these vegan holiday desserts:
Healthy Pumpkin Pie (OF, GF)
Bourbon-Date Pecan Pie
Butter Pecan Oat Ice Cream (OF, GF)
Cranberry Cream Pie (GF)
Meyer Lemon Cheesecake (GF)
Gingerbread-Date Rice Krispie Treats (OF, GF)
Gluten-Free Thumbprint Cookies (OF, GF)
Oil-Free Vegan Pecan Pie (Gluten-Free)
Healthy pecan pie everyone will love! With a custard-like maple filling, this vegan pecan pie is so good you just might start baking pecan pie year-round. Prep is so easy, too!
Made without gluten, soy, oil, refined sugar, or coconut.
Ingredients
1

unbaked

9-inch deep dish pie crust - Highly recommend using this gluten-free crust for the best results.

1 ¼ to 1 ½

cups

raw pecan halves

-

Use 1 ½ for more pecan flavor, less for a lighter pie.

½

cup

rolled oats

-

Ensure certified gluten-free if needed.

1

cup

water

½

cup

unsweetened non-dairy milk

¾

cup

maple syrup

1 ½

tablespoons

smooth almond butter, unsalted

2

teaspoons

vanilla extract

2 ½

tablespoons

arrowroot starch -

Sub corn starch if needed.

½

teaspoon

fine sea salt

zest from half an orange, optional -

Or ¼ teaspoon cinnamon.
Instructions
Preheat oven to 325 degrees F. Spread pecan halves on a baking sheet. Toast for 8 minutes. Transfer pecans to a plate to cool.

Increase oven temp to 350 degrees F. Blind bake pie crust for 10 minutes, then set aside.

In a small saucepan, make oatmeal by cooking oats and water over medium heat, stirring occasionally. Cook until the water has been absorbed and oats are soft, about 10 minutes.

In a blender combine oatmeal, milk, maple syrup, almond butter, vanilla, arrowroot, salt, and orange zest (or cinnamon), if using. Blend on high until completely smooth, about 30 to 45 seconds.

Add the toasted pecans to the pie crust. Pour blended mixture over the nuts, making sure all pecans are covered/coated. Bake in 350 degree oven for 38 to 42 minutes, keeping an eye on the pie during the last 10 minutes. *If using the full 1.5 cups of pecans, the crust will be quite full. The filling may puff up slightly but shouldn't overflow.

Set pie aside to cool for at least 2 hours before slicing. If not serving the same day, cool completely before covering and refrigerating.
Notes
Storage and Serving Tips
The gluten-free almond flour crust linked in the recipe holds up particularly well for about a day, better than traditional flour crusts, but it does gradually soften as the pie rests in the fridge. For the best texture, serve the pie within 24 hours of baking, but preferably the same day it's baked.
Pecan pie can also be frozen for up to 1 month, depending on how well it is wrapped. Thaw in the refrigerator overnight.
Estimated Nutrition (per serving)
Calories:
325
kcal
Carbohydrates:
41
g
Protein:
6
g
Fat:
17
g
Saturated Fat:
1
g
Sodium:
200
mg
Fiber:
4
g
Sugar:
20
g
Nutrition information is an estimate and will vary depending on the exact amounts and specific products and ingredients used. We calculate this information using the online calculator cronometer.com.
Did you try the recipe?
I LOVE hearing from you! Comment below to let us know.