This vegan pecan pie has all of the sweet, salty, nutty flavor you want and is surprisingly wholesome! It's refined sugar-free, sweetened with maple syrup, and is not only dairy-free and eggless, but also FREE from gluten, soy, coconut, and oil.
Pair the filling with our popular gluten-free vegan pie crust for a gluten-free vegan pecan pie sure to please the whole crowd this Thanksgiving!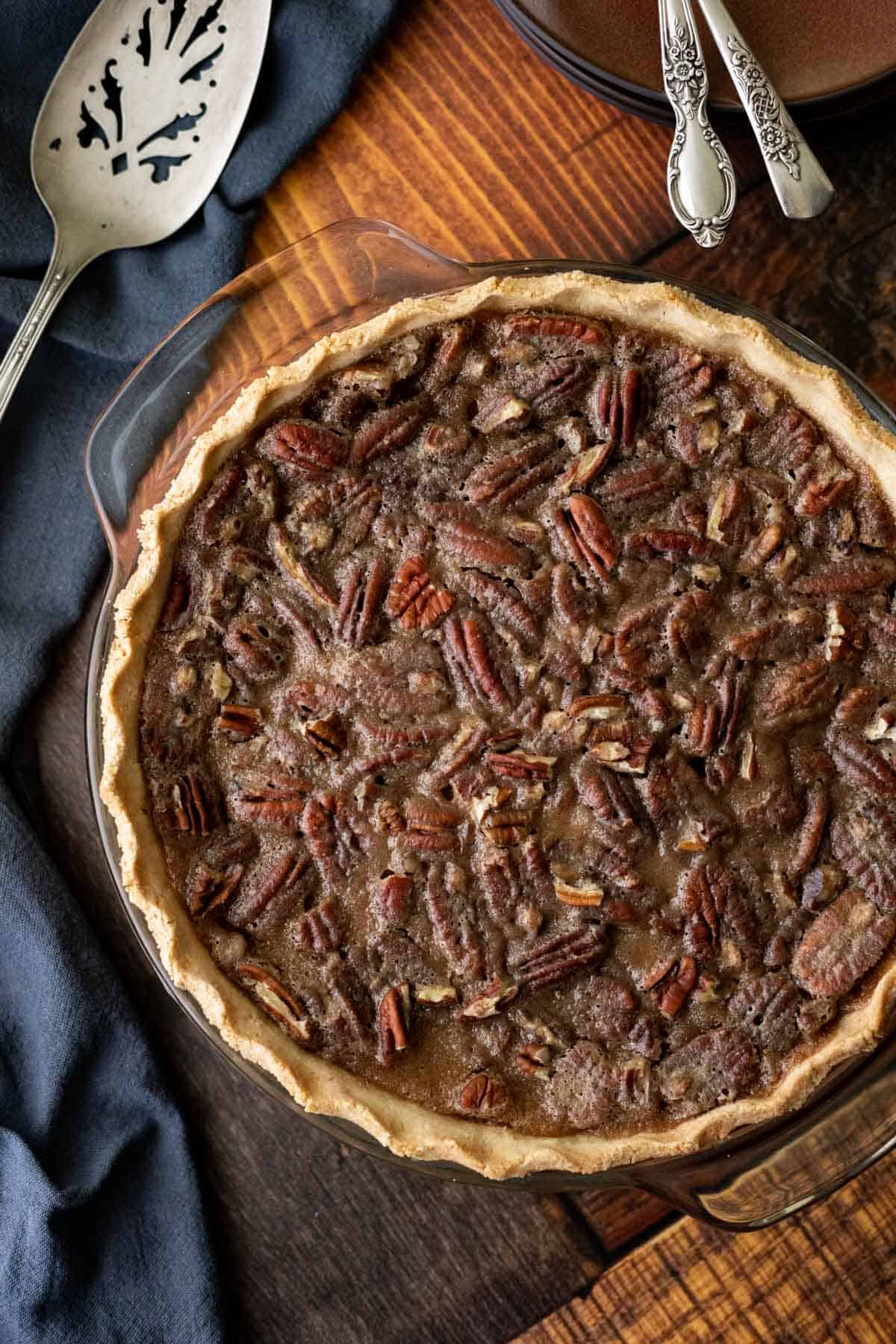 This recipe was originally published September 2020 and has been updated with new photos and slight recipe change. I hope you love it as much as we do!
Though classic pecan pie is not vegan, it's amazing how many different and delicious ways there are to make a fully vegan pecan pie.
Growing up in Alabama, I ate my fair share of gooey, way-too-sweet, Karo syrup pecan pies. During the Thanksgiving and Christmas season, no party or family meal was complete without one!
But since my mom leaned toward healthier ingredients, she always made a maple-sweetened pecan pie. And I really grew to love the warm flavor of maple syrup and how well it pairs with pecans.
Jump to:
What makes this pie healthier?
In an effort to create vegan pecan pie without oil, I decided to use oatmeal to replace the volume and binding that eggs and butter provide in most pecan pie recipes. Many vegan pecan pie recipes opt for coconut oil or vegan butter, but we're skipping those, too!
Oats might seem like an unusual addition to pecan pie, but that's part of the fun! I'm a sucker for baking with oats. Heck, not even just baking, as evidenced by my vegan oat milk ice cream obsession.
From banana bread to cookies to vegan pumpkin pie, the neutral flavor and versatility of oats continue to save the day. It's also nice that they're inexpensive and readily available.
Oats give this vegan pecan pie more stability (no one wants runny pecan pie). They also add fiber and lower the total fat content.
And the naturally gooey consistency of cooked oats works perfectly alongside maple syrup in this healthy pecan pie filling.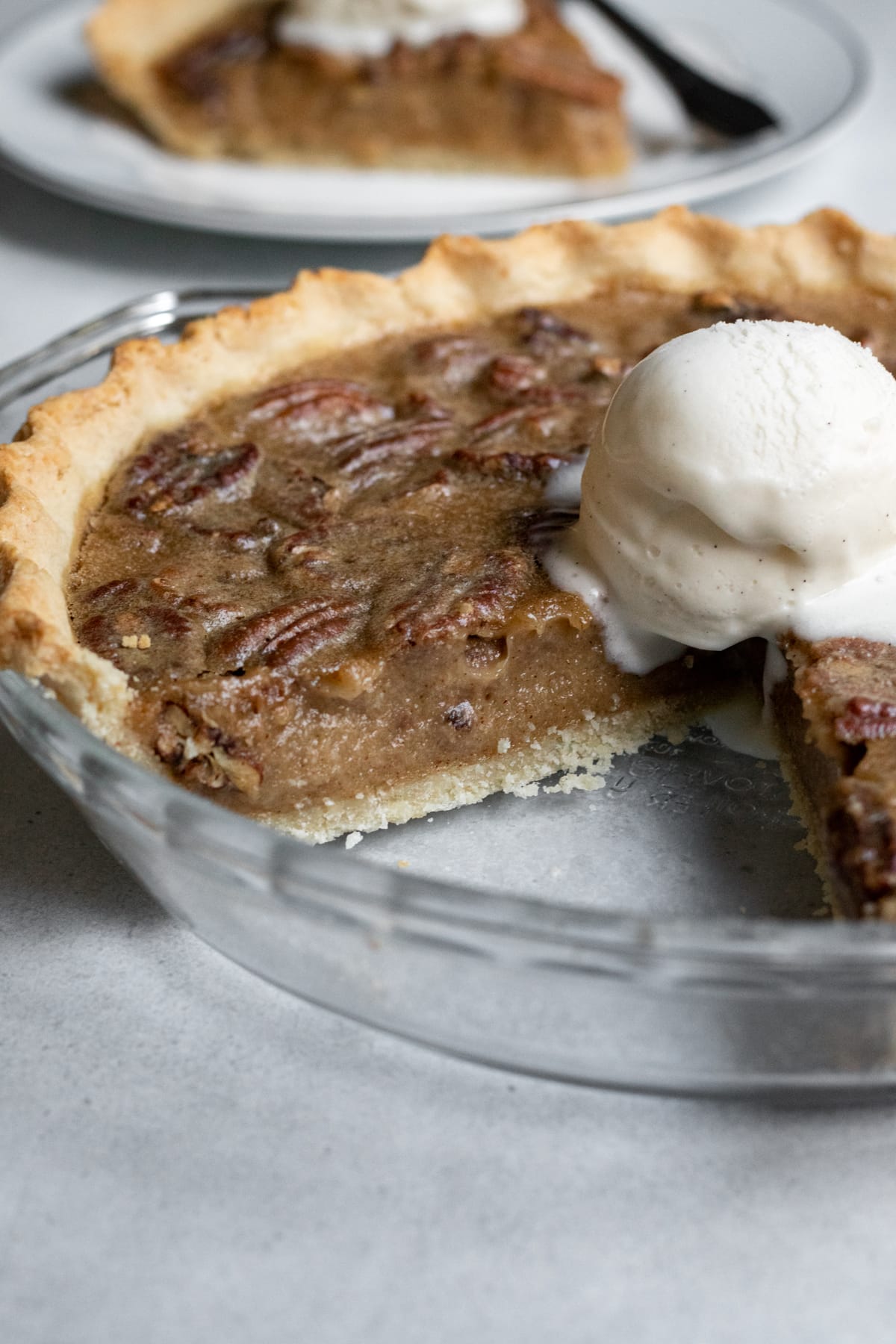 This is the third vegan pecan pie recipe on the blog, but it's the first one made entirely from whole-food ingredients. As much as I love the Salted Chocolate Pecan Pie I shared last year, It's possible I like this recipe even more!
This is a less-sweet vegan pecan pie that won't leave you with a sugar crash or feeling like you ate a brick. Gotta love that.
Ingredients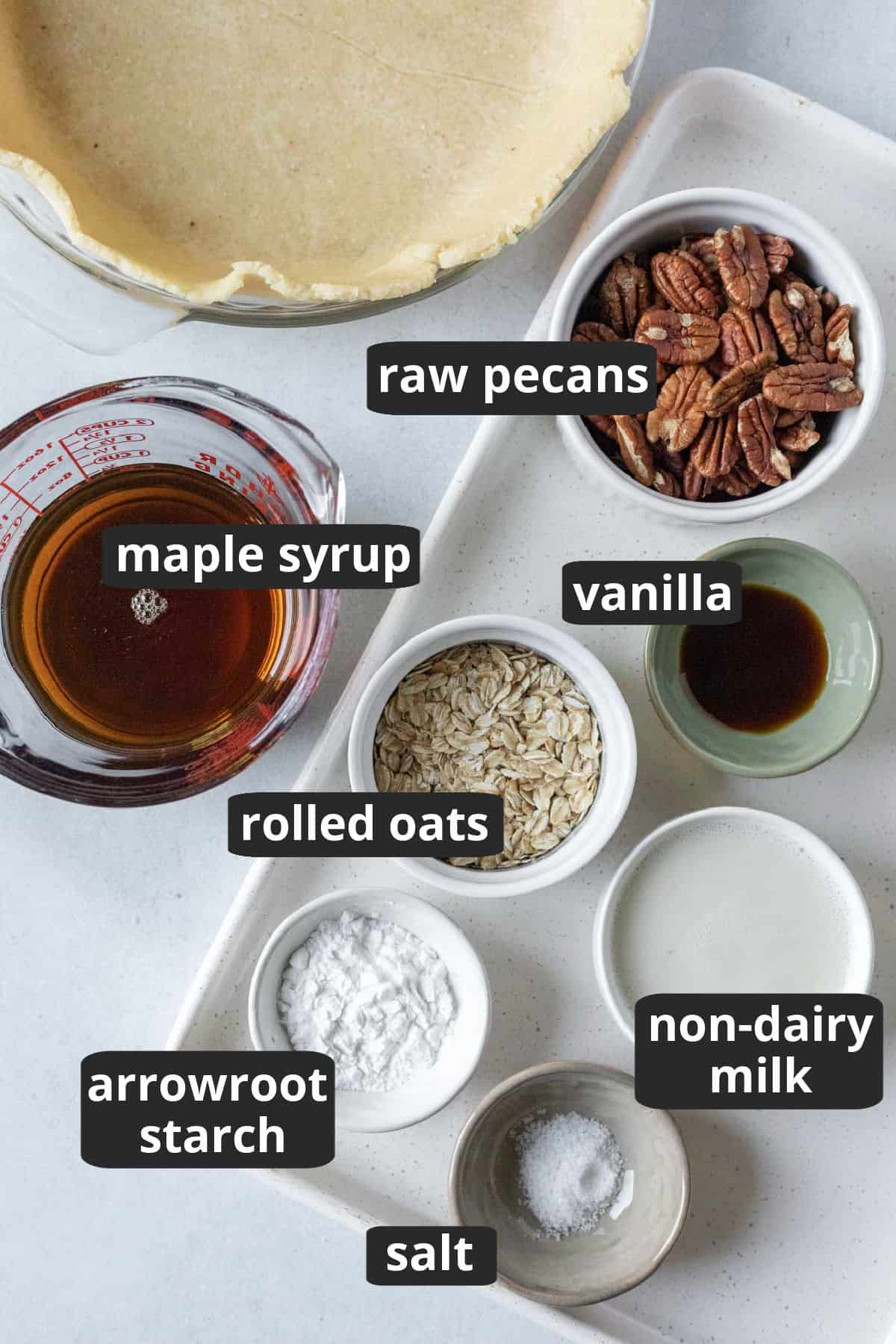 pie crust - the oil-free and gluten-free pie crust linked above (and in the recipe) is my go-to. But any pie crust you love will be fine, homemade or store-bought.
pecans - look for raw pecans for this recipe, either halves or halves and pieces.
rolled oats - as mentioned, oatmeal plays a few important roles in the pie filling. Look for regular, old fashioned oats, although quick oats or steel cut oats may also work. The key is to cook the oats until soft and there's no water left in the pot.
maple syrup - look for pure maple syrup, any grade.
starch - I used arrowroot in the pie you see in the photos, but corn starch also works. I would avoid tapioca starch if possible because it tends to make the filling gummy.
non-dairy milk - any milk you like is great! I've tested oat, soy, and almond.
See the recipe card below for amounts and full instructions.
How to Make Vegan Pecan Pie
From start to finish, not including cooling time, preparing the pie takes about 1 hour.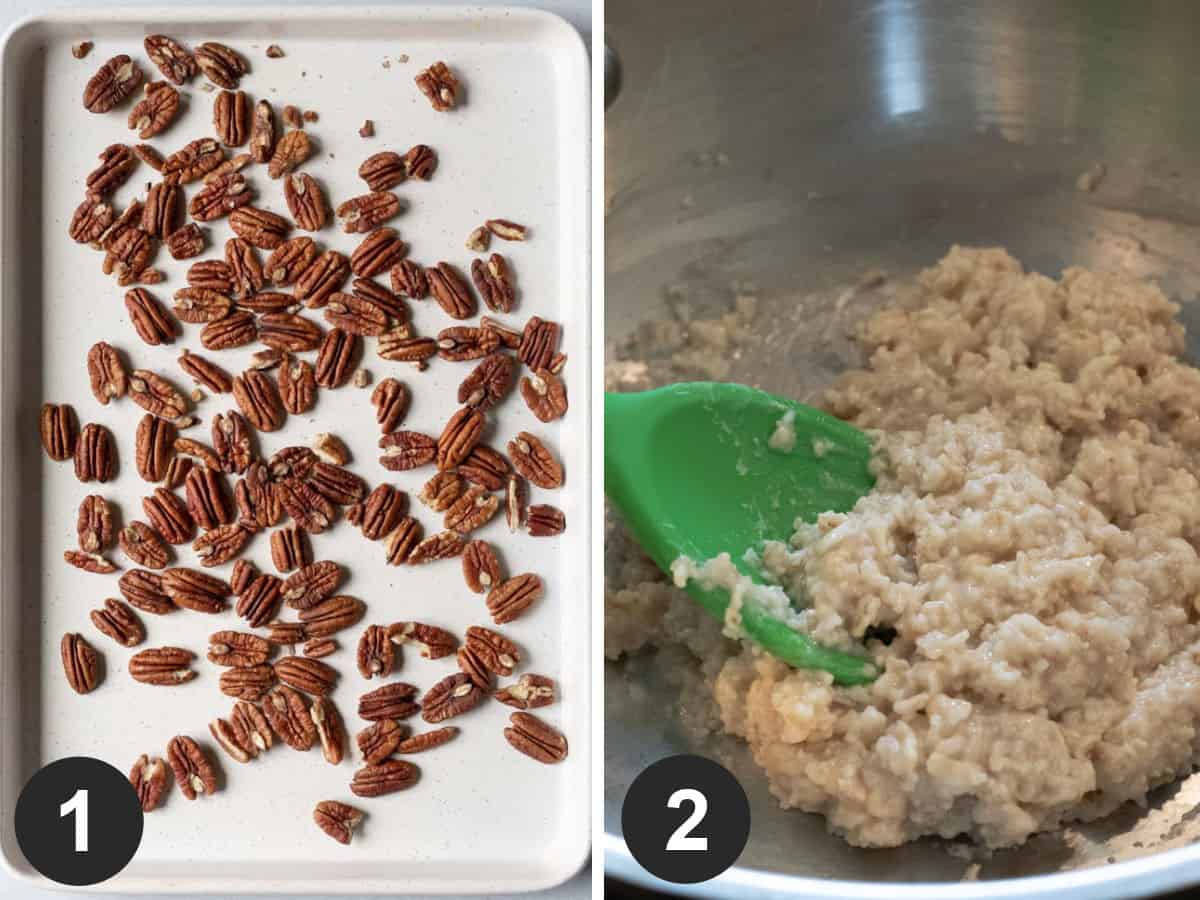 Preheat the oven to 325 degrees F. Spread raw pecans on a baking sheet. Toast the pecans in the oven for 5 minutes, AND pre-bake the pie crust at the same time. Set both aside. Increase oven temp to 350 degrees.
In a small sauce pan, bring the oats and water to a simmer. Reduce to low and cook for about 8 minutes or until thick and creamy.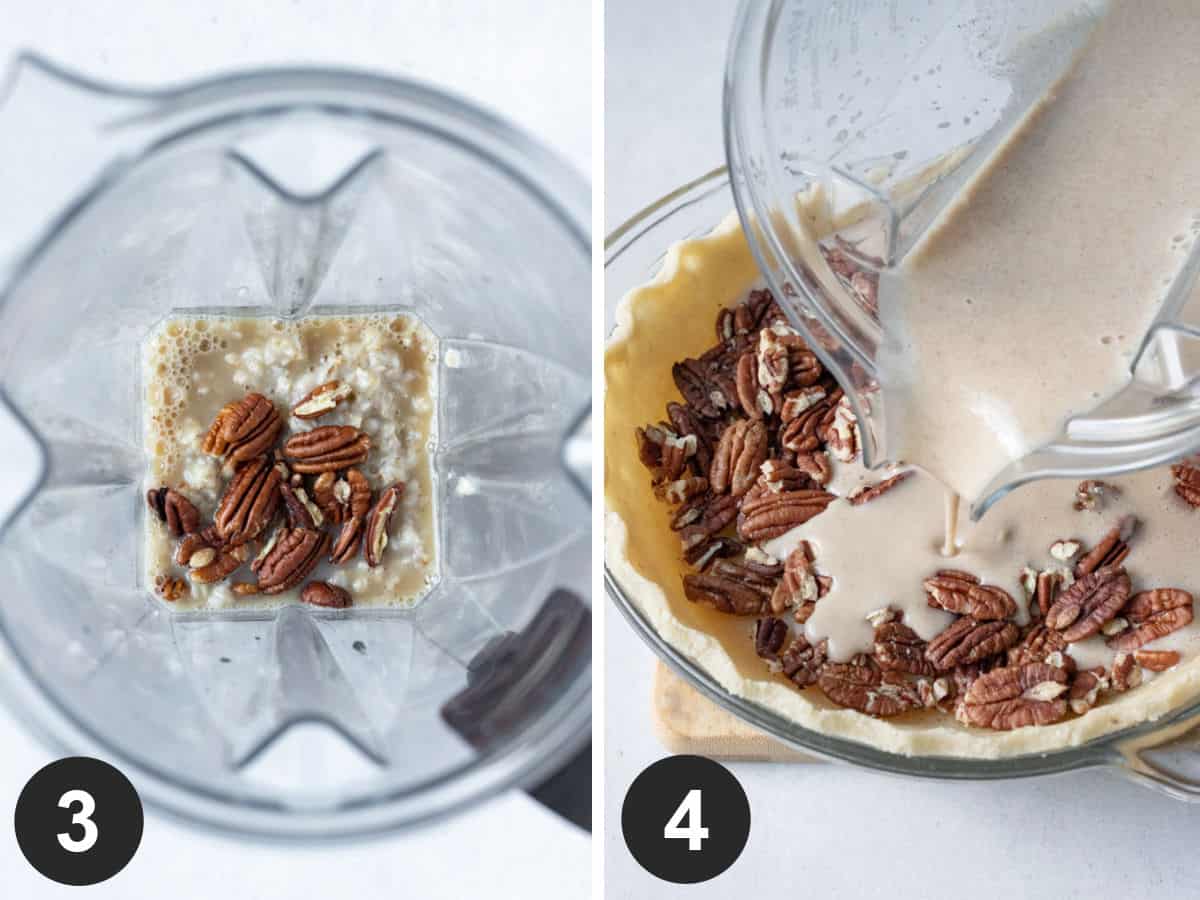 Now it's time to blend the filling. Combine the oatmeal, milk, maple syrup, vanilla, ¼ cup of the pecans, salt, and starch in a blender. Also add the orange zest, cinnamon, and/or bourbon, if using. A high speed blender works best but isn't necessary. Blend until smooth and creamy.
Transfer the toasted pecans to the pie shell, and pour the filling over the top. Gently stir to make sure the pecans are coated and dispersed. Bake at 350 degrees F for about 40 minutes. Set aside to cool.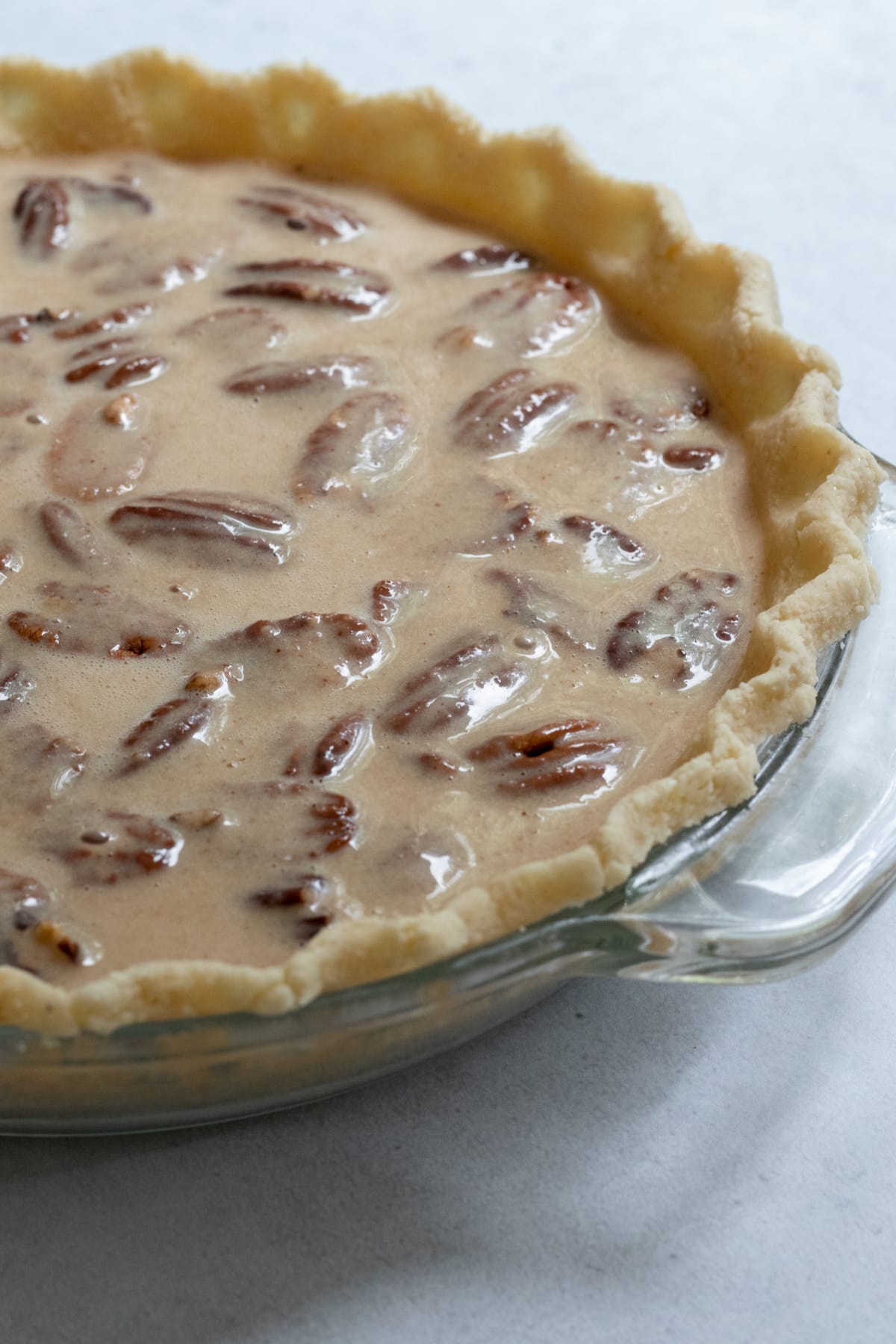 Substitutions
oats - unfortunately, I can't recommend a replacement for the oats. As the recipe is written they are a critical ingredient.
I recently tested a version of this pie without oats and increased the starch. It needed more volume to fill the pie plate, which means more syrup and more of some other ingredient. So in keeping with the "healthier pecan pie" intent, I decided to stick with the previously tested and successful version.
arrowroot starch - corn starch may be used instead. I tested the recipe once with tapioca starch and didn't care for the texture, as it made the filling gummy.
Variations
Fewer Pecans
While this pie is healthier and much lighter than traditional pecan pies filled with butter and eggs, it's definitely not low in fat. It is pecan pie after all!
However, if you try to reduce fat whenever possible, you can certainly reduce the amount of pecans to 1 or 1 ¼ cups (that's approximately half the amount found in traditional pecan pie).
I actually enjoy it with fewer pecans because it really allows the custardy maple filling to shine.
Additions/Flavorings
There's an option to include a bit of orange zest or cinnamon in the pie filling, and that's totally up to you! They're both fairly subtle.
The orange contributes a nice sweetness while cinnamon adds a touch of warming spice. Or skip them both for straight up maple pecan vibes.
You can also add a splash of bourbon or dark rum like in this Vegan Bourbon Pecan Pie.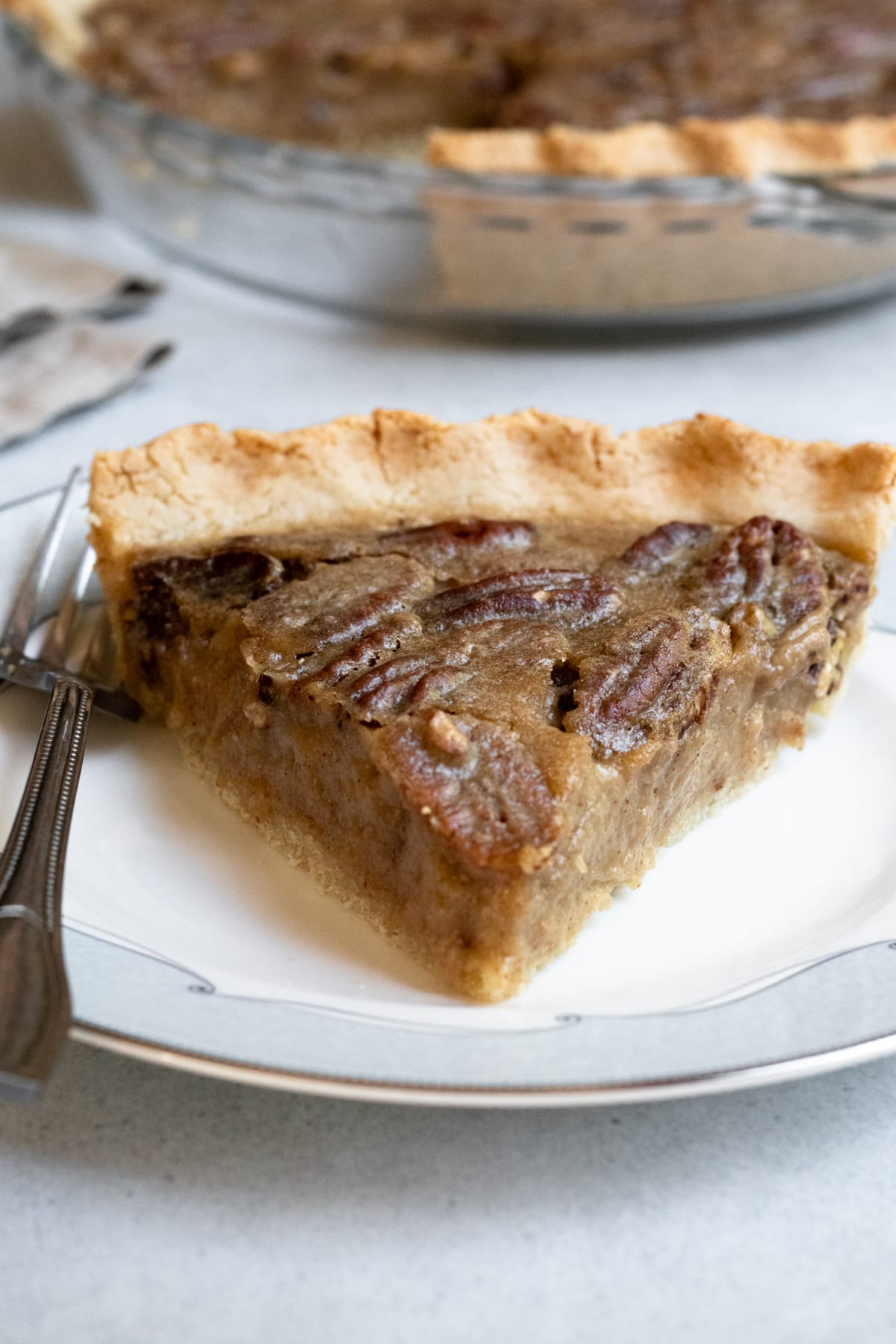 Serving Suggestions
Vegan pecan pie is especially great with a scoop of Vegan Vanilla Ice Cream on top. The contrast of cold and creamy ice cream with chunky pecans and crisp pie crust is hard to beat!
Or try it with homemade whipped coconut cream or store-bought dairy-free whipped topping like the one from So Delicious (not oil-free, of course, but it IS delicious, as the brand name promises).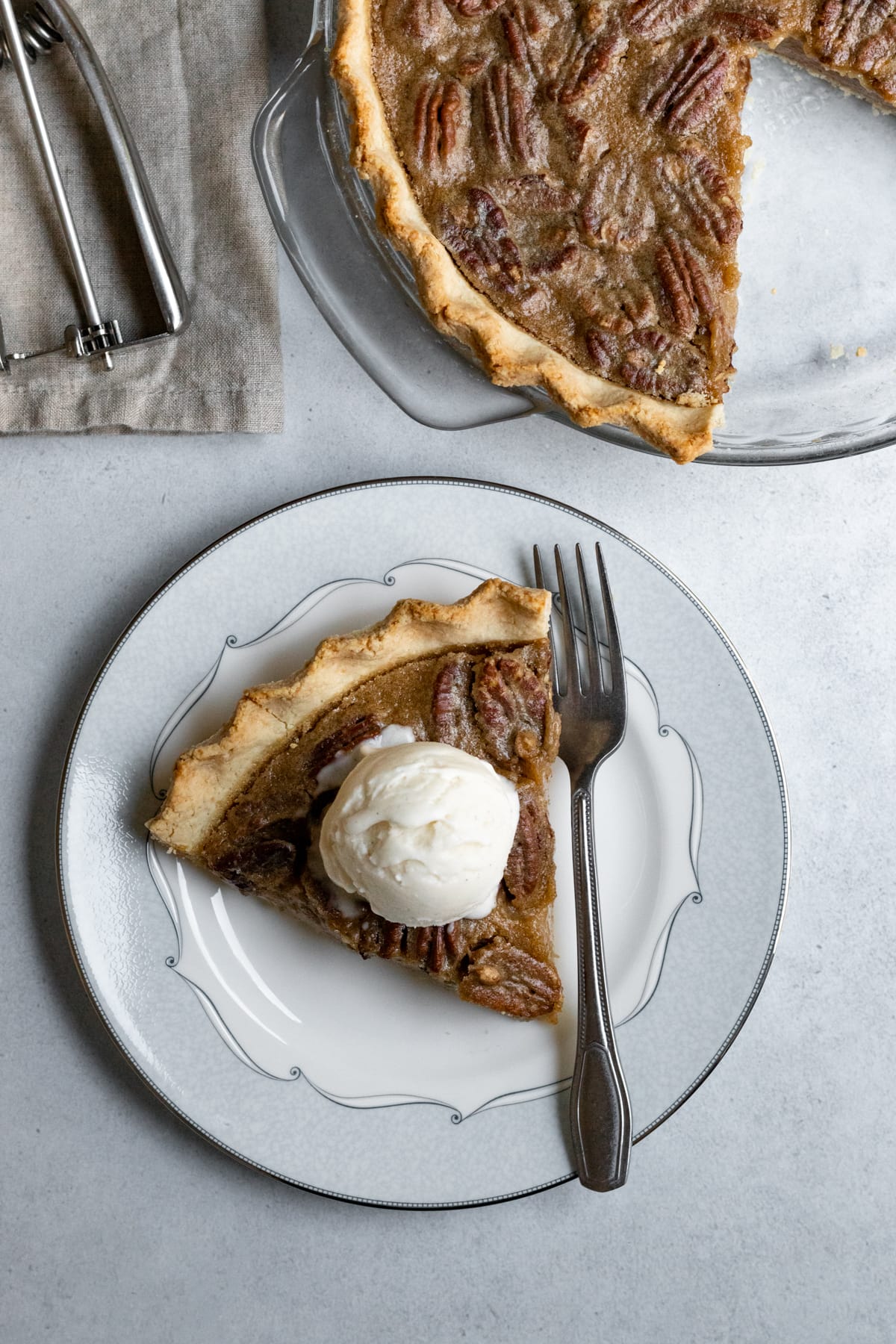 Vegan Pecan Pie FAQs
Is pecan pie served warm or cold?
Pecan pie is typically served cool or at room temperature. This is because the filling may become runny if served warm or hot. However, the filling in this vegan pecan pie recipe is more stable than most and can be served warm if desired.
Can I make it a day in advance?
Absolutely, especially if you use the vegan gluten-free pie crust linked in the recipe. It stays more crisp and holds up better than pie crusts made with flour.
How should I store pecan pie?
Either cover the whole pie plate with cling wrap or transfer the pie to an airtight storage container and refrigerate. Enjoy within 4 to 5 days, or freeze for up to one month.
Top Tip
Since ovens vary, I recommend keeping an eye on the pie during the last 10 to 15 minutes just in case the filling is getting too bubbly or the crust too brown.
If you use a traditional flour-based crust you might need to cover the edges of the pie with foil or a pie shield to prevent over-browning.
But if you use my Almond Flour Pie Crust recipe you won't need to worry about the crust getting too brown. It bakes up perfectly in this amount of time.
You might like:
Recipe Video
Tap to play the video and see how the pie is made.
I hope you enjoy this healthier, allergy-friendly vegan pecan pie. If you try it I would love to hear from you. Comment below to let us know!
📖 Recipe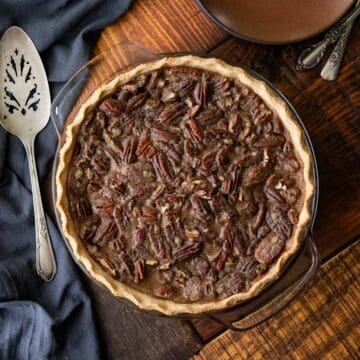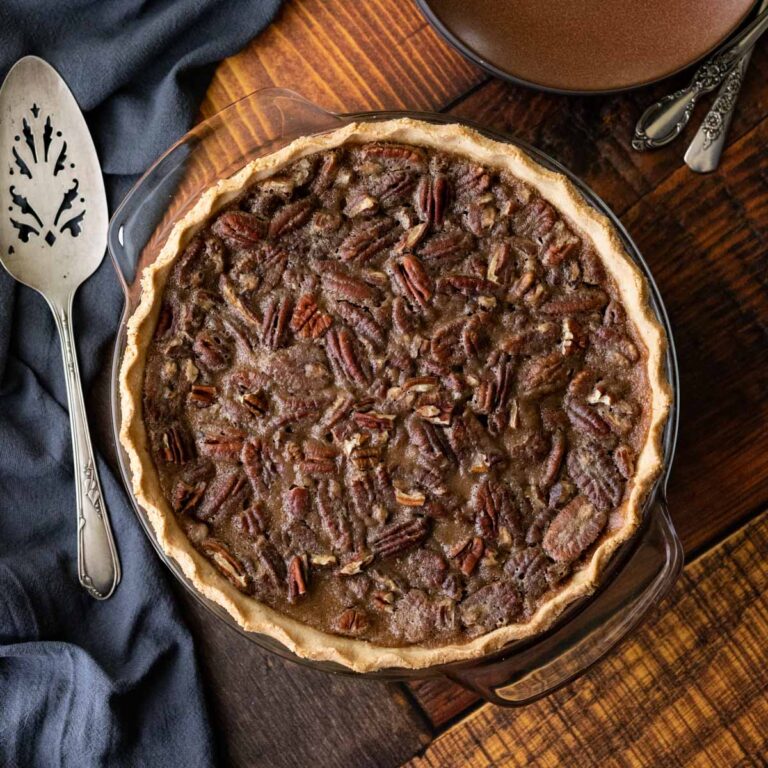 Healthier Vegan Pecan Pie (No Corn Syrup or Oil)
Healthy vegan pecan pie everyone will love! With a custard-like maple filling, this pie is so good you just might want to bake pecan pie year-round. Prep is easy, too! Gluten-free, coconut-free, and WFPB oil-free.
Ingredients
1

unbaked

9-inch deep dish vegan pie crust - tap for the recipe (GF & oil-free)

1 ½

cups

raw pecan halves

-

reduce for a lighter pie

½

cup

rolled oats

-

certified gluten-free if needed

¾

cup

water

½

cup

unsweetened non-dairy milk

¾

cup

maple syrup

2

teaspoons

vanilla extract

2

tablespoons

arrowroot starch -

sub corn starch if needed

½

teaspoon

fine sea salt
Optional additions:
zest from half an orange

¼

teaspoon

ground cinnamon

1

ounce

bourbon or dark rum
Instructions
Preheat oven to 325 degrees F. Spread pecans on a baking sheet. Toast the pecans in the oven for 5 minutes, and pre-bake the pie crust at the same time. Set both aside to cool. Increase oven temp to 350 degrees.

In a small sauce pan, bring the oats and water to a simmer. Reduce heat to low and cook for 8 to 10 minutes or until thick, soft, and the water has been absorbed.

In a blender combine a palmful of the pecans, oatmeal, milk, maple syrup, vanilla, starch, salt, and addition(s), if using. Slowly increase speed, and blend on high until smooth and creamy, about 45 seconds.

Add the toasted pecans to the pie crust. I like to break some into smaller pieces. Pour the filling over the pecans, making sure they are covered and coated. Bake in the preheated 350 degree oven for 40 to 42 minutes, keeping an eye on the pie during the last 15 minutes. The filling may puff up slightly but shouldn't overflow. If the crust begins to brown too much, cover with foil or a pie shield. If using my GF crust it should be fine uncovered the whole time.

Set the pie aside to cool for at least 2 hours before slicing. If not serving the same day, let cool completely before covering and refrigerating. Or speed up the process by refrigerating the pie uncovered until cold.
Notes
Storage and Serving Tips
The gluten-free almond flour crust linked in the recipe holds up particularly if you'd like to make the pie a day in advance, better than traditional flour crusts.
Keeps refrigerated for 4 to 5 days. Pecan pie may be frozen for up to 1 month. Thaw in the refrigerator overnight.
Estimated Nutrition (per serving)
Calories:
325
kcal
Carbohydrates:
41
g
Protein:
6
g
Fat:
17
g
Saturated Fat:
1
g
Sodium:
200
mg
Fiber:
4
g
Sugar:
20
g
Nutrition information is an estimate and will vary depending on the exact amounts and specific products and ingredients used. We calculate this information using the online calculator cronometer.com.
Tried the recipe?
I love hearing from you! Share your feedback below!