Deliciously nutty, creamy, and wholesome Vegan Butter Pecan Ice Cream! Made with just 8 ingredients, thickened with oats, and free from refined sugar.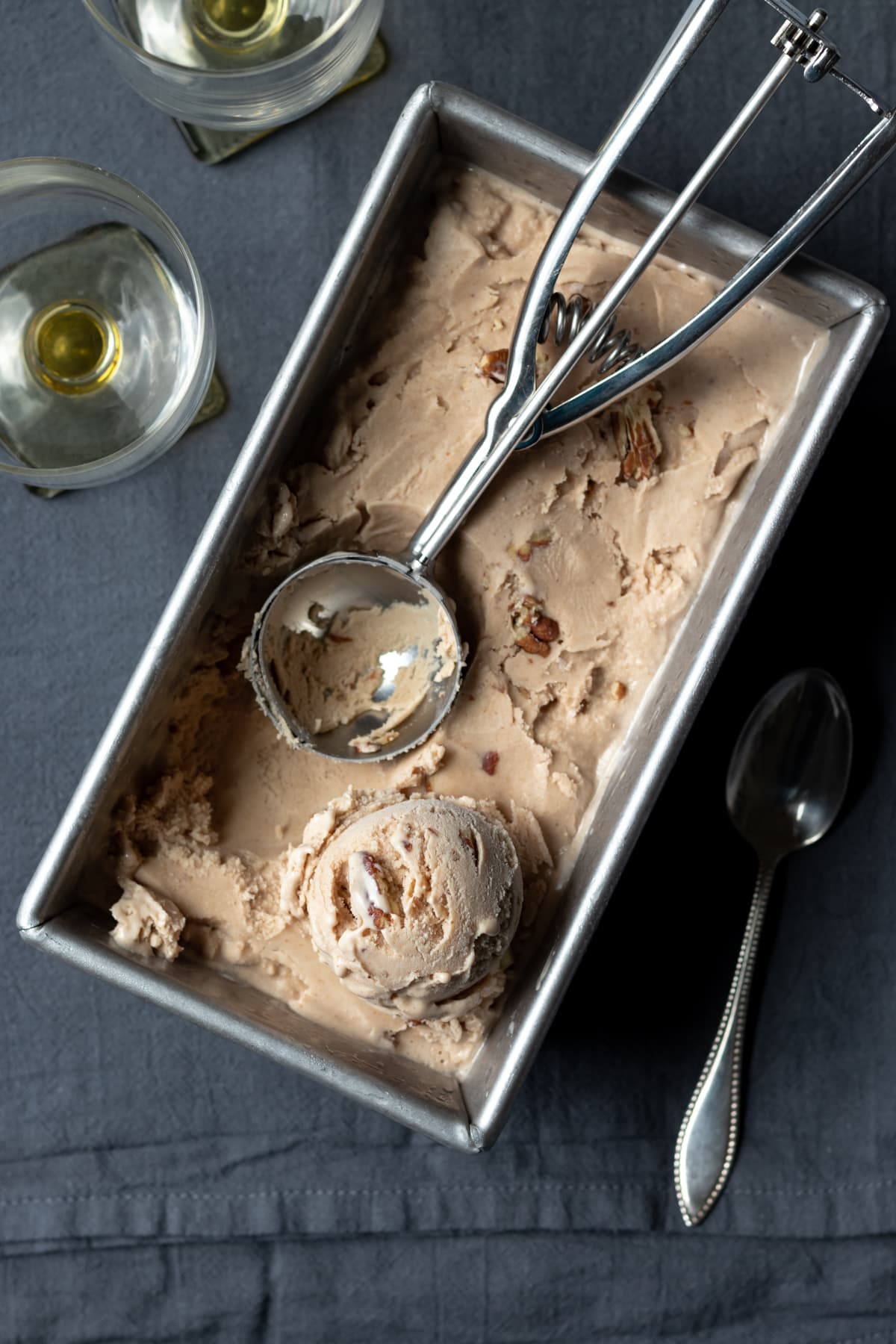 Ah, butter pecan, one of the best ice cream flavors of all time, right?! Considering my love for creating oatmeal ice creams, I can't explain why it took me so long to get around to this flavor. But hey, at least we're here now! If you're a pecan lover like I am, I think you'll be very happy with this one.
Pecans are lightly toasted on the stovetop. Some are blended right into the ice cream base, and the rest are chopped and folded into our creamy pecan ice cream after churning. A touch of vanilla, maple, and salt enhance the flavor of the pecans and bring it all together.
If you've seen any of my other oat milk ice cream recipes you know I love to keep the ingredients real, simple, and whole, using unrefined sweeteners whenever possible. And that's exactly what we're doing with today's recipe.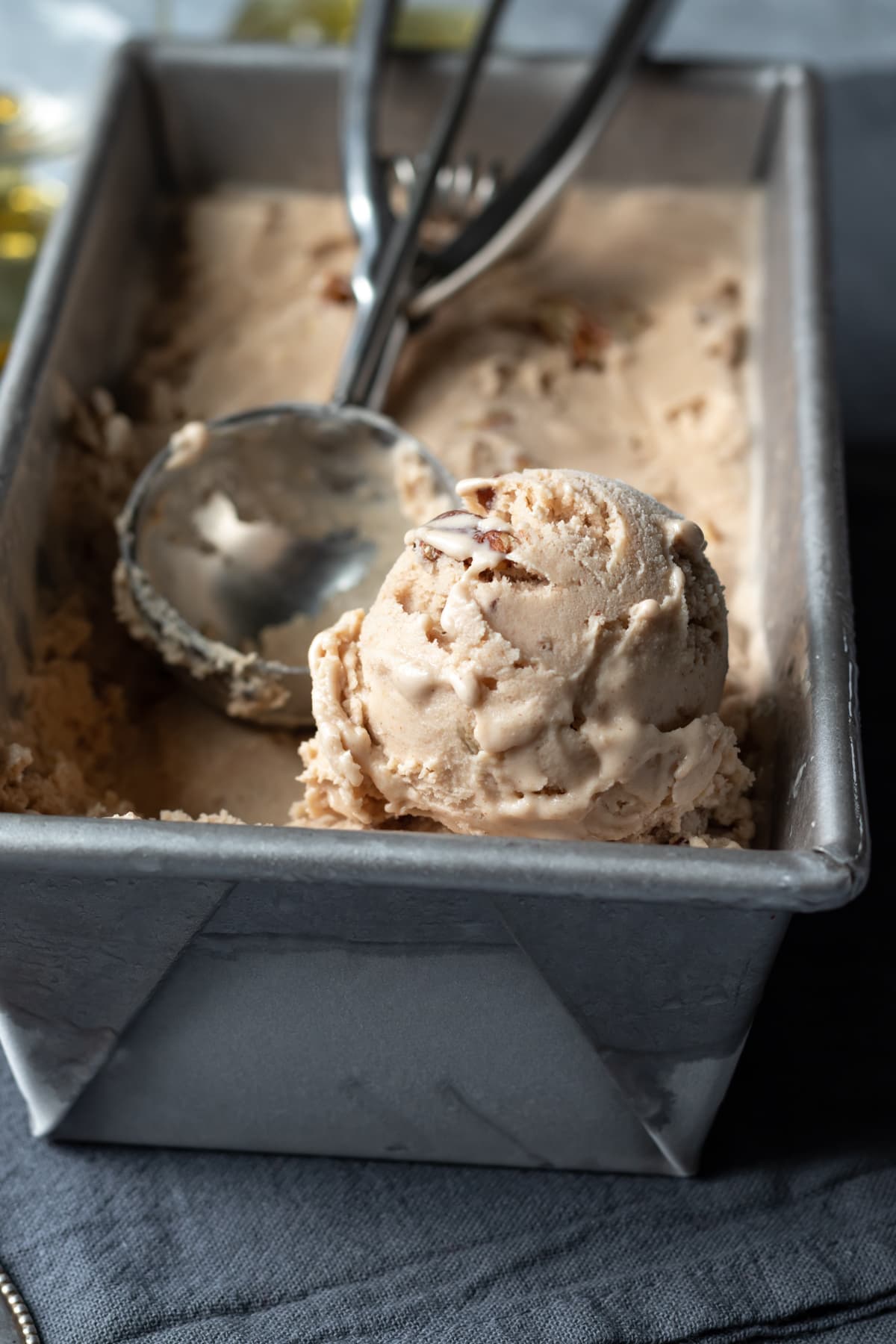 Ingredients and Substitutions
Even within such a simple recipe, there's a surprising amount of room for customization and substitutions. For example, if you avoid added oils or just don't want to use vegan butter, you can absolutely leave it out. In fact, the batch you see in the photos didn't include butter or oil.
There's also wiggle room with the cashews, sweeteners, milk, and the optional bourbon, which is primarily for consistency/texture.
This is just a summary, be sure to scroll down for the complete instructions.
The ingredients you'll need are:
Raw pecans
Vegan butter or butter-flavored coconut oil, optional
Unsweetened non-dairy milk, such as oat or soy
Rolled oats
Raw cashews - substitute sunflower seeds or coconut cream, if desired
Maple syrup - the flavor is nice, but feel free to use a granulated sweetener
Coconut sugar - or brown or cane sugar
Vanilla
Sea salt
Bourbon or a neutral spirit like vodka, optional
See what I mean? There are multiple ways to make this vegan butter pecan ice cream, whether you're working around an allergy or just trying to avoid a trip to the grocery store.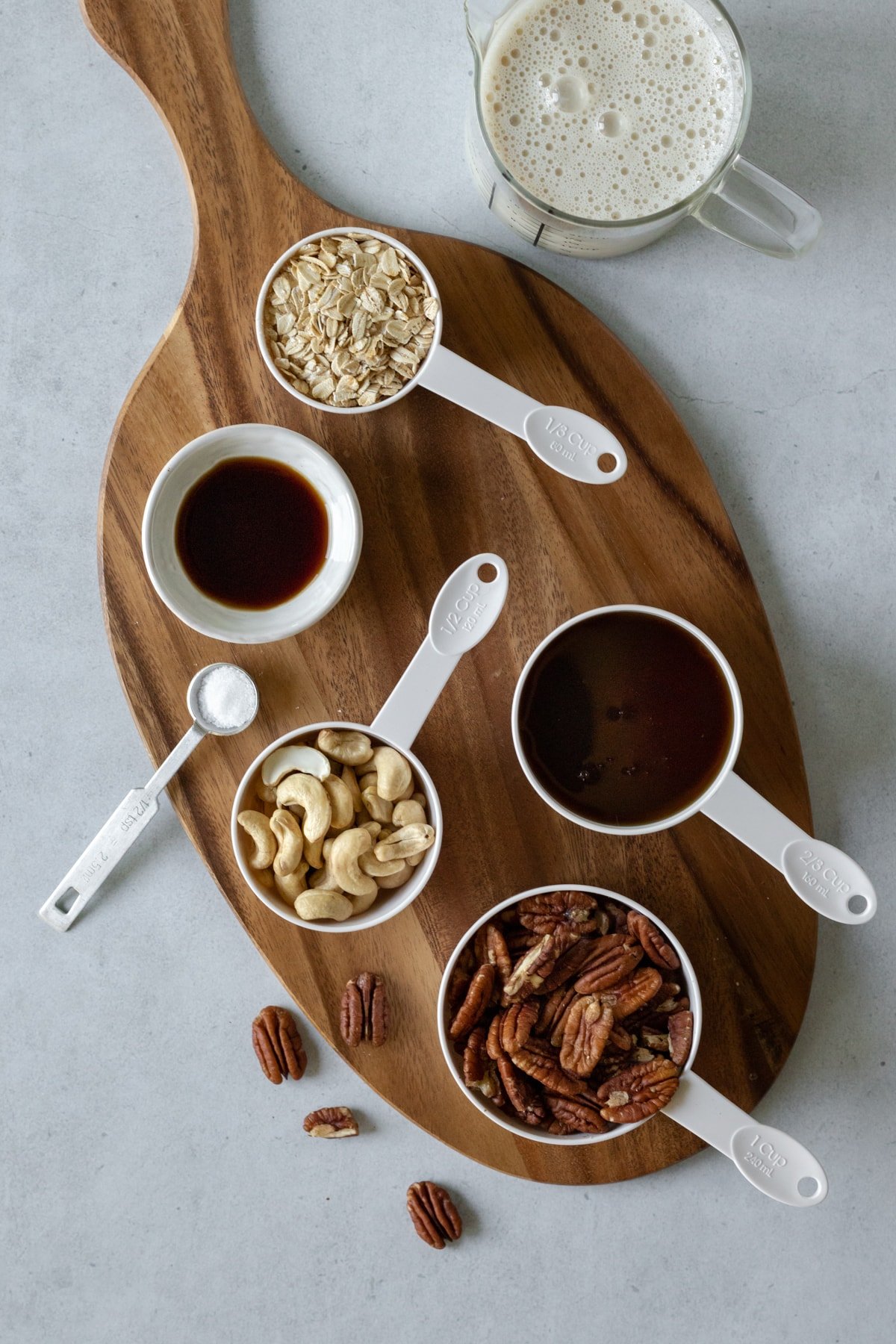 Recommended Milks for Vegan Oat Ice Cream
I recommend oat milk for the most neutral flavor, but soy milk is also great. Both work really well to create a creamy texture.
Almond milk is fine but tends to make ice cream that's a bit more icy. For reference, I used almond milk for the batch in the photos mainly because that's what I had on hand. It tasted amazing but isn't my top choice.
Obviously, canned coconut milk is often used for dairy-free ice creams, and you can certainly incorporate light or full-fat coconut milk into this recipe, too!
But since it can be really difficult to find vegan ice cream without coconut milk, I usually skip it so that we have more options when it comes to dairy-free frozen desserts.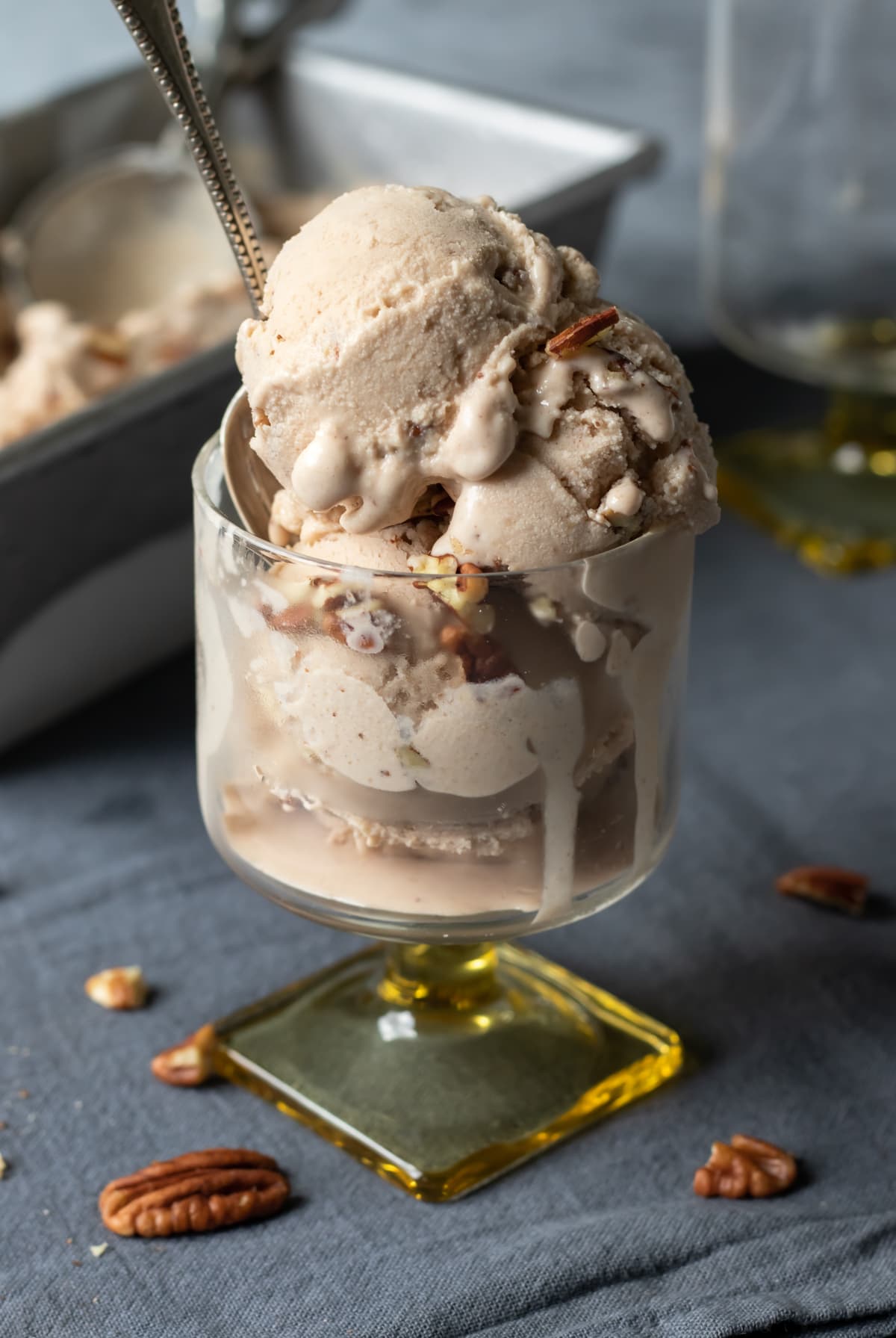 Process for Making Vegan Butter Pecan
Making ice cream isn't difficult, but there is some planning involved. So let's do a quick review to make sure things go smoothly for you....
The basic process for making Butter Pecan Oat Ice Cream looks like this:
Be sure your ice cream maker's canister has been in the freezer for at least one day.
Toast the pecans on the stove in a medium-size skillet or large sauce pan. Transfer to a plate to cool.
Cook oatmeal in the same pan, then spread it on a plate to cool.
Blend the milk, cashews, and just ½ cup of the pecans until smooth. Add the oatmeal and remaining ingredients (excluding reserved pecans), and blend again.
Refrigerate the mixture until chilled (anywhere from 2 hours to overnight). You can speed up this process by placing it in the freezer for about 30 minutes.
Churn the ice cream, and chop the reserved pecans.
Fold in the pecans and transfer the ice cream to a freezer-safe container. For a firmer, scoopable consistency, freeze for at least 3 to 4 hours.
Let the ice cream soften at room temperature for 10 to 15 minutes, and dig in!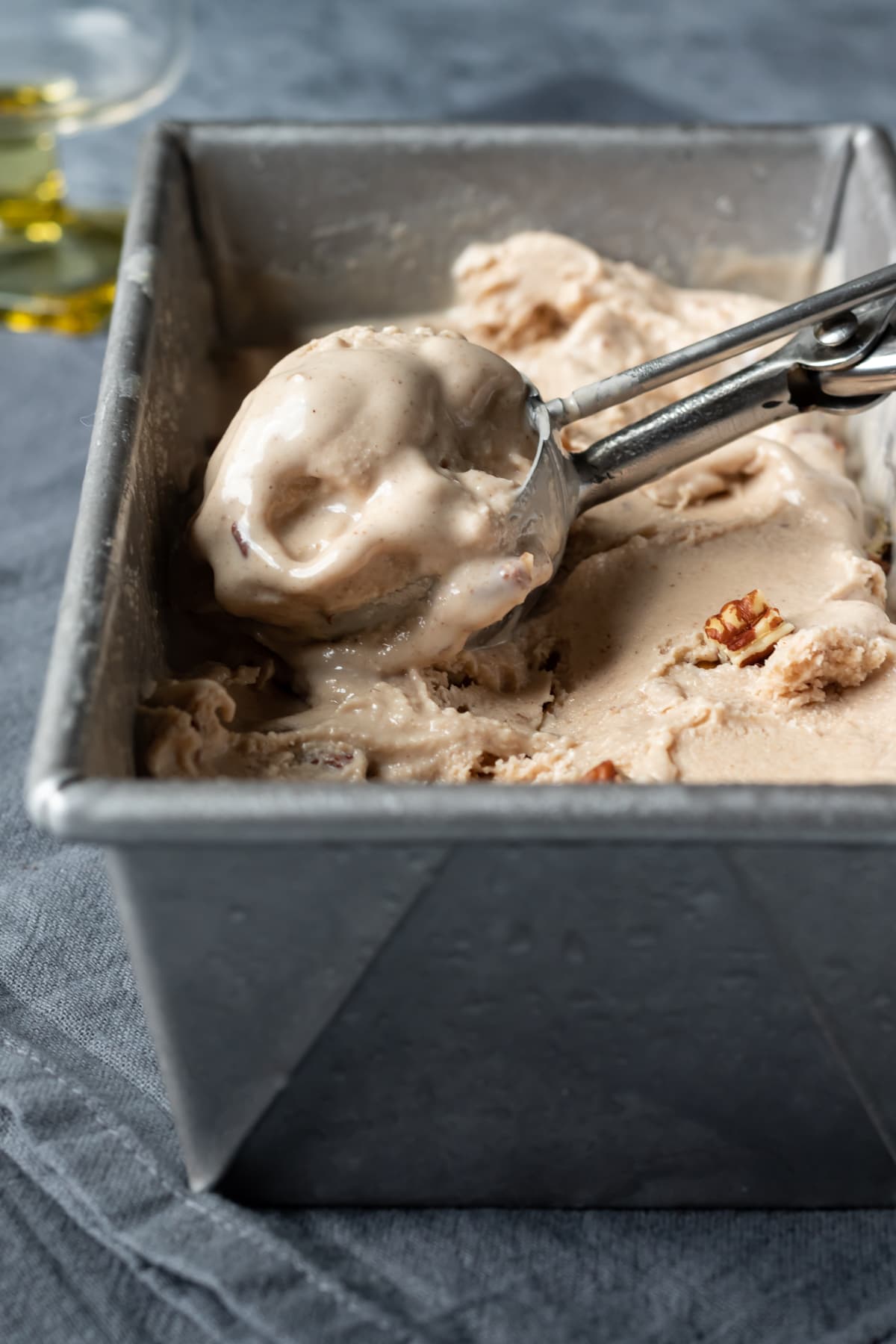 I haven't tested this recipe with the standard no-churn method, but I suspect it would work pretty much as well as it did with the Vanilla-Maple Oat Milk Ice Cream. You can find my no-churn notes in that post. To summarize, the ice cream will still taste amazing but won't look as smooth as the churned version.
I've been using this Cuisinart 2-Quart Ice Cream Maker for many years and it's still going strong. It's affordable, usually around $55 (although I think the price goes up in summer), and churns ice cream in about 20 minutes. The main downside to this type of machine is that you have to remember to freeze the canister in advance, and you can't make back-to-back batches.
One day soon I hope to splurge on an ice cream maker with a built in compressor like this Whynter model. You'll be the first to hear about it when I do! 😀
As always, I LOVE hearing from you! Drop a comment below to let us know how you enjoy this Vegan Butter Pecan Ice Cream.
More vegan ice creams without coconut milk:
Chocolate Chickpea Ice Cream (nut-free)
Vegan Pistachio Ice Cream (cashew-free)
Pumpkin Oat Ice Cream
Cranberry Oat Gelato
Lemon Oat Ice Cream
Vanilla-Maple Oat Ice Cream
Banana Nice Cream Cookie Sandwiches
📖 Recipe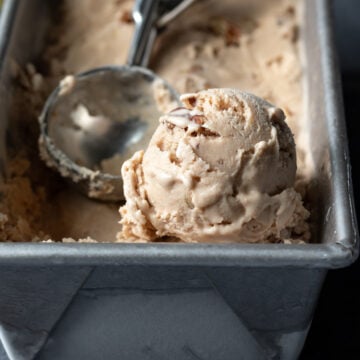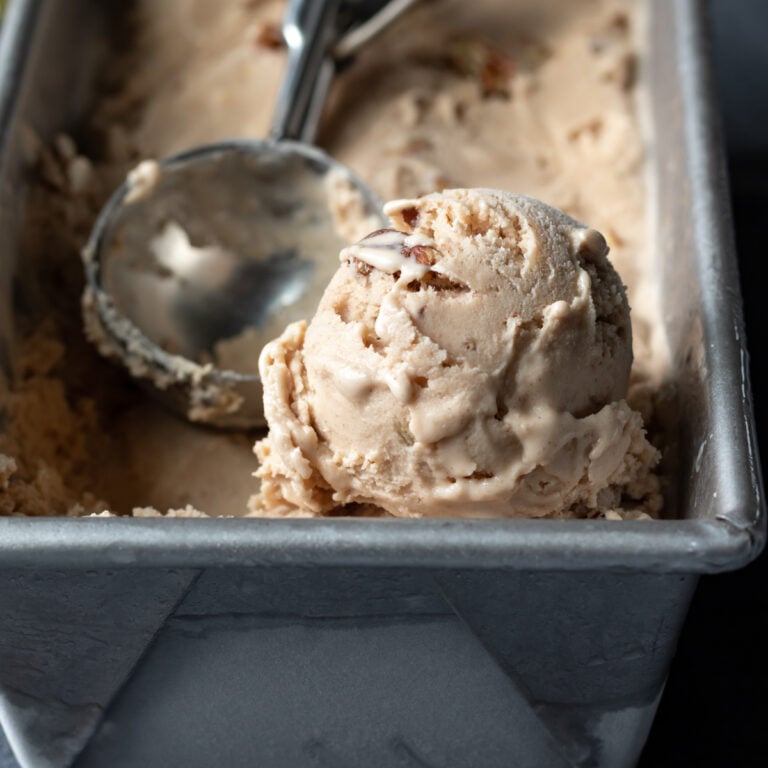 Vegan Butter Pecan Ice Cream
Healthier vegan ice cream with toasted pecans blended right into the base. Creamy and rich, thickened with oats, and refined sugar-free!
Ingredients
1 ¼

cup

raw pecans

1

tablespoon

vegan butter or butter-flavored coconut oil, optional, see Notes -

If using, reduce salt listed below to ¼ tsp.

3

cups

unsweetened non-dairy milk such as oat or soy

¼

cup

rolled oats

-

Certified gluten-free, if needed.

½

cup

raw cashews

-

Sub ⅓ cup coconut cream, if desired.

2

teaspoons

vanilla extract

⅓

cup

maple syrup

¼

cup

coconut sugar (sub brown or cane sugar, if desired)

½

teaspoon

fine sea salt (use ¼ teaspoon if including butter)

1 to 2

tablespoons

bourbon, optional
Instructions
Plan/prep:
If using an ice cream maker with a removable canister, be sure to freeze the canister at least one day before you plan to make ice cream. Also note that the ice cream mixture needs time to chill before churning (at least an hour), and the churned ice cream needs about 3 to 4 hours in the freezer for a firmer, scoopable consistency.
Make the ice cream:
Preheat a skillet or medium/large sauce pan over medium heat. Add butter, if using, and pecans. Stirring frequently, cook for about 5 minutes or until toasted and fragrant. Reduce heat if necessary so nuts don't burn. Transfer to a plate to cool.

Return pan to the stove and add 1 cup of milk and the rolled oats. Bring to a simmer and cook until soft, about 10 minutes. Immediately transfer to a bowl or plate to cool.

In a blender combine the remaining 2 cups of milk, cashews, and ½ cup of the toasted pecans. Blend on high until completely smooth, about 1 minute. Add the cooled oatmeal, vanilla, maple syrup, sugar, salt, and bourbon, if using. Blend again until smooth and oats are fully broken down. Taste and add another 1 to 2 tablespoons sugar, if desired. Refrigerate until cold, or transfer to a container and place in freezer for about 30 minutes to speed up the process.

Roughly chop the remaining ¾ cup toasted pecans, and set aside.

Churn the mixture according the instructions for your ice cream maker. After churning, the ice cream will be softer than a typical soft serve consistency. Fold in the chopped pecans. For a firmer, scoopable consistency, transfer ice cream to a freezer-safe container, cover, and freeze for 3 to 4 hours.

Around the 4 hour mark, and definitely once the ice cream has been in the freezer longer, it will be too hard to scoop right out of the freezer. It's important to let the ice cream soften at room temperature for about 15 minutes before serving.
Notes
Optional butter:
Since this is "butter pecan" the option is there to include it for the added bit of flavor, but I usually dry-toast the pecans in a skillet and skip the butter. The ice cream tastes great either way, so it's totally up to you!

Bourbon/alcohol:
Since alcohol doesn't freeze, adding it to homemade ice cream recipes is a common trick to help keep the ice cream a bit softer straight from the freezer. Since my oat ice cream recipes don't contain added oils, gums, or lots of refined sugar like store-bought ones, a small amount of alcohol can help with texture, but feel free to omit it. The flavor of bourbon pairs nicely with maple and pecans, but you can also use a neutral spirit like vodka.
Note, don't add more than 1.5 ounces of any spirit, or the ice cream may not freeze properly.

Storage and Serving:
Store ice cream in an airtight container in the freezer. It tastes best when consumed within 1 week.
Always allow about 15 minutes for the ice cream to soften before serving.
Nutrition facts are estimates. Calculations do not include the optional butter.
Estimated Nutrition (per serving)
Calories:
286
kcal
Carbohydrates:
25
g
Protein:
7
g
Fat:
18
g
Saturated Fat:
2
g
Cholesterol:
0
mg
Sodium:
198
mg
Fiber:
4
g
Sugar:
17
g
Vitamin A:
224
IU
Vitamin C:
0.5
mg
Calcium:
162
mg
Iron:
1.7
mg
Nutrition information is an estimate and will vary depending on the exact amounts and specific products and ingredients used. We calculate this information using the online calculator cronometer.com.
Tried the recipe?
I love hearing from you! Share your feedback below.
.