These wholesome, 8-ingredient vegan sunbutter cookies are made with spelt flour and sweetened with maple syrup and coconut sugar. They're chewy on the inside and crisp on the outside with a caramel-like sweetness that's hard to resist! Pair these sunbutter cookies with banana nice cream or your favorite dairy-free ice cream for a sweet treat you can grab right out of the freezer!
Sunflower Seed Butter, aka Sunbutter
While these cookies are free from refined, added oil, they are definitely NOT low fat. No ma'am, these babies are rich, chewy and moist thanks to one-half cup of sunflower seed butter. Delightfully nutty and roasty, sunbutter has long been a favorite of ours. In fact, I actually remember the first time Mark and I discovered Sunbutter (the original, as far as I know, name-brand version) and how instantly enamored we were with it. Lightly salted and sweetened, with that unmistakable roasted sunflower seed flavor. Boy oh boy, is that stuff delicious.
Fast-forward some years, and now you can find sunflower seed butter everywhere and from a variety of brands (including store brands like the Trader Joe's unsweetened one I used for these cookies). If you haven't tried sunflower seed butter yet, and you're a fan of peanut butter and/or the taste of roasted sunflower seeds, it's time!
Similar to peanut butter, you can buy different varieties of sunbutter, such as sweetened or unsweetened, salted or unsalted. For these cookies you can use whichever variety you like, but you'll want to consider the salt. I used a salted variety, so there was no need to add any salt to the dough. If you buy an unsalted sunbutter I recommend adding ¼ teaspoon salt to the recipe.
You can also make your own sunbutter at home using plain, roasted seeds and a food processor.
Oil-Free Sunbutter Cookies
I'm pretty much hooked on these cookies. I love the short and simple ingredient list and how quickly a batch of cookies comes together. And as someone who grew up eating healthier versions of a lot of things (thanks, Mom!) I tend to gravitate toward sweets that lean ever so slightly toward "wholesome." Know what I mean?
When it comes to occasional treats like birthday cake, holiday desserts, etc, don't get me wrong, I go ALL in. But I actually enjoy the subtle flavors added by whole-grain flours versus white flour, and the unique flavor of maple syrup versus white sugar. For my taste buds, these actually make foods more interesting.
Since sunbutter is such a flavorful ingredient, I went with spelt for the flour in these cookies. It has a nice nutty flavor, though you won't really taste it over the sunbutter. For substitutions try other gluten-containing flours, like white whole-wheat or all-purpose, or a 1:1 gluten-free blend.
For sweetness I chose a combination of maple syrup and coconut sugar. These lend such a warm, caramel-y flavor! It's very easy to sub for the coconut sugar if you want to use something less expensive or just don't have any on hand. Brown sugar or regular granulated sugar would both work. I don't recommend omitting the maple syrup, but if you really want to make these cookies and don't have maple syrup, you could replace it with agave or use ¼ cup brown sugar plus 2 teaspoons non-dairy milk.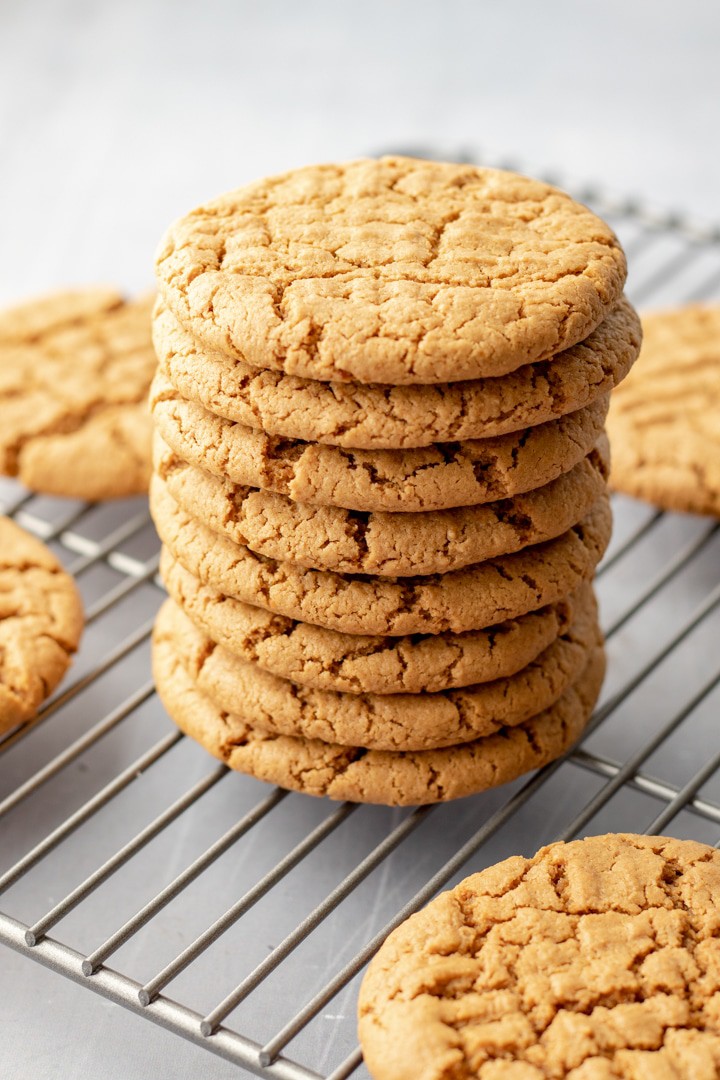 Why did my sunbutter cookies turn green?!?
There's an interesting and totally harmless chemical reaction that can happen when sunflower seeds are heated and combined with baking soda and/or powder. It will happen once the cookies cool, and in my experience it's only the center part of the cookies that will turn green. So you won't see it until you take a bite or break one apart.
The color is a fairly vibrant green, so it can be startling! But don't worry, it's not mold or anything to worry about. It's due to the naturally occurring chlorogenic acid inside sunflower seeds. Cool, huh? If you have kids, they might get a kick out of it!
Choosing an ice cream and freezing your Sunbutter Cookie Ice Cream Sandwiches
I whipped up some strawberry-banana nice cream for these because I had bananas and strawberries in the freezer. The tart strawberry flavor was actually really delicious with the cookies, sort of like a sunbutter and jelly sandwich! The only down side to using banana nice cream is that the absence of fat means it freezes much harder than higher fat vegan ice creams. But..... it still works! Here are a few things to keep in mind....
Right out of the food processor (or high speed blender) banana nice cream is a soft-serve consistency, so you'll want to freeze it for at least a couple of hours before placing scoops between the cookies. Just spoon the nice cream into a freezer-safe container and pop it into the freezer. Cover it after about 30 minutes.
Having said that, I was in a hurry to photograph these babies and only froze the nice cream for about an hour. Even though it was soft, it still worked out! If you also find yourself in a rush, just put a scoop between the cookies, gently squish it down, and place the sandwiches uncovered on a plate or baking sheet in the freezer. The smaller amount of ice cream and the increased exposure to the cold mean they freeze more quickly, which means eating ice cream sandwiches even sooner!
If not eating right away, wrap ice cream sandwiches individually in plastic wrap.
Once the ice cream sandwiches have been frozen for an extended period, say 4+ hours, the ice cream will be quite hard. So be sure to transfer individual sammies to the fridge 10 to 15 minutes before you want to eat them.
If you use store-bought non-dairy ice cream, you'll need to let it soften slightly before building your ice cream sandwiches. Then freeze the sandwiches as mentioned above.
Flavor-wise, sunbutter is pretty much as versatile as peanut butter. Pair these cookies with a fruity ice cream like I did, or with vanilla, chocolate, caramel, or even coffee! I think a scoop of vanilla ice cream with the outside edges rolled in mini chocolate chips would be a total winner!
I hope you enjoy these Sunbutter Cookie Ice Cream Sandwiches. If you find an ice cream flavor combo you really love, please share it with us in the comments below! Enjoy!
You might also like:

Healthy Vegan Peanut Butter Cookies
Kahlua Fudgesicles
Coconut Popsicles - 2 Flavors!
Spelt Cookies with Peanuts and Chocolate
Sunbutter Cookie Ice Cream Sandwiches
These 8-ingredient vegan sunbutter cookies are soft, rich, and perfect for making ice cream sandwiches. For a healthier treat go with frozen banana "nice" cream, or use your favorite store-bought non-dairy ice cream for a quick and easy frozen dessert.
Ingredients
For the cookies:
½

cup

sunflower seed butter, salted (if using unsalted, add ¼ tsp fine sea salt)

⅓

cup

maple syrup

½

cup

coconut sugar

Or sub ⅓ cup brown sugar

1

Tbsp

non-dairy milk

1 ½

tsp

vanilla

1

cup

spelt flour

Or sub whole-wheat, all-purpose, or a blend of any of these with a gluten-free flour like oat or rice

½

tsp

baking powder

½

tsp

baking soda
For Strawberry-Banana Nice Cream:
3

frozen

overripe bananas

To freeze bananas: peel, cut into pieces, place in an airtight container or sandwich bag, and freeze overnight

10 to 12

frozen strawberries

splash

of non-dairy milk

sweetener of choice, optional

(if the bananas aren't sweet enough, add a small amount of maple syrup or sugar to taste)
Instructions
If making banana nice cream, do this at least 2 to 3 hours before you want to eat ice cream sandwiches so the ice cream has time to firm up in the freezer.

Add the bananas, strawberries, and a splash of milk to a food processor. Blend until smooth and creamy, stopping to scrape down the sides of the bowl as needed.


The nice cream will be similar to soft serve at this point. Scoop it into a freezer-safe container and freeze for about 2 hours. This will give you a firmer, scoopable texture for building the ice cream sandwiches.
Make the cookies:
Preheat oven to 375 degrees F and line two baking sheets with parchment.

In a mixing bowl, cream together the sunbutter, maple syrup, coconut sugar, milk, and vanilla. If using unsalted sunbutter, add ¼ tsp salt here, too.

Sift the flour, baking powder, and baking soda into the mixing bowl, and stir until a sticky dough forms.

Spoon heaping tablespoons-full into your hand (you should end up with 12 cookies). Roll the dough betwen your palms and place on cookie sheet at least 3 inches apart. The cookies will spread during baking.

Use the underside of a fork to create a criss-cross pattern into the top of each ball of dough, gently pressing down to flatten them into a cookie shape.

Bake for 11 to 13 minutes. The cookies will be soft when removed from the oven. Allow cookies to cool on the baking sheets, or transfer cookies to cooling racks after 15 minutes.

NOTE: a softer, slightly underdone cookie works best for ice cream sandwiches, so be careful not to overbake.
Make the ice cream sandwiches:
If using homemade ice cream, once it's firm enough place one scoop on a cookie and top it with another cookie, gently pressing them together. Place ice cream sandwiches on a baking sheet or plate in the freezer. The amount of time needed in the freezer depends on how soft your ice cream is when you make the sandwiches. Check them after 30 minutes or so.

If using store-bought ice cream, let it soften slightly. Then scoop it onto a cookie, placing another cookie on top, and freezing/storing as mentioned above.

Eat right away or wrap individual sandwiches in plastic wrap and store in the freezer.
Notes
These cookies work well for ice cream sandwiches because they're still somewhat soft after cooling. If the cookies overbake, they might be too hard when frozen. So it's best to err on the side of slightly underdone.
Once the ice cream sandwiches have been frozen for an extended period, say 4+ hours, the ice cream will be quite hard. Transfer individual sammies to the fridge 10 to 15 minutes before you plan to eat!
Store individually wrapped ice cream sandwiches in the freezer for up to a week for banana nice cream varieties and up to 2 weeks for higher fat ice creams.
Did the inside of your cookies turn green? Don't worry! This is a naturally occurring chemical reaction that can happen sometimes with sunflower seeds + heat + baking powder/soda. Enjoy!
Nutrition
Serving:
1
sandwich
Calories:
360
kcal
Carbohydrates:
60
g
Protein:
8
g
Fat:
11
g
Saturated Fat:
1
g
Cholesterol:
0
mg
Sodium:
92
mg
Fiber:
6
g
Sugar:
36
g
Vitamin A:
50
IU
Vitamin C:
27.2
mg
Calcium:
50
mg
Iron:
2.5
mg
Tried the recipe?
Comment below to let us know how it was!