This Vegan Pistachio Ice Cream is for serious pistachio lovers! It relies solely on pistachios and oats for its rich and creamy texture. Made with only 6 ingredients and no cashews or coconut milk to dilute the lovely pistachio flavor.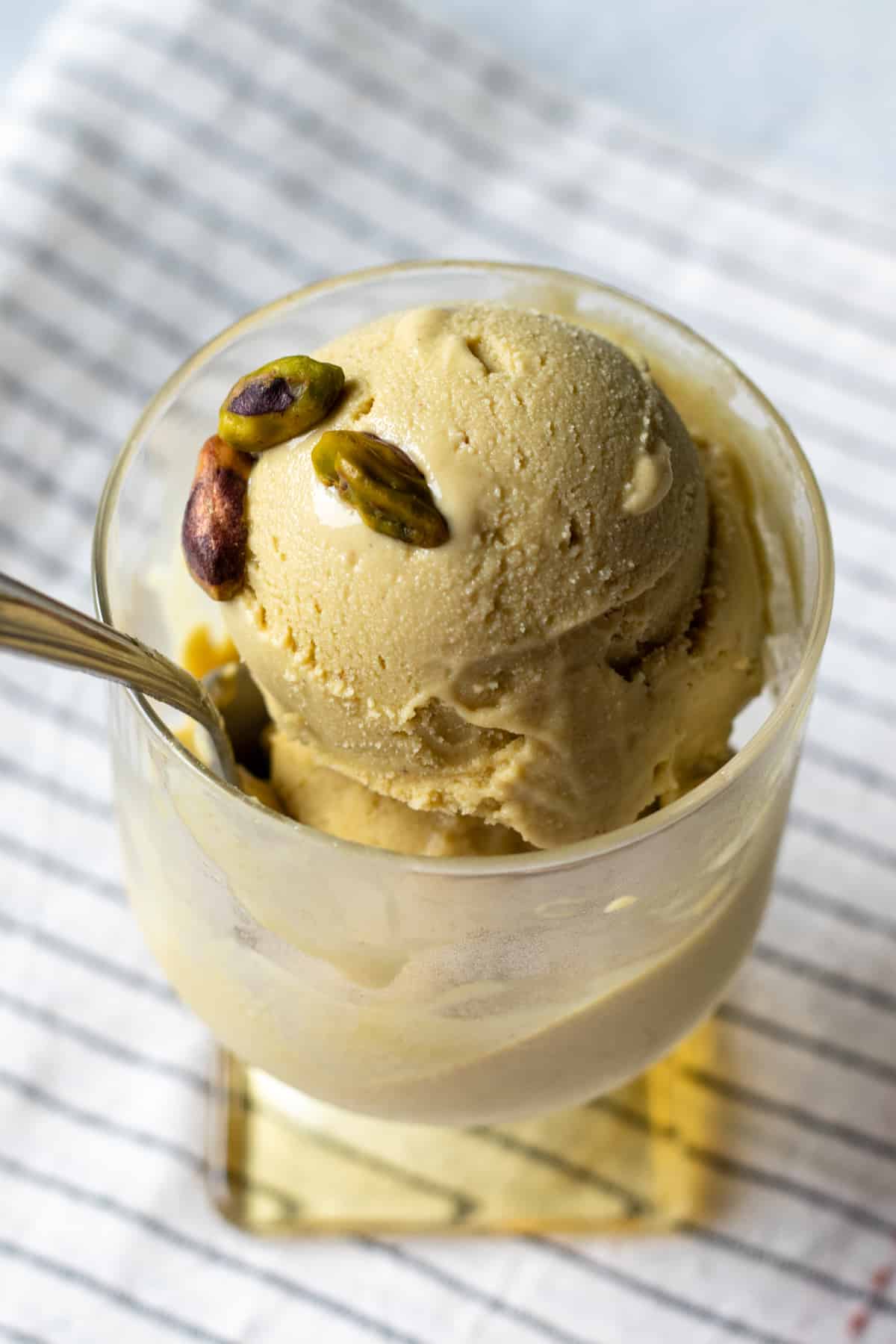 How This Recipe Is Different
Pistachio ice cream has always been one of my husband's favorites, and he's been asking for a vegan version for ages. I finally got around to testing this flavor, and honestly, it kind of blew my mind.
This pistachio ice cream isn't messing around. We're talking about 1 ½ cups of real pistachios packed into this dairy-free, wholesome, homemade ice cream, with no coconut milk or cashews to dilute the flavor!
Before going vegan pistachio was never one of my go-to ice cream flavors, so just before I blended up the first batch I actually said to my husband, "I don't remember what pistachio ice cream tastes like."
Smarty pants that he is, he answered, "Pistachio."
Then I tasted it and couldn't believe the level of flavor. Seriously, this ice cream is unapologetically pure pistachio, and in a 100% real, non-fake-y sort of way!
This vegan ice cream recipe is similar to my other oat-based ice creams in that it focuses on real, simple ingredients and has less fat overall than most ice creams made with full-fat coconut milk or with added oils.
This means that it will be pretty solidly frozen after it's been in the freezer for a while. But give it 15 minutes to soften on the counter before scooping, and you will be rewarded with gloriously creamy and delicious dairy-free pistachio ice cream.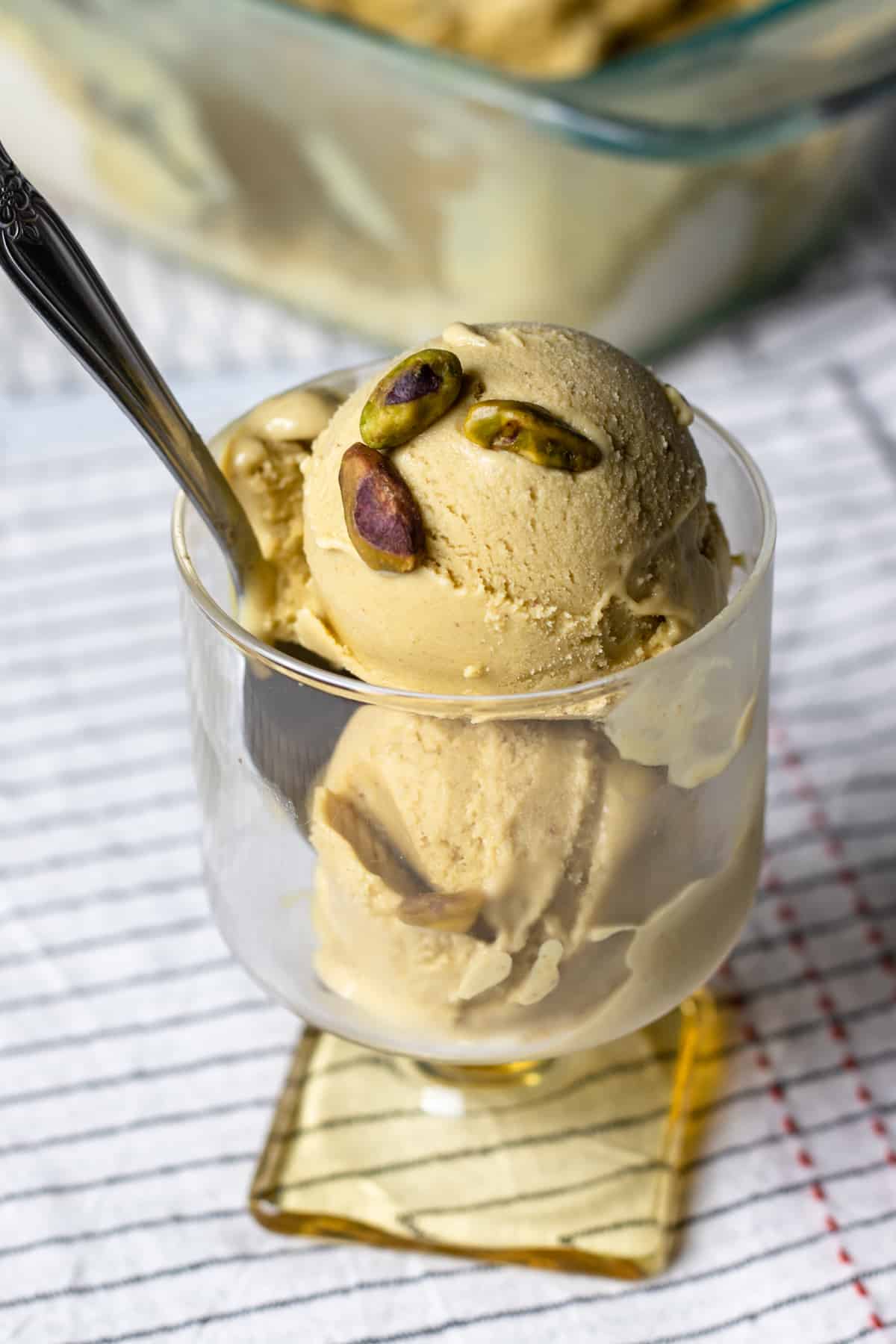 Ingredient Notes
1 ½ cups roasted, unsalted pistachios - If starting with raw pistachios, roast them in a 325 degree F (160 Celsius) oven for 5 to 7 minutes to intensify the flavor. Allow the nuts to fully cool before using.
3 cups unsweetened non-dairy milk - such as soy or oat milk
¼ cup rolled oats - once cooked, the starch in oats helps create an amazing creaminess in our vegan ice cream, a little trick I learned from The Homemade Vegan Pantry by Miyoko Schinner.
⅔ cup organic cane sugar
¼ teaspoon fine sea salt
1 teaspoon vanilla
1 ounce vodka, optional - this helps to reduce ice crystal formation and slightly softens the ice cream.
See the recipe card below for full instructions.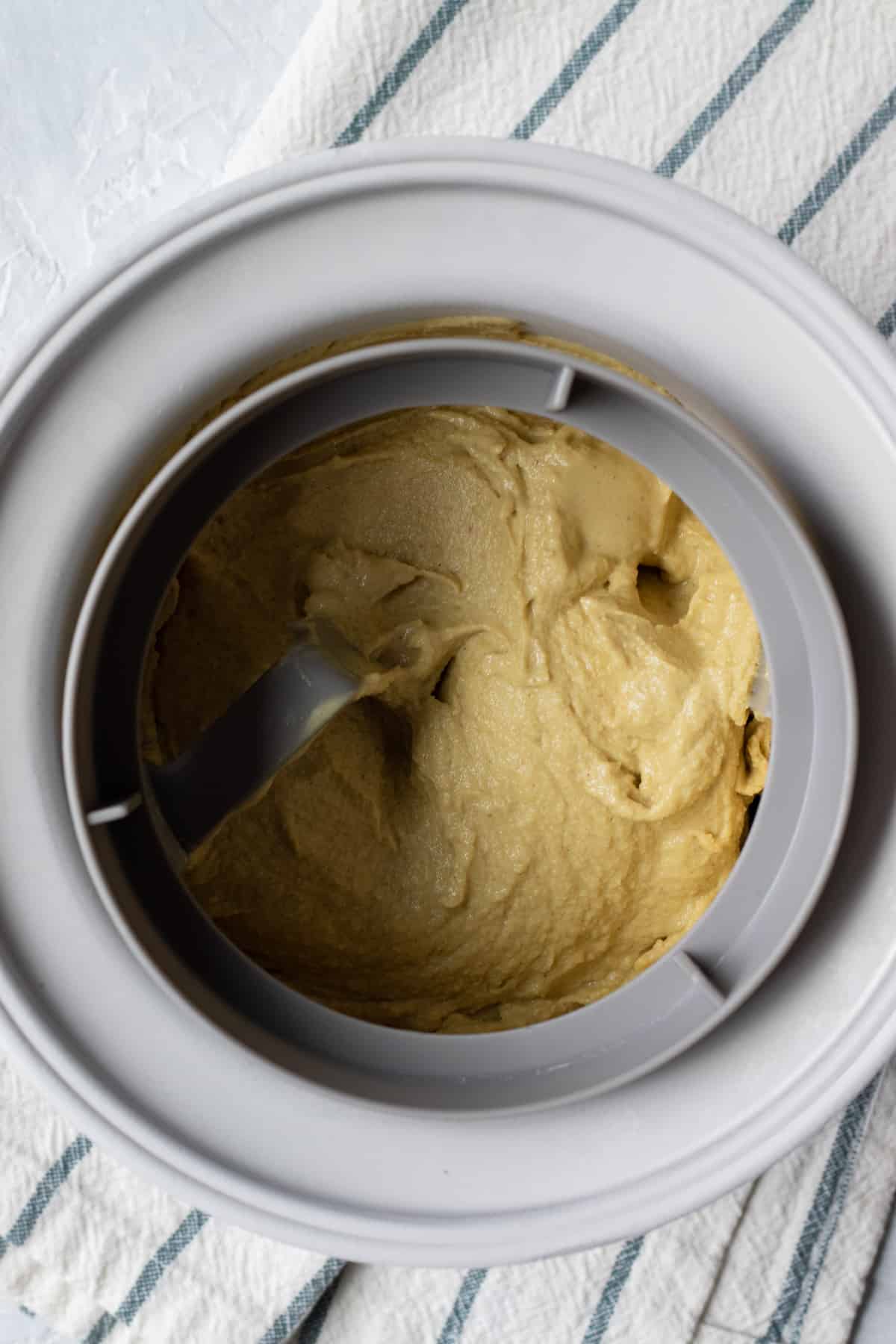 How To Make Vegan Pistachio Ice Cream
Homemade ice cream is pretty easy, but if you're using a typical ice cream maker with the removable canister, there is some planning involved. So let's do a quick review to make sure things go smoothly for you.
The basic process looks like this:
Make sure your ice cream machine's canister has been in the freezer for at least a day.
Cook the oatmeal in a small sauce pan, then spread onto a plate to cool.
Blend the remaining milk and the pistachios until smooth. Add the cooled oatmeal and remaining ingredients, and blend again.
Refrigerate the the ice cream base until chilled (anywhere from 2 hours to overnight). TIP: speed up this process by placing it in the freezer for about 30 minutes.
Churn the ice cream according to the instructions for your ice cream maker.
Enjoy now like soft-serve, or freeze the ice cream for 3 to 4 hours for a firmer, scoopable consistency.
Let the ice cream soften at room temperature for 10 to 15 minutes and dig in!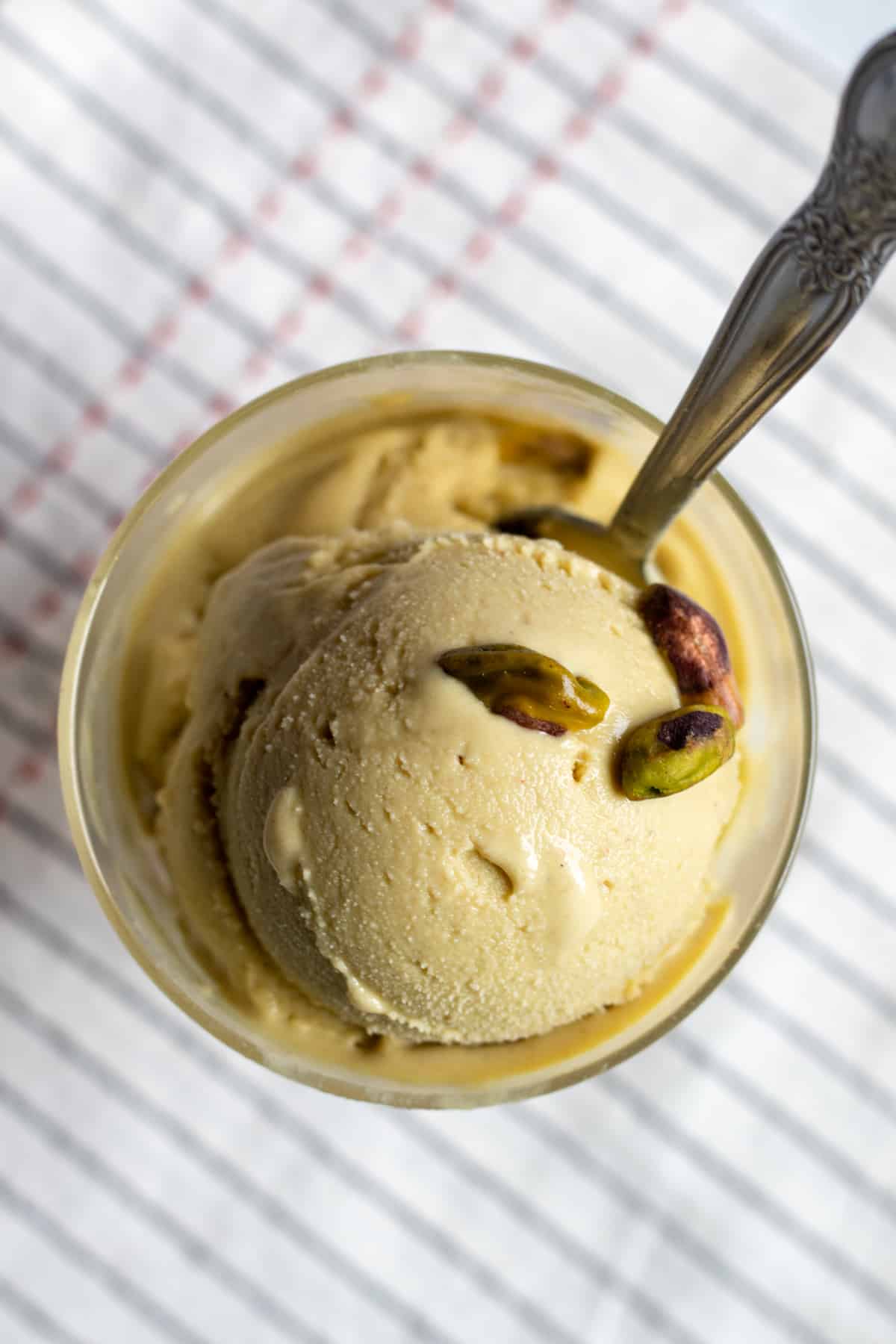 Equipment Notes
You'll need a blender strong enough to puree the pistachios in the non-dairy milk. A high-speed blender like a Vitamix works best here. Otherwise, if using a standard blender, you can strain the blended mixture to remove any unblended bits, or just leave them in the ice cream for texture!
Ideally, you'll also need an ice cream maker. A freezer-safe dish or loaf pan will also come in handy.
Tips for the No-Churn Method
I haven't tried this recipe with the standard no-churn method, but I do think the results will be similar to the results I got when I tested this Vanilla-Maple Oat Milk Ice Cream.
Essentially, the ice cream will still taste amazing, but it will take on an icy appearance compared to the churned version.
So if you're pistachio's biggest fan and don't have an ice cream maker, but you just really want this ice cream in your life, I say go for it!
I mean, a day with vegan ice cream is always better than a day without, right?
How to make ice cream without an ice cream maker:
After blending the pistachio ice cream mixture, pour it into a shallow, freezer-safe container.
When the ice cream begins to freeze around the edges, after about 45 minutes, give it a vigorous stir and/or whisk. Then return the container to the freezer.
Repeat this process every 30 to 45 minutes until the ice cream reaches the desired consistency. It will take about 5 to 6 hours to reach soft-serve state.
How to Serve Vegan Pistachio Ice Cream
It's worth mentioning again that because this ice cream is more natural and doesn't contain a lot of saturated fat (like from coconut milk ice creams) or any added oils or stabilizers, it will be more solid straight from the freezer.
Tip! Be sure to allow about 15 minutes for the ice cream to soften before serving.
Place your ice cream scoop or large spoon under warm running water, then scoop up individual portions. Garnish with chopped pistachios and enjoy!
How to Store
Store vegan pistachio ice cream in an airtight container in the freezer. It tastes best when consumed within one week primarily because it can be difficult to protect homemade ice creams from air.
More Vegan Ice Cream
📖 Recipe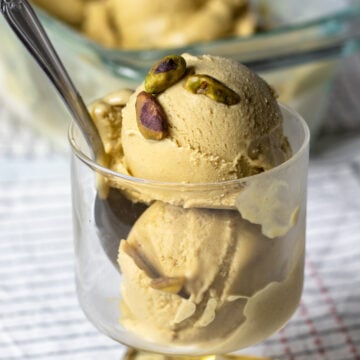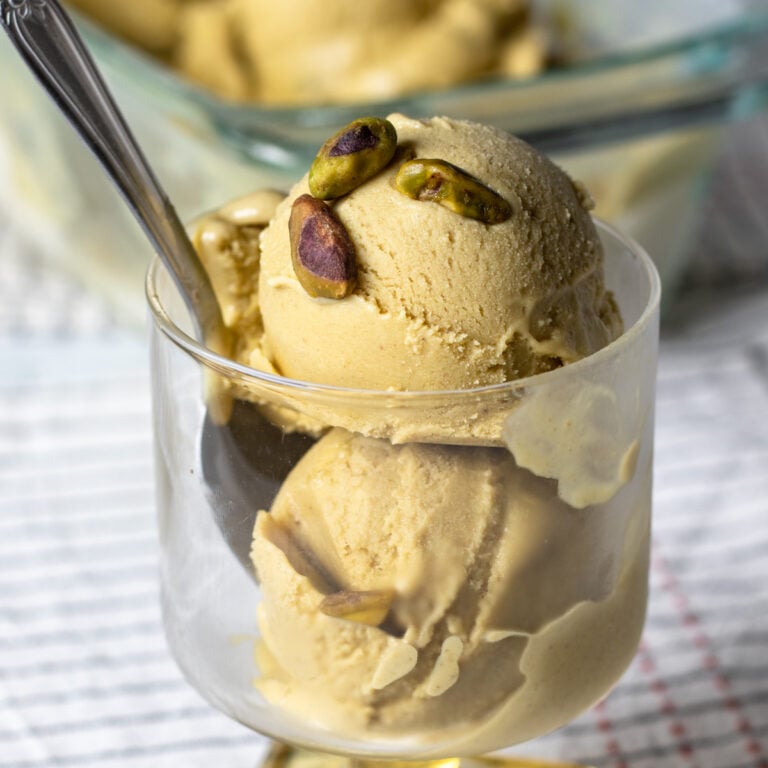 Vegan Pistachio Ice Cream (No Coconut Milk)
Packing serious pistachio flavor, this vegan pistachio ice cream contains no cashews or coconut, and is made with 6 simple ingredients.
Ingredients
3

cups

unsweetened non-dairy milk such as oat or soy

¼

cup

rolled oats

-

Certified gluten-free, if needed.

1 ½

cups

roasted and unsalted pistachios

⅔

cup

organic cane sugar

1

teaspoon

vanilla extract

¼

teaspoon

fine sea salt

1

ounce

vodka, optional -

See Notes.
Instructions
Plan/prep:
If using an ice cream maker with a removable canister, be sure to freeze the canister at least one day before you plan to make ice cream. Also note that the ice cream mixture needs time to chill before churning (at least an hour), and the churned ice cream needs about 3 to 4 hours in the freezer for a firmer, scoopable consistency.
Make the ice cream:
In a small sauce pan, simmer oats in 1 cup of milk until soft, about 10 minutes. Immediately transfer to a bowl or spread out on a plate to cool.

In a blender combine the remaining 2 cups of milk and the pistachios. Blend on high until completely smooth, about 1 minute. Add the cooled oatmeal, sugar, vanilla, salt, and vodka, if using. Blend again until smooth and oats are fully broken down. Refrigerate until cold (minimum 2 hours), or to speed up the process, transfer ice cream mixture to a container and place in freezer for about 30 minutes.

Churn the ice cream according to manufacturer's instructions for your machine. After churning, the ice cream will be softer than a typical soft serve consistency. For a firmer, scoopable consistency, transfer ice cream to a freezer-safe container, cover, and freeze for 3 to 4 hours.

Around the 4 hour mark, and definitely once the ice cream has been in the freezer longer, it will be too hard to scoop right out of the freezer. It's important to let the ice cream soften at room temperature for about 15 minutes before serving.
Notes
Since alcohol doesn't freeze, adding it to homemade ice cream recipes is a common trick to help keep the ice cream a bit softer straight from the freezer. Since this recipe doesn't contain added oils, gums, or sugar syrups like store-bought varieties, a small amount of alcohol helps with texture, but feel free to omit it.
Storage and Serving
Store ice cream in an airtight container in the freezer. It tastes best when consumed within 1 week only because it can be difficult to fully protect it from air.
Always allow about 15 minutes for the ice cream to soften before serving.
Estimated Nutrition (per serving)
Calories:
272
kcal
Carbohydrates:
36
g
Protein:
7.4
g
Fat:
13
g
Saturated Fat:
1.6
g
Cholesterol:
0
mg
Sodium:
130
mg
Fiber:
4
g
Sugar:
21
g
Vitamin A:
282
IU
Vitamin C:
1
mg
Calcium:
156
mg
Iron:
1.8
mg
Nutrition information is an estimate and will vary depending on the exact amounts and specific products and ingredients used. We calculate this information using the online calculator cronometer.com.
Tried the recipe?
I love hearing from you! Share your feedback below.