Meet your new favorite way to cook Brussels sprouts! Briefly pan-seared and roasted, you can have perfectly cooked Brussels sprouts every time. Topped with a tangy and sweet raisin-balsamic glaze, this 4-ingredient side dish is vegan and gluten-free and a perfect addition to any meal, especially during the holidays.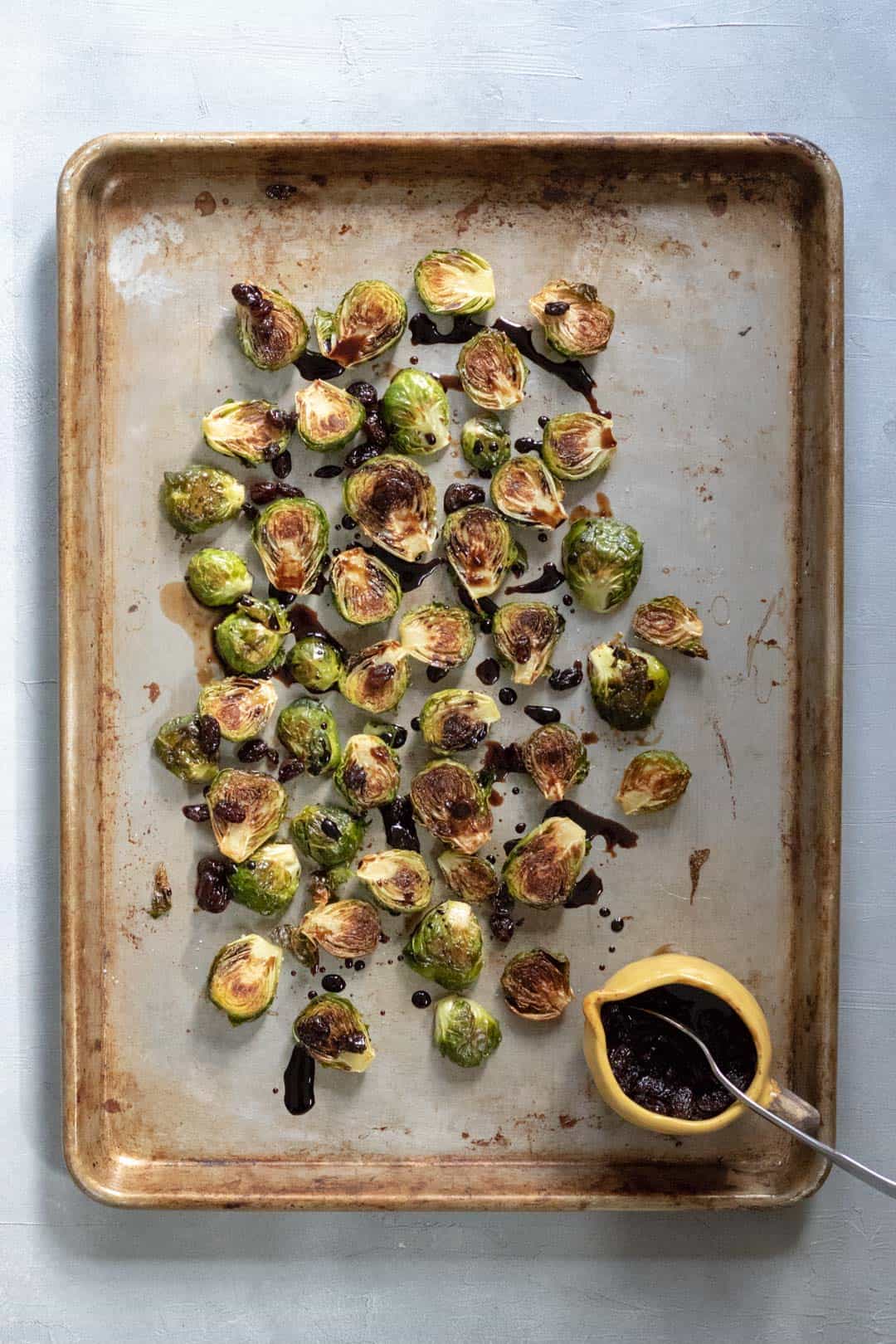 This is it, folks, a Brussels sprouts dish that's so simple, honest, and pure, it's actually sexy. (Too much?) I've wandered aimlessly through the uninspired roasting of Brussels sprouts over the years, typically feeling disappointed when the main contributors to their tastiness were tons of oil and salt. But not anymore. The search for my favorite Brussels sprouts dish is over.
Inspired by a balsamic cauliflower recipe in Mark Bittman's How to Cook Everything Vegetarian, the first time I made these perfectly seared and roasted Brussels sprouts, they stopped me in my tracks. This would be a lovely side dish for the holidays or really any occasion where you want simple, straightforward food that still manages to thrill!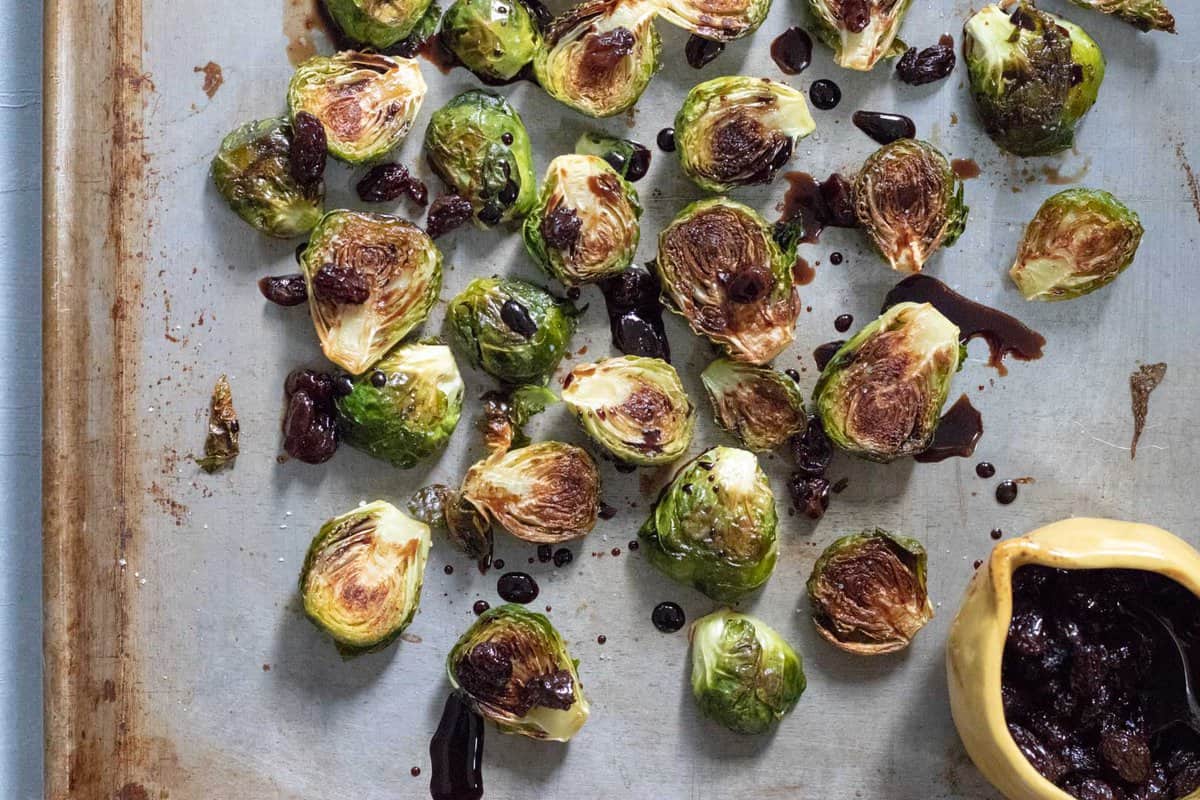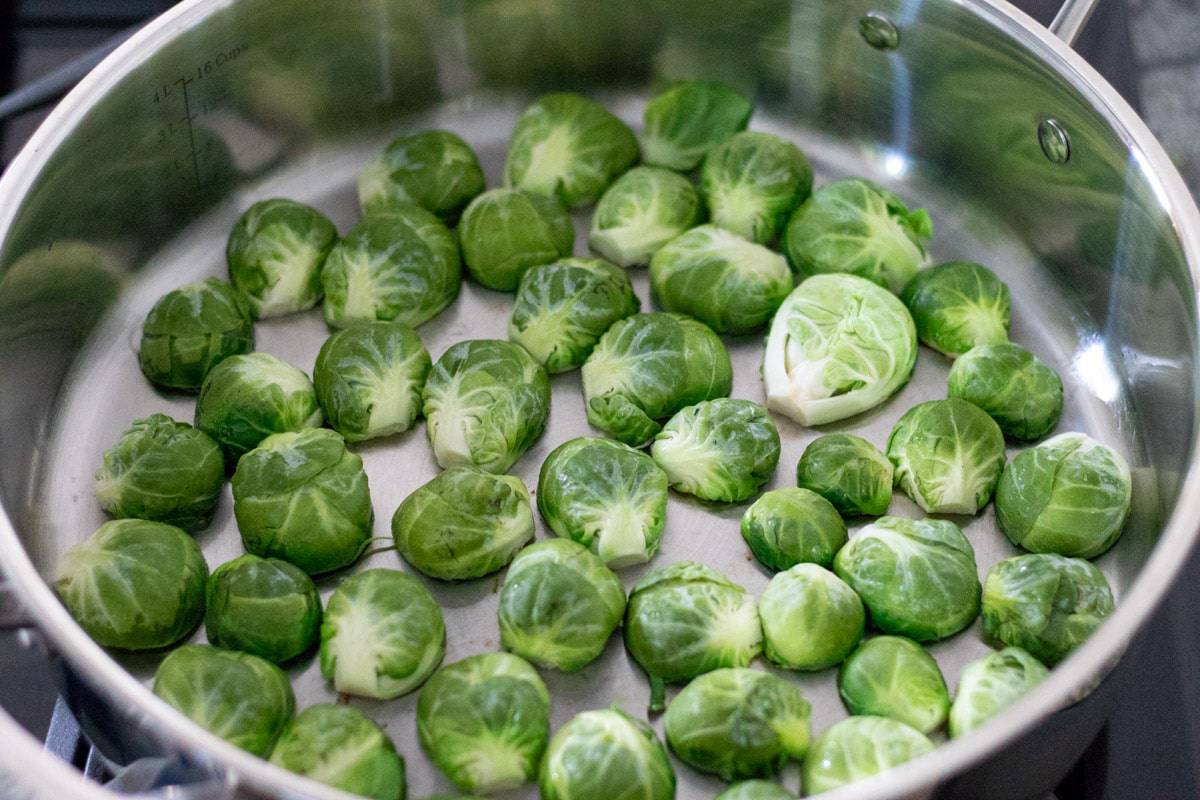 Maybe you've had balsamic Brussels sprouts before. A quick Google search tells me this isn't an uncommon pairing. But if you haven't, or if you haven't specifically made a balsamic reduction with raisins, you'll want to give this a try. Of course, it helps to be a fan of balsamic vinegar. If you're not particularly into it, you may want to try a different sauce pairing. But even if you're on the fence about vinegar, you just might love this reduction. The raisins add an almost wine-like depth, further softening the vinegar. Combined with the nutty flavor of the brussels sprouts, it's pure vegetable magic!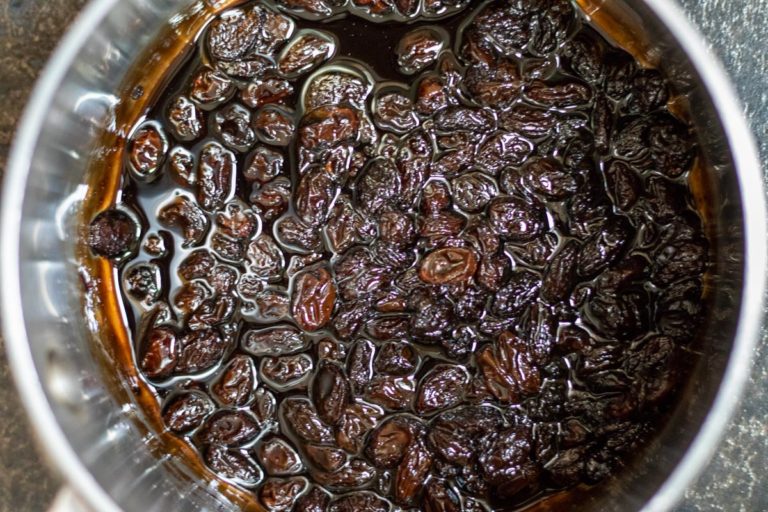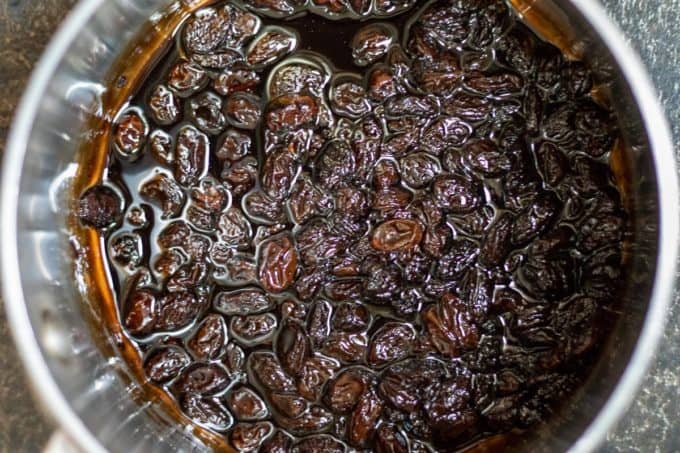 How to Make Brussels Sprouts with Raisin-Balsamic Reduction
For these perfectly cooked Brussels sprouts you'll need an oven-proof sauté pan or skillet (<--- favorite affordable pan I use every day), a small sauce pan, and just 5 ingredients:
1 lb. brussels sprouts
1 Tbsp high-heat cooking oil, such as grapeseed or sunflower
2/3 cup good-quality balsamic vinegar
1/2 cup raisins
generous pinch of salt
Getting a nicely browned exterior without overcooking the inside of the sprouts is in part thanks to a 5-minute initial searing in a skillet or sauté pan (overcooking is what makes them stinky, in case you didn't know). If you don't have an oven-proof skillet, another option is to put a baking sheet in the oven and allow it to pre-heat. Once hot, carefully remove the baking sheet and add the oil and brussels sprouts as you would have with a skillet. Though the heat won't be direct like it would have been on the stove top, the pre-heated pan will help kickstart the browning on the cut side of the sprouts.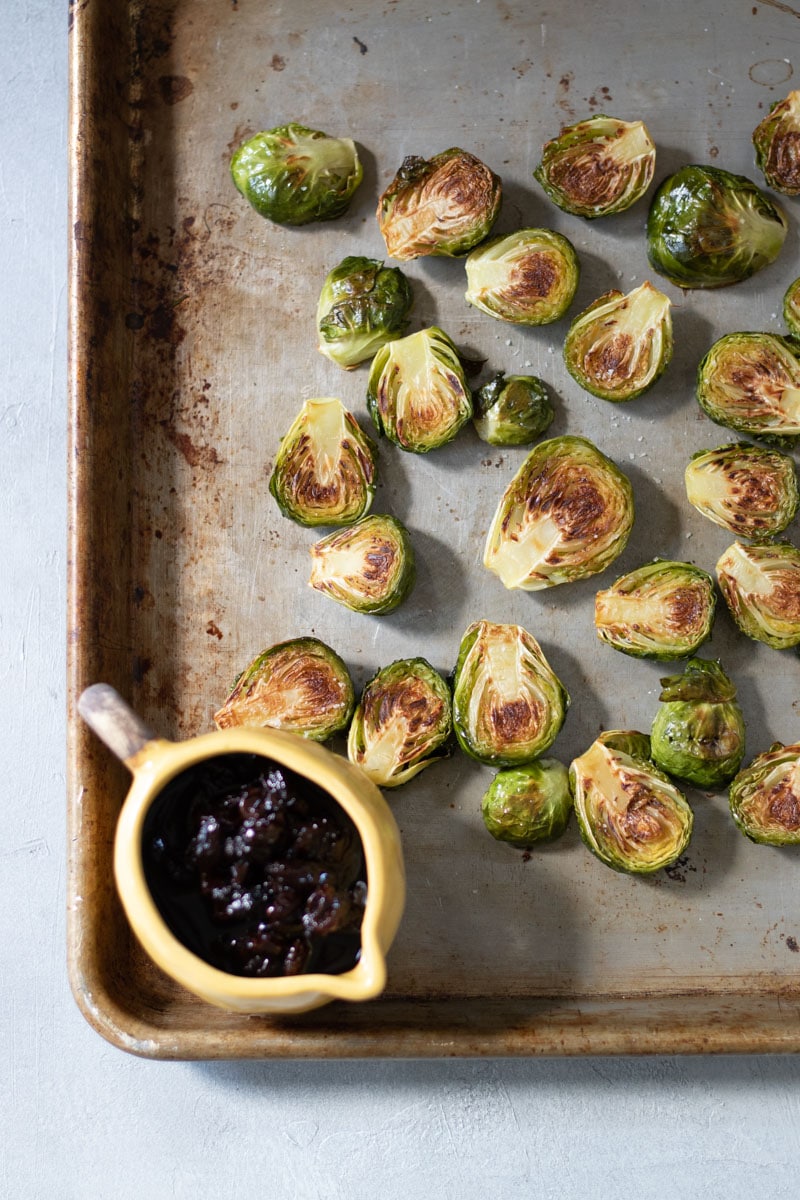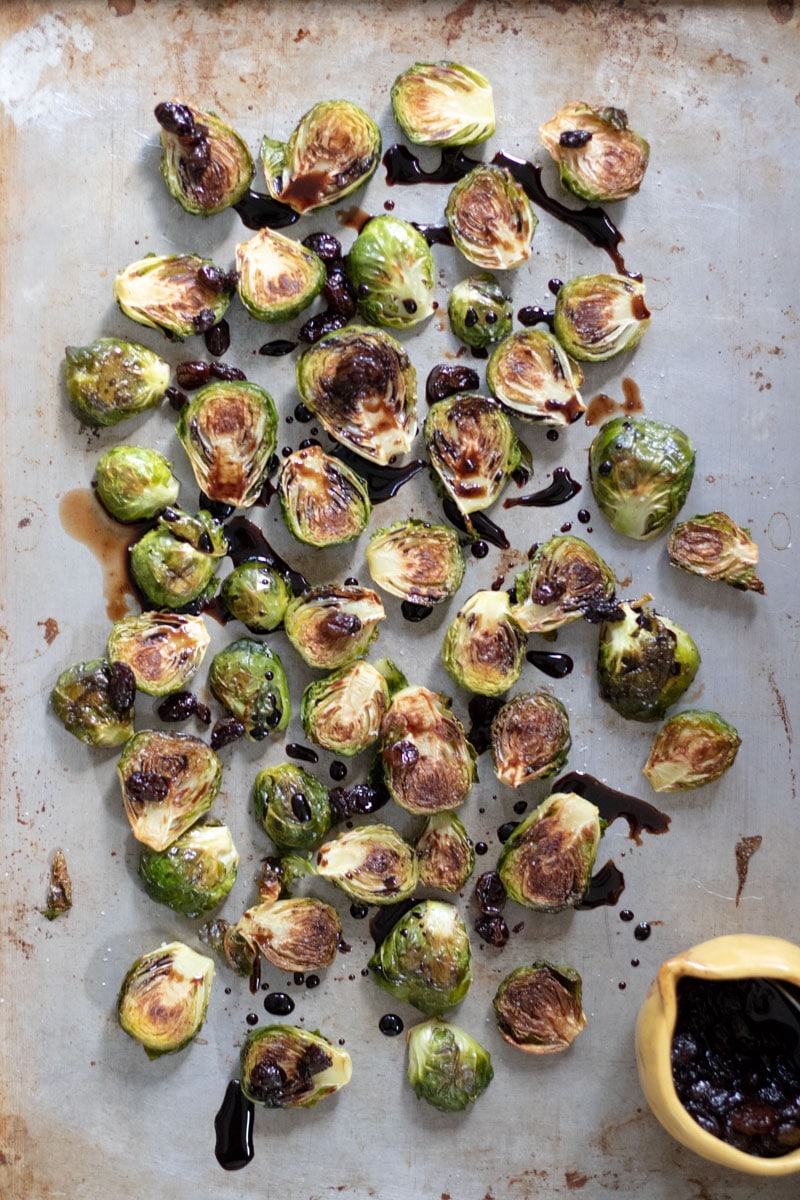 I hope you enjoy this recipe for Brussels Sprouts with Raisin-Balsamic Reduction. I would love to hear from you if you give it a try. Tag a photo @myquietkitchen on instagram, or leave me a note in the comments below.
Cheers to simple and sexy vegetables!
You might also like:
Black Lentil & Beyond Meatloaf With Shiitake Stuffing
Sweet Potato Salad With Lemon Vinaigrette
Cornbread Dressing
Rosemary Potato Salad
Bok Choy Salad With Ginger-Turmeric Dressing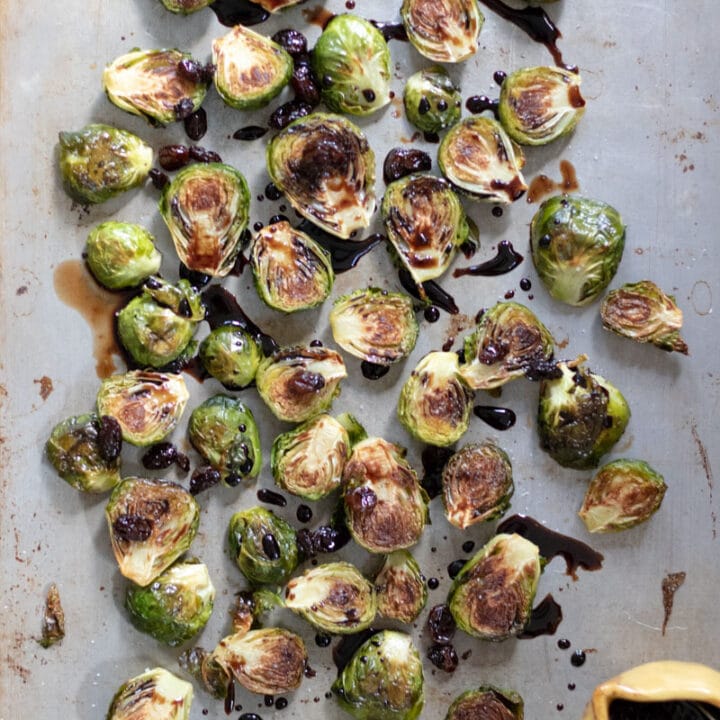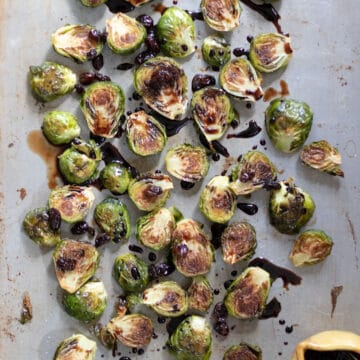 Brussels Sprouts with Balsamic Raisin Glaze
Seared and roasted Brussels sprouts drizzled with an irresistible, condensed, balsamic-raisin glaze. Perfect as an appetizer or side dish.
Inspired by a balsamic cauliflower recipe in Mark Bittman's book How to Cook Everything Vegetarian.
Ingredients
For the brussels sprouts:
1

lb.

Brussels sprouts, ends trimmed, halved through the stem end

1

Tbsp

neutral oil suitable for higher heat, such as sunflower or grapeseed

generous pinch of

sea salt
For the glaze:
2/3

cup

balsamic vinegar

1/2

cup

raisins
Instructions
Brussels sprouts:
Preheat oven to 450 degrees. Also, preheat an oven-proof sauté pan over medium heat. Wash, dry, trim, and halve Brussels sprouts.

Add oil to pan. Lift and tilt pan to swirl oil around entire surface. Place sprouts cut side down in a single layer. Cook undisturbed for 5 minutes. It's a good idea to check the level of browning on one or two of them after a few minutes.

Transfer pan to oven and bake for 5 minutes. Carefully remove hot pan from oven, and flip Brussels sprouts. Return pan to oven, and bake for an additional 7 - 10 minutes.

Be sure to consider the size of your Brussels sprouts. Larger ones will take closer to 10 minutes to become barely fork tender, while small sprouts may only need 6 or 7 minutes in this final phase of cooking.

Check levels of browning and tenderness. If desired, cook for an additional 2 to 3 minutes. Remove pan from oven. Sprinkle with salt.
Balsamic reduction:
In a small saucepan over medium-high heat combine vinegar and raisins. Bring to a boil, immediately lower heat to a simmer, and cook for about 10 minutes or until vinegar has reduced significantly and raisins are plump.

Transfer Brussels sprouts to a serving dish. Drizzle with the raisin-balsamic reduction and serve.
Notes
Brussels sprouts are best right out of the oven, but you can also refrigerate leftovers as you would any vegetable dish. Store the balsamic reduction separately, if you like.
Nutrition
Calories:
125
kcal
Carbohydrates:
21
g
Protein:
3
g
Fat:
4
g
Sodium:
75
mg
Fiber:
3
g
Sugar:
12
g
Vitamin A:
800
IU
Vitamin C:
90.8
mg
Calcium:
50
mg
Iron:
1.6
mg