This is truly the best Vegan Cream of Mushroom Soup! Luscious, smooth, and deeply flavorful, it's one worth savoring! Made with fresh and dried mushrooms and a hint of rosemary, this soup is easy enough for a weekday yet special enough for holidays and other occasions.
This vegan cream of mushroom soup is oil-free, gluten-free, and coconut-free.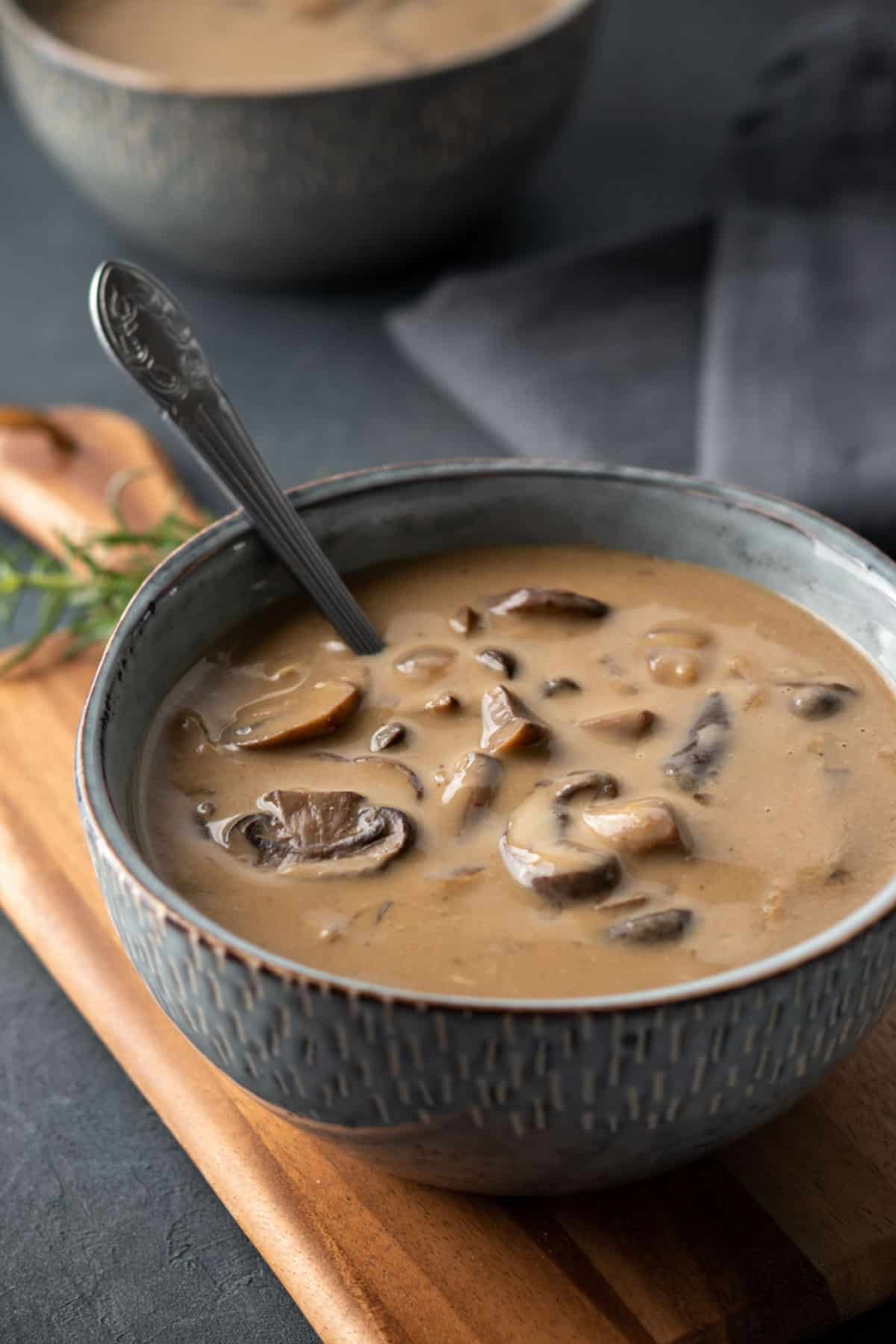 Jump to:
The Inspiration
Y'all, this soup has me so excited! It's not just some copycat of the congealed-looking, condensed stuff from a can that we grew up with. This dairy-free cream of mushroom soup is truly a celebration of mushrooms! And credit for the recipe idea goes to my friend Andrew.
I met Andrew through mutual friends when we crossed paths at a few events. We quickly identified our common interest in cooking healthy plant-based recipes and became instant foodie friends.
After I launched the blog, he reached out and suggested we partner up to create this creamy mushroom soup recipe. He had an idea in mind for the method, and we started emailing back and forth.
As soon as I saw his recipe notes I knew it was going to be a total winner!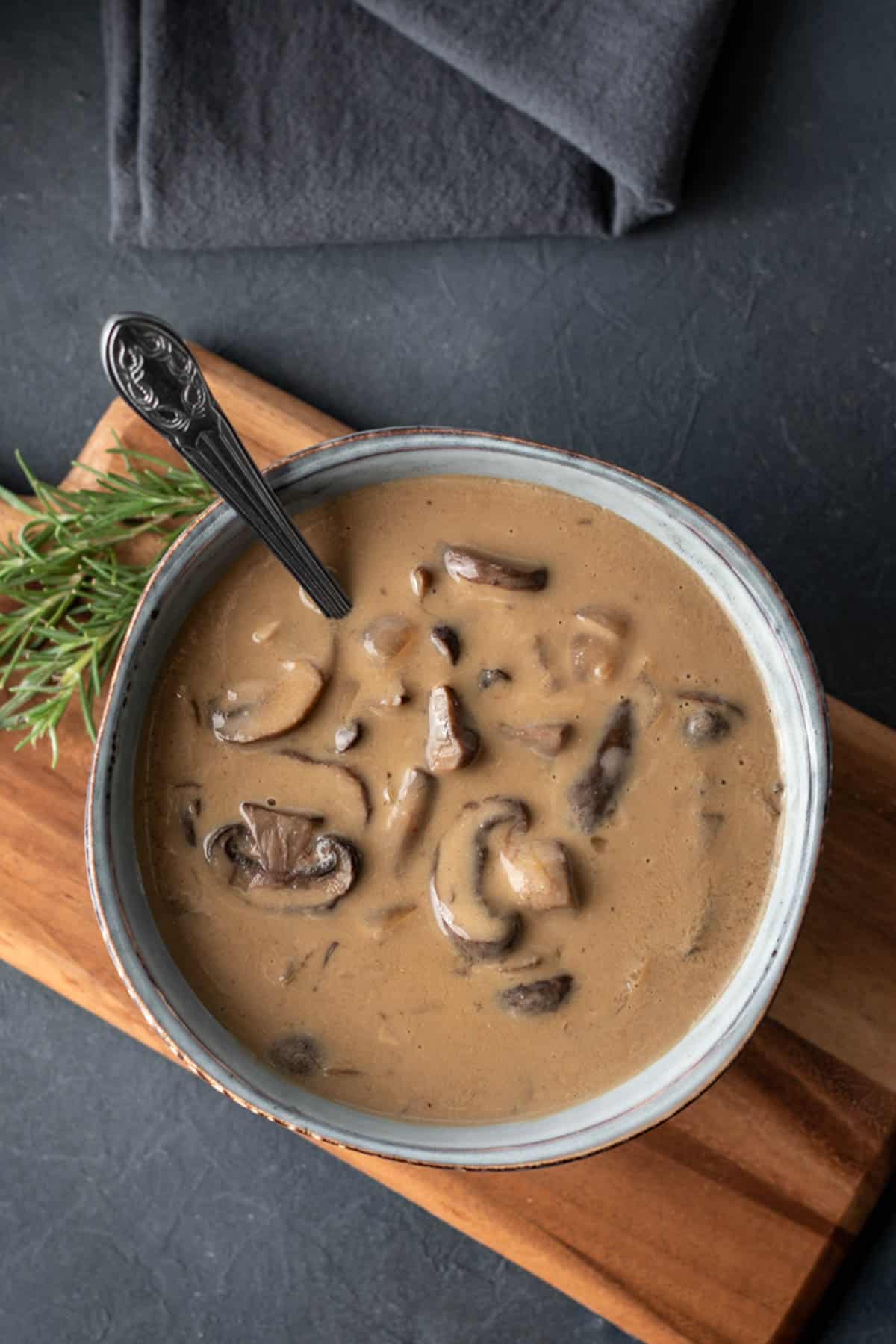 The recipe isn't complicated at all, and the result is a delicious cream of mushroom soup, vegan in all its glory, that does NOT call for butter, all-purpose flour, or coconut milk.
Key Ingredients
One step that makes this recipe different from most vegan cream of mushroom soups is the "tea" made by steeping dried porcini mushrooms with rosemary (preferably fresh but dried works in a pinch). This tea adds an extra layer of flavor that really puts this soup over the top.
A handful of raw cashews plus arrowroot or corn starch provide thickening and create an ultra-creamy mushroom soup.
How To Make Vegan Cream of Mushroom Soup
Before I scare you into thinking this "mushroom tea" sounds fancy, let me reassure you! If you can boil water you can make this tea.
The basic flow goes like this: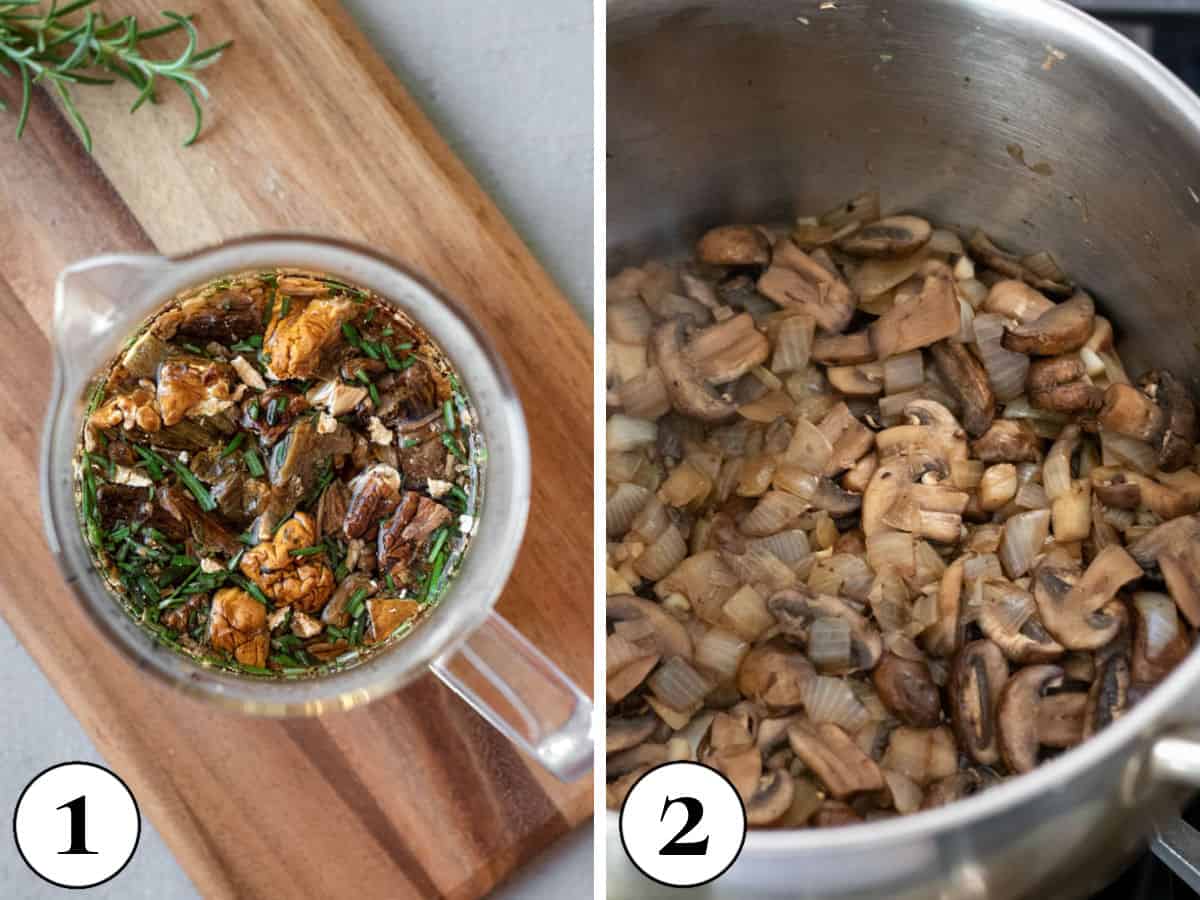 Steep the dried mushrooms and rosemary in hot water for about 20 minutes.
While you're waiting, sauté the onion and 1 pound of cremini mushrooms in a large stockpot.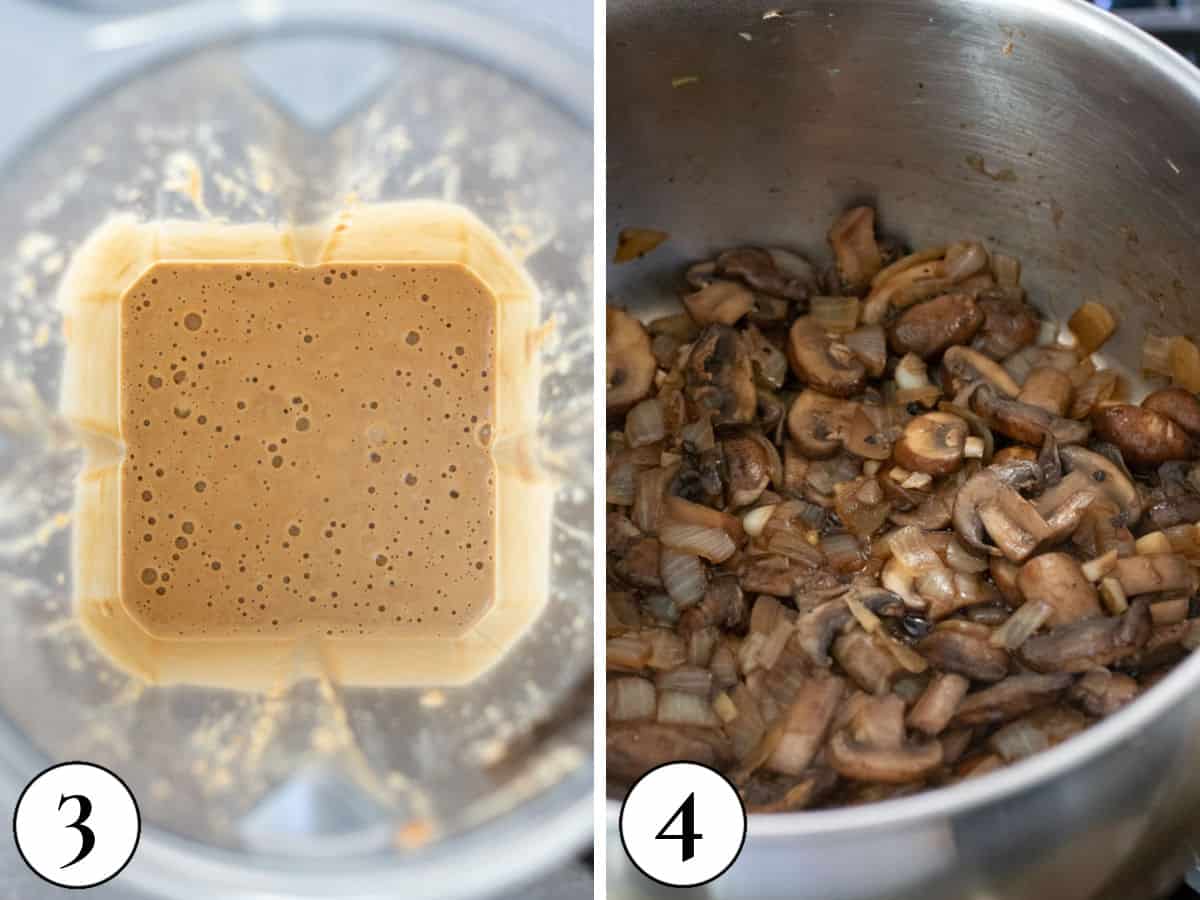 Add the mushroom tea to a blender with ½ cup raw cashews. Blend until smooth.
Back to the saute. Since this is an oil-free recipe, you can add a splash of broth or water to the pot if needed, to prevent sticking. But the mushrooms will release a lot of moisture, so you shouldn't need to add any broth while that's happening (just listen for the sizzle). Add the garlic and tamari.
Continue to cook, occasionally stirring, until all the liquid has evaporated from the mushrooms and they're looking lovely and soft.
The total cook time for the sauté is around 25 minutes.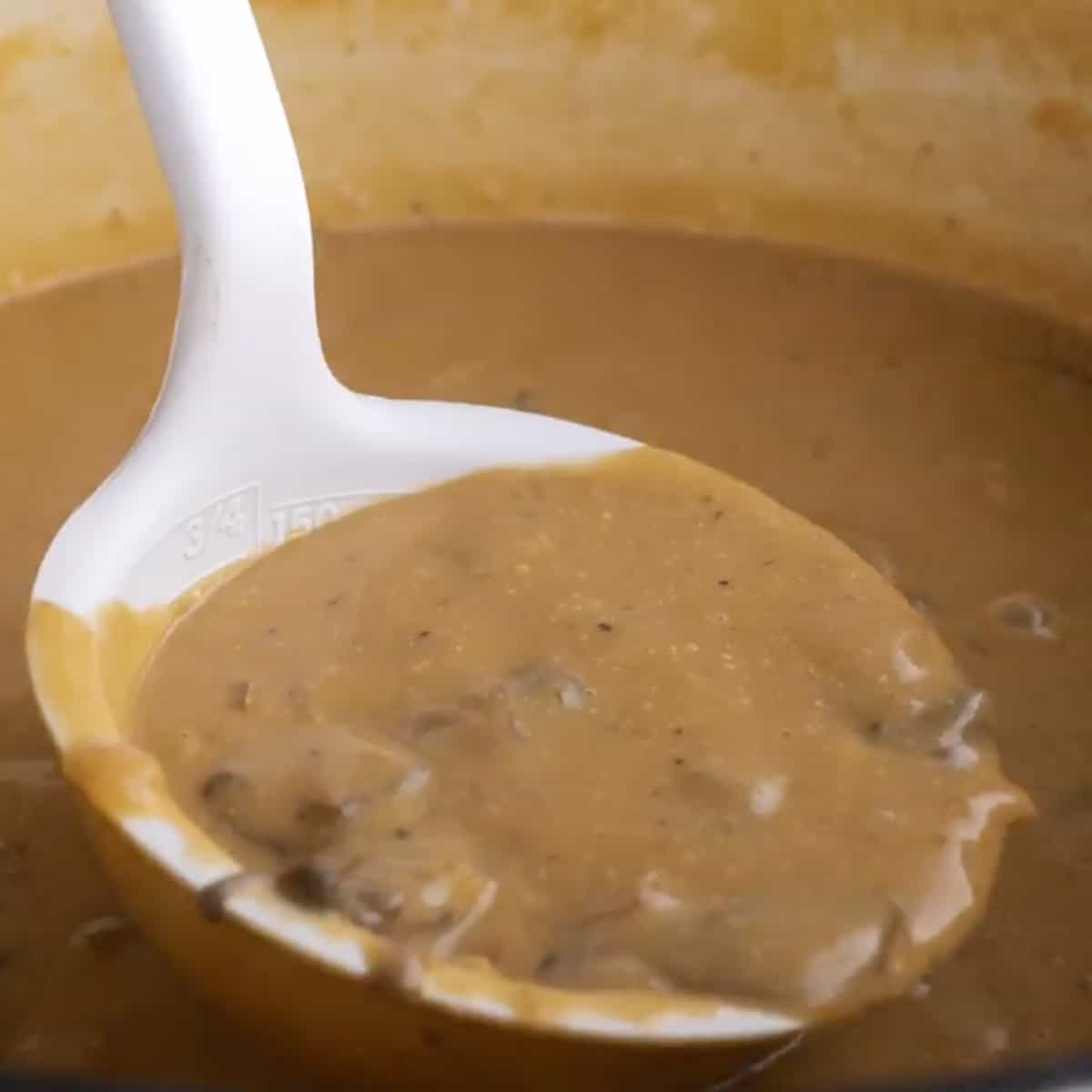 Finally, add the broth to the pot and bring to a simmer. Add the contents of the blender and the arrowroot slurry to the pot. Whisk and cook until thickened.
Voila! Swoon-worthy vegan cream of mushroom soup!
Ways to Serve Vegan Cream of Mushroom
Obviously, you can enjoy a bowl of this velvety soup all by itself. It's also fantastic served over brown rice or quinoa with a side of steamed broccoli or kale.
Add a side salad for a light lunch.
Another option is to omit the water to produce a slightly thicker soup. Then use it like a condensed cream of mushroom soup to create a sauce for pasta, or simmer it with vegan meatballs, tofu, tempeh, or seitan.
Tips
If omitting the water to create a thicker condensed soup or sauce, whisk the arrowroot into the broth before adding it to the pot.
If you're not familiar with thickeners like arrowroot and corn starch, the idea is to dissolve them in cool liquid first because as soon as they hit the heat they begin to thicken. If you add the starch directly to the hot soup, you'll end up with clumps of starch, and no one wants that!
I don't think it needs it, but if you like, add salt and pepper to taste once the soup is done.
I haven't tried this yet in a casserole that calls for cream of mushroom, but I'm sure it would work beautifully. Be sure to let us know in the comments below if you experiment.
For a lighter colored soup, more reminiscent of the canned stuff, reduce the soy sauce and add salt to taste.
Storage
Store leftover soup in the refrigerator for up to 5 days. Can also be frozen for up to 1 month.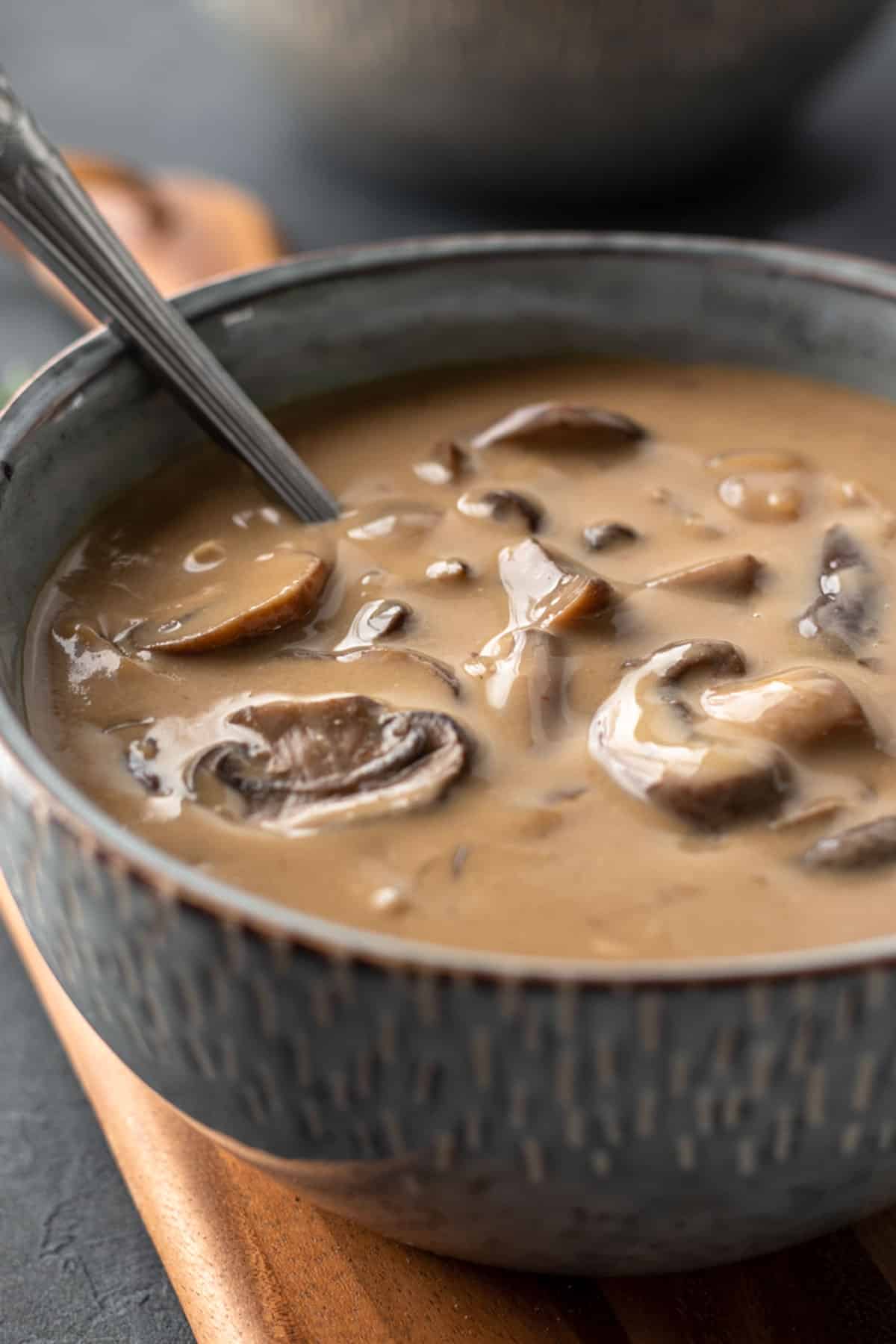 With no coconut milk, oil, or butter in sight, you won't believe how wonderfully rich and satisfying this Vegan Cream of Mushroom Soup is! I hope you give it a try and enjoy it as much as we do.
As always, I would love to hear from you. If you try the recipe be sure to comment below and share your feedback!
You might like
Recipe Video
Tap to play the video and see how the soup is made!
📖 Recipe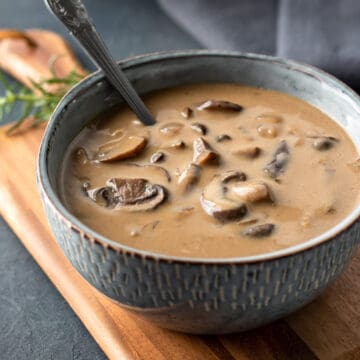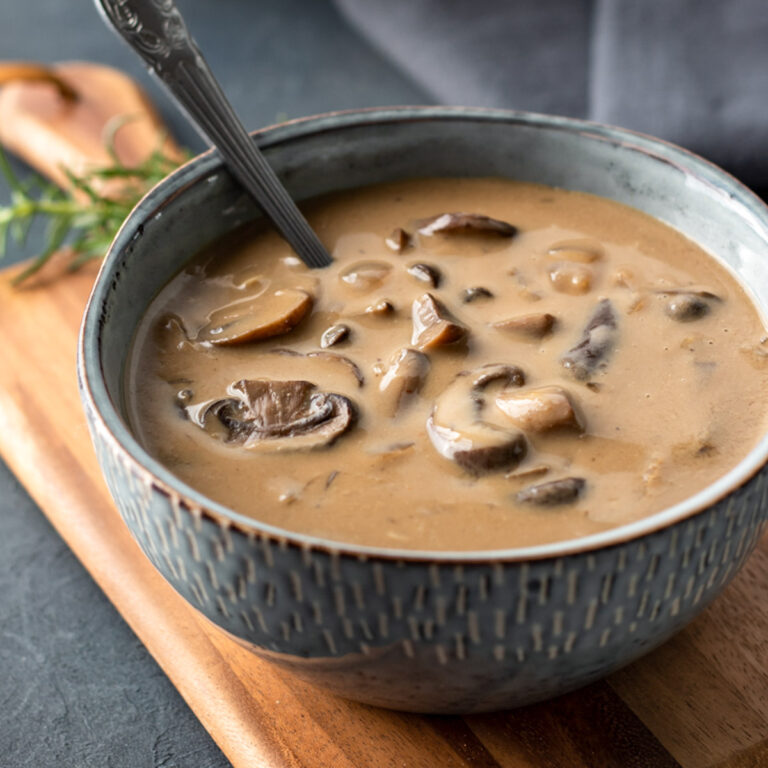 Vegan Cream of Mushroom Soup
This Vegan Cream of Mushroom is so rich and loaded with flavor yet deceptively light and healthy! Dried porcini mushrooms are steeped with rosemary and then blended with a small amount of cashews, while fresh mushrooms are slowly caramelized with onion and garlic. The result is a deeply satisfying vegan cream of mushroom soup worth savoring.
WFPB and free from oil, gluten, and coconut.
Yield: makes 8 cups
Ingredients
½

ounce

dried porcini mushrooms - Often sold in 1 ounce packets, this allows you to make 2 batches of soup from one pack. See Notes.

2

teaspoons

chopped fresh rosemary or 1 tsp dried

2

cups

water, divided

1

medium

yellow onion, chopped

16

ounces

cremini (baby bella) mushrooms, sliced

black pepper

4

cloves

garlic, divided; mince 2 cloves and leave 2 whole

½

cup

raw cashews

4

cups

vegetable broth

2

tablespoons

tamari (GF) or soy sauce

2

tablespoons

arrowroot starch or corn starch
Instructions
Combine the porcinis and rosemary in a small bowl. Bring 1 cup of water to a boil, and pour into the bowl. Steep for 20 minutes.

Preheat a large soup pot over medium heat. Add the onion and ¼ cup broth. Stirring occasionally, cook 3 to 5 minutes or until translucent. Add the sliced mushrooms, and continue to cook until softened and lightly caramelized, about 15 to 20 minutes.

In the meantime, combine the mushroom-rosemary "tea" with the cashews and 2 whole cloves of garlic in a blender. Blend until smooth, adding a bit of the broth to keep it moving, if needed. Set aside.

To the soup pot add black pepper, 2 cloves of minced garlic, and tamari, and cook for another 2 to 3 minutes or until all moisture has evaporated.

Add the remaining broth to the soup pot and bring to a simmer. Whisk in the blended mixture.

Dissolve the arrowroot into the remaining cup of water. Add this to the soup pot, and continue to whisk/stir. Cook until thickened, about 3 minutes.
Notes
Dried mushrooms: don't have these? Increase fresh mushrooms to 2 lbs (32 oz) and blend a portion of them after sauteing. Condensed option: for a thicker, condensed mushroom soup omit the 2nd cup of water and dissolve the starch in the broth instead. This condensed mushroom soup can be used as a sauce for pasta, or simmered with vegan meatballs, tofu, tempeh, etc. Store: refrigerate leftover soup for up to 5 days, or freeze for up to one month.
Estimated Nutrition (per serving)
Serving:
1.33
cups
Calories:
121
kcal
Carbohydrates:
15
g
Protein:
6
g
Fat:
5
g
Cholesterol:
0
mg
Sodium:
735
mg
Fiber:
2
g
Sugar:
4
g
Vitamin A:
356
IU
Vitamin C:
2
mg
Calcium:
33
mg
Iron:
1.8
mg
Nutrition information is an estimate and will vary depending on the exact amounts and specific products and ingredients used. We calculate this information using the online calculator cronometer.com.
Tried the recipe?
I love hearing from you! Share your feedback below.