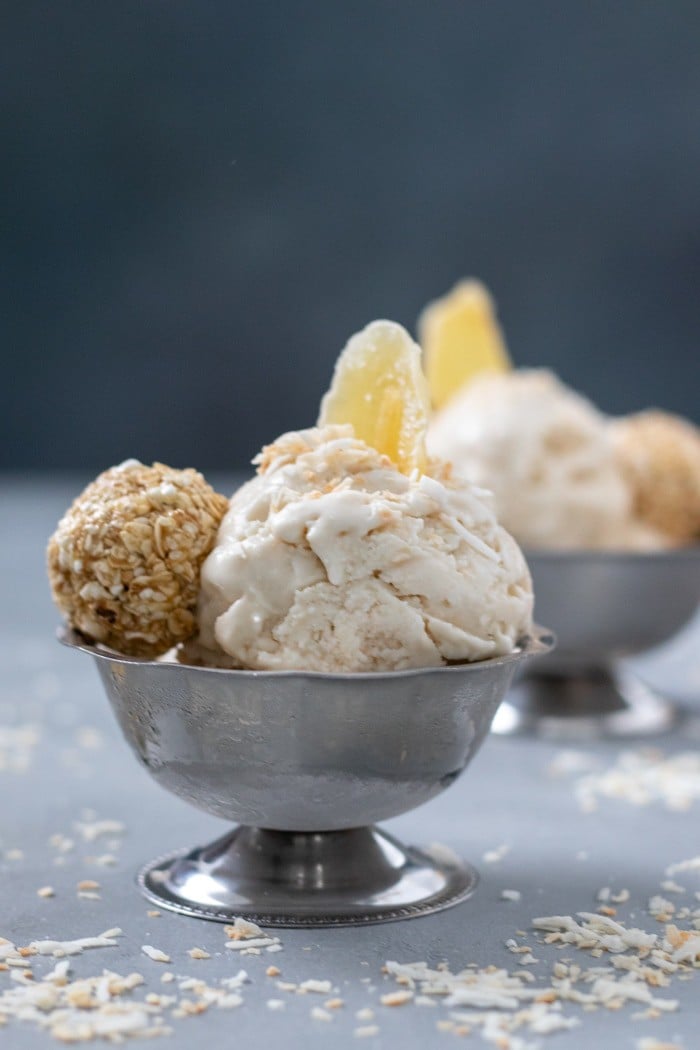 Jump to Recipe
As I type, Hurricane Florence is charging toward the Carolinas. It feels odd to wax poetic about ice cream when a million people are evacuating the coast, and "the storm of a lifetime" looms over our state. So, I don't think I will. This is going to be a different sort of post today.
I want to take the opportunity to address some man-made issues that threaten our state each time we have natural disasters involving heavy rains and flooding. And I'm not talking about climate change, in general.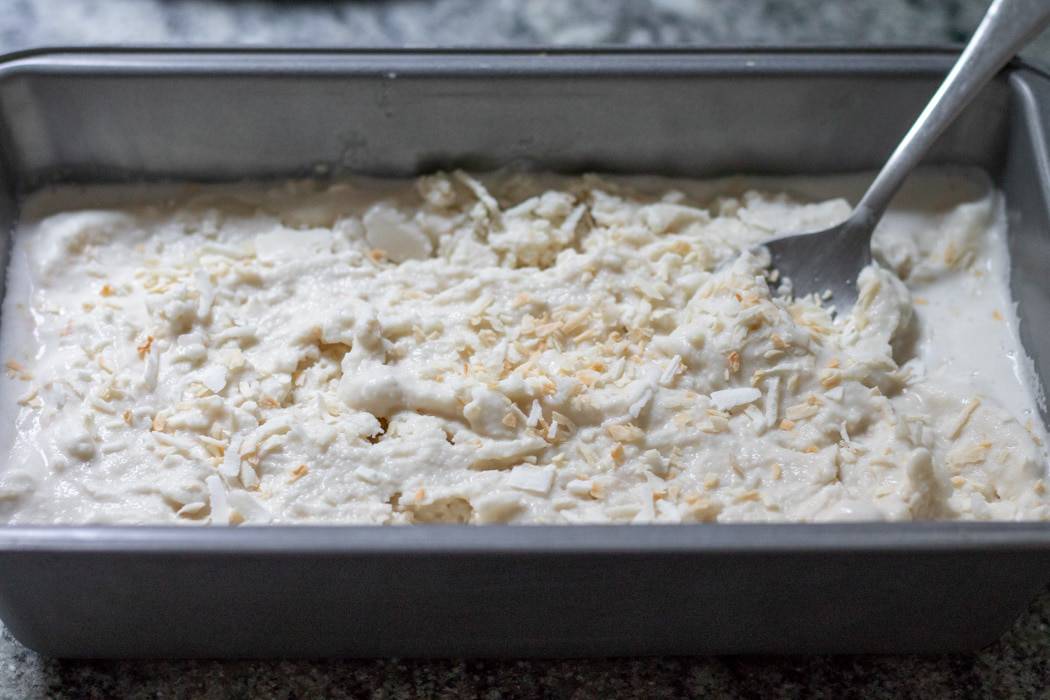 Before moving to North Carolina five years ago, I didn't know much about the state. I didn't know about the issues surrounding the coal ash storage sites dotting the map, and the controversy surrounding utility-provider Duke Energy's poor management of these sites. This becomes even more threatening during sever weather. I've also learned about devastating spills in recent years, which contaminated waterways, and which no doubt continue to impact wildlife, nearby communities, and the water consumed by humans.
I also didn't know that North Carolina is the number one producer of turkeys in the country, ranks third in production of chickens, and is home to more hogs than any U.S. state other than Iowa. In fact, we the people of North Carolina are nearly outnumbered by hogs at any given moment. Thanks to news coverage following recent lawsuits against Smithfield, and documentaries like What the Health, there has been an increase in awareness about the problems surrounding hog production here, specifically in Duplin County, NC.
During Hurricane Florence, the threat that flood waters might overrun the many lagoons of hog manure, or that the lagoons themselves have not been emptied enough to hold the amounts of rainfall on the way, are serious concerns. As recently as 2016, fourteen lagoons flooded during Hurricane Matthew, carrying untreated waste into the rivers. On a somewhat positive note, after Hurricane Floyd hit in 1999, the state actually bought out some hog farmers who were operating in flood-prone, low-lying areas and shut them down. In other words, the environmental damage from Matthew, and every storm since Floyd, could have been worse.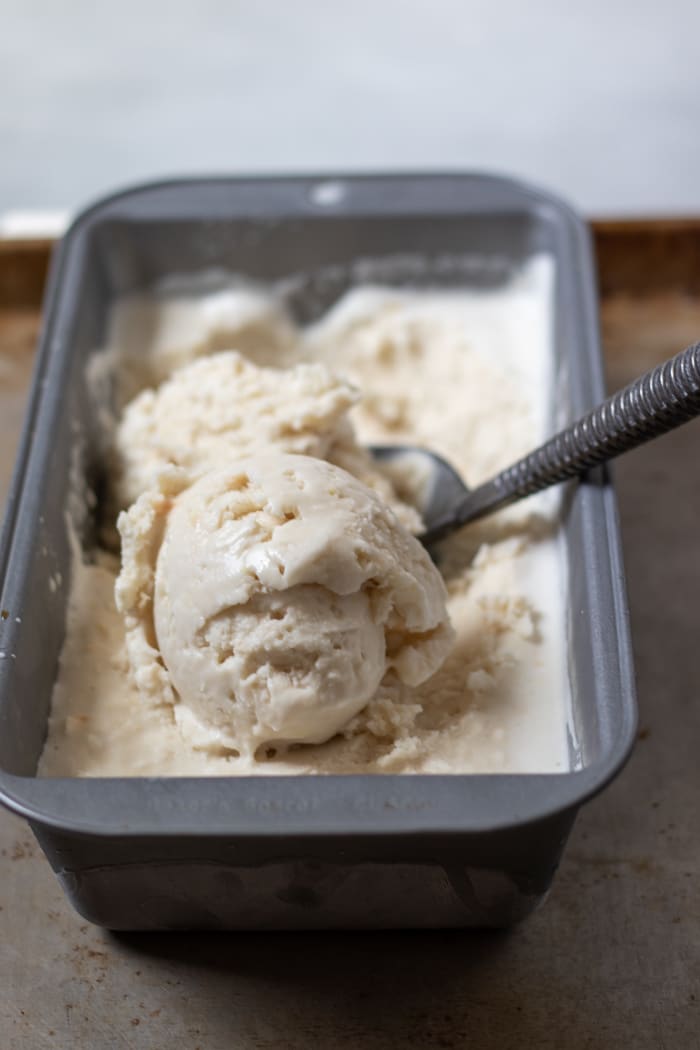 And now here's a photo of some delicious ice cream!
Odd juxtaposition in today's post, I know. But I hope you can appreciate my desire to briefly touch on these issues. Knowing Hurricane Florence will make landfall within the next 48 hours creates a sense of focus that's hard to ignore. I feel grateful that communication has been thorough and effective and that evacuations seem to be going smoothly. Here in the western part of NC, we're expecting heavy rain, areas of flooding, and if past storms are any indication, widespread power outages.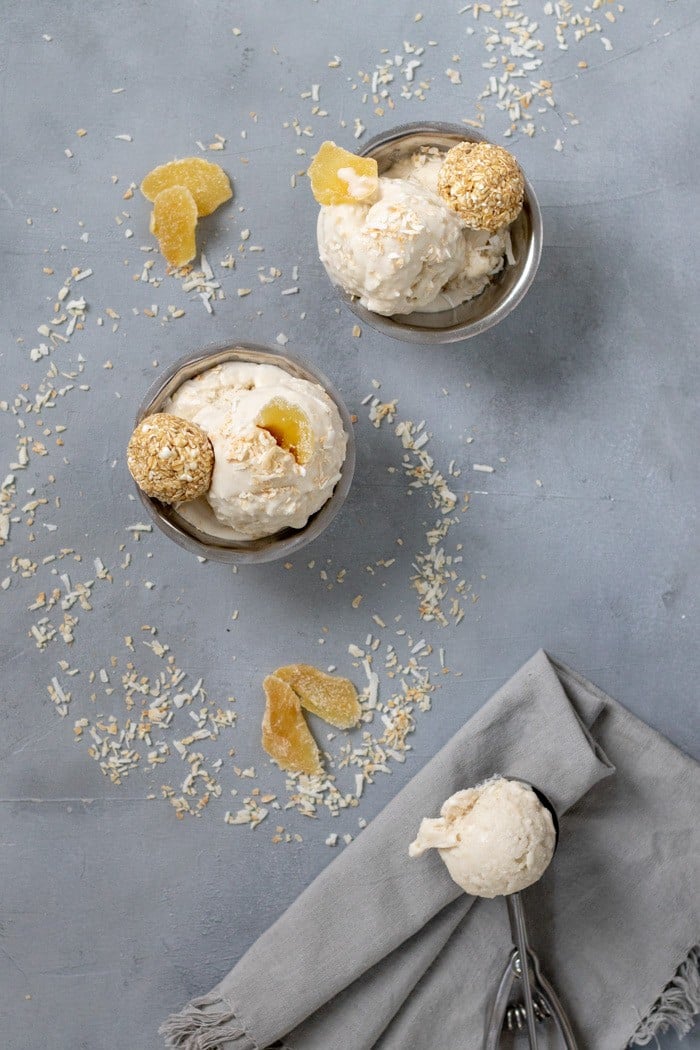 On the topic of animal agriculture, moving away from consuming animals is something we can only decide for ourselves. No one can force you to eat fewer animals. Only you can make that decision. And until more of us do, factory farms will exist. But don't feel hopeless or overwhelmed. As consumers, we have more power than we realize, and each and every time we choose beans and vegetables over meat, dairy, or eggs, we send a message. And we make a difference.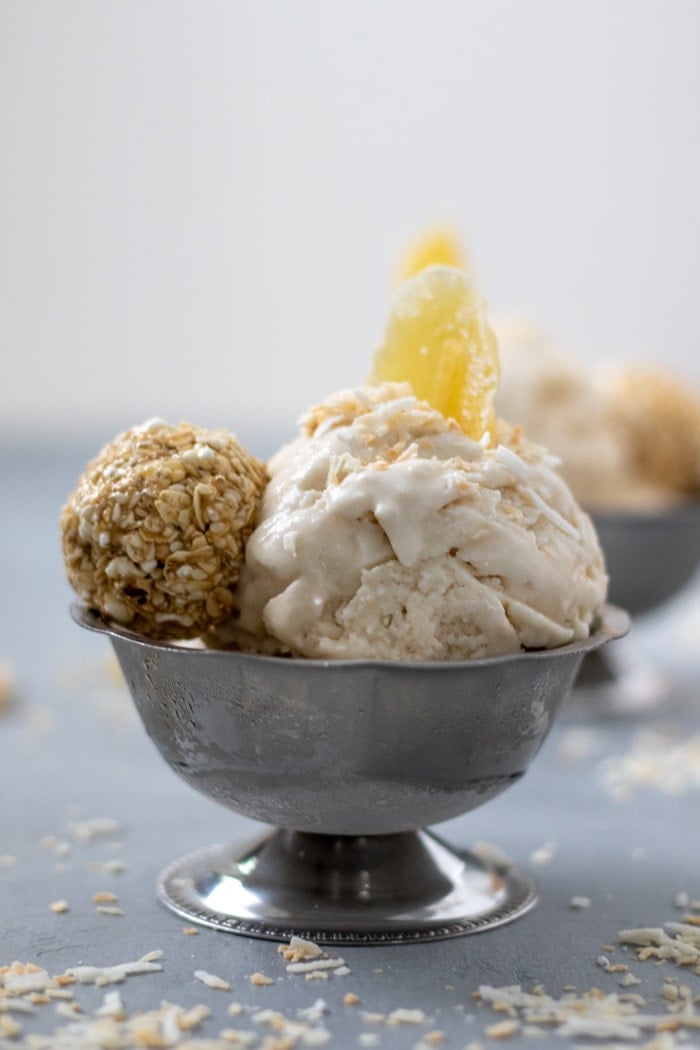 I'll leave you with the recipe now. I came up with the idea for this decadent treat a couple of weeks ago, just before Labor Day weekend. If you know much about me, you know this isn't the sort of thing I make very often. But I was celebrating my 7th vegiversary, as well as the blog launch, and wanted to create a "special occasion" treat for Mark and myself. I also wanted it to be a good addition to the blog. Since the weather has still been plenty warm and humid here in Asheville, ice cream seemed in order.
Feel free to omit the ginger and/or toasted coconut if you're not a fan or if you simply want plain coconut milk ice cream. The kitchen is your playground!
If you try this recipe I hope you enjoy it as much as we did, and remember, I would LOVE to see a photo of your creation! Tag @myquietkitchen on instagram or share your comments here on the blog anytime.
Thanks for being here.
P.S. This ice cream pairs really well with Sesame Maple Popped Sorghum Balls!
📖 Recipe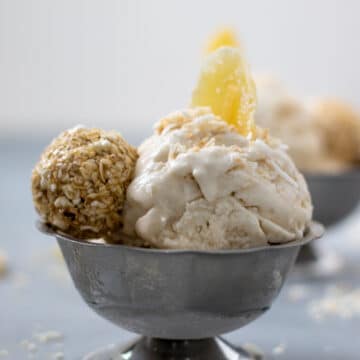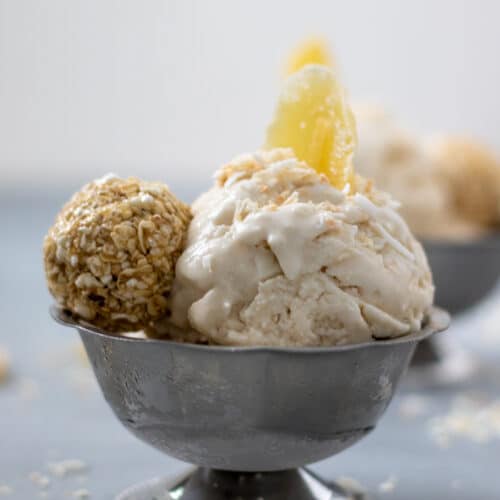 Double Coconut and Ginger Ice Cream
Creamy and rich vegan ice cream, with ginger-infused coconut milk, toasted coconut, and more fresh ginger. Ice cream maker helpful but not required.
Ingredients
2

cans

full-fat coconut milk

-

(13-15 oz each; any brand you like)

½

cup

agave nectar or sugar

¼

tsp

sea salt

2

Tbsp

corn starch

2 ½ inch

piece

fresh ginger root, peeled and minced

2

tsp

vanilla extract

2

tsp

dark rum

⅔

cup

coconut flakes, unsweetened

crystallized ginger, chopped, optional
Instructions
If using an ice cream maker, put canister in freezer at least 24 hours in advance to ensure it is fully frozen. Also, locate a freezer-safe container, such as a loaf pan.

Shake the cans of coconut milk before opening. In a small bowl, whisk together ½ cup coconut milk and the corn starch. Set aside.

In a sauce pan over medium-low heat, add the remaining coconut milk, sweetener, salt, and approximately ¾ of the minced ginger. Cook, stirring occasionally, until very warm but not simmering, about 1 to 2 minutes.

Raise heat to medium and whisk in the corn starch slurry. Continue to cook and stir until the mixture thickens, about 5-7 minutes. Don't let it come to a boil. When it coats and clings to your spoon you'll know it's ready. Remove from heat and stir in the vanilla and rum.


Over a large bowl, pour the mixture through a strainer to remove the ginger. Discard the cooked ginger. Stir the remaining finely minced fresh ginger into the ice cream mixture. Let sit at room temp 30-45 minutes. Cover and refrigerate 4 hours to overnight.

Before churning the ice cream, toast the coconut. Heat a large pan over medium heat. Add the coconut and stir frequently, cooking until light brown. Watch it carefully! Coconut burns very quickly. Move the coconut to a bowl or plate to cool.

Churn the ice cream following manufacturer's instructions for your machine. My Cuisinart takes about 15 minutes to achieve soft-serve consistency. During the last minute of churning add the toasted coconut. Transfer the ice cream to a freezer-safe container.*If not using an ice cream maker, stir in the toasted coconut and pour the mixture into a freezer-safe container. Whisk the mixture, to incorporate air and break down ice crystals, 2 or 3 times during the first couple of hours of freezing.

Freeze the ice cream 4 to 6 hours or overnight, depending on desired consistency.
Estimated Nutrition (per serving)
Calories:
369
kcal
Carbohydrates:
29
g
Protein:
2
g
Fat:
24
g
Saturated Fat:
21
g
Sodium:
144
mg
Fiber:
2
g
Sugar:
23
g
Vitamin C:
6.6
mg
Iron:
1.4
mg
Nutrition information is an estimate and will vary depending on the exact amounts and specific products and ingredients used. We calculate this information using the online calculator cronometer.com.
Tried the recipe?
I love hearing from you! Share your feedback below.