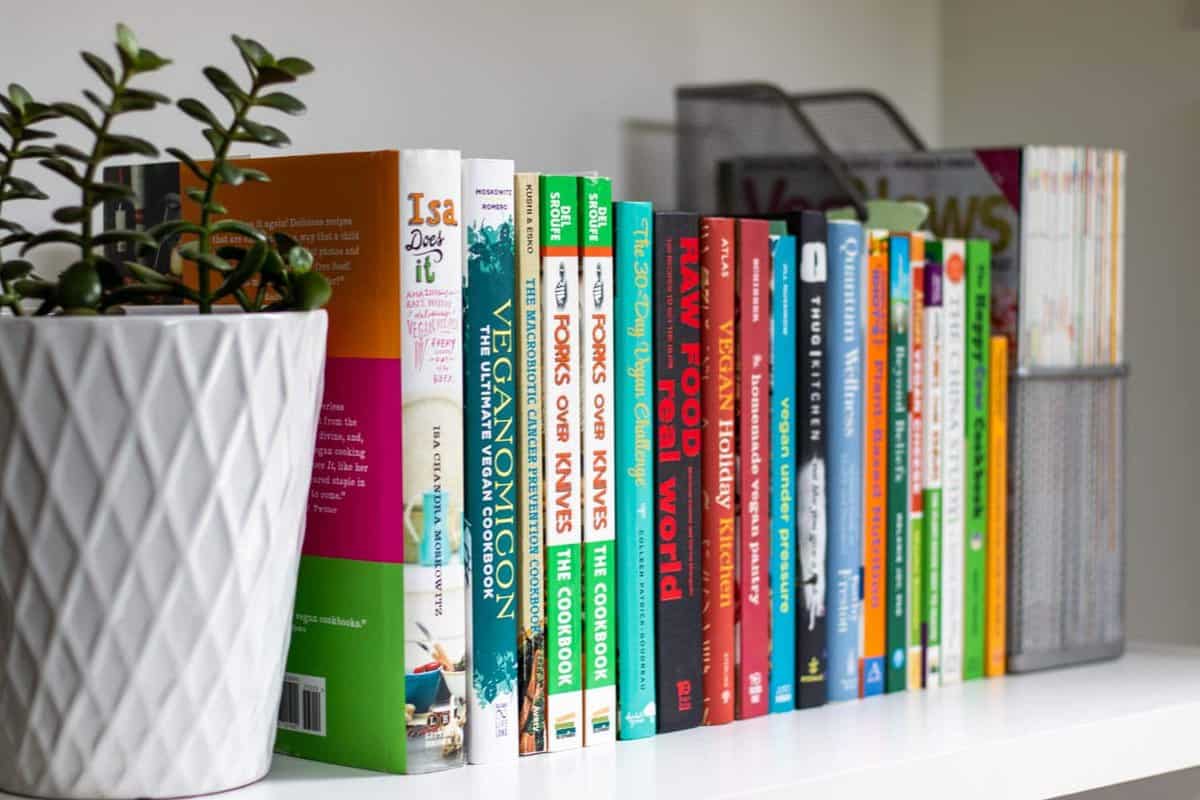 Whether you're newly vegan or just veg-curious, these books and websites are valuable resources for everything from plant-based nutrition to the ethical issues surrounding animal agriculture.
These are just a few favorites that I found helpful in my early vegan days. Now there are SO many great resources out there! So let your curiosity lead the way, and keep reading, exploring, and cooking! 🙂
Websites
Education
Colleen Patrick-Goudreau (excellent podcasts!) | Nutrition Facts - Dr. Michael Greger | Vegan Action | Abolitionist Approach | Try Veg's free starter guide | I Love Vegan's Resources
Food & Lifestyle
The Full Helping | Isa Chandra Moskowitz | Wholehearted Eats | Dreena Burton | Cadry's Kitchen | Vegan Yack Attack | VegNews | Thrive Magazine

YouTube
Mic the Vegan | 365 Vegans | Earthling Ed | Nutrition Facts | Lauren Toyota

Films
Unity | Earthlings | Forks Over Knives | Cowspiracy | Food Matters | Vegucated

Books
Disclosure: The following are affiliate links. If you click through these links and make a purchase, I may receive a commission at no additional cost to you. As an Amazon associate I earn from qualifying purchases.
Eating Animals | The China Study - Revised and Expanded Edition | Diet for a New America | Eat Like You Care | Main Street Vegan | The World Peace Diet | Dr. Neal Barnard's Program for Reversing Diabetes | How Not to Die | Eat to Live | The 30 Day Vegan Challenge | Proteinaholic | Eat and Run
Cookbooks
No Meat Athlete Cookbook | The Vegan Table | Isa Does It | Afro-Vegan | The Oh She Glows Cookbook | Vegan Yack Attack's Plant-Based Meal Prep
A word on books:
I have fond memories of my early days of veganism, quiet moments spent at home reading books I'd checked out from our local library (voraciously devouring information as Colleen Patrick-Goudreau explains).
If you're not a regular library patron, you may not realize that most (maybe all?) library systems have an online catalog. This is a website where you can easily search for titles, authors, and keywords, place books on hold from any branch within the system, and receive a notification when the items are available for pick up at your local branch. This is an invaluable service and one I often use.
I truly believe reading about veganism and our food system is one of the most effective and profound things we can do for ourselves. While reading, we tend to let our guards down, open ourselves to inspiration, and process at a pace that suits us personally. Also worth considering, the practices involved in raising animals for food can be extremely upsetting; as opposed to seeing them in films, reading about them can remove some of the horror and difficult emotions and allow us to comprehend the information in a more balanced way. Ultimately, the motivation to go vegan and stay vegan comes from understanding why it's important to us. Taking charge of our own education on the subject is invaluable.
Obviously, I think it's very important to support authors by purchasing their books! But most of us can't afford to purchase every single book we're interested in reading. The library can be an excellent place to begin your vegan journey and a great way to find the favorites you'll want to add to your own bookshelf or give as gifts.