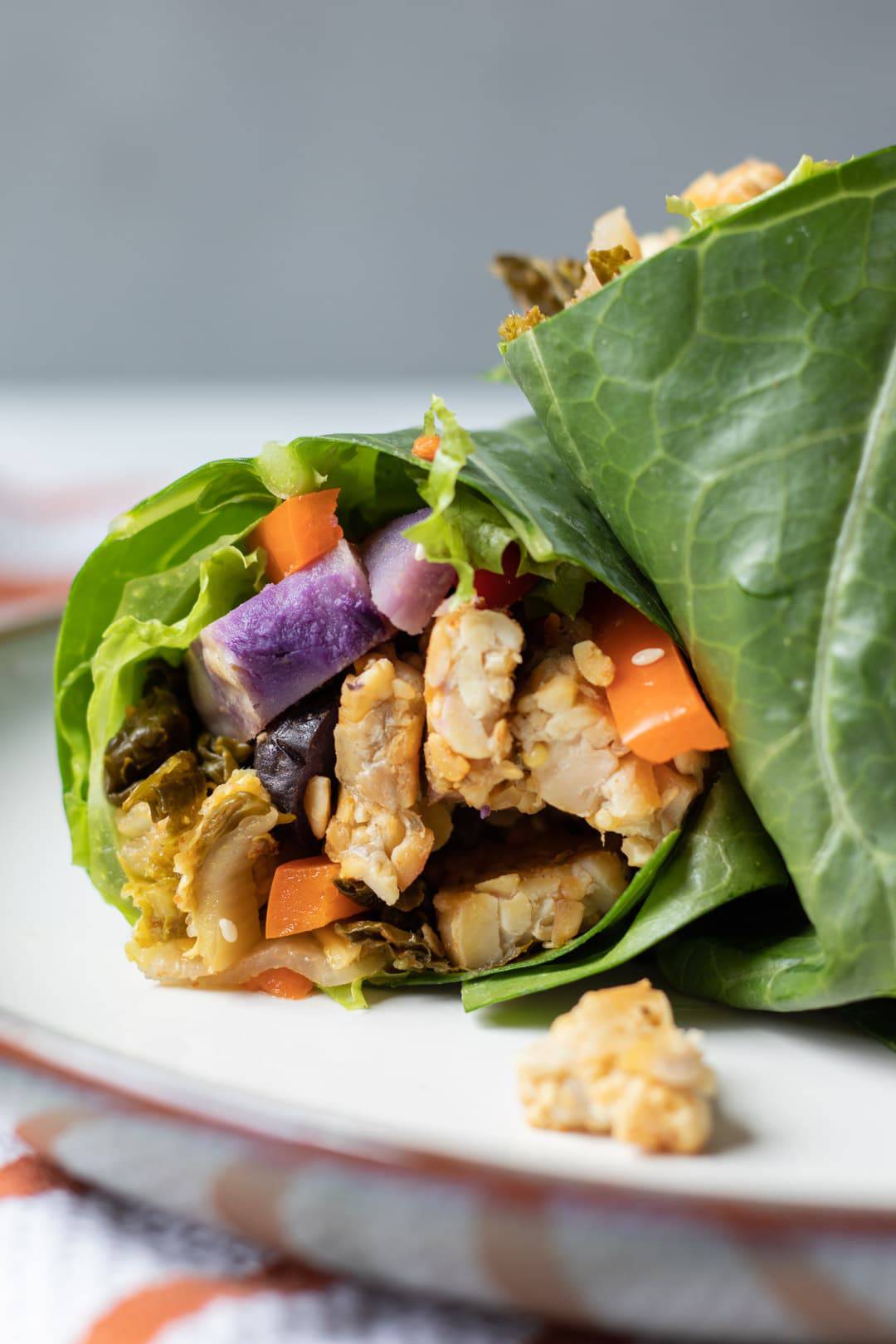 I've got a quick, easy, and healthy recipe for you today. Kimchi-marinated tempeh wraps! I LOVE these in a huge collard leaf, but you could also use whole-wheat tortillas, gluten-free tortillas, or even spring roll wrappers. For me, the kimchi, crunchy raw vegetables, and collard are the stars, but there are endless ways you could customize this recipe. Feel free to use your favorite ingredients, including whatever veggies you have on hand. And don't be afraid to experiment with sauces or dressings. Maybe even add a kick with sriracha, if you're into that. You could also switch out the tempeh for tofu or seitan. Anything goes! Well, almost anything...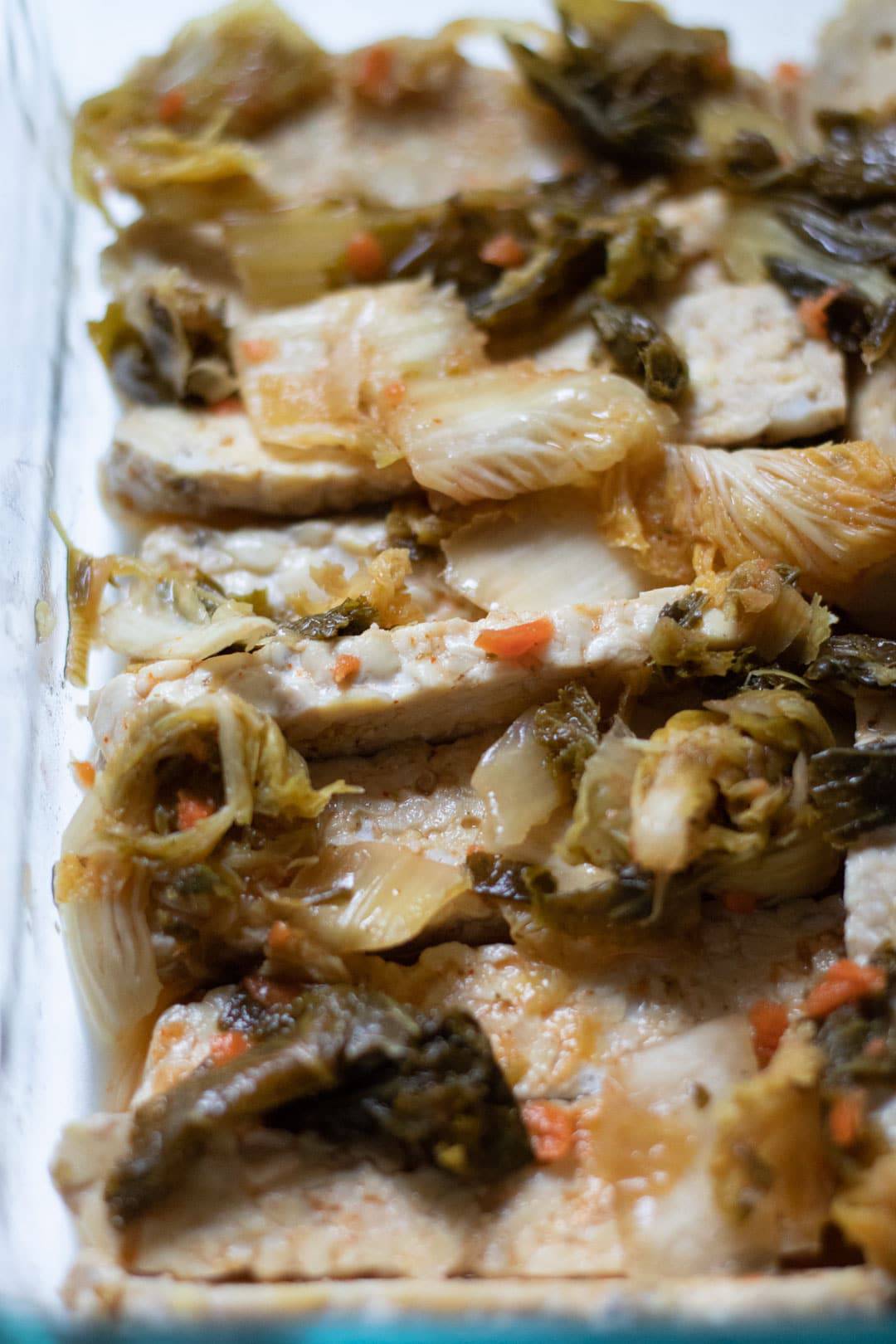 Just in case you're not a regular wrap-maker, be forewarned..... you WILL attempt to put too many ingredients inside. Ugh. It's just a fact. Everyone does it. Even when we KNOW how conservative we should be, we all still tend to overfill. Why is this such a hard lesson to learn? I have a feeling it's the beautiful, colorful, irresistible veggies that are to blame. We know how good they are for us, AND they're so gorgeous! I mean, how can we not try to pack everything in?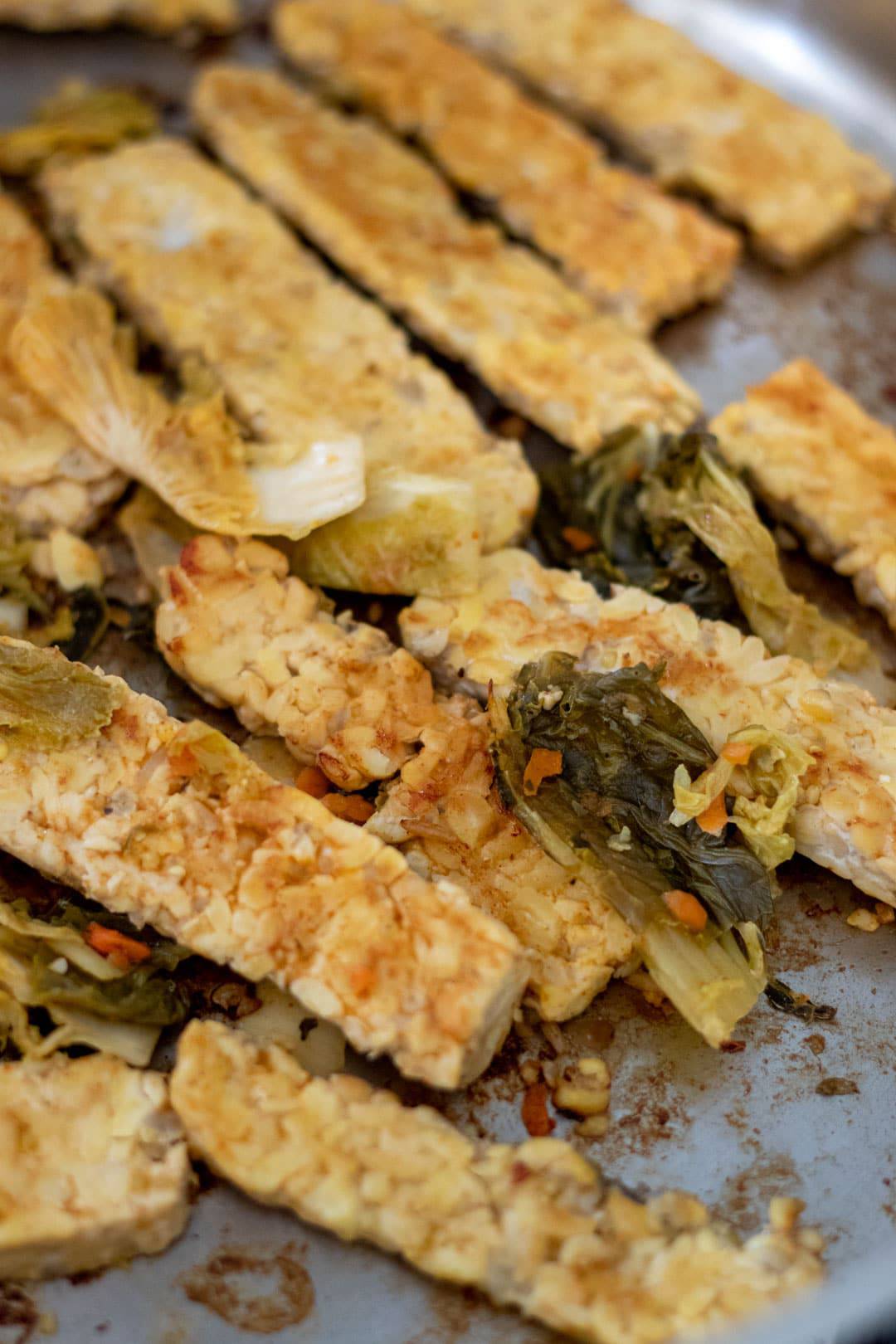 A few quick tips for making wraps:
Place the wrap in front of you and arrange your ingredient in a thin, horizontal row, near the upper border of the bottom third of the wrap (similar to making sushi rolls, if you've ever done that).
Leave enough space on either side of your filling so that you can fold the sides in, leaving about ⅓ of your filling uncovered in the center.
After folding the sides in, then fold up the bottom flap, tucking your ingredients in tightly as you begin to roll upward.
Want a tip on what NOT to do?
Look at the next photo. See how much filling is there? WAAAAY too much. But it looked so pretty piled on there I couldn't resist the photo op (see, this is exactly what I was talking about - irresistible).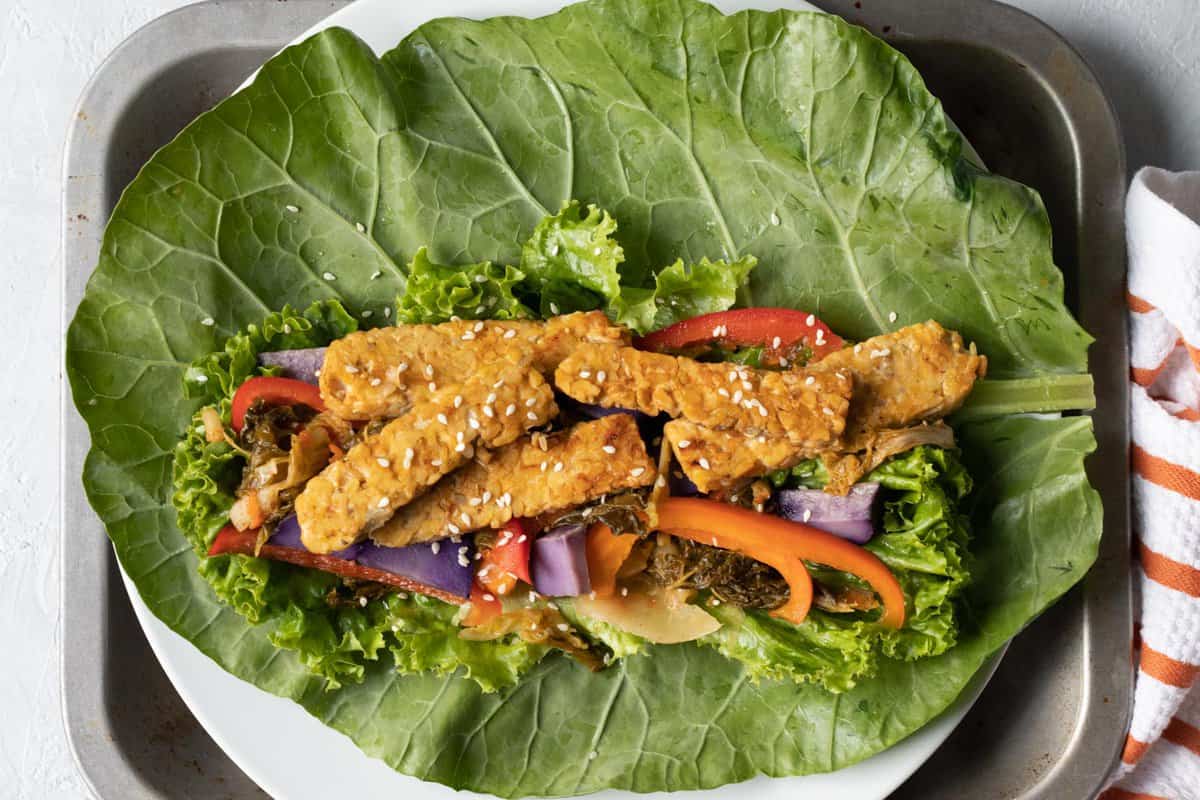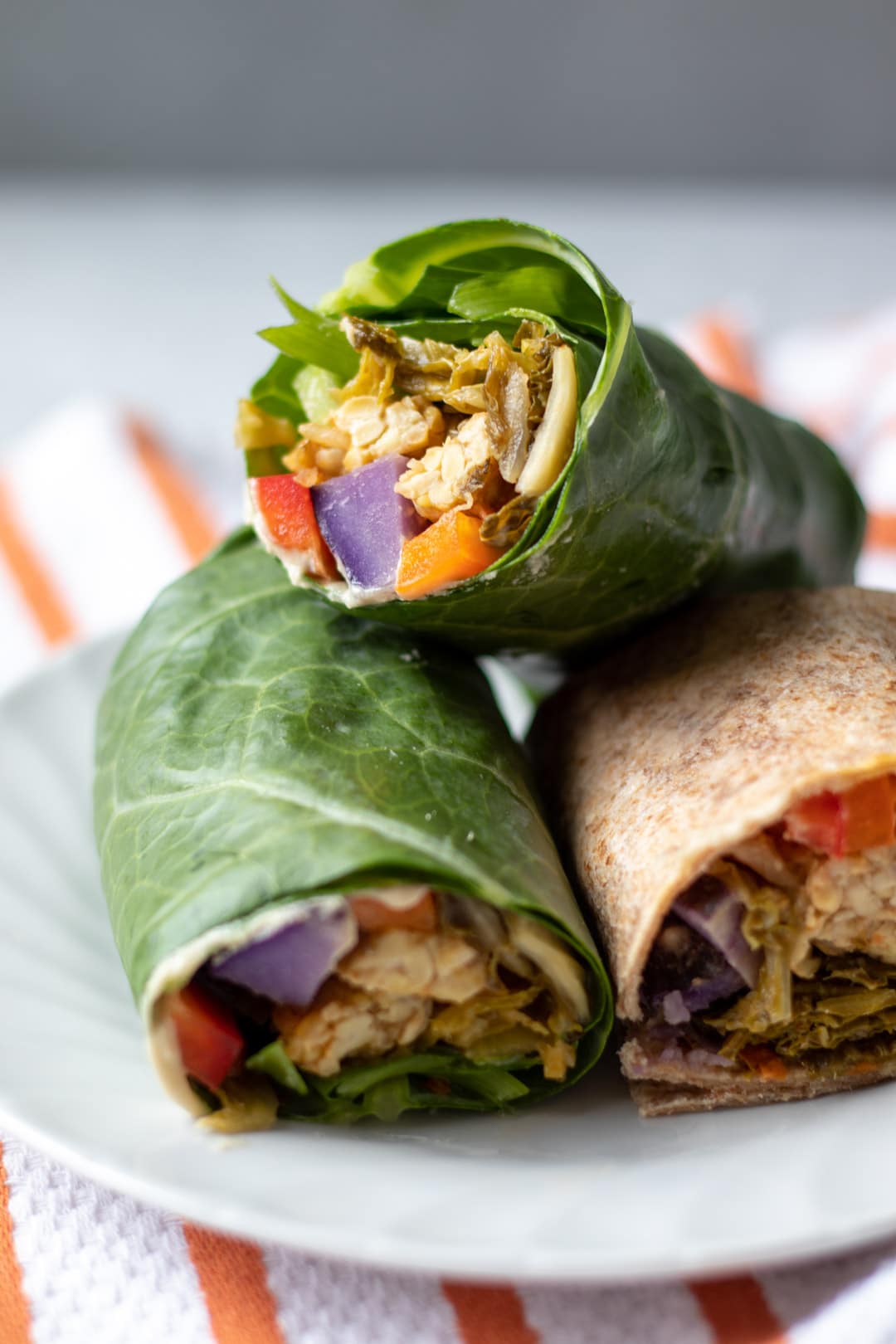 In addition to the kimchi-marinated tempeh, I also included orange and red pepper, green onion, green leaf lettuce, kimchi, hummus, sesame seeds, and leftover purple potatoes from last night's dinner. The gorgeous potatoes came from Wendy Town Farms in nearby Marshall, NC. Last weekend we got to meet the farmers/owners, Wendy and Matt, in downtown Asheville where they had a mini market set up. I also bought some of their honeynut and butternut squash, boy choy, radishes, and okra. It was a good day!
Back to these wraps. For this recipe I wanted something really simple that's also packed with fiber, fermented foods, and micronutrients. More and more people are becoming interested in the critical role gut health plays in our overall health, so I wanted to provide a little reminder that supporting a diverse and healthy gut biome doesn't need to be complicated, expensive, or mysterious. It's as easy as a veggie-packed collard wrap!
These would also be perfect for Sunday meal prep. Just cook the tempeh, slice some veggies, wash the collard leaves, cook your carb of choice (brown rice would be delicious), pack everything away in the fridge, and you're all set.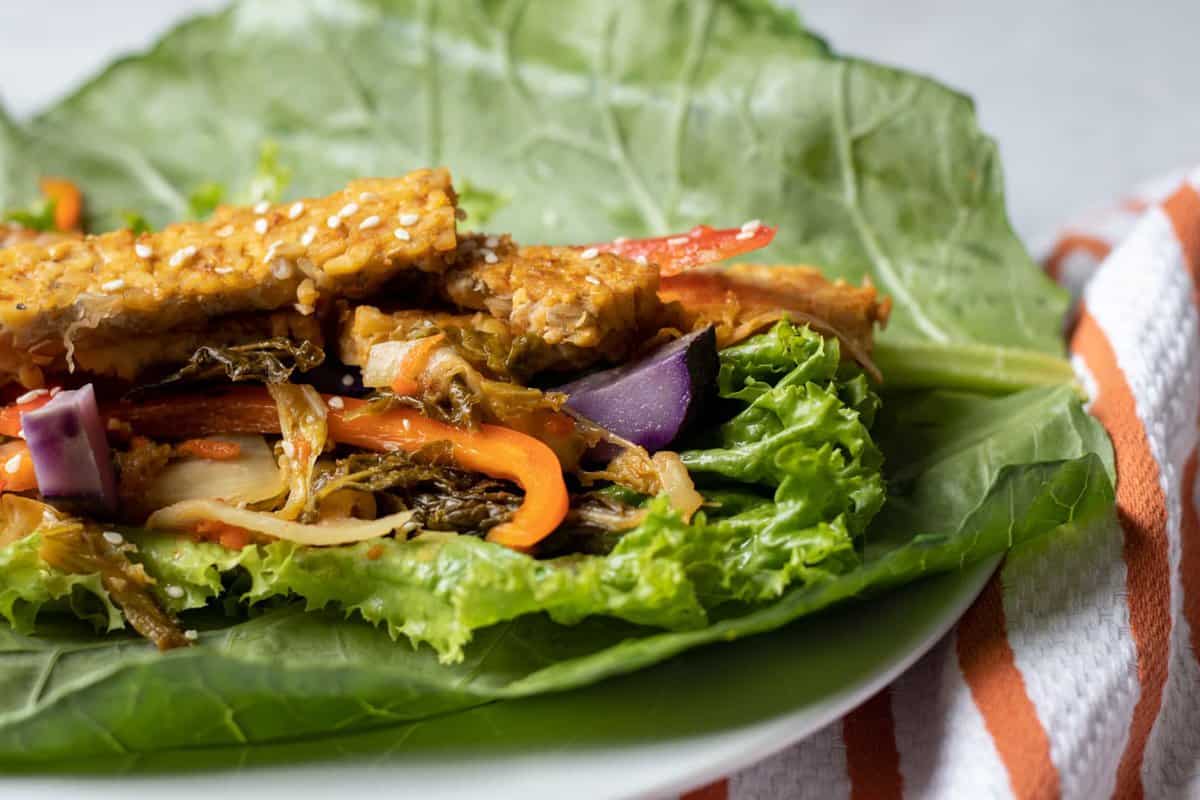 If you're a big fan of spicy heat, use extra spicy kimchi, or just add a bit of sriracha to the hummus. I know hummus might seem out of place in this recipe, but it earns its place in a few ways. It's perfect for wraps because it provides a creamy element, adds extra nutrition, and serves as a binder that helps hold your wrap together.
So, there you have it, nutrient-packed Kimchi-Marinated Tempeh Wraps.
Cheers to eating colorfully, beautifully, and locally as often as we can. If you give these wraps a try let me know! Snap a pic and share it with me on facebook or instagram @myquietkitchen.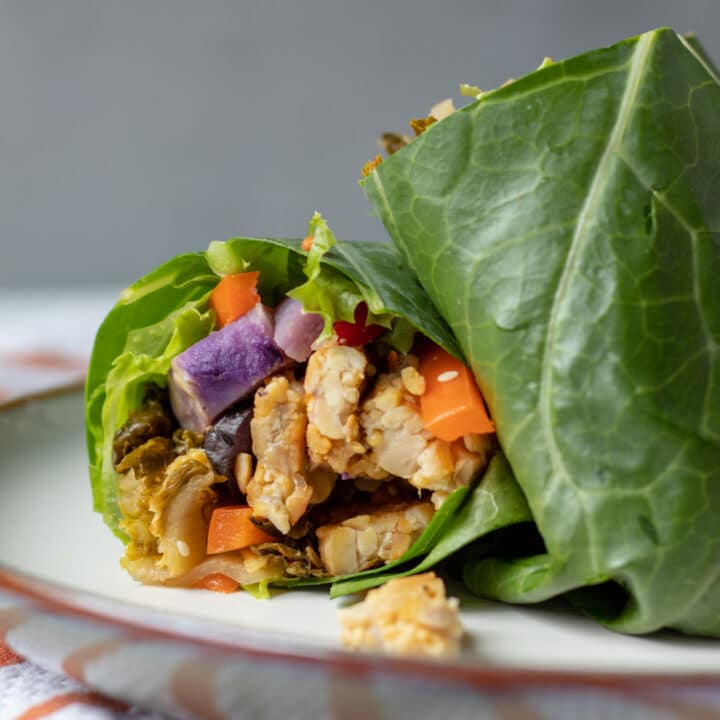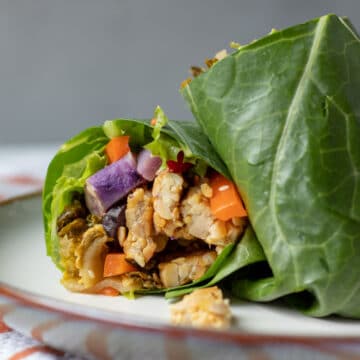 Kimchi-Marinated Tempeh Wraps
Healthy, simple wraps filled with fresh vegetables, kimchi, and marinated tempeh.
Ingredients
8

ounces

tempeh

1 to 1 ¼

cups

kimchi

-

(½ cup is for the marinade; the rest goes directly into the wraps)

3 or 4

large

collard leaves, stem end removed, or large tortillas of choice

⅓

cup

mashed, cooked white beans or hummus, homemade or store-bought (ensure oil-free, if needed)

approx 1

cup

thinly sliced fresh vegetables, such as peppers, carrot, celery, green onion, jicama

approx 1

cup

cooked grain or root vegetables, such as rice, spelt, quinoa, winter squash, potatoes
Instructions
Slice tempeh and arrange in a single layer in a shallow dish. Pour about ½ cup kimchi over the top, including some of the juices. Marinate for 2 hours.

Heat a skillet over medium heat. Cook tempeh undisturbed for 2 to 3 minutes. If necessary add a splash of water or kimchi juice to prevent sticking. Flip each piece and cook for another 2 minutes or until lightly browned. Add the kimchi from the marinade and cook until hot, about 1 minute. Remove from heat.

If using collard leaves for the wrap, lightly steam them. This is optional, but it does enhance the dark green color and makes them slightly more pliable for wrapping. To steam a collard leaf, simply hold it above simmering water for about 45 - 60 seconds (careful not to burn yourself).

Place your wrap on a plate or cutting board. If using a collard, lay the leaf so that the stem is horizontal. Place the filling ingredients near the upper border of the lower third of the wrap. Fold in the sides, then fold up the lower portion. Tightly compact the filling and continue to roll. Serve and enjoy!
Notes
Nutrition info represents using collard leaves for the wraps.
Estimated Nutrition (per serving)
Calories:
315
kcal
Carbohydrates:
33
g
Protein:
21
g
Fat:
13
g
Saturated Fat:
1
g
Cholesterol:
0
mg
Sodium:
230
mg
Fiber:
5
g
Sugar:
3
g
Vitamin A:
6300
IU
Vitamin C:
91.6
mg
Calcium:
170
mg
Iron:
3.2
mg
Nutrition information is an estimate and will vary depending on the exact amounts and specific products and ingredients used. We calculate this information using the online calculator cronometer.com.
Did you try the recipe?
I LOVE hearing from you! Comment below to let us know.