This Roasted Lime and Jalapeno Hummus is for all of you lime lovers out there! Roasting intensifies the unique flavor and aroma of limes while mellowing the heat of the jalapeños. The end result is a more complex, lime-forward hummus perfect for snacking, lunches, and parties. Lime and Jalapeno Hummus is naturally vegan and gluten-free and easily made oil-free by omitting the oil during roasting and blending.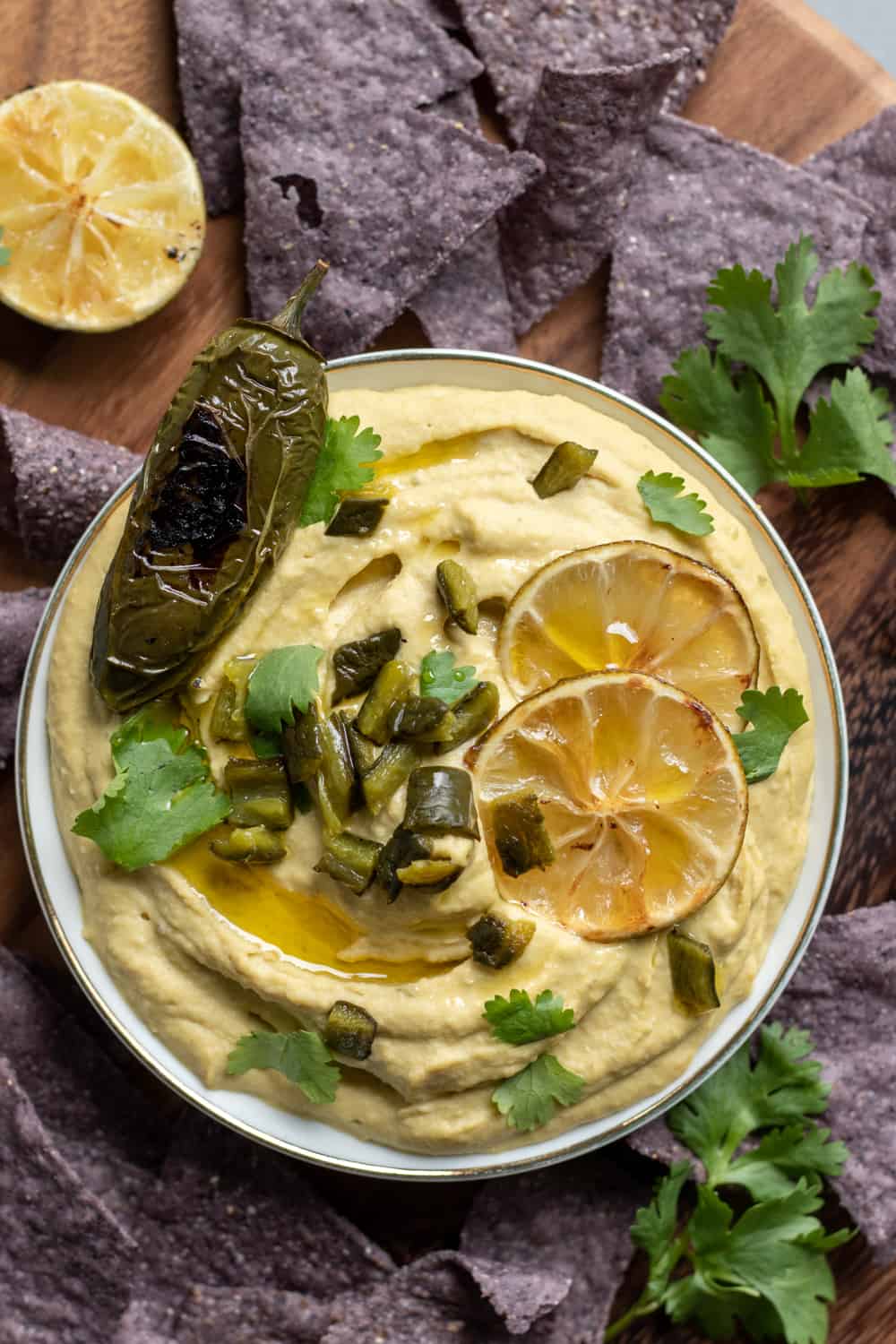 How to Roast Limes
Hi friends. Have you ever roasted citrus before? If not, you are in for an aromatic and delicious treat!
It's actually difficult to describe how INCREDIBLE limes smell when roasting in the oven at 425 degrees. Two limes are placed cut-side down on a parchment-lined baking sheet. As they roast, a small amount of juice will leak out and spread across the pan, but that's okay (place a piece of foil underneath the parchment for easier cleanup).
You'll get a bit of caramelization, and the limes will be SO soft and squishy when you pull them from the oven. In fact, even though you'll lose a bit of juice on the pan, when you squeeze the limes into the hummus you'll be amazed how juicy they are!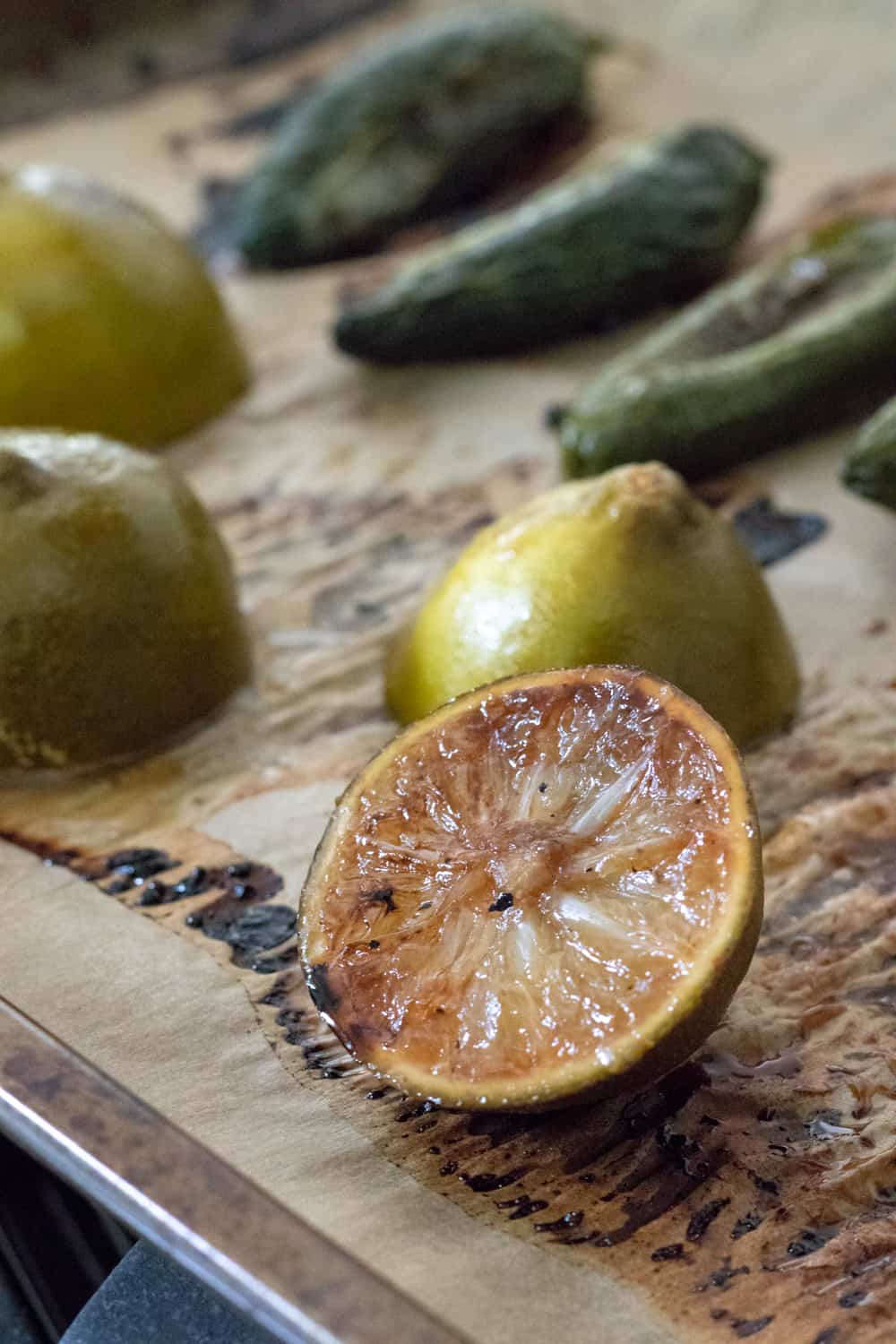 Roasted Jalapeños and Adjusting the Spiciness
And as for the roasted jalapeños, this slower oven method is now my favorite way to roast them. It's much more ha
nds-off and low stress than trying to hold slippery little peppers over an open flame or spying on them through the oven door while they roast under a broiler. Plus, when you roast jalapeños by mostly just charring the skins, the actual meat of the peppers doesn't really cook through.
Sometimes that's okay and is exactly what we want when we're looking for a fresh and spicy jalapeño vibe. But for folks who are sensitive to spicy foods, that method doesn't help much.
After about 20 minutes in the oven, the peppers are cooked through giving you that lovely, mild jalapeno flavor you want but with almost no heat. So even your spice-averse friends and family might like jalapeños roasted this way.
This is also a great way to roast them if you just happen to have VERY spicy jalapeños on hand. This is our current situation; we have a TON of jalapeños in the garden this summer but most are so spicy it's pretty much impossible to eat them raw.
If you want a spicier, stronger jalapeño flavor, set aside one raw jalapeño Roast the other 2 or 3 as stated in the recipe, then add half of the raw pepper (seeds removed) to the food processor when you're blending the hummus. Taste and add the remaining half if it's still not spicy enough.
After roasting the jalapeños their skins will come off very easily, and you can use a knife to scrape out the seeds.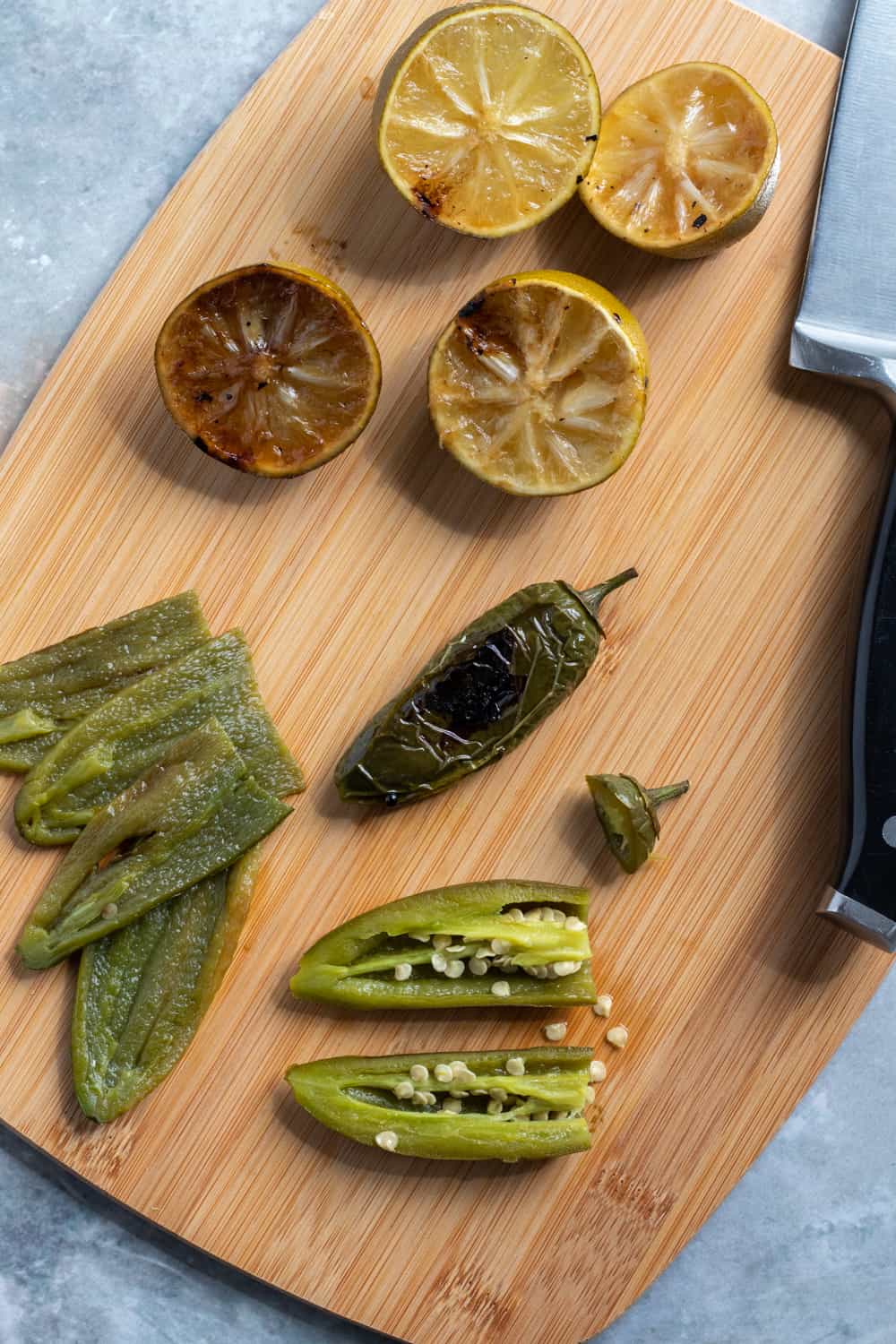 Don't let the appearance of those limes fool you. I know they don't look very appetizing, or juicy for that matter, but boy oh boy, they are!
The rest of this Lime Jalapeño Hummus comes together just like any other hummus recipe, which means, in a snap! I usually make hummus in my food processor, but you can also use a blender if you like. See the Notes section of the recipe for tips.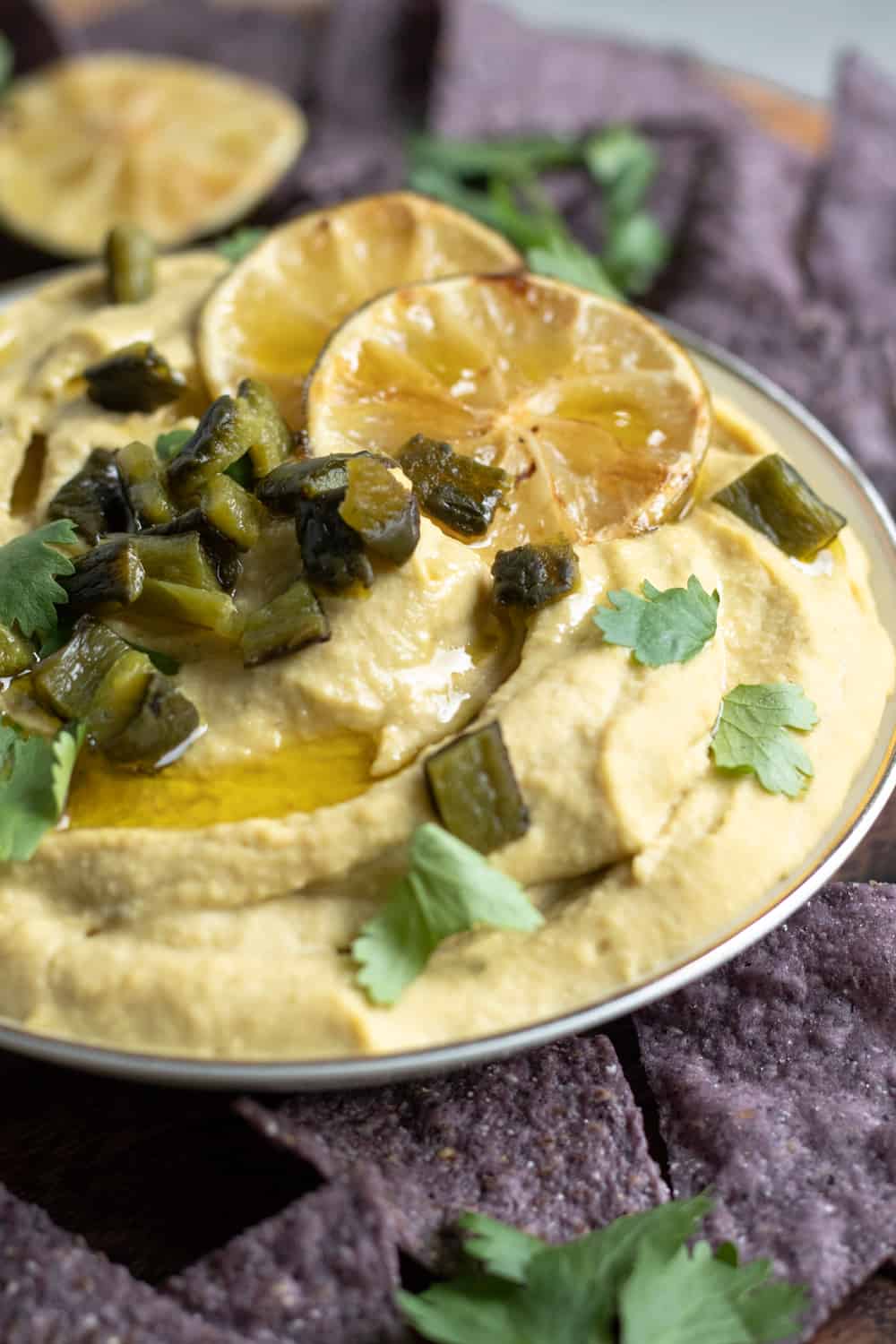 Serving Suggestions
Serve this hummus with plenty of fresh cilantro, unless of course you're one of those folks who hates it.
Similar to traditional hummus, you can drizzle a bit of good quality extra virgin olive oil on top if you like. You might also want an extra squeeze of lime and a bit of reserved, roasted jalapeno. Serve with chips or veggies, and definitely try it on salads and as a spread for sandwiches. It goes well with so many things!
If you don't plan to serve it right away, just store the hummus in an airtight container in the refrigerator until you're ready to eat.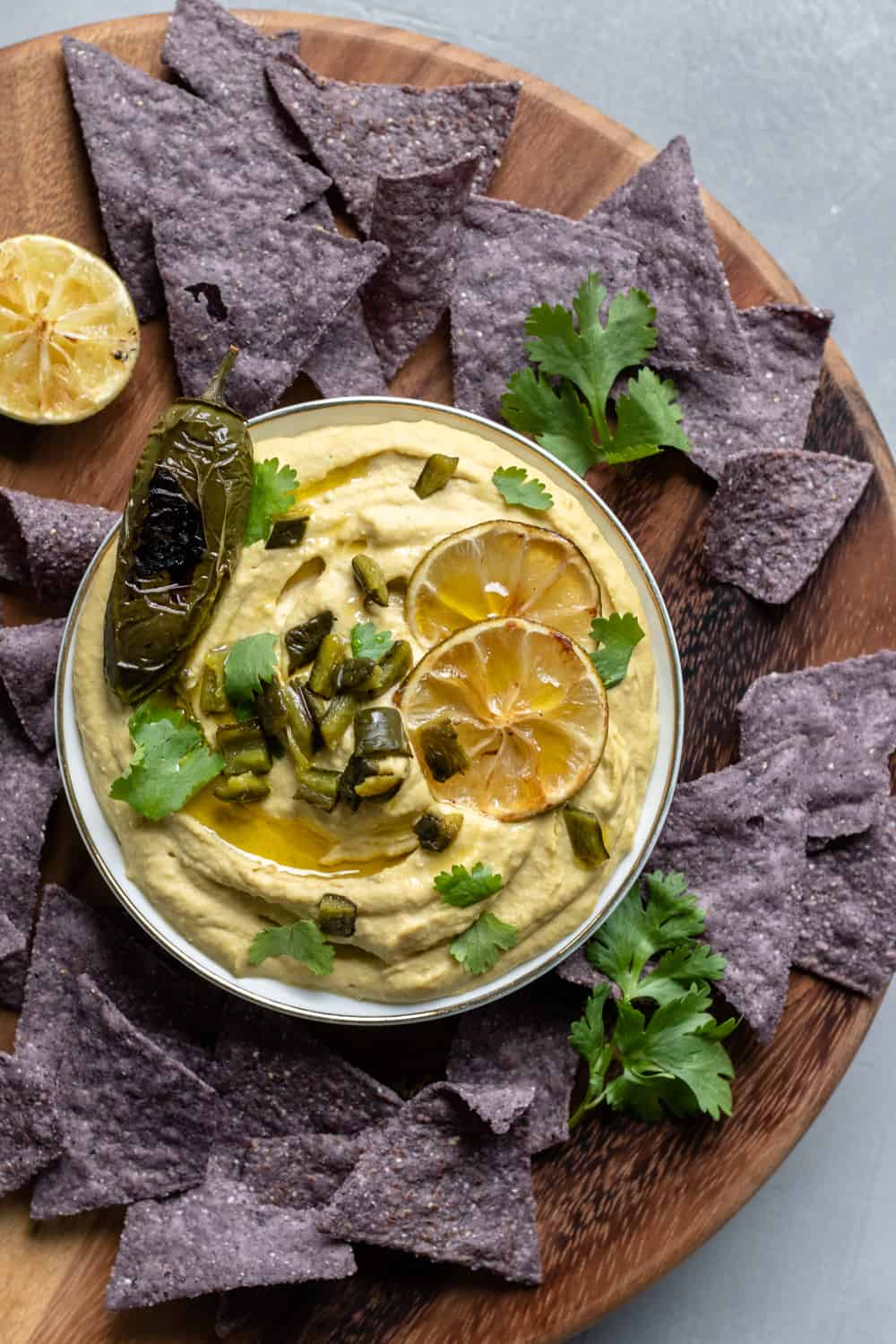 I hope you enjoy this Roasted Lime Jalapeno Hummus as much as we do! Be sure to snap a pic if you make it, and tag me on instagram @myquietkitchen. I always enjoy seeing what you're making! You can also rate the recipe below and leave a comment to let us all know how it turned out. Happy snacking, dipping and spreading!
You might also like:

Useful equipment: food processor or blender
📖 Recipe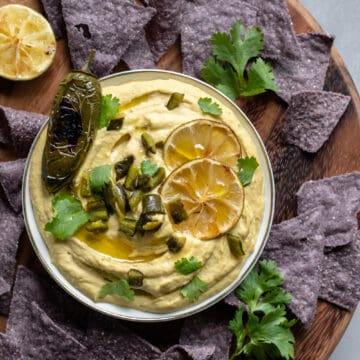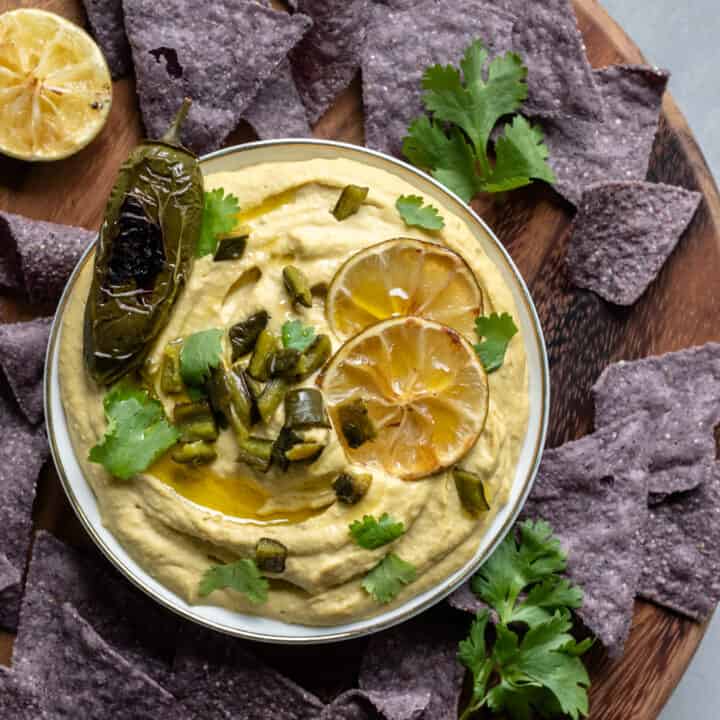 Roasted Lime Jalapeno Hummus
Calling all lime lovers! This flavorful vegan hummus is made with roasted limes and jalapenos, making the lime flavor more intense and the jalapeno heat more mild. Gluten-free with an oil-free option.
Ingredients
2

limes, cut in half

3 to 4

jalapeno peppers

1

tsp

high-heat cooking oil, such as walnut or grapeseed

-

*Omit for oil-free

2

cups

cooked chickpeas or 1 (15 oz) can, rinsed and drained

2

cloves

garlic

¼ to ⅓

cup

tahini

1

tsp

fine sea salt

3 to 4

Tbsp

olive oil, optional

-

*Omit for oil-free; sub water

fresh cilantro leaves
Instructions
Preheat oven to 425 degrees F. Line a small baking sheet with foil, and fold up the edges all the way around so that the foil will trap any lime juice that escapes. Place a piece of parchment on top of the foil.

If using oil, rub the jalapenos and the lime halves with the teaspoon of cooking oil. Otherwise, just make sure the skins of the peppers are dry. Place peppers and limes on the baking sheet with limes cut-side down. Roast for 20 to 25 minutes, flipping the jalapenos at the halfway point. If too much juice seems to be dripping from the limes, flip them cut-side up. Once the pepper skins are charred, remove the tray from oven. If you haven't already, carefully flip limes cut-side up, so as to retain as much juice as possible. Let limes and peppers rest on the baking sheet for 10 minutes.

Once cool enough to handle, peel the skin off the peppers. Slice off the stem ends and cut the peppers lengthwise. Use the knife to scrape out the seeds. Discard stems and seeds.

*See Notes about using a blender instead of the food processor.In the bowl of a food processor combine the chickpeas, garlic, ¼ cup tahini, salt, 2 of the peppers, and juice from 3 of the lime halves. (The limes will be very soft, and some of the pulp should come out along with the juice.) Process hummus until mostly smooth, about 1 minute. Taste and adjust seasonings, adding a third jalapeno, juice from the remaining lime, extra tahini, and/or salt as desired. Process for another minute. If using oil, drizzle about 3 Tbsp olive oil through the feed tube while processor is running. For oil-free, drizzle in water until desired consistency is reached.

Store hummus in an airtight container in the refrigerator until ready to serve. If serving immediately, transfer hummus to a bowl, drizzle with a tablespoon or two of olive oil, and top with fresh cilantro. Optional garnish: if you have a roasted jalapeno remaining, chop it and sprinkle on top.
Notes
Leftover hummus can be stored in the refrigerator for up to 4 days.
Nutrition calculations based on 6 servings, using ⅓ cup tahini and no olive oil.
Making hummus in a high speed blender:
Though hummus is often made with a food processor, you can use a blender for super creamy and fluffy hummus! You'll just need a bit more liquid to get the ingredients moving. Try using extra water or some of the aquafaba (liquid from a can of cooked chickpeas). To compensate for the extra liquid, taste and adjust seasonings as desired.
Estimated Nutrition (per serving)
Calories:
152
kcal
Carbohydrates:
15
g
Protein:
6
g
Fat:
8
g
Saturated Fat:
1
g
Sodium:
510
mg
Fiber:
5
g
Sugar:
2
g
Nutrition information is an estimate and will vary depending on the exact amounts and specific products and ingredients used. We calculate this information using the online calculator cronometer.com.
Tried the recipe?
I love hearing from you! Share your feedback below.