Stock your freezer with healthy tortilla pizzas! When you need a quick weeknight meal, bake the pizzas from frozen, and you're ready to eat in less than 15 minutes (for a fraction of the cost of store-bought vegan pizzas)!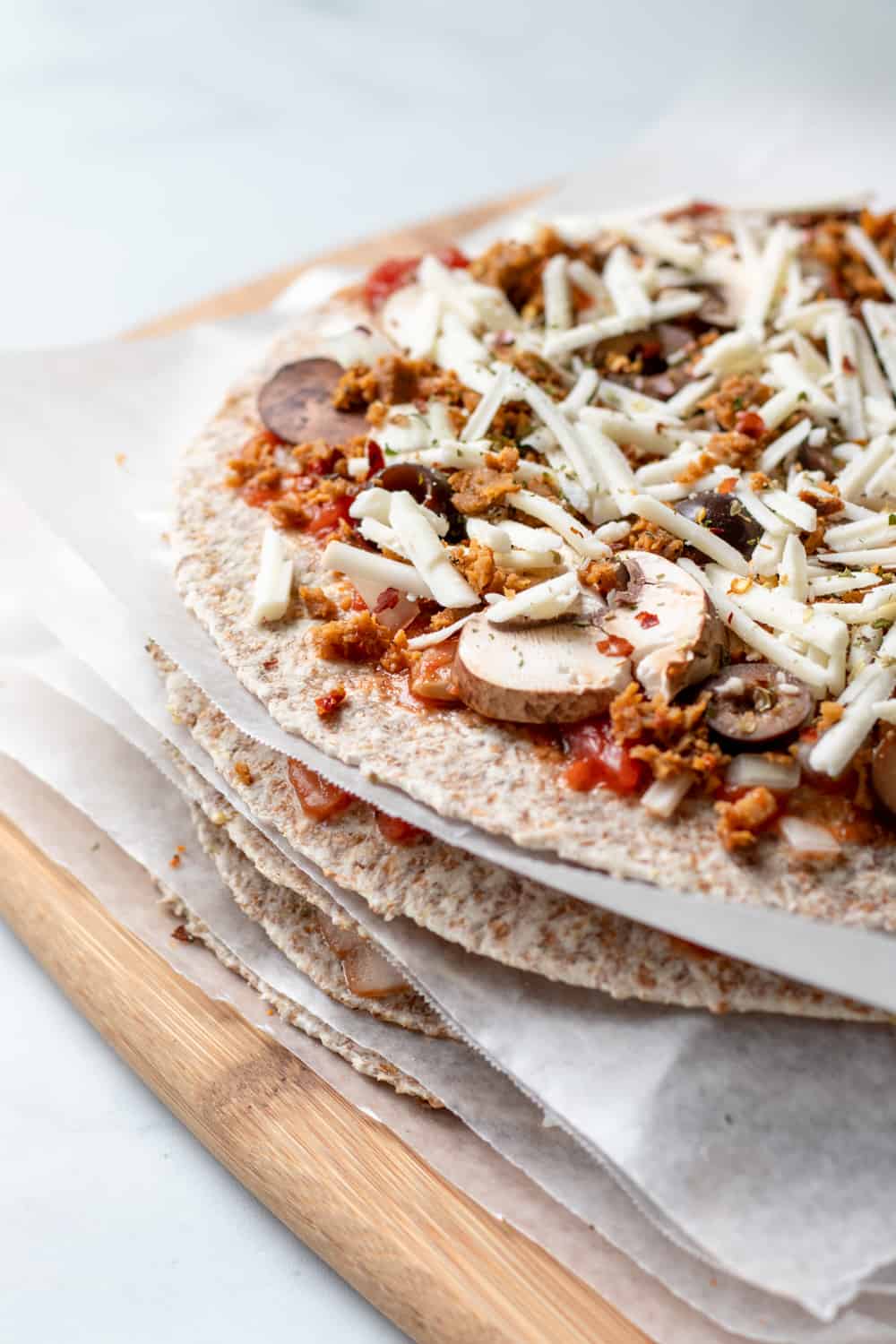 I just love these DIY Easy Frozen Pizzas. Today's post isn't so much about providing a recipe as it is about sharing a helpful idea for those days when you come home SO hungry you can barely deal. You know what I'm talking bout!
On those exhausted, hangry nights, spending even just 20 or 30 minutes on a quick stir fry feels like too much.
For me, knowing these healthy tortilla pizzas are waiting in the freezer is like a superpower that just might keep me from scarfing down half a bag of chips while I attempt to cook something healthier! If you and your family tend to stop for fast food on nights like that, well, these simple tortilla pizzas might help with that, too.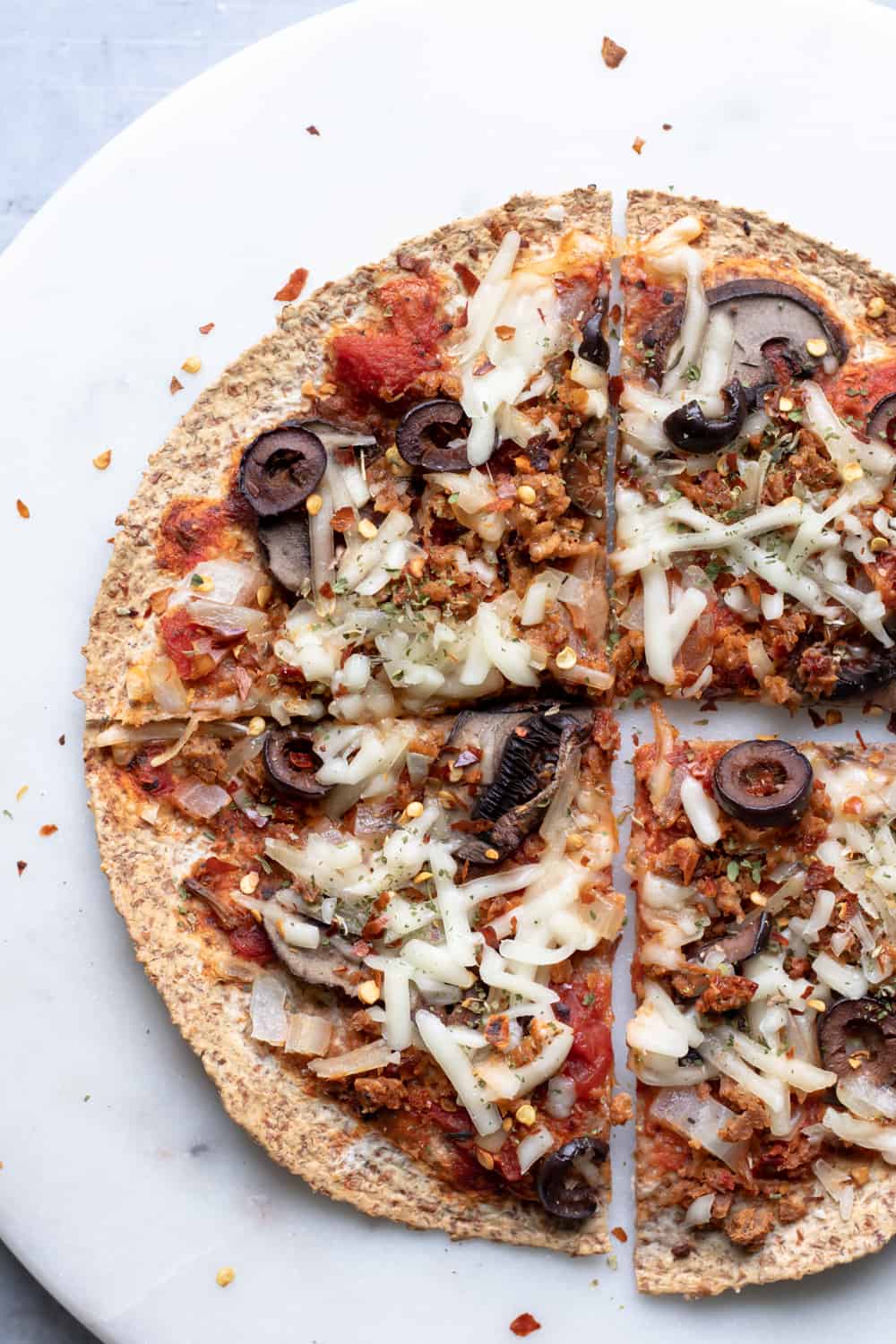 Individually portioned and topped with your favorite pizza ingredients, quick and easy doesn't get any better than this.
All the chopping and prep has been done. All you have to do is preheat the oven, and bake the pizzas for about 10 minutes. Seriously easy!
During that inactive bake-time, I bet we could even muster the strength to make a side salad.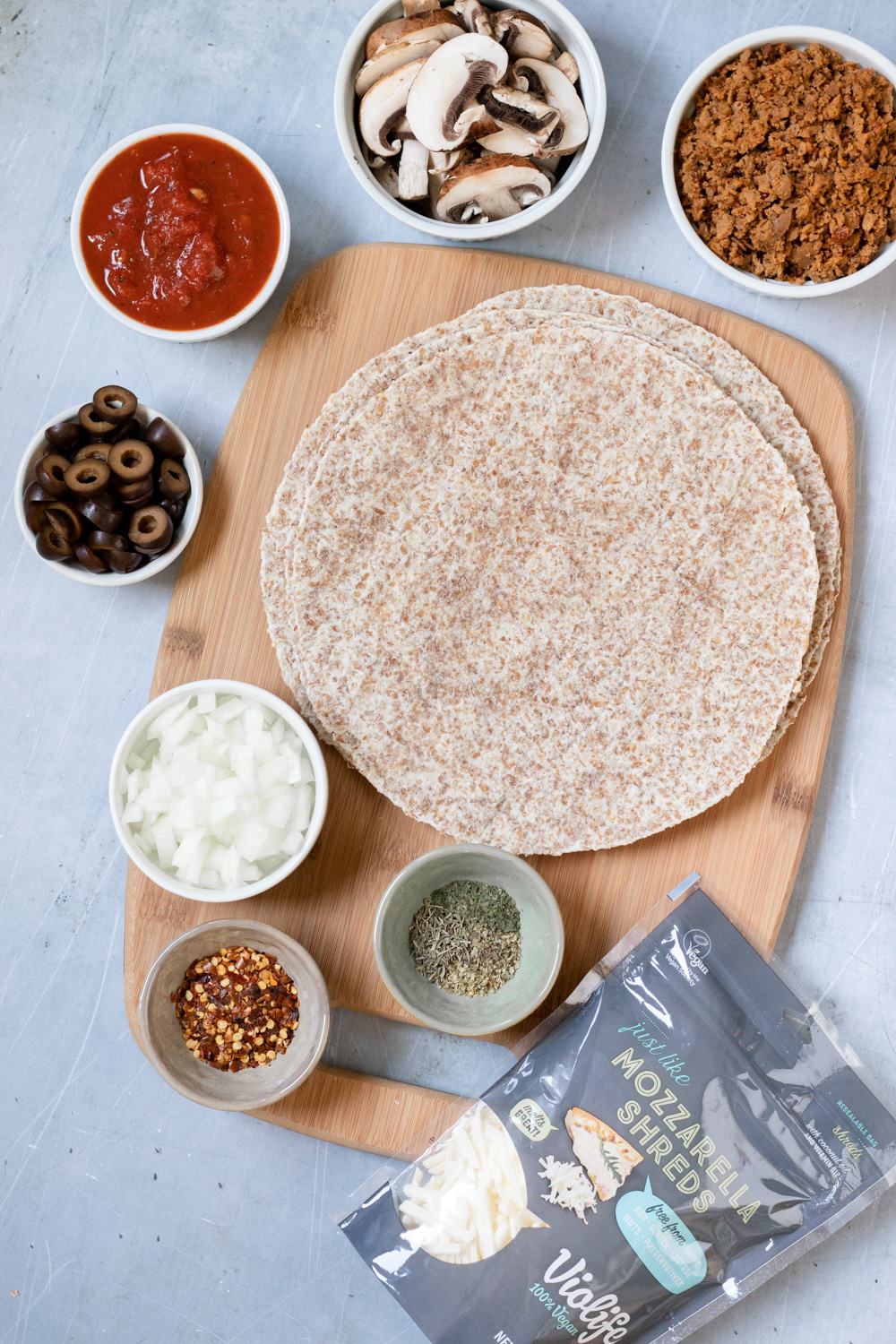 Ingredients in DIY Easy Frozen Pizzas
Tortilla or flat bread of your choice - I went with Ezekiel sprouted grain tortillas because that's what we often use for quick pizzas. I like like how crispy they get in the oven, and that they're more wholesome than refined flour tortillas and crusts. But you can use any type you like. Just consider the size, and how you plan to store the pizzas in the freezer. Will they fit in a large storage container or gallon size bag?
Marinara sauce - store-bought or homemade
Veggies/Toppings - Go with the classics like onion, mushroom, pepper, and olives, or get creative. Try spinach, broccoli, artichoke, garlic, corn, pineapple, etc. Just keep the size of the toppings in mind. Chop larger ingredients so they're small and will bake through with the rest of the pizza. You don't want a thick piece of artichoke that's still cold in the center when the rest of the pizza is ready.
Vegan meats - I had vegan sausage links on hand, so I tossed two in the food processor to achieve a ground, crumbled texture (I only ended up using about 1 link for 6 tortillas; this depends on how much sausage you want and how many tortillas you have). You could also use tofu, tempeh, beans, or other vegan meats. How about a BBQ chick'n pizza?!
Vegan cheese - Of course, cheese is optional, but it is fun and delicious! I went with Violife shredded mozzarella to make my pizza assembly super easy. Choose your favorite brand, or make your own vegan cashew mozzarella. Try the cashew mozzarella from this Vegan Stuffed Crust Pizza recipe; freeze it first, and then shred it.
Spices and seasonings - Pizza always tastes better with a little help from herbs. Since we're trying to minimize the amount of work required when we bake the pizzas, adding dried herbs to our frozen pizzas is great. I sprinkled mine with dried oregano, basil, thyme, black pepper, and red pepper flakes. If you're skipping the meat and cheese on your pizzas, I recommend also sprinkling your pizzas with sea salt.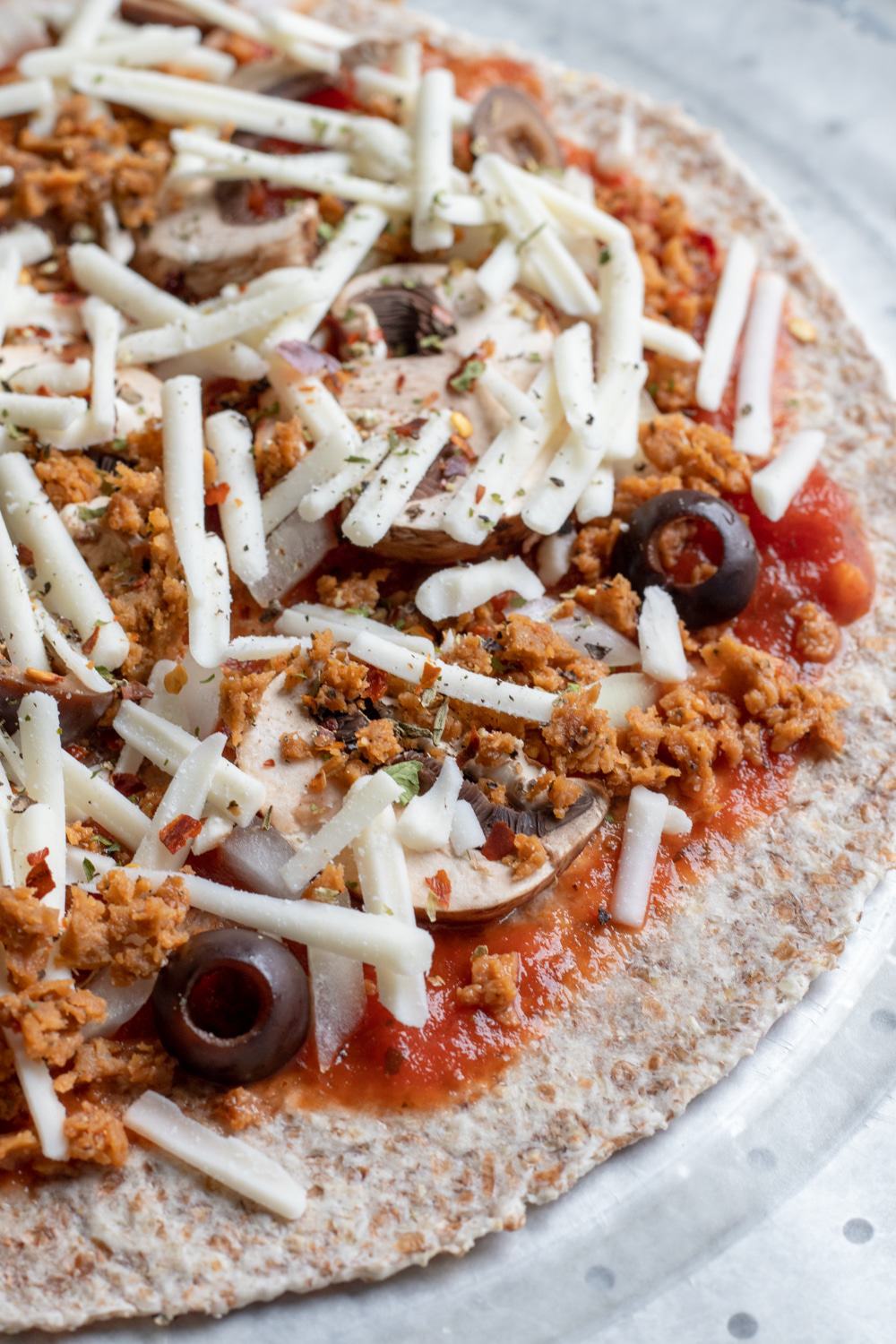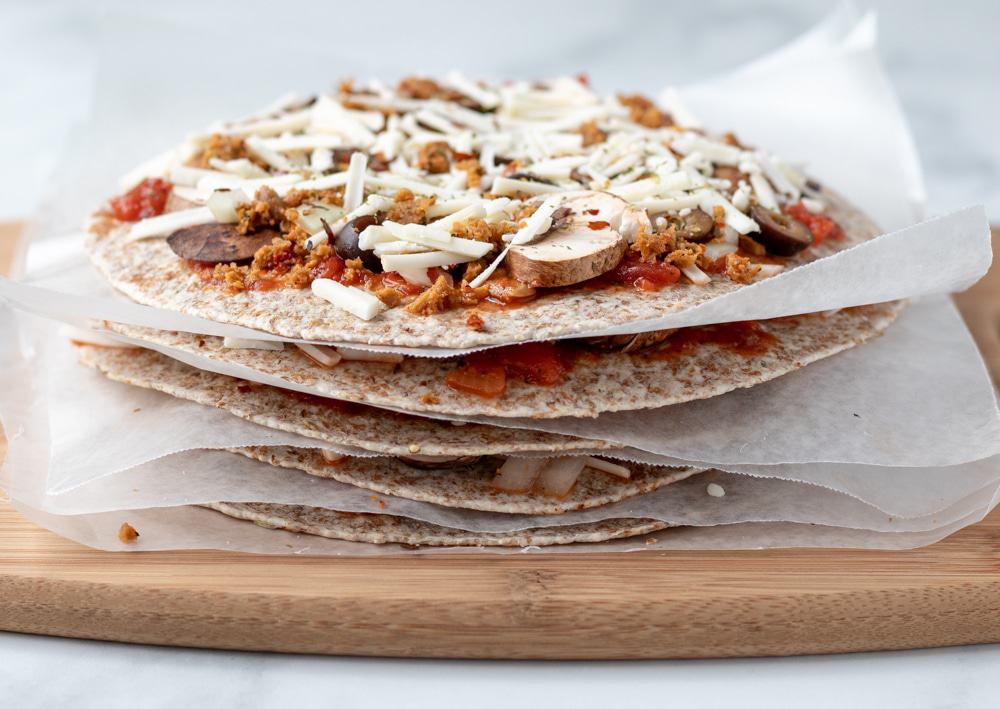 How to prepare homemade frozen pizzas
From start to finish, making pizzas from an entire package of tortillas should only take about 30 minutes. Once you've decided on your toppings, gather everything on the counter, and chop your veggies and meats. Then you're ready to rock and roll!
Spread on the sauce, layer on the toppings, and stack up your pizzas with a small piece of parchment or wax paper between each one. This helps keep things neat and prevents them from sticking together in the freezer.
Then place the stack inside a large, airtight, freezer-safe container, and return them to the freezer.
If you don't have a container large enough for the pizzas to lay flat, place the pizzas on a baking sheet (in a couple of stacks), and freeze for 1 to 2 hours. Then, transfer the pizzas to a large ziplock bag, and put them back in the freezer.
Keep in mind that you can reuse the freezer bag over and over for new batches of frozen pizzas!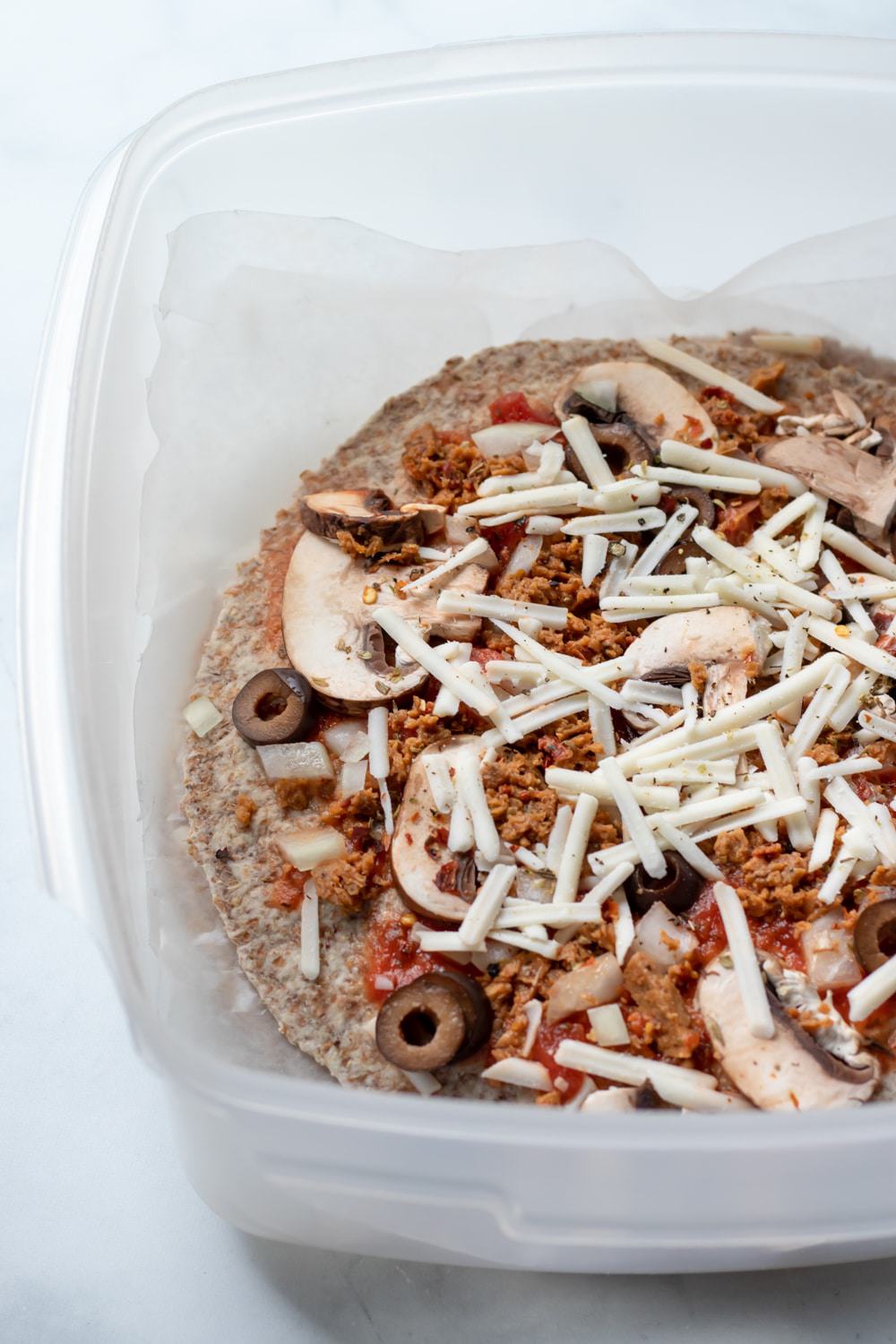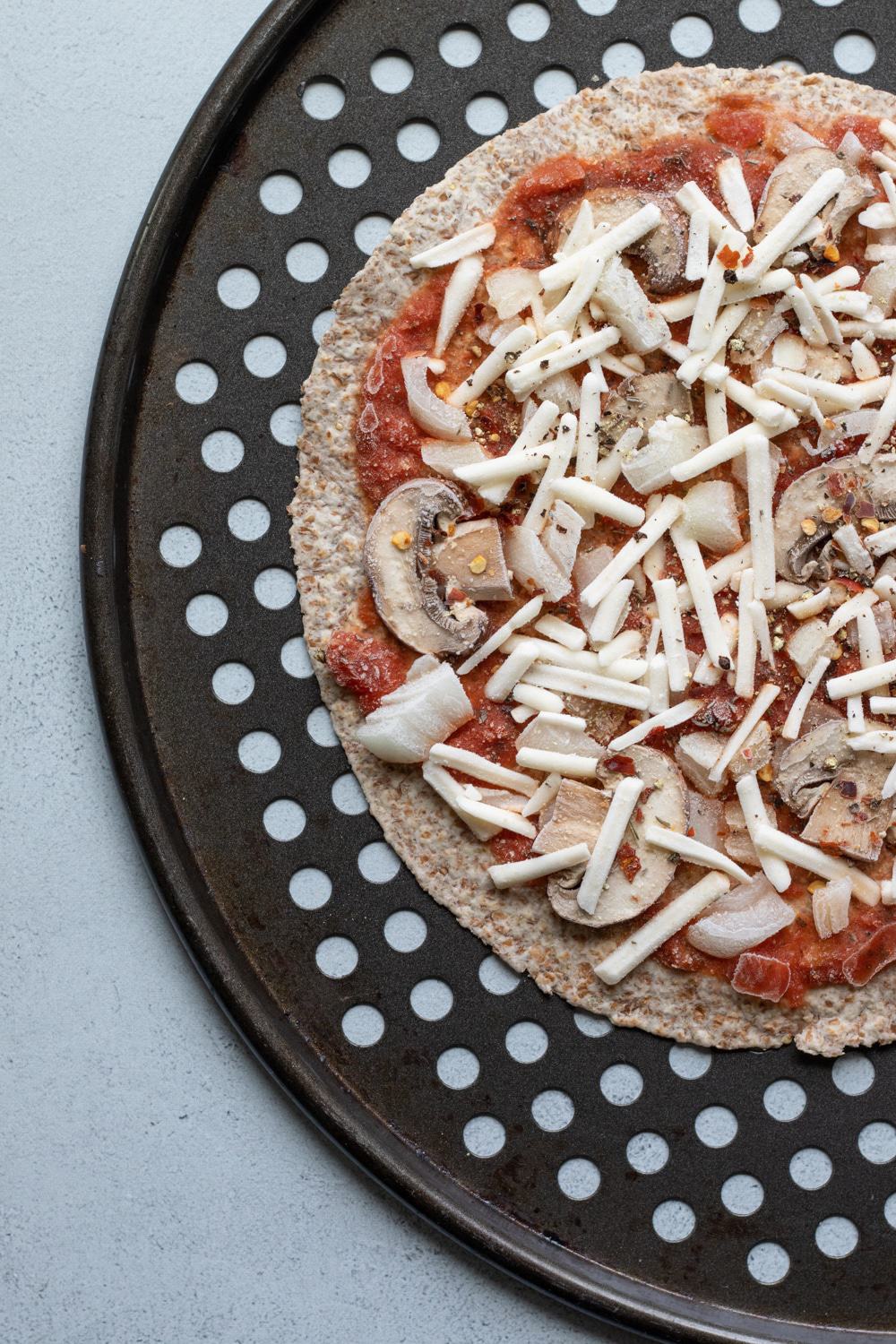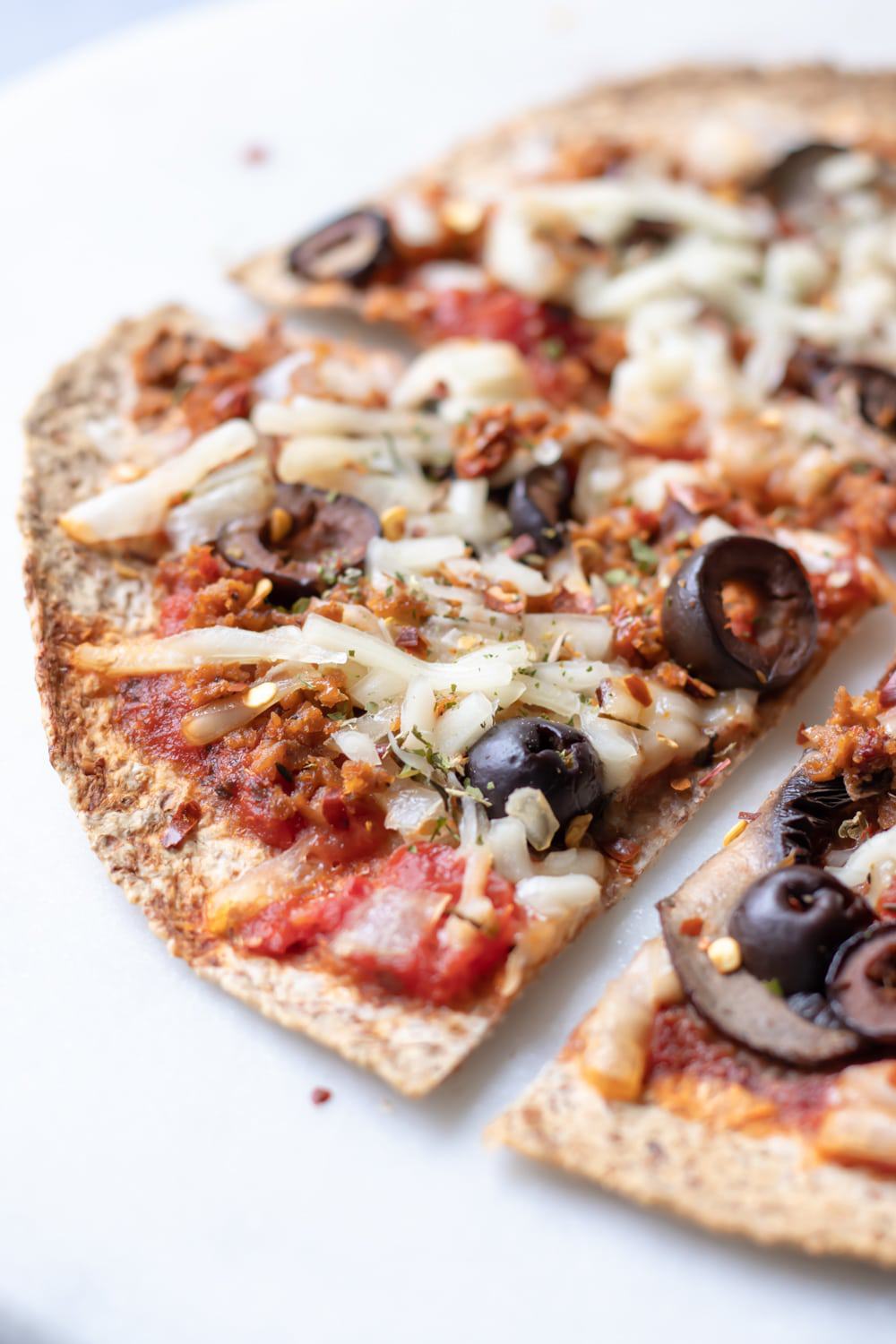 Here's to healthier versions of super quick weeknight meals! I hope you enjoy these DIY Vegan Frozen Pizzas, and if you try them I would love to hear from you.
Rate the recipe below, leave a comment sharing your favorite pizza toppings, and tag a photo @myquietkitchen on instagram!
When you're not hangry and in a hurry, try one of these awesome vegan pizzas:
Stuffed Crust Pizza with Easy Cashew Mozzarella
Pesto Stuffed Crust Pizza
Fennel, Sausage & Ricotta Pizza
Creamed Corn & Chorizo Pizza
📖 Recipe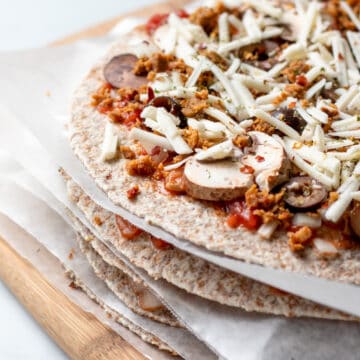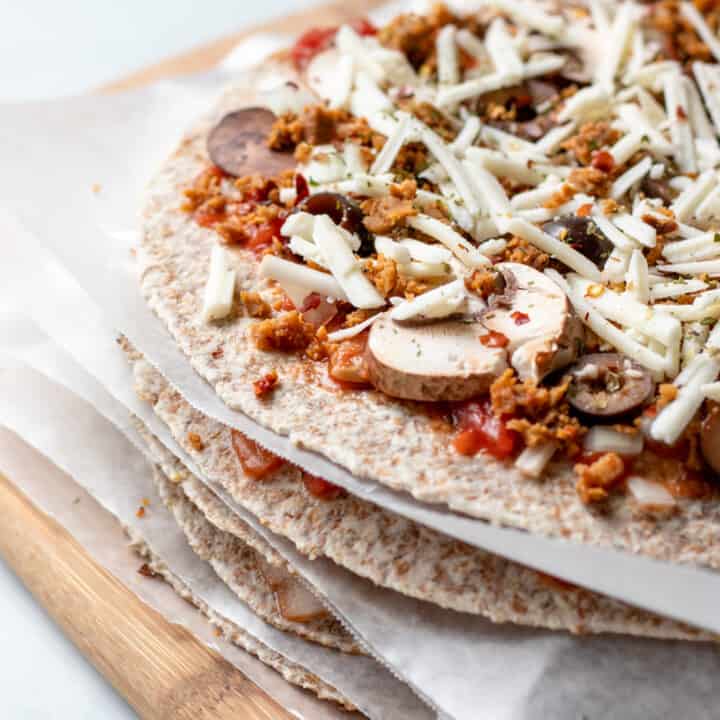 Easy Vegan Frozen Pizzas
If you need to stock your freezer, this is the recipe for you. Completely customizable, ready in thirty minutes, and perfect for a quick weeknight meal.
Ingredients
6 to 8

whole-grain tortillas of your choice (I used Ezekiel sprouted grain tortillas; use a GF brand if desired)

1 to 1 ½

cups

marinara sauce

1

small

onion, chopped

12 to 15

cremini or white button mushrooms, sliced

1

small

bell pepper, chopped

⅔

cup

sliced black olives

1 to 2

links

vegan sausage, crumbled

6 to 8

ounces

shredded vegan cheese

black pepper

red pepper flakes, optional

dried oregano, basil and/or thyme
Instructions
Prep the pizzas:
Top each tortilla with about 3 tablespoons of marinara. Add the onion, mushrooms, pepper, olives, and sausage. Sprinkle with cheese, dried herbs, black pepper and crushed red pepper. *If omitting sausage and/or cheese, be sure to sprinkle pizzas with a bit of sea salt.

Locate a large airtight container (big enough for the pizzas to lay flat). *If you don't have one large enough skip to next step. Place a piece of parchment or wax paper between each pizza so they don't freeze together, and stack them inside the container. Place in freezer.

If you don't have a large enough container, place parchment or wax paper between each pizza and stack them on a baking sheet. Freeze for 1 to 2 hours, then transfer the pizzas to a gallon storage bag and return to freezer.
Bake frozen (or fresh) pizzas:
Note: whether frozen or not, cook time is about the same.

Preheat oven to 425 degrees F. Place pizza(s) on a pizza pan, and bake 10 to 13 minutes or until hot and crispy. Top with vegan parm, if desired. Serve and enjoy!
Notes
To reduce waste, reuse parchment paper and gallon bags for the next batch of pizzas.
Once frozen, these homemade tortilla pizzas are best consumed within 2 to 3 weeks. Keeping them well-protected from air extends freshness.
Nutrition facts include vegan sausage and cheese.
Estimated Nutrition (per serving)
Serving:
1
pizza
Calories:
325
kcal
Carbohydrates:
39
g
Protein:
13
g
Fat:
13
g
Saturated Fat:
6
g
Cholesterol:
0
mg
Sodium:
730
mg
Fiber:
7
g
Sugar:
5
g
Vitamin A:
400
IU
Vitamin C:
23.1
mg
Calcium:
70
mg
Iron:
3.8
mg
Nutrition information is an estimate and will vary depending on the exact amounts and specific products and ingredients used. We calculate this information using the online calculator cronometer.com.
Tried the recipe?
I love hearing from you! Share your feedback below.