This Ginger Sesame Black Lentil Bowl is a nutritious and budget-friendly recipe perfect for weekend meal prep. With rice, black lentils, ginger, garlic, spinach, and toasted sesame oil, add your favorite veggies and sauce. Recipe for peanut sauce is included, or try my creamy lime dressing!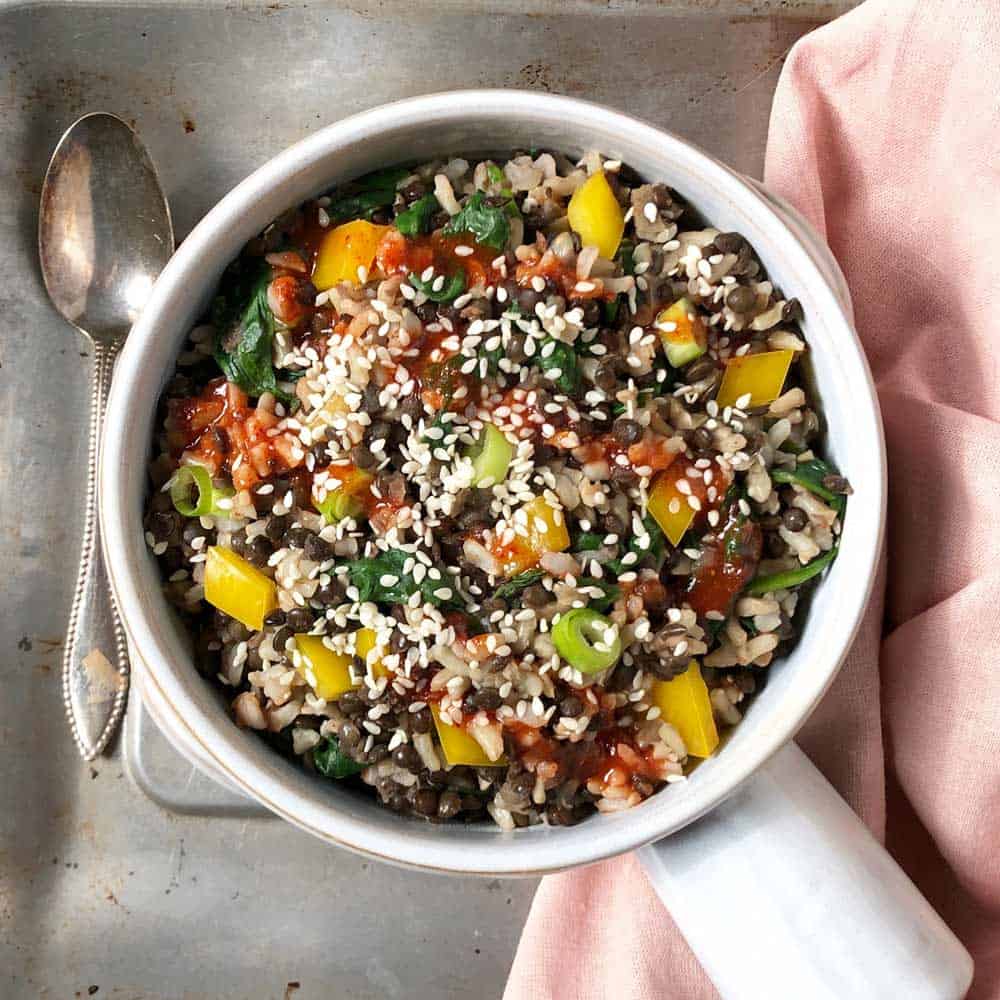 Hi, friends. This is the first post in a new series, The Two Dollar Lunch. The goal is to make it easy for you to prep healthy, affordable, delicious meals for the week. I'm going to lay out some guidelines below, such as prep time required, ingredient costs, and nutrition goals. Each post in the series will meet these same requirements. Then, we'll move on to today's recipe for Ginger Sesame Black Lentils with Spinach and Brown Rice.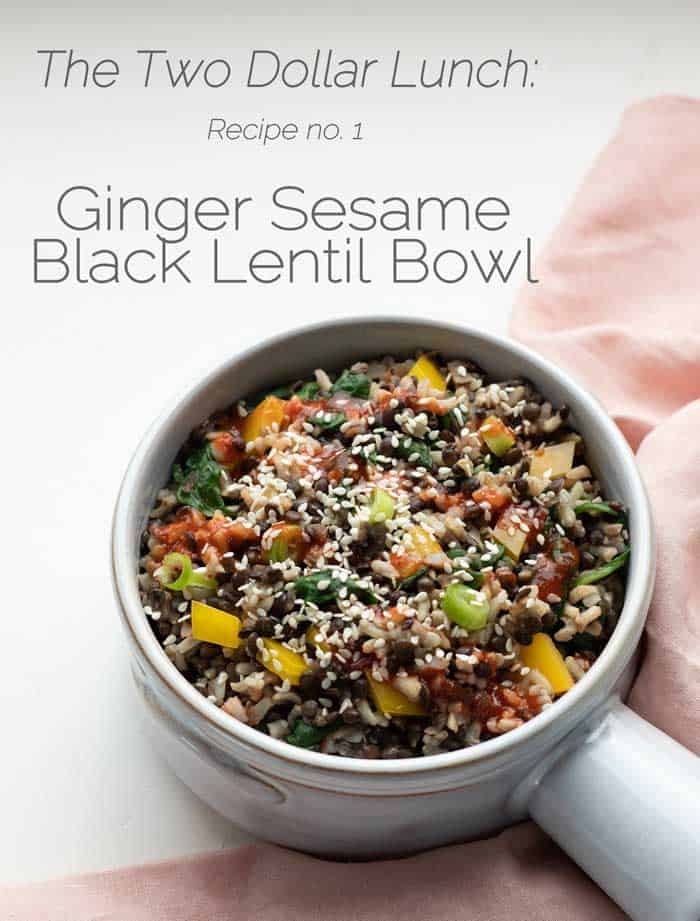 Here are the basics:
Each dish in this series will take no more than one hour of prep/cook time.
The total cost per serving won't exceed $2 and will often be less, allowing room for creativity on your part, the addition of your favorite condiments, etc. (Water, salt, and pepper will not be included in the cost.)
The recipes will be written for four servings, with the idea that it will provide four weekday lunches (or dinners) for a single person. So if you're cooking for more than yourself, or just want extra food, double the recipe. On that note, if you're a very active person, you may need to eat more! The serving sizes will be based on the standard serving sizes for most grains, beans and vegetables (for example, ¼ cup uncooked rice = 1 serving). Here's another tip for cooking extra: think "two recipes in one." For example, you could cook double the amount of lentils, and season the other half differently.
Lastly, these dishes will always focus on whole, nutrient-rich, high-quality, real food. It would be easy for me to tell you to buy a box of pasta and slap some sauce on it, but that's not the kind of affordable we're going for. The idea is to eat more simply, get comfortable cooking the basics, refresh our taste buds so that we enjoy the flavors of real food, and break the cycle of depending on convenience foods.
Of course, ingredients cost different amounts at every store. So, there may be times you'll find an ingredient for LESS than what I paid, and sometimes you may pay more. But I will always give you the details on the items I buy, so that you can either search them out for yourself or look for comparable prices at your favorite store. And depending on the time of year, you may be able to get your produce from a local farmers market. For certain ingredients, buying online can be a helpful option depending on your location and whether you like to purchase from sites like Amazon, Thrive, Vitacost, etc.
Now, for today's recipe! The cost breakdown:
This dish of brown rice, spinach, and black lentils cooked with ginger and garlic, seasoned with soy sauce and toasted sesame oil, cost a grand total of $4.44 for four servings. (Wow, that's a lot of fo(u)rs.) This leaves $3.56 for other healthy additions, like peppers, carrots, lettuce, green onion, nuts, seeds, hot sauce, or my Creamy Lime Cashew Dressing, which costs just $1.50 per batch. Another awesome sauce for this dish is a classic peanut sauce, so I'll include that recipe below.
The rice I bought this time is the 365 brand long grain brown rice, a 5 pound bag for $5.99. You can also buy an assortment of rices from the bulk bins. Just look for a rice that's around $1.20/lb.
Even though black lentils are more expensive than other types, they're still so affordable! These also came from Whole Foods. The 1 pound bag contains 11 servings and costs $2.99. So, when purchasing lentils just look for something less than $2.99/lb. to stay on track.
I sometimes buy the one pound package of spinach at Whole Foods for $5. But this time I bought a 6 ounce bag from Trader Joe's for $2.29.
Toasted sesame oil will likely be around $3 for a small bottle no matter where you purchase it. A tiny amount of toasted sesame oil brings so much flavor to dishes. I use it somewhat regularly, and yet the bottle still lasts forever!
Soy sauce, tamari, and shoyu can be used interchangeably. Prices will vary greatly depending on the brand, bottle size, organic vs. non. The one I'm currently using is 365 brand shoyu. It's a 20 ounce bottle and costs around $5. You can probably find something cheaper! Use it in everything from grain dishes and soups, to salad dressings, marinades, noodles, and stir fry.
Both garlic and ginger are $5.99/lb. at Whole Foods. It's difficult to estimate their exact cost for this recipe, but I can tell you it's so low it's almost not even worth worrying about! (As you'll see in the recipe below.) I bought three heads of garlic for $1.44 (this recipe only calls for a couple of cloves) and one huge piece of ginger root for about the same amount. So much flavor for so little money.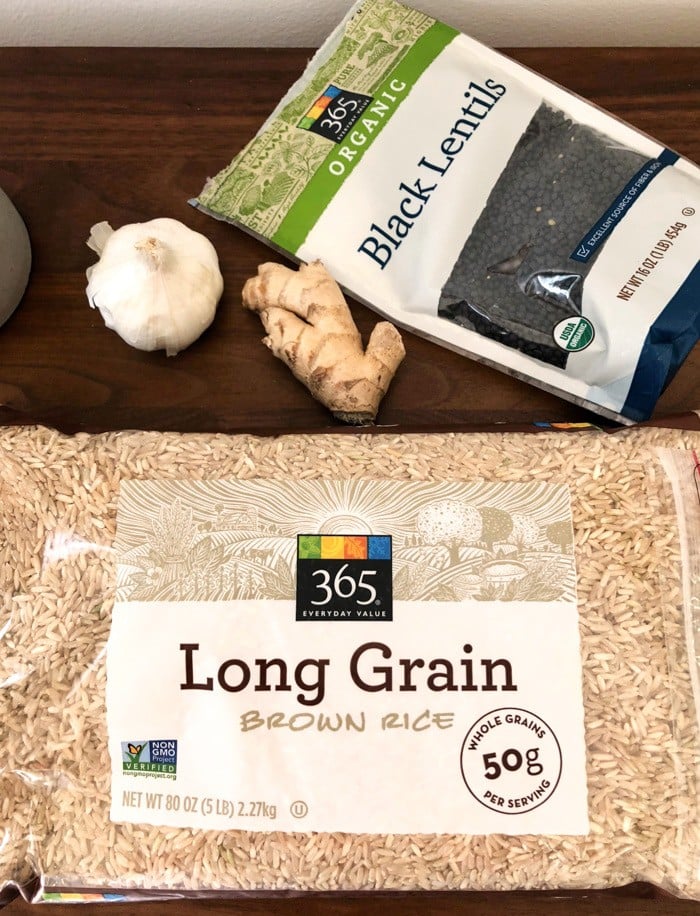 There are many ways I could approach this series, and a lot of it is still floating around in my mind. So, I hope this made sense and that the idea of saving money while also eating more nutritious food is something you're excited about! 🙂 If you have suggestions for the series or questions please let me know.
I hope you enjoy this Ginger Sesame Black Lentil Bowl. Cheers to healthy, affordable eating!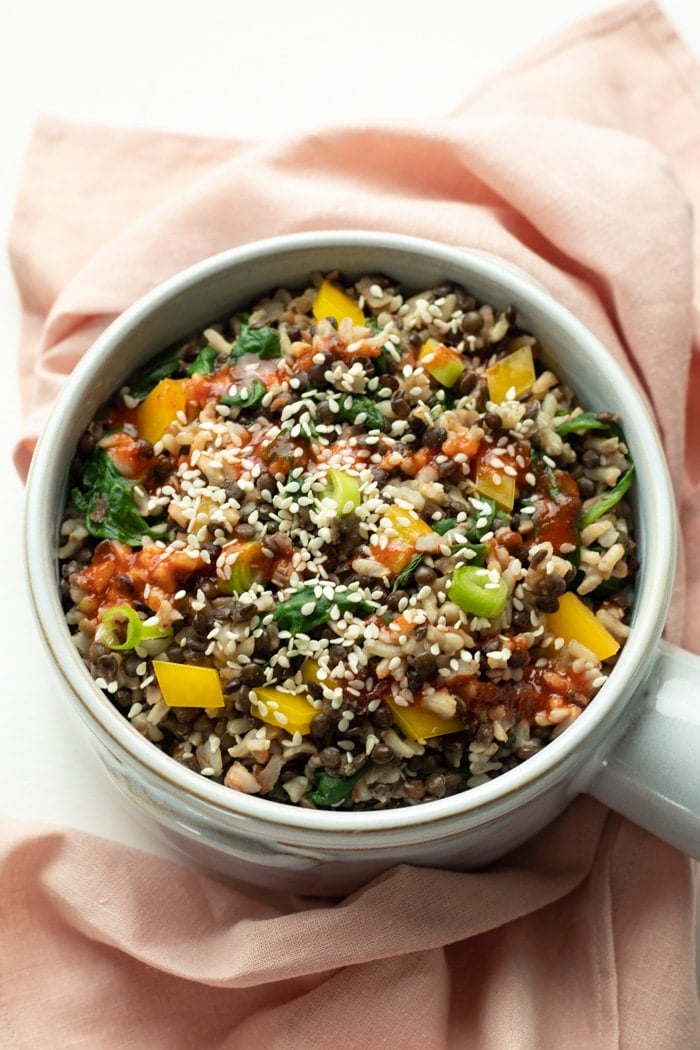 More ways to use black lentils:
Black Lentil Salad
Beyond Meat Meatloaf
One-Pot Black Lentil Curry Soup
📖 Recipe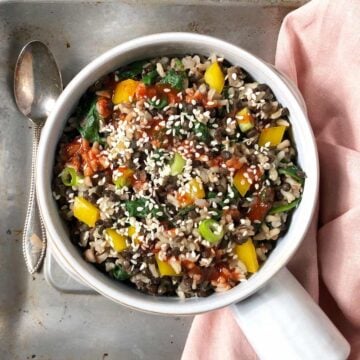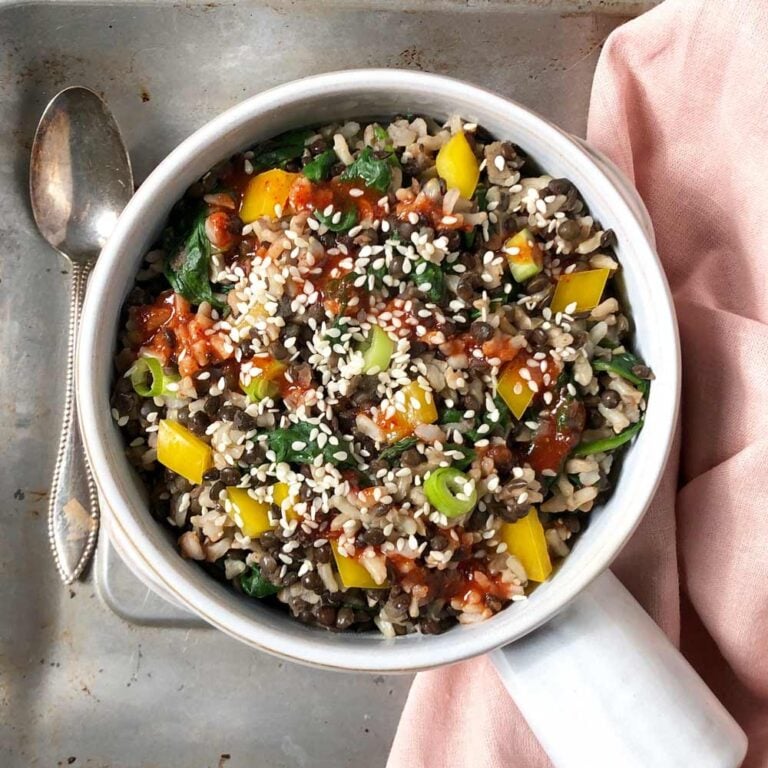 Ginger Sesame Black Lentil Bowl
Total cost per serving: $ 1.11 plus toppings
Black lentils seasoned with ginger, garlic and toasted sesame oil, served with spinach and brown rice.
Ingredients
For the rice:
1

cup

brown rice

-

$.53

2

cups

water

1

tsp

sea salt
For the lentils:
1

cup

black lentils

-

$1.08

3 ½

cups

water

1

inch piece

ginger root, peeled and minced

-

approx $.25

2

cloves

garlic, minced

-

approx $.10

½

tsp

sea salt

6

ounces

spinach

-

$2.30

½

Tbsp

soy sauce, to taste (use tamari for GF)

-

$.10

1

tsp

toasted sesame oil

-

$.07
Optional peanut sauce ($1.55 for the whole recipe):
½

cup

peanut butter, natural, salted

-

$.65

2

Tbsp

soy sauce, tamari (GF), or shoyu

-

$.20

¼

cup

water (may need more or less for desired consistency)

1

Tbsp

maple syrup

-

$.28

1

Tbsp

rice vinegar or lime juice

-

$.10

1

inch piece

ginger root, peeled and minced

-

$.25

1

tsp

toasted sesame oil

-

$.07
Another sauce option ($1.50 for the whole recipe):
Garnish:
1

large

orange, yellow or red pepper

-

$1.50

sesame seeds

-

pennies

hot sauce or sriracha

-

pennies
Instructions
Cook the rice: In a medium/large pot, bring water to a boil. Rinse the rice. Add rice and salt to boiling water and stir once. Return to a boil, then cover, reduce heat to low, and cook 30-35 minutes (verify cooking time for the type of rice you're using) or until water has been absorbed. Turn off heat, keep covered, and let stand 10 minutes. Fluff with a fork.

Cook the lentils: Sort and rinse lentils. In a medium/large pot, bring water to a boil and add lentils, ginger, garlic, and salt. Return to a boil. Cover, with lid slightly askew to release steam, and reduce heat to a simmer. Cook 20-25 minutes or until lentils are tender. Test for doneness as needed. Drain and discard any remaining water. While lentils are hot, stir in the spinach, sesame oil, and soy sauce.

Allow to cool. Store separately if you think you may want to add either the rice or lentils to other dishes, or combine and store. (The lentils are delicious served cold on a salad.)

Prep a sauce: For the creamy lime dressing, follow instructions on the taco recipe page. For peanut sauce, whisk all ingredients together in a small bowl. Enjoy!
Notes
Store leftovers in the refrigerator for up to 4 days.
Estimated Nutrition (per serving)
Calories:
360
kcal
Carbohydrates:
63
g
Protein:
19
g
Fat:
3
g
Saturated Fat:
0.5
g
Trans Fat:
0
g
Cholesterol:
0
mg
Sodium:
730
mg
Fiber:
12
g
Sugar:
0.5
g
Vitamin A:
4000
IU
Vitamin C:
17.3
mg
Calcium:
70
mg
Iron:
5.4
mg
Nutrition information is an estimate and will vary depending on the exact amounts and specific products and ingredients used. We calculate this information using the online calculator cronometer.com.
Tried the recipe?
I love hearing from you! Share your feedback below.