Layers of baked vegan French toast, creamy yogurt, fresh berries, and whipped coconut cream create a showstopper breakfast! Sure, it looks like a fancy dessert, but don't let this French toast "cake" fool you. It's actually oil-free and refined sugar-free (depending on your choice of toppings) and very easy to prepare.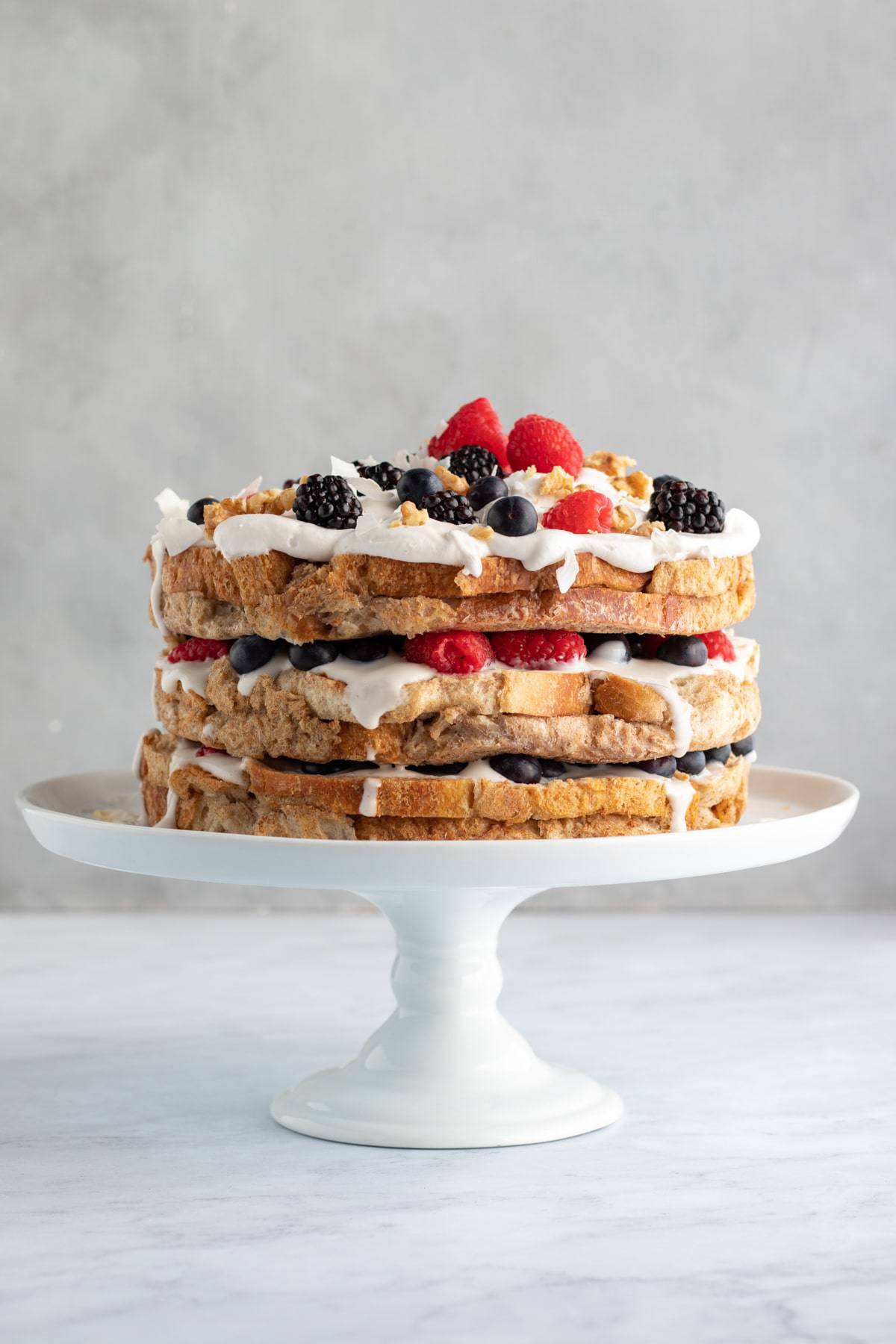 Maybe there's a holiday or a loved one's birthday coming up and you want a gorgeous breakfast recipe that will start the day with smiles. This Vegan French Toast Breakfast Cake is sure to do just that! Best of all, it's ridiculously easy to prepare.
Inspired by my trifle recipe, only one component in this "cake" actually has to be prepared and cooked. Everything else is just a matter of assembly.
Now that I think about it, this recipe is even easier than typical French toast because the cooking is completely hands off!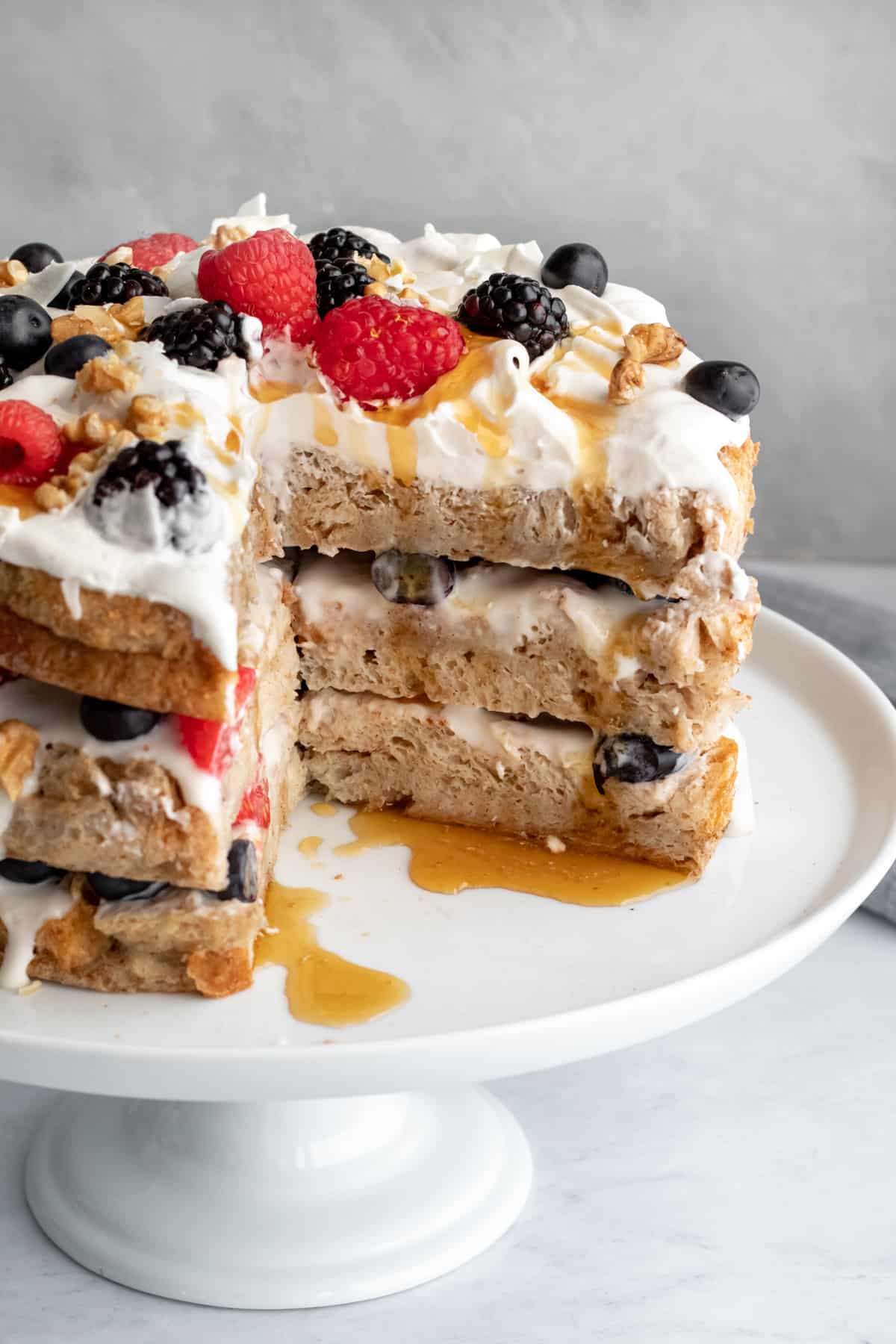 How to Make Baked French Toast Cakes
Aren't the layers of French toast fun? They're made from store-bought bread and an easy 5-ingredient batter. Pictured below are:
sliced sourdough bread - you can use a good quality pre-sliced sourdough or buy a whole loaf and slice it as thick or thin as you like. Sourdough should always be vegan, but be sure to check the labels for any unwanted ingredients.
non-dairy milk of choice - I used unsweetened soy milk.
maple syrup
corn starch - this helps the cakes hold together after baking. Sub arrowroot starch, if preferred.
cinnamon
vanilla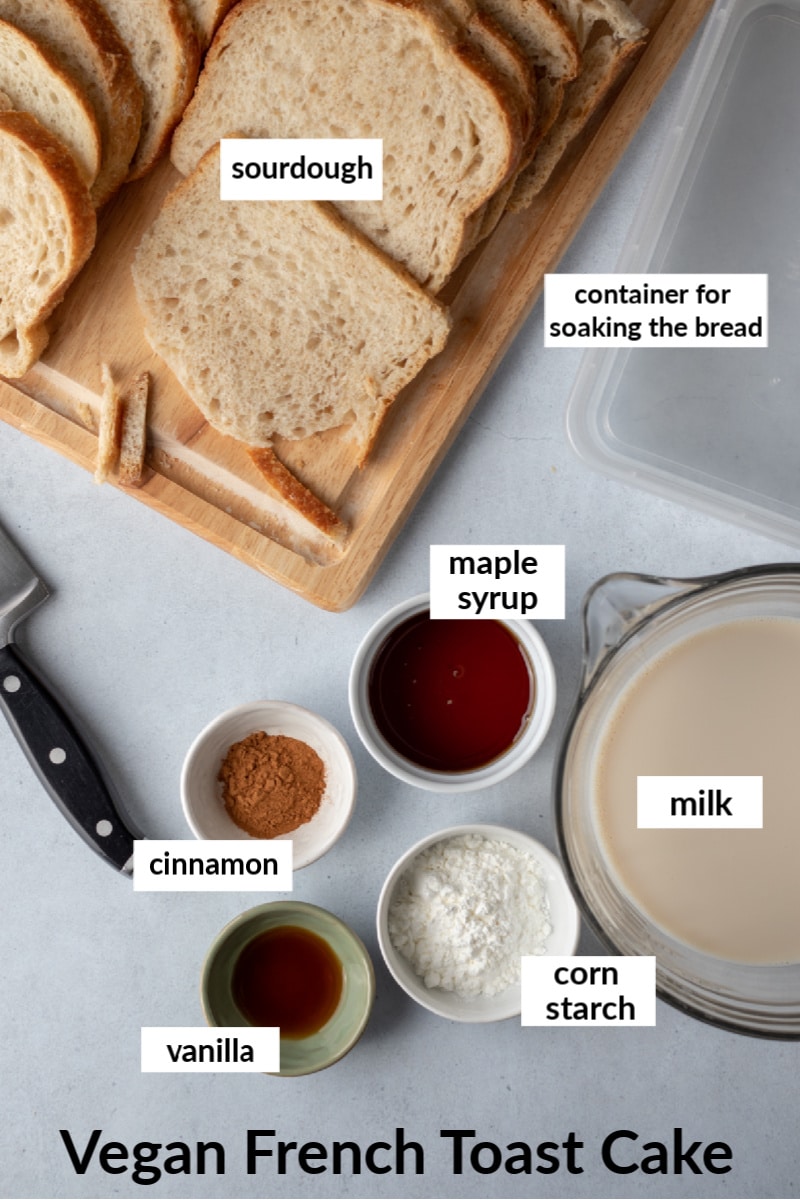 The basic process goes like this (be sure to scroll down for the FULL recipe):
Line three 8-inch round cake pans with parchment, and preheat the oven to 400 degrees F.
Whisk the batter together in a shallow dish large enough to hold a couple of pieces of bread. Soak the bread just long enough to saturate it with delicious, cinnamon-y batter (too long and it will get mushy and be difficult to handle).
Note: *You can use pre-sliced bread or begin with a whole loaf.* If cutting the bread yourself, aim for thick slices (about 2 inches thick), and you'll only create one layer of bread in each pan.
If using pre-sliced sourdough (the thickness of sandwich bread) like I did in the photos, you'll create two layers. Look closely at the photo below, and you'll see the bottom layer of bread peeking through. For the size and shape of the bread I used, it took about 6 slices of bread per pan.
Place one piece of bread in the pan, and then tear the next pieces so that they fit in like a puzzle. Just fit 'em in there any which way, and lightly pack them down. No need for perfection here! Repeat if doing a second layer. Then repeat the process for the other two cake pans.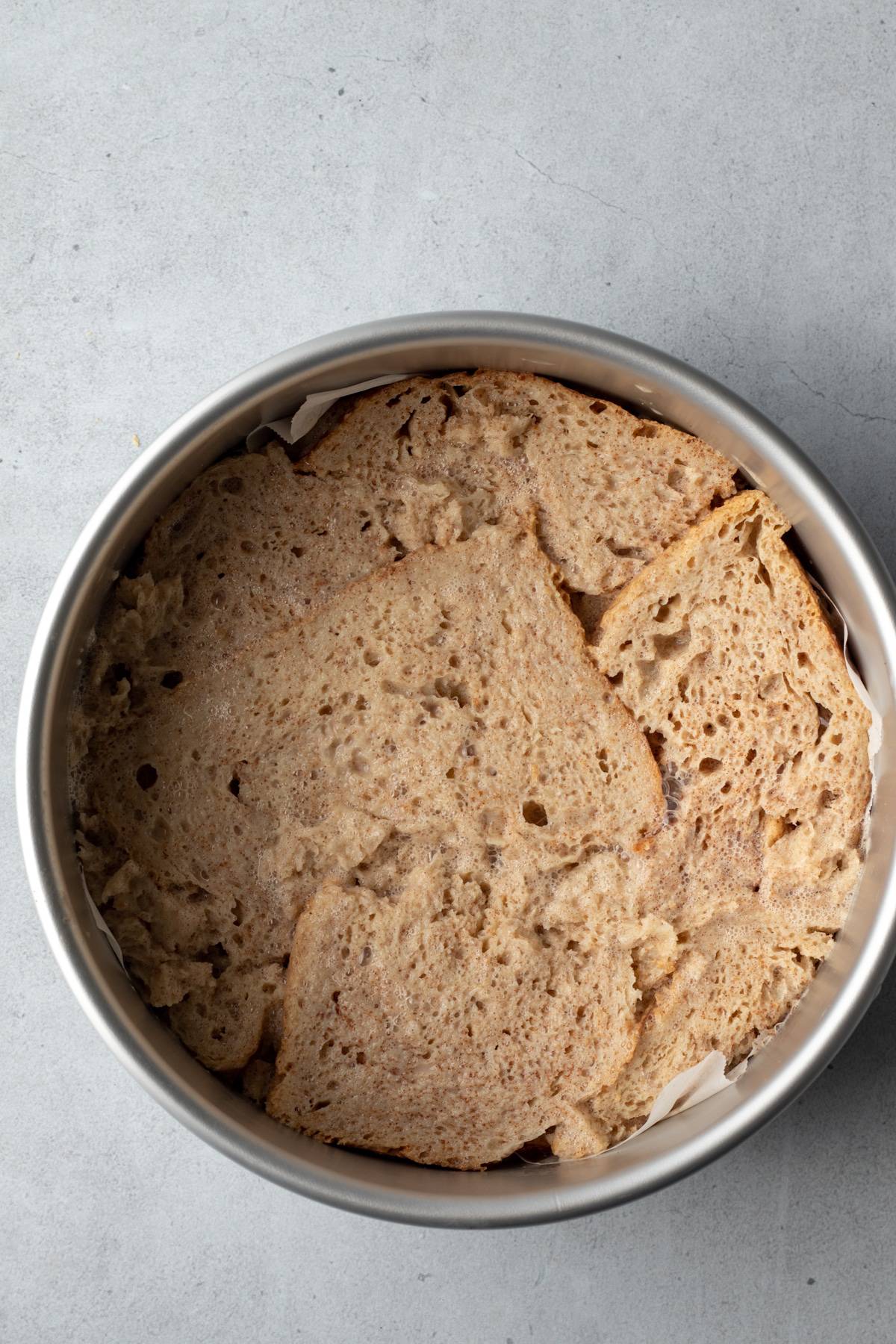 Sprinkle with more cinnamon, and bake the French toast for 18 to 20 minutes or until hot in the center. Allow to cool in the pans for about 10 minutes, then move to a cooling rack.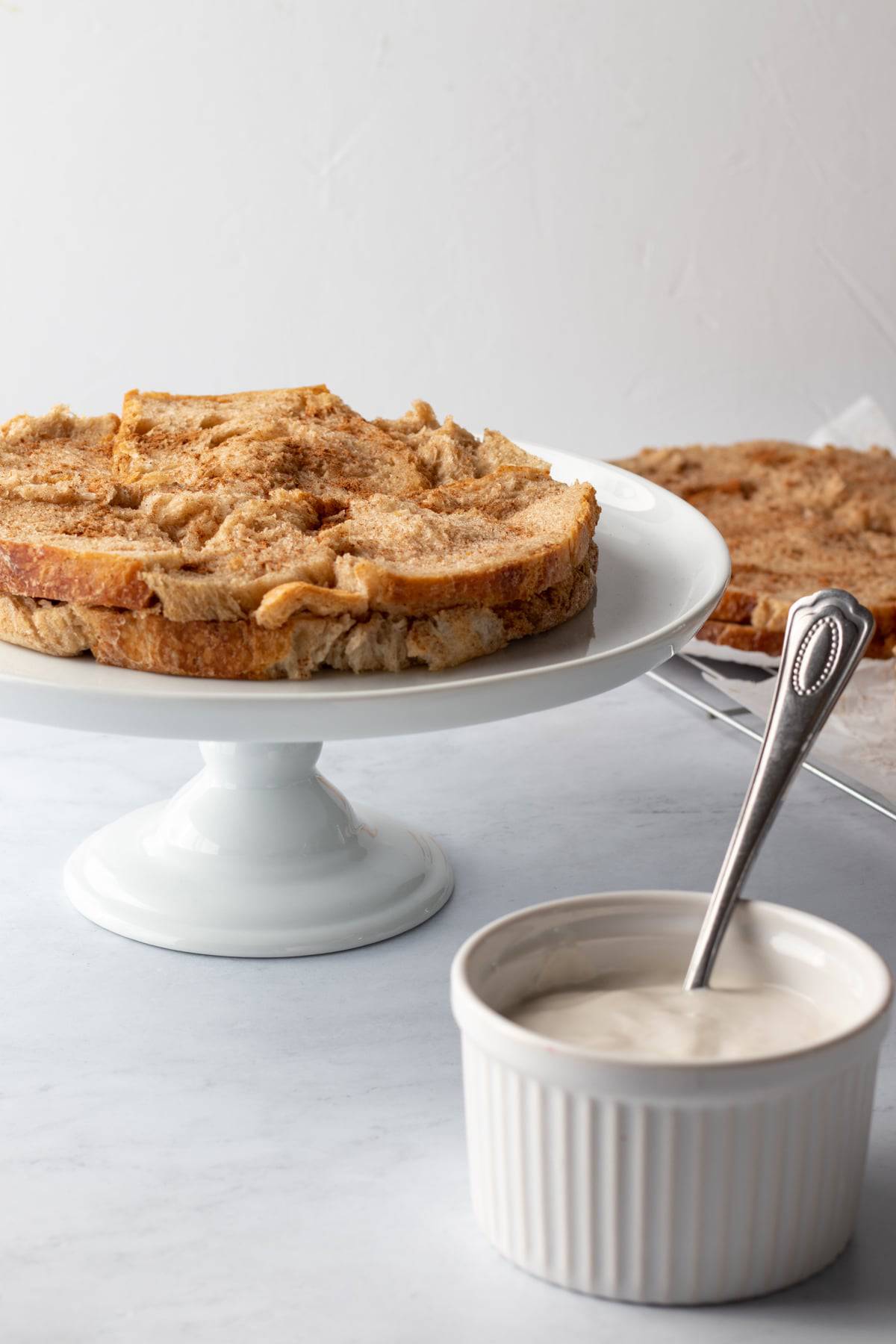 Once the French toast layers are cool, you're ready to assemble and decorate your cake. Do this just before serving.
Place one layer on a stand or serving dish, and spread about ½ cup vegan yogurt on top.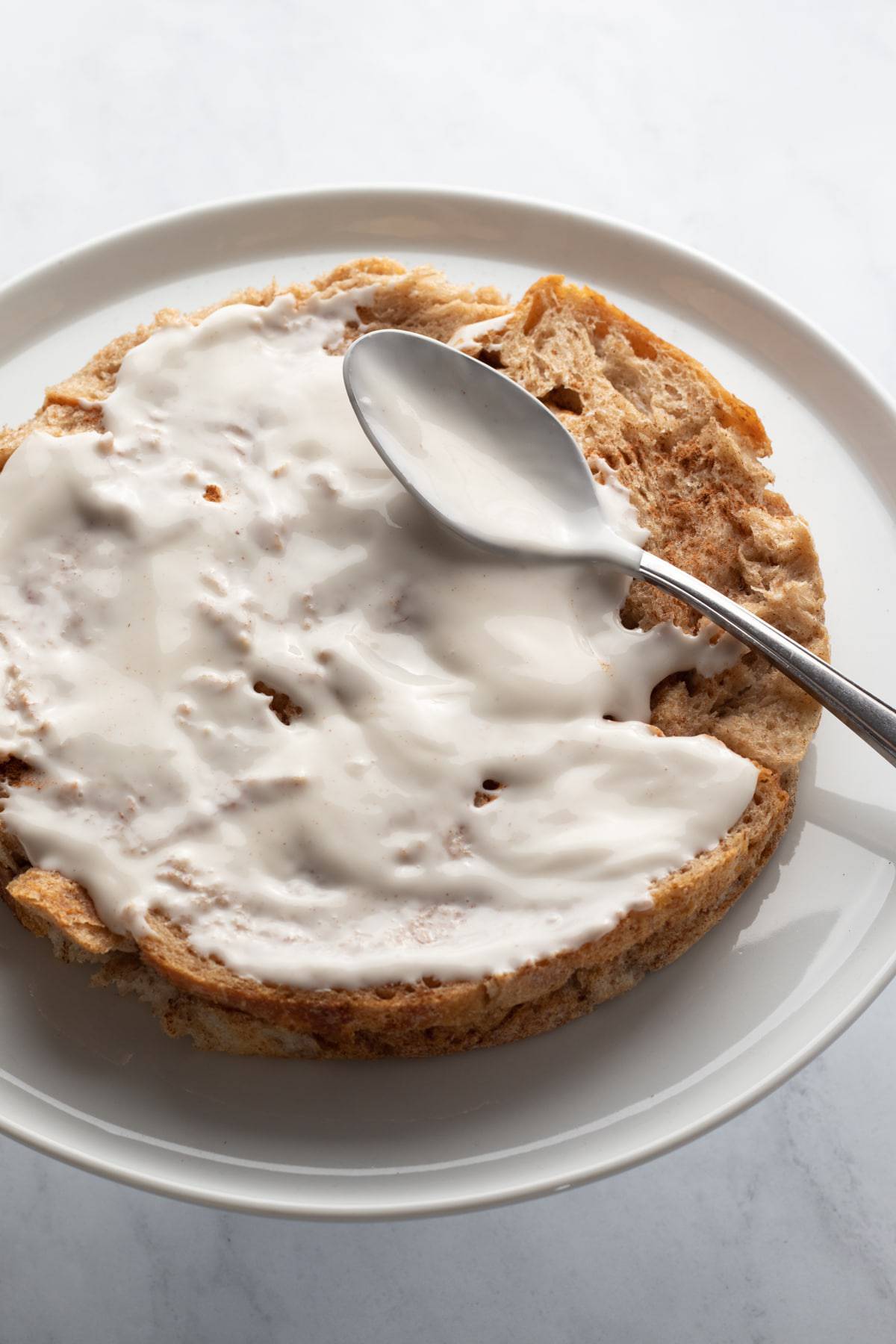 Arrange assorted berries around the perimeter and evenly through the center. The berries will act like pedestals to hold up the next cake layers.
This creates enough space between the layers for a dramatic cake-like effect, and lets you see glimpses of colorful berries peeking through.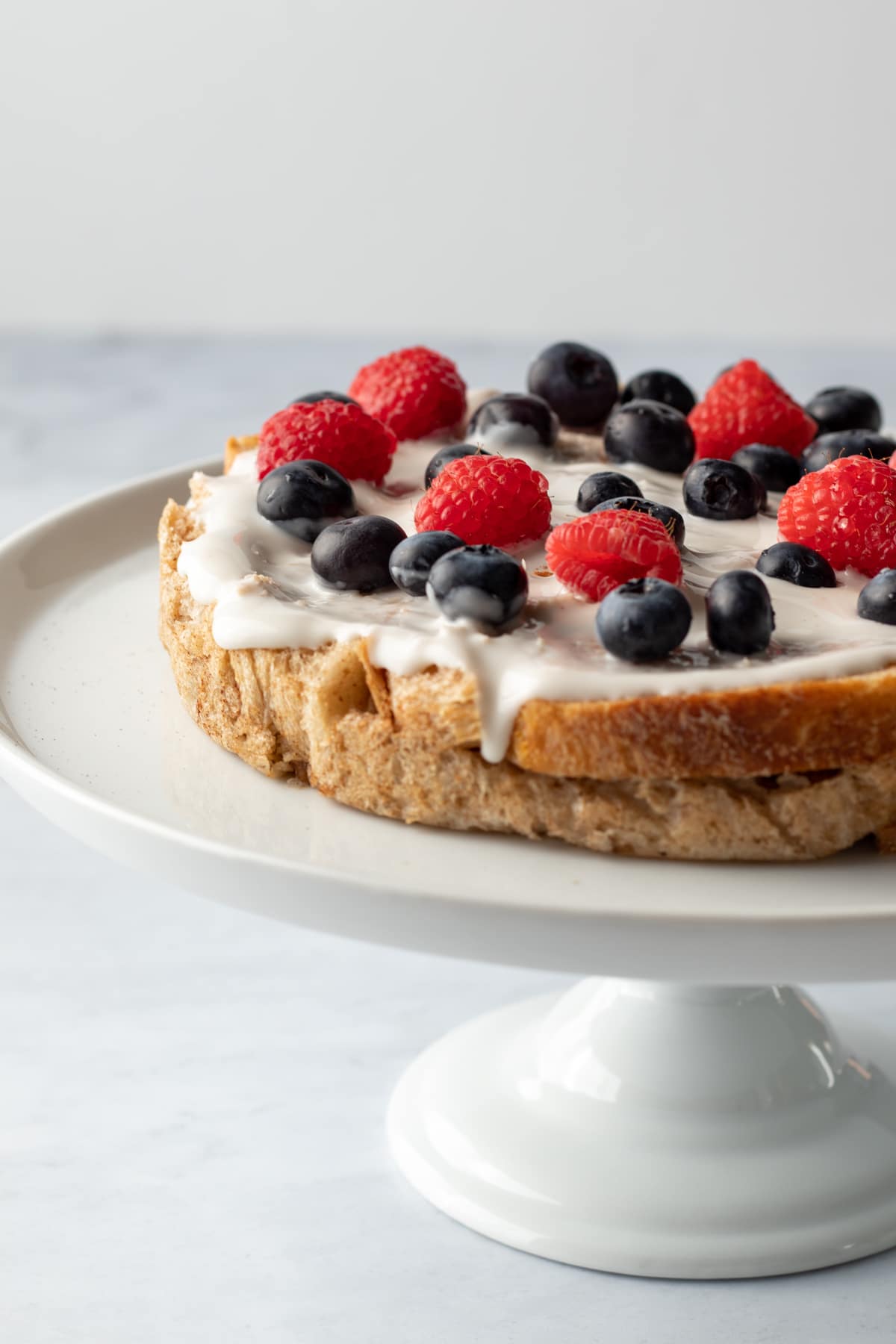 Repeat the process, placing the second layer of French toast and topping it with yogurt and berries.
For the final layer, you can either spread it with yogurt OR go for something richer like whipped coconut cream!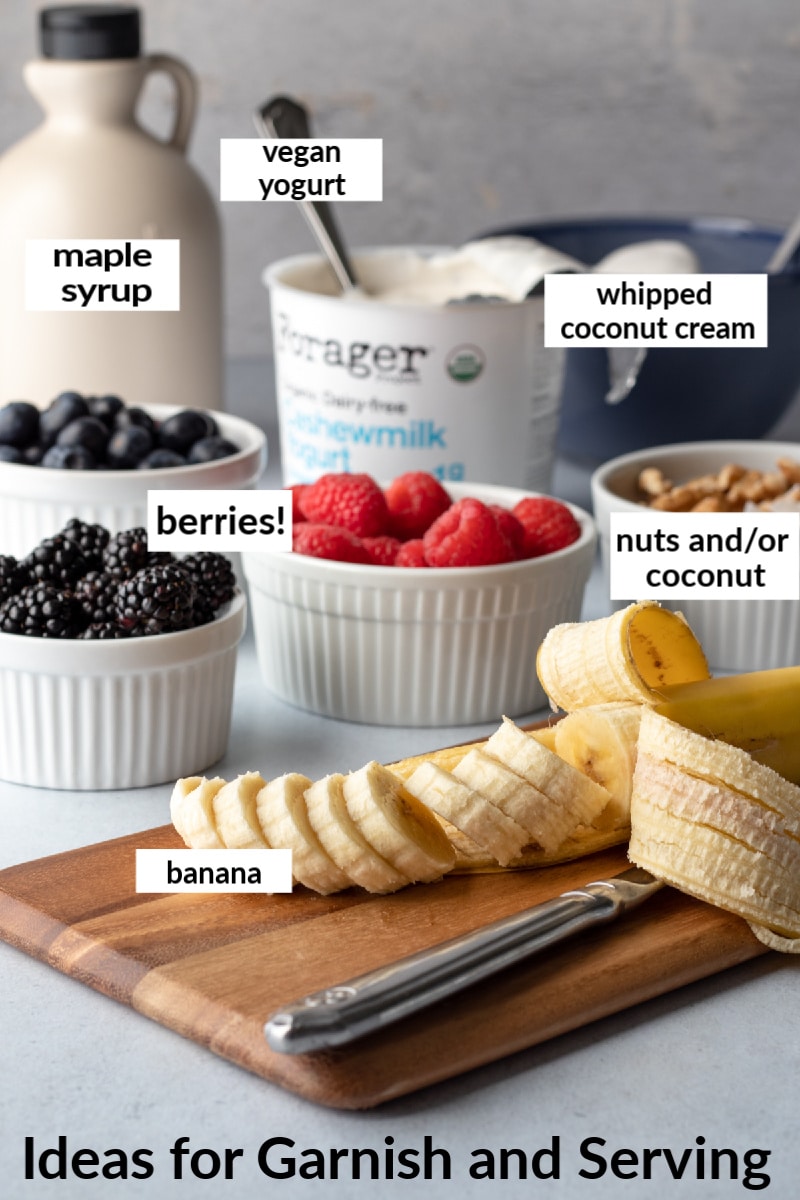 Ideas for Garnish and Decoration
assorted fresh berries
sliced banana
chopped citrus or pineapple
raw or lightly toasted walnuts or pecans
dried coconut
cinnamon
powdered sugar (unless you're trying to keep it refined sugar-free, of course)
a drizzle of nut butter
And don't forget the extra maple syrup!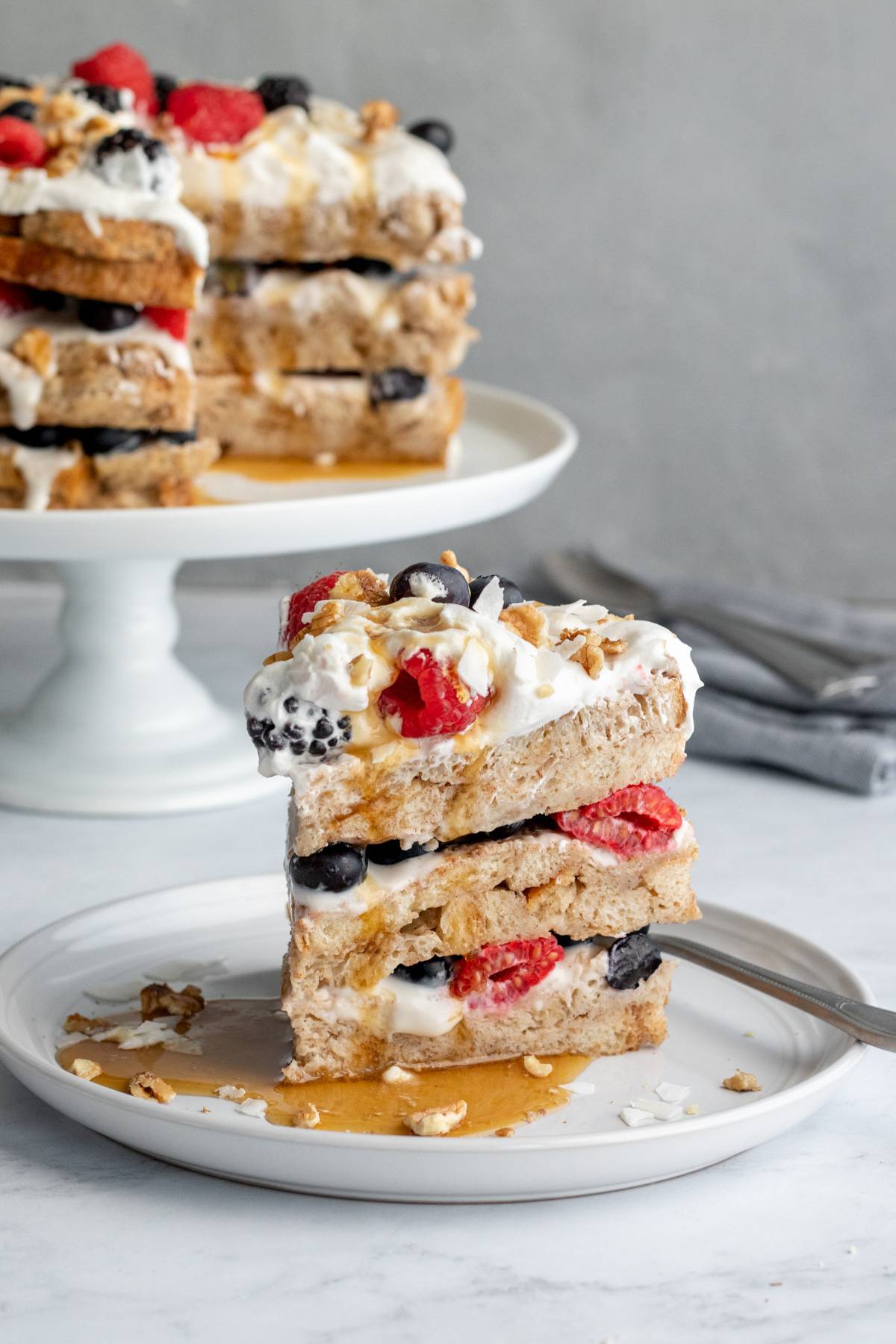 Prep and Serving Tips
Eat it fresh.
Just like regular French toast cooked on a griddle, this isn't something you want to make in advance. It will taste best if it's baked, cooled, and assembled just before serving.
To keep the crust on the bread or cut it off?
This is a bit of a judgment call and depends on the bread you're using. I trimmed off most of the crust because I could tell it was fairly tough. When you're serving regular French toast, chewier crust edges are fine. But since you'll be slicing this cake into wedges, it helps not to run into tough bits.
What type of yogurt to use?
Depending on your preference for sweetness, you can go with a plain, unsweetened yogurt like I did, or a sweetened vanilla yogurt. Unsweetened tastes a bit more breakfast-y, obviously. Just keep in mind the overall balance of sweetness. If the first two layers are spread with unsweetened plain yogurt, it's nice to opt for something sweeter on top. Add a splash of maple syrup to plain yogurt or coconut cream to keep it refined sugar-free.
Which toppings to include?
It's totally up to you! Keep the entire recipe free from oil and refined sugar, or take it in a more decadent direction. Store-bought vegan whipped topping is a tasty treat, while yogurt or homemade whipped coconut cream are the more wholesome options. You could even incorporate vegan cream cheese.
Think of these French toast cakes as a tasty blank canvas!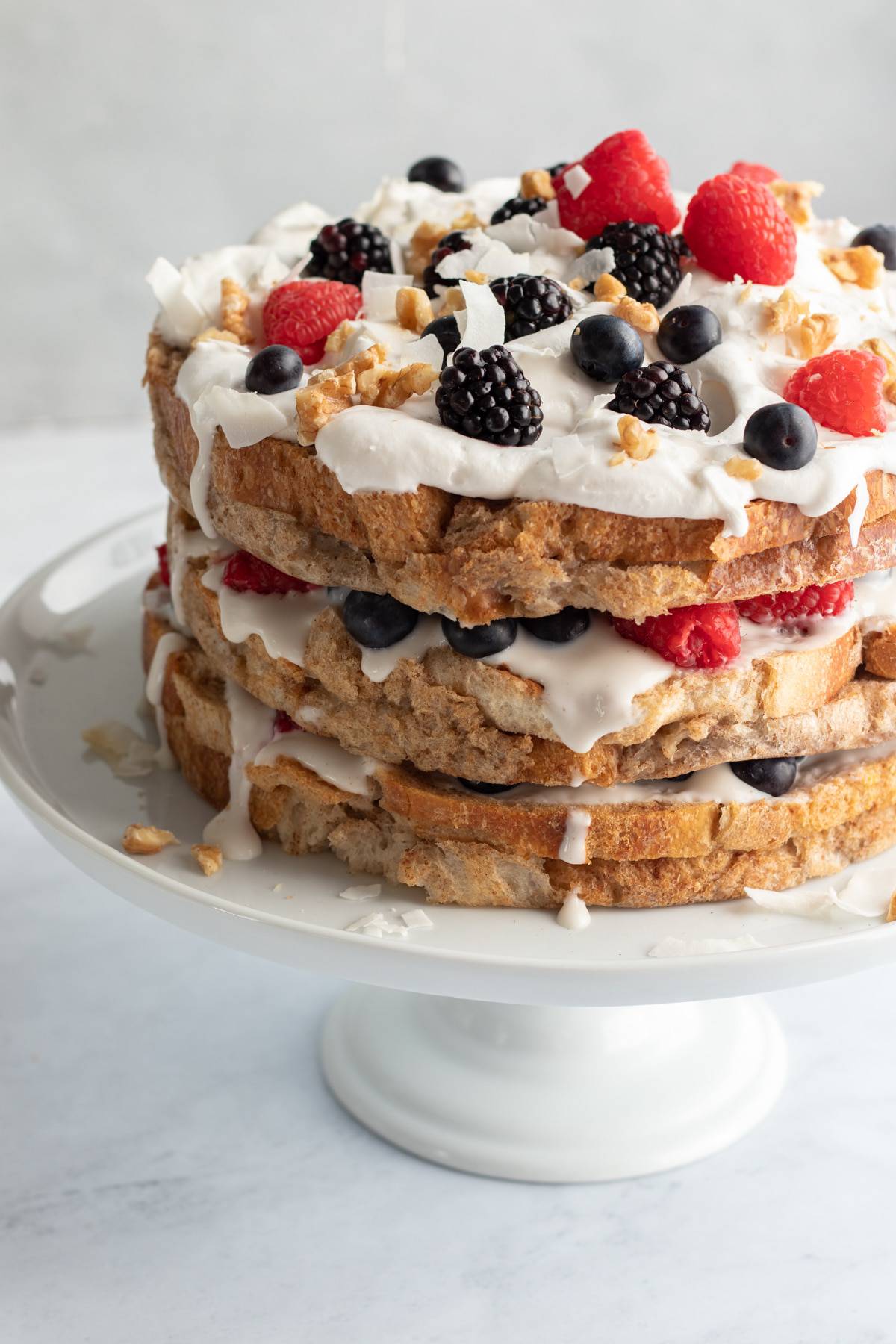 I hope you and yours enjoy this Vegan French Toast Breakfast Cake!
If you try it I would love to hear from you. Let us know in the comments below about the flavor combinations and garnishes you try, and give it a star rating, too. If you feel like sharing a photo of your insta-worthy French toast be sure to tag me with @myquietkitchen.
Enjoy!
You might also like:
📖 Recipe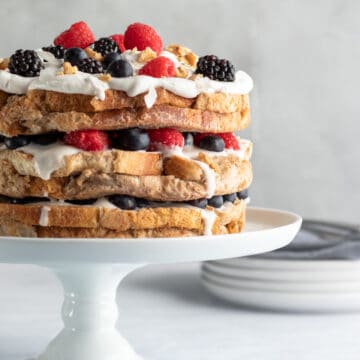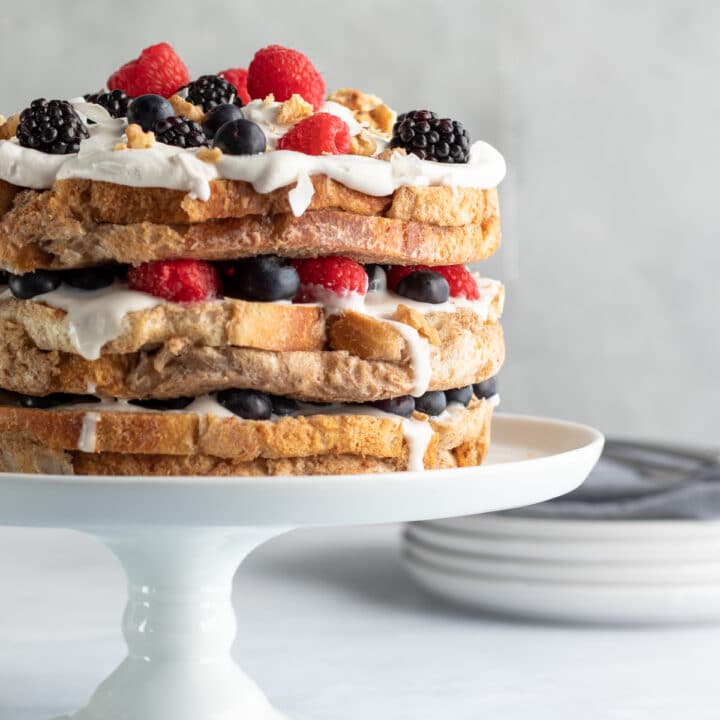 Vegan French Toast Breakfast Cake
Three layers of easy, baked French toast are topped with yogurt, berries, and coconut whipped cream for a gorgeous vegan breakfast everyone will love! Perfect for entertaining and special occasions. Free from oil and refined sugar. Can also be soy- and nut-free.
Equipment needed: three 8-inch cake pans (see Notes for scaling down)
Ingredients
For the French toast:
24

ounces

sourdough or other sturdy vegan bread (either whole loaf or pre-sliced sandwich bread is fine) -

I used an entire loaf of pre-sliced sourdough from Trader Joe's, about 20 slices.

3 ¼

cups

unsweetened non-dairy milk

-

I used plain soy milk.

½

cup

maple syrup

3

Tablespoons

corn starch or arrowroot

3 ¼

teaspoons

cinnamon, divided

1

Tablespoon

vanilla
Instructions
Preheat oven to 400 degrees. Line three 8-inch cake pans with parchment; let the parchment come up the sides of the pan for easy removal and to prevent sticking.

If starting with a whole loaf of bread, cut it into slices about 2 inches thick. Cut off the top crust of the breaf if it seems extra tough.

In a large, shallow dish, whisk together the milk, maple syrup, corn starch, 3 teaspoons of cinnamon, and vanilla. Working in batches, place 4 or 5 slices of bread in the batter, leaving them just long enough to get fully saturated. Lay one piece of bread in the pan, then tear other pieces before placing them in the pan, fitting them all together like a puzzle; this doesn't have to be perfect (see images). *If using pre-sliced sandwich bread, versus thicker pieces you sliced yourself, make two layers of bread in each pan.

Repeat this puzzle work for the other two cake pans. Lightly sprinkle the tops with cinnamon. Bake the French toast for 18 to 20 minutes or until hot in the center.

Allow to cool in the pans for 5 to 10 minutes, then transfer to racks to cool to room temperature.

Place one layer of French toast on a serving plate or cake stand, and spread ½ cup yogurt on top; don't go quite all the way to the edges (except in a few spots where you want it to run down the side). Arrange an even but somewhat sparse layer of berries on top of the yogurt (refer to photo in post). The berries serve as a pedestal to hold up the next layer of French toast, creating space between the layers. Repeat for the 2nd layer - French toast, yogurt, berries.

Place the top layer of French toast. Spread with additional yogurt OR use whipped coconut cream or store-bought vegan whipped topping for a more decadent option. Decorate with berries, nuts, and coconut. Slice with a serrated knife, and serve with maple syrup.
Notes
Storage:
As with standard French toast recipes, this is best made and assembled just before serving. Leftovers can be stored in the refrigerator for a day or two, but the bread won't taste as good as when freshly baked and layered with all the garnishes.
If you're not feeding a crowd and need a smaller recipe, adjust the slider in the recipe card (next to "servings") to the desired amount.
To scale for 9-inch pans:
Make a two-layer 9-inch cake by decreasing the French toast ingredients by about 20%. Reduce the yogurt and berries as desired.
Nutrition:
Nutrition will vary depending on ingredients used.
Estimated Nutrition (per serving)
Calories:
420
kcal
Carbohydrates:
71
g
Protein:
15
g
Fat:
9
g
Cholesterol:
0
mg
Sodium:
520
mg
Fiber:
7
g
Sugar:
19
g
Nutrition information is an estimate and will vary depending on the exact amounts and specific products and ingredients used. We calculate this information using the online calculator cronometer.com.
Tried the recipe?
I love hearing from you! Share your feedback below.