Waking up to a healthy breakfast that tastes like dessert AND is ready to grab-and-go? What's better than that?! With crisp, sweet apple, maple, and spices, overnight oats take just minutes to prepare, and the result is the perfect vegan breakfast (or snack)!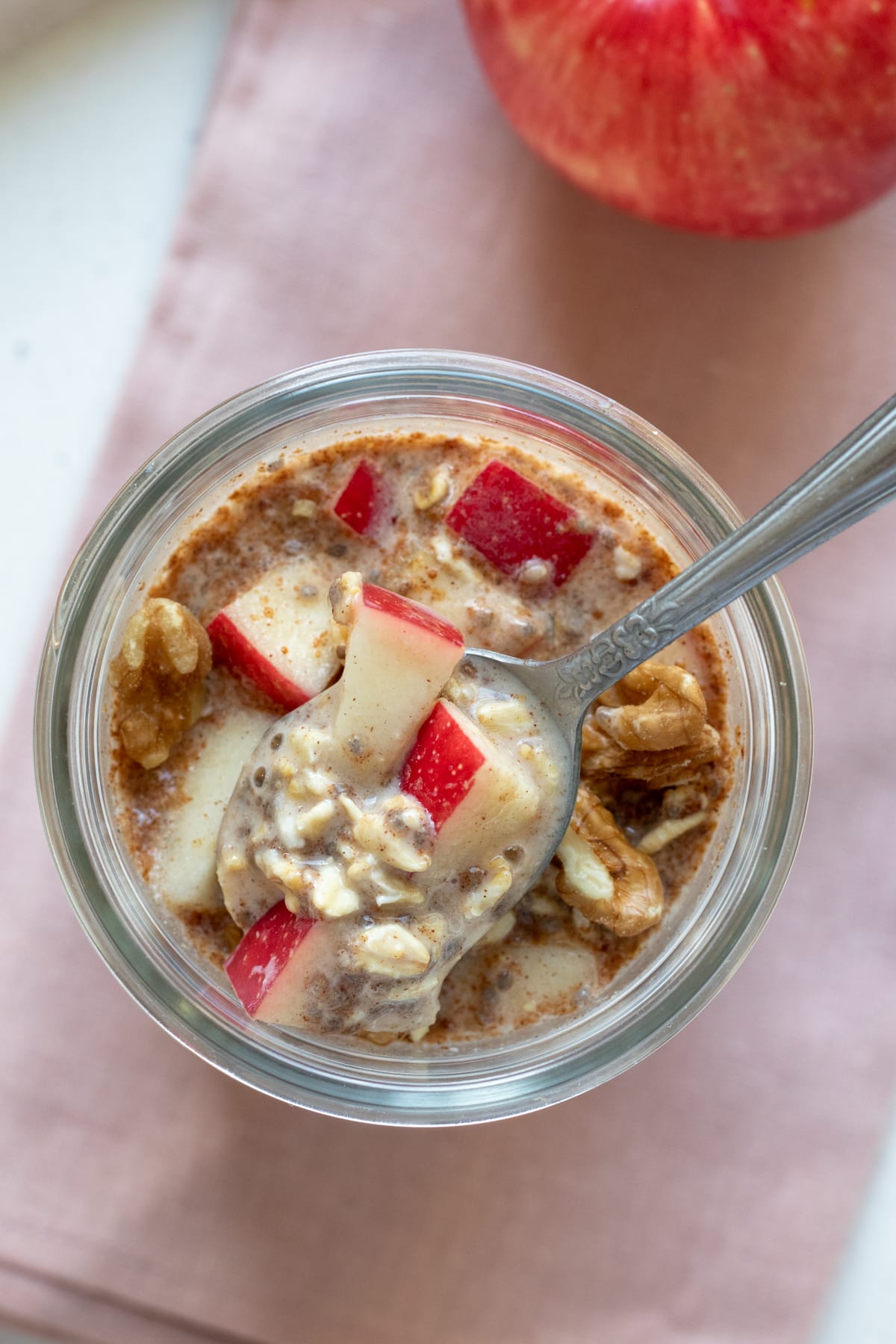 Overnight oats were popular for so long, I think maybe we all grew a bit tired of them. I mean, we are definitely a trendy, fickle bunch, aren't we? (hello, avocado toast!) I don't know about you, but I feel like it's time for an overnight oats comeback.
Anything that makes meal prep faster, easier, healthier, AND more delicious is what 2020 is all about. And this fall I've been hooked on these Apple Pie Overnight Oats!
You'll LOVE the crisp bites of sweet apple mingling with the creamy, cinnamon-y oats and chia. And the recipe is very low in fat so it's basically a blank slate for adding your favorite nuts, seeds, or nut butter in the morning.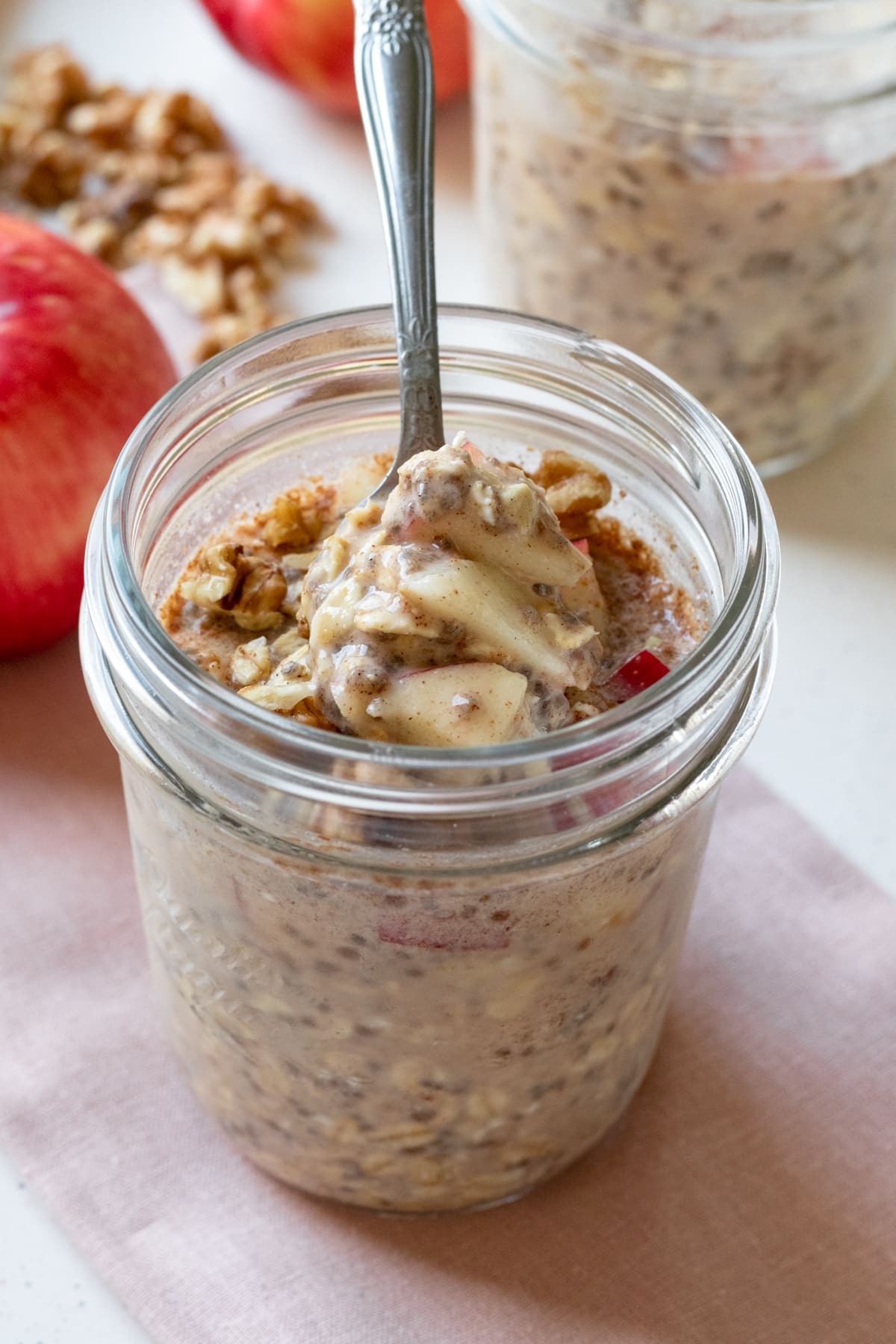 Ingredients & How To
When I make overnight oats, I want it to be easy, like really easy. If you agree with me you'll love this version because other than chopping an apple, there is zero work involved in preparing these oats!
Here's a summary of what you'll need:
Rolled oats
Chia seeds
Ground cinnamon & ginger
Pinch of sea salt, optional
Unsweetened non-dairy milk of choice - vanilla almond milk tastes great here
Maple syrup or your favorite sweetener
1 small apple - I like sweet varieties for this recipe, such as gala or honeycrisp
Squeeze of lemon juice, optional - adds a subtle, fresh, tartness
Combine the dry ingredients in a pint jar or small storage container. Pour in the milk and maple syrup, and stir to combine. Drizzle lemon juice on the chopped apple, and toss to coat. Add the apple to the jar, and stir to combine.
Cover and refrigerate the oats anywhere from 2 hours to 2 days, then dig in and enjoy!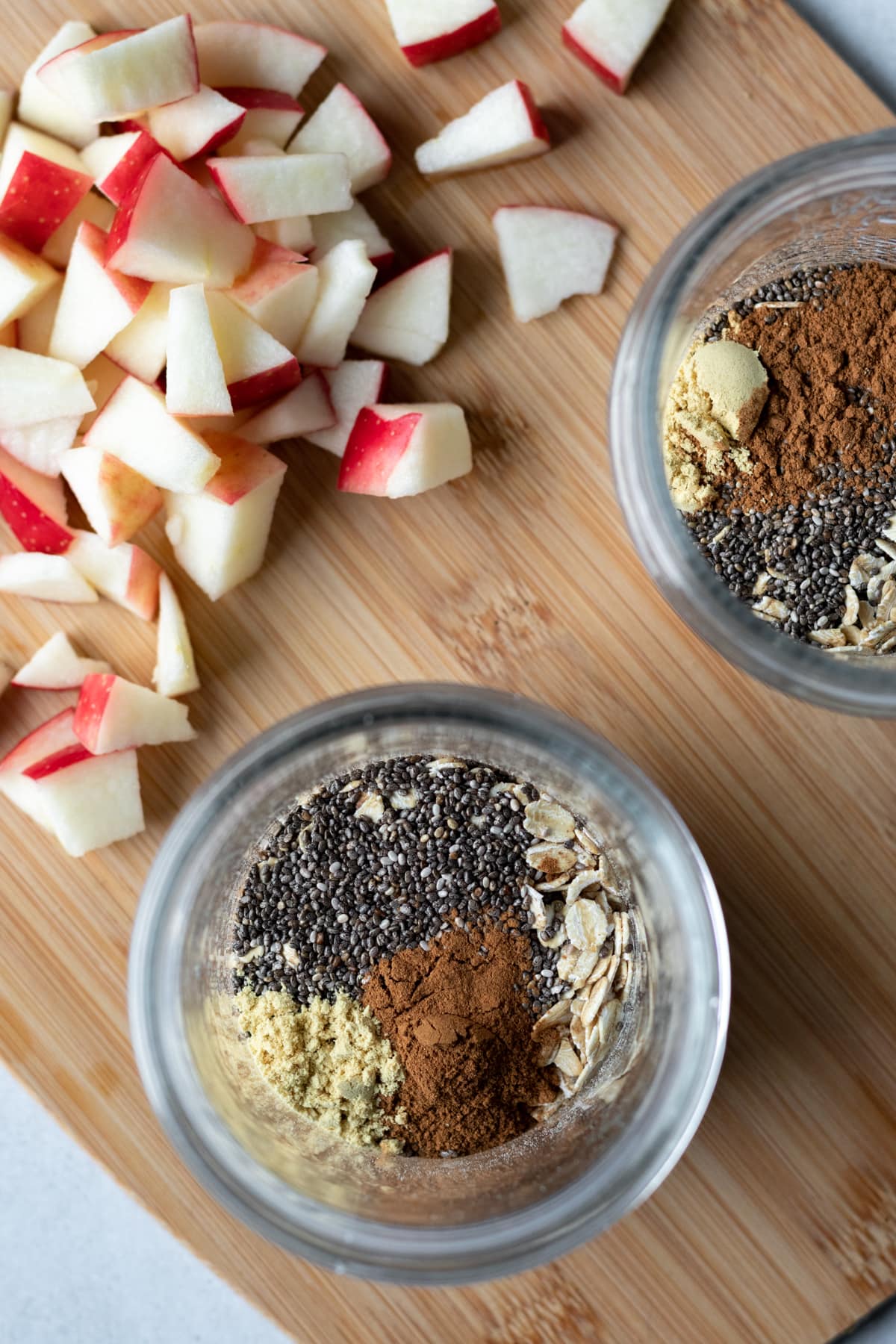 Tips and Overnight Oats Q & A
Can I heat overnight oats? You bet! Just warm them briefly in a microwave or transfer the mixture to a small saucepan and heat on the stove.
Are oats gluten-free? Technically, yes, oats are gluten-free. However, cross contamination can occur during processing. In the US it's fairly easy to find oats that are certified gluten-free, but that's not the case in some countries. NOTE: there is a different protein that naturally occurs in oats that can cause a problem for a small percentage of people with Celiac disease. So if you're cooking for someone with Celiac or a gluten intolerance, it's always best to ask if they're okay with oats.
Are overnight oats filling? They are! But it also depends on how big your appetite is. The awesome thing about overnight oats is that it's very easy to increase the number of calories if you are extremely active (or if you're feeding a hungry teenager)! Stir in your favorite nut or seed butter for extra staying power. Vegan protein powder is another option, but it will affect the yummy apple pie flavor.
Can I make overnight oats without chia seeds? Absolutely. Chia seeds add a nice creaminess and healthy Omega-3s to overnight oats, but you can omit them or replace with hemp hearts for another vegan source of Omega-3.
Can I use quick oats? Yes again! The texture will be slightly different, but quick oats can be used to make overnight oats.
How long do overnight oats keep in the fridge? Some sources say they'll keep for up to 4 days, but I prefer to play it safe and eat my prepared overnight oats within 2 days.
Should I peel the apple? That's a personal preference. It works just fine either way! I like to leave the peel on because it looks nice and adds nutrients.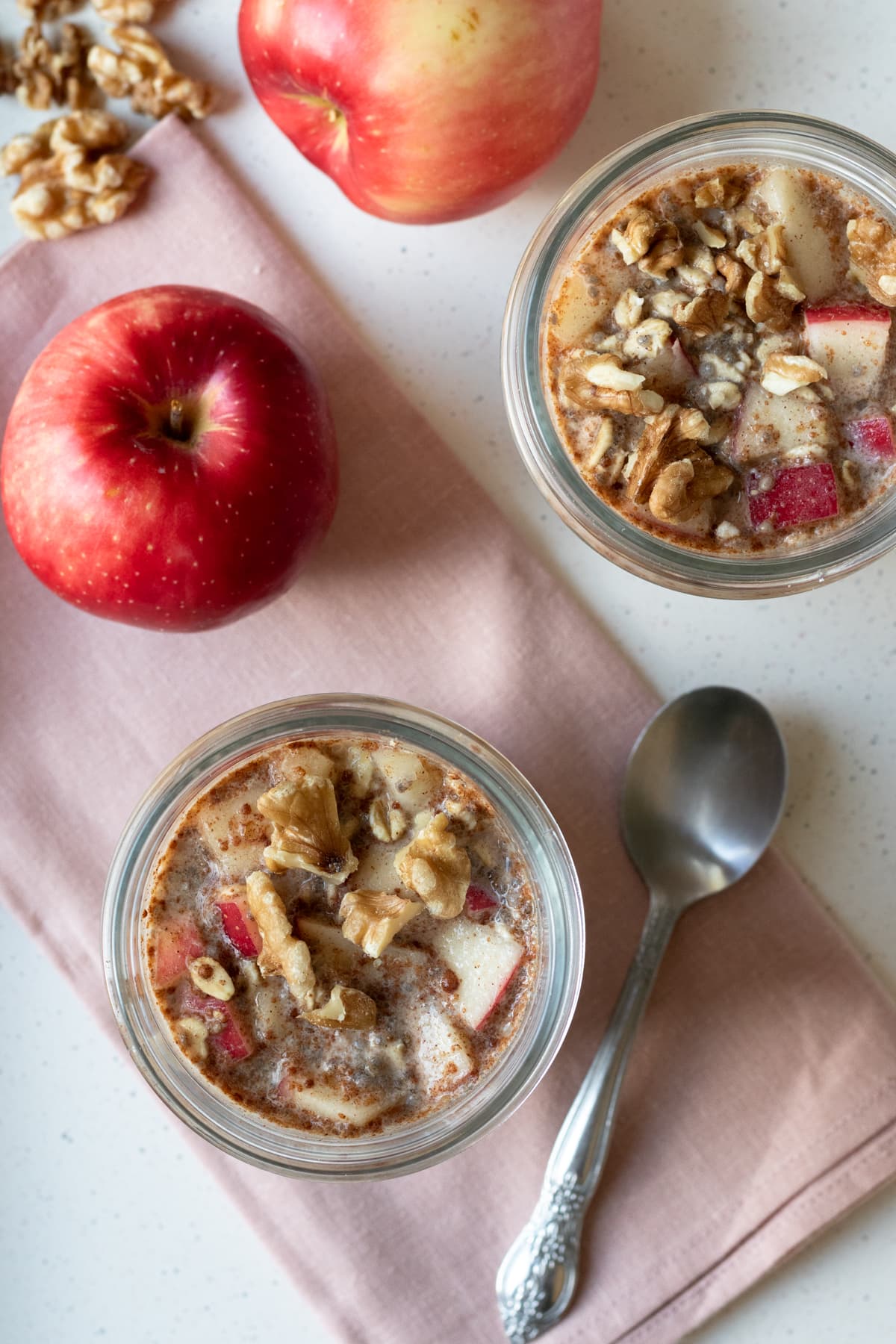 More healthy vegan breakfast ideas:
Overnight Yogurt Oats
Apple Cranberry Baked Oatmeal
Chocolate Banana Baked Oatmeal
Loaded Vegan Breakfast Muffins
Breakfast Mug Muffin
Homemade Cultured Cashew Yogurt
Blended Oat Breakfast Drink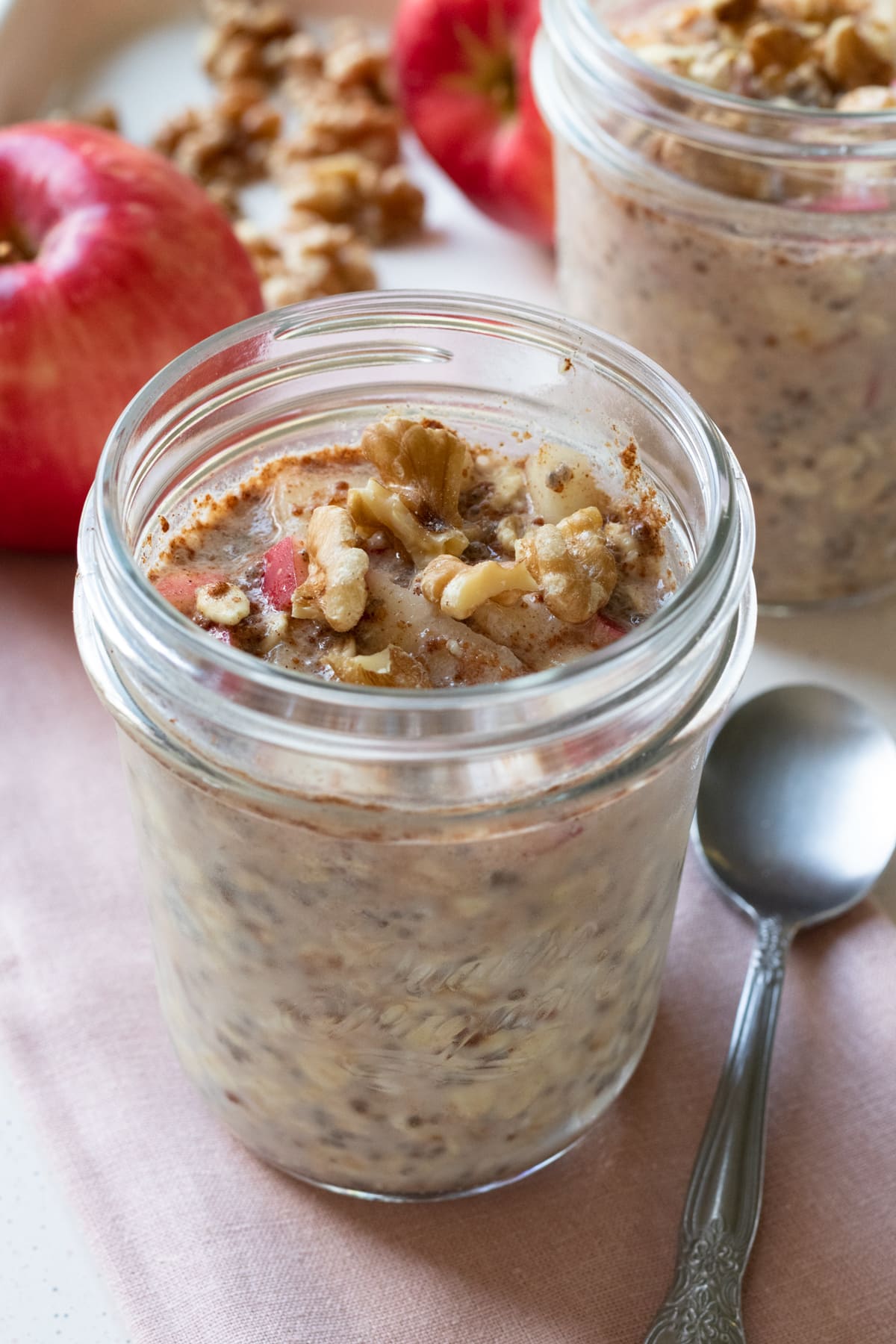 Connect with My Quiet Kitchen on Facebook, Instagram, and Pinterest, and subscribe via email to receive all of the latest recipes!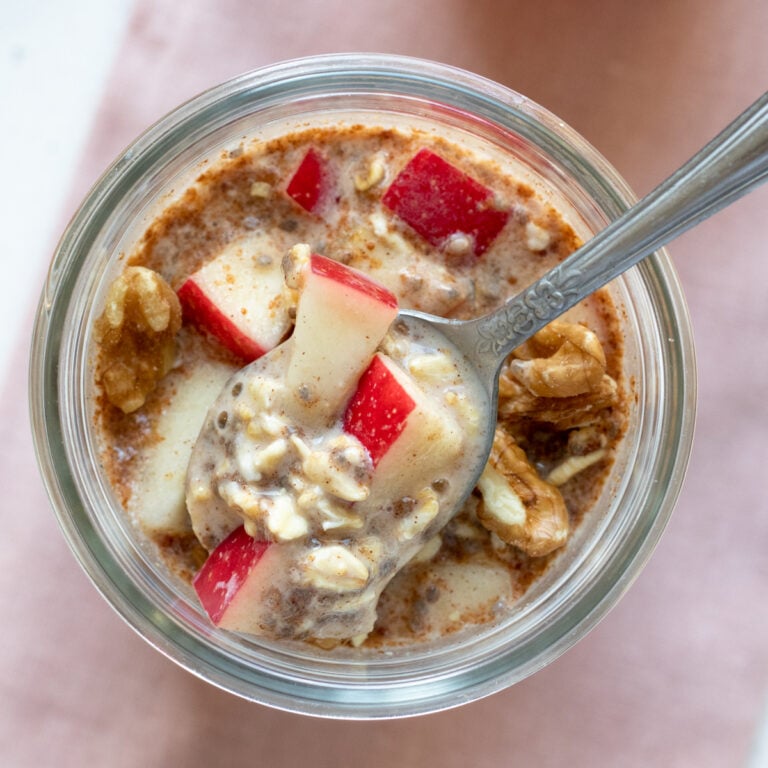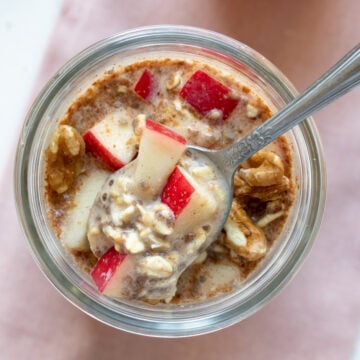 Easy Apple Pie Overnight Oats
With bits of sweet apple and a hint of maple-cinnamon, this healthy overnight oats recipe is delicious warm or cold and makes a delicious breakfast or snack! Vegan, oil-free, gluten-free; depending on milk choice can be free from nuts, soy, and coconut.
Ingredients
⅓ to ½

cup

rolled oats

Certified gluten-free if needed.

2

teaspoons

chia seeds

½

teaspoon

ground cinnamon

¼

teaspoon

ground ginger

small

pinch of

sea salt, optional

approx. ½

cup

unsweetened vanilla non-dairy milk

up to 1

tablespoon

maple syrup

Or sweetener of choice, to taste.

1

small

apple, cored and chopped into small bite-size pieces

2

teaspoons

lemon juice, optional
Instructions
In a pint jar or small storage container combine the oats, chia seeds, cinnamon, ginger, and pinch of salt, if using. Add the milk and maple syrup, and stir to combine.

Drizzle lemon juice onto chopped apple. Add apple to the jar, and stir again. Cover and refrigerate for at least 2 hours and up to 2 or 3 days before serving.
Notes
After chilling for a day or two the oats may become too dry or thick. Just add more milk until they're as creamy as you like.
A dollop of vegan yogurt also tastes fantastic with the apple pie flavor!
Nutrition
Calories:
290
kcal
Carbohydrates:
57
g
Protein:
6
g
Fat:
6
g
Fiber:
10
g
Sugar:
24
g
Vitamin A:
338
IU
Vitamin C:
15
mg
Calcium:
320
mg
Iron:
3
mg
Tried the recipe?
Comment below to let us know how it was!