This light and flavorful vegan chickpea salad with dill is simple to prepare and makes a perfect weekday lunch. Prepare it with store-bought vegan mayo or use the included oil-free mayo recipe!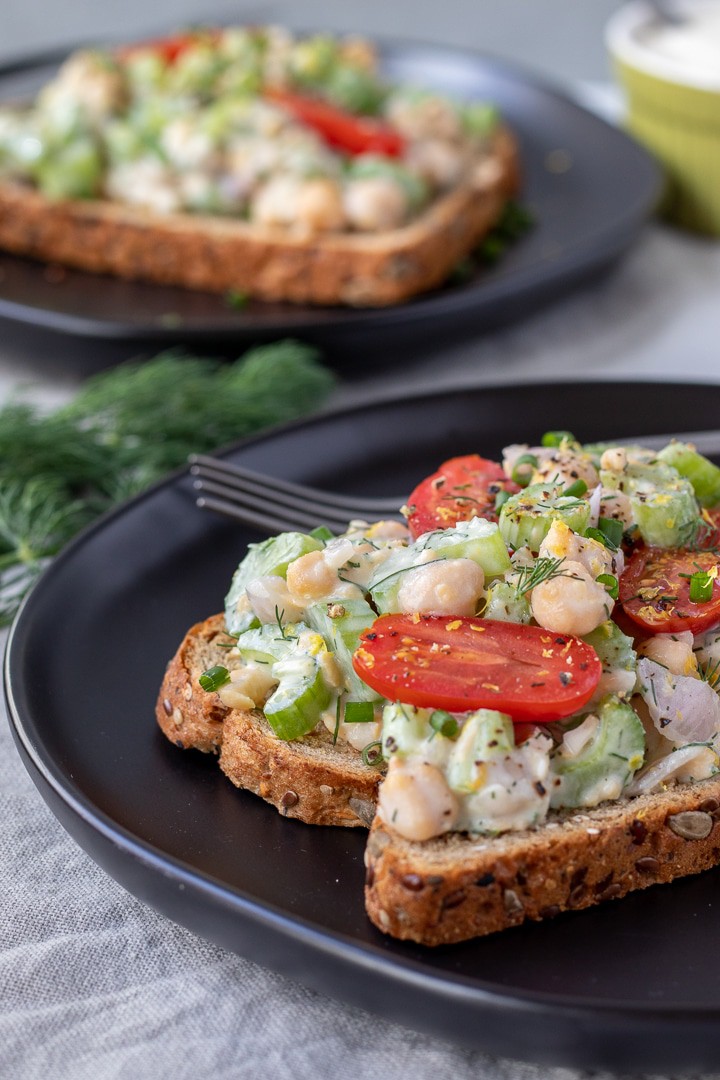 Looking ahead to spring and summer, I'm so excited about using more fresh herbs. You could say this chickpea salad recipe is the kickoff party for more herb-centric posts to come; it's also the result of me issuing myself a bit of a challenge.
Though I love cooking with herbs like rosemary, basil, parsley, and sage, dill has never really been a go-to herb for me. So in addition to this quick and easy chickpea salad with dill, I'm working on another dill recipe that will be ready to share soon, jackfruit with mango, dill and roasted poblano.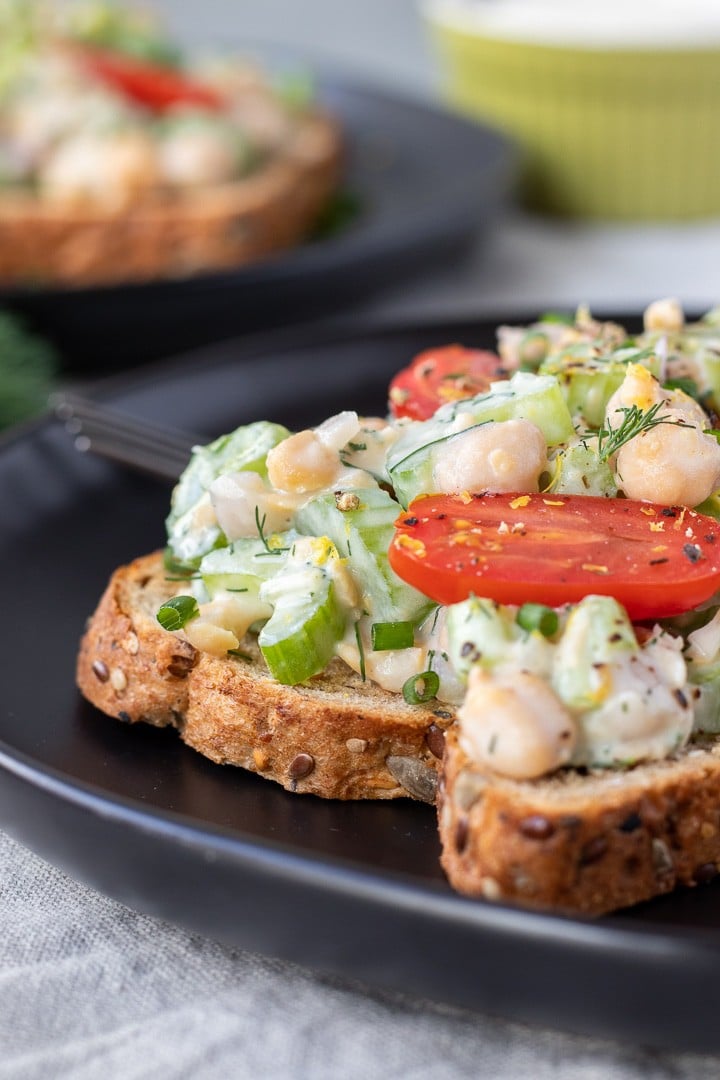 How to Make Oil-Free Tofu Mayo
For starters, there are MANY different ways you can make vegan mayo at home. You can use cashews, aquafaba, various oils, tofu, and/or any combination thereof.
The version I'm sharing today is for those times when you want something on the lighter side. I decided to go with silken tofu alone (plus lemon and other flavorings), and not use any thickeners, gums or added fats. I've made this mayo before with the addition of corn starch, which thickens it nicely. If you want to try that variation, here's what you do differently:
Heat half of the tofu in a pan with 1 tablespoon of corn starch. Whisk constantly and once thickened, remove from heat. Add it to the blender with the remaining ingredients as described in the recipe below. Done!
And though that's easy enough and does produce a slightly thicker mayo, we're going for total simplicity today. I don't mind the thinner version, so maybe you won't either. They taste exactly the same - bright, salty and tangy!
This oil-free vegan mayo recipe is SO quick and easy. Simply blend the ingredients until smooth (high speed blender NOT required this time - woohoo)!
Refrigerate until ready to use, and that's it! Could it be any easier? As I mentioned above, it's perfect for those of you who avoid oil for health reasons or for anyone watching their calories.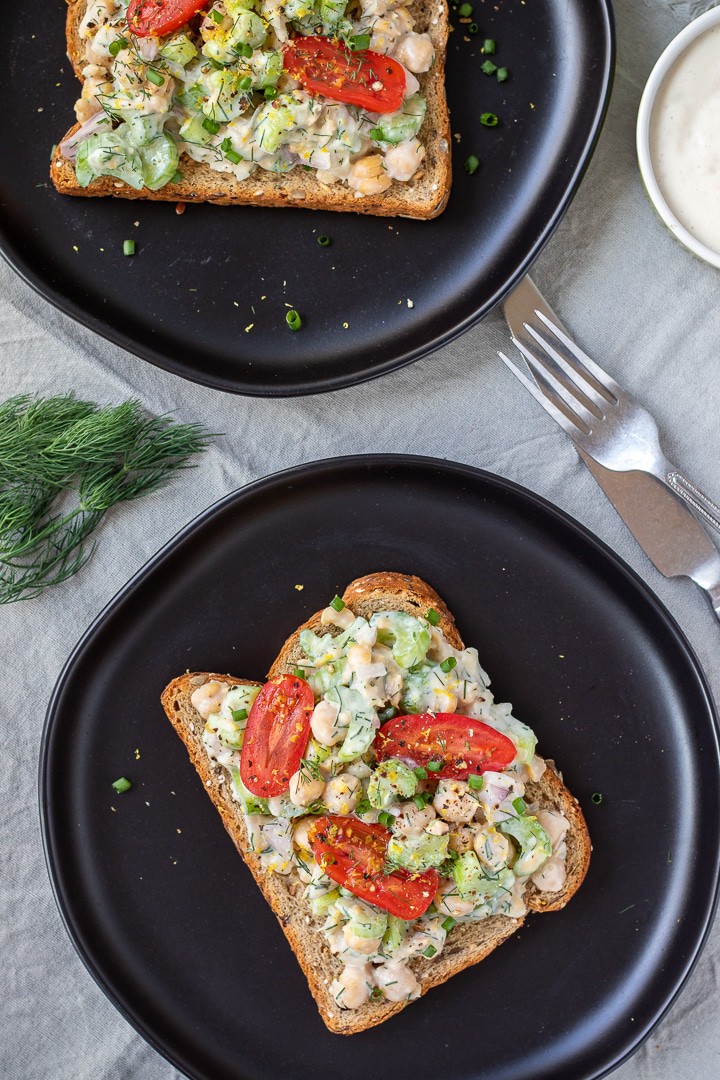 How does this low-calorie mayo taste?
Obviously, full-fat mayonnaise is delicious, and we're lucky to have so many rich and tasty vegan mayo options in the stores these days. But many of us just can't justify using an ingredient that packs nearly 100 calories per tablespoon, almost all of which is fat. Silken tofu to the rescue!
I fully admit this low-calorie, oil-free, sugar-free mayonnaise is not AS delicious as its fat-laden counterparts, but with the acidity of lemon and vinegar, the creaminess of tofu, and a satisfying amount of sea salt, it more than gets the job done.
I actually think it's quite tasty in its own right, and considering that it only has about EIGHT calories per tablespoon, it gets tastier with every bite!
Update: check out our new favorite vegan mayo, Oil-Free Vegan Aquafaba Mayo!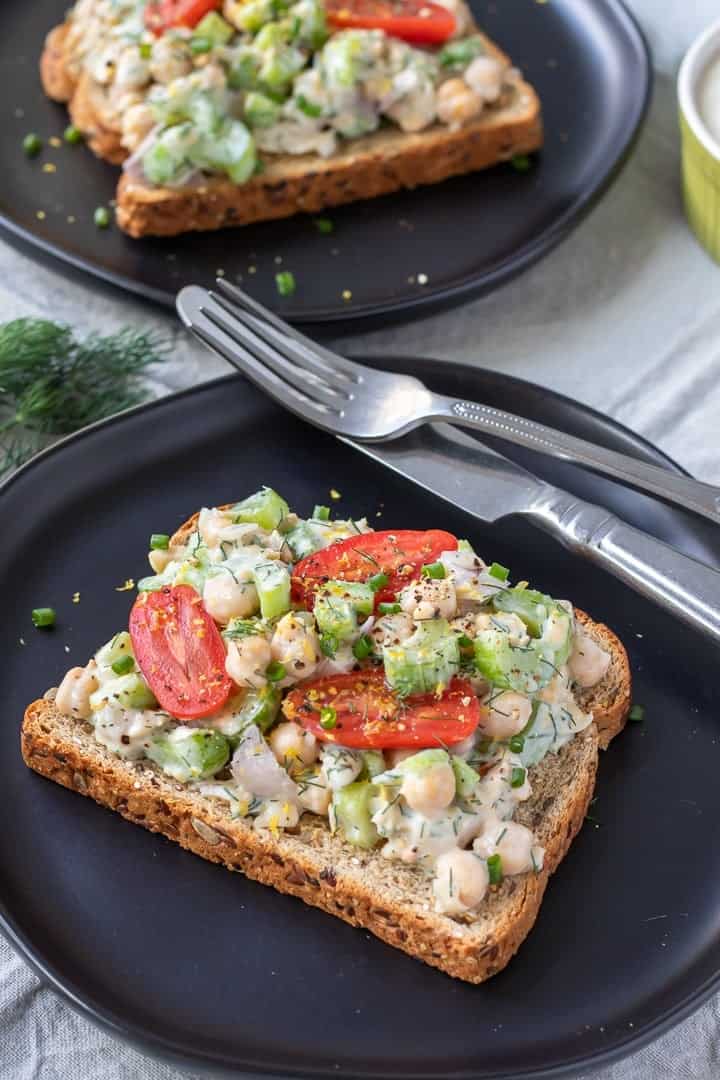 One more ingredient usually found in mayonnaise that you won't find in this recipe is sugar. The lemon juice adds just enough natural sweetness that I find the added sugar unnecessary. But feel free to add a teaspoon of sugar or agave syrup to your mayo if you like!
How to Make Chickpea Salad
Well, there's not much I need to tell you about the chickpea salad itself. Crunchy celery, chickpeas, a bit of shallot, fresh dill, lemon zest, salt and pepper. It's a classic.
If you like other additions in your chickpea salad, feel free to experiment. Some people love the sweetness of grapes or chopped apple, but I'm not usually one to add fruit to my savory dishes. Raisins on the other hand! Mmmm, I could totally get behind raisins in this particular chickpea salad.
But hey, you do you! The most important thing is that you're eating beans, which are good for you, and you're making your own food, which is also very important for health.
Other delicious additions: chopped green onion and/or chives, cucumber, tomato, and bell pepper.
I hope you enjoy this easy and healthy Chickpea Salad With Dill. If you make the recipe I would love for you to rate it and leave a comment below. Cheers to a healthy lunch!

You might also like:
Oil-Free Aquafaba Mayo
Vegan "Tuna" Salad (chickpeas + jackfruit)
Tahini Salad Dressing (5 Ways)
Vegan "Chicken" Salad
Kimchi-Marinated Tempeh Wraps
Creamy Vegetable Noodle Soup
📖 Recipe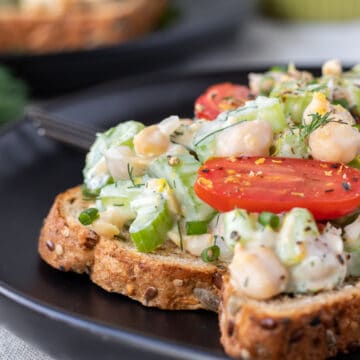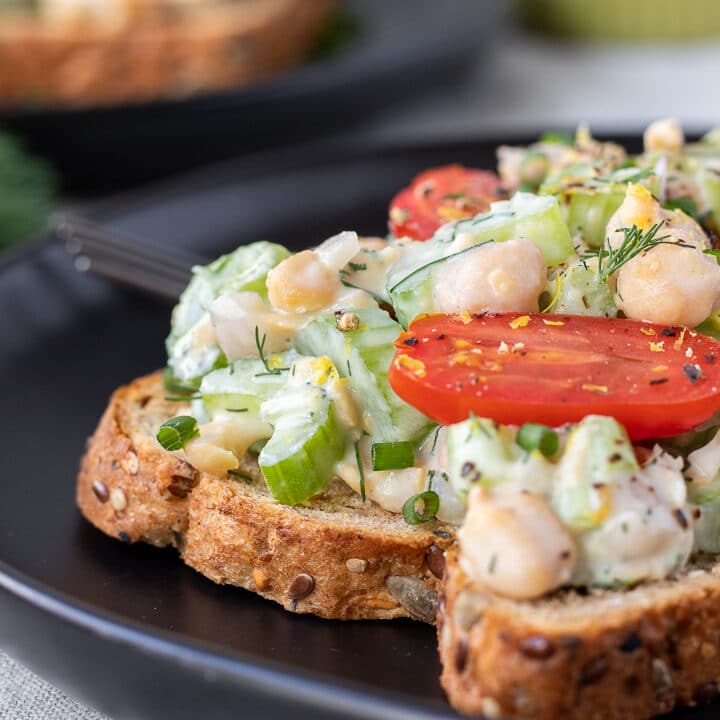 Chickpea Salad With Dill
Healthy chickpea salad made with fresh dill, celery, shallot and lemon zest, plus a recipe for low-calorie, oil-free vegan mayo!
Ingredients
For Oil-Free Vegan Mayo (see Notes):
½

pound

silken tofu

½

teaspoon

mustard powder

½

teaspoon

salt

2

teaspoons

fresh lemon juice

1

teaspoon

apple cider vinegar
For the chickpea salad:
2

cups

cooked chickpeas (or one 15 oz. can, drained and rinsed)

1

cup

chopped celery (4 or 5 ribs)

¼

cup

chopped shallot

½

cup

oil-free tofu mayo or ¼ cup store-bought vegan mayo

1

Tablespoon

minced fresh dill

lemon zest (from about half a lemon)

pinch of

sea salt

black pepper
Instructions
To make the mayo:
Place a clean, lint-free towel on a plate or cutting board. Cut the tofu into 3 or 4 pieces and carefully place on the towel. Let sit for 10 minutes or so, while you gather the other ingredients. **The idea is to reduce the amount of moisture in the tofu as much as possible because we're not adding any thickeners, gums or fats.**

Transfer the tofu to a blender with the dry mustard, lemon juice, vinegar and salt. Blend until smooth. Taste for salt, adding a pinch more if desired. Transfer the mayo to a bowl or glass container, cover, and refrigerate. Use within 3 to 4 days.
To make the chickpea salad:
Place the chickpeas in a bowl and gently mash with a fork. Add the celery, shallot, mayo, dill, and lemon zest, and stir to combine. Sprinkle with salt and pepper. Taste and adjust seasoning as desired.
Notes
Mayo Option:
For a slightly richer oil-free mayo, try this Aquafaba Mayo.
Storage:
Store leftover chickpea salad in the refrigerator for up to 3 days.
Nutrition represents one serving of chickpea salad, not including bread.
Estimated Nutrition (per serving)
Calories:
175
kcal
Carbohydrates:
26
g
Protein:
10
g
Fat:
4
g
Saturated Fat:
0
g
Cholesterol:
0
mg
Sodium:
600
mg
Fiber:
8
g
Sugar:
6
g
Vitamin A:
300
IU
Vitamin C:
8.3
mg
Calcium:
80
mg
Iron:
1.6
mg
Nutrition information is an estimate and will vary depending on the exact amounts and specific products and ingredients used. We calculate this information using the online calculator cronometer.com.
Tried the recipe?
I love hearing from you! Share your feedback below.