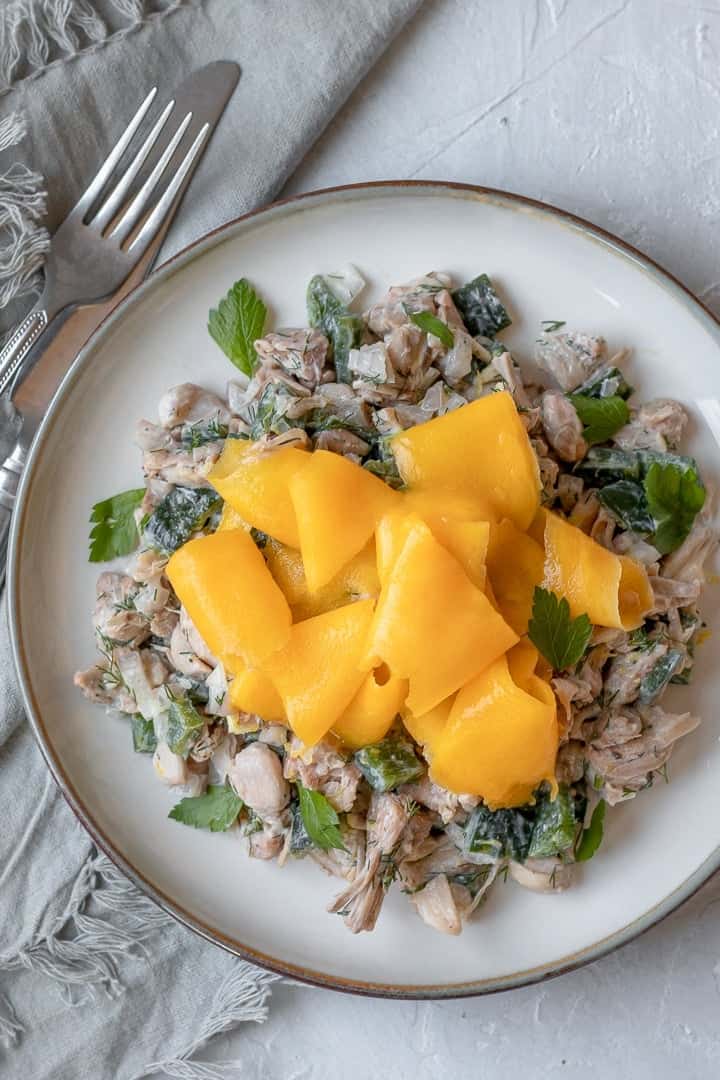 A vegan take on crab salad, this Jackfruit, Mango and Dill Salad is a refreshingly light dish that comes together in just 30 minutes. With canned jackfruit, shallot, dill, lemon, and roasted poblano pepper, it's perfect as an appetizer or side. You can also double or triple the recipe for a party! Or add beans and a whole-grain for a satisfying main dish. Gluten-free with an oil-free option.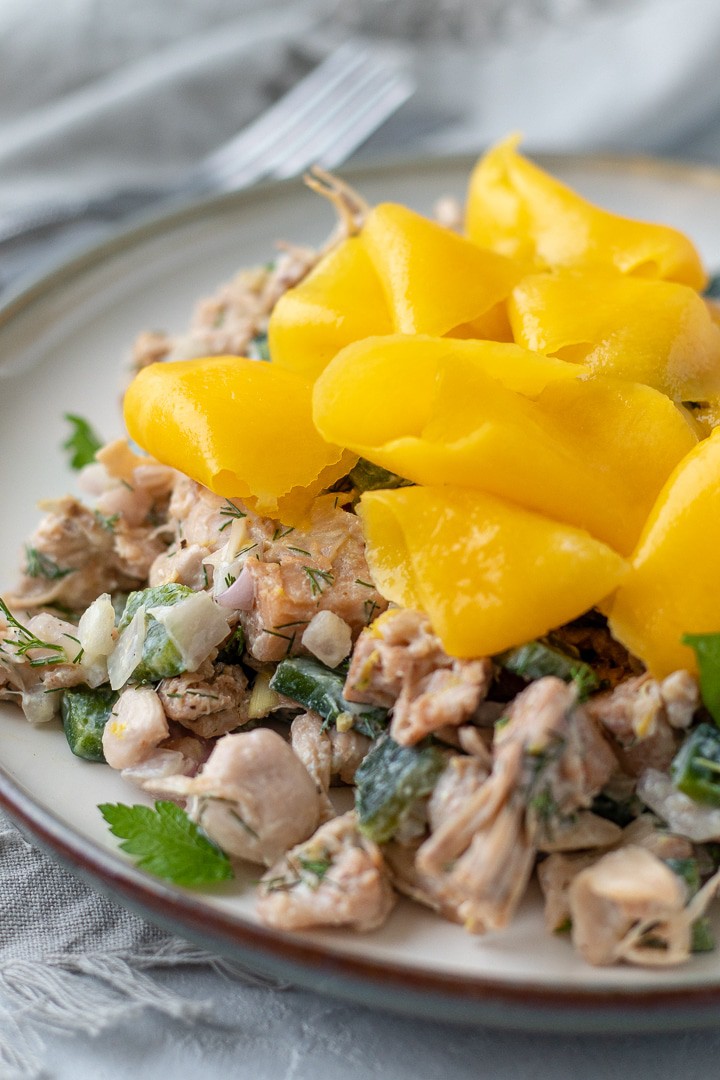 The Inspiration for Jackfruit, Mango and Dill Salad
This recipe was inspired by and adapted from a crab dish in the cookbook The Flavor Matrix by James Briscione. I was recently studying the book because I wanted to learn more about the science behind flavor pairings. His recipe for crab, mango, dill and poblano salad really grabbed my attention! The recipes throughout the book are decidedly NOT vegan, but one look at the crab salad and I knew making a delicious vegan version would be easy. I also realized it was a perfect opportunity to experiment with jackfruit.
Jackfruit as a substitute for crab
Until this recipe I really hadn't been a huge fan of using jackfruit as a meat substitute. I have had amazing BBQ jackfruit sandwiches in restaurants, but as far as a simple version I could create at home from canned jackfruit, it just wasn't winning me over. For my taste buds, there's a subtle sweetness that stands out in purely savory dishes. And then there's the citric acid flavor from the brine the jackfruit is packed in. It was always just a little too strong, though I admit I'm encouraged to do some more experimenting now (notes included below on how to remove some of that flavor). But with this particular salad, the mild acidity and sweetness contributed by the jackfruit blends with the lemon and mango and is contrasted by the smokiness of the poblano pepper. In other words, it totally works! And the texture is perfect, soft, tender and slightly chewy.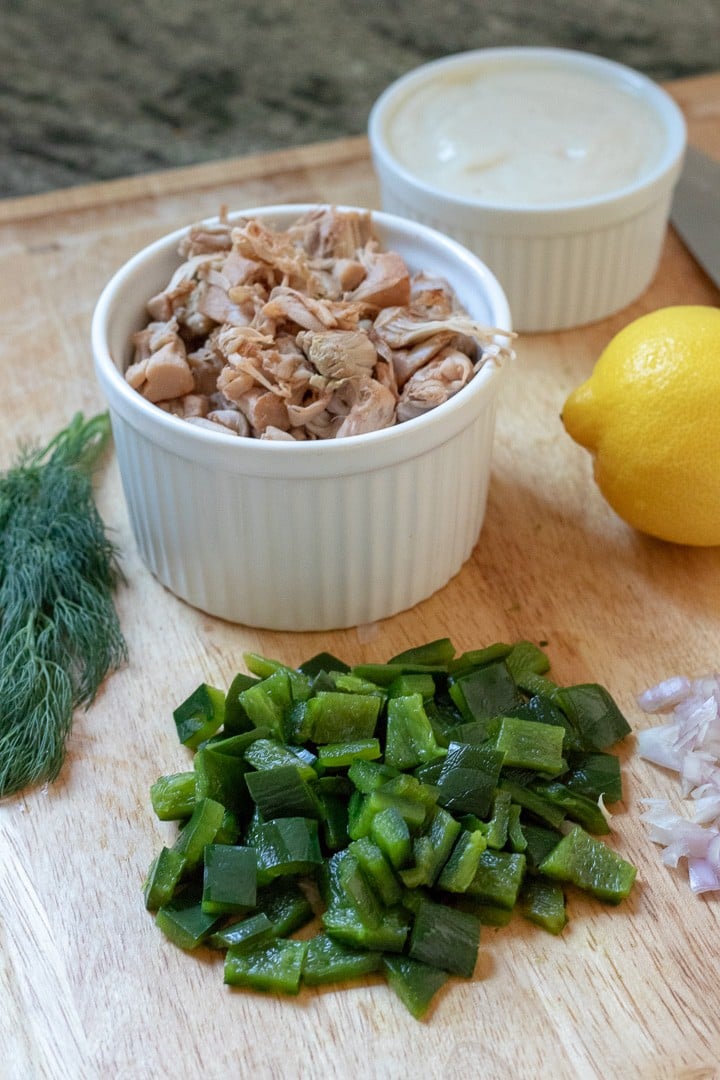 I know there are some jackfruit aficionados out there prepping jackfruit from scratch, but I haven't quite gotten there myself. And of course, I'm always thinking about you other home cooks out there who want quick and practical dishes. Thankfully, canned jackfruit has become so popular you can now find it in most stores. Just be sure to buy young, green jackfruit packed in brine, not syrup. Sometimes you'll find it in the Asian section. I used Trader Joe's brand for this recipe (look for the green label). My understanding of the "young and green" part is that we don't want ripe jackfruit when we're using it as a meat substitute. You know how a green banana isn't sweet compared to a ripe one? Yep, it's like that.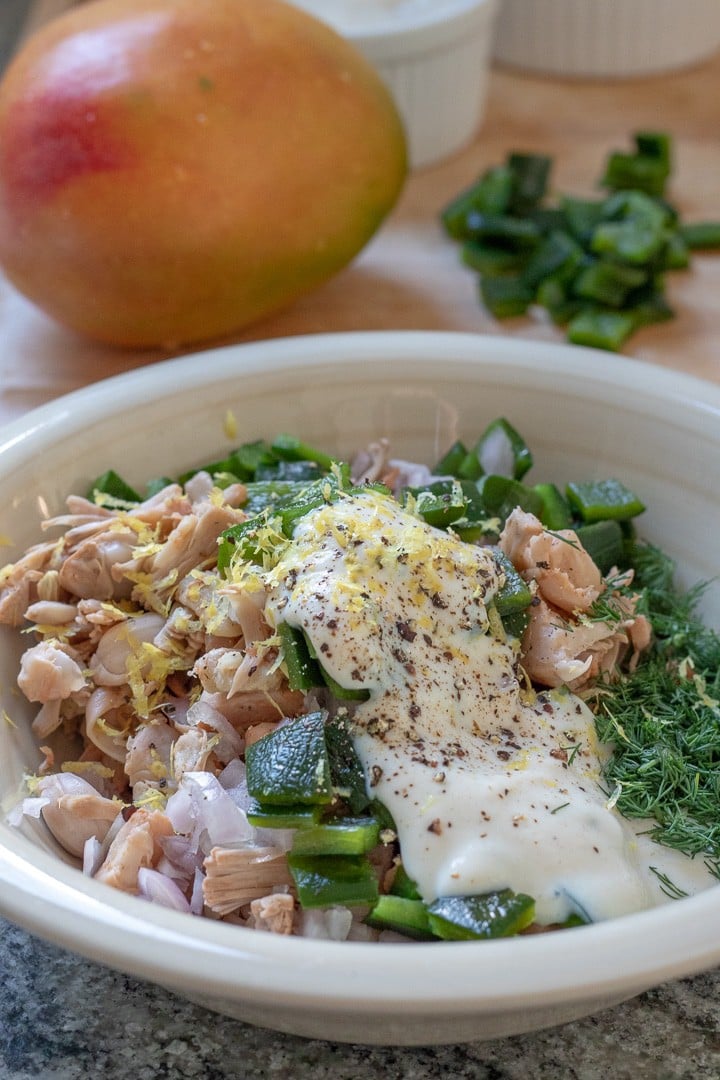 How to prepare the canned jackfruit
After draining the brine from the can, rinse the jackfruit a couple of times, and then place it in a bowl. Cover with water, let sit for a few minutes, and drain it again. Then place the jackfruit pieces on a clean, lint-free tea towel, and gather the ends of the towel together. Hold it over the sink and gently squeeze to remove some of the water/brine. You don't need to remove all of the liquid, just most. Place the towel on the counter and use your hands to gently tear the jackfruit into bite size pieces. If you come across any pieces of core that seem too tough to tear, discard those bits. Most of the jackfruit in the can from Trader Joe's was fine (I only had to toss out two small pieces). Now you're ready to briefly sauté the jackfruit. The recipe explains the rest of this super simple process.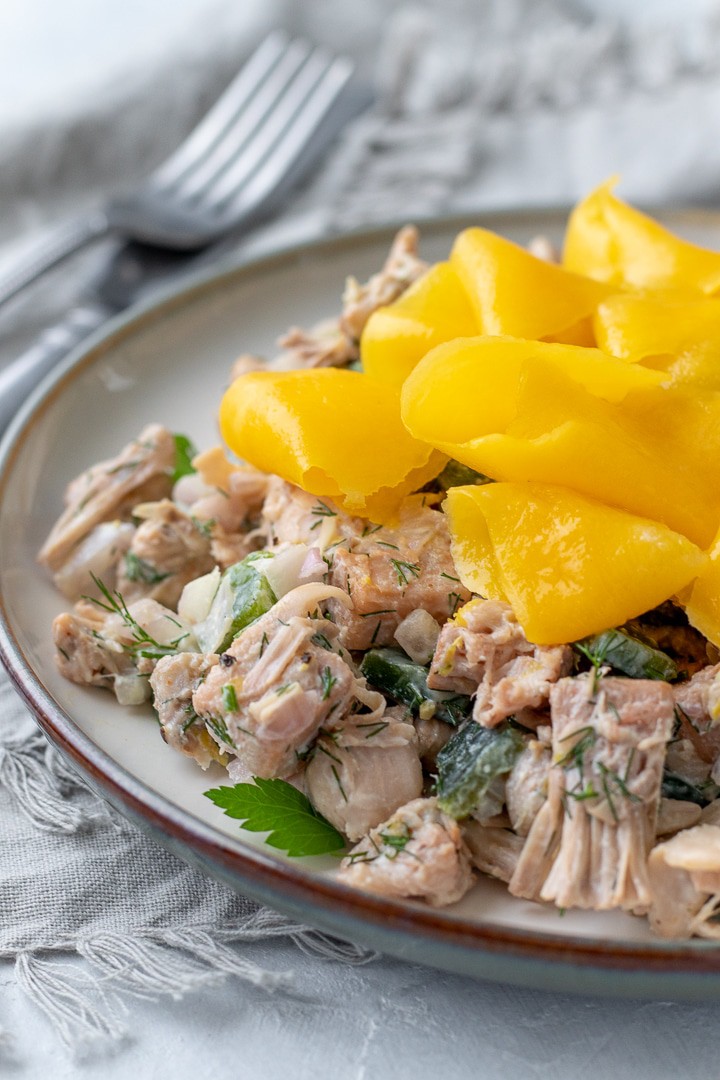 Use any vegan mayo you like
For the mayo in this recipe, I used some of the low calorie, oil-free mayo I had leftover from the recipe I shared earlier this week, Chickpea Salad With Dill. If you avoid oil or are watching your calories, you'll love it. You can omit the oil called for in the sautéing of the jackfruit, and roast the poblano without oil, as well. But if you're more interested in convenience and richness than avoiding oil, store-bought vegan mayo is great!
Do you see a theme here? Both of this week's recipes use dill and mayo, which is handy because when you buy dill at the grocery store you get WAY more than you need for any normal recipe. Even between these two dishes I still have a ton of dill left. It's such a strong herb, and a little goes a long way. I do have one more idea to help us use more dill. Update: check out this parsley and dill pesto.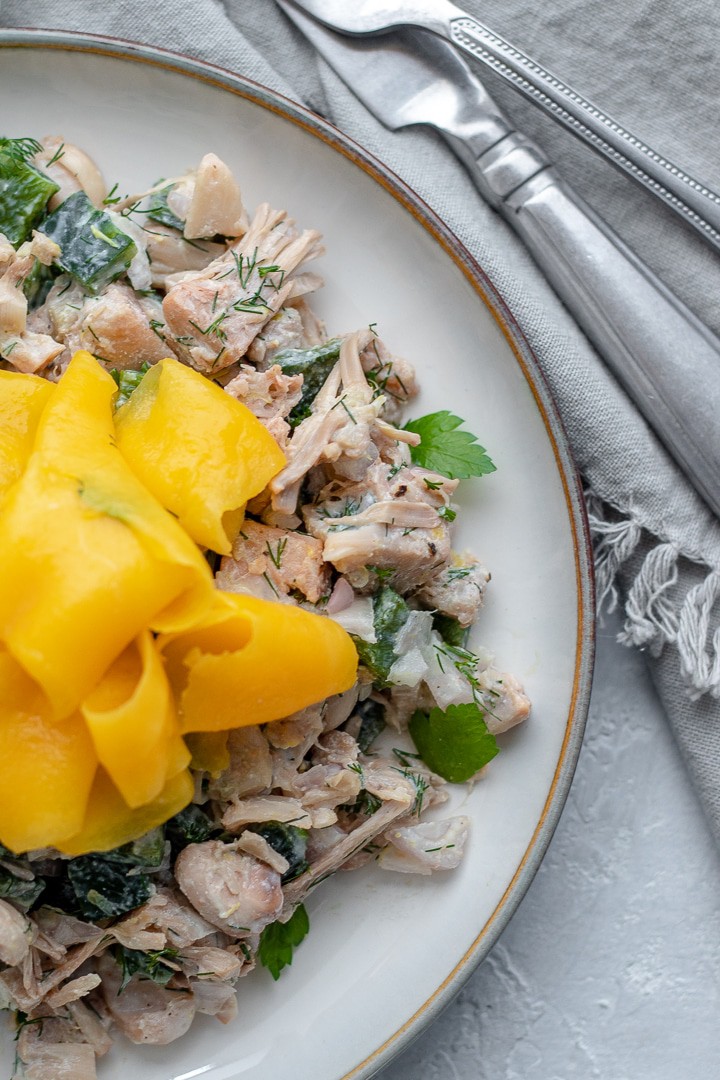 Assembling the salad is just a matter of stirring the ingredients together. And when you place the sweet, juicy ribbons of mango on top, an incredibly simple dish transforms into something that feels extra special. Garnish with parsley, chives, lemon zest, or more dill, if you like.
I hope you enjoy this Jackfruit, Mango and Dill Salad as much as we do! In fact, I plan to make it again next week for my birthday. 😀 If you try the recipe I would love to see a photo. Just share it on insta and tag @myquietkitchen. You can also rate the recipe and leave a comment below to let us know how it goes. Enjoy!
You might also like this fresh and healthy Pasta Salad With Parsley-Dill Pesto.
Jackfruit, Mango and Dill Salad
Vegan jackfruit salad made with shallot, fresh dill, mango, lemon zest and roasted poblano pepper. Perfect as an appetizer or side dish. Add plant-based protein and a whole grain for a satisfying meal. Serves 4 people as a side or 2 as a main dish.
Ingredients
1

poblano pepper

1 1/2

Tbsp

grapeseed oil, divided (omit for oil-free)

1

(20 oz) can

green jackfruit in brine, rinsed and drained well

1/4

tsp

Old Bay seasoning, optional

3 to 4

Tbsp

vegan mayo, store-bought or homemade

<--- click for an easy oil-free mayo recipe

1/4

cup

shallot, minced

1/2

lemon

zested and juiced

1

Tbsp

chopped fresh dill

salt

pepper

1

mango

parsley, optional
Instructions
Roast the poblano pepper (time tip: sauté the jackfruit while the pepper roasts):
Preheat oven to 425 degrees F. Wash and dry the pepper. Rub with a teaspoon of oil and place on a baking sheet. Bake for 6 to 8 minutes per side,

using tongs to carefully flip the pepper.

When the skin is wrinkled and shows an even amount of char, remove from the oven and place in a glass bowl.

Cover and let steam 5 to 10 minutes.

Uncover the bowl and peel the pepper. Slice off the stem end, remove the seeds, and chop. Set aside.
Prep the jackfruit:
As mentioned in the post, to reduce the amount of brine flavor, place the rinsed and drained jackfruit it in a bowl and cover with water. Let sit for a few minutes, then drain again. Place jackfruit on a tea towel, gather the ends of the towel together, and hold it over the sink while squeezing out most of the liquid. Use your hands to tear the jackfruit into bite size pieces, discarding any tough pieces of core.

Preheat a sauté pan over medium heat. Add the tablespoon of oil and the jackfruit. Cook 3 to 5 minutes, stirring occasionally. Add Old Bay seasoning, and stir to coat. Add a few tablespoons of water, cover the pan and allow the jackfruit to steam for 2 to 3 minutes. Add the lemon juice and a pinch of salt and stir. Remove from heat and let cool to room temperature.
Assemble the salad:
Place the jackfruit in a bowl and add the mayo, poblano, shallot, lemon zest, and dill. Stir to combine. Taste and add salt and pepper, if desired. Peel the mango. Use a paring knife or vegetable peeler to slice thin ribbons. Transfer jackfruit salad to a serving bowl and top with the mango. Garnish with parsley and/or more dill and serve.
Notes
Store leftovers in the refrigerator for up to 3 days.
Nutrition Facts
Jackfruit, Mango and Dill Salad
Amount Per Serving
Calories 117
Calories from Fat 36
% Daily Value*
Fat 4g6%
Cholesterol 0mg0%
Sodium 240mg10%
Carbohydrates 20g7%
Protein 1g2%
Vitamin A 700IU14%
Vitamin C 52mg63%
Calcium 40mg4%
Iron 0.9mg5%
* Percent Daily Values are based on a 2000 calorie diet.
Did you try it?
Let me know with a star rating and a comment. I love hearing from you!