Fresh herbs have a way of elevating a dish from good to WOW! with barely any extra effort on our part. Visually, they make a plate look beautiful. Aromatically, they excite. And flavor-wise, there's just nothing like herbs! Favorites like basil, parsley, thyme, dill, rosemary, mint, sage, oregano, and cilantro are all represented in this list. Oh, and in addition to being beautiful and delicious, something we tend to forget is that herbs are incredibly nutritious. Once again, plants for the win!
I asked some of my favorite bloggers for their best recipes using fresh herbs, and they definitely brought the goods! We have everything from appetizers and salads, to smoothies, entrees, and even a cocktail. At the bottom of the list I've included some of my own recipes that use fresh herbs (including my favorite rosemary cookie).
I hope this recipe roundup fills you with ideas and inspires you to incorporate more fresh herbs into your cooking. And if you've thought about growing your own herbs but haven't ventured there yet, maybe now is the time!
xo  – Lori
Warm Potato Salad With Herbs (with dill, parsley, chives and chive blossoms) by Sophie of Wholehearted Eats
I've loved German-style, olive oil-based potato salads since I was a kid, and this one has my FULL attention. With fresh green beans and brimming with shallot and chive, it's perfect for picnics, cookouts and leisurely summer dinners on the patio.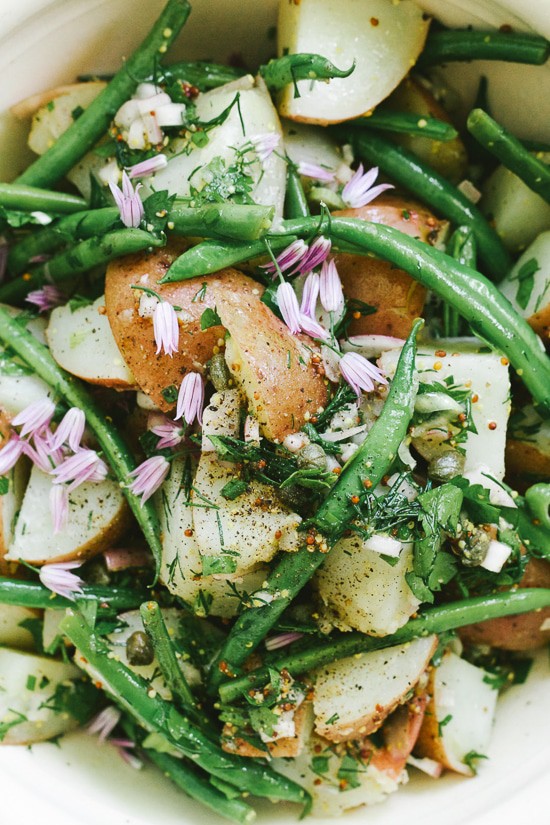 Warmed Castelvetrano Olives With Lemon and Garlic (featuring fresh thyme) by Cadry of Cadry's Kitchen
This elegant appetizer of buttery castelvetrano olives is a must for parties and holidays. Warmed in a skillet with garlic, thyme, and lemon zest, I can think of nothing better. Also, it sounds like Cadry loves olives as much as I do!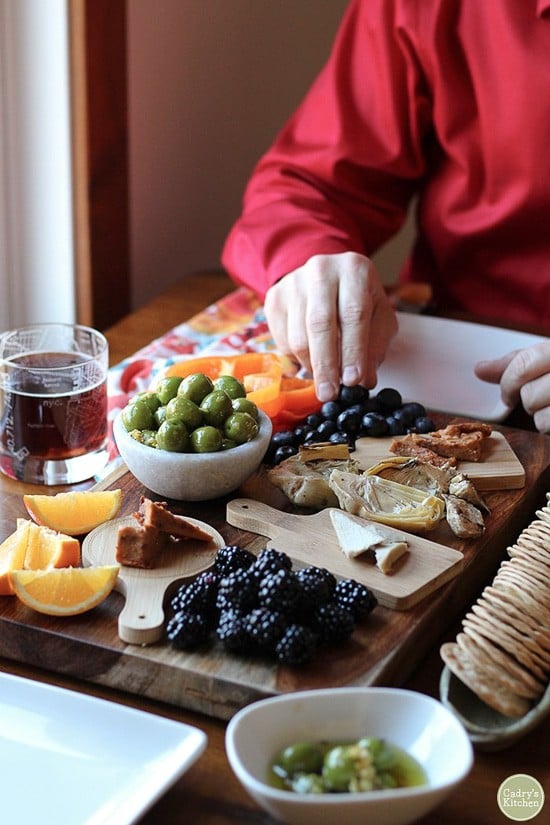 Greek Goddess Quinoa Salad (featuring parsley and cilantro) by Very Vegan Val
Marrying the flavors of a Greek salad with green goddess dressing (think Kalamata olives, cucumber, spinach, herbs and tofu), I can definitely make a meal out of this gorgeous quinoa salad from Very Vegan Val.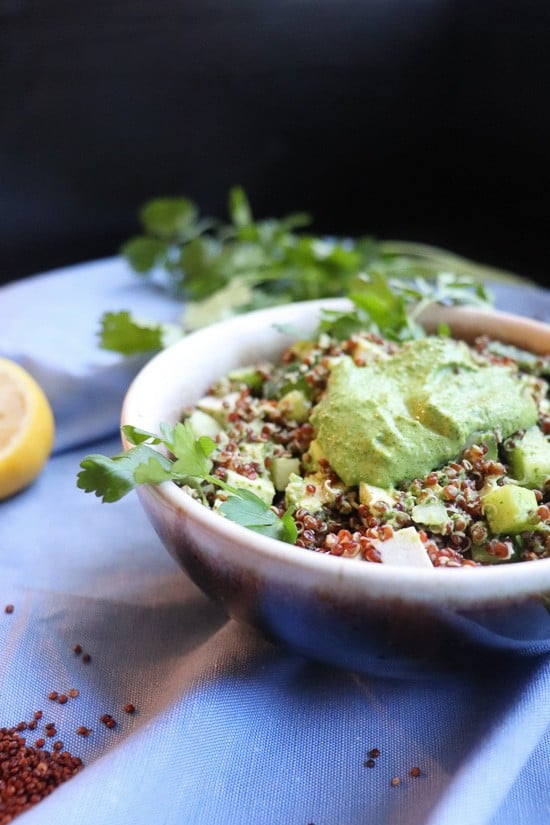 Raw Veggie Chopped Salad (with dill and parsley) by Jennifer of Veggie Inspired
Sometimes you want a veggie-rich salad that's perfect for potlucks and summer cookouts, with no wilting lettuce leaves in sight. That's exactly what Jen put together in this chopped salad recipe. It's oil-free and features broccoli, radishes, colorful peppers, cucumber and a tangy maple-dijon dressing. So many of my favorite things!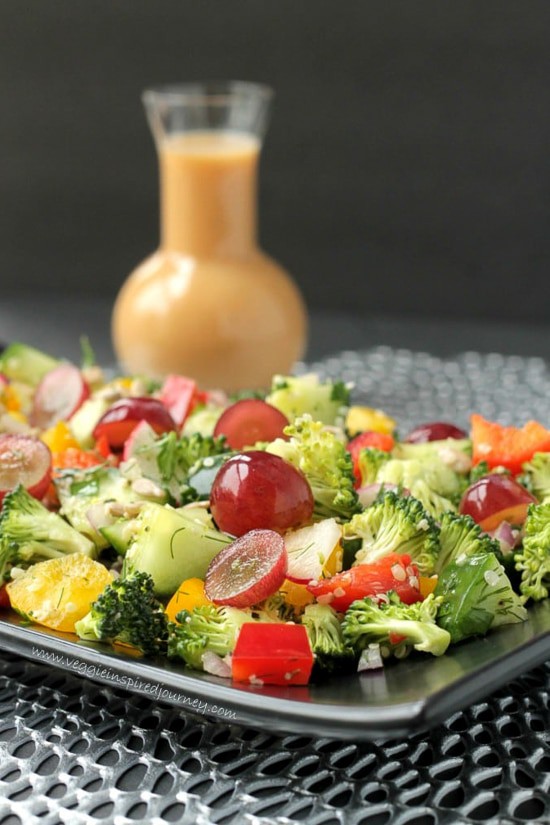 Garlic Herb Almond Cheese Spread (using parsley, dill or chive) by Gwen of Delightful Adventures
This herbed almond cheese is so versatile. Serve it at parties as a dip or spread, or keep it all to yourself and spread it on sandwiches, bagels, potatoes, and crackers any old day of the week!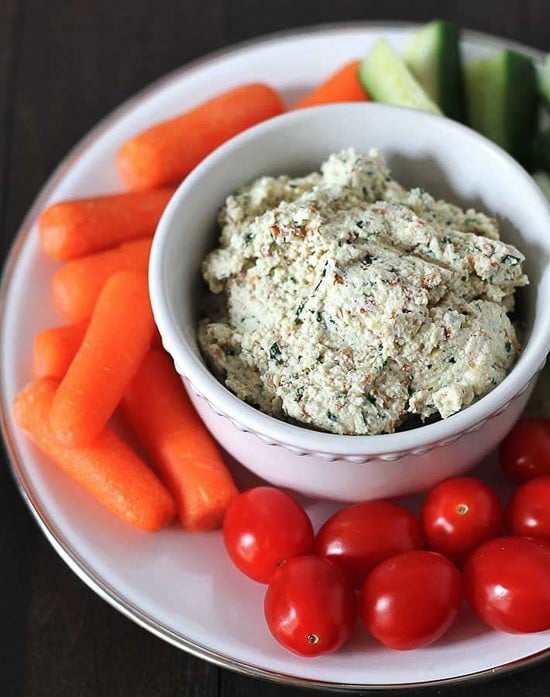 Green Chickpea Hummus (with parsley and basil) by Dreena Burton
Have you ever had green chickpeas? Dreena came up with this super nutritious hummus recipe that uses blanched green chickpeas plus lemon, basil, parsley, garlic, and a hint of cumin. Dreena loves hummus and she says she actually prefers this one over regular chickpea hummus!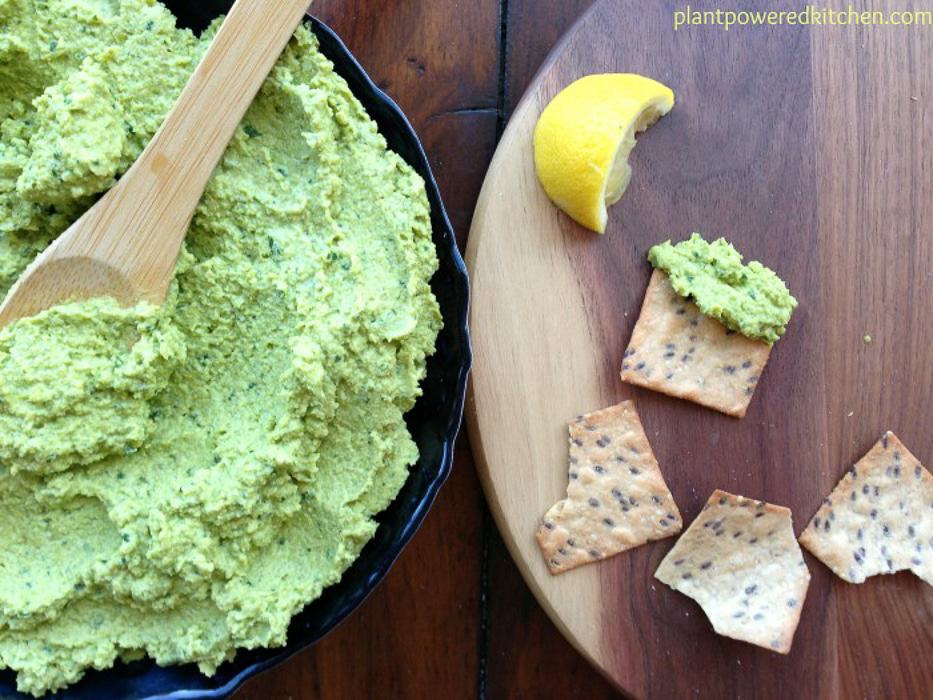 Velvety Zucchini Basil Soup (using a full cup of fresh basil) by Anjali of Vegetarian Gastronomy
This blended soup is pretty much summer in a bowl! The inspiration for this dish came from one of Anjali's favorite Italian restaurants in San Diego, and I think it sounds like a perfectly refreshing and healthy lunch. Made with just 6 ingredients.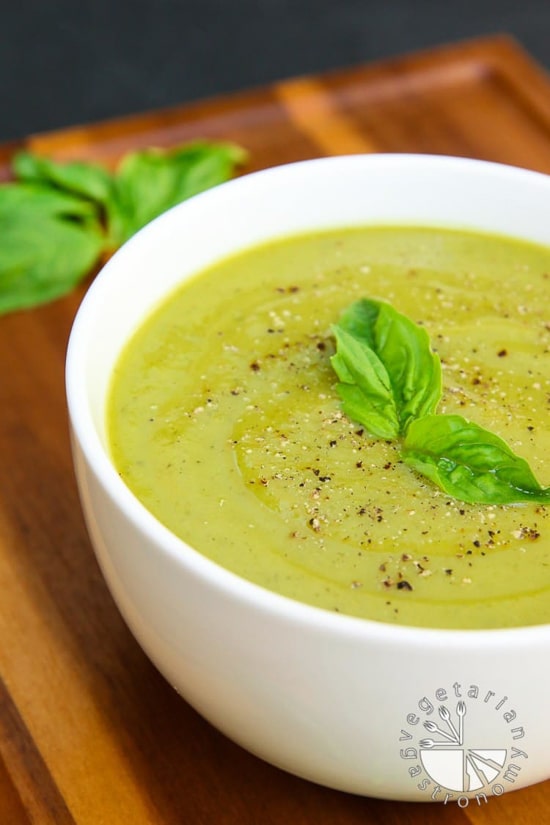 Thai Green Curry (including cilantro and basil) by Rhian's Recipes
Without question, curries are high on my list of favorite meals, and this quick and easy green curry is exactly what I want on a weeknight. I love that Rhian incorporates one of my favorite weeknight tricks, using frozen vegetables along with fresh! With lemongrass, garlic, lime, and ginger, you know this curry is packing SO much flavor.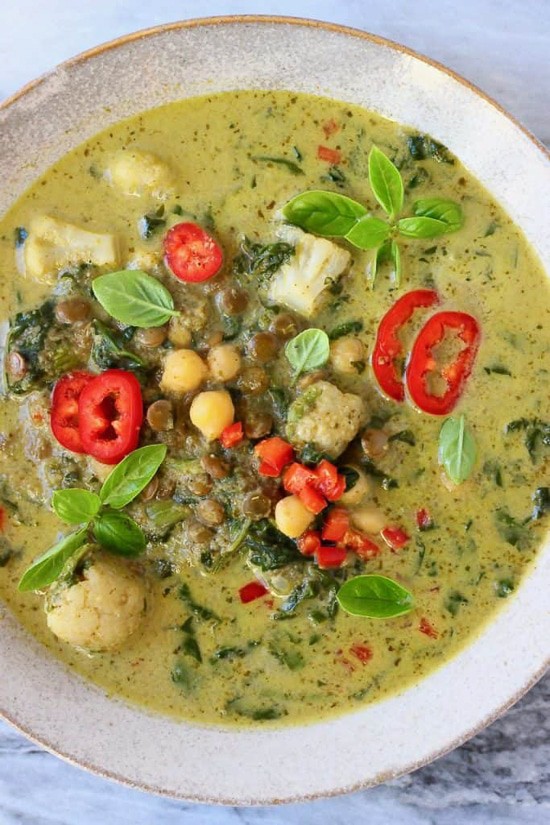 Chimichurri Tacos with Mushrooms (with parsley and oregano) by Amy of Veggies Save the Day
Chimichurri. Mushroom. Tacos. These words are music to my ears. I love that these flavorful, herb-packed tacos are ready in 30 minutes. I mean, this is basically my perfect dinner. Not a fan of mushrooms? No problem, Amy has plenty of other suggestions for you, like roasted sweet potato or cauliflower.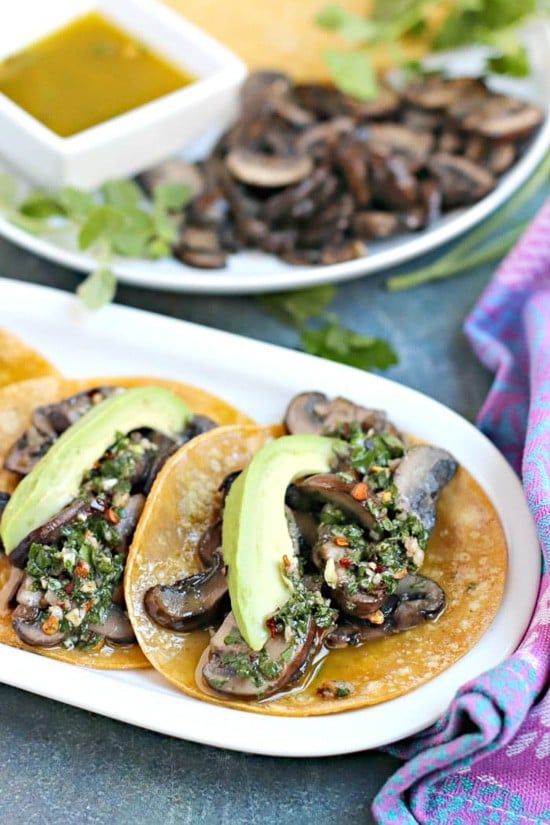 Santa Cruz Beach Veggie Burritos (with loads of cilantro…including the flavorful stems!) by Kathy of Healthy Happy Life
Packed with your favorite fillings, I love Kathy's story about the inspiration for these beach-worthy burritos. And I'm definitely taking her advice about using cilantro stems.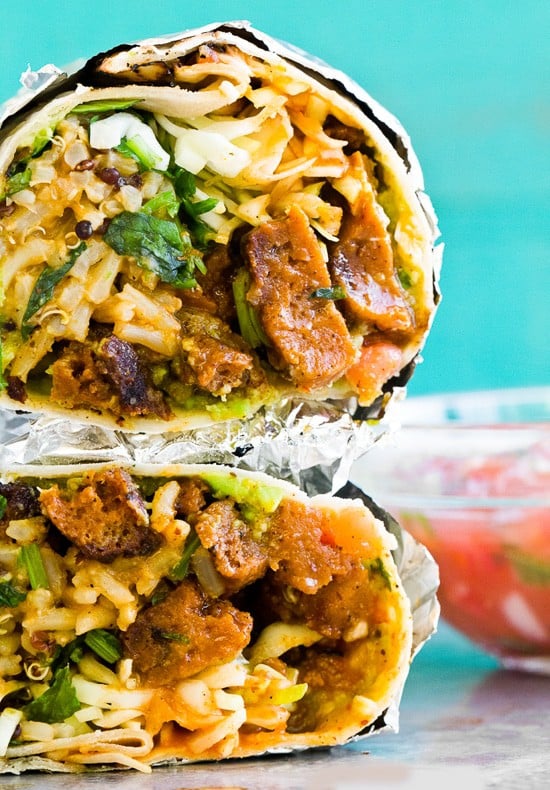 Creamy Butternut Squash Pasta (made with sage) by Kerrie of Plant and Vine
Ah, sage. It takes me right back to childhood when I learned that it's a key ingredient in the Thanksgiving cornbread dressing I love so much. But why not use sage more than just once or twice a year? This pasta has everything you want from vegan comfort food – leeks, garlic, and a creamy sauce made from roasted butternut squash, cashews and miso.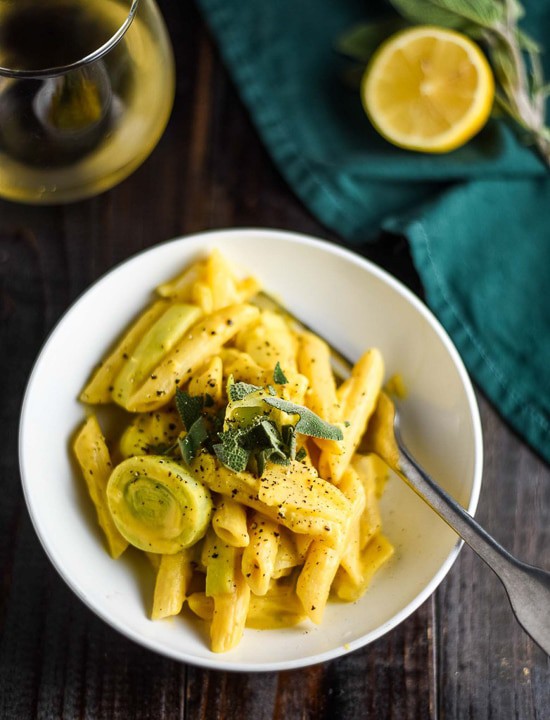 Baked Farro With Tomatoes and Herbs (with fresh parsley and basil) from the 10th Anniversary Edition (2017) of Isa Chandra's Veganomicon, brought to us by Shannon of Yup It's Vegan
I love the chewy and satisfying texture of farro, and with shallot, garlic, tomatoes, and herbs, you know this dish is a winner! And you can have this impressive casserole on the table in one hour.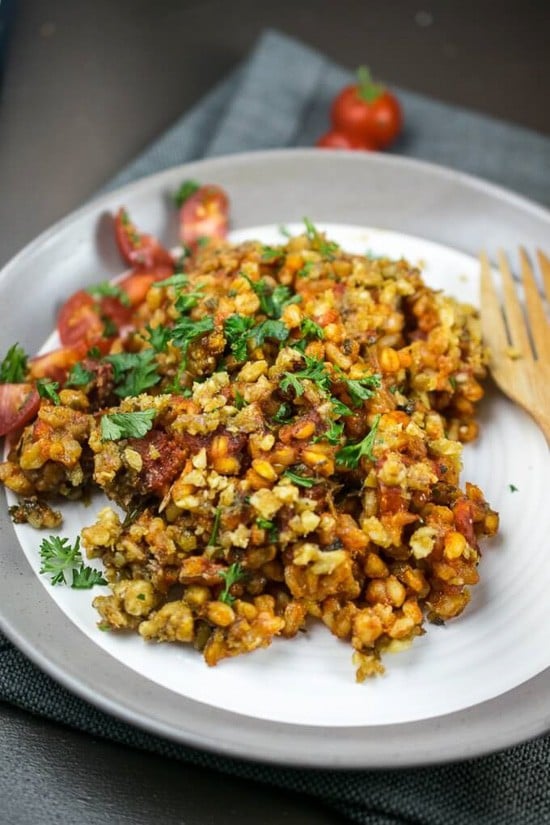 Baked Falafel (with plenty of parsley) by Nele of Nutriplanet
Who doesn't love falafel? And I love that Nele made an oil-free, baked version that's easy to prepare and light enough to enjoy anytime. Plus, it has secret healthy ingredient!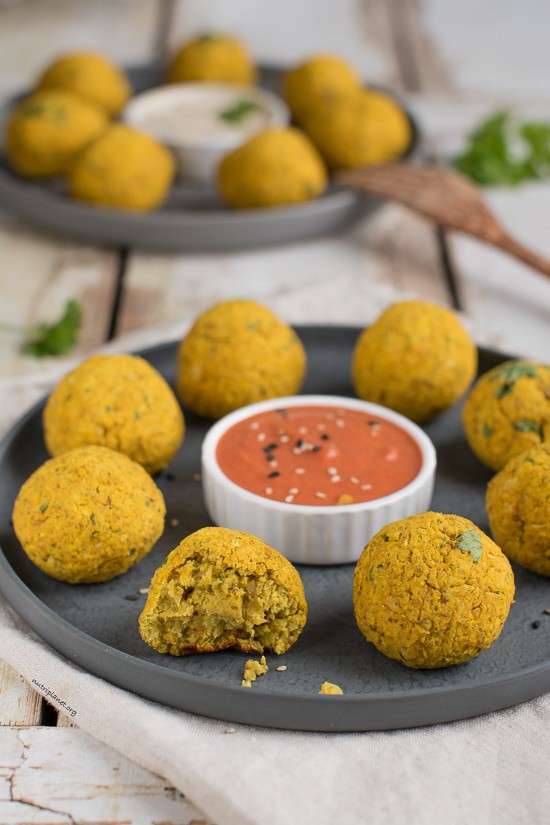 The Ultimate Green Cilantro Garlic Sauce (oil-free; with cilantro leaves and stems) by Jen of Sprouting Zen
In less than 10 minutes you an whip up this gorgeously green and healthy sauce. Drizzle it on tacos, burritos, bowls, and salads, spread it on sandwiches, and dip veggies in it. You'll get a nice dose of Omega-3s from the hemp seeds, too!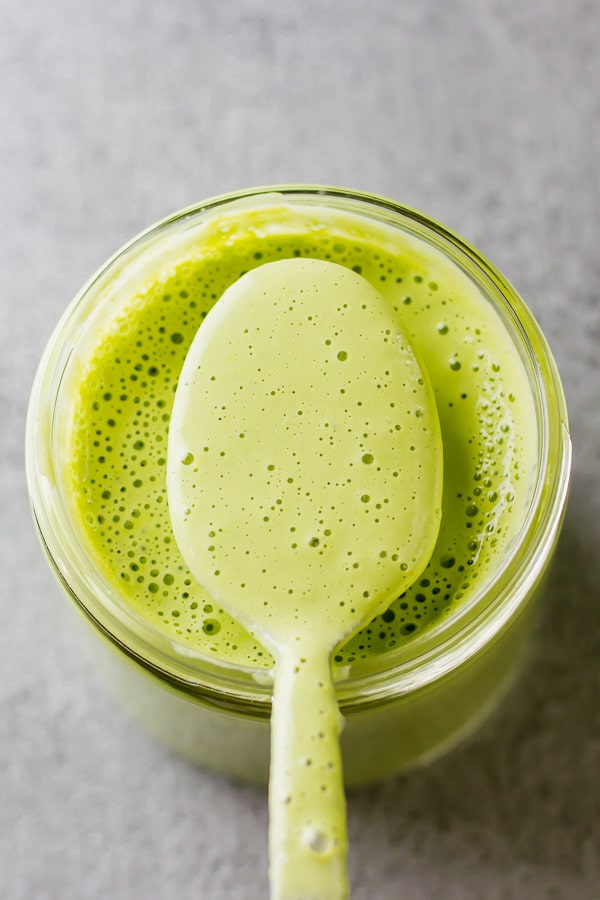 Blueberry Tahini Basil Smoothie (with basil, obviously!) by Audrey of Unconventional Baker
"These are a few of my favorite things." This 5-ingredient smoothie is exactly how I want to start the day. But it would make a delightfully refreshing summer afternoon pick-me-up, too.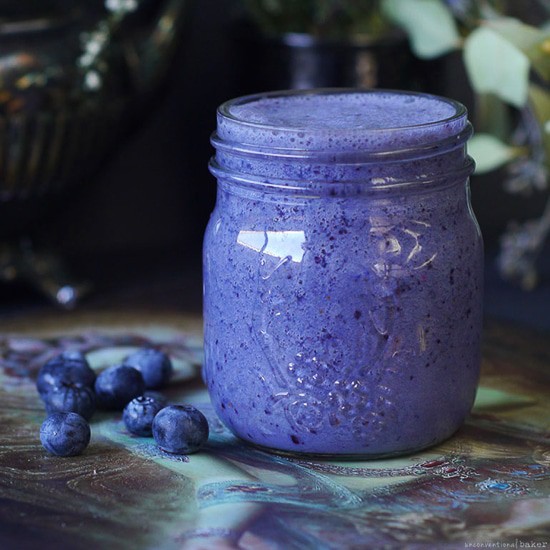 Refreshing Apple and Mint Smoothie (with you guessed it… fresh mint!) by Rachel of Healthy and Psyched
Mint is so awesome with fruits, but you don't often see it paired with apple. This healthy smoothie sounds like a refreshing change of pace.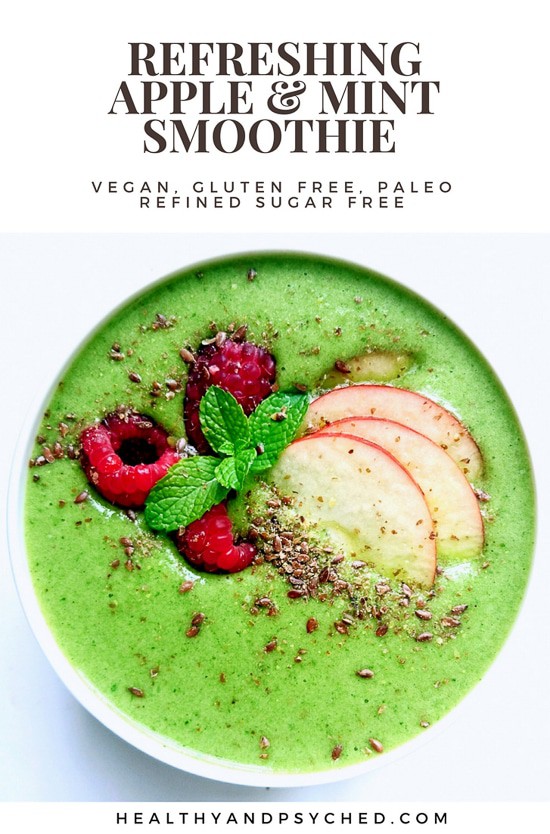 Blackberry Mojito Overnight Oats from OATrageous Oatmeals by Kathy of Healthy Slow Cooking
If your overnight oats are feeling a bit blah, Kathy Hester has you covered. How about a cocktail-inspired breakfast?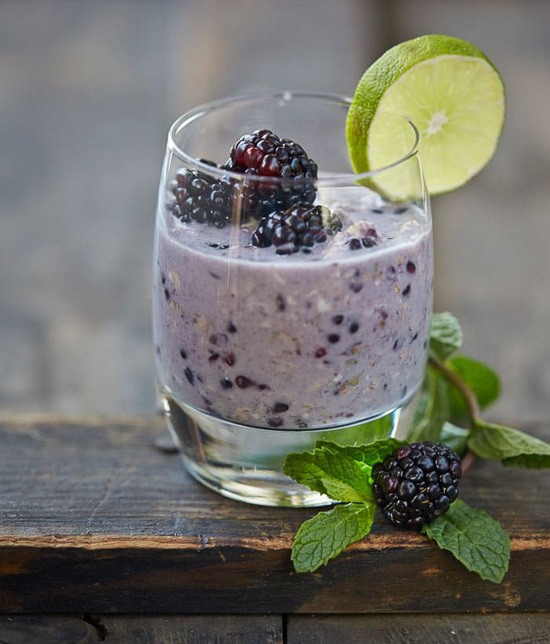 Raspberry and Gin Thyme Cocktail (with a teaspoon of fresh thyme in every glass) by Kathy of Healthy Slow Cooking
And now for a cocktail, with suggestions for incorporating different liquors (or sparkling wine) if you're not into gin.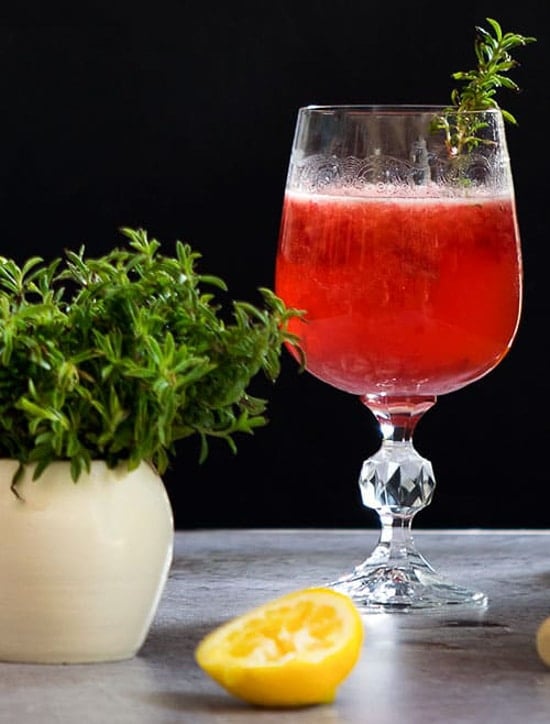 Health Benefits of Herbs and How to Keep Them Fresh by Active Vegetarian
And for good measure, here's a post with helpful tips for storing herbs, plus a few recipe links at the bottom of the page.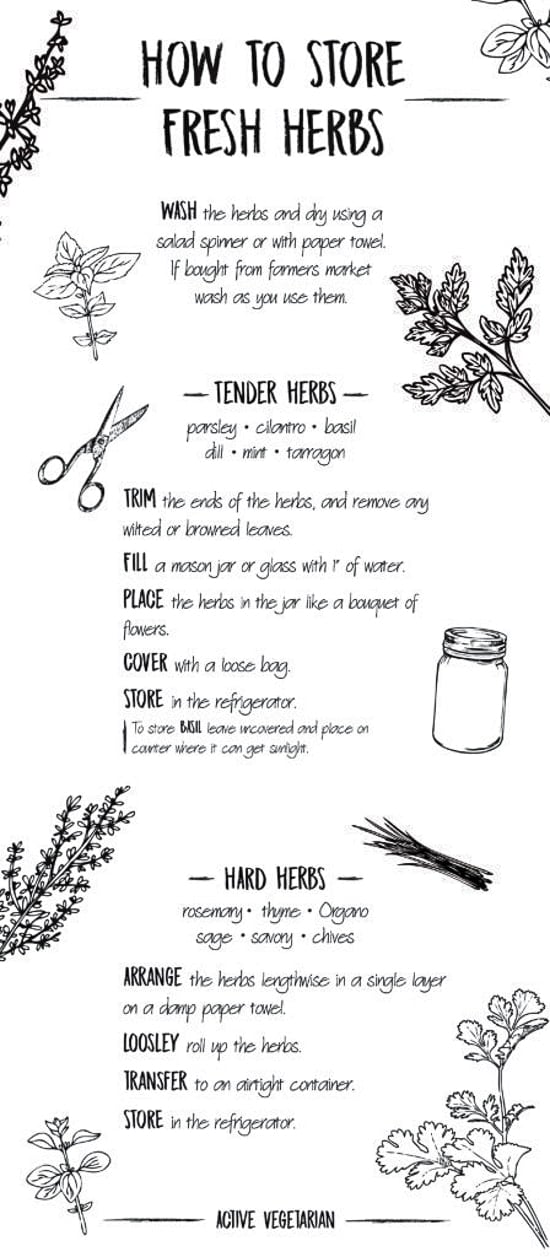 And to wrap up, here are a few of my own recipes using fresh herbs….
Tabbouleh-Inspired Bean Burgers (with parsley and mint) by My Quiet Kitchen
A personal favorite!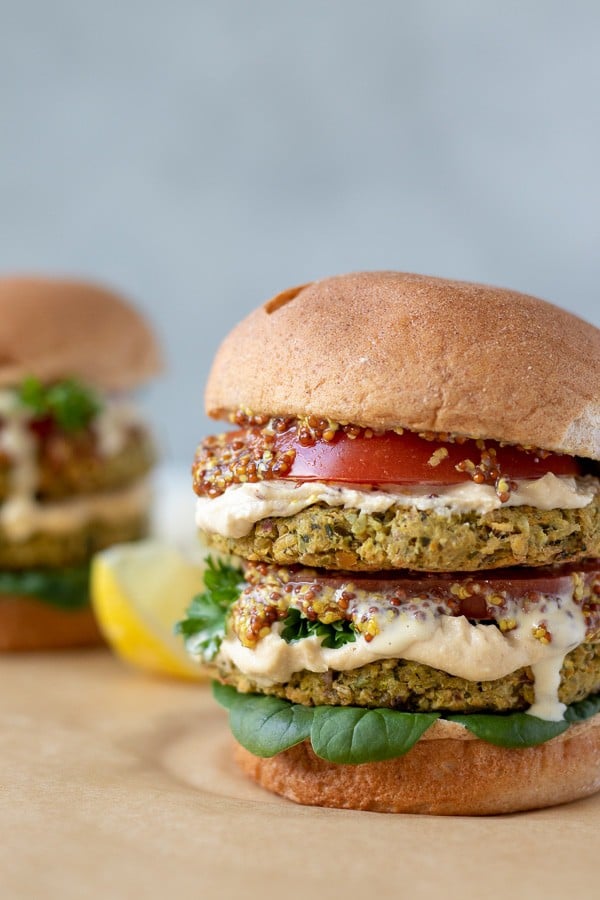 Vegan Pesto Stuffed Crust Pizza (with fresh basil pesto) by My Quiet Kitchen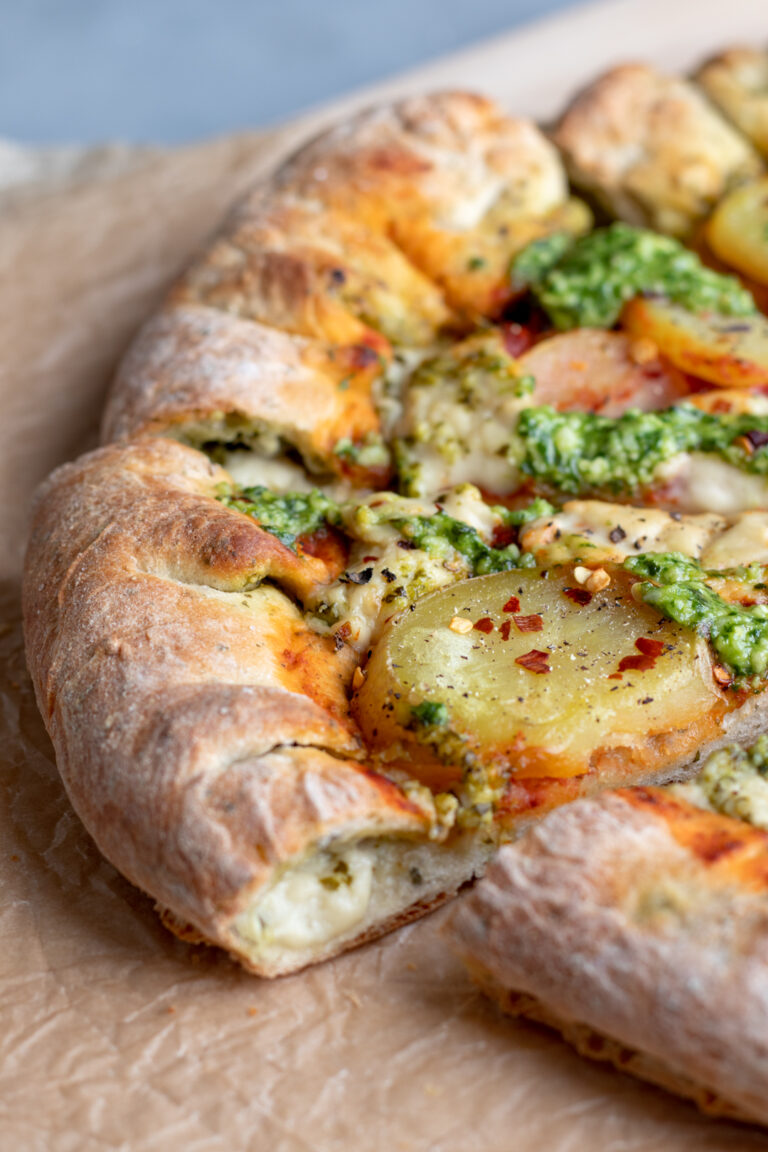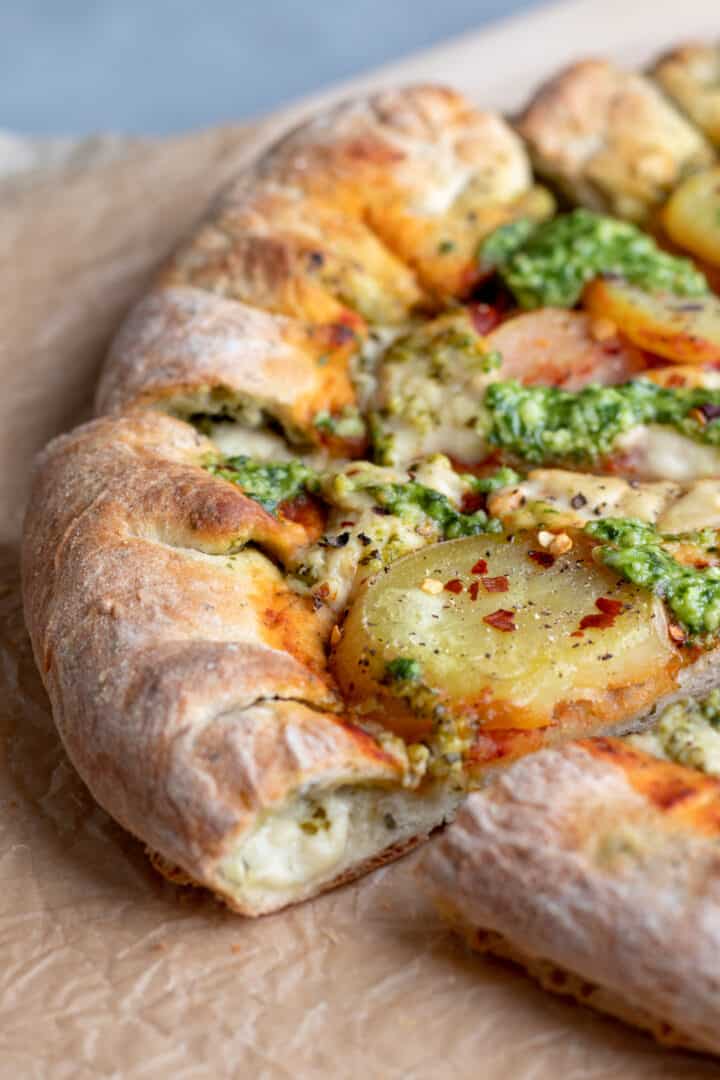 Seitan Bourguignon With Rosemary Cauliflower Mash (featuring fresh thyme and rosemary) by My Quiet Kitchen
This dish couldn't be easier to prepare but feels oh so special.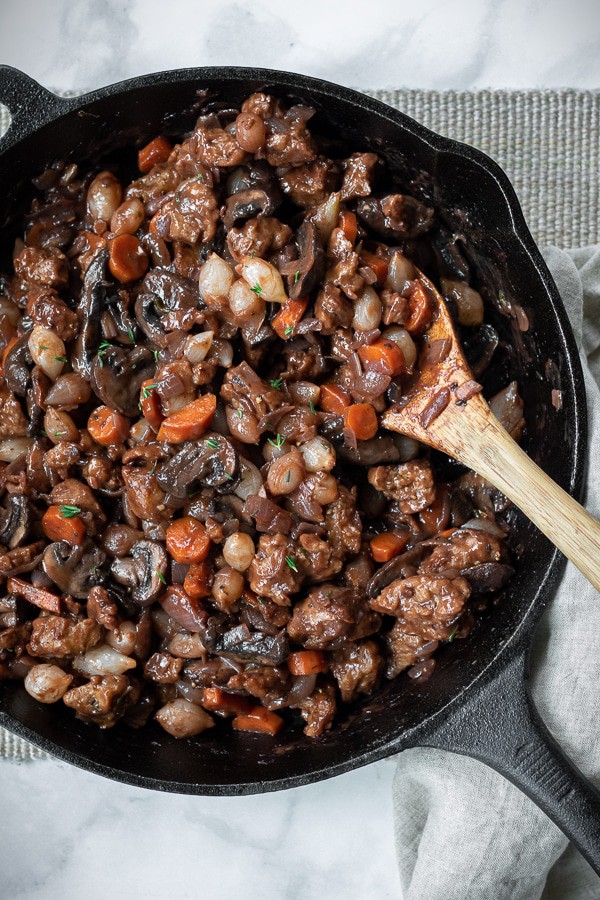 Jackfruit, Mango and Dill Salad (with fresh dill) by My Quiet Kitchen
Jackfruit makes a great stand-in for crab in this vegan appetizer.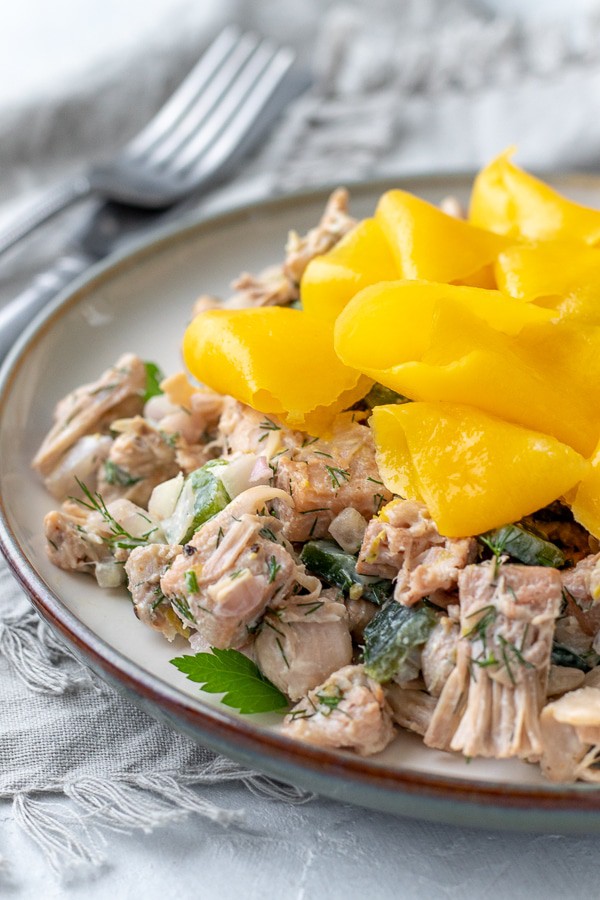 Roasted Honeynut and Rosemary Cookies (delicious rosemary!) by My Quiet Kitchen
Sweet and rich and studded with tiny bites of roasted honeynut squash, these cookies are a fall favorite.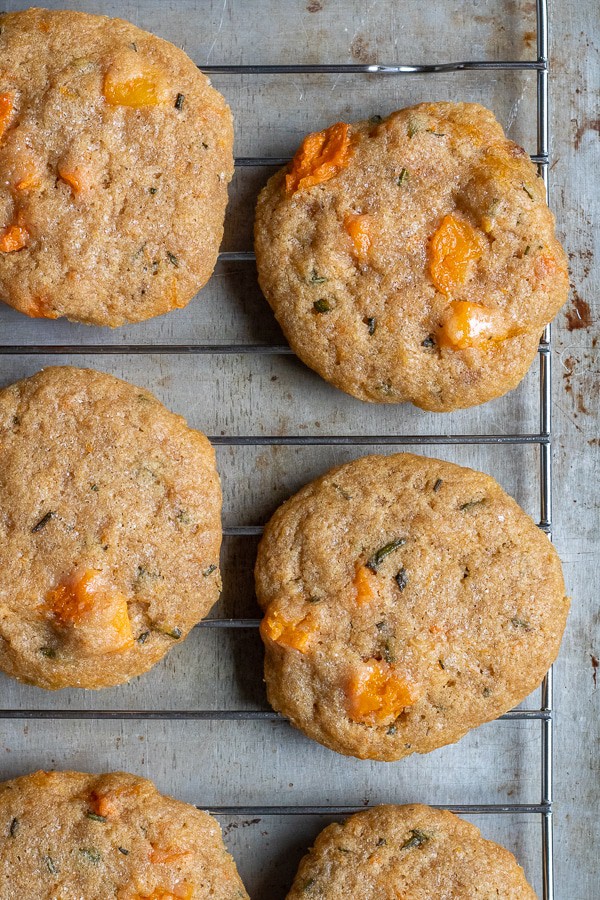 Mushroom-Sage Orzotto  by My Quiet Kitchen
This creamy and buttery side dish made with barley is perfect during the holiday season.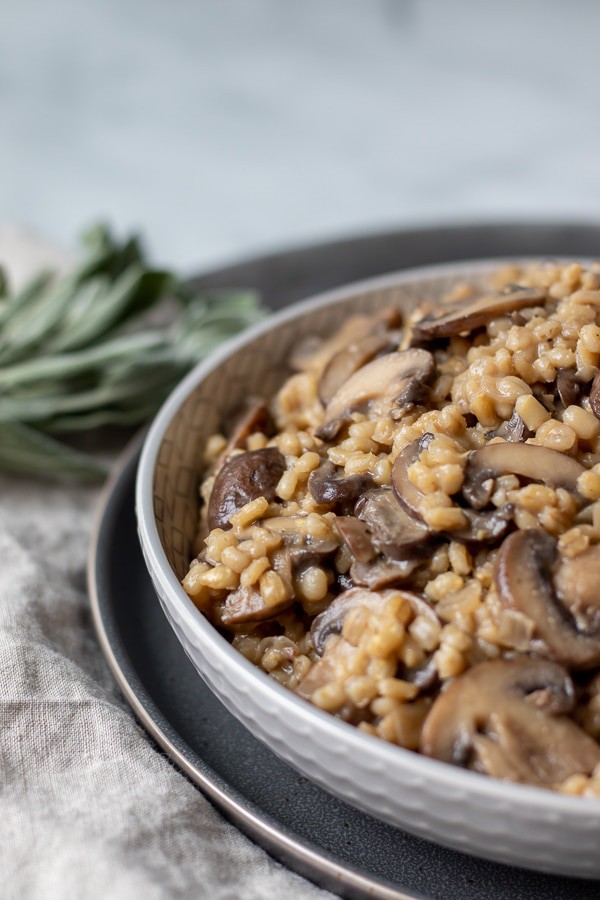 Parsley-Dill Pesto (with a full cup of parsley and a half cup of dill, this delicious pesto is full of possibilities) by My Quiet Kitchen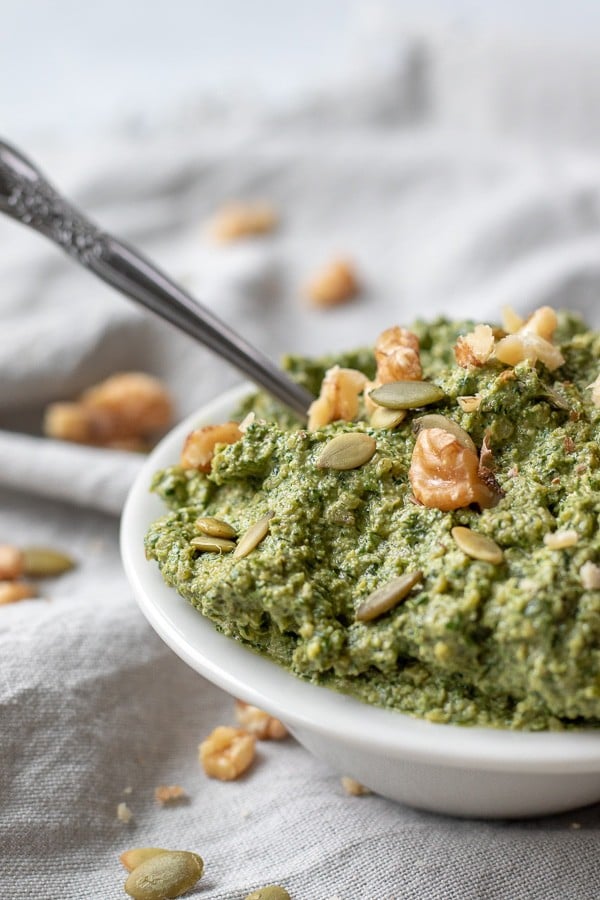 Pasta Salad With Parsley-Dill Pesto by My Quiet Kitchen (yep, that's me again)
With fresh tomatoes and cucumber, I love sharing this pasta at potlucks and outdoor parties.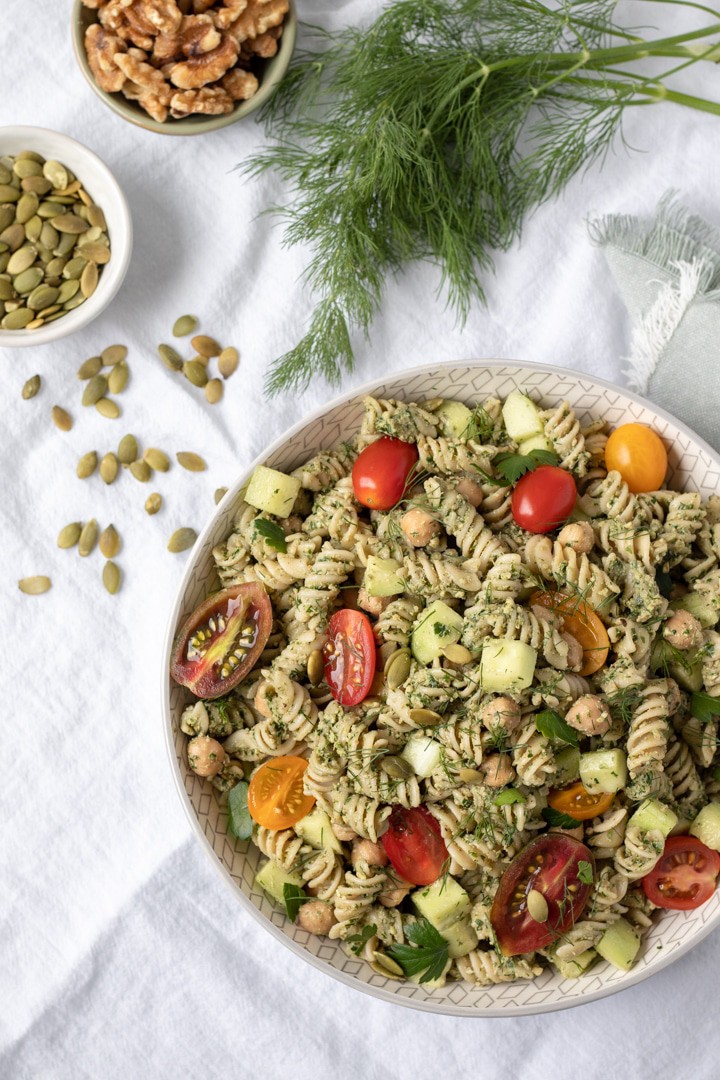 I hope you enjoyed this list and are feeling inspired to use more fresh herbs. If you try any of these recipes be sure to show the author some love by tagging them in a photo of the dish on insta or leaving a comment on their blog.
Pin it for later!