These vegan rosemary cookies studded with little bites of roasted honeynut squash are easy to make and bring a fun twist to baking season!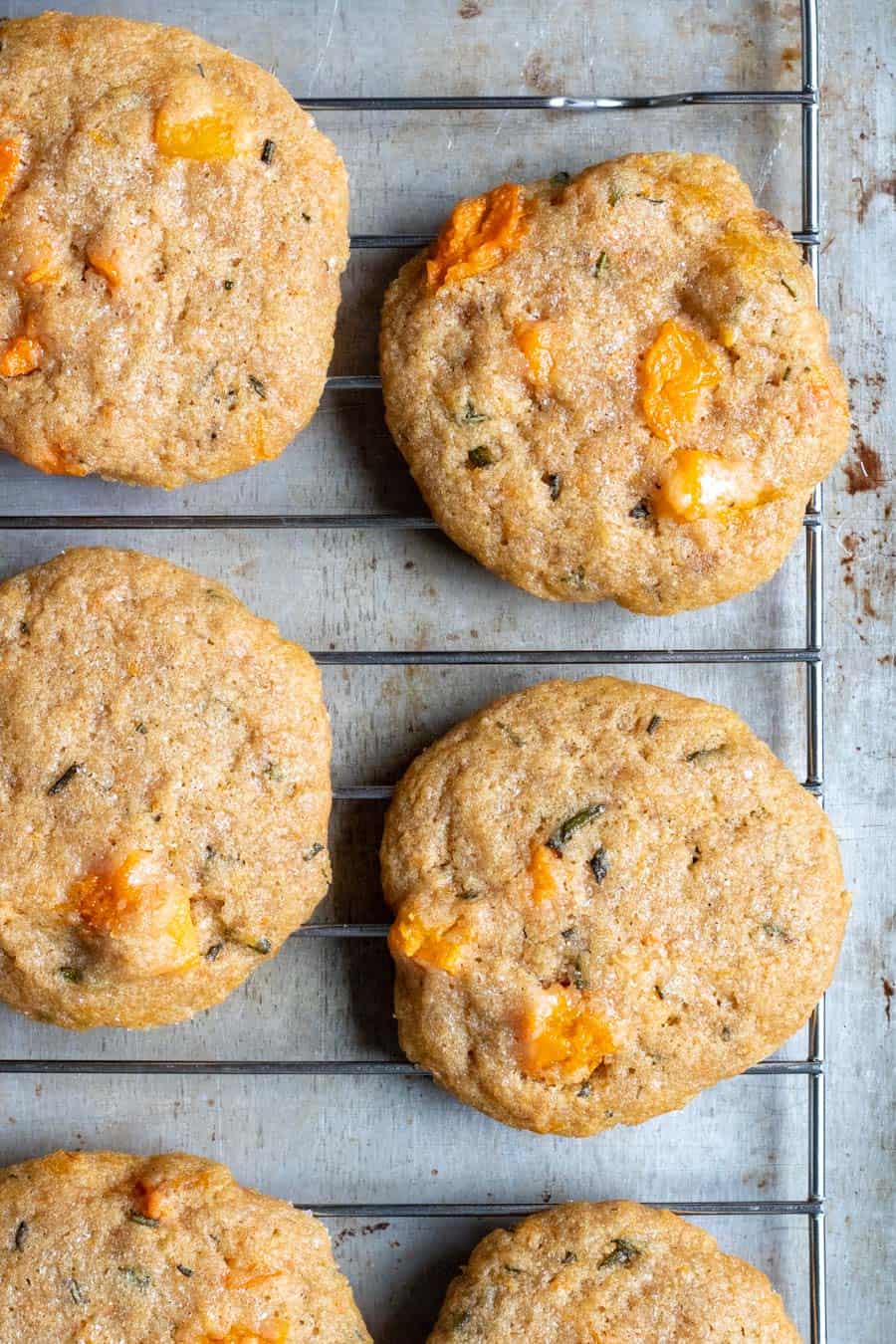 Don't let the squash and rosemary fool you. These are sweet, full-on dessert cookies with plenty of buttery, coconut oil richness. Honeynut squash works especially well here thanks to its natural sweetness and smaller size, but feel free to substitute butternut if that's what you have on hand. One honeynut yields just the right amount of flesh for two dozen cookies. Or if you only want to make one dozen, like I did in this most recent batch, you'll have a few bites of tasty, roasted squash to snack on while your cookies bake!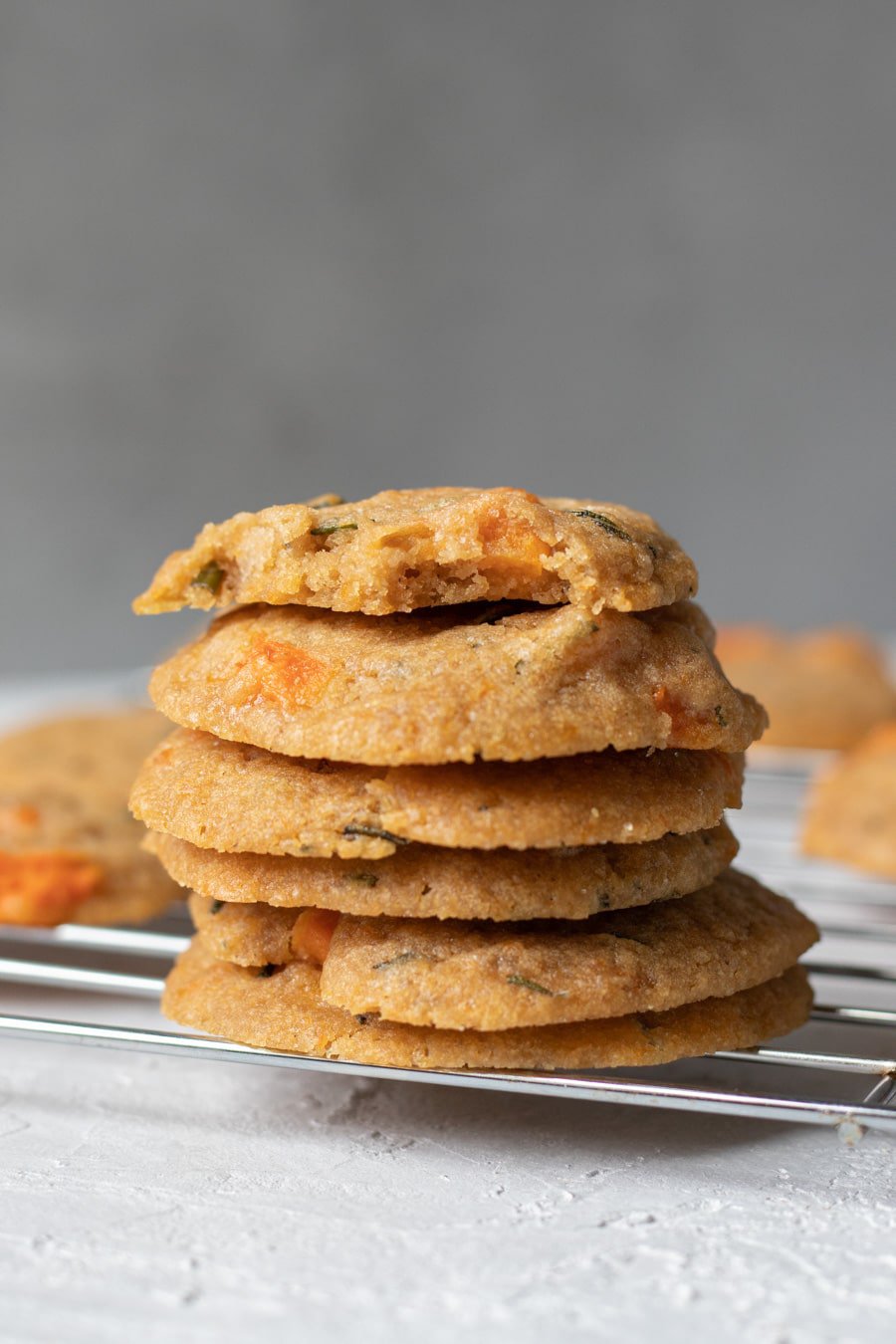 The inspiration for these cookies came from Isa Chandra's recipe in Isa Does It for Rosemary Chocolate Chip Cookies (it's also on her website). I made just a few tweaks to the batter, like omitting the flax seeds, adding nutmeg, and adding a bit more flour to balance out the moisture from the squash. Then, I added little cubes of roasted honeynut squash instead of chocolate chips. I've always enjoyed rosemary in desserts, and since I had some local honeynut squash from Wendy Town Farms that I was eager to use, it all just seemed to make sense.
When it comes to buying winter squashes, organic and local really are light years more delicious than conventional. However, even in a dessert recipe, I would still say that if the only squash you can get your hands on is a conventional one at the grocery store, buy it anyway.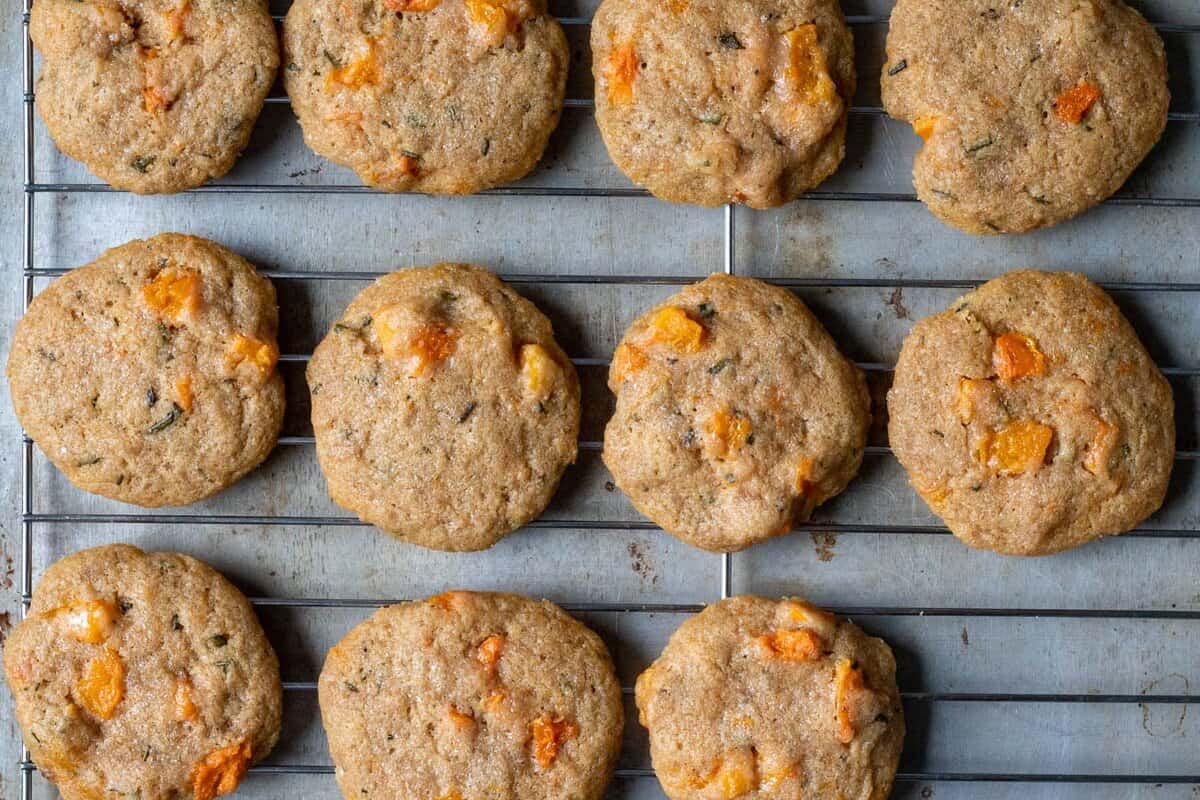 I love the visual of deeply orange squash peeking through the dough (reminiscent of colorful M&Ms). On that note, this recipe could be a great way to introduce new flavors to your kids. If you're struggling to get them to try new herbs and vegetables, cookies seem like an excellent gateway, right? I mean, it's worth a try!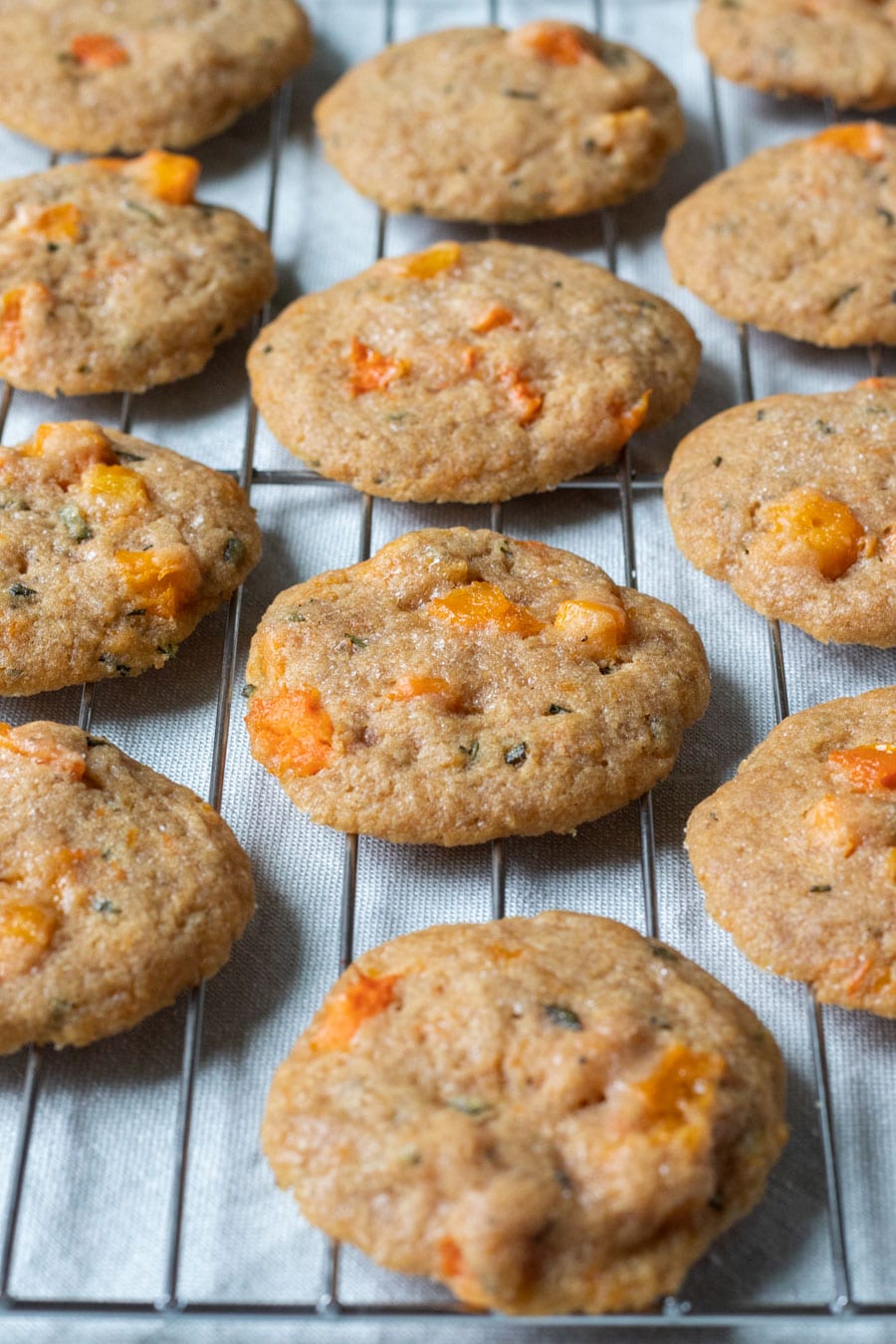 Equipment needed to Make these Vegan Rosemary Cookies:
A mixing bowl, fork, and knife, plus measuring spoons and cups and two baking sheets are all you need to make these gorgeous Roasted Honeynut and Rosemary Cookies. Give 'em a try, and be sure to tag a photo with @myquietkitchen on instagram. Let's see those mad baking skills!
You might also like:
Chocolate Chunk Orange Pecan Cookies
Spelt Cookies with Peanuts and Chocolate Chunks
Orange-Tahini Cookies
Roasted Honeynut Squash and Rosemary Cookies
A sweet and rich cookie with hints of rosemary and tiny bites of earthy, roasted squash. Lightly adapted from Isa Chandra's recipe for Rosemary Chocolate Chip Cookies.
Ingredients
1

honeynut squash (should yield about 1 cup diced)

1

tsp

neutral cooking oil

1/2

cup

refined coconut oil, softened (not virgin coconut oil, unless you want coconut flavor)

1 1/2

Tbsp

chopped fresh rosemary

1/3

cup

light brown sugar

1/4

cup

granulated sugar, plus a little extra for sprinkling on top, if desired

scant 1/8

tsp

freshly grated nutmeg

1/4

cup

non-dairy milk, such as almond or soy

1 1/2

tsp

vanilla extract

1 1/3

cups plus 1 Tbsp

all-purpose flour

1/2

tsp

salt

1/2

tsp

baking soda
Instructions
Preheat oven to 400 degrees. Line a baking sheet with parchment paper.

Trim the ends and peel the squash. Cut the squash lengthwise down the middle, and scoop out the seeds. Dice the squash into 1/3 inch cubes. Toss with the teaspoon of oil and spread evenly on the prepared pan. Bake 20 to 25 minutes or until tender. Remove the pan from oven and set aside.

Reduce oven temp to 350 degrees. Line two large baking sheets with parchment.

In a mixing bowl, use a fork to thoroughly combine the coconut oil and rosemary. Add both sugars and beat for one minute. Add the milk and vanilla and beat until fully incorporated and smooth.

Add the flour, salt, and baking soda to the bowl and mix well. Fold in about 3/4 cup of the squash (you may not need to use all of it). Spoon heaping tablespoons of dough onto the baking sheets about 2 inches apart. Gently flatten each cookie with your fingers. Sprinkle the top of each cookie with a pinch of sugar, if desired. Bake 10 to 12 minutes or until the bottoms are golden brown.

Allow to cool on the sheets for about 5 minutes, then transfer to racks to cool completely.
Nutrition Facts
Roasted Honeynut Squash and Rosemary Cookies
Amount Per Serving (1 cookie)
Calories 88
Calories from Fat 41
% Daily Value*
Fat 4.5g7%
Cholesterol 0mg0%
Sodium 51mg2%
Carbohydrates 11g4%
Protein 1g2%
Vitamin A 950IU19%
Vitamin C 1.7mg2%
Calcium 10mg1%
Iron 0.2mg1%
* Percent Daily Values are based on a 2000 calorie diet.
Did you try the recipe?
Let me know with a star rating and a comment. I love hearing from you!