Dripping with rich chocolate flavor, my favorite Vegan Peanut Butter Brownies are gluten-free and made with just 11 ingredients including oats, peanut butter, cacao, walnuts, maple syrup and brown sugar.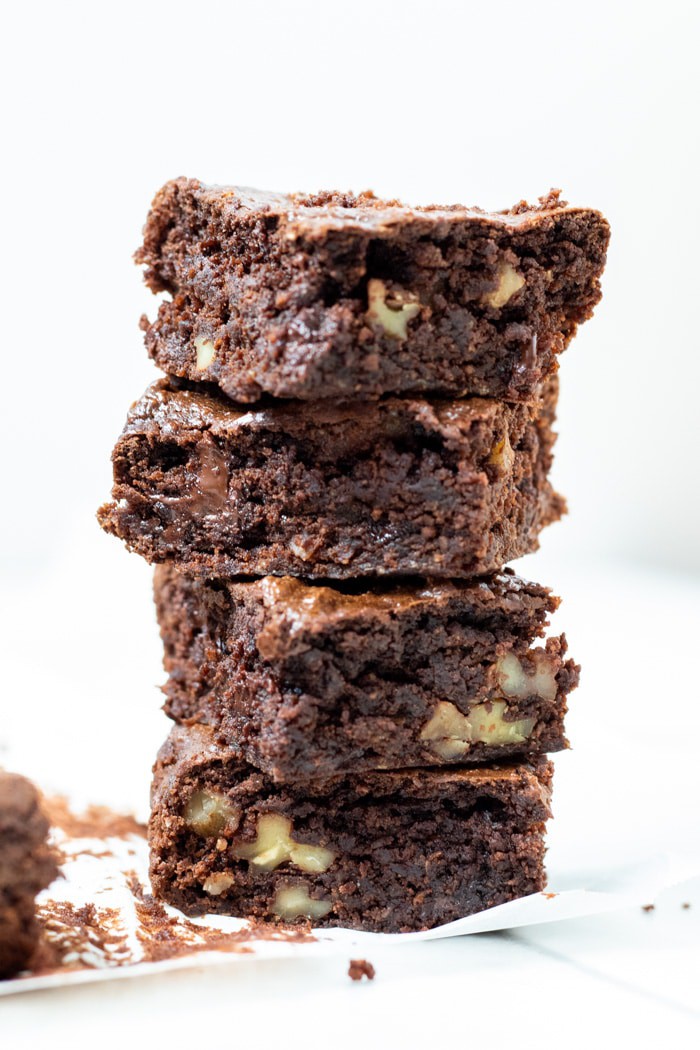 Probably like many of you, I have a binder stuffed full of old recipes. Some are tried-and-true, while others fall into the "never got around to it" category. Some are printed and covered with scribbled notes. Others are handwritten on an interesting assortment of scratch paper.
While sifting through the binder recently I came across my old favorite vegan brownie recipe. It dates back to our time in Wisconsin, which is where we lived when we went vegan. I remember being on a brownie kick for a while, making these anytime a party or potluck invitation popped up. Though I don't recall exactly (and can't find any clues in the trusty binder), I suspect the original inspiration for these came from one of Angela Liddon's brownie recipes on Oh She Glows. I was a regular visitor to her amazing blog back in the day! In fact, I know the desire to start my own vegan food blog came in large part from being helped so much by blogs like hers.
Each time I made these brownies, I kept refining the recipe until it was the perfect blend of simple yet delicious. As time passed and we moved several times, the binder got packed away, habits changed, and apparently I found new go-to dessert recipes.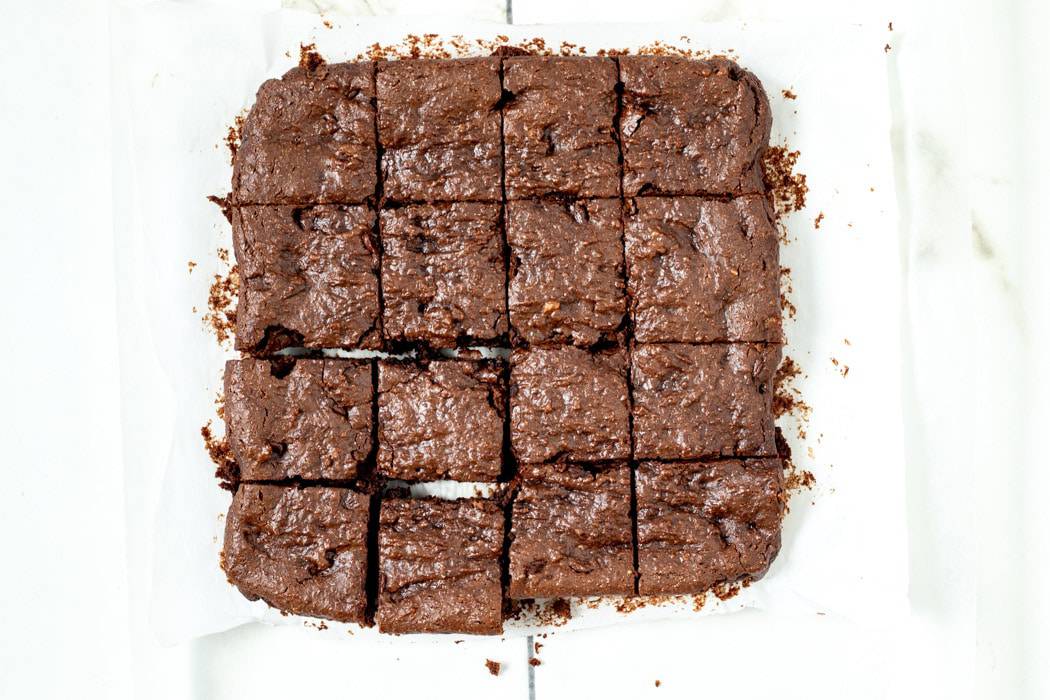 Well, I'm happy to report that my favorite gluten-free peanut butter brownies and I have been reunited! I've made them twice recently and love them as much as ever. They're super easy and contain no fussy ingredients. Just straightforward, rich, peanut buttery, chocolate brownies.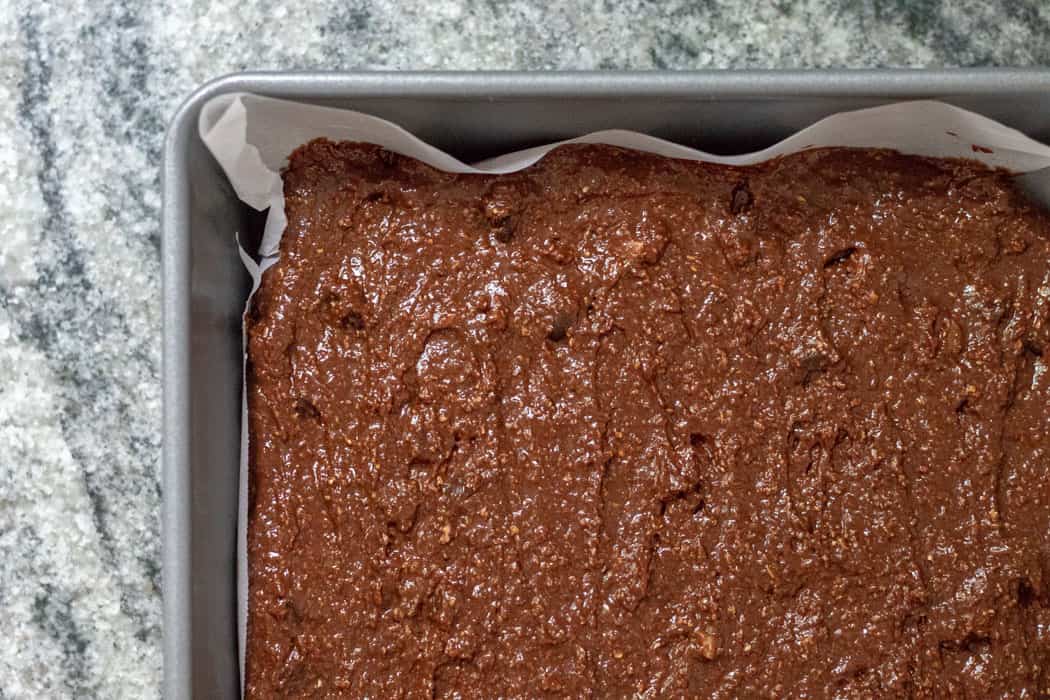 And as far as interesting scratch paper goes, this one is pretty good. It came from a Pravachol-branded note pad. Ha! Oh, the irony of a vegan recipe written on an ad for a cholesterol-lowering drug. Check this out...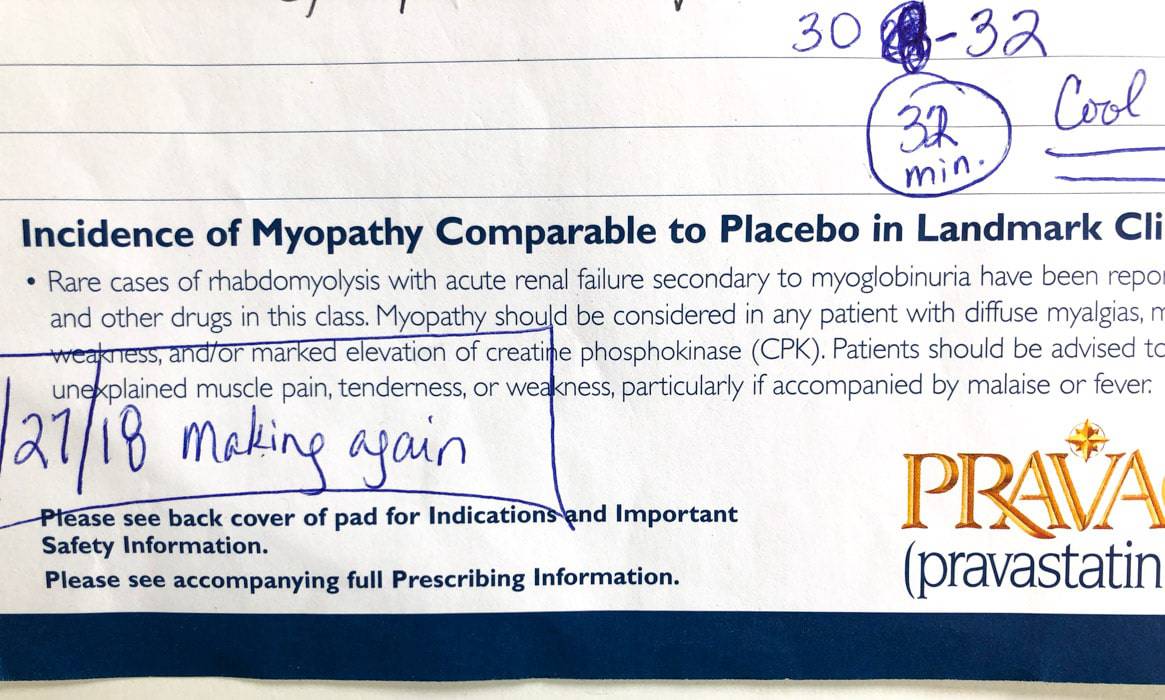 Yikes!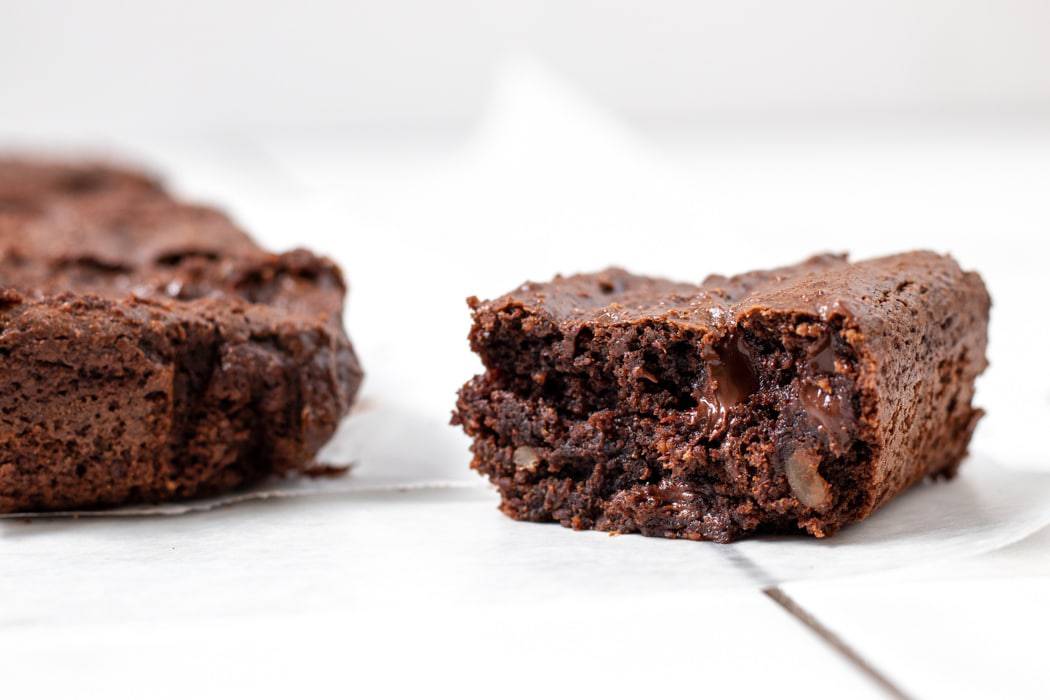 A Few More Details About These Vegan Peanut Butter Brownies
Anyway, back to these cholesterol-free brownies that get their fat content mainly from peanut butter and walnuts, instead of the butter and eggs you find in traditional brownies.
Requiring just eleven ingredients, you might even have everything on hand to make these right now. And really, you don't even need the walnuts if you want to call it a "10 ingredients or less" recipe. I mean, they are filled with peanut butter, so some might call the walnuts unnecessary. But I like to include them for that extra bit of crunch and, well, because they're pretty. Plus, walnuts contain antioxidants and the Omega-3 fatty acid ALA, alpha-linolenic acid, which actually decreases your risk of dying from heart disease. Bonus!
Another substitution you can make that would amp up the flavor even more is to add one or two tablespoons of brewed coffee in place of the same amount of milk. A touch of coffee always works wonders in chocolate desserts.
One more thing I really love about these brownies is that even though they're on the healthier side, as far as brownies go, you still get the contrasting textures EVERYONE loves. You know, the crunchier pieces around the edges of the pan, the slightly crispy, flaky top, with rich and soft insides. So. So. Good.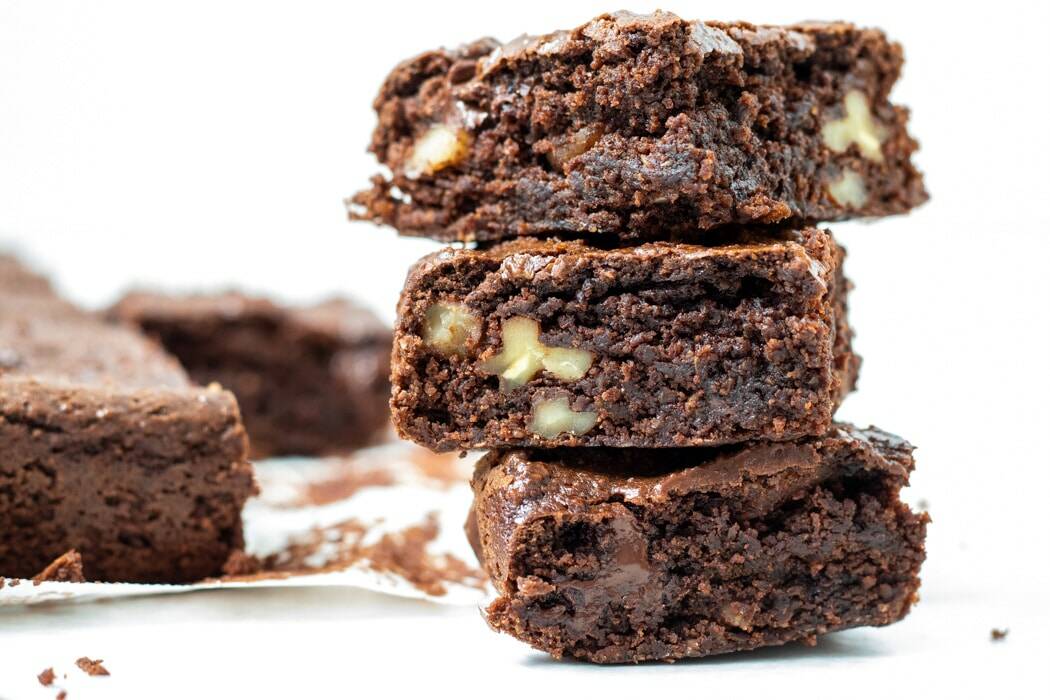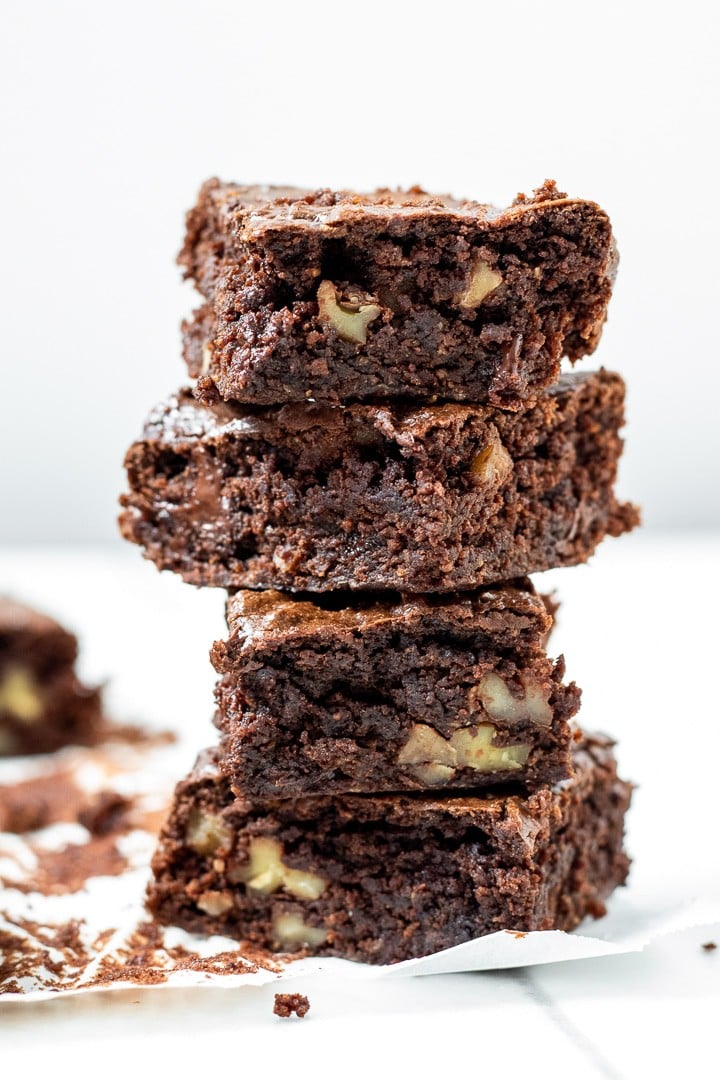 I hope you'll give my favorite gluten-free vegan brownies a try, and leave a comment below or tag @myquietkitchen on instagram to let me know.
Happy baking!
More vegan chocolate recipes:
Salted Chocolate Pecan Pie
Oil-Free Banana Brownies
Peanut Butter Chocolate Chip Cookie Dough Truffles
Spelt Cookies with Peanuts and Chocolate
Salted Chocolate-Almond Popped Sorghum Balls
Mexican Chocolate Zucchini Bread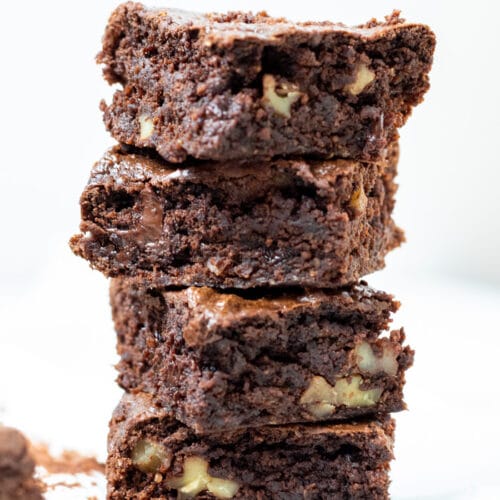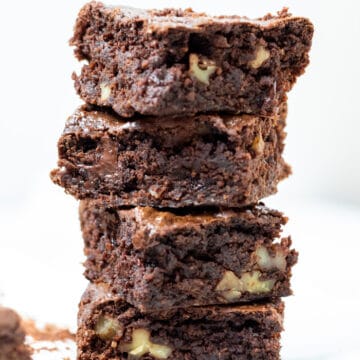 Vegan Peanut Butter Brownies
Dripping with rich, chocolate flavor, these vegan, gluten-free brownies are made with oat flour, peanut butter, cacao, walnuts, maple syrup and brown sugar.
Equipment needed: food processor (or a whisk and a strong arm)
Ingredients
Wet ingredients:
¾

cup

peanut butter, natural, salted

2

tsp

vanilla extract

½

cup

non-dairy milk

(I use unsweetened almond milk)

¼

cup plus 1 Tbsp

maple syrup

½

cup

brown sugar
Dry ingredients:
1

cup plus 2 Tbsp

rolled oats OR 1 cup oat flour, certified gluten-free if needed

For this recipe I prefer making oat flour in the food processor for its coarse texture; store-bought is finer.

1

tsp

baking soda

*If using Dutch process cocoa (below), sub baking powder. Dutch process isn't acidic enough to react with baking soda.

¼

tsp

ground cinnamon

½

cup

raw cacao powder or traditional cocoa powder

*If using Dutch process cocoa, sub baking powder for the baking soda listed above.
Additions:
½

cup

non-dairy chocolate chips

½

cup

raw walnuts, roughly chopped
Instructions
Preheat oven to 350 degrees, and line an 8 inch x 8 inch baking pan with parchment paper.

If starting with rolled oats, pulse oats in a food processor until a coarse flour consistency is reached. Add remaining dry ingredients and pulse to combine. Move to a bowl.

If you already have oat flour, add it to a medium-sized bowl with the other dry ingredients. Whisk to combine.

Add all wet ingredients to a food processor. Process until smooth.

Add dry ingredients to wet and pulse the food processor until everything is combined. Fold in walnuts and chocolate chips.

Spread batter into the lined pan. Bake 28-32 minutes, inserting a toothpick (or knife or chopstick) into the center to test for doneness.

Remove from oven and allow to cool in pan 10-15 minutes. Lifting by the parchment edges, move brownies to a cutting board. Allow to cool completely (if possible) before cutting into 16 squares.
Nutrition
Calories:
198
kcal
Carbohydrates:
23
g
Protein:
5
g
Fat:
10
g
Saturated Fat:
2
g
Cholesterol:
0
mg
Sodium:
47
mg
Fiber:
3
g
Sugar:
14
g
Calcium:
40
mg
Iron:
1.3
mg