Also known as "fridge clean out soup," this healthy and versatile vegetable soup is a great way to use up fresh veggies and also includes white miso and beans for extra flavor and nutrition.

Hi, friends. I have a short and simple post for you today. This soup is one of those meals that really doesn't need an actual recipe (but I'll type one up for you anyway). You see, Mark and I are going out of town this weekend, and I realized we still had a lot of produce left to eat. So, I thought I'd make a quick, brothy vegetable soup to resolve the issue. Honestly, I was totally craving soup anyway. 🙂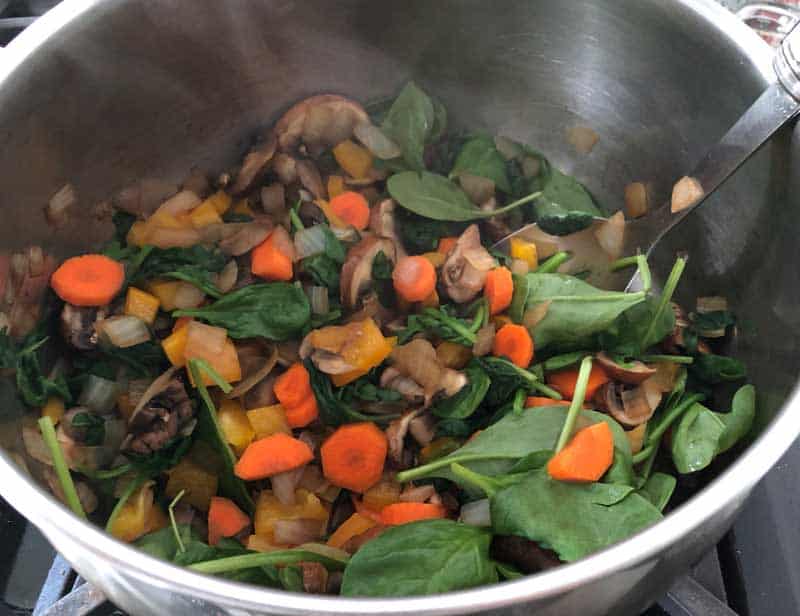 It's actually kind of mind-blowing how many vegetables you can pack into soup, you know? Had we tried to eat all of this raw.....never would've happened! On top of preventing food waste, Pre-vacation Soup requires just one pot, one cutting board, and 30 minutes to prepare. Not to mention how absurdly healthy it is.
This is what went into today's soup, in the order of addition:
onion
mushrooms
pinch of salt
orange pepper
garlic
spinach
tomatoes
carrots
vegetable broth and water
tamari
chickpeas
cannellini beans
mellow white miso, added to individual serving bowls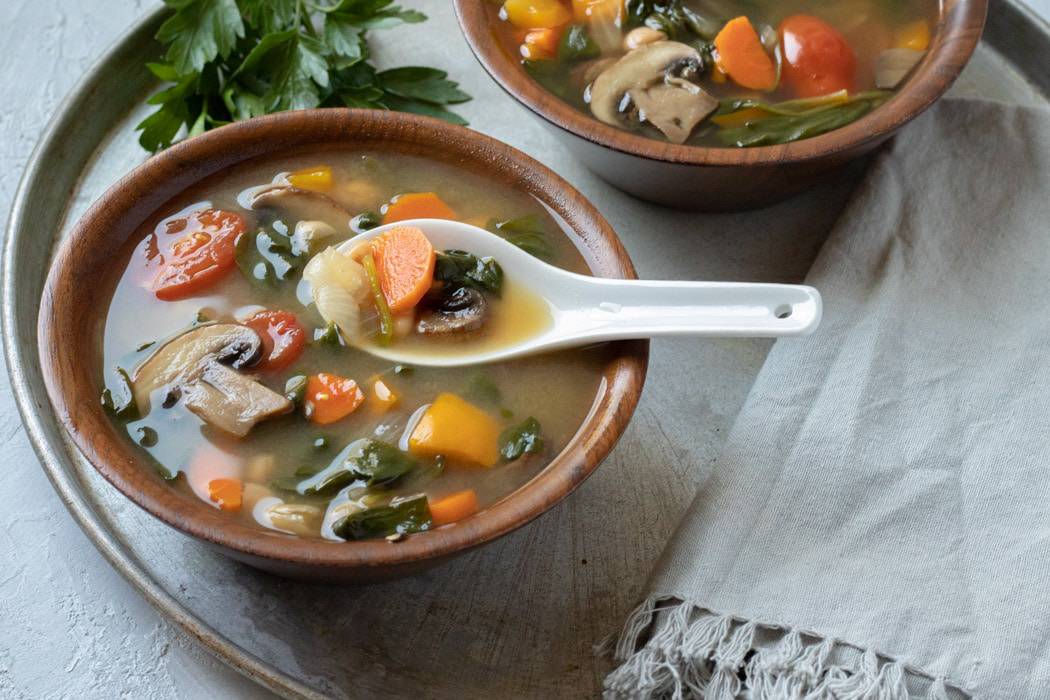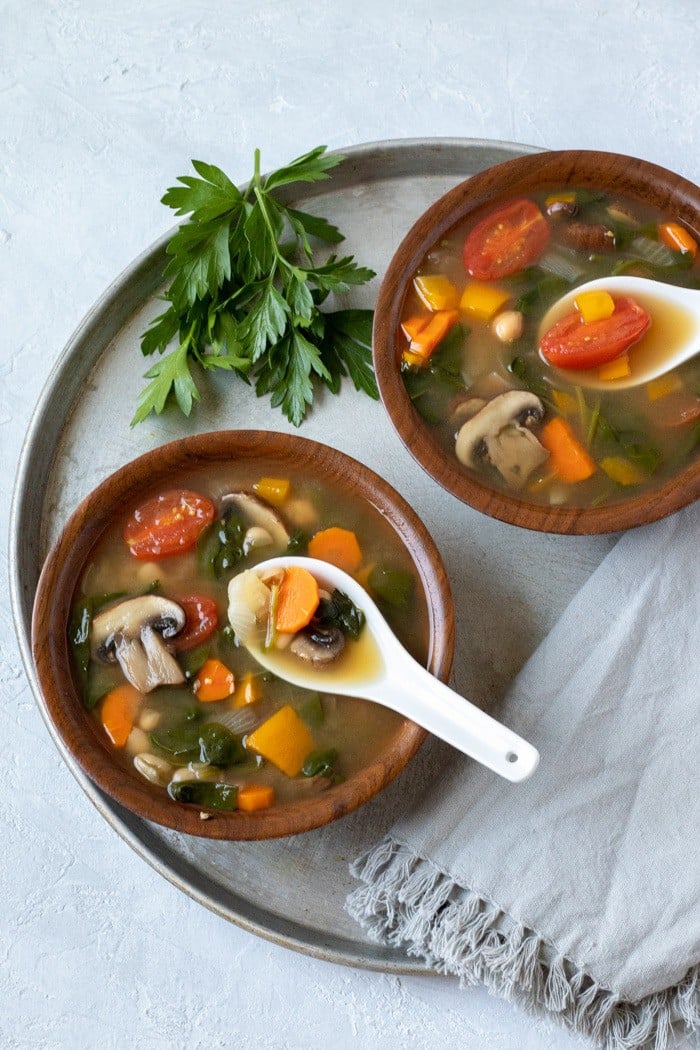 It's so easy and satisfying. I kept things really basic today, because I wanted to enjoy the subtle sweetness of the onion and carrot and the unique flavor of miso. But you can add spices, sauces, different beans, tofu, grains.....the possibilities are endless. I feel like I say that a lot, but seriously, the possibilities really are endless! Garnish with fresh herbs, hot sauce, a sprinkling of vegan parmesan, or just enjoy the simple, comforting soup as is. It's also really nice with a thick slice of toasted bread.
So, the next time you have some greens wilting in the fridge, random veggies asking for attention, or you're going out of town and just need to use up your fresh produce, I hope you'll whip up a healthy batch of soup! Tag your creations with @myquietkitchen or #myquietkitchen on instagram. I always love to see them!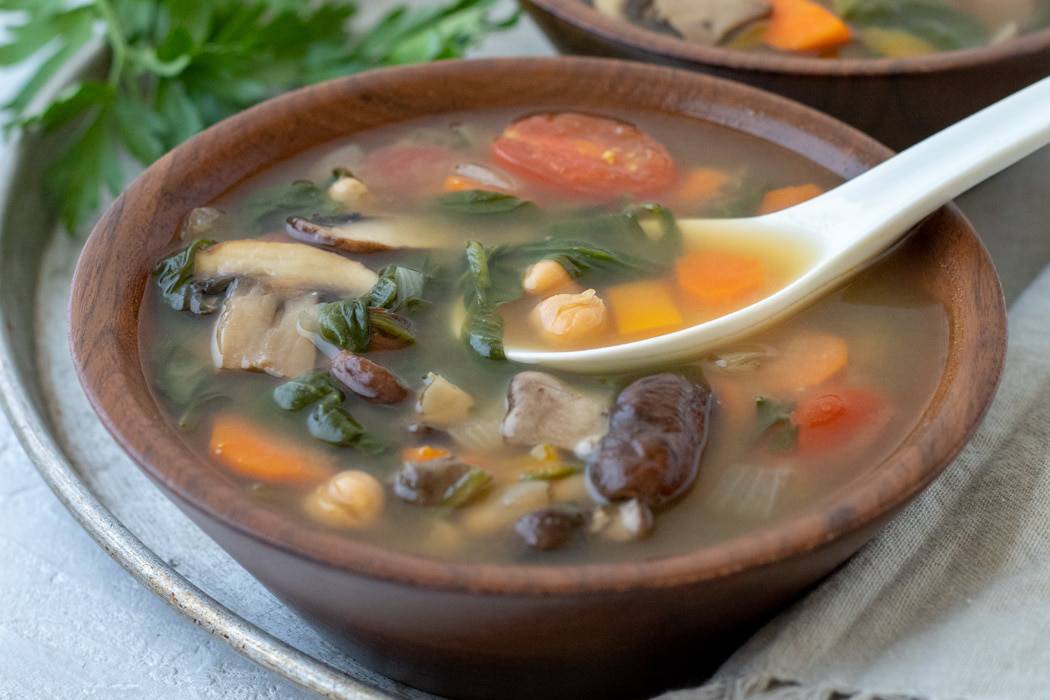 More vegan soup recipes:
Cream of Kale Soup
1-Pot Curry Black Lentil Soup
Award-Winning Vegan Chili
Spicy Thai Soup with Soy Curls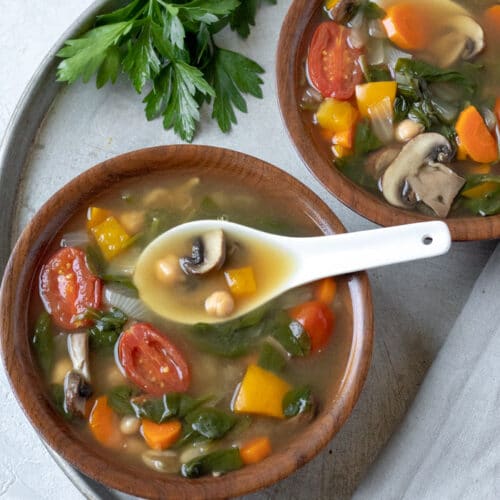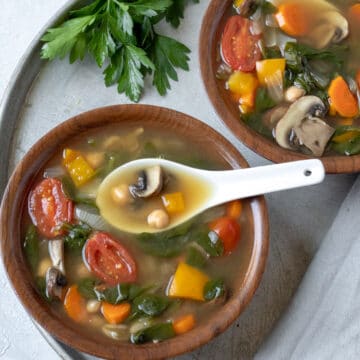 Pre-Vacation Soup
As in, "use up all the veggies before vacation" soup! The following ingredients are what I needed to use up on this particular day, but you can change it up however you like! Get creative and eat your veggies!
Ingredients
1

large

onion, chopped

8

ounces

mushrooms, sliced

pinch sea salt

1

colorful

pepper, chopped

4

cloves

garlic, chopped

3

large

handfuls spinach

1

large

handful cherry or grape tomatoes, halved

2

large

carrots, peeled and sliced

4

cups

vegetable broth (I used 1 Tbsp Better than Bouillon No Chicken Base dissolved in 4 cups warm water)

4

cups

water

1

Tbsp

tamari (or soy sauce if not gluten-free)

3 to 4

cups

cooked beans, such as chickpea, pinto, kidney, black, cannellini

1 ½ to 2

Tbsp

mellow white miso - 1 tsp added to each serving bowl, NOT to the soup pot
Instructions
Heat a stock pot over medium heat. Cook the onion 2 to 3 minutes, stirring occasionally, until it begins to soften. Add the mushrooms and salt and cook for another 2 to 3 minutes, stirring occasionally.

Add the pepper and garlic and cook for another 1 to 2 minutes, stirring. Add the spinach, tomatoes, and carrots. Cook until spinach begins to wilt but vegetables still retain their bright colors.

Add the water, broth, tamari, and beans. Stir to combine. Bring to a simmer, and cook 5 minutes. Turn off heat.

Ladle some broth into a serving bowl. Add the miso and stir to dissolve. Ladle more soup and vegetables into the serving bowl. Garnish as desired and enjoy!
Notes
Store leftover soup in the refrigerator up to 4 days. Can also be frozen for longer storage.
Nutrition
Tried the recipe?
Comment below to let us know how it was!