Whether you're looking for an over-the-top, baked vegan mac and cheese for the holidays or a quick, kid-friendly macaroni for weeknights, we've got you covered! And since there are SO many different ways to make amazing vegan mac and cheese, we've organized this list into 4 categories to make it easier to find exactly what you're looking for:
Classic/Decadent
Creative Flavors
Healthier/WFPB (whole-food plant-based)
Quick and Easy
Here's what you can expect in each category:
Classic/Decadent

(5 recipes)
All-around amazing, cheesy, vegan comfort food is the name of the game with these 5 recipes. Whether stovetop or baked, most of these recipes incorporate vegan butter and/or store-bought cheeses.

Creative

Flavors (10 recipes)
Similar to the recipes in the above category, most of these could be considered decadent but with a creative spin on the flavors and methods. If you're into mushrooms, peppers, vegan lobster and beer, or fried mac and cheese, this category is for you.

Whole-Food Plant-Based

(9 recipes)
This one is pretty self-explanatory. If you eschew store-bought vegan cheeses and prefer cheese sauces made from whole foods, use the Table of Contents links above or below to jump straight to this category! All of these recipes are oil-free and most of them incorporate nutritious, hidden veggies.

Quick and Easy

(4 recipes)
Looking for a quick weeknight vegan mac and cheese to please hungry kiddos (or yourself)? You'll LOVE these super simple recipes.
Ingredient Notes
There are a handful of ingredients that are really helpful to always have on hand so you're ready anytime the mood for vegan mac and cheese strikes!
In case some of these ingredients are new to you, this will hopefully give you some insight into why these ingredients are so commonly used when making vegan mac and cheese and how you can make substitutions, if needed.
Raw Cashews
Did you know cashews contain more starch than most nuts and seeds? So in addition to their neutral, buttery flavor and high fat content, it's the starch that makes cashews so great for creating creamy sauces. You'll really notice the thickening once the cheese sauce is heated.
But if you need to avoid cashews, there are plenty of other ways to make amazing vegan cheese sauce. For example, this Nut-Free Vegan Mac and Cheese uses raw sunflower seeds instead of cashews and is still impossibly creamy!
And in the WFPB category below you'll find recipes that use chickpeas and/or vegetables for added creaminess.
Nutritional Yeast
This inactive yeast is often included in vegan cheese recipes because of its umami-rich, cheesy quality. Some people think they don't like nutritional yeast, and if that's you, I have just one question....
Have you tried the non-fortified nutritional yeast by Sari Foods? It isn't fortified with B12 or folate like most other brands of nutritional yeast, and they flavor is so much better.
Sari is the only nutritional yeast (aka nooch) I buy now. It is a little more expensive, but it's totally worth it. Also, be sure to try it in this DIY Chicken Broth and Bouillon Powder.
Miso
Miso is traditionally made from fermented soybeans but soy-free options can also be found. We're HUGE fans of including miso in our vegan mac and cheese because it adds another interesting level of saltiness and umami.
For vegan mac and cheese avoid the darker, more boldly flavored red miso and choose mellow white. Or if you can find chickpea miso, that one is especially great for cheeses.
Vinegars and Lemon Juice
Since cheese is fermented and has a naturally tangy quality, a variety of different acids can be used to give dairy-free cheeses and sauces a more authentic, cheesy flavor. Typically these will be pale-colored vinegars like champagne, apple cider, white distilled, or rice vinegar.
It's always a good idea to try a recipe as written before you start experimenting, but if you need to swap out one vinegar for another, in my experience it probably won't make or break the recipe. Just be sure to measure carefully and don't overdo it.
Lemon juice adds a lovely and appealing cheesy quality all its own. So if you come across a recipe that calls for lemon juice, go ahead and pick up a fresh lemon at the store if needed. It's worth it.
Allergy-Friendly Options
Sprinkled throughout the list you'll find a few nut-free options, and many of the recipes are gluten-free as written or easily made that way.
When it comes to vegan mac and cheese, creating a gluten-free dish is usually as easy as using your favorite gluten-free pasta and substituting gluten-free breadcrumbs in the baked mac and cheese recipes.
Use the links below to jump to your favorite category:
Jump to:
1.
Classic/Decadent
1. Stovetop Vegan Mac and Cheese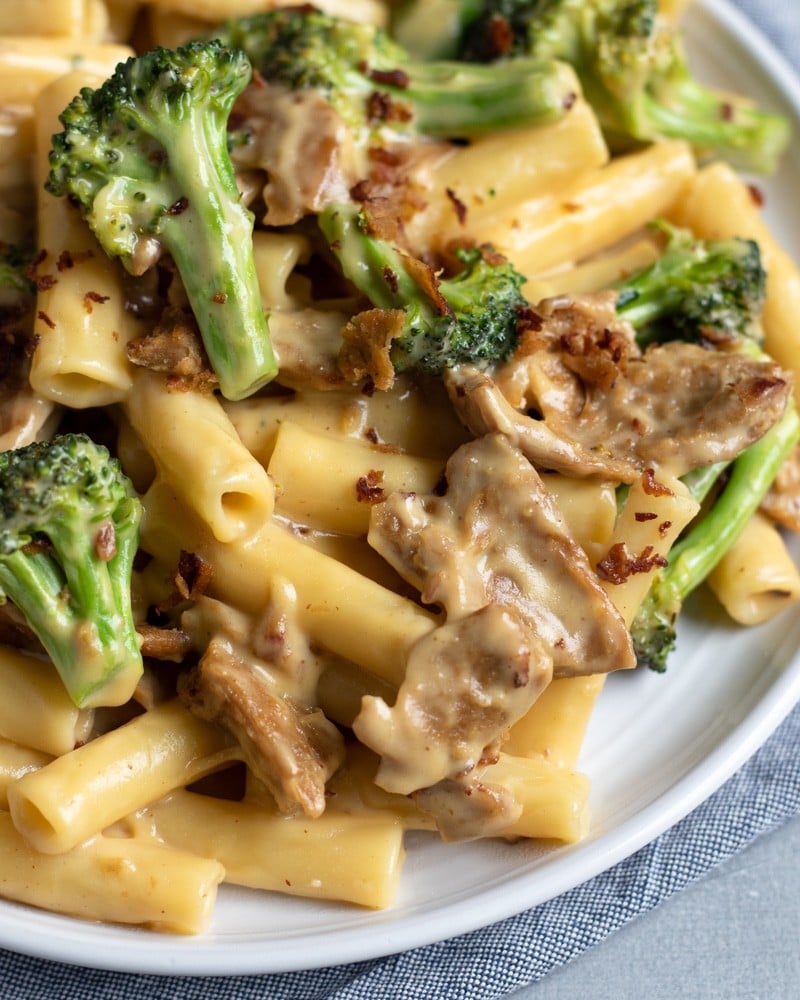 This is our go-to mac and cheese recipe. It's ultra creamy, garlicky, 100% savory, and sort of like a grown up version of your childhood favorite! I like to add sautéed kale or broccoli for a bit of color and added nutrition. Make it gluten-free with your choice of pasta. Includes a nut-free option, too!
2. Vegan Mac and Cheese (Baked and Stovetop)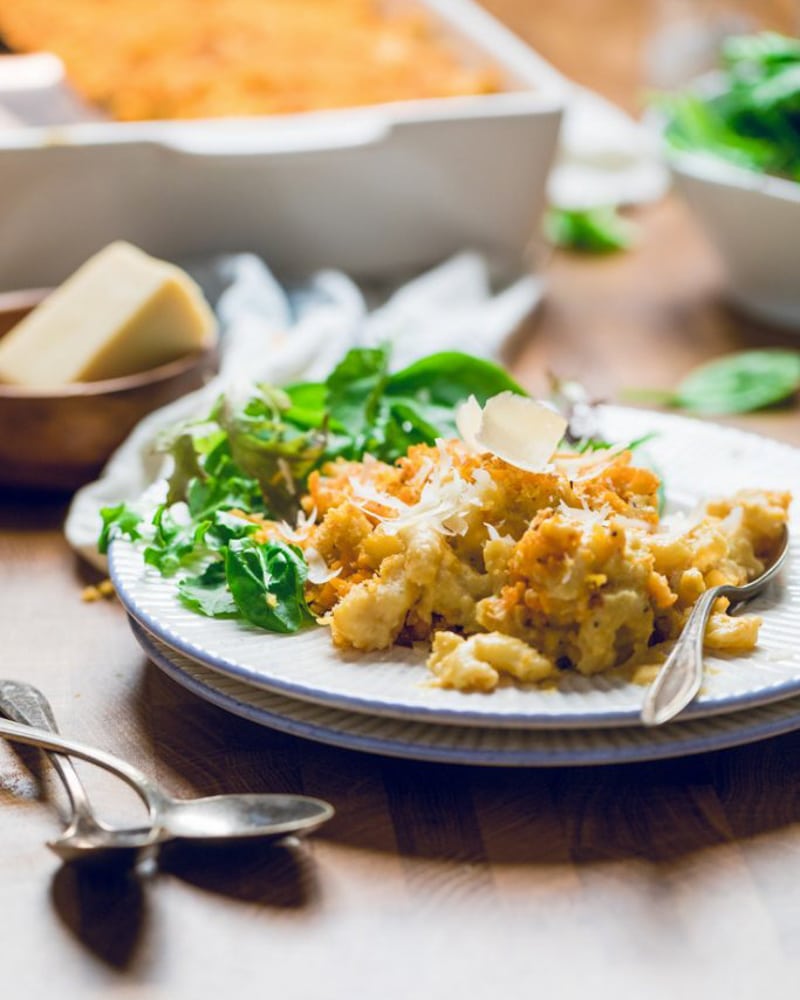 This one by Larisha and Andrew of Make It Dairy Free is everything you want in a decadent vegan mac and cheese. Bonus: it also includes beans and is allergy-friendly!
3. Baked Vegan Macaroni and Cheese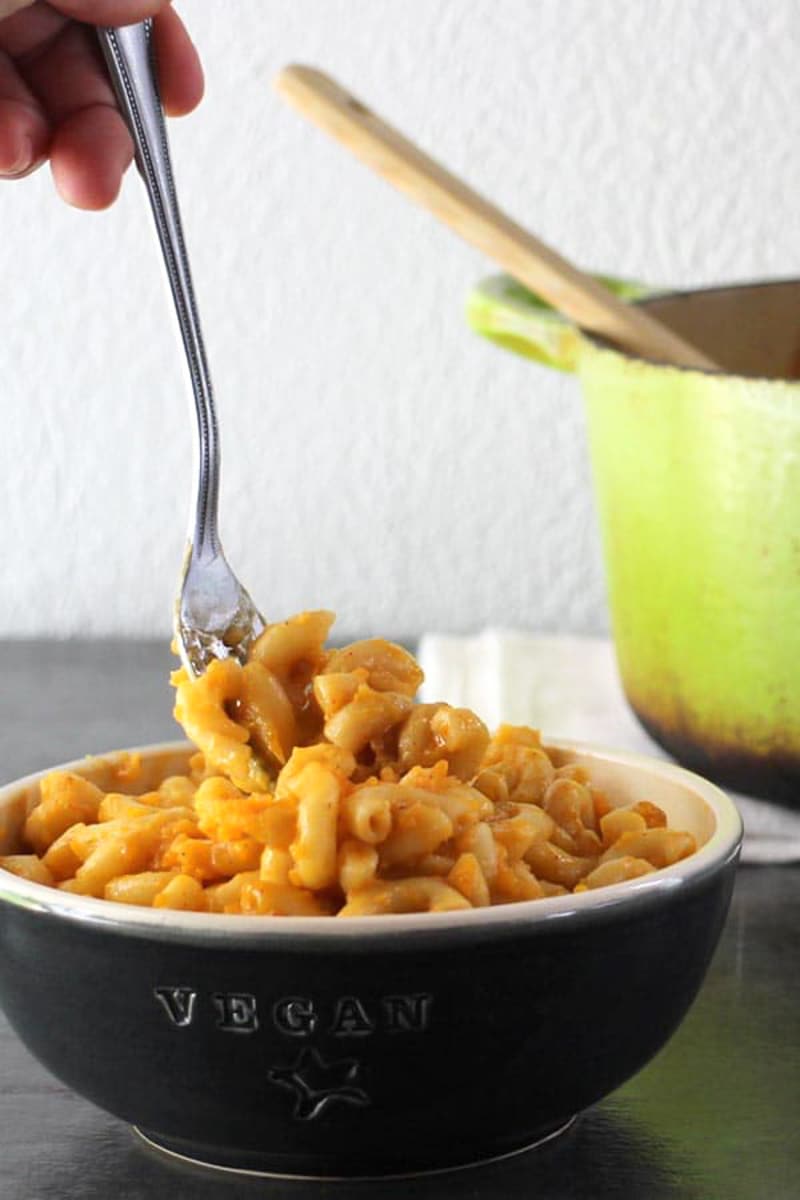 This ultimate, comforting mac and cheese by Becky of Glue and Glitter features a classic vegan béchamel sauce plus store-bought cheese. I love that you only need 8 simple ingredients to whip this one up.
4. Roasted Garlic Mac and Cheese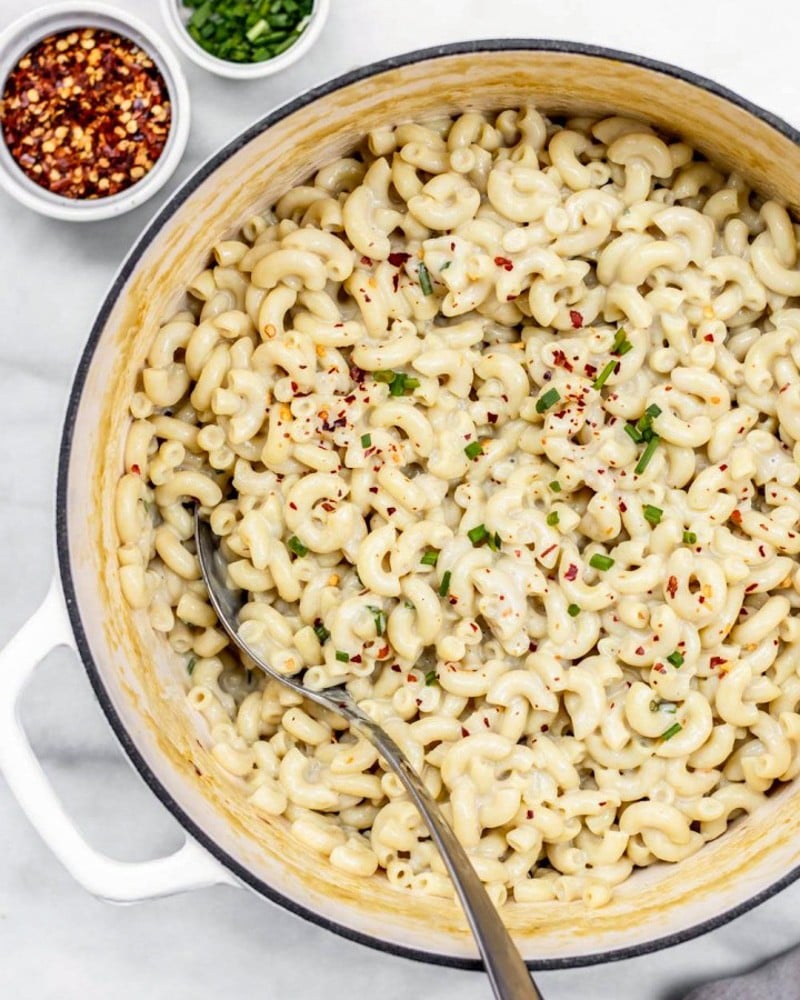 Calling all garlic lovers! This super creamy stovetop vegan mac from Eat With Clarity features homemade vegan cashew parm and two heads of roasted garlic.
5. Baked Vegan Mac and Cheese With Cracker Topping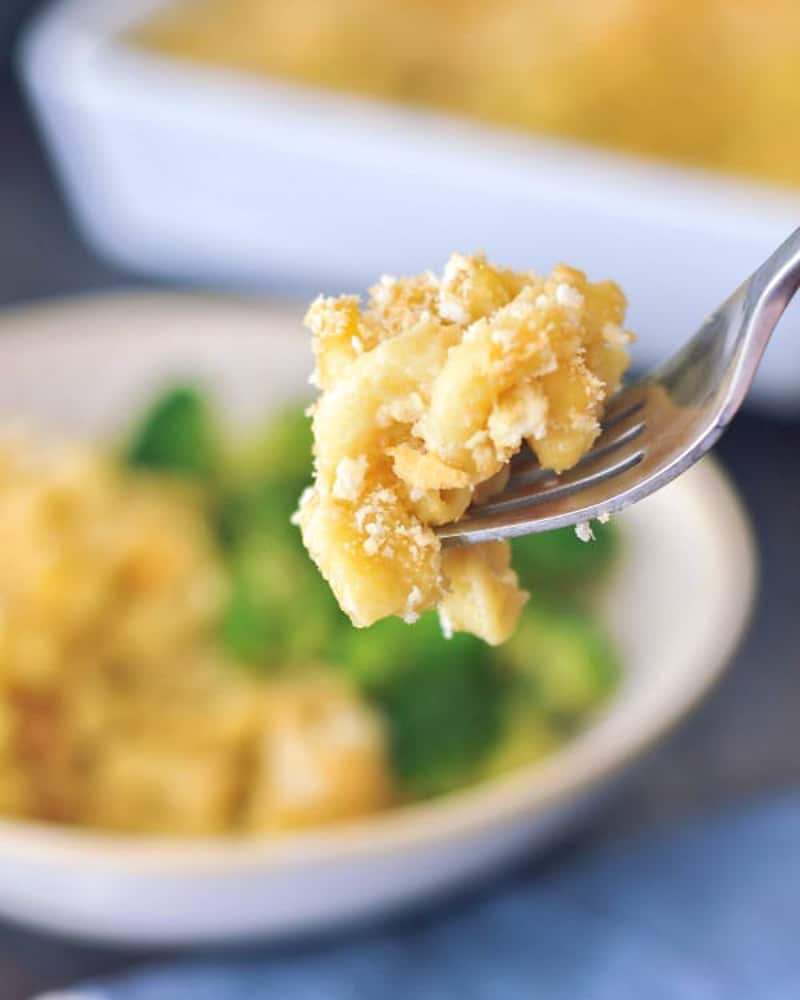 With this one, Kristina of Spabettie was going for a comfort food recipe just like mom used to make.... and I'd say she nailed it! This is a classic vegan baked mac and cheese recipe with a buttery Ritz-style cracker topping that also happens to be gluten-free.
Jump to:
2.
Creative Flavors
In the mood for vegan mac with flair? You're in the right place. From white truffle to poblano to vegan lobster, it's time for a bit of mac and cheese creativity!
1. White Truffle Mac and Cheese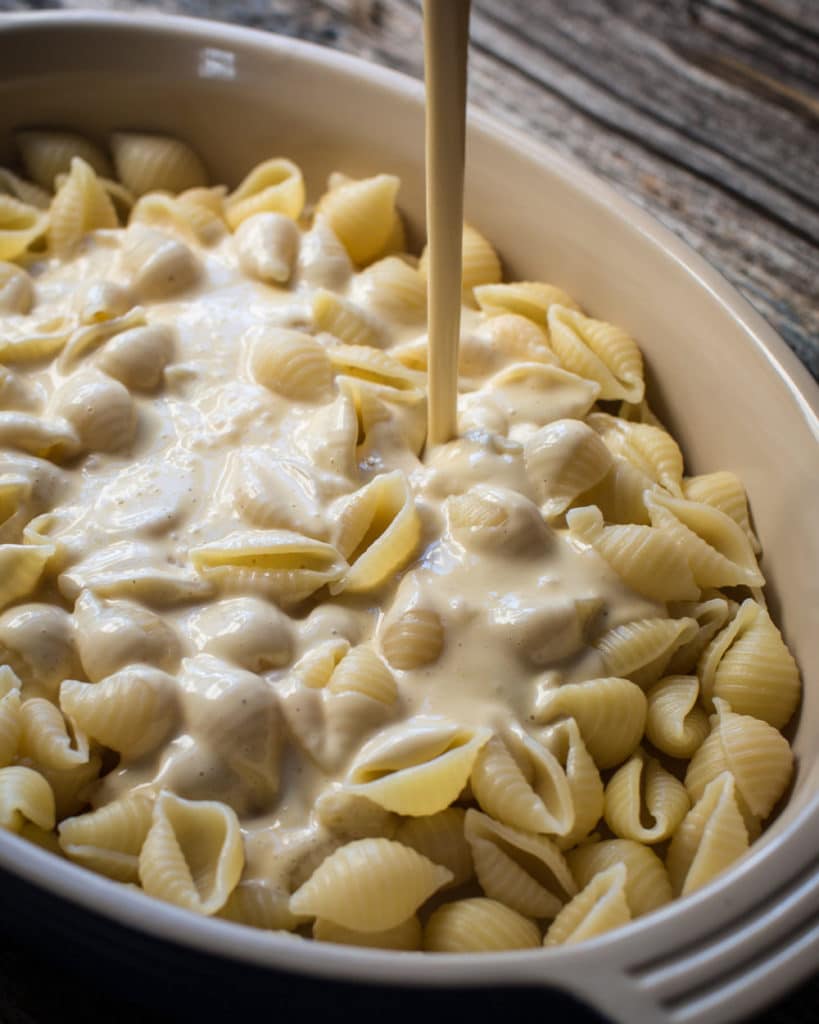 If you're not sure how to select a good quality white truffle oil, or even where to find one, not to worry. Timothy will point you in the right direction. Mississippi Vegan's White Truffle Macaroni and Cheese is the stuff of dreams, with roasted garlic and three types of vegan cheese.
2. Ultimate Vegan Mushroom Mac and Cheese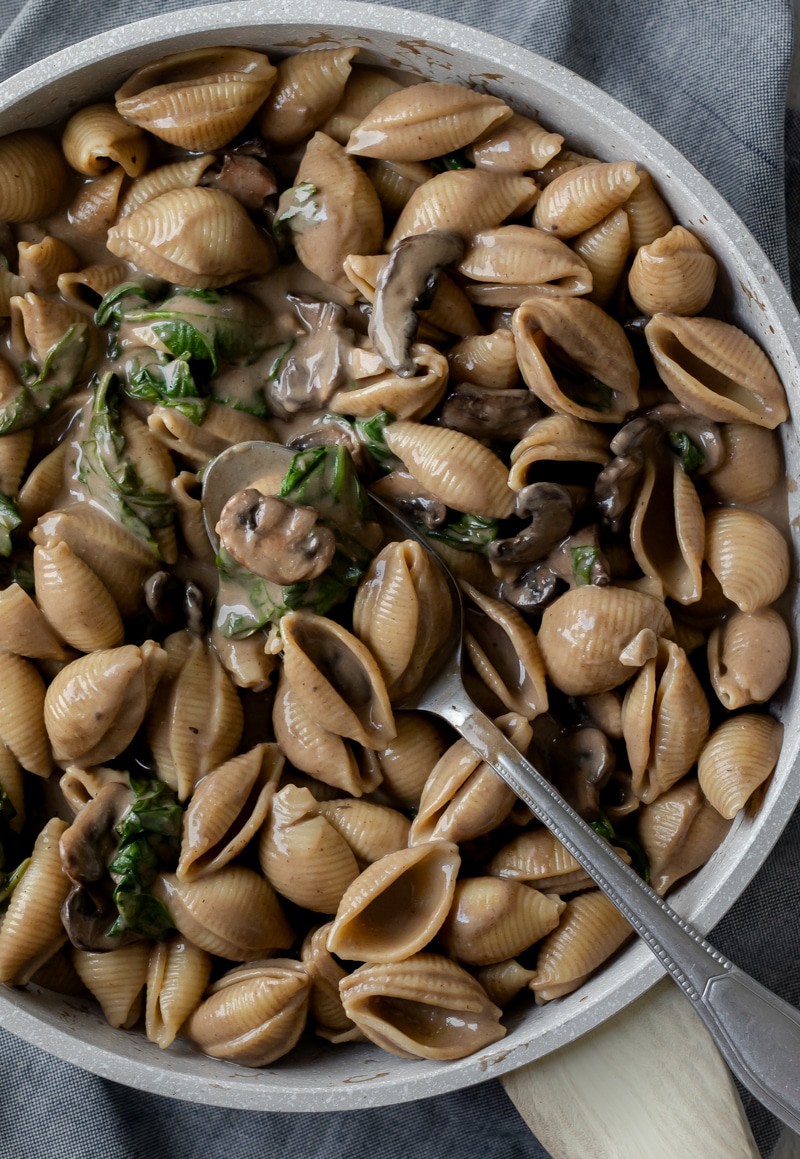 For true mushroom lovers, this recipe is a marriage between my stovetop mac and cheese (in the Classic category) and this Vegan Cream of Mushroom Soup. It calls for both dried and fresh mushrooms, plenty of garlic, and a bit of rosemary for an umami-rich vegan mushroom mac and cheese worth savoring.
3. Vegan "Lobster" Beer Mac
Proof that we can veganize anything, this lobster beer mac from Vegan Travel Eats uses hearts of palm as a sub for lobster. And with cream cheese, beer, and miso in the sauce, you know it's packing serious flavor. [drooling]
4. Cheesy Udon Noodle Bowl With Brussels Sprouts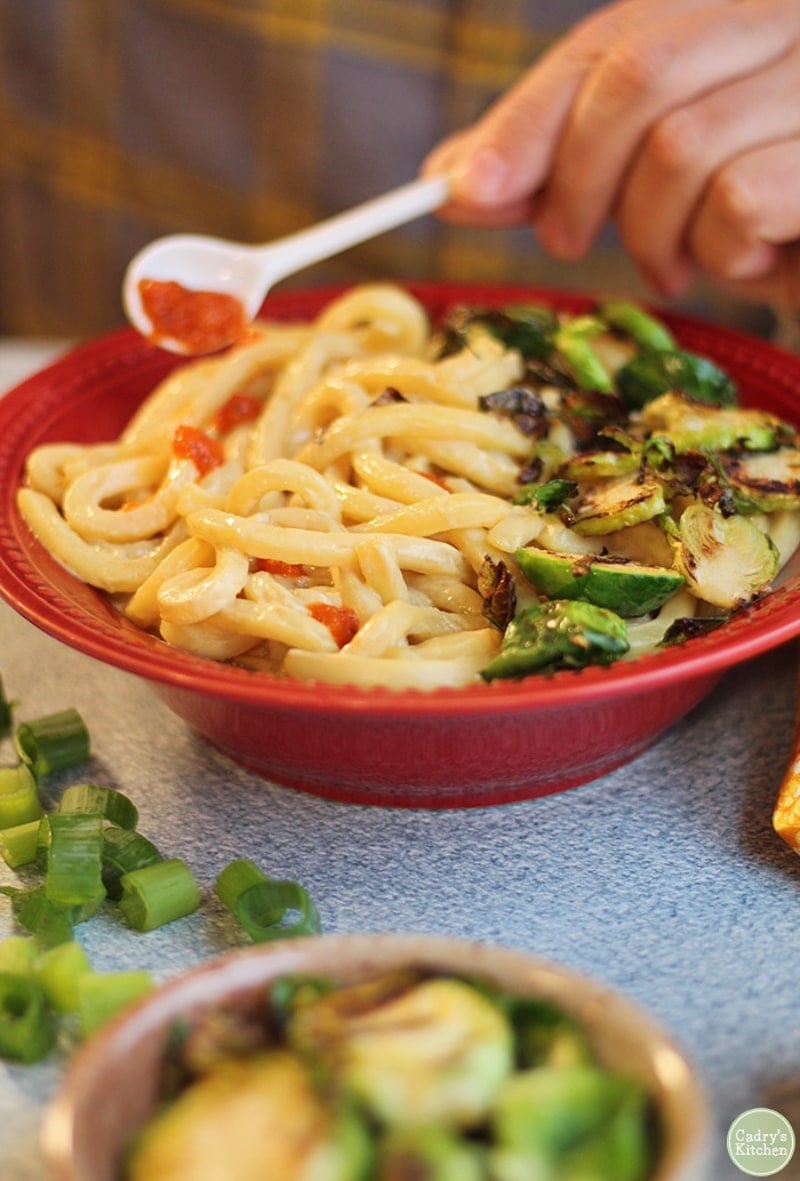 Talk about creative! How about a little Asian flair with your cheesy noodles? This recipe from Cadry's Kitchen is a big bowl of comforting goodness, with udon noodles, sriracha, tamari, and miso. Ready in 25 minutes!
5. Vegan Green Chile Mac 'n Cheese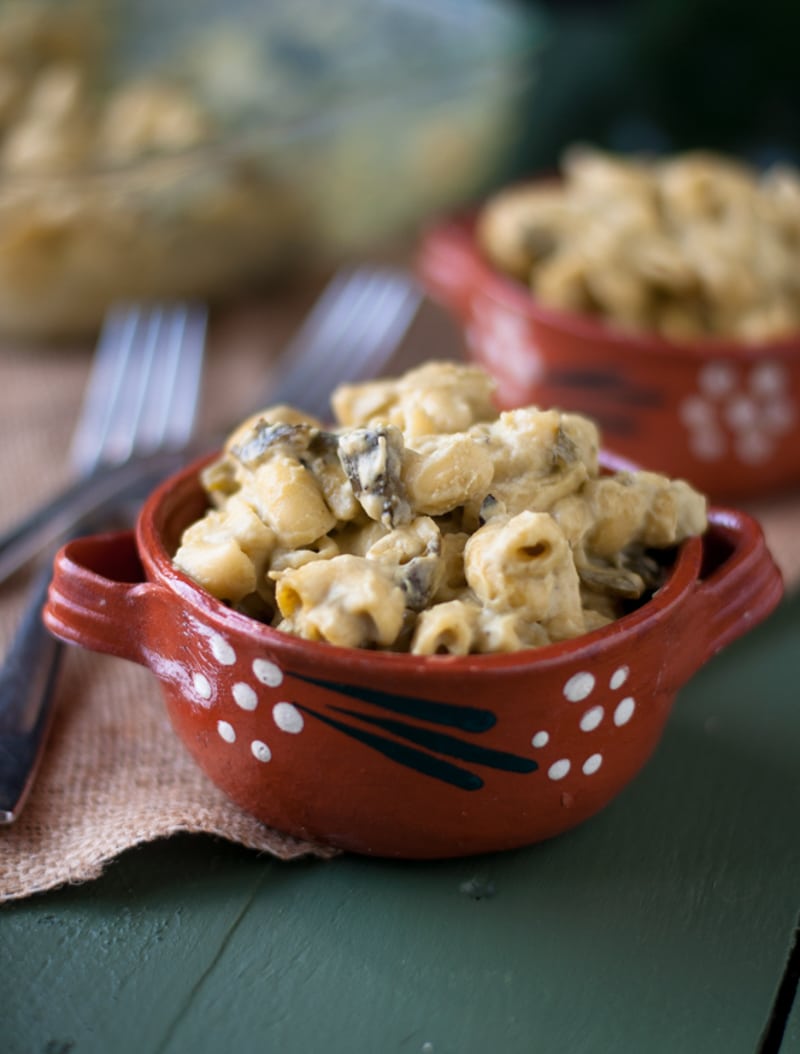 With roasted poblanos and a very pantry-friendly sauce, this green chile mac from Thyme & Love is a slam dunk! Gluten-free, too.
6. Smoky Mac-Stuffed Sweet Potatoes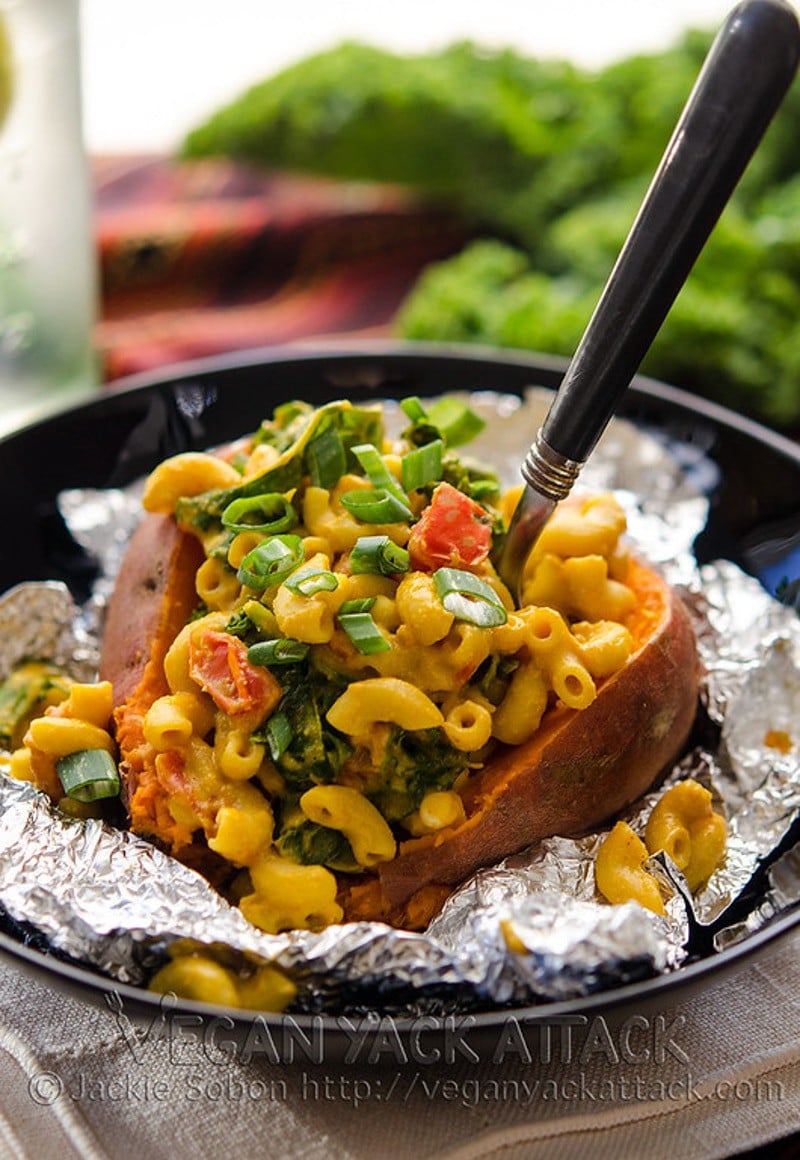 Smoky plus sweet is always a winner, but smoky, sweet, AND cheesy? Even better! This smoky mac from Jackie of Vegan Yack Attack is a party in your mouth and can be on the dinner table in about an hour. Bonus: the sauce includes a hidden veggie.
7. Jalapeno Cheddar Mac and Cheese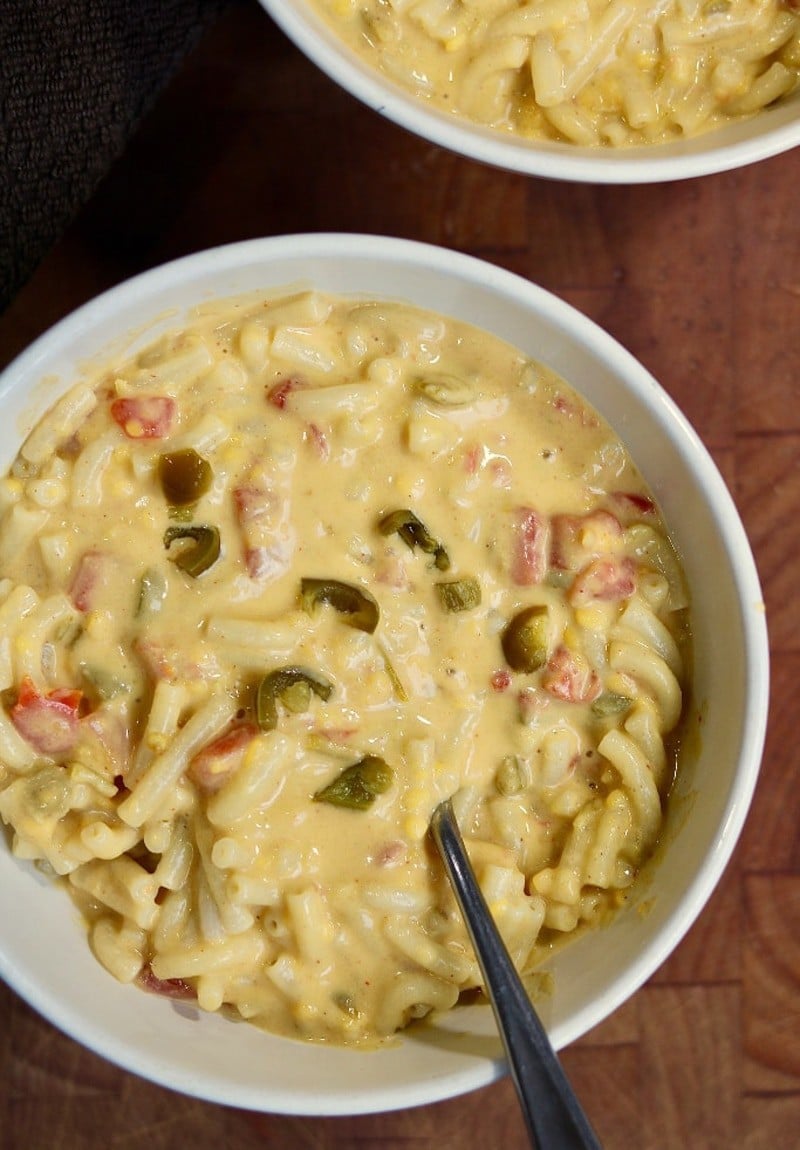 This recipe from The Cheeky Chickpea is like queso meets mac and cheese and needs to be in your bowl ASAP. It's made with pickled jalapeños, green chilies, and Rotel. Come to Mama.
8. Vegan Squash Mac and Cheese With Curried Okra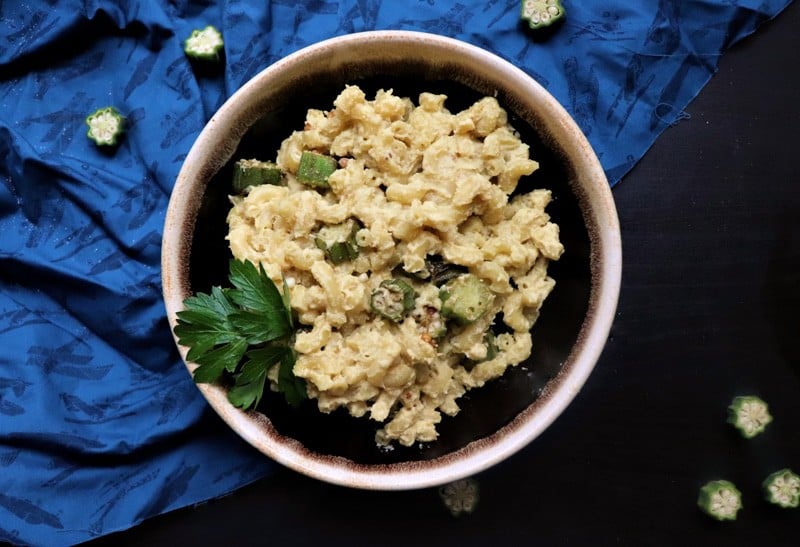 Growing up in the South, I've always thought of okra as comfort food, so I think this pairing is genius! Very Vegan Val's recipe includes pan-seared okra seasoned with curry powder plus a squash-cashew sauce.
9. Lemon Poblano Mac and Cheese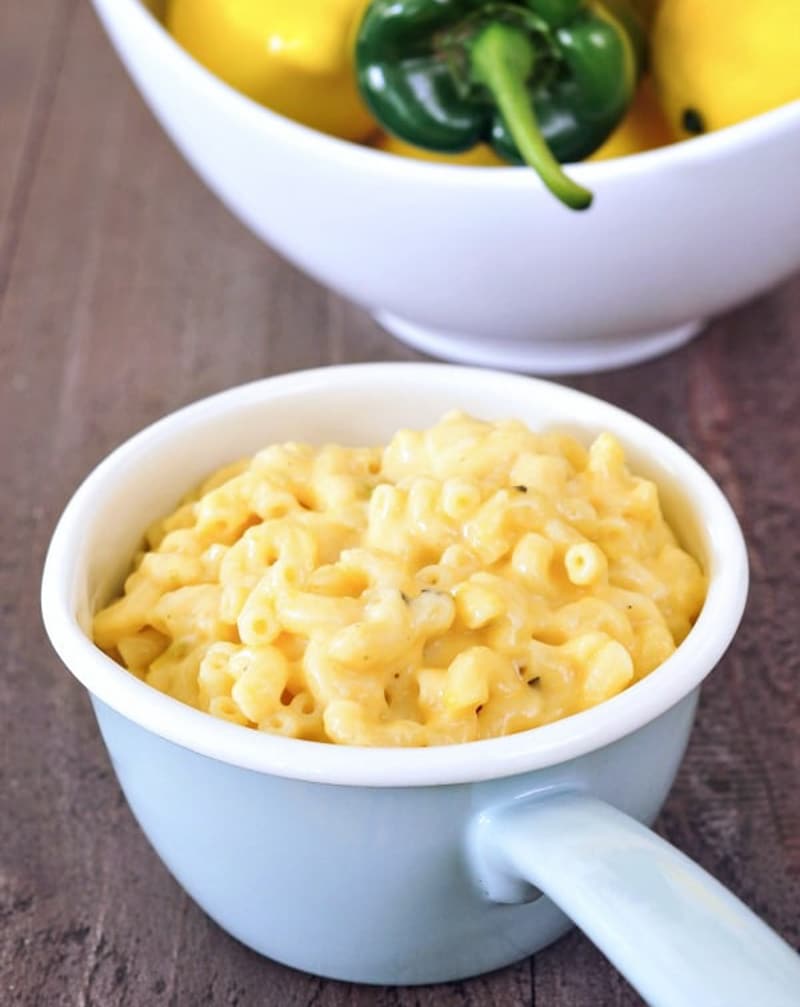 A quick stovetop mac gets a burst of flavor from fresh lemon zest and juice. Spabettie's recipe then takes it to the next level with roasted poblano peppers. Ready in 25 minutes!
10. Fried Vegan Mac and Cheese Hearts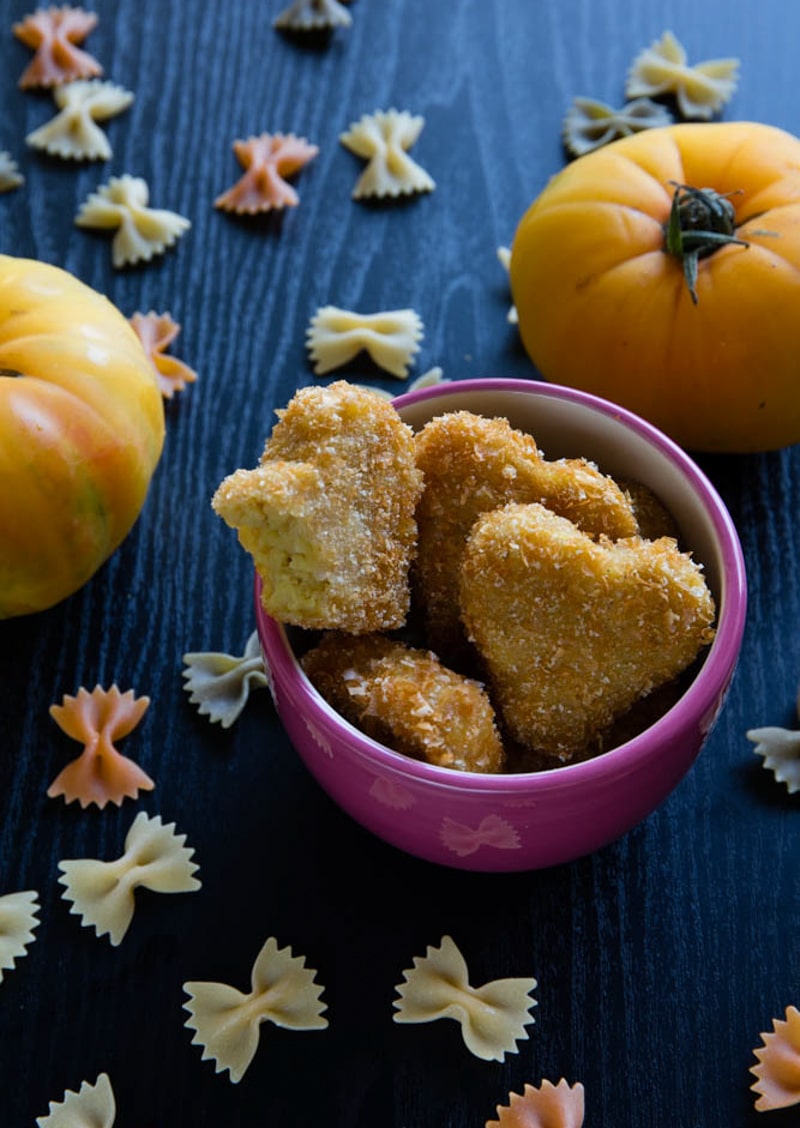 What do you do with leftover mac and cheese? Well, obviously you form it into hearts, give it a crispy coating, and turn it into the cutest fried food ever. Click below to get the recipe from Vegan Dollhouse.
Jump to:
3.
Whole-Food Plant-Based
All of the recipes in this category are oil-free and made from whole foods (WFPB), meaning you won't find any vegan butter or store-bought cheeses in these options. These recipes are a genius way to get picky eaters to eat their veggies.
1. Plant-Based Mac and Cheese with Broccoli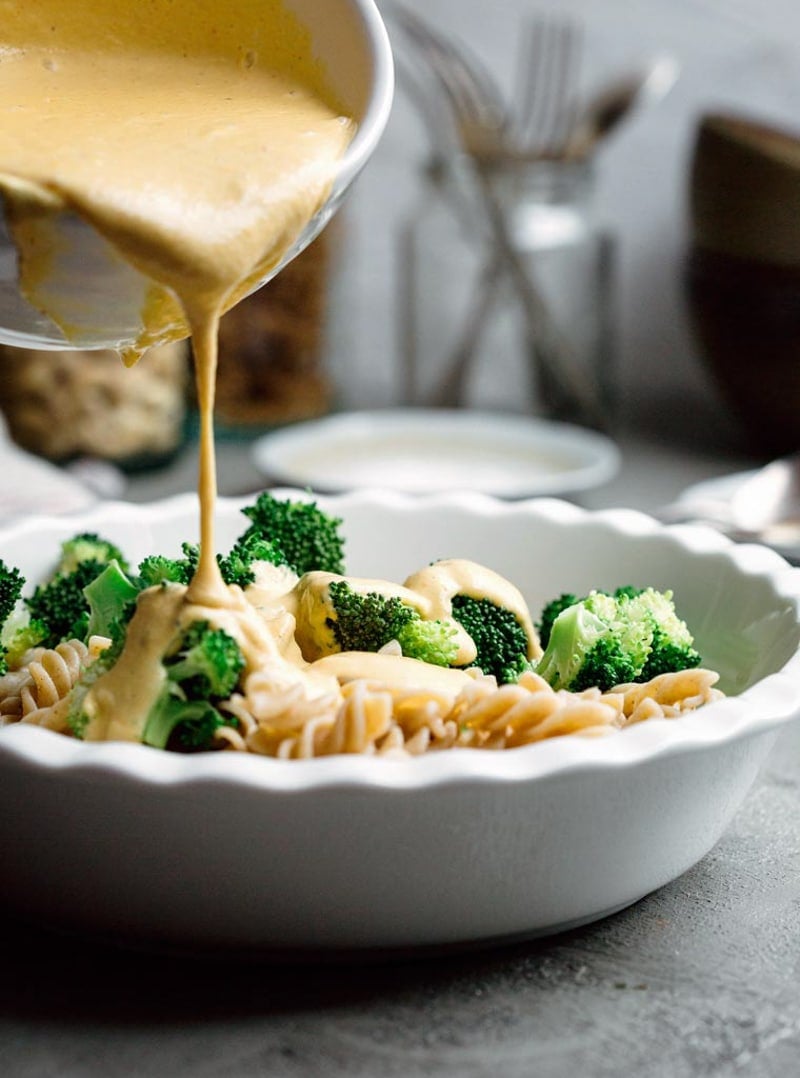 This creamy plant-based mac and cheese from Nutriciously features a homemade cashew sauce and crunchy broccoli florets. Using simple ingredients like potatoes, carrots and nutritional yeast, it's low in fat, healthy, and really approachable.
2. Nut-Free Vegan Mac and Cheese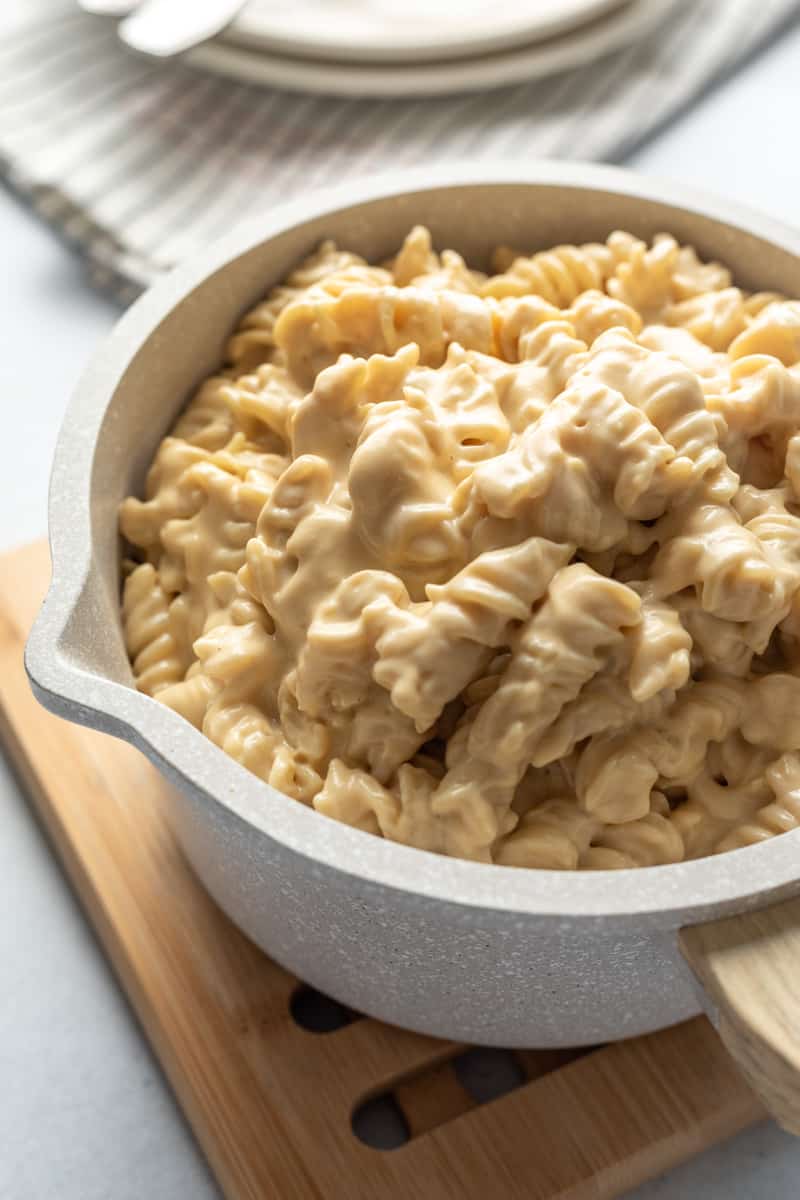 This allergy-friendly macaroni and cheese by me, My Quiet Kitchen, takes just 25 minutes to prepare and is made with affordable, pantry-friendly ingredients. It's low in fat, creamy, and 100% savory, and there are no veggies to cook in advance. Sometimes we like to add garlicky, sautéed kale to this one.
3. Butternut Squash Mac & Cheese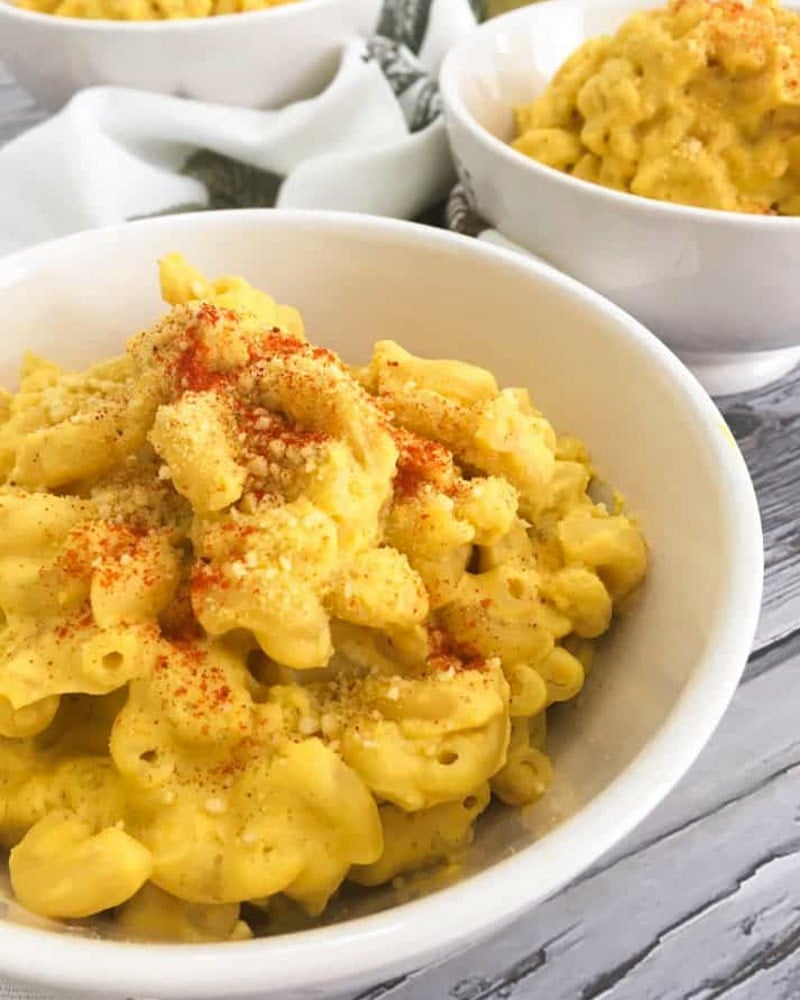 Rosa of This Healthy Kitchen found a great way to sneak extra veggies into her kiddos' mac and cheese. This sauce is loaded with butternut squash, making it super nutritious and flavorful. The color blends perfectly, so there's no reason for picky eaters to question a thing! You'll love the simplicity of this recipe.
4. Butternut Squash Mac and Cheese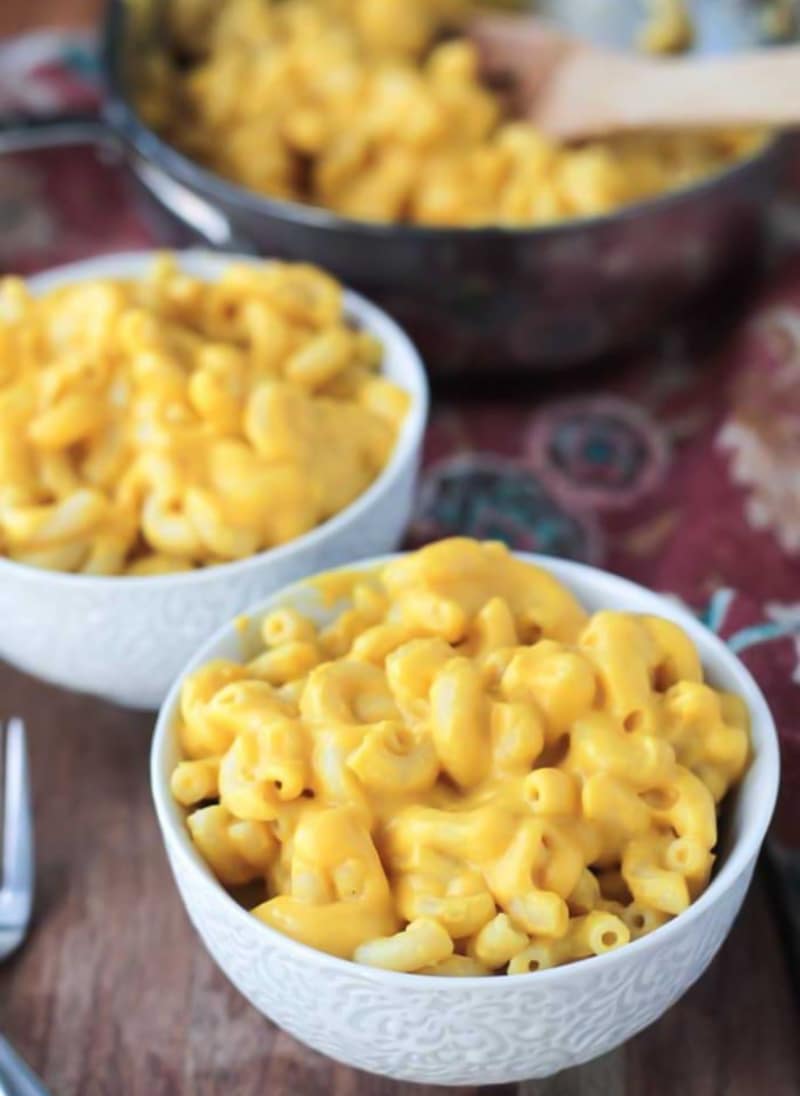 This nutritious mac from Jenn of the blog Veggie Inspired is soy- and gluten-free, luxuriously creamy, and kid-approved! Lemon juice, dijon, and a hint of smoked paprika perfectly balance out the natural sweetness of the squash.
5. Veggie-Packed Vegan Macaroni and Cheese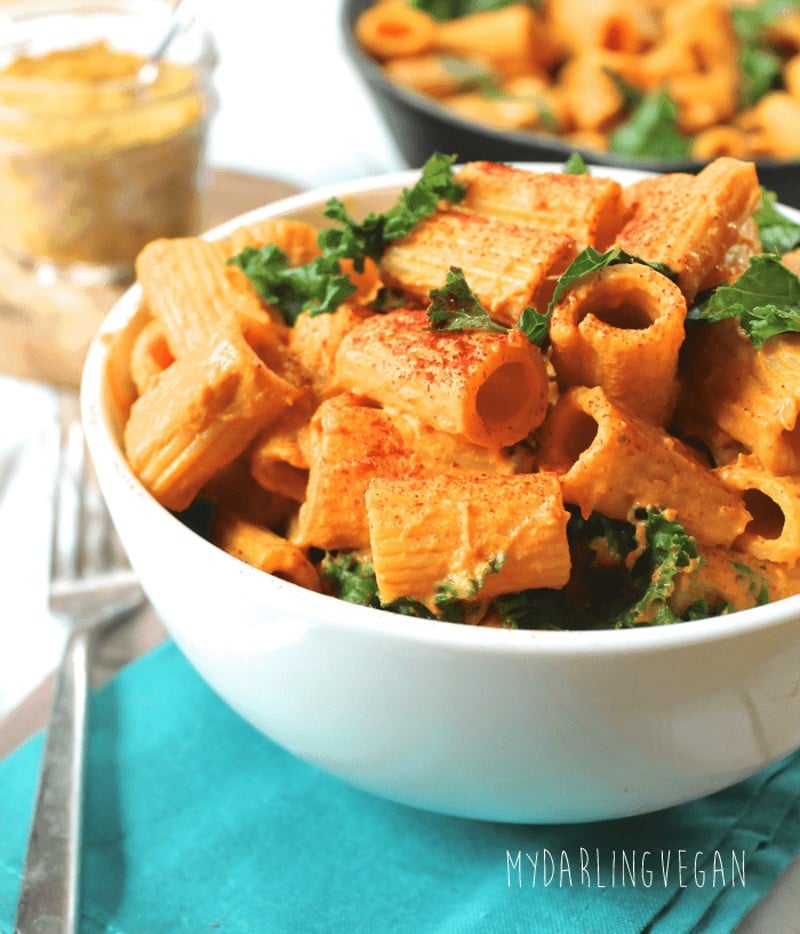 This recipe from Sarah of My Darling Vegan is secretly healthy, filled with all kinds of hidden vegetables, and gets an extra boost of flavor from sun-dried tomatoes and liquid smoke.
6. Oil-Free Baked Mac & Cheese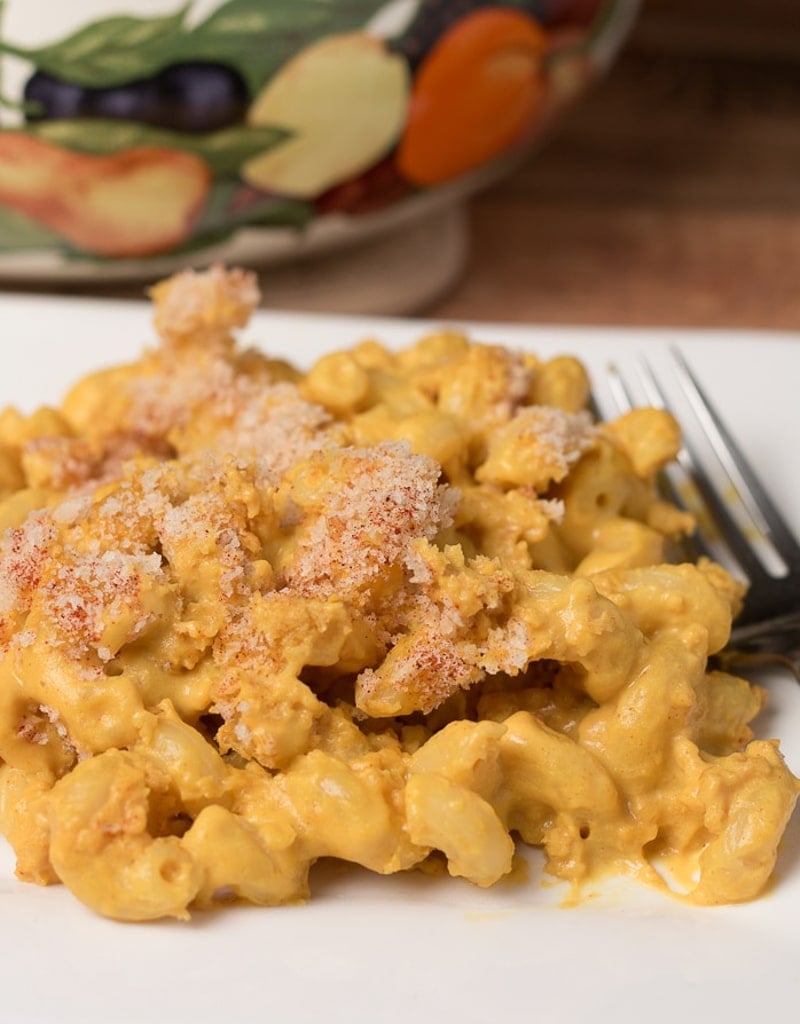 This classic plant-based mac and cheese from Teresa of A Plantiful Path is made with easy ingredients you probably already have in the kitchen. It gets its color from a bit of carrot, paprika, and turmeric, and is baked to cheesy perfection!
7. Chickpea Cheese Sauce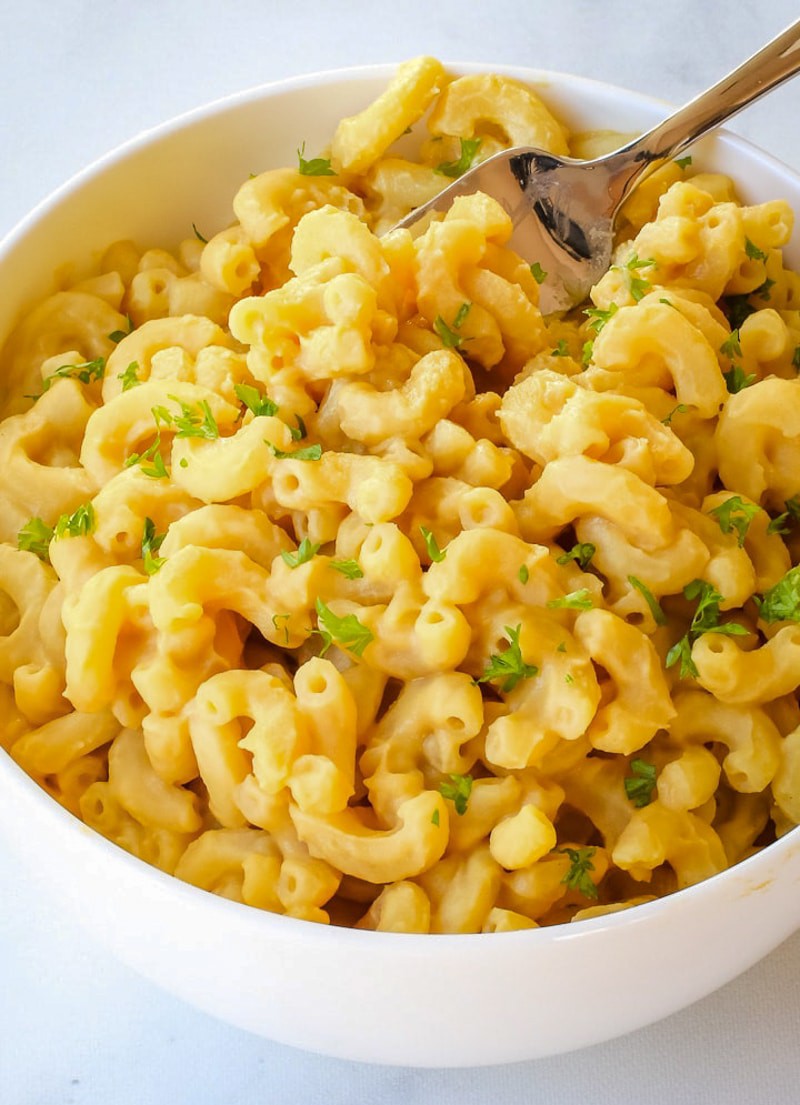 This all-purpose chickpea cheese sauce from Healthy Midwestern Girl could easily become your new favorite healthy cheese sauce. From mac and cheese to potatoes to pizza, go ahead and put it on everything!
8. Easy and Quick Pumpkin Mac and Cheese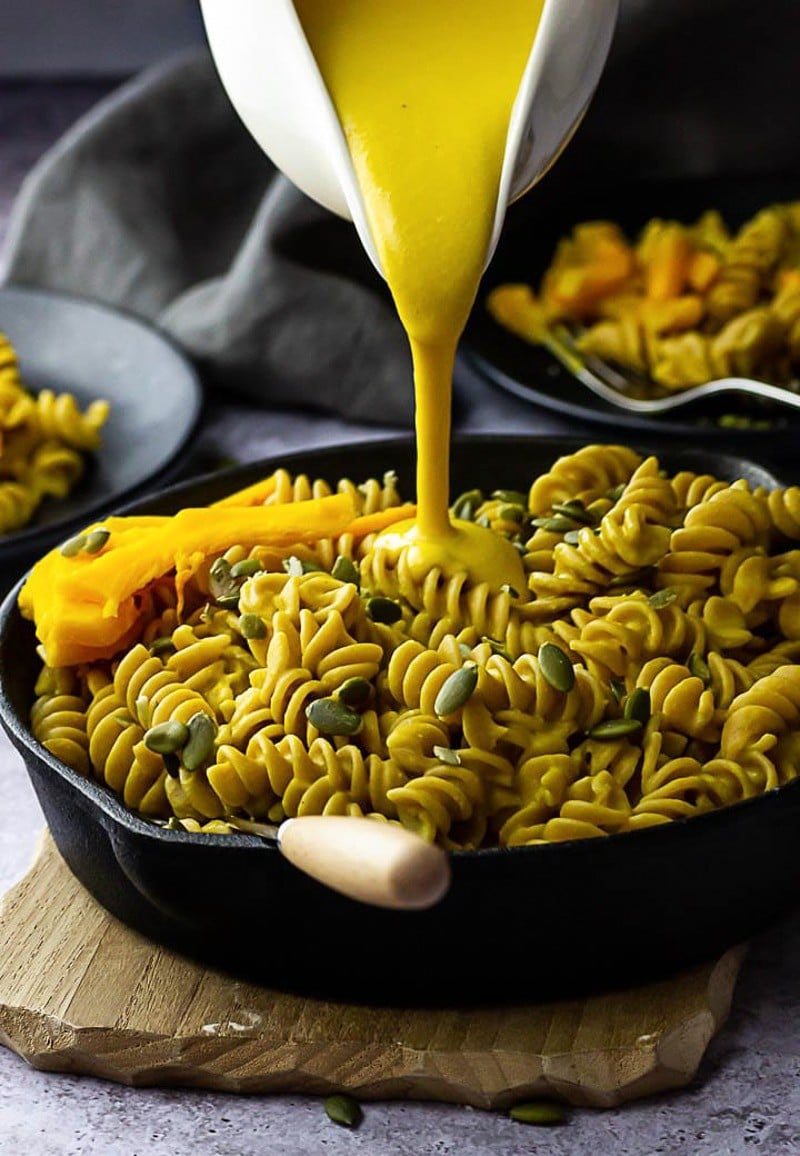 Mmmm, talk about fall comfort food. This plant-based pumpkin mac and cheese from Ve Eat Cook Bake takes just minutes to prepare and calls on the irresistible flavors of sage, smoked paprika, and nutmeg to complement the creamy pumpkin.
9. Roasted Cauliflower Mac and Cheese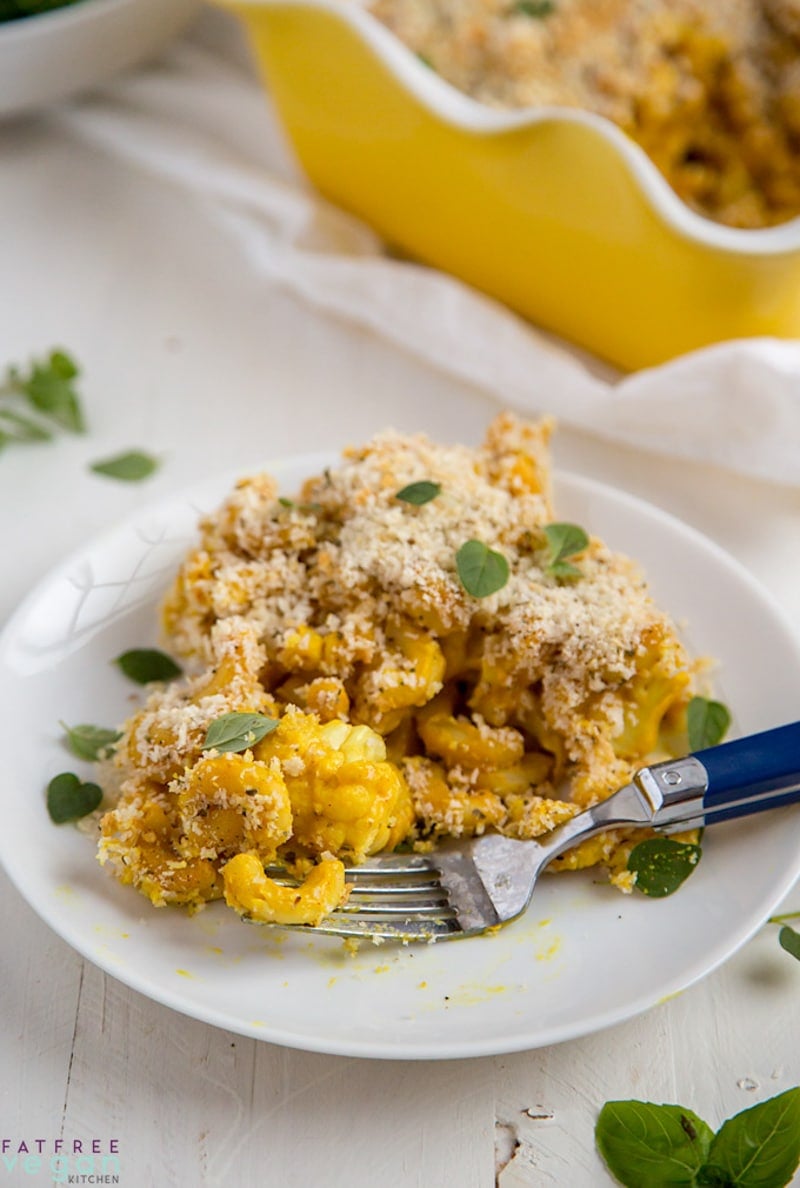 Susan of Fat Free Vegan created this creamy, garlicky, vegan cauliflower macaroni and cheese. Roasting the cauliflower first adds flavor to this light, low-fat casserole.
Jump to:
4.
Quick and Easy
The vegan mac and cheese recipes in the Quick and Easy category are perfect on nights when you need comfort food and you need it FAST. Most are stovetop recipes that use simple, pantry-friendly ingredients.
1. Curry Mac and Cheese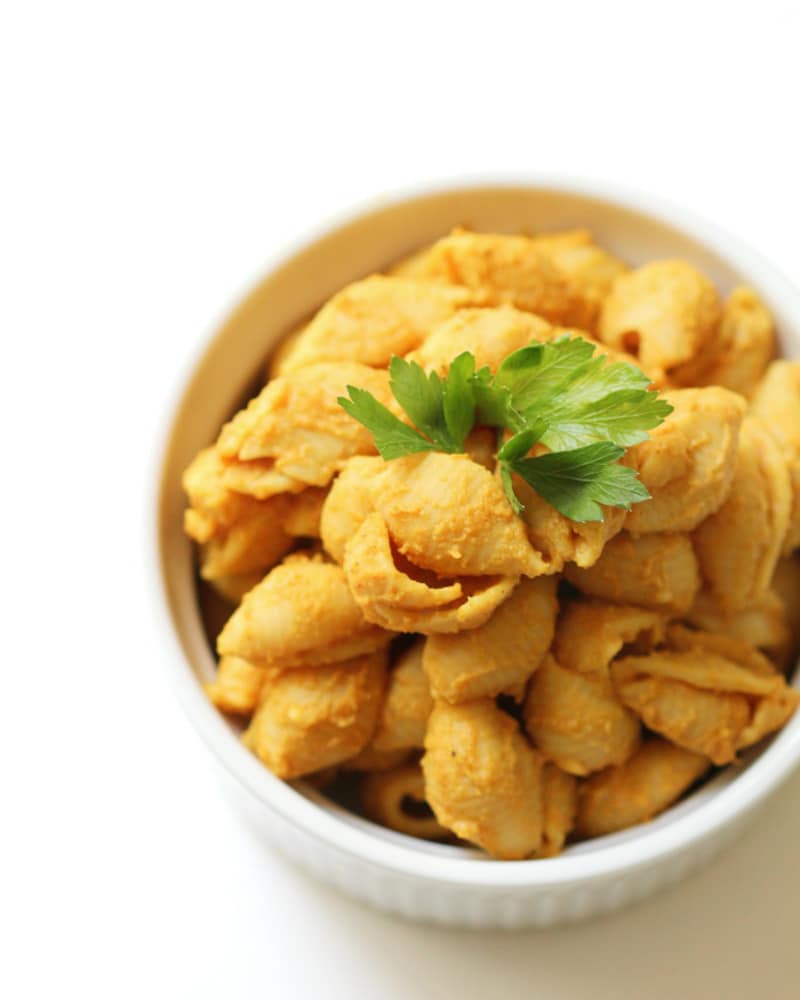 This allergy-friendly stovetop mac from Rebecca of the blog Strength and Sunshine couldn't be easier! Not into curry? Be sure to check out her other 1-Pot Mac and Cheese recipe that's just as easy.
2. Easy Gluten-Free Vegan Mac and Cheese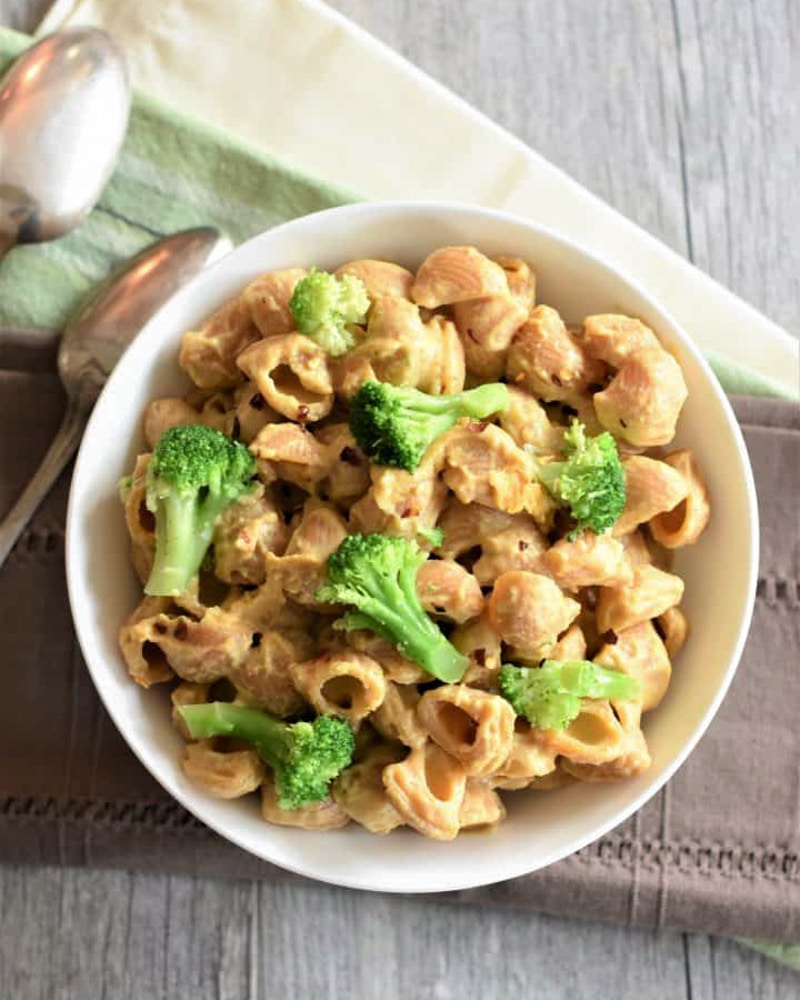 This easy stovetop mac and cheese from Watch Learn Eat has ALL of the buttery, cheesy goodness you want in a mac and cheese (yum, Chao Original) while also being gluten-free. Ready in about 15 minutes!
3. Slow Cooker Mac and Cheese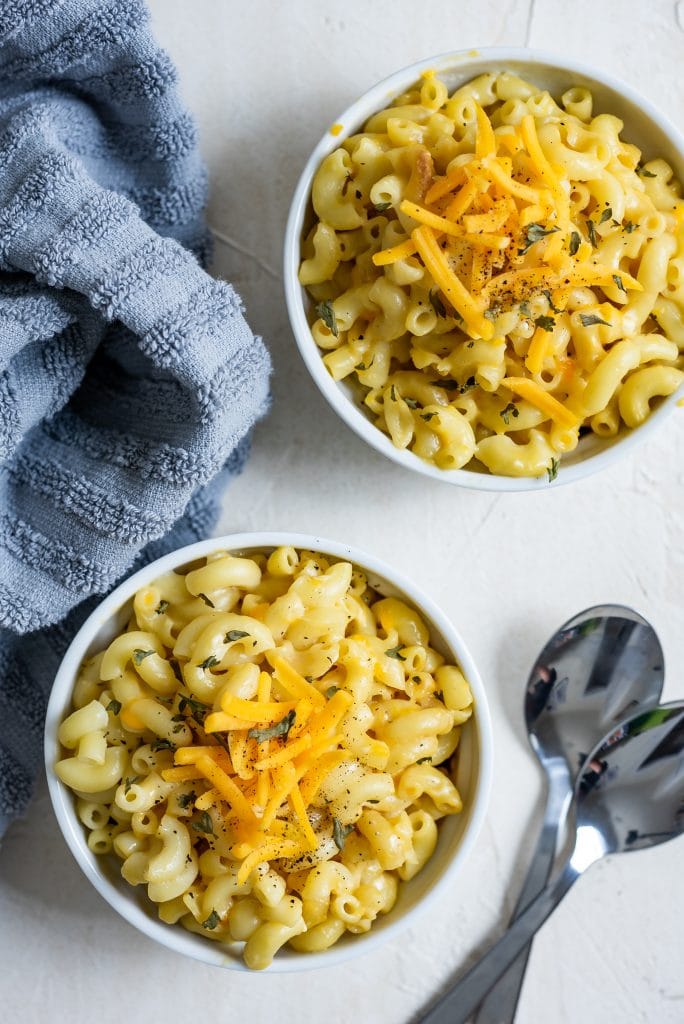 And because easy doesn't have to mean quick, how about slow cooker vegan mac and cheese? The Nut Free Vegan's recipe uses just 6 ingredients, including store-bought cheese. Toss everything in, stir, and walk away!
4. Homemade Vegan Boxed Mac and Cheese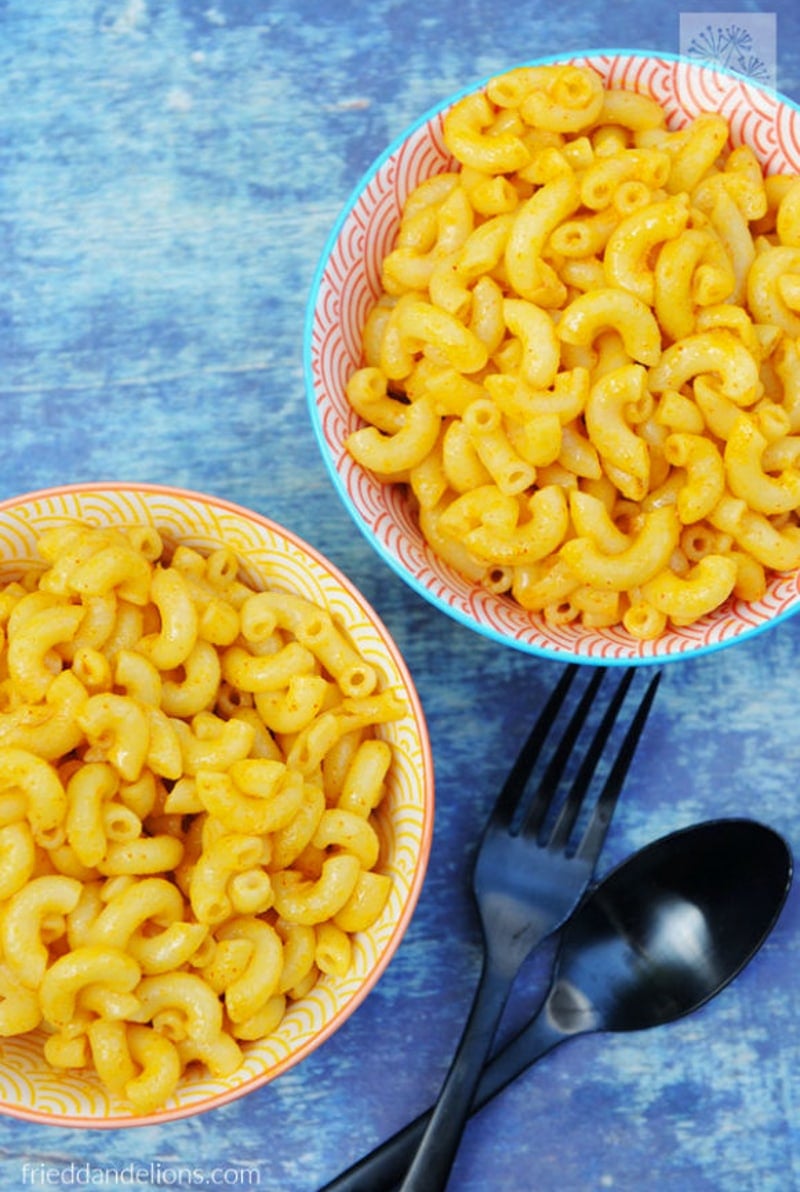 Kid-tested and kid-approved, this recipe from Fried Dandelions is obviously healthier than the blue box stuff but comes together just as quickly! Can be made top 8 allergen-free.
Okay, so this is actually a list of 28 recipes, not 25. But as you can see, they're all just so good it was difficult to narrow it down!
I hope you enjoy these vegan mac and cheese recipes. If you give any a try be sure to comment below and let us know your favorites!
*This post was originally published in May 2020, and has been edited for content.
You might also like:
Follow My Quiet Kitchen on Facebook, Instagram, and Pinterest, and subscribe via email to receive all of the latest recipes!