This surprisingly simple Meyer Lemon Vegan Cheesecake is a creamy, no-bake dream! Made from just twelve ingredients, cashews mingle with the mellow citrus flavor of Meyer lemons to create a crowd-pleasing cheesecake perfect for holidays and special occasions. Gluten-free.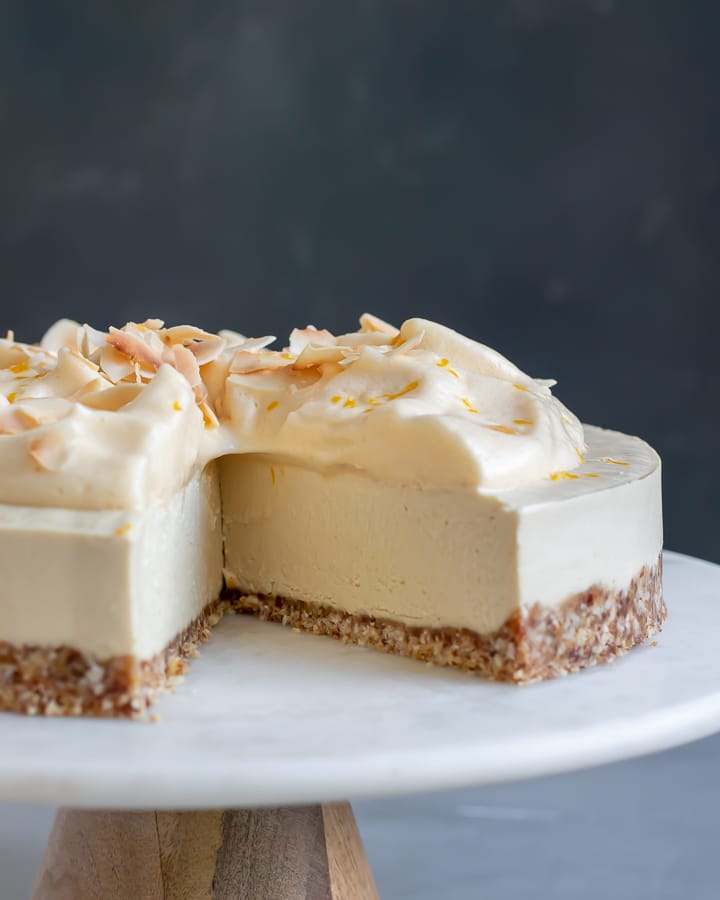 This is the first cheesecake recipe I'm sharing on the blog, which is kind of sweet because this was the dessert I made for Mark's birthday last month. He loved it. I loved it. Friends loved it. And I think you'll love it, too!
If you've never made a vegan cheesecake before but have dabbled with the traditional, baked, dairy version, you're going to love how fuss-free vegan cheesecakes can be.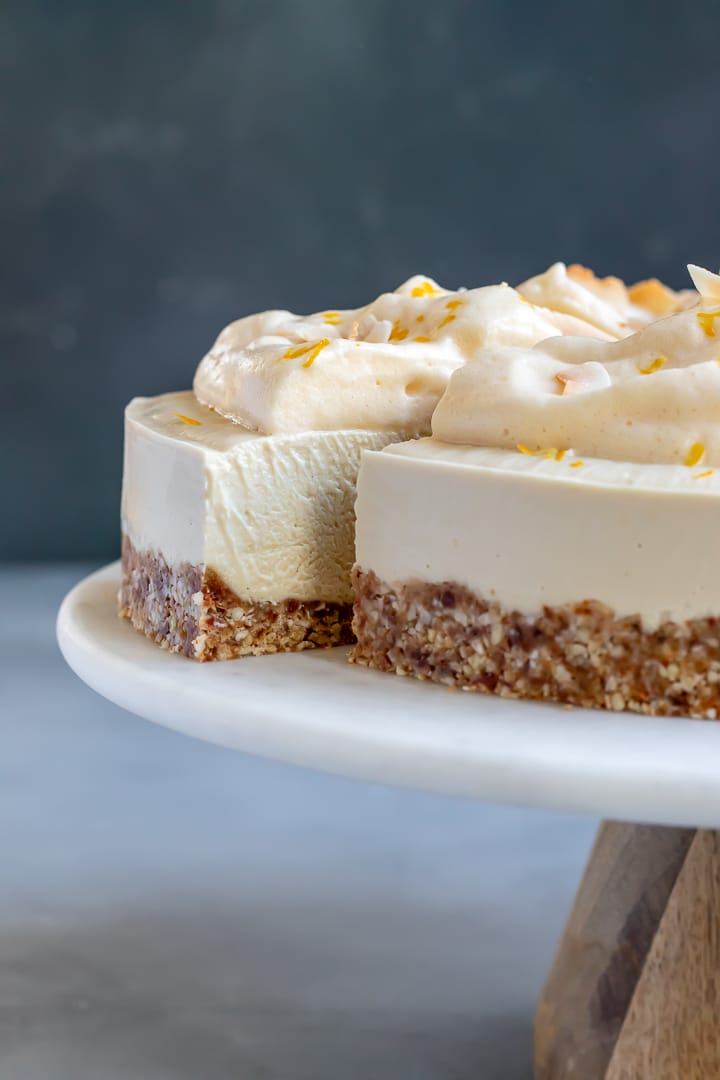 Cheesecakes and I go way back...
And unfortunately I'm not talking about the vegan kind. Nearly two decades ago (wow, that long?), I was quite the proud cheesecake baker. Searching for recipes online wasn't really a thing yet, so the main recipe I used was from a Betty Crocker cookbook. Some of you might remember the one I'm talking about, with its huge binder rings and red and white hard cover.
I remember studying the tips provided in those glossy pages, mainly about how to avoid the dreaded cracked cheesecake! I played by all the rules - cream cheese brought to room temperature, water baths, avoiding sudden temperature changes, letting the cheesecake cool in the oven with the door cracked. And I guess my cheesecakes were about as successful as they could be.
Now, here I am all these years later, making a vegan cheesecake and typing up my own tips to share with you. But here's the fun part....
You barely need any tips! If you make this cheesecake I guarantee it will be smooth, gorgeous, stress-free, crack-free, bake-free, dairy-free, egg-free, cruelty-free, and cholesterol free!
You'll get the rich and creamy filling you desire but without the HEAPS of saturated fat found in dairy cheesecakes. It also won't leave you with the infamous dairy-induced stomach ache. It's a win on so many levels.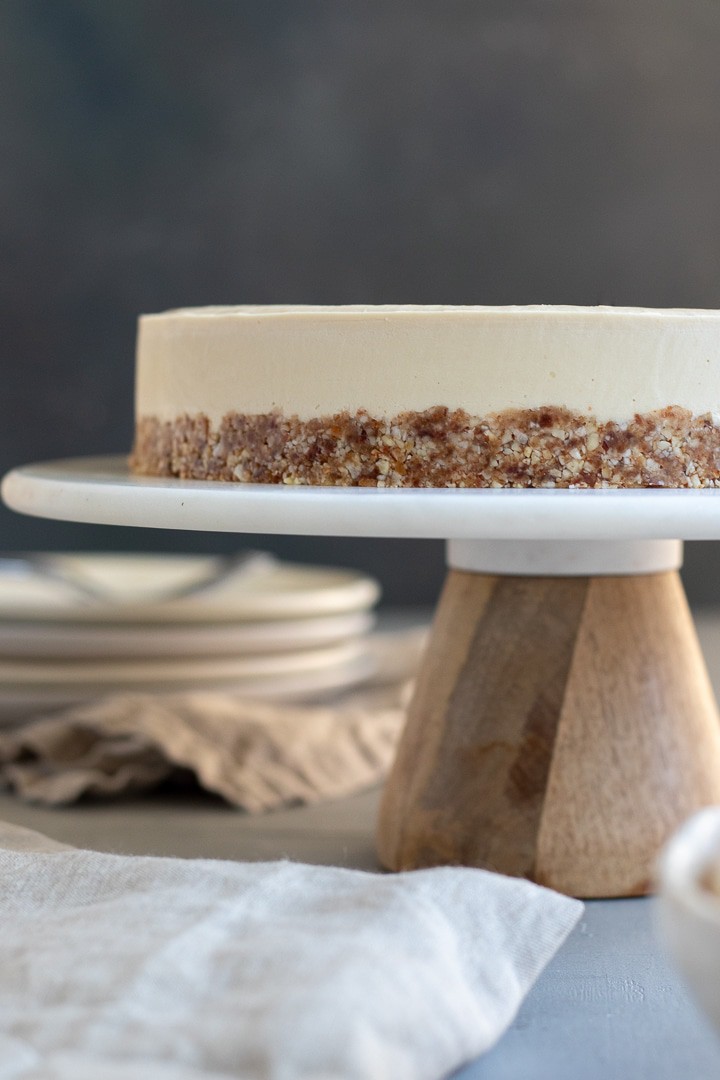 How to make Vegan Cheesecake
The process looks like this:
Soak: quick soak the cashews in hot water for about 30 minutes, then drain.
Process: use a food processor to make the crust, then press the mixture into a 9-inch springform pan.
Blend: combine the filling ingredients in a high speed blender and blend until smooth.
*If you don't have a high speed blender, try blending the filling in batches to achieve the smoothest consistency possible. I haven't tested this but am keeping my fingers crossed you will still get a satisfactorily smooth texture. Another trick: try substituting raw cashew butter. Britt over at Leaves of Kale explains how to make the swap. It's worth a try, right?
Freeze: pour the filling into the crust and freeze until set.
BOOM! You just made a gorgeous vegan cheesecake!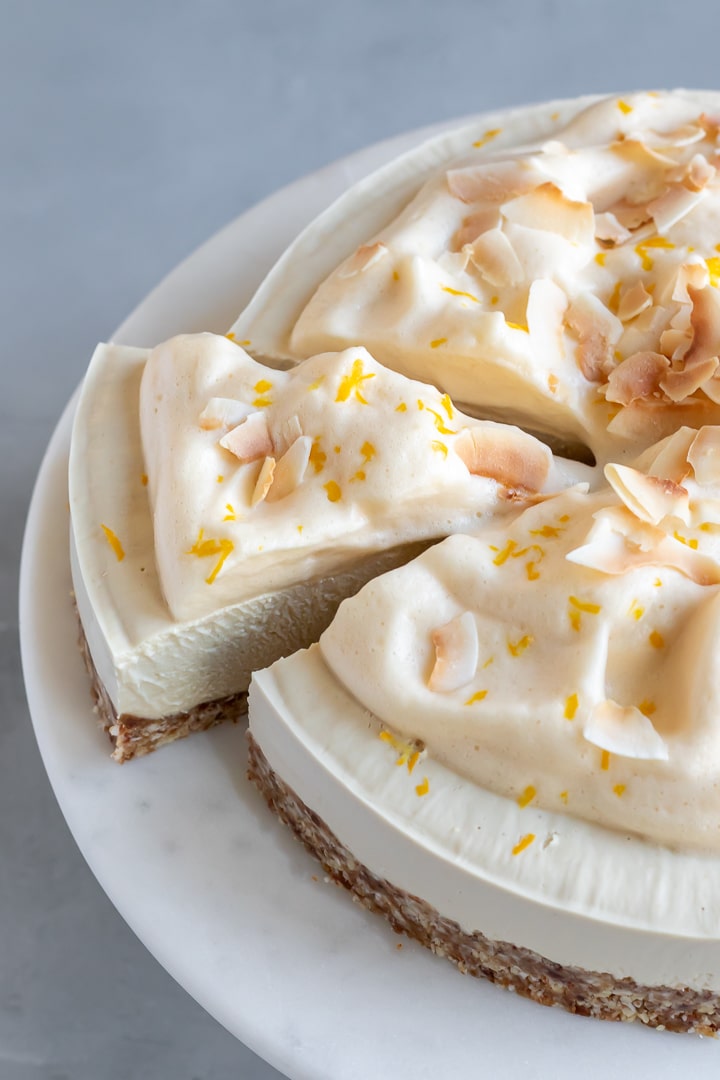 Ideas for Decoration
Apparently, I was feeling fancy the day I took these photos, which is how I came up with the citrusy whipped aquafaba, but you can top this cheesecake however you like.
Try whipped coconut cream (which, honestly, is far more delicious than aquafaba), fresh berries, powdered sugar, toasted coconut, non-dairy Reddi Wip or So Delicious Coco Whip.
Basically, any fruits, nuts, seeds, edible flowers or herbs that you think would pair well with Meyer lemon can be used to decorate your vegan cheesecake.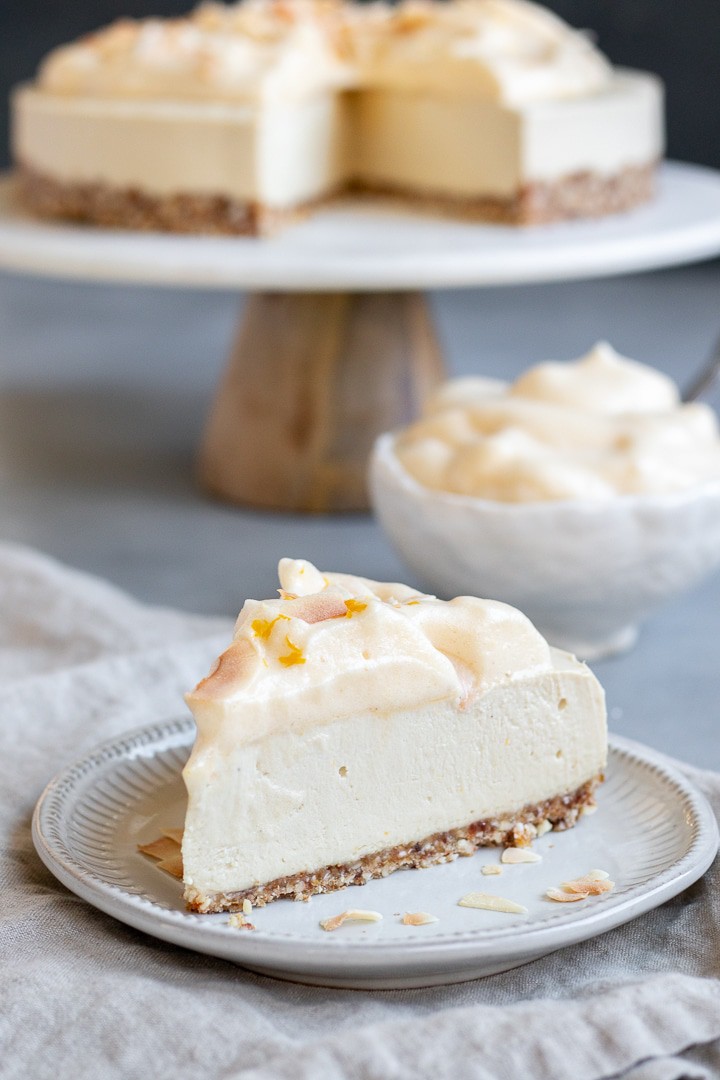 How To Freeze and Thaw Your Cheesecake
Before I wrap up, I guess there is ONE tip worth discussing. After you freeze the cheesecake for several hours (and definitely if you freeze it overnight) it will be VERY firm, like so firm you can't slice it. So be sure to allow 20 to 30 minutes for the cheesecake to soften at room temperature before serving.
You can also transfer the cheesecake to the refrigerator about an hour before serving, and it should end up at the perfect consistency. Keep in mind, thaw time completely depends on how frozen the cheesecake is. So I recommend using your common sense and checking on the cheesecake, wherever it is, if you've made this for a special event and need for things to be perfect. Moving it to the refrigerator even earlier might be a good idea in that case.
If you decide to use the silken tofu listed, versus going with 100% cashews for the filling, a considerable amount of moisture is added (for the record, I used silken tofu in mine, so that's what you see in the photos).
The water content of the tofu combined with the large amount of Meyer lemon juice means you've got a surprising amount of liquid inside this dessert. This is why it freezes so solidly. If it had a higher fat content (for example, if we'd used coconut cream instead of silken tofu), it wouldn't get quite as hard in the freezer.
When you slice into the cheesecake it might even appear a tad icy in the center if it's still frozen. But don't worry! If given a few more minutes to thaw, the iciness disappears and the overall texture is smooth and creamy.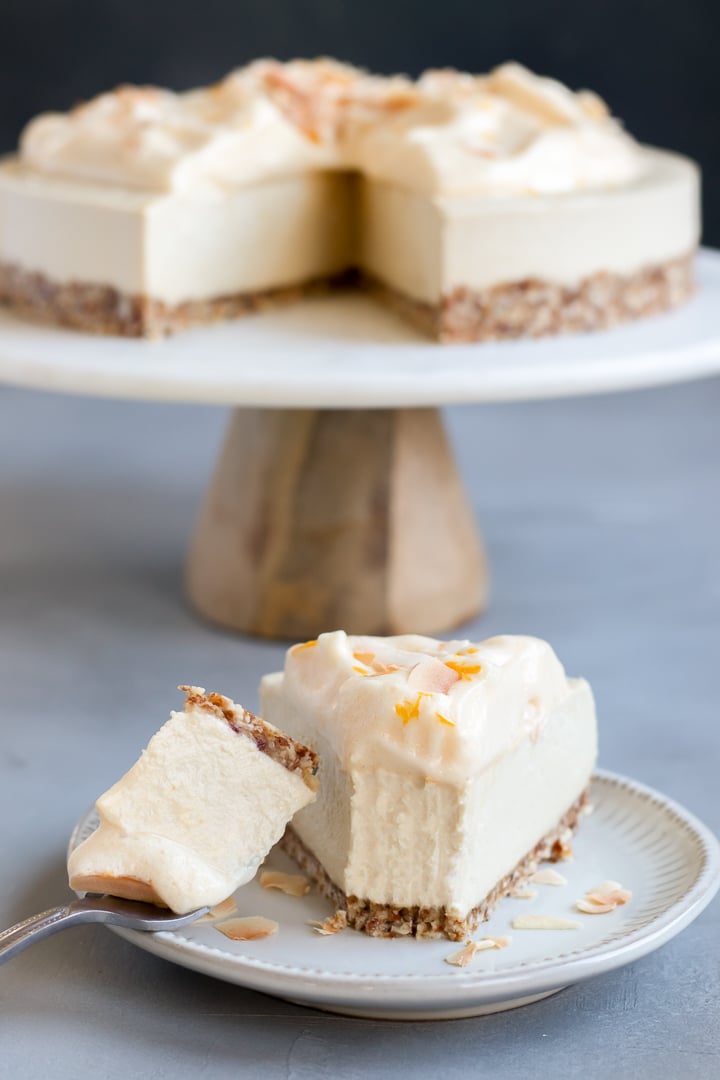 If you make this Meyer Lemon Vegan Cheesecake you know I'd love to see a photo! Snap a pic and tag @myquietkitchen on instagram. You can also rate the recipe and leave a comment below to let us know how it turns out.
Cheers to gorgeous, dairy-free cheesecakes!
More delightfully creamy vegan desserts:
Easy Banana Pudding
Vanilla-Maple Oat Ice Cream
Cranberry Cream Pie
Pumpkin Oat Ice Cream
Double Coconut and Ginger Ice Cream
Cranberry and Citrus Tart
Chocolate Chia Tart
📖 Recipe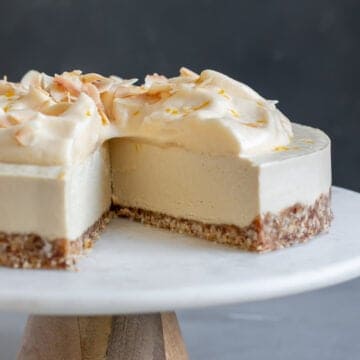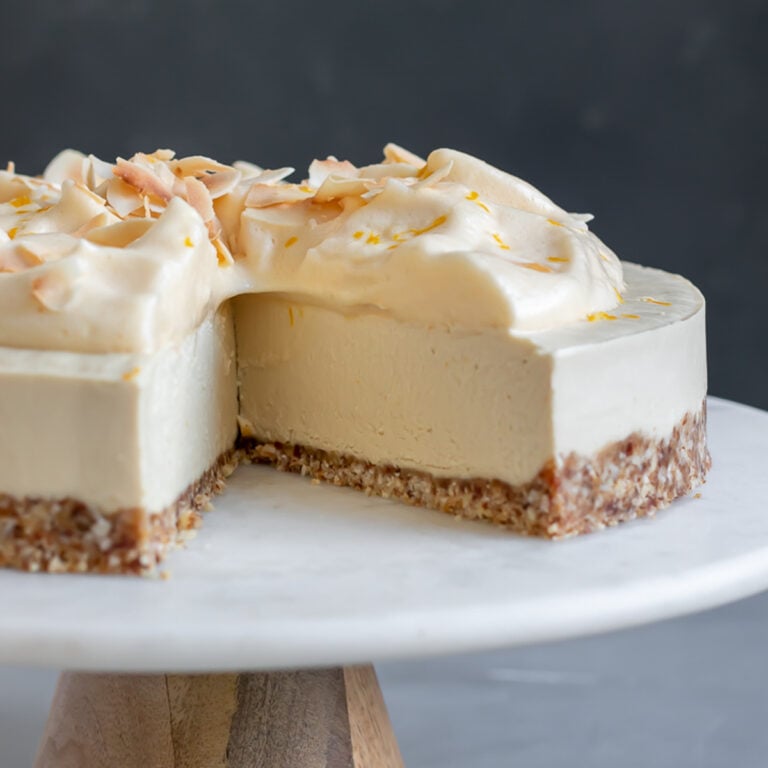 Meyer Lemon Vegan Cheesecake
A rich and creamy, no-bake vegan cheesecake with fresh Meyer lemon juice, a cashew filling and a simple almond-coconut crust.
Equipment needed: food processor, blender and 9-inch springform pan; if making the whipped topping you'll also need a mixer
Ingredients
For the crust:
1

cup

pitted medjool dates, about 9 large (160 g)

1

cup

raw almonds

1

cup

unsweetened coconut flakes

2

Tbsp

virgin coconut oil

1

tsp

vanilla

⅛

tsp

salt
For the filling:
3 ¼

cups

raw cashews (16 oz)

1

pound

silken tofu, drained

-

(or omit and add an additional cup of cashews)

½

cup

maple syrup

½

cup plus 2 Tbsp

powdered sugar

⅓

cup

melted coconut oil

¾

cup

Meyer lemon juice (about 4 lemons)

½

tsp

Meyer lemon zest

2

Tbsp

lemon juice

1

Tbsp

apple cider vinegar

1

tsp

vanilla
Optional aquafaba topping:
½

cup

liquid from one can of unsalted garbanzo beans (aka aquafaba)

1

tsp

vanilla

¼

cup

powdered sugar, adjust as desired
Other garnish:
whipped coconut cream or other non-dairy topping

Meyer lemon zest

toasted coconut
Instructions
Notes
If left to stand at room temperature, moisture will weep from the whipped aquafaba. This is why it's best to dollop it onto the cheesecake just before serving or onto individual slices, just as you would with whipped cream.
Avoid freezing the whipped topping.
Leftover cheesecake can be stored in an airtight container in the refrigerator for several days or re-frozen for a longer period.
Estimated Nutrition (per serving)
Serving:
1
slice
Calories:
375
kcal
Carbohydrates:
33
g
Protein:
9
g
Fat:
25
g
Saturated Fat:
10
g
Cholesterol:
0
mg
Sodium:
40
mg
Fiber:
4
g
Sugar:
21
g
Vitamin A:
0
IU
Vitamin C:
6.6
mg
Calcium:
60
mg
Iron:
2.7
mg
Nutrition information is an estimate and will vary depending on the exact amounts and specific products and ingredients used. We calculate this information using the online calculator cronometer.com.
Tried the recipe?
I love hearing from you! Share your feedback below.